The Salad Fork menu consists of healthy and flavorsome salad dishes. These salads comprise foundation or base ingredients, greens, goods or protein, sidekicks, crunchie, and drizzle. It also serves Bundle Meals for solo and sharing, including salad and drinks. Diners can customize their salad by adding extra ingredients to make their meals more filling and enjoyable. All salads are MSG-free, pork-and-lard-free, and prepared fresh every day.
You can find the updated pricing information for The Salad Fork menu below.
MENU
PRICE (SGD)

Bundle Meals

The Salad Fork Soupervalue Set for 1
$11.02
The Salad Fork Party for 2
$22.73

Freedom Bowl

Freedom Bowl
$14.02

Nourish Bowl

Pura Vida Bowl
$9.45
Warrior Bowl (Spicy dressing)
$10.65
Harvest Bowl
$11.77
Hearth Bowl
$11.77
Chop Chop Bowl
$12.60
Cleo's Bowl
$12.60
Seoul-Full Bowl
$12.60
Broc-Kale Nourish Bowl
$13.95
Hola Hello Bowl
$13.95
Saigon Nourish Bowl
$15.00
Sumo-Mami Bowl
$15.00
Wabi Sabi Bowl
$17.25

Extra Foundation

Quinoa (Vegan)
$2.17
Red Rice (Vegan)
$2.17
Fusillli Pasta (Vegan)
$2.17
Basil Pesto Rice (Vegan)
$2.17

Extra Greens

Sustenir Kinky Kale
$2.17
Romain
$2.17
Arugula
$2.17

Extra Goods

Tofu (Vegan)
$2.63
Falafel (Vegan)
$3.53
Sriracha Chicken Fillet
$4.43
Herbed Chicken Fillet
$4.43
Teriyaki Chicken
$4.43
Bulgogi Beef
$5.25
Pulled Beef
$6.45
Miso Salmon
$6.52

Extra Sidekicks

Hard-Boiled Egg
$1.27
Corn Kernels
$1.27
Cucumber
$1.27
Cherry Tomatoes
$1.27
Edamame
$1.27
Mandarin Oranges
$1.27
Cranberries
$1.27
Brocolli
$1.27
Locally-Framed Onsen Eggs
$1.27
Shredded Carrrots
$1.27
Charred Miso Baby Corn (Vegan)
$1.27
Beets Miso Hummus (Vegan)
$2.17
Avocado
$2.17

Extra Crunchie

Spiced Chickpeas (Vegan)
$1.27
Housemade Furikake (Contains Fish)
$1.27
Chopped Peanuts (Vegan)
$1.27
Corn Chips (Vegan)
$1.27
Toasted Almonds (Vegan)
$1.27
Shredded Seaweed
$1.27

Extra Drizzle

Kaffir Lime Aioli (Vegetarian)
$1.27
Sweet Chili Soy Vinaigrette (Vegan)
$1.27
Caesar Salad Dressing (Vegetarian)
$1.27
Herb Yoghurt
$1.27

Drinks

Bottled Water
$2.33
Home-Brewed Iced Lemon Tea
$3.07
Home-Brewed Iced Hibiscus Tea
$3.38
Fresh Orange Juice
$4.43
Cloudy Apple Juice
$4.43
Citrus Lime Juice
$4.43
About The Salad Fork
The Salad Fork is a subsidiary of The Soup Spoon. Its logo consists of three lines with different colors representing the prongs or tines of the fork used to pick colorful salad ingredients. It aims to offer delicious and nutritious salads that will give customers a satisfying dining experience. They are also committed to creating a connected community over mindful eating.
The Salad Fork Menu Nourish Bowl 
The Nourish Bowls of The Salad Pork includes favorite cultural salads prepared thoughtfully to give diners an authentic, unique, and flavorful dish. Each of these bowls is served fresh to keep its ingredients' crunchiness, freshness, juiciness, and tenderness.
Hola Hello – Spice up your meal with this hola hello bowl of Sriracha Chicken Fillet, Charred Miso Baby Corn, Shredded Carrot, Mashed Avocado, Black Beans, Corn Chips, Basil Pesto Rice, Arugula, Coriander, Cherry Tomatoes, Jalapeno, and Herbed Yoghurt. The jalapeno can be removed if you are not into spicy flavors.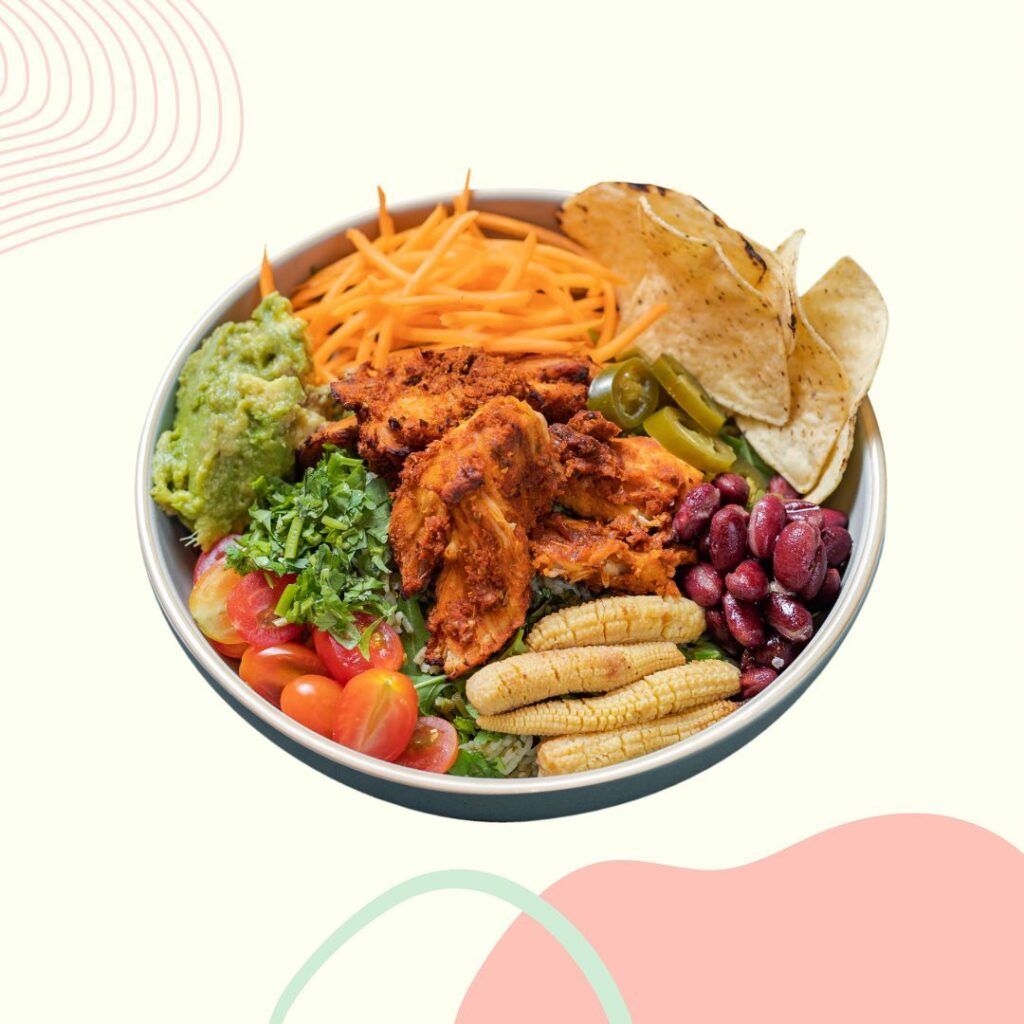 Warrior Bowl – Start your day with a nutritious bowl that will energize you to be productive throughout the day. This bowl includes Red Rice, Teriyaki Chicken, Cucumber, Coriander, Vegan Radish Pineapple Kimchi, Romaine, Brocolli, Charred Miso Baby Corn, Cherry Tomatoes, Peanuts, and Sweet Chili Kaffir Lime Aioli. Its spicy ingredient, such as Sweet Chili, can be removed if you do not eat spicy food.
Wabi-Sabi – A dish named after "Wabi Sabi," a Japanese philosophy that refers to finding beauty in simple, imperfect, and impermanent things. It is a healthy bowl comprising Miso Salmon, Sustenir Kinky Kale, Mashed Avocado, Alfalfa, Red Rice, Edamame, Locally Farmed Onsen Egg, and Green Goddess Dressing. The homemade ingredients of this salad, such as Asian-style Pickles and Furikake, make this dish unique and flavorsome. With the fresh ingredients of this menu of The Salad Fork, you will be able to appreciate the beauty of nature and the beautiful things it can give us. 
Chop Chop – Chop Chop is a slang word that means quickly. This meal is created for those who want a quick and nutritious meal. It is made with Herbed Chicken Fillet, Fusili Pasta, Carrots, Cranberries, Cherry Tomatoes, Basil Vinaigrette, Toasted Almond Slices, Mandarin Oranges, Sundried Tomatoes, and Sustenir Kinky Kale.
Cleo's Bowl – It is a delicious salad made up of Sustenir Kinky Kale, Locally Farmed Onsen Egg, Parmesan Cheese, Red Dragon Fruit, Quinoa, Rosemary Chicken Fillet, Cherry Tomatoes, Cranberries, Tortilla Chips, and Caesar Salad Dressing. The Chicken fillet is the item of this dish that makes it exciting as it is well-seasoned, tender, juicy, and known as a good source of protein.
Hearth Bowl – Enjoy a heart-warming salad made with Meat-Free Nuggets, Tofu, Red Rice, Charred Miso Baby Corn, Cucumber, Chopped Peanuts, Romaine Lettuce, Locally Farmed Onsen Egg, Coriander, Cherry Tomatoes, and Housemade Asian-Style Pickles. Its Ginger Scallion Dressing gives an appetizing aroma and adds flavor, making this dish more satisfying.
Seoul-Full – This menu of The Salad Fork consists of Bulgogi Beef, a popular dish that originates in Seoul, Korea. The restaurant also created its version of Vegan Radish Pineapple Kimchi, a dish inspired by Korean cuisine. The other ingredients in this salad bowl are Charred Miso Baby Corn, Cucumber, Red Rice, Cucumber, Romaine Lettuce, Shredded Carrot, Shredded Seaweed, and Sweet Chili Soy Vinaigrette. It has a sweet and spicy flavor that makes it satisfying.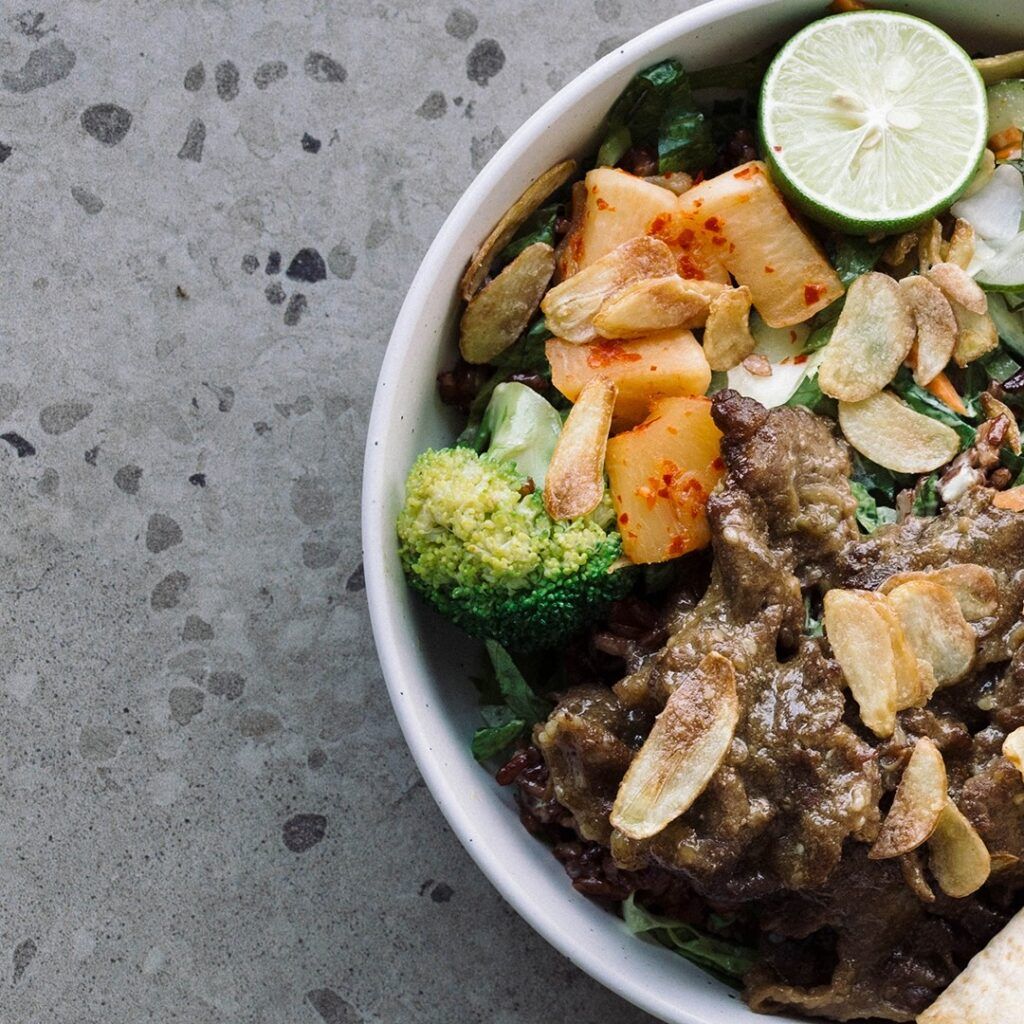 Harvest Bowl – Togarashi gives this dish a spicy kick that will wake up your senses. The restaurant also offers an option to remove it if you are not into spicy food. It consists of Basil King Oyster Mushroom with an appealing taste making your meal more satisfying. Sustenir Kinky Kale, Toasted Sliced Almonds, Quinoa, Shredded Carrots, Corn Kernels, Cherry Tomatoes, and Basil Vinaigrette.
Pura Vida – Pura Vida is a Spanish term that means simple life or pure life. Cherish the simple pleasures with this healthy salad of Falafel, Sustenir Kinky Kale, Brocolli, Spiced Chickpeas, Dukkah, Quinoa, Beets Miso Hummus, Dried Cranberries, Corn Kernels, Cherry Tomatoes, and Carrot Sesame Dressing. The falafel is the ingredient of this salad that makes it special as it is packed with appetizing flavor.
The Salad Fork Freedom Bowl Menu
Create a bowl that satisfies your cravings and provides an enjoyable dining experience. It is available in regular and large servings. The regular serving consists of one foundation or green, one good, one crunchie, one drizzle, and two sidekicks. On the other hand, the large serving comprises one foundation, one green, one good, four sidekicks, one crunchie, and one drizzle.
The salad foundation is composed of vegan and vegetarian options. Greens consist of fresh and green ingredients. Goods are the dishes that are a great source of protein. Sidekicks are the side or extra dishes you can add to your salad bowl. Crunchies include crunchy or crispy ingredients, and drizzle is the dressing of your salad dish.
With this freedom bowl, you can combine various ingredients based on your preference. You can choose light ingredients for a simple meal or add extra items if you want a filling and heartier meal.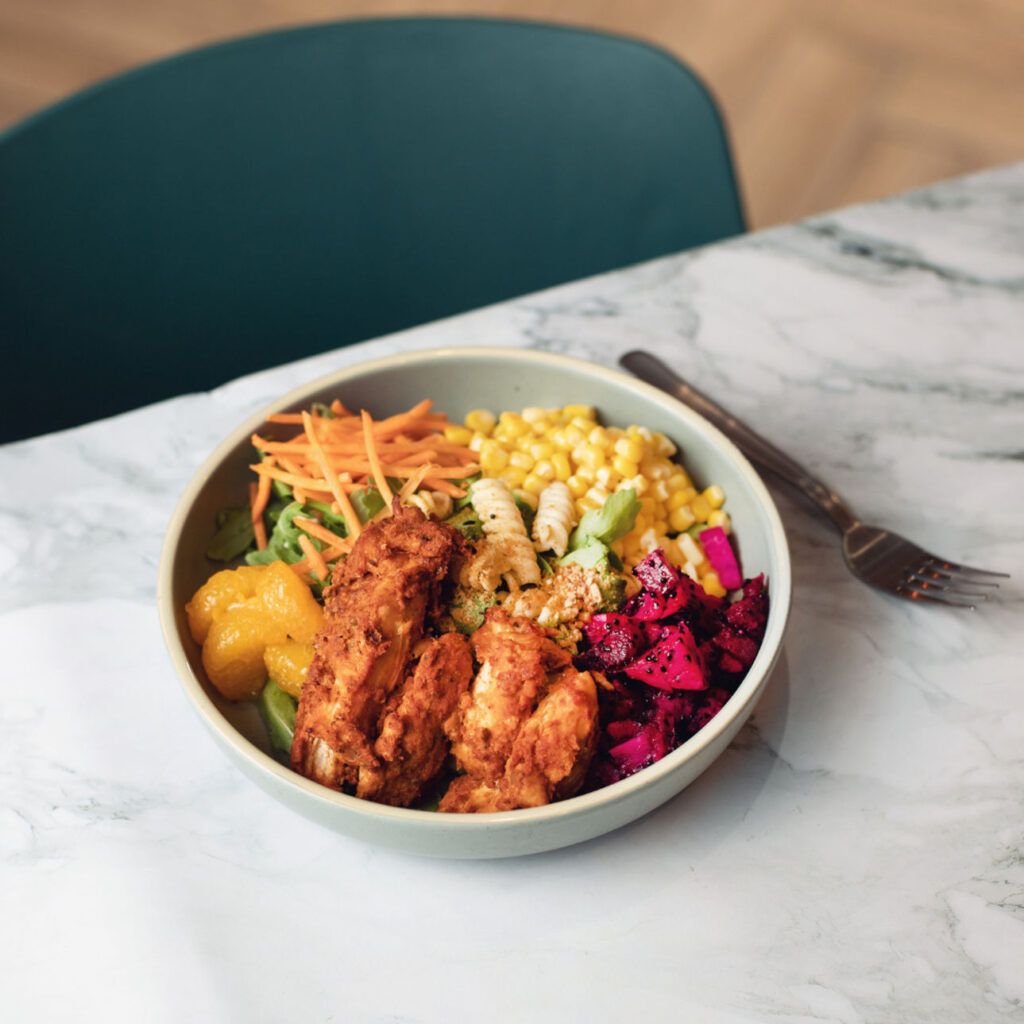 The Salad Fork Menu Delivery
Indulge in the scrumptious and nutritious salads from The Salad Fork right in the cozy confines of your own abode with the convenience of home delivery. You can savor their delightful menu options delivered straight to your doorstep by using popular food delivery platforms like FoodPanda, GrabFood, and Deliveroo. So sit back, relax, and treat yourself to a tasty and wholesome meal without stepping foot outside!
Social Media Pages
Craving fresh and nutritious salads? Look no further than The Salad Fork! Follow their social media pages for a daily dose of salad inspiration, mouthwatering food photos, and exclusive promotions. Stay in the loop with their latest menu additions, seasonal offerings, and healthy eating tips.
Website: http://thesaladfork.menu/contact/
Instagram: https://www.instagram.com/thesaladforksg/
FAQs
What types of salads are available at The Salad Fork?
The types of salad available at The Salad Fork are Green Salad, Pasta Salad, Quinoa Salad, Basil Pesto Salad, and Red Rice Salad.
Can I customize my salad order?
Yes, you can customize your salad by removing some spicy ingredients or adding additional food items.
Are the salads at The Salad Fork healthy?
Yes, the salads served by The Salad Fork are healthy.
Is The Salad Fork halal-certified?
The Salad Fork is a halal-certified restaurant in Singapore.
Conclusion
The Salad Fork menu is known for its healthy and comforting salad dishes. This is a perfect place for those who want a meal packed with vitamins, minerals, fiber, and protein. Its salads are customizable, so diners can combine their favorite ingredients and enjoy their meals. The restaurant also offers many options to create and try different salad combinations whenever you visit or order.