Have you ever heard about a shop named Poke Theory? This place serves modern food bowls with a Japanese cuisine base. Their food items are made of grains, vegetables, and marinated sashimi. The Poke Theory menu has a lot to offer especially if you're looking for a healthier way to enjoy your food or just trying to eat healthy for a day. To visualize their products think of sushi that serves in a bowl that is packed with different vegetables and fruits. And the great thing is their products are affordable. Interesting right? Then stay with me in this article and together let's get to know Poke Theory. 
You can find the updated pricing information for the Poke Theory menu below.
MENU
PRICE (SGD)

Bundle deals

Build your own bowl bundle (1pax)
$15.90
Build your own bowl bundle (2pax)
$30.80

Byo poke bowls

Mentaiko mayo salmon
$13.90
Original shoyu salmon
$13.90
Spicy mayo salmon
$13.90
Avocado miso salmon
$13.90
Original shoyu tuna
$13.90
Spicy garlic sesame tuna
$13.90
Sous vide dashi chicken
$13.90
Avocado poke bowl (vegan)
$13.90

Signature poke bowls

O.G Salmon
$15.00
Green Goddess
$15.00
Spicy lifey
$15.00
Mentaiko madness
$15.00
O.G Salmon
$15.00
Spicy garlic trippin
$15.00
Dashi chica
$15.00
Avocado livin (vegan)
$15.00

Snack packs

Kale chips
$6.50
Crispy salmon skin
$6.50
Spiced roasted cashew
$6.50
Smoked almonds
$6.50

Acai bowls

Spring fling
$8.90
Choc a lot please
$8.90
All or nuttin
$8.90

Coldpressed juice

Coldpressed juice (tropical squeeze)
$6.90
Coldpressed juice (sunshine spritz)
$6.90
Coldpressed juice (dragon lady)
$6.90
Coldpressed juice (crimson sunrise)
$6.90
Coldpressed juice (kale living)
$6.90

Other beverages

Hot apple cinnamon tea
$2.80
Hot earl grey tea
$2.80
Hot jasmine green tea
$3.00
Hot rosehip tea
$3.00
Ice mountain still water
$3.00
Ice mountain sparkling water
$3.00
Dashi broth
$2.50
Coco water
$3.80
Green tea
$3.00
Oolong tea
$3.00
About Poke Theory
Poke means to cut or to slice, this is pronounced as poh kay and is a Hawaiian word. And of course, food tastes better especially if it is made fresh, and that's the reason why poke theory is used in preparing small batches of food every morning to serve all day to keep their products fresh. By doing this it helps lessen the food waste on their production. They always look for better alternatives to produce their food with minimal waste. So preparing their products in small batches helps them not only ensure the quality of their products but also helps them to monitor their food waste while production.
They also make it a point that their product will be usable instead of being wasted as well just like the stems of their kale or their Japanese cucumber left over, instead of throwing them into the waste they use them to produce cold-pressed juice. Their approach to health is very simple, they do believe that eating a rainbow or adding it to your diet will give you the right balance of food. For those who love to eat healthier poke theory is the perfect place to go and they also offer delivery.
Poke Theory Menu Best Seller
We gather information and data to list down Poke Theory's best sellers. Here's the list. 
Mentaiko Salmon – Poke Theory's version of Mentaiko salmon is creamy and really tasty. This is also their top best-selling item when it is a seasonal flavor back then but now they decided to add it to their menu permanently as requested and voted by their customers. The umami taste of this food item is really something and the flavor is fresh and light. 
Original Shoyu Salmon – This item is something that you shouldn't miss. This is a must-try especially if you're a fan of salmon. This is a nice salmon rendition of their original shoyu tuna. The flavors are awesome and just like their mentaiko salmon, the freshness of this dish is out of this world. 
Spicy Mayo Salmon – Poke Theory's version of spicy mayo salmon is made with salmon cubes with mildly spicy and creamy marinade. This is also one of the salmon fans' favorites. The spiciness and creaminess really go well with the salmon cube, it really tastes good and is fresh and light to eat. Also one of my personal favorites. 
Original Shoyu Tuna – Poke Theory's version of original Shoyu tuna is their introduction to Hawaiian poke. This is made with chunks of tuna that they seasoned with their original shoyu marinade. The flavor is light and when it comes to the taste this one is one of the best.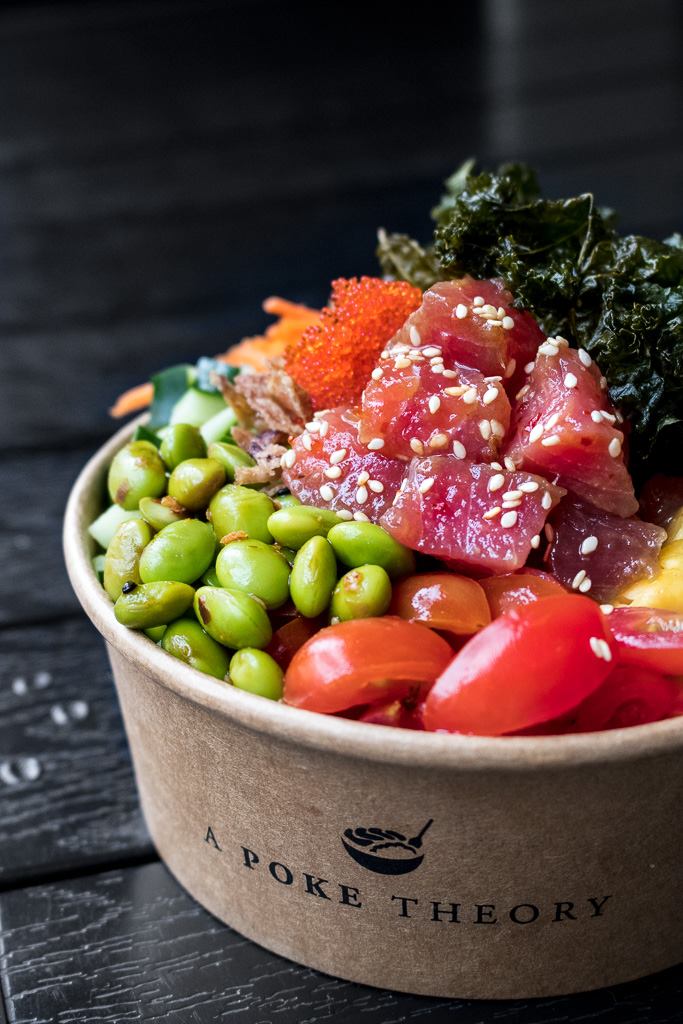 Poke Theory Menu Signature Poke Bowls
Poke Theory has 8 delicious items on their signature poke bowl, first item is their O.G salmon which has 7 toppings and 3 garnishes. The next item is their green goodness which is avocado miso salmon with 7 toppings and 3 garnishes as well. Spicey Lifey is a great choice if you love spicy foods. Mentaiko madness is also one of the top choices on this menu, this one is made with mentaiko mayo salmon with 7 toppings and 3 garnishes.
If you want another spicy item you can try their spicy garlic trippin', this is made with spicy garlic sesame tuna with 7 toppings and 3 garnishes. Dashi chica is a great choice if you're trying to rest from any fish meat since this is made with sous vide dashi chicken with 7 toppings and 3 garnishes and lastly their avocado livin' which is their vegan option.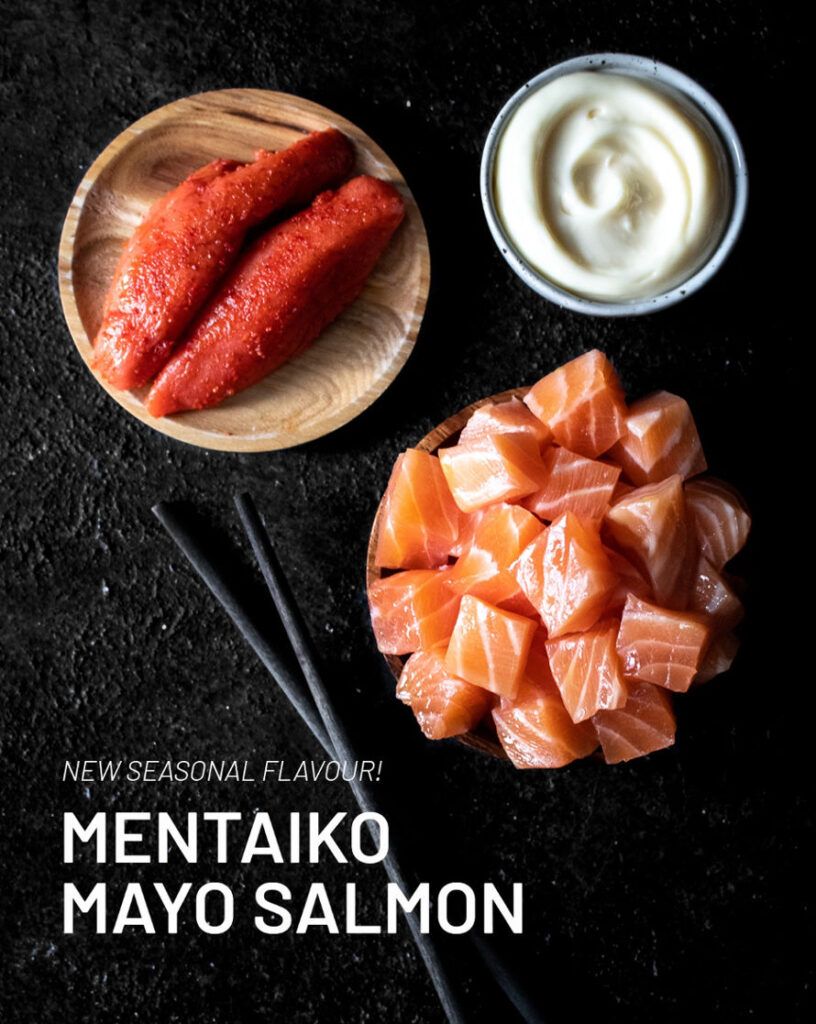 Poke Theory Menu Acai Bowls
Poke theory has 3 choices for their acai bowls. The first choice is their Spring Fling, which is made with Acai, pink dragonfruit, banana, kiwi, blueberries, toasted coconut flakes, and other ingredients. The next item is their Choc a Lot Please which is made with Acai, banana, pink dragonfruit, pomegranate, kiwi, smoked almonds, maple syrup, and chocolate syrup on top. The last option is their All-or-Nuttin which is made with blueberries, Acai, kiwi, banana, pink dragonfruit, honey-roasted cashew nut, and other ingredients.
Poke Theory Snack Packs Menu
Poke Theory offers snack packs with four different snacks. The first snack is kale chips, which are made by baking kale leaves until they become crispy. The next snack is crispy salmon skin, which is also baked in the oven to achieve a satisfying crunch. Additionally, they offer spiced roasted cashews and smoked almonds as part of their snack pack selection.
Byo Poke Bowls
Byo poke bowls menu has 8 items. They have mentaiko mayo salmon and original shoyu salmon that I included on the best-selling item list. Spicy mayo salmon and avocado miso salmon are also good choices. Spicy garlic sesame tuna and original shoyu tuna, if you're looking for a different option other than salmon and sous, vide dashi chicken for chicken option. If you're vegan avocado poke bowl is the choice for you in this menu.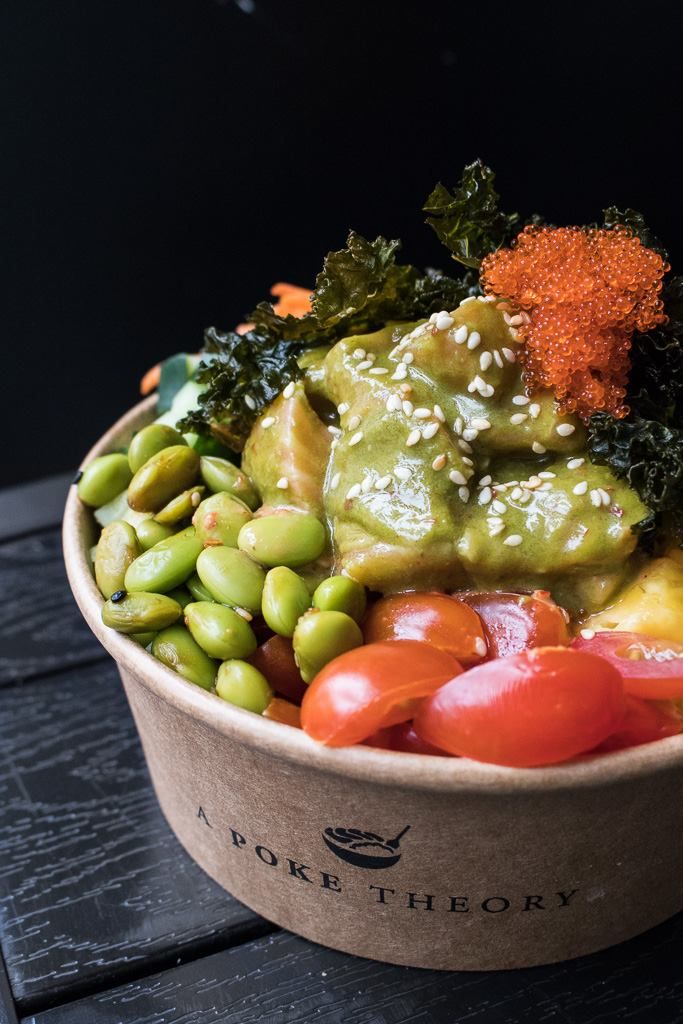 Poke Theory Menu Delivery
To enjoy your favorite delicious food items from Poke Theory, ordering is simple and convenient. You have two options: You can visit their website directly, where you can browse their menu and place your order. Alternatively, you can choose to use popular food delivery platforms like Deliveroo or GrabFood. These platforms allow you to book a food courier who will deliver your order right to your doorstep. So, whether you prefer online ordering or using a food courier, Poke Theory makes it easy for you to satisfy your cravings.
Social Media Pages
Poke Theory's social media pages are a hub of inspiration, featuring mouthwatering photos, behind-the-scenes glimpses, and exclusive promotions. Connect with us to stay up to date on the latest menu additions, seasonal offerings, and special collaborations. Don't miss out on the Poke Theory excitement – follow us today and join the poke revolution!
Facebook: https://www.facebook.com/poketheorysg
Instagram: https://www.instagram.com/poketheorysg/
Website: https://poketheory.com.sg/locations
FAQs
What are some popular items on the Poke Theory menu?
Some of their popular items are Mentaiko salmon, original shoyu salmon, spicy mayo salmon and original shoyu tuna.
Are there vegetarian or vegan options at Poke Theory?
Yes, they have vegan options on their menu so if you're a vegan you can always go to their place and still enjoy a great meal. The best example of their vegan option is their avocado poke bowl. 
Can I order Poke Theory for delivery?
Yes, you can order poke theory food items for delivery all you have to do is to go to their delivery website at https://poketheory.com.sg/
Is Poke Theory halal?
Yes, Poke Theory Is halal-certified since 2018. 
Conclusion
One of the best places to go to enjoy healthier options of meals while enjoying delicious foods. This place is awesome and affordable. The food items are always fresh. Poke Theory menu has a lot of great and delicious items on the menu list, they are halal certified and offer vegan options so everyone can enjoy their products. If you're looking for a place to go and eat fancy without spending too much they are the best place to go. Highly recommended and very affordable.