Unagi is known as expensive however I found a restaurant where you could get their unagi for a very affordable price. Yes, you're not misreading anything here, affordable. Una una menu specialized in hitsumabushi but they also have fresh unagi available. Aside from those they also have other dishes that for sure you'll like. Have you heard about this restaurant? I'm pretty sure some of you already did but for those who don't know or don't have any idea about them then stay in this article and maybe after this, you will be interested enough to try their restaurant. Let's get to know this establishment and of course the prices of the products that they offer. Let's start!
You can find the updated pricing information for the Una Una menu below.
MENU
PRICE (SGD)

Signatures hitsumabushi

Unagi hitsumabushi
$18.14
XL hitsumabushi
$59.18
Spicy hitsumabushi
$19.17

Unagi mains

Unajyu
$21.38
Spicy unajyu
$23.00
Unagi beef jyu
$28.94
Unagi sashimi gozen
$32.18
Unagi sushi roll set
$20.30
Unagi kabayaki set
$36.50
Unagi kaisen kyu
$28.94
Unagi pork jyu
$27.86

Appetizer

Edamame
$4.10
Ikura chawanmushi
$8.42
Unagi chawanmushi
$7.34
Takowasabi
$6.26
Salmon carpaccio
$12.74
Shime saba aburi
$12.74
Sashimi salad
$13.82
Unagi salad
$13.82
Patato salad
$5.18
Mentaiko potato salad
$6.26

Roll

Philadelphia roll
$18.14
Unagi roll
$20.30
California roll
$13.82
Mentaiko roll
$19.22

Grilled

Grilled squid
$19.22
Grilled salmon
$12.74
Grilled salmon mentai
$13.82
Grilled chicken yuzu pepper
$12.74
Grilled chicken teriyaki
$12.74

Deep fried

Chicken karaage
$10.58
Ebi fry
$10.58
Mentaiko gyoza
$10.58
Takoyaki
$10.58

Other mains

Salmon & barachirashi jyu
$25.70
Kaisen ikura hitsumabushi
$19.22
Chicken hitsumabushi
$14.90
Salmon jyu
$18.14
Beef jyu
$20.30
Pork jyu
$19.22
Beef chicken jyu
$20.30
Kake udon
$10.58
Beef kake udon
$15.98
Zaru soba
$10.58

Add On

Rice
$3.80

Beverage

Coke
$3.78
Coke zero
$3.78
Sprite
$3.78
Ayataka
$3.78
Dasani water
$2.50
About Una Una
Una Una Singapore is considered one of the best charcoal grills in Singapore with affordable prices. Eating fresh live unagi in Singapore as we all know is pretty expensive and could be a payday affair. Even in other restaurants, the price of unagi and hitsumabushi is pricey or if it's not pricey the serving size is just little. If you consider the price before you eat but you want to try the delicious unagi and other hitsumabushi specialties Una Una offers affordable these items at very affordable prices.
People might think if why the price is relatively low, the reason is they use frozen eels instead of live eels that other restaurants slaughter upon order. If you're not too meticulous then maybe you'll consider this as just right just to try special unagi's. Una Una's unagi is based on imported shoyu sauce from Japan, their unagi's are marinated with that special sauce that includes sugar and mirin before being grilled thru charcoal. The process that they are using gives their unagi a tender and tasty flesh with a bit of crispy outer coat.
Una Una Menu Best Seller
Spicy Hitsumabushi – Una Una's version of spicy hitsumabushi is made with spicy nagoya-style grilled eel on top of rice, this is served with dashi soup. The grilled ell has that savory and sweet taste also the meat of the eel is perfectly cooked.
Grilled Salmon Mentai – also one of their best sellers is their grilled salmon mentai. This one is charcoal grilled salmon with mentai sauce. The mentai sauce gives an extra kick to the grilled salmon. It has a clean flavor and is also light and refreshing.
Unagi Kabayaki Set – Una Una's version of the unagi kabayaki set is also one of the best-selling items on their menu. It is served with chawanmushi, dashi soup, and rice. The grilled kabayaki has that gorgeous flavor suitable for those who love grilled foods.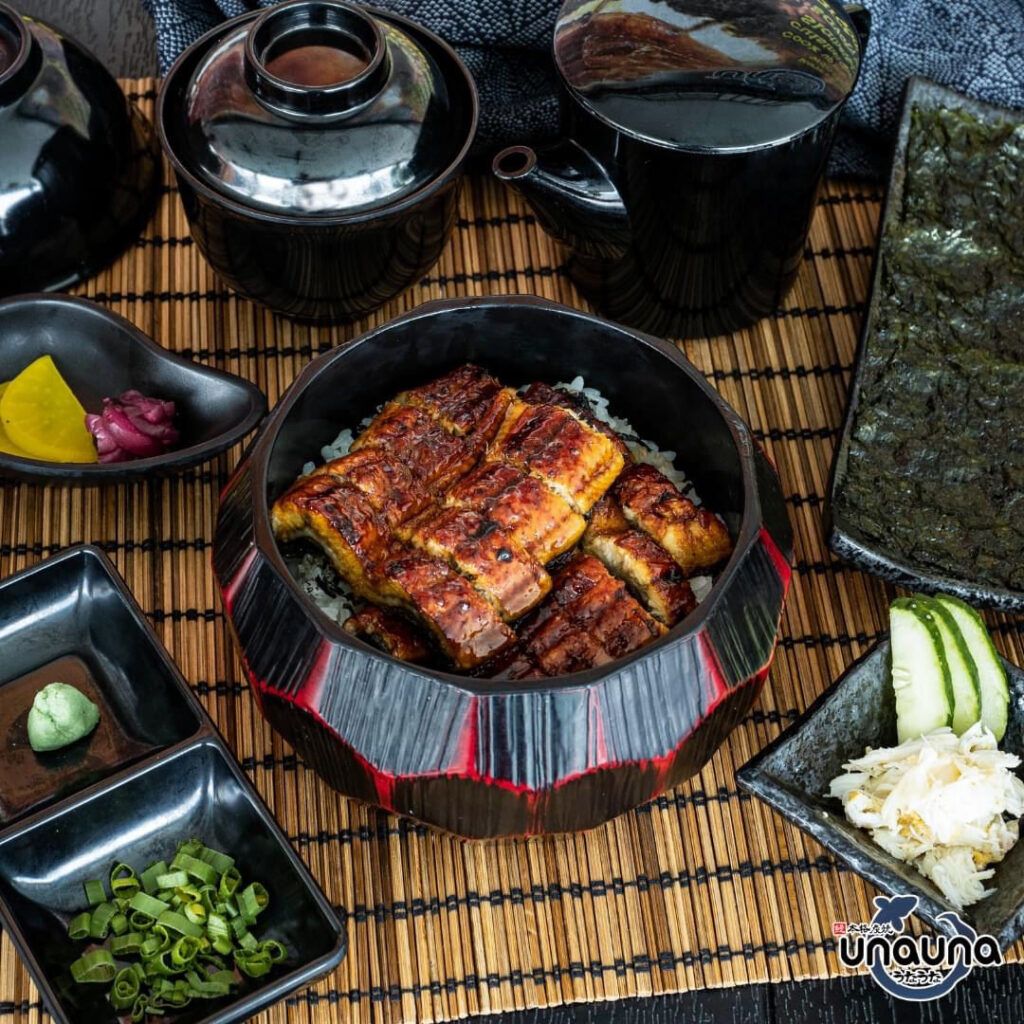 Una Una Menu Signatures
Una Una's signature menu offers three options that you can choose from. The first one is the Unagi hitsumabushi which is a grilled eel served on top of rice in Nagoya-style. They also serve dashi soup with it. The second option is the XL hitsumabushi which is the same as the first dish, but with a larger serving size. The last but not least option is the spicy hitsumabushi, which is a spicy Nagoya-style grilled eel on top of rice also served with dashi soup.
Unagi Mains
Unagi mains menu has 8 different dishes to choose from, items like unajyu which is tokyo style grilled eel on top of rice that they serve with dashi soup, and chawanmushi is included on their unagi mains. They also have spicy unajyu which is actually just like the first dish and the only difference is that this one is spicy. They also have other dishes like unagi beef jyu, unagi sashimi gozen, and unagi sushi roll set on their menu. Another great option on this menu is their unagi kabayaki set this one is grilled unagi with chawanmushi, rice, and dashi soup. They also have unagi kaizen kyu and unagi pork jyu.
Una Una Menu Appetizer
If you're looking for tasty appetizers, Una Una has got you covered! They offer a selection of 9 delicious options to kickstart your meal. Let's begin with their refreshing salads. You can choose from sashimi salad, unagi salad, potato salad, and mentaiko salad, each offering a unique combination of flavors and textures.
In addition to the salads, Una Una also serves mouthwatering dishes such as shime saba aburi, salmon carpaccio, tako wasabi, unagi chawanmushi, ikura chawanmushi, and classic edamame. These appetizers are sure to delight your taste buds and set the stage for a delightful dining experience.
Roll
Una Una has 3 items on its roll menu, those are unagi roll, California roll, and mentaiko roll. These items are so good especially the unagi roll and California roll are also great for sharing.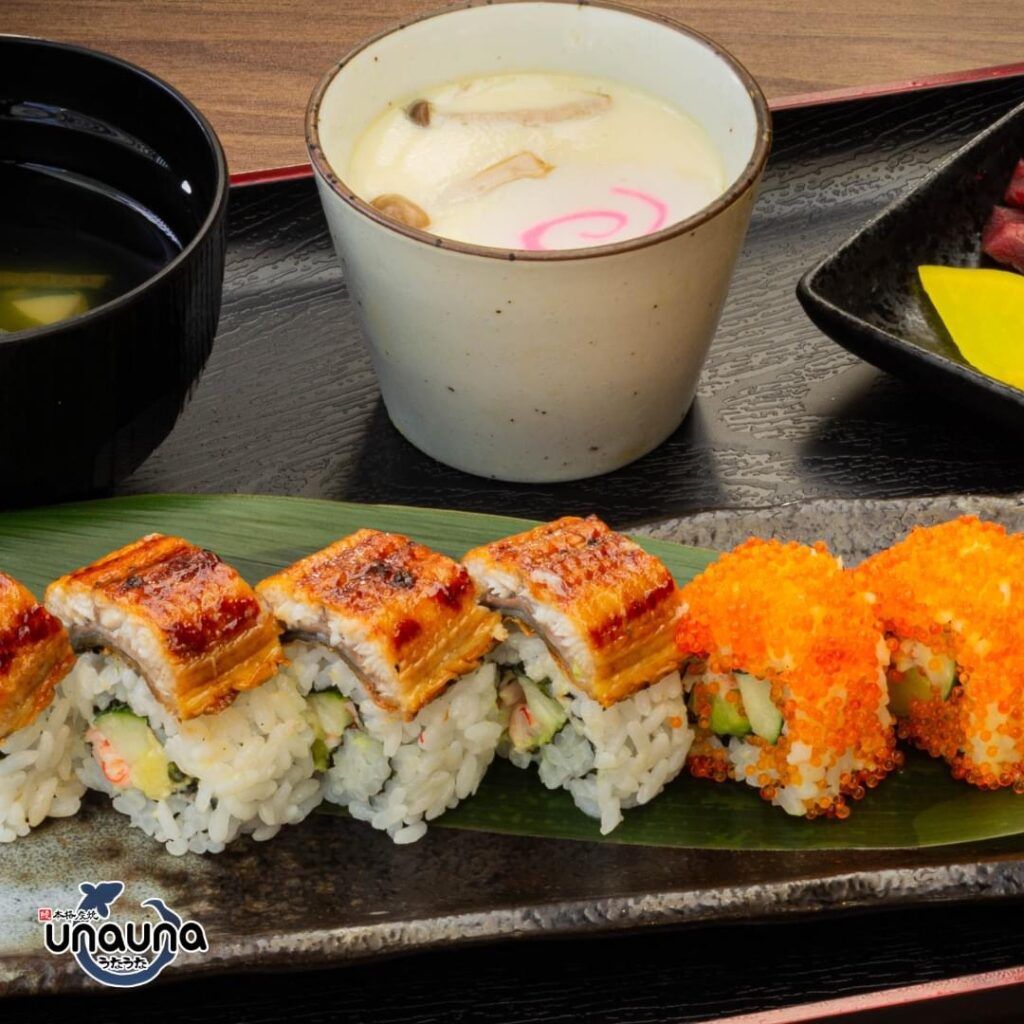 Grilled
When it comes to grilled options at Una Una, you'll find a selection of three delightful dishes. Let's dive in! The first item is their grilled salmon mentai. It features a juicy charcoal-grilled salmon fillet topped with their scrumptious mentai sauce. The combination of the smoky flavor from the grill and the creamy mentai sauce creates a delectable experience.
If you're not a fan of unagi, no worries! Una Una also offers a grilled chicken yuzu pepper dish. This option showcases tender grilled chicken with a zesty yuzu pepper seasoning. It's a fantastic choice for those who prefer a different protein.
Lastly, Una Una presents their grilled chicken teriyaki. This non-unagi dish features succulent grilled chicken coated in a flavorful teriyaki glaze. The sweet and savory notes of the teriyaki sauce perfectly complement the grilled chicken, resulting in a satisfying meal.
Una Una Menu Delivery
If you want to order your favorite una una food items all you have to do is call their hotline number at +6562381011 or you can go to their delivery website at https://unauna.oddle.me/en_SG aside from those you can also use other delivery services that are available in your area.
Talk to Una Una SG Staff
Support local and satisfy your cravings for Japanese cuisine at Una Una Singapore. Follow their social media pages and show your support for their delicious and authentic dishes. Don't hesitate to message them for more information on their menu and delivery options. Let Una Una Singapore bring the taste of Japan straight to your doorstep.
Facebook: https://www.facebook.com/unaunasg
Instagram: https://www.instagram.com/unauna.sg
TikTok: https://www.tiktok.com/@unaunasg
FAQs
What types of unagi dishes does Una Una serve?
In Una Una, you will be glad to see the menu since they serve different kinds of unagi, samples are Unaju, Hitsumabushi, unagi sushi rolls, Gozen, and unagi kabayaki. Anything unagi that you crave is already on their menu.
Are there any vegetarian or vegan options at Una Una?
Yes, in fact, Una Una has a lot of vegan-friendly options on their menu, but of course just to be sure better check it on their service crews first before ordering.
Is there a dress code at Una Una?
This restaurant is a casual dining place therefore casual attire is welcome in their store anytime. They don't have a dress code.
Is Una Una halal-certified?
No, since Una Una is serving non-halal foods therefore Una Una is not halal certified.
Conclusion
This is the best place for your Unagi cravings at the same time won't burn your wallet. Una una menu has a lot of different unagi dishes that are quality and affordable. Their regular serving is generous compared to other restaurants that serve unagi considering their price. Their unagi is cooked perfectly they are grilled them nicely and have that savory and sweet taste which is nice. The rice that they serve is okay as well. The only item that I don't like is their wasabi. Their place is also beautiful and comfortable it adds to the appetite because it has that cozy vibe, and the place is also clean. Their service personnel are also nice and accommodating though most of them speak Mandarin only. Overall it's a nice experience and value for your money.