Nowadays a lot of establishments that offer great beverages are mushrooming throughout the country, these businesses have gained the reputation of serving delicious drinks for their customers however have you tried Hollin or have you at least bumped into one of their branches? The Hollin menu has a lot of great options to choose from plus their drinks are highly recommended since they only offer delicious drinks. If you haven't tried this shop are you somehow intrigued or interested?  this is by far the right article for you if ever you're wondering about this establishment. In this context, we are going to get to know Hollin more so that you'll get an idea of what to order just in case you've decided to try their products. Let us see their menu, prices, and something about them. So without further ado let's go. 
You can find the updated pricing information for the Hollin menu below.
MENU
PRICE (SGD)

Ice cream series

Ice Cream Cocoa Latte
$7.10
Ice Cream Black Tea Rock Salt Macchiato
$5.80
Ice Cream Milk Tea
$5.20

Yakult series

Yakult Green Tea
$5.30
Soursop Yakult
$6.10
Lychee Yakult
$6.10
Lime Yakult
$6.10
Strawberry Yakult
$6.10
Pink Guava Yakult
$6.10
Mango Yakult
$6.10

Rock salt machiato tea series

Black Tea Rock Salt Macchiato
$4.50
Oolong Tea Rock Salt Macchiato
$4.50
Earl Grey Rock Salt Macchiato
$4.50
Caramel Tea RSM
$5.70
Hazelnut Tea RSM
$5.70
Matcha Rock Salt Macchiato
$5.70
Cocoa Rock Salt Macchiato
$5.70
Strawberry Rock Salt Macchiato
$5.70
Pink Guava Rock Salt Macchiato
$5.40
Mango Rock Salt Macchiato
$5.70

Refreshing and fruity tea series

Lychee Oolong Tea
$4.60
Strawberry Green Tea
$4.70
Mango Green Tea
$4.70
Honey Lime Green Tea
$4.60
Honey Lime Juice
$4.60
Pink Guava Green Tea
$4.40
Green Tea
$3.30
Black Tea
$3.30
Oolong Tea
$3.30
Earl Grey Tea
$3.30

Fresh milk tea series

Black Tea Latte
$4.60
Earl Grey Latte
$4.70
Honey Black Tea Latte
$5.80
Caramel Black Tea Latte
$5.80
Hazelnut Black Tea Latte
$5.80
Belgium Cocoa Latte
$5.80
Shizuoka Matcha Latte
$5.80
Bubble Fresh Milk
$5.70

Dirty beverage series

Brown Sugar Fresh Milk with Pearls
$5.90
Strawberry Fresh Milk with Pearls
$6.30
Mango Fresh Milk with Pearls
$6.30

Milk tea series

Bubble Milk Tea
$5.10
Earl Grey Milk Tea with Original Konjac
$6.00
Honey Milk Tea With Pearls
$6.00
Honey Milk Tea with Coffee Konjac Jelly
$6.40
Caramel Milk Tea with Pudding Jelly
$6.00
Milk tea
$3.90
Oolong milk tea
$4.40
About Hollin 
Hollin is one of the most-known brands of Taiwanese bubble tea in Singapore. This establishment's concept is made by a Group of Taiwanese tea specialists, they believe in creating good drinks with good service, especially for their customers, and only serve the best quality possible. The name Hollin is from a Hokkien phrase that means "awesome drink" Their brand's name has a secondary name that comes from a Mandarin word that means "gift" It only reflects their mission to serve the best gift that they could offer for their customers and to do that they choose only the best ingredients that they could find. Their tea leaves have a smooth texture with a fragrant taste that made their drinks spectacular. They constantly strive their best to achieve great taste and minimal sugar levels so their products will be sweet even without adding too much sugar. They always present fresh tea in every serving. 
Hollin Menu Best Seller
We conducted research to know Hollin's best sellers. Here is the list. 
Rock Salt Macchiato – This is one of their most famous drink. Hollin's rock salt macchiato is made with macchiato cream that is delicious and unique and sold exclusively to Hollin. Their signature whipped cream is very smooth with a velvety texture and light. They also put a dash of rock salt to make it more delicious. It has a unique and refreshing taste. One of the best drinks on their menu and a must-try.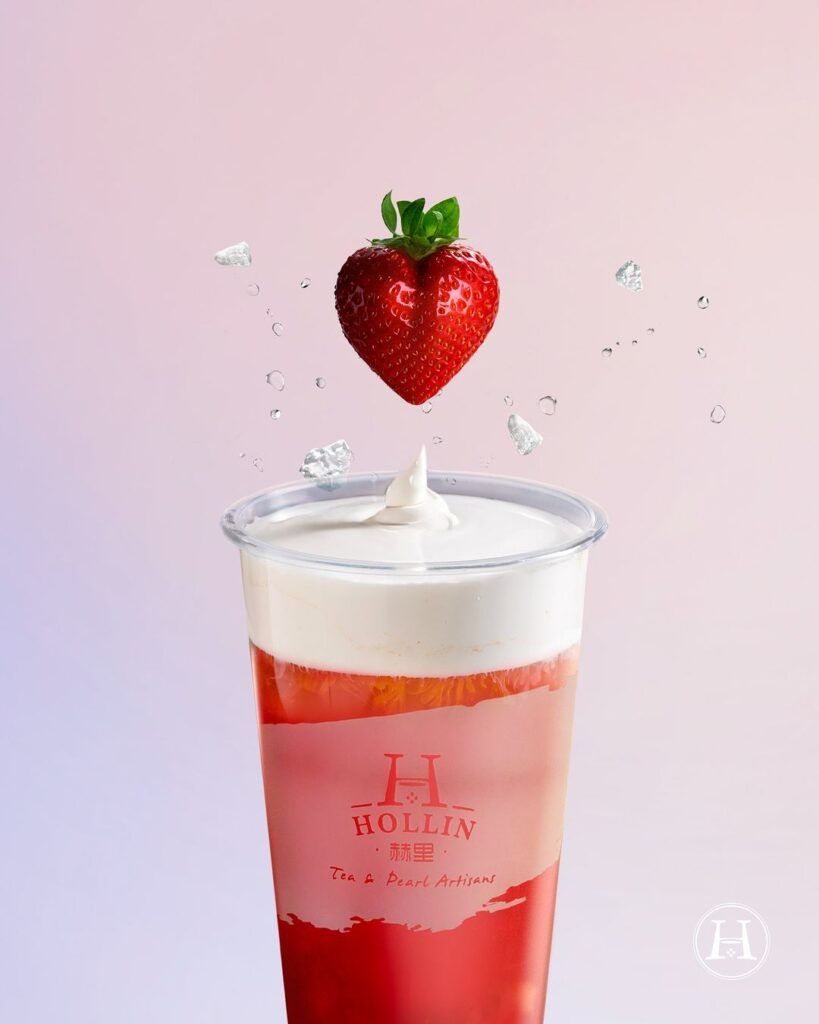 Black Tea Latte – Hollin's version of the black tea latte is one of the best and most delicious drinks that you can find on Hollin's menu. This only has a 25 percent sugar level and usually serve with less ice. The flavors inside of this drink plus a good amount of milk made this enjoyable and very distinct. The chewy pearls in this drink are delicious as well and have a peanutty taste but are not too overpowering.
Matcha Latte – This has a naturally sweet and grassy flavor but in a good way. The green tea has a bold flavor making it perfectly good with the cream incorporated with the drink. It has a green color that is appealing to the eye. most ordered drink among their customers according to our research. A matcha latte of Hollin is a must-try as well, simple and delicious. 
Ice Cream Series
Hollin has 3 delicious drink menu options for their ice cream series. The first item is their ice cream cocoa latte, this one is for those who enjoy chocolate-flavored drinks. They also have Ice Cream Black Tea Rock Salt Macchiato, this one is included in their best-selling items and is quite popular among their customers since this one is really delicious. The last item on this menu is their ice cream milk tea, this one reminds me of pinchilin naicha which is my favorite back when I was living in Taiwan. This taste really good.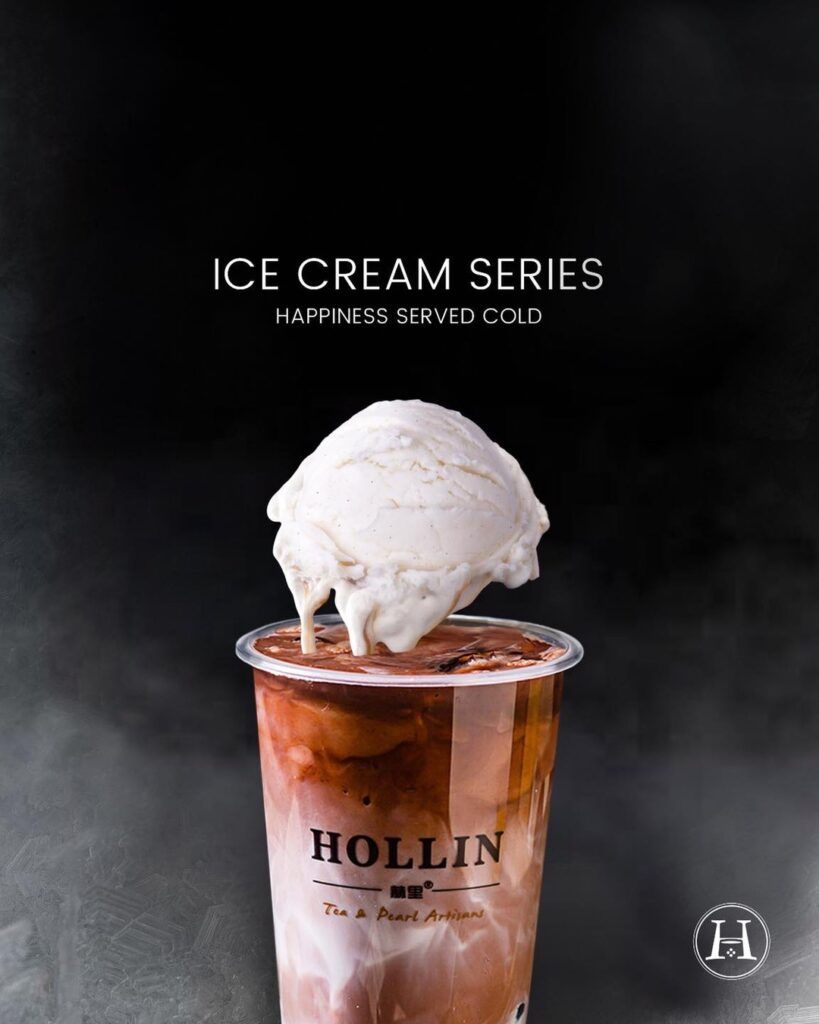 Hollin Menu Yakult Series
There are 7 delicious items in the Hollin Yakult series. The first one on the list is their Yakult Green Tea, this is a refreshing drink with a light tangy taste filled with antioxidants that boosts your immune system. The next item is their Soursop Yakult, this one doesn't have any caffeine and sugar added so it's a healthy choice. They also have Lychee Yakult, this one is kinda sweet but at the same time delicious. They also have lime Yakult, strawberry Yakult, pink guava Yakult, and their famous mango Yakult.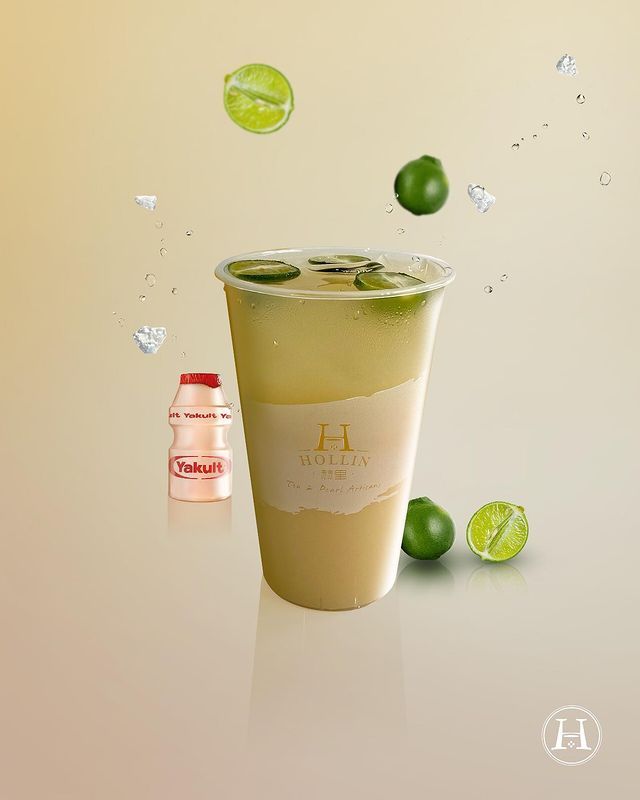 Dirty Beverage Series
On their dirty beverage series, they offer 3 items. The first one is their version of Brown Sugar Fresh Milk with Pearls, this one is Non-caffeinated and only added with brown sugar. Next is their Strawberry Fresh Milk with Pearls, the strawberry flavor is insane so if you're a strawberry lover this is what you should order. Lastly is their Mango Fresh Milk with Pearls, no added caffeine and is really refreshing. 
Hollin Menu Delivery
Ordering from Hollin is made easier simply by going to their website at https://www.hollingroup.com/menu or you can just order thru your favorite courier. 
Hollin Social Media Pages
Follow Hollin's social media to stay updated on our tantalizing menu offerings, seasonal creations, and exciting promotions. Share your #HollinMoments and connect with fellow tea enthusiasts to be part of their vibrant community. Join them on social media for a daily dose of tea inspiration, exclusive offers, and a glimpse into the world of Hollin.
Facebook: https://www.facebook.com/HollinSG
Instagram: https://www.instagram.com/hollin_sg
Website: https://www.hollingroup.com/contact
FAQs
Where can I find Hollin outlets in Singapore?
Hollin has 5 locations throughout Singapore. They have locations in Toa Payoh Central, Suntec City, Punggol Plaza, Singpost Centre, The Woodleigh Mall, and Plaza Singapura. 
What makes Hollin's cheese teas unique?
Cheese tea of Hollin is made with a combination of milk, cream cheese, black or green tea, and some salt and is invented in Taiwan. It is Unique because Hollin is one of the few that offers this drink. 
Can I customize my drinks at Hollin?
Yes, you can customize your drink when ordering at Hollin since they have lots of add-ons on their menu. 
Is Hollin Halal certified?
Yes, fortunately, Hollin is halal certified which is great so anyone could enjoy their products. 
Conclusion
The Hollin menu has a lot of delicious drinks to offer its customers. This establishment only offers the best drinks using only the finest ingredients. The great thing is you can customize your drink based on your preference. Their place has a great ambiance as well so you'll get to enjoy your drink with a nice atmosphere. Nice place overall with great value for your money.