If you are roaming the busy streets of Singapore on a hot day, there is no better feeling than stumbling upon a popular beverage spot. Momotaru offer a diverse and refreshing menu that showcases the delightful combination of coconut and avocado. Each drink is carefully crafted using fresh and ripe ingredients, ensuring a rich and creamy texture with a burst of natural flavors that is sure to satisfy your thirst. Be sure to check out their store to experience refreshing and delicious-tasting drinks at Momotaru Singapore.
You can find the updated pricing information for the Momotaru menu below.
MENU
PRICE (SGD)

Coconut Shakes

Original Coconut Shake
$5.80
Chrysanthemum Coconut Shake
$6.00
Oreo Crumb Coconut Shake
$6.50
Purple Rice Coconut Shake
$6.50
Strawberry Coconut Shake
$6.50
Taro Coconut Shake
$6.50
Soursop Coconut Shake
$6.50
Peach Coconut Shake
$6.50
Pure Coconut Juice
$6.00
Chendol
$6.90
Gula Melaka Brown Pearl Jelly
$6.50
Gula Melaka Brown Pearl Jelly
$6.50

Mango Series

Mango Sago
$6.50
Mango Coconut
$6.50

Coconut Punch

Coconut Punch Mango
$6.50
Coconut Punch Strawberry
$6.50
Coconut Punch Passion Fruit
$6.50

Dessert Bowl

Signature Bowl
$5.90
Classic Bowl
$4.90

Tang Yuan

Peanut Soup With 4 Tang Yuans
$4.90
Ginger Brown Sugar Soup With 4 Tang Yuans
$4.90

Avocado Shakes

Avocado Milkshake
$6.50
Avocado Coconut Shake
$6.90
Avocado Gula Melaka
$6.90

Pudding

Coconut Pudding
$3.90
Mango Pudding (M)
$3.30
Strawberry Milk Pudding (M)
$3.30
Lychee Pudding (M)
$3.30
About Momotaru
Momotaru is a popular beverage spot in Singapore that specializes in refreshing and unique coconut and avocado-based drinks. It has multiple establishments in Singapore, offering convenient locations for customers to enjoy their delicious beverages. Their outlets are designed with a vibrant and welcoming atmosphere, providing a cozy space for customers to relax and enjoy their refreshing shakes. Momotaru have become a go-to destination for those who are looking for refreshing and unique beverages with a tropical twist.
Momotaru Menu Best Seller
This menu is made up of a selection of flavorful and creamy beverages and is considered to be the shop's best-selling items.
Mango Sago – It is a refreshing and tropical dessert that combines juicy mango chunks with creamy coconut milk and chewy sago pearls. The flavors blend together perfectly, offering a sweet treat with a hint of tanginess from the mangoes.
Mango Coconut – This drink is a perfect combination of sweet mangoes and creamy coconut milk that offers creamy and tropical flavors that is both refreshing and satisfying. The natural sweetness of the mangoes pairs well with the rich and creamy coconut milk.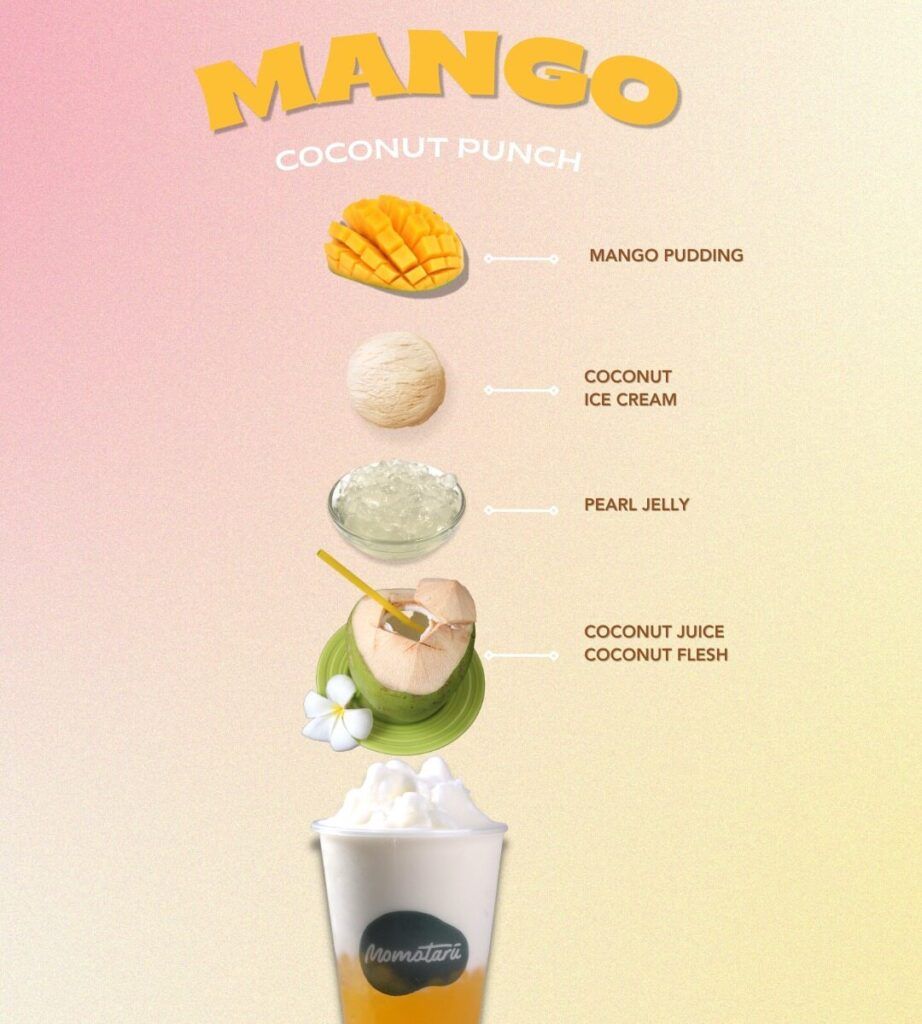 Avocado Milkshake – It is a creamy beverage made with ripe avocados blended with milk and a touch of sweetness that has a smooth and velvety texture with a nutty flavor from the avocados.
Coconut Pudding – This dessert is delicious and creamy because it is made with fresh coconut milk and gelatin. It has a smooth and silky texture with a rich coconut flavor while the pudding is both sweet and fragrant, making it a delightful treat for coconut enthusiasts.
Strawberry Coconut Shake – It is created with ice and freshly squeezed coconut milk to provide a silky and delicious beverage. It offers a balance of flavors, with the bright and tangy notes of strawberries complementing the creamy coconut base.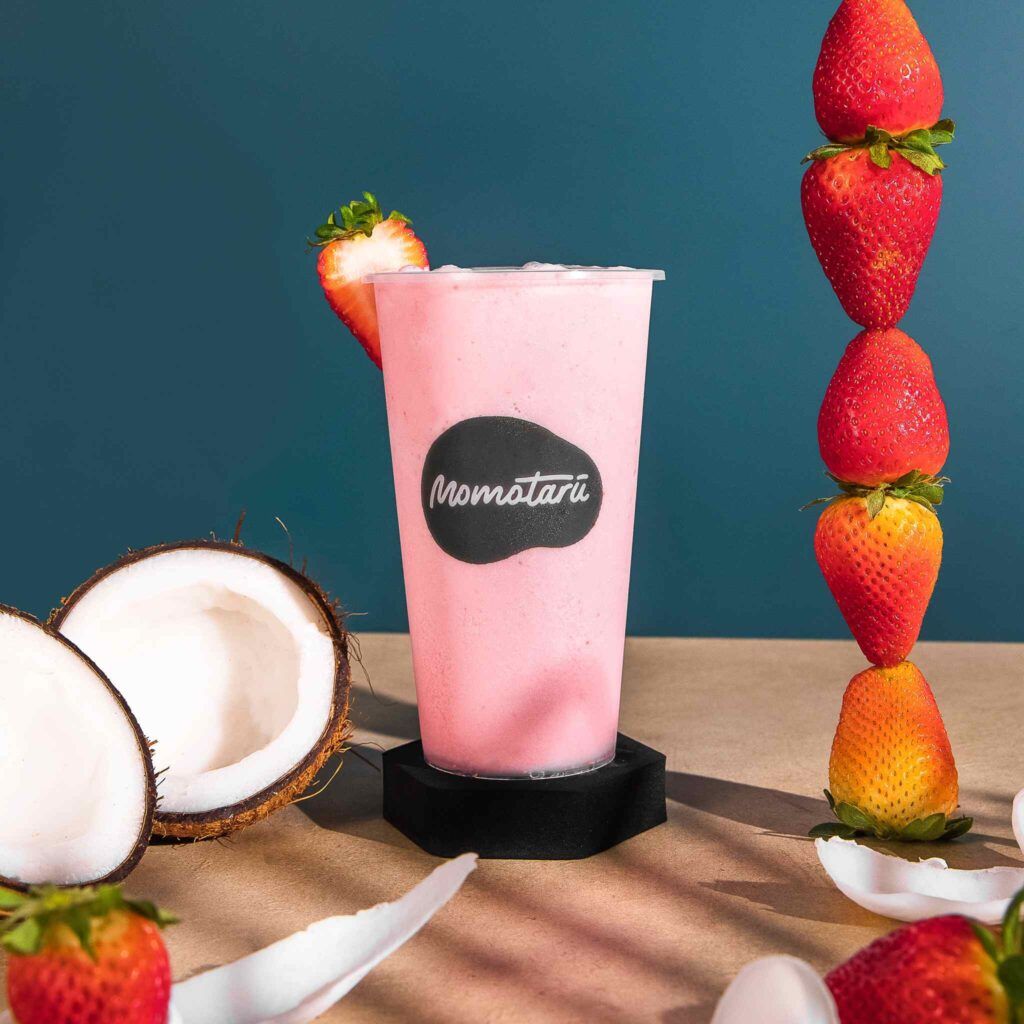 Momotaru Menu Coconut Shakes
This menu is composed of a wide selection of shake offerings that come in different flavors and sizes.
Original Coconut Shake – This is a classic and refreshing beverage that highlights the natural sweetness and creaminess of coconut. It is made with freshly squeezed coconut milk and blended with ice to create a smooth and satisfying shake.
Chrysanthemum Coconut Shake – This shake combines the floral and soothing notes of chrysanthemum tea with the creamy goodness of coconut milk which results in a unique and refreshing drink that offers a delicate balance of flavors.
Oreo Crumb Coconut Shake – It features a blend of creamy coconut milk and crushed Oreo cookies, creating a rich and flavorful shake with a satisfying crunch. The combination of the chocolatey Oreo crumbs and the creamy coconut base offers a delicious contrast of textures and flavors.
Momotaru Menu Coconut Punch
This menu is composed of a series of fruit-flavored coconut shakes that are both refreshing and flavorful.
Coconut Punch Mango – This dish combines the creamy texture of coconut with the ripe mangoes' sweet and tangy flavor. The smooth and velvety texture of the coconut milk perfectly complements the juicy mango, creating a refreshing and satisfying beverage. 
Coconut Punch Strawberry – This drink offers a delightful twist by infusing the creamy coconut milk with the vibrant and sweet taste of strawberries which results in a creamy drink with a hint of strawberry goodness.
Coconut Punch Passion Fruit – This drink uses passion fruit as its base which pairs really well with the tropical flavors of coconut. The coconut milk adds a creamy and smooth element to the drink, while the passion fruit brings a burst of tanginess and tropical vibes.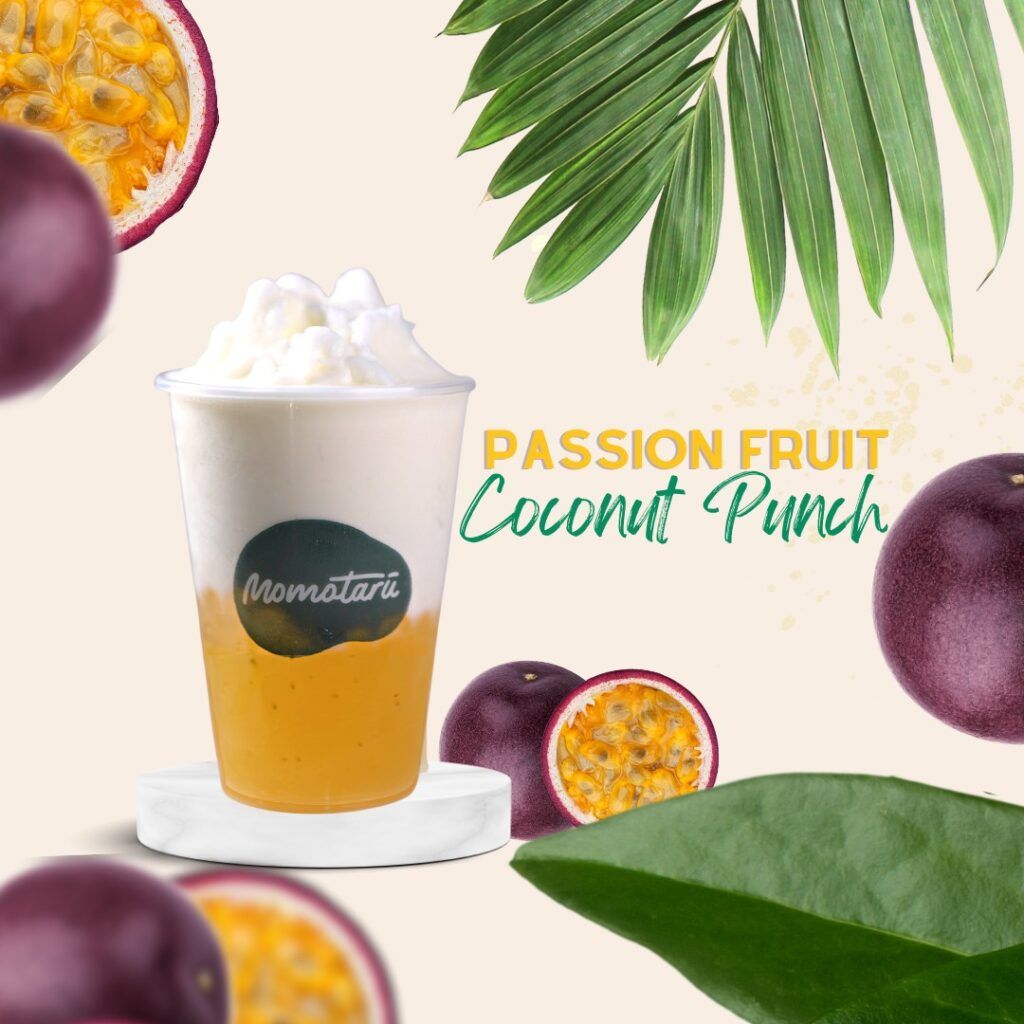 Momotaru Menu Mango Series
This menu offers a range of delectable treats that showcase the sweetness and vibrancy of ripe mangoes. Each item on this menu is a perfect choice for mango lovers in Singapore who are looking forward to tasting something tropical.
Momotaru Avocado Shakes Menu
This menu offers a range of options for avocado lovers around Singapore. Customers can expect a creamy and flavorful experience whether they want to try some classic offerings or go with some unique items.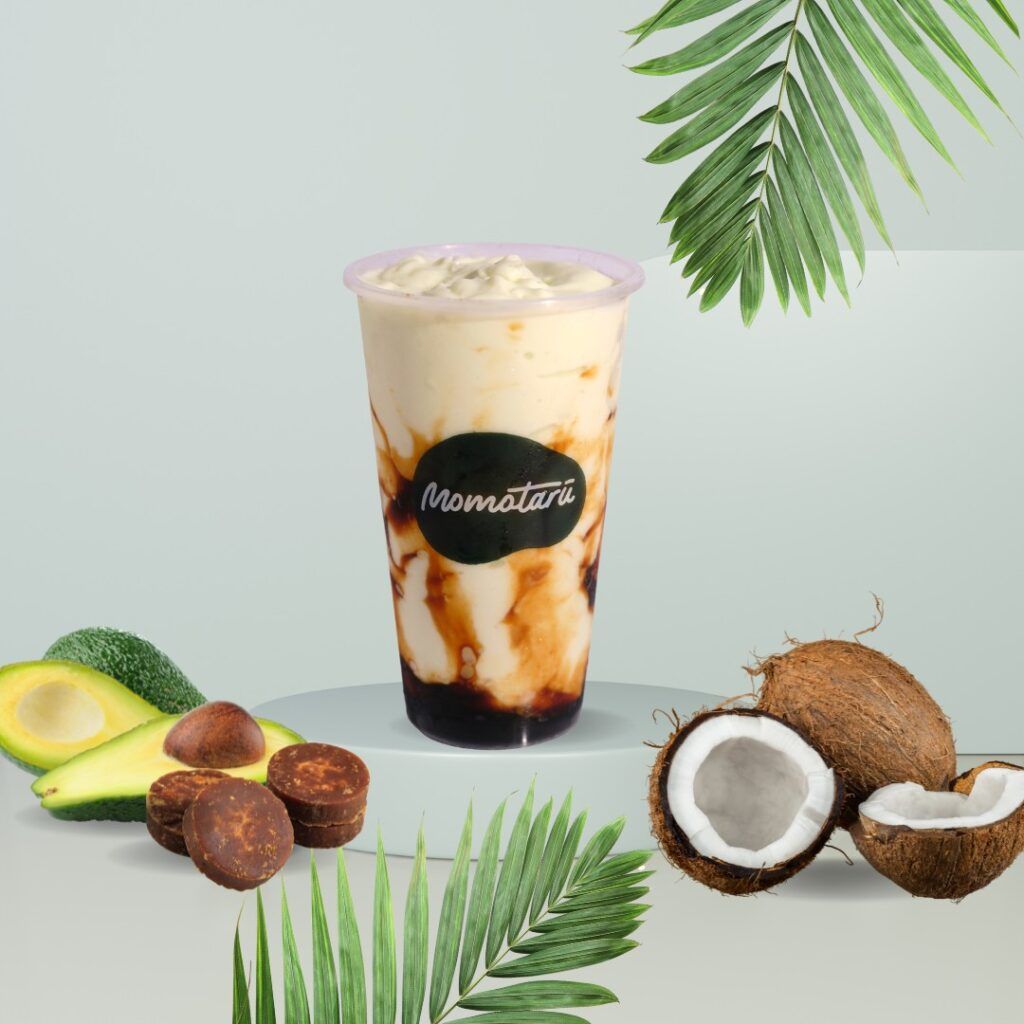 Momotaru Menu Delivery
Craving the exquisite flavors of Momotaru menus? Look no further! Indulging in their extraordinary drinks is now easier than ever. With just a few taps on your smartphone, you can order Momotaru from popular food delivery platforms like Foodpanda, GrabFood, or Deliveroo, bringing their delectable creations right to your doorstep. From their renowned sushi rolls to flavorful ramen bowls and crispy tempura, satisfy your cravings and enjoy the convenience of experiencing Momotaru's tantalizing flavors from the comfort of your own home.
Social Media Pages
Follow them on social media to stay connected with our latest menu offerings, exciting promotions, and deliciously creamy creations. Join their online community and be inspired by mouthwatering photos, recipe ideas, and the health benefits of coconut and avocado. Share your love for their shakes with friends and family, and let them transport you to a tropical paradise with every sip.
Facebook: https://www.facebook.com/Momotaru.sg
Instagram: https://www.instagram.com/momotaru.sg
FAQs
Are Momotaru drinks healthy?
Yes, because their beverages are made from natural ingredients such as fresh coconut and avocado.
Can I customize the sweetness of the shakes?
Yes, you can ask their staff to match the sweetness of your beverage to your preference.
Do the shakes contain any added sugars?
There is no information on whether their shakes have added sugar, it is best to approach their staff in regard to this matter.
Can I find Momotaru with additional toppings?
Yes, you can always customize your beverages at Momotaru by adding toppings and more.
Do Momotaru have any halal certifications?
There is no information on whether or not Momotaru has any halal certifications.
Conclusion
Momotaru is a must-visit destination for those looking for coconut, avocado, and other tropical beverages in Singapore. Their menu has a wide variety of options to cater to different tastes whether you are looking for a classic coconut shake or an innovative blend of coconut and avocado. Using fresh, ripe ingredients ensures that each shake is bursting with flavor and provides a creamy and refreshing treat. The cozy and inviting atmosphere of Momotaru's establishments adds to the overall experience making it a great spot to relax and enjoy a refreshing beverage.