The 88 Chicken menu consists of authentic Korean cuisines. It serves Korean-inspired dishes such as stews, pancakes, ramen, toppoki, and ginseng chicken. It also offers comfort food such as French Fries and Fried dumplings. Its fried chicken consists of a boneless thigh, chicken, and wings and is available in original, yang nyeom, and soy sauce flavors. Add noodles to your stews and rice to your meal for a satisfying dining experience. 
You can find the updated pricing information for the 88 Chicken menu below.
MENU
PRICE (SGD)

A La Carte

Army Stew (Small)
$22.00
Army Stew (Large)
$37.00
Kimchi Stew Pork (Small)
$15.00
Kimchi Stew Pork (Large)
$27.00
Kimchi Stew Tuna (Small)
$15.00
Kimchi Stew Tuna (Large)
$27.00
Sundubu Stew (Small)
$15.00
Sundubu Stew (Large)
$27.00
Ginseng Chicken
$25.00
Pancake (Chives)
$25.00
Pancake (Kimchi)
$20.00
Pancake (Seafood)
$25.00
Ramen (Kimchi)
$14.00
Ramen (Original)
$12.00
Ramen (Seafood)
$14.00
Toppoki
$17.00
Fried Dumpling
$12.00
French Fries
$14.00

Fried Chicken

Fried Boneless Thigh (Half 8 pcs)
$22.00
Fried Boneless Thigh (Whole 16 pcs)
$38.00
Fried Chicken (Half 7 pcs)
$19.00
Fried Chicken (Whole 14 pcs)
$34.00
Fried Wings (Half 10 pcs)
$20.00
Fried Wings (Whole 20 pcs)
$36.00

Yang Nyeom Chicken

Yang Nyeom Boneless Thigh (Half 8 pcs)
$23.00
Yang Nyeom Boneless Thigh (Whole 16 pcs)
$40.00
Yang Nyeom Chicken (Half 7 pcs)
$20.00
Yang Nyeom Chicken (Whole 14 pcs)
$36.00
Yang Nyeom Wings (Half 10 pcs)
$21.00
Yang Nyeom Wings (Whole 20 pcs)
$38.00

Soy Sauced Chicken

Soy Boneless Thigh (Half 8 pcs)
$23.00
Soy Boneless Thigh (Whole 16 pcs)
$40.00
Soy Chicken (Half 7 pcs)
$20.00
Soy Chicken (Whole 14 pcs)
$36.00
Soy Wings (Half 10 pcs)
$21.00
Soy Wings (Whole 10 pcs)
$38.00

Add On

Steamed Rice
$2.00
Noodle
$3.00

Drinks

Coca Cola
$2.00
Grape
$3.00
Mineral Water
$2.00
Pear
$3.00
Rice Punch
$3.00
Sprite
$2.00
About 88 Chicken 
88 Chicken is established by Mr. Kim Yong Hwan and his wife. They aim to serve authentic, quality, and budget-friendly dishes that are popular in Korea. It is situated in The Venue Shoppes in Singapore, conveniently accessible by public transportation. The restaurant uses traditional recipes and authentic Korean ingredients to give diners a great dining experience. 
88 Chicken Menu A La Carte 
The a la carte dishes of 88 Chicken consists of traditional and popular cuisines in Korea. It includes Korean stews, pancakes, ginseng chicken, toppoki, ramen, fried dumpling, and French fries.
Kimchi Stew – Kimchi is a famous stew offered by Korean restaurants in different parts of the world. It is remarkable for its spicy and savory flavor. Tuna and pork are the variants of this stew offered by 88 Chicken. The flavors of its ingredients are well-balanced, resulting in an umami taste.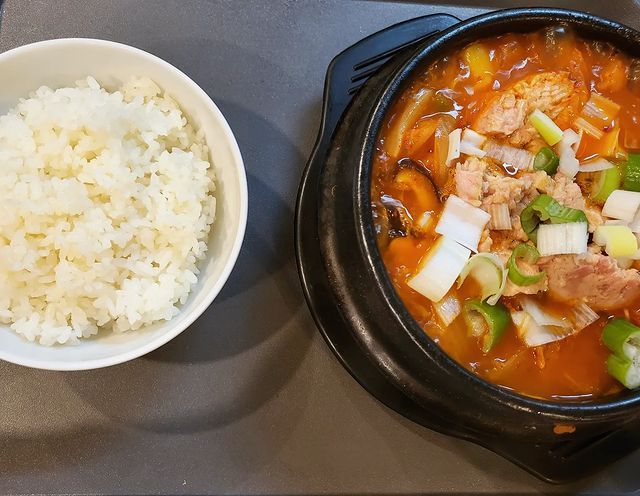 Army Stew – One of the best sellers of 88 Chicken and a favorite dish of its patrons as it has an authentic Korean flavor. This is a fusion of Korean-American cuisine, consisting of American-style processed foods such as sausages and spam. The other ingredients served with it are tofu, ramyeon noodles, and kimchi. 
Pancake – Seafood, Kimchi, and Chives are the three variants of pancakes served by this restaurant. These irresistible and heartwarming pancakes are known for their crispy edges and soft texture. It is a well-known street food in Korea as it is easy to prepare and convenient to eat. 
Ginseng Chicken – A nutritious and delicious dish where chicken is filled with ginseng, garlic, and other ingredients. This Ginseng Chicken is cooked with light, flavorsome broth, and various ingredients. It is an iconic food that Koreans love, especially in summer or hot season, but it can also be enjoyed all year round. 
Toppoki – Toppoki is a Korean rice cake cooked in a spicy broth. This is one of the popular foods cooked in Korean homes and is commonly served as street food as it is delicious and easy to prepare. It is a highly addicting cuisine with an umami-rich flavor profile. 
88 Fried Chicken Menu
Fried Chicken is a sensational dish and one of the favorite comfort foods of all ages. The fried chicken served by 88 Chicken consists of a boneless thigh, classic fried chicken, and wings. 
Fried Boneless Thigh – It is made with boneless thigh coated with the restaurant's unique blend of batter and deep-fried expertly. This is convenient to eat because it is boneless, tender on the inside, and has perfect crunchiness on the outside.  
Fried Chicken – This dish is a hit among all age groups as it has an irresistible taste and aroma. The Korean taste of this fried chicken always impresses its customers' palates and satisfies their cravings.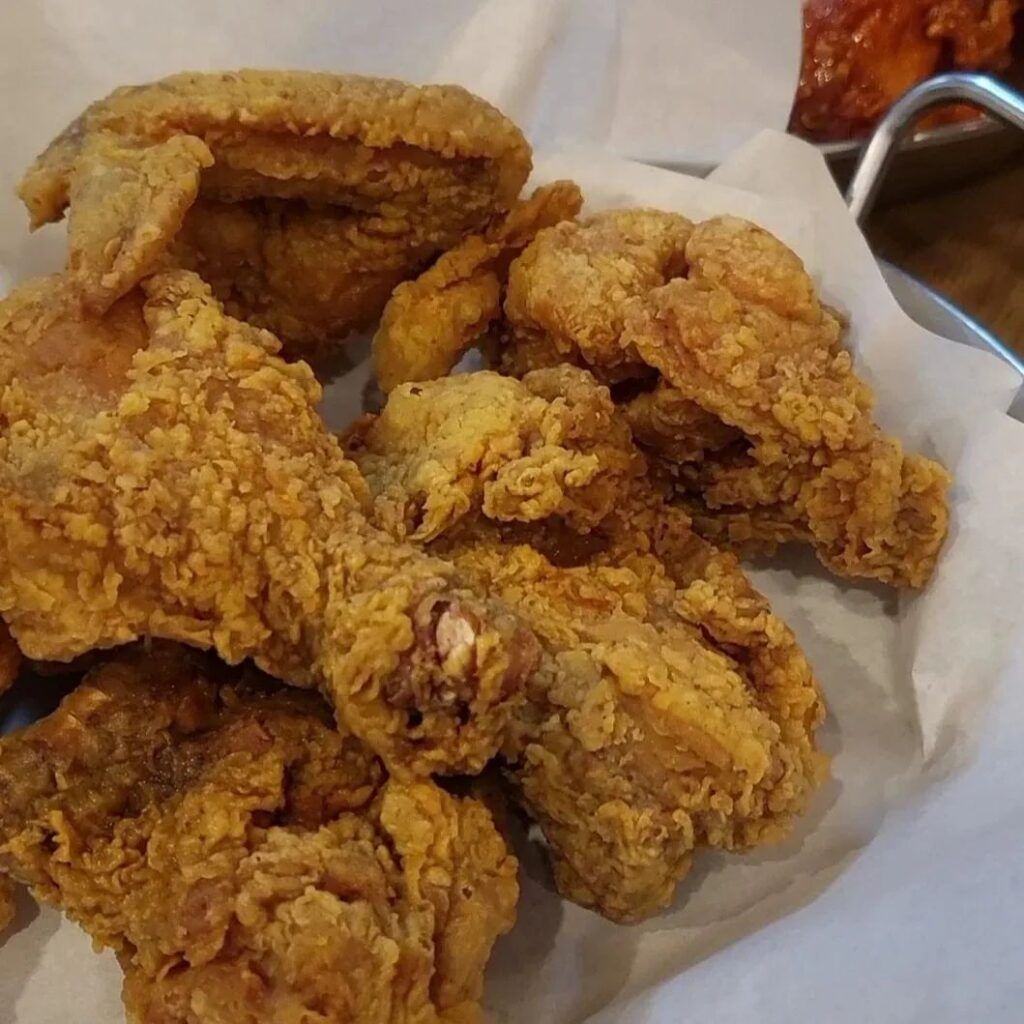 Fried Wings – Fried Wings are a famous and versatile dish commonly enjoyed as an appetizer, snack, or paired with rice. It is expertly coated with batter to balance flavor and texture, satisfying each bite. 
88 Yang Nyeom Chicken Menu
Yangnyeom Chicken is a well-known variety of Korean Fried Chicken where chicken is coated in batter and drenched with a special spicy sauce. These chicken dishes are loved for their spicy taste and surprising goodness. 
Yangnyeom Boneless Thigh – The boneless chicken thigh is cut into bite-sized pieces, deep-fried, and doused in a sweet, spicy, and tangy sauce. Its juiciness and tenderness make it one of the patron's most-sought dishes. 
Yangnyeom Chicken – Enjoy this Korean chicken's sweet and spicy flavor, crispy texture, and mouthwatering goodness. The special yangnyeom sauce complements the taste and texture of the chicken. 
Yangnyeom Wings – If you want spicy chicken wings, try these Yangnyeom wings with authentic and distinctive flavors. This dish is made with chicken wings deep-fried and smothered in a Korean spicy paste. The sauce gives a glossy appearance, making it an enticing dish.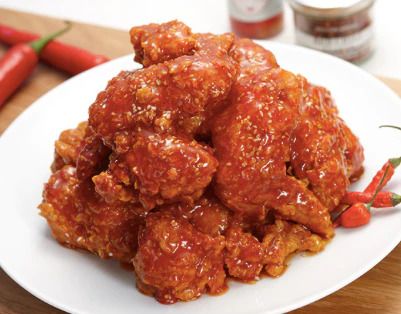 88 Soy Sauced Chicken Menu
The Soy Sauced Chicken offered by this restaurant is an excellent option for those who want flavorful and non-spicy cuisine.
Soy Boneless Thigh – The sweet and savory sauce complements well with the boneless chicken thigh. It is a dish that all family members will surely love as it is convenient and has a delicious taste. 
Soy Chicken – A tender, juicy, and flavorful chicken that will satisfy your cravings in every bite. The sauce gives this dish a glossy appearance that entices customers to try it. It comes with a slice of lemon and green herbs, making it flavorful and visually appealing.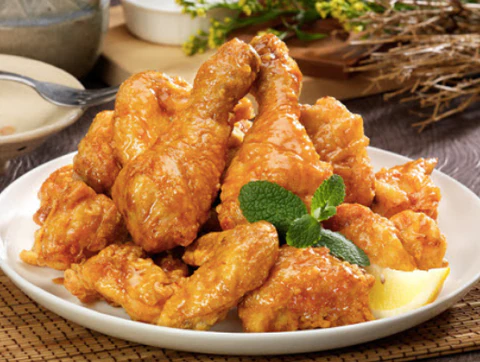 Soy Wings – Make your meal more exciting with these Soy-flavored wings of 88 Chicken. It is garnished with special spices and seasonings to make it more flavorful and pleasurable. This is a must-try dish with an authentic and distinctive taste that will stimulate your appetite. 
88 Chicken Menu Delivery 
The authentic and mouthwatering Korean cuisines of 88 Chicken are available for dine-in, self-pickup, and delivery. For delivery, place your order on your preferred platform, as it is available in Foodpanda, GrabFood, and Deliveroo. For self-pick-up, visit its official website at https://88chickensg.com/. 
Social Media Pages
Stay connected with us to be the first to know about our latest creations, special promotions, and upcoming events. Our social media pages are a gateway to the world of Mun Chee Kee, where you can explore the artistry behind our dishes, learn about traditional cooking techniques, and connect with fellow food enthusiasts.
Facebook: https://www.facebook.com/profile.php
Instagram: https://www.instagram.com/88chicken_sg/
Website: https://88chickensg.com/collections
FAQs
What type of cuisine does 88 Chicken Singapore offer? 
Korean is the type of cuisine that 88 Chicken Singapore offer. 
What are some popular dishes at 88 Chicken Singapore? 
Army Stew, Fried Chicken, Toppoki, and Yang Nyeom Boneless Thigh are some popular dishes at 88 Chicken Singapore. 
Does 88 Chicken Singapore accept reservations for dining? 
88 Chicken Singapore does not accept reservations for dining. 
How can I contact 88 Chicken Singapore for further inquiries or feedback? 
You can contact them at +65 8223 8532 for further inquiries. Visit their official Instagram page @88chicken_sg or write a review on Google and other websites to share your feedback. 
Is 88 Chicken Halal Certified? 
No, 88 Chicken is not one of the halal-certified Korean restaurants in Singapore. 
Conclusion 
The 88 Chicken menu is known for its Korean cuisine, including stews and fried chicken. Each dish has a generous serving, making them perfect for sharing. It has a limited seating capacity, so it is best to come early or order through self-pickup or delivery. This is one of the famous restaurants in Singapore that serves authentic dishes made with quality ingredients, giving customers a memorable Korean dining experience.