Potato Corner's menu primarily revolves around its signature product, which is its flavored French fries which are offered in a variety of flavors to suit different preferences. One of the highlights of Potato Corner is the ability to customize your fries giving their customers the freedom to choose your preferred flavor or even mix and match different flavors to create your own unique combination. They are also known for their commitment to using high-quality potatoes in their fries which contributes to the overall taste and texture of the fries. 
You can find the updated pricing information for the Potato Corner menu below.
MENU
PRICE (SGD)

Original Fries

Mega Fries
$6.00
Giga Fries
$10.10
Tera Fries
$11.20

Super Chicken Pop

Mega POP
$7.60
Super Mega
$7.20
Super Tera
$13.20

Specialty Fries

Tater Tots Extra
$6.20
Loopy Fries Extra
$6.20
Waffle Fries Extra
$6.20

Sidekicks

Shiok Shiok Wings (8 pcs)
$15.20
Shiok Shiok Wings (6 pcs)
$11.40
Crispy Nuggets-Kosong (plant-based)
$7.20
Sweet Potato Balls
$5.30
Sweet Potato Fries Extra
$8.20
Mozza Cheese Sticks
$7.50

Beverages

Coke Zero
$1.80
A&W
$1.80
Mineral Water
$1.80
About Potato Corner
Potato Corner is a popular food chain specializing in flavored French fries with several outlets across Singapore. Potato Corner offers a unique and enjoyable snacking experience for potato lovers with a variety of delicious flavors, quality potatoes, and customizable options making it a popular go-to destination for those seeking tasty and satisfying fries with a twist. Potato Corner also gives their customers the freedom to select their preferred flavors and even mix and match different flavors for a unique taste experience.
Potato Corner Menu Best Seller
This menu consists of the most popular items at Potato Corner hence them being the chain's best-selling items both in their physical and online stores.
Original Fries – Made from fresh potatoes, cut into thick, golden fries, and cooked to perfection, these fries are a classic and timeless choice. Original Fries are considered to be the most popular and are the ones that are typically ordered by many visiting customers.
Mega Fries – This option is ideal for those who are looking for a generous serving size that is perfect for sharing or for those with a hearty appetite. The Mega Fries still have the same great taste and texture as the Original Fries, but with more to enjoy.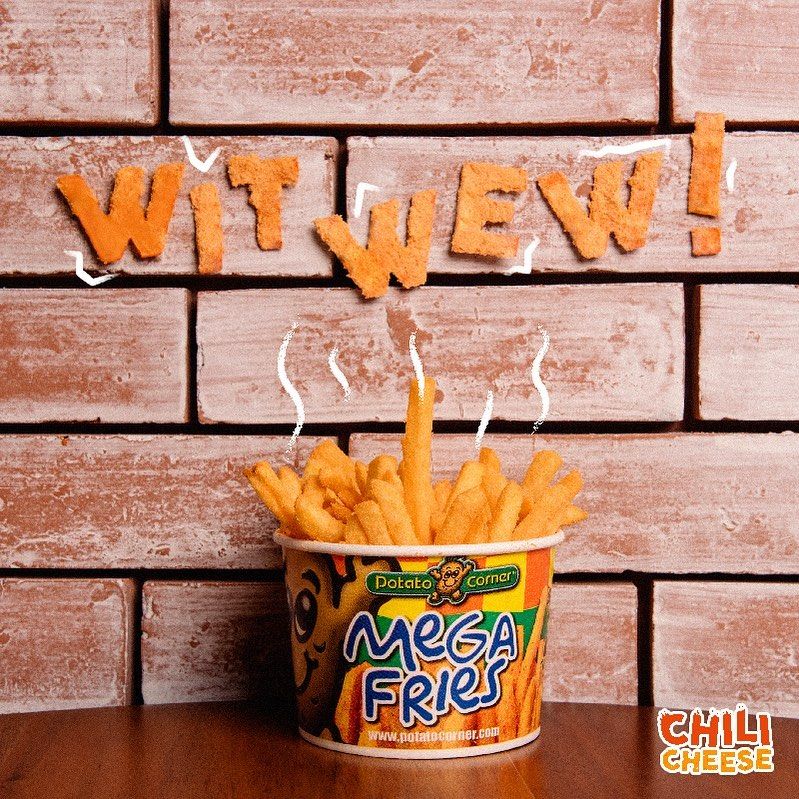 Giga Fries – The Giga Fries are perfect for groups or those who simply can't get enough of the delicious potato goodness as each serving has an even larger proportion than the Mega Fries. Despite their serving size, the Giga Fries manage to maintain their crispy exterior and fluffy interior, ensuring a satisfying snacking experience.
Tera Fries – This one is the perfect choice for an ultimate potato feast as it offers the largest serving portion that is guaranteed to satisfy a large group of people. These fries are a perfect accompaniment to any meal or a delightful snack on their own when you're sharing with a large group.
Potato Corner Menu Super Chicken Pop
The menu consists of high-quality, flavorful fries that will leave first-timers at Potato Corner wanting more.
Mega POP – The Mega POP fries are an exciting twist on the classic fries with the unique popcorn-like texture they offer. These fries are slightly smaller in size, resembling popcorn kernels, making them a great choice for those who appreciate a playful twist on the traditional fries experience.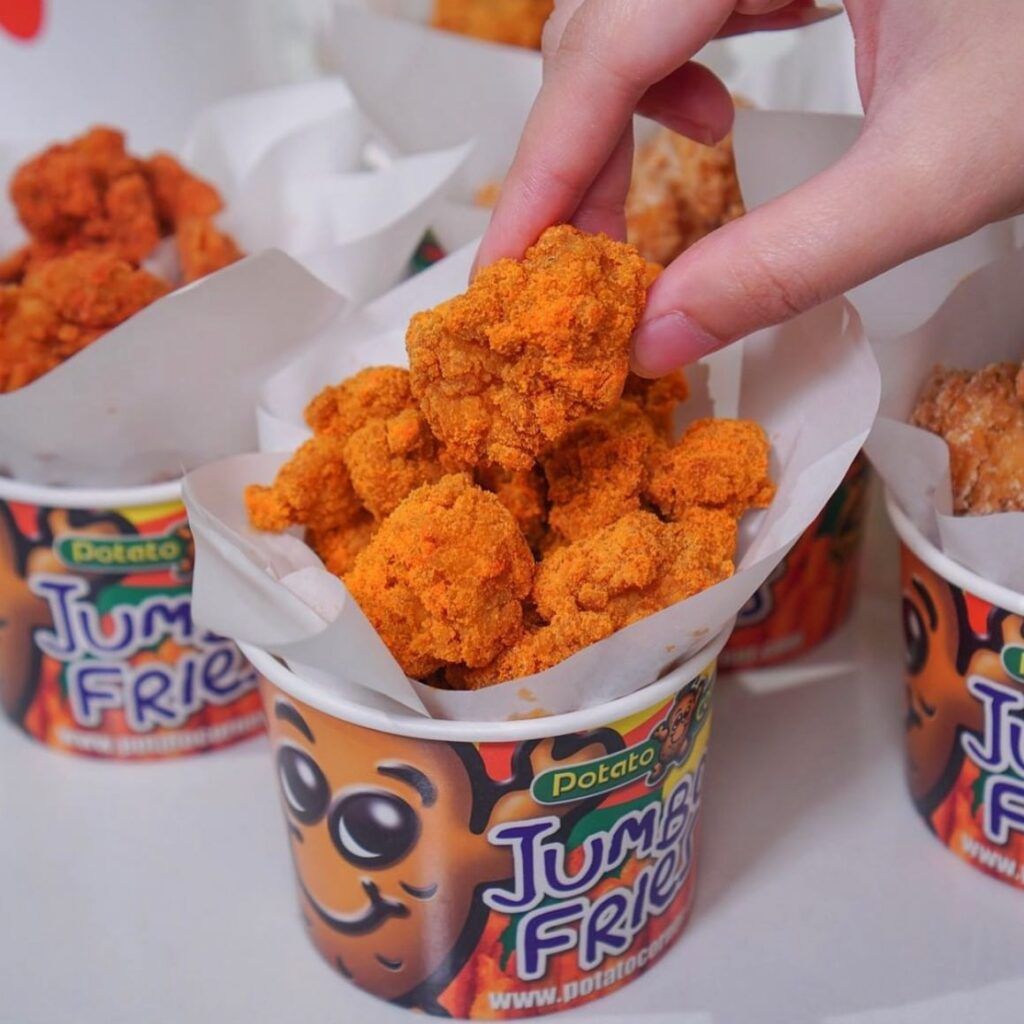 Super Mega – These fries are generously sized, providing an even more substantial portion for sharing or for those with a big appetite perfect for gatherings or for those looking for an extra hearty serving of fries.
Super Tera – These fries offer an abundance of crispy goodness and a fluffy interior that is simply irresistible making them the perfect option for special occasions, large groups, or for anyone who wants to enjoy a truly epic serving of fries.
Potato Corner Specialty Fries Menu
This menu consists of irresistible treats that can be enjoyed on their own or paired with your favorite seasonings for a truly satisfying snack.
Tater Tots Extra – The Tater Tots Extra are bite-sized potato nuggets that are perfectly crispy on the outside and soft on the inside. These little tots are full of flavor and offer a fun and satisfying snacking experience.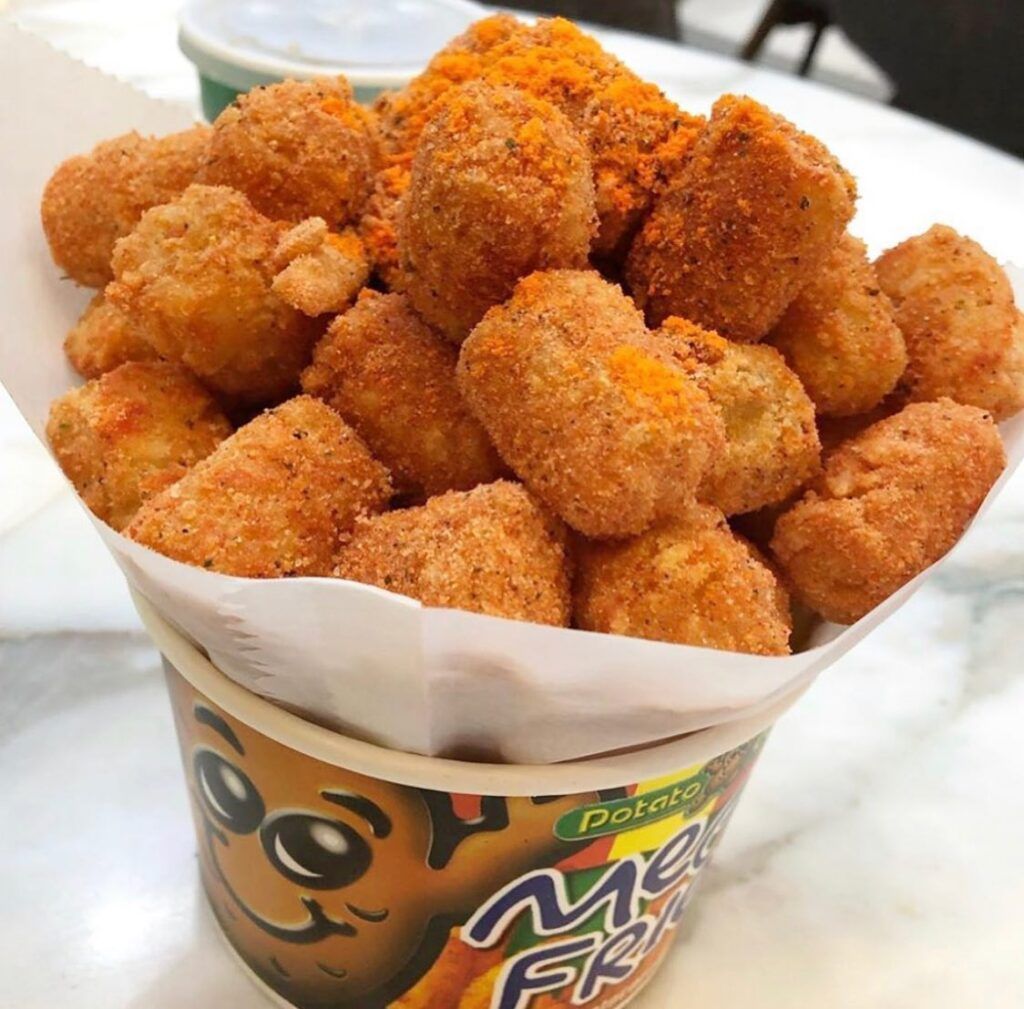 Loopy Fries Extra – These fries are uniquely shaped in a spiral pattern, offering a visually appealing presentation, and with their extra surface area, the Loopy Fries Extra are even crispier and have a slightly different texture compared to regular fries.
Waffle Fries Extra – These fries are cut in a distinctive waffle pattern, giving them a beautiful appearance and a slightly different texture compared to traditional fries. The waffle design allows for more surface area, resulting in a satisfying crispiness making them a hit among fry enthusiasts looking for a delightful and visually interesting snack.
Sidekick 
This menu of Potato Corner offers a variety of tasty and satisfying options to accompany your fries, taking your snacking experience to the next level making them the perfect accompaniment to your snacking experience.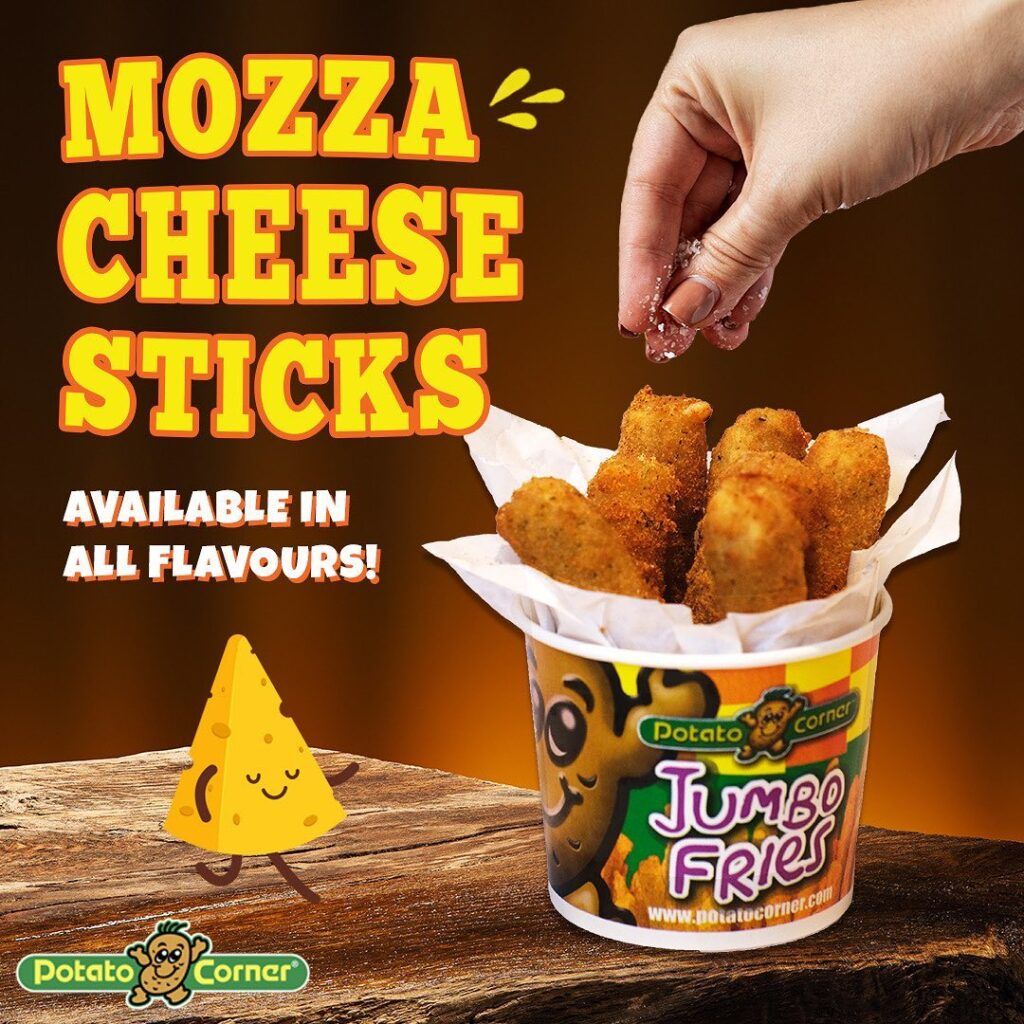 Potato Corner Menu Delivery
Potato Corner now provides a delivery menu for customers at home to browse from. This allows them to choose from Potato Corner's menu even at home and order from there, making the process more convenient. Also, by downloading third-party delivery service applications like FoodPanda, you can browse and order any items from Potato Corner anywhere and whenever you want.
Social Media Pages
Follow their social media pages to stay connected and be the first to know about their latest promotions, exclusive offers, and exciting new flavors. Indulge in the addictive crunch and mouthwatering seasonings of their perfectly cooked fries. Join the potato-loving community and be part of the fry frenzy! Follow Potato Corner today and elevate your snacking game with their delicious creations.
Facebook: https://www.facebook.com/potatocornersg
Instagram: https://www.instagram.com/potatocornersg
Twitter: https://twitter.com/potatocornersg
Website: https://potatocorner.com/countries/singapore/
FAQs
What makes Potato Corner fries unique?
What makes Potato Corner fries unique is their signature "Flavored Fries" concept that, unlike regular fries, Potato Corner offers a variety of flavorful seasonings that you can choose to customize your fries. 
Are the fries at Potato Corner Singapore made from fresh potatoes?
Yes, the fries at Potato Corner Singapore are made from fresh potatoes.
Are the seasonings at Potato Corner Singapore vegetarian-friendly?
Yes, Potato Corner Singapore offers vegetarian-friendly seasonings for their fries. 
Can I customize the seasoning on my fries at Potato Corner?
Yes, one of the unique features of Potato Corner is that you can customize the seasoning on your fries.
Is Potato Corner a halal-certified restaurant?
Yes, Potato Corner in Singapore is a halal-certified restaurant.
Conclusion
Potato Corner's menu features a wide range of unique flavors and customization options for customers to have a delightful snacking experience at their establishment. The availability of different portion sizes and convenient locations further adds to the appeal of Potato Corner, making it a popular choice for both individuals and groups looking for a tasty and enjoyable treat. Potato Corner's perfectly cooked fries are sure to satisfy anyone who is craving for fries be it one of the classic flavors or the more unique options.