Pizza is popular because of how delicious it is, it has a lot of different varieties of flavors and is easy to eat that's why this is popular among the working class or those who are always on the go. While strolling I noticed a pizza restaurant that is new to me so I didn't hesitate to try it. And to be honest, I'm quite surprised by the food that they are offering, the Canadian Pizza menu has a lot of pizza varieties, and they also have non-pizza items that I'm sure you will love. Aside from that, I learned that their pizzas are affordable and that's great news, right? Have you tried this brand already? If not then stay with me in this article and let's dive a little deeper into Canadian Pizza's whereabouts, their foods, and their price. Let's go!
You can find the updated pricing information for the Canadian Pizza menu below.
MENU
PRICE (SGD)

Hari raya value deals

Raya sharing snack box (2-4 pax)
$19.90
Raya party snack box (4-6 pax)
$29.90
DIY raya family iftar meal (2-4 pax)
$35.90
DIY raya family feast meal (4-6 pax)
$56.90
Super saver raya party meal (up to 18 pax)
$118.90

value deals

Meat free meal (2-4 pax)
$35.90
Kids bundle
$9.90
6 inch pan pizza
$7.60

2 for 1 super value

2 for 1 super cheese
$20
2 for 1 beef pepperoni
$20
2 for 1 Hawaiian
$20
2 for 1 margherita
$20
2 for 1 turkey ham
$20
2 for 1 chicken salami
$20
2 for 1 cheesy sausage
$20

2 for 1 standard

2 for 1 beef dendeng
$30.70
2 for 1 pot pie pizza
$30.70
2 for 1 Hawaiian classic
$30.70
2 for 1 Canadian classic
$30.70
2 for 1 classic italian
$30.70
2 for 1 meat lover
$30.70
2 for 1 mexican pizza
$30.70
2 for 1 barbecue chicken bonanza
$30.70
2 for 1 garden veggie
$30.70
2 for 2 singgapura
$30.70
2 for 1 tandoori chicken
$30.70
2 for 1 butter chicken
$30.70
2 for 1 beef bacon cheeseburger
$30.70
2 for 1 chicken bacon cheeseburger
$30.70
2 for 1 chicken bacon cheeseburger
$30.70
2 for 1 chili crab
$30.70
2 for 1 nasi lemak
$30.70

2 for 1 meat free

2 for 1 the impossible pizza
$34.80
2 for 1 creamy roasted chicken pizza
$34.80

Single super value

Super cheese
$19.30
Beef pepperoni
$19.30
Hawaiian
$19.30
Margherita
$19.30
Turkey ham
$19.30
Chicken salami
$19.30
Cheesy sausage
$19.30
6 inch pan pizza
$7.60

Single standard

Beef den deng
$24.60
Pot pie pizza
$24.60
Hawaiian classic
$24.60
Canadian classic
$24.60
Classic italian
$24.60
Meat lover
$24.60
Mexican fiesta
$24.60
Bbq chicken bonanza
$24.60
Garden veggie
$24.60
Singapura special
$24.60
Tandoori chicken
$24.60
Butter chicken
$24.60
Beef bacon cheese burger
$24.60
Chicken bacon cheese burger
$24.60
Chili crab
$24.60
Nasi lemak pizza
$24.60

Single meat free

Creamy roasted chicken pizza
$28.60
The impossible pizza
$28.60

Side order

Shepherds pie
$9.10
Baked lasagna chicken
$9.90
Baked lasagna beef
$9.90
Cheesy chicken bals
$6.40
Chicken nuggets
$6.40
6 pcs chicken nuggets plus 250h fries
$9.10
Chicken wings
$8.80
Chicken drumlets
$6.60
Korea drumlets
$8.80
Onion rings
$6
Baked mac & cheese
$8.90
Chicken Alfredo meatballs
$7.50
Chicken tomato meatballs
$7.50
Garlic bread
$3.90
French fries
$7.20
Spicy chicken meat pie
$4.30
Mash & gravy
$3.70
Tater tots
$5.50
Canadian fried chicken
$6.90

Meat free sides

Chicken chunks
$6.80
Korea chargrilled bites
$6.80
Fish & tots
$6.80

Desserts

Thai milk tea cake
$4.70
Ondeh ondeh cake
$6.20
Cake of love
$6.20
Orange cake
$5.90
Pandan churros balls
$3.30
Churros
$10.20

Desserts

Chili flakes
$0.40
Bbq sauce
$0.40
Korean sauce
$0.40
Tartar sauce
$0.40

Beverages

Coca cola 1.5L
$3.70
Coca cola can drink
$2.50
Coca cola zero can drink
$2.50
Fanta orange
$3.70
Fanta fruit punch 1.5L
$3.70
Heaven and earth jasmine green tea
$3.70
Sprite
$3.70
Honey b
$2.90
Milo drink (cold)
$3.60
Sjora lychee berry
$3.60
About Canadian Pizza
The owner's journey with Candian Pizza begins many years ago since the franchise, he just acquire the master franchise right for this brand in the year 2021. The owner found out about the weakness of his business and he is determined to change it for good. His vision is to grow the brand while making sure that Singaporeans will know about his business, he has plans on expanding as well. Since the pandemic that happened in 2020 a lot of customers are now very meticulous about their food and that sets the bar high. The owner stated that his challenge is to keep evolving and bring something new to the table. This pizza brand has gone a long way, they become successful already in their chosen field and now their pizza is known in Singapore. 
Canadian Pizza Popular Menu
Here is a list of Canadian Pizza's popular menus that you should try. 
Margherita Pizza – Canadian Pizza's version of Margherita pizza is made with pizza sauce which is made with tomatoes, fresh basil, and mozzarella cheese. Their version really copied the Margherita pizza that I tried in an authentic Italian pizza parlor. It is delicious. Aside from that their Margherita pizza (Actually all of their pizza) is one of the cheapest pizzas that I can find in Singapore. If you're looking for an authentic flavor their Margherita pizza is the one made for you. 
Stuffed Garlic Bread – One of the best meal that you could order from Canadian Pizza is their stuffed garlic bread. This is heaven for someone like me who loves the strong taste of garlic. Canadian Pizza's version of garlic bread is really good aside from that I think this is perfect with coffee or tea. The crust is soft and the inside has that savory taste that you will surely love.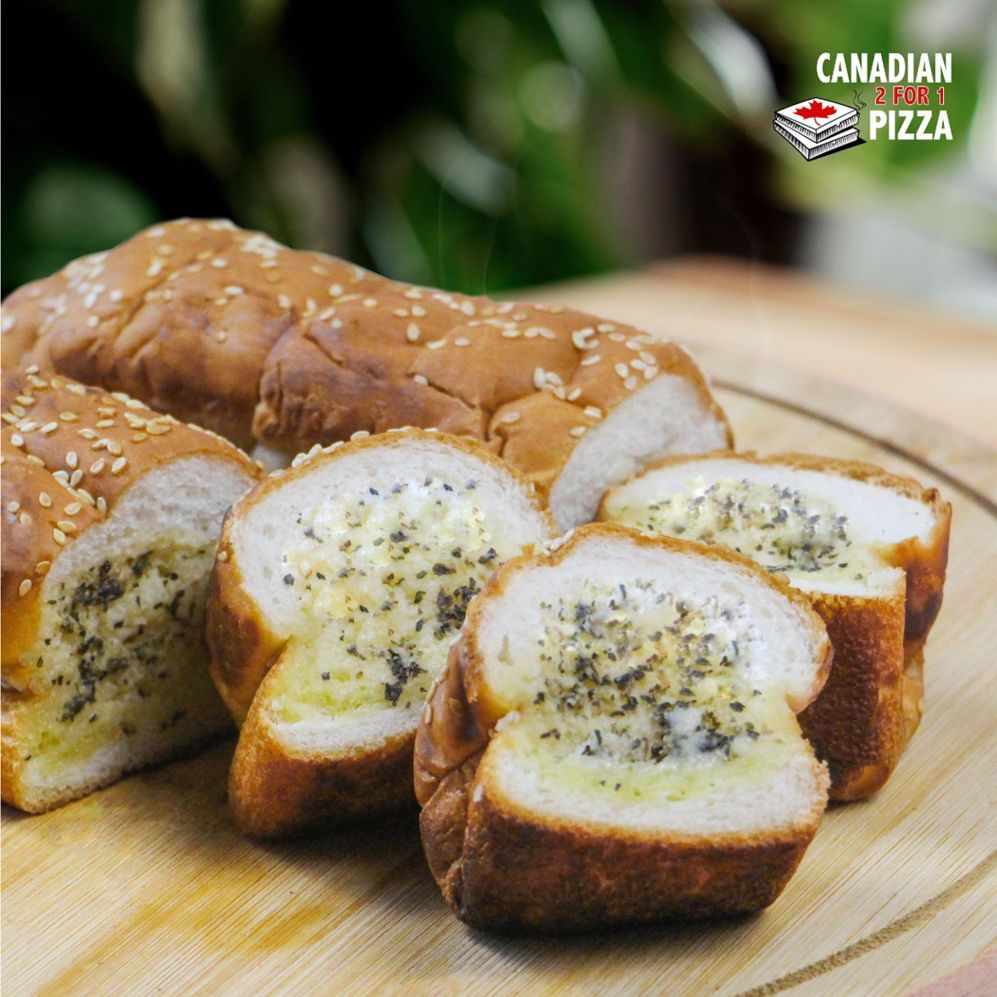 Farm Fresh Pizza – If you're trying to eat healthier then Canadian Pizza's version of farm-fresh pizza is the best choice for you. Made with soft crust this delicious pizza is surprisingly one of the best pizzas though it doesn't have meat on it. I really enjoy this one and though I am most likely to be carnivorous this is my favorite so far.
Hari Raya Value Deals
All of hari raya items that are included on their menu are made for sharing. Consist of meals that are good for a group meal. They have a Raya sharing snack box that is good for 2-4 pax, and a Raya party snack box that is made for 8-10 pax. Diy raya family iftar meal that is good for 2-4 persons, diy raya family feast meal which is great for 4-6 pax, and last but not least, their super saver Raya party meal which is good for estimated 18 pax. 
Value Deals 
Budget-friendly meals are known as value deals. The menu at Canadian Pizza offers three options for these deals. Firstly, they have a meat-free meal that serves two people. Secondly, there's a bundle specially designed for kids. Lastly, they offer a mouthwatering 6-inch pan pizza. However, it's important to note that these value deals are not available in unlimited quantities, so grab them while they last!
Canadian Pizza Standard Menu
Canadian Pizza 2 for 1 standard option has a lot of flavors to choose from. They actually have most of their pizza on their standard menu. They have beef dendeng, pot pie pizza, Hawaiian classics, and Canadian classics. Aside from those they also have classic Italian, meat lover, Mexican fiesta, BBQ chicken bonanza, garden veggie, singapura, tandoori chicken, butter chicken, chili crab, and nasi lemak.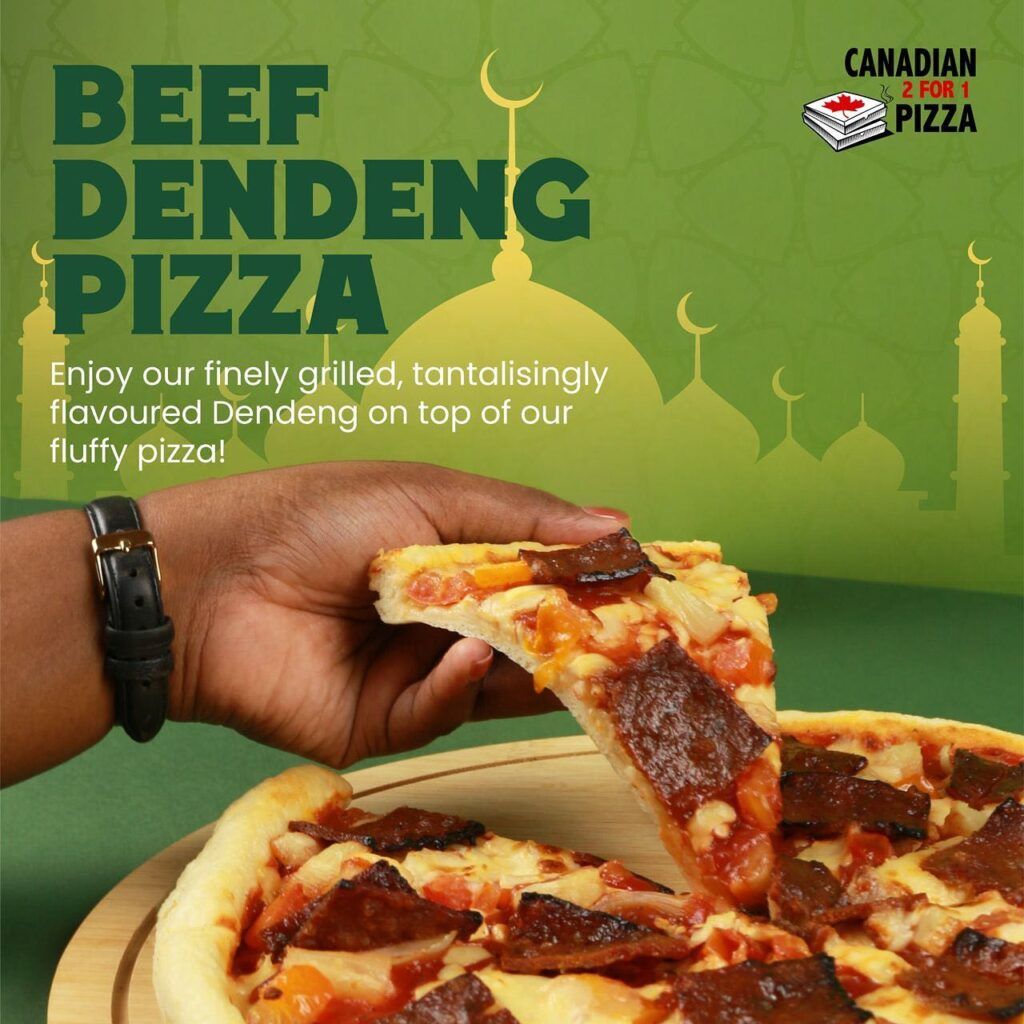 Meat-free Sides
Meat-free sides menu is recommended for our vegan friends who still want to eat good and delicious food without breaking their beliefs. In Canadian Pizza meat-free sides have 3 options to choose from; the first is their chicken chunks which are actually made with plant-based meat. Next is their Korean chargrilled bites, which are also made with plant-based meat. And lastly, their fish and tots which are also made from plant-based meat.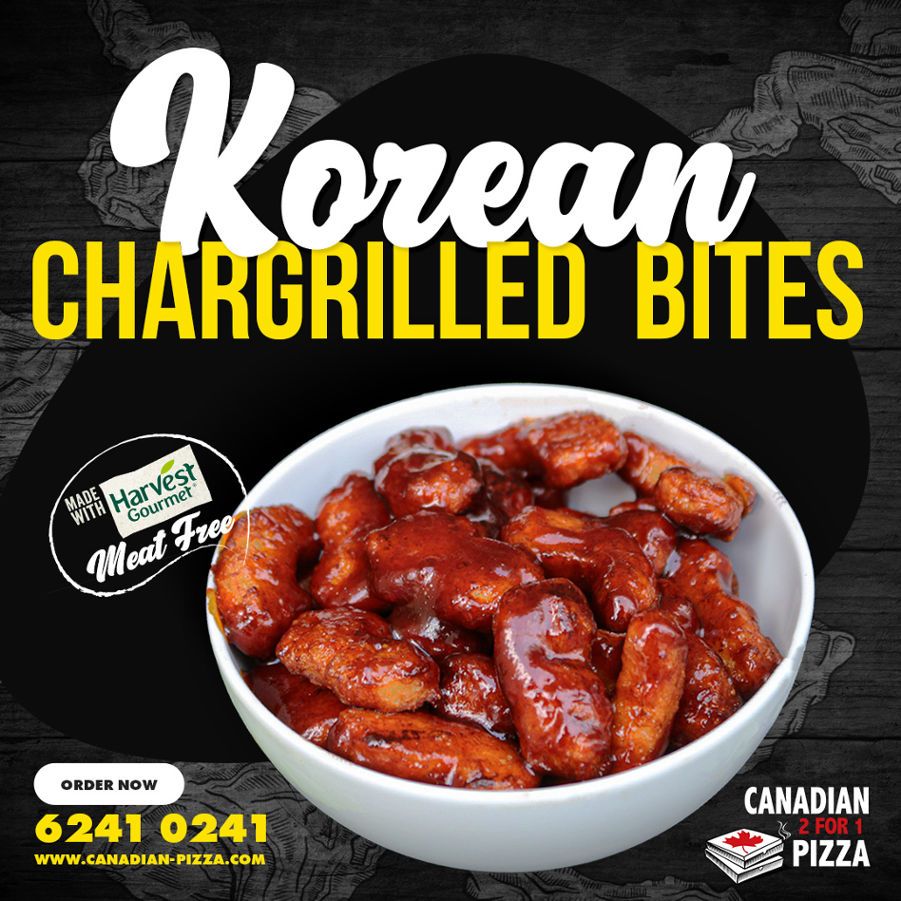 Canadian Pizza Promotion
Canadian Pizza releases various promotions but within a limited time, to know more about their promotions and get updated all you have to do is to like and follow their social media accounts. 
Canadian Pizza Menu Delivery
Enjoy the convenience of ordering food online with Canadian Pizza! They have taken all the stress out of the process, making it incredibly simple for you. All you need to do is click on this link to visit their website. But wait, if you're in a hurry and want your food even faster, you can opt for Deliveroo or Food Panda for fast transactions. This means you can effortlessly place your order without leaving the cozy confines of your own home. No need to worry about any complications or difficulties – it's smooth sailing all the way!
Canadian Pizza Social Media Pages
Looking for a pizza place that will satisfy your cravings? Look no further than Canadian Pizza Singapore! Follow their social media pages to stay updated on their latest promotions and offerings, and visit their restaurant for a delicious meal that will leave you wanting more. Don't miss out on the chance to indulge in their mouthwatering pizzas and other delectable dishes!
Facebook: https://www.facebook.com/CanadianPizzaSG
Instagram: https://www.instagram.com/canadianpizzasg/
YouTube: https://www.youtube.com/@canadianpizzasingapore
Website: https://canadian-pizza.com/
FAQs
What are the typical toppings on Canadian Pizza?
Hand-made dough and signature pizza sauce topped with bacon, pepperoni, crimini mushrooms, and cheese are the typical toppings that can be found in Canadian Pizza's pizza. 
Is Canadian Pizza popular in Singapore?
Yes, Canadian Pizza is quite popular in Singapore because of its delicious and affordable pizza and its great food options. 
Are there any vegetarian options for Canadian Pizza?
Yes, there are a lot of vegetarian options on the Canadian Pizza menu, just like their 2 in 1 meat-free and meat-free sides. Items on their meat-free menu are made with plant-based meat. 
Is Canadian Pizza halal-certified?
The answer is no. They are not halal certified however they are offering a lot of nonpork meat products so that their Islamic customers can still enjoy their foods. 
Conclusion
Most of their products are meant to be shared with family or friends. Canadian Pizza menu has all the delicious pizza that you are looking for aside from that they also offer non-pizza products and vegetarian options so anyone will surely enjoy it. Their pizza is loaded and to be fair I love the flavors of their pizzas. Service personnel are also quick to serve our order plus the foods are affordable. I highly recommend this pizza shop for every foodie out there who loves to try affordable and delicious pizza only in Canadian Pizza.