Throughout documented history and everywhere in the world, bread has been a significant part of various cultures' diets. Bread is a stapled food prepared from a dough of flour and water, generally by baking. We cannot outlive without the presence of bread around us. We eat bread while having coffee, we take a piece of cake as dessert, and we make bread as part of every breakfast, and here in the Colony Bakery, bread is life. In the Colony Bakery menu, bread is not only artistically designed by the look of its appearance but it is mindfully baked to make each kind unique in flavor.
Colony Bakery Menu Price List [Updated]
MENU
PRICE (SGD)

Diwali Sweet Box

Diwali Sweet Box - Early Bird 10%
$70.20

Colony Weekend Brunch

Colony Weekend Brunch for 2 (Min 24 hours advanced order required prior to delivery time)
$298.00

Afternoon Tea

Afternoon Tea Set (2 pax)
$80.00

Artisanal Cakes

Mango Cake
$78.00
Salted Coconut Gula Melaka
$78.00
Strawberry Vanilla Yoghurt
$78.00
Hazelnut Praline
$78.00
Chocolate Fudge
$78.00

Kueh Lapis

Prune Kueh Lapis
$72.00
Pandan Kueh Lapis
$68.00
Original Kueh Lapis
$68.00

Pastries, Breads

Cinnamon Caramel Banana Cake
$42.00
Brandy Fruit Cake
$48.00
Cinnamon Brioche
$12.00
Green Tea Brioche
$10.00
Hazelnut Brioche
$10.00
Raisin Brioche
$10.00
Cream Cheese Brioche
$10.00
Croissant
$4.50
Pain au Chocolat
$4.50
Almond Croissant
$4.50
Chocolate and Hazelnut Sugar Brioche
$4.50
Sugar Brioche
$4.50
Chocolate Cream Horn
$4.50
Chicken Sausage Roll
$4.50
Ham & Cheese Bread
$4.50
Tomato & Garlic Bread
$6.50
Peppercorn Bread
$6.50
Bacon & Onion Bread
$6.50
Baguette
$5.00
Ciabatta
$8.00
Focaccia
$10.00
Cheese Bread
$10.00
Sourdough
$10.00
Multigrain Bread
$10.00
Walnut Bread
$12.00
Multi-seed Gluten-free Bread
$15.00
Banana Bread
$15.00
Grissini Breadsticks
$5.00
Cheese Lavosh Crackers
$5.00
Pesto Lavosh Crackers
$5.00
Cookie (Large)
$4.00
Ham and Cheese Quiche
$6.00
Mushroom Quiche
$6.00

Confectioneries

Curry Bread Tidbits (Per Jar)
$28.00
Caramelised Cashew Nuts (Per Jar)
$32.00
Spiced Cashew Nuts (Per Jar)
$38.00
Macarons
$3.00
Merlion Mango Shortcake (3 Pieces)
$14.00
Peranakan Pineapple Shortcake (6 Pieces)
$25.00

Upper Crusts

Upper Crust (3 pieces) Only available for orders placed for 12:00 PM to 08:00 PM on Mon - Sun
$16.00
Upper Crust (6 pieces) Only available for orders placed for 12:00 PM to 08:00 PM on Mon - Sun
$32.00
Upper Crust (9 pieces) Only available for orders placed for 12:00 PM to 08:00 PM on Mon - Sun
$48.00

Gourmet Chocolate

Pralines (4 pieces)
$16.00
Pralines (8 pieces)
$30.00
Pralines (16 pieces)
$58.00
Dark Chocolate Bark
$12.00
Milk Chocolate Bark
$12.00
White Chocolate Bark
$12.00
Dulcey Chocolate Bark
$12.00

N25 Premium Caviar

N25 Caviar Baerii (30g tin)
$82.50
N25 Caviar Baerii (50g tin)
$110
N25 Caviar Screnkii (30g tin)
$98.50
N25 Caviar Screnkii (50g tin)
$128.50
N25 Caviar Oscietra (30g tin)
$118
N25 Caviar Oscietra (50g tin)
$155

Colony Takeaway Menu

Crispy Prawn Wantons Served with Chilli Sauce
$25.70
Curry Potato Samosas Mint Yogurt Raita
$23.55
Vegetarian Spring Rolls Sweet & Sour Sauce
$21.40
Garden Salad
$29.95
Grilled Chicken Caesar Salad
$34.25
Smoked Salmon Caesar Salad
$34.25
Truffle Mushroom Soup
$25.70
Black Chicken & Cordyceps Flower Soup (Steamed Jasmine Rice)
$23.55
Grilled Beef Burger ( Grilled Beef Patty ( 210g ), Sesame Seed Bun, Bacon, Monterey Jack, Butter Lettuce, Gherkin, Tomato, Mustard, Caramelised Onion)
$39.60
The Ritz-Carlton Sandwich ( Walnut Rye Toast, Grilled Chicken Breast, Scrambled Egg)
$31.05
Hainanese Chicken Rice ( Choice of Boneless Chicken Breast or Drumstick, Fragrant Chicken Rice,Chicken Broth, Chilli, Ginger, Dark Soy Sauce )
$26.75
Hainanese Kurobuta Pork Chop ( Hainanese Kurobuta Pork Chop, Fragrant Rice)
$34.25
Singapore Laksa
$31.05
Butter Chicken ( Tandoori Chicken, Spiced Tomato Gravy )
$36.40
Dahl Tarka ( Braised Yellow Lentil, Cumin, Garlic, Onion, Tomato, Green Chilli)
$26.75
Spaghetti Bolognaise ( Ground Beef, Veal, Tomato Ragout )
$36.40
Baked Salmon ( Bell Pepper, Poached Asparagus, Tomato Compote )
$38.50
Grilled Grass-Fed Ribeye Steak (400g) Mushroom Sauce, Seasonal Vegetable, Carbohydrate of the Day)
$72.75
Sautéed Seasonal Vegetables
$5.35
Steamed Rice
$5.35
Fragrant Rice
$5.35
Naan Bread
$5.35
Green Salad
$5.35
Mashed Potato
$5.35
Cheese Platter (Roquefort, Brie, Camembert, Gruyere , Reblochon, Table Water Cracker, Grapes, Nuts)
$29.95
Chocolate Fudge Cake ( Chocolate tuile )
$21.40
Cinnamon Apple Crumble Tart ( Vanilla Cream )
$21.40
Mango Mousse Cake
$21.40
Assorted Sliced Fruit Box
$23.55
Ice-Cream & Sorbet ( Served in a 600g tub )
$19.25
Sandwich Set ( Your choice of sandwich, served together with your choice of fruit juice and a soup of the day)
$19.90
Salad Set ( Your choice of salad, served together with your choice of fruit juice and a soup of the daY)
$19.90

Sandwiches

Nicoise Salad
$12.00
Caesar Salad (Chicken)
$12.00
Caesar Salad (Salmon)
$12.00
Caprese Salad (Vegetarian)
$12.00
Energiser Sandwich (Multi-grain Bread, Beef Pastrami,Mustard Mayonnaise, Gruyère Cheese, Gerkins, Arugula)
$12.00
Healthy Sandwich (Onion Bread, Asparagus, Avocado, Mushroom, Sun-dried Tomatoes, Spinach, Lettuce, Hummus)
$12.00
Nutritious Sandwich ( Pita Bread, Smoked Salmon, Red Onions, Gerkins, Tomatoes, Lettuce, Guacamole)
$12.00

Snacks

Salted Egg Potato Chips (100g)
$8.00
Truffle Potato Chips (100g)
$10.00
Salted Egg Fish Skins (100g)
$10.00
Truffle Fish Skins (100g)
$12.00
About Colony Bakery
Colony Bakery offers a variety of freshly baked bread together with a delightful spread of pastries, tormenting chocolates, scrumptious cakes, and seasonal goodies. This unique bakery prepared several choices of sweet and fragrant menus that will make each appetite alive.
Try their upper crust menu, a combination of a cookie crust with a muffin-based bread popular as a mid-day snack. They also offer curated hampers that are appropriate for gifting loved ones or associates. You can also, select from the Chocolate Lover hamper, Colony Signature hampers, Gluten-free hamper, Singapore Lover hampers or Sweet Tooth hamper.
Also, they have handcrafted signature cakes that fit every occasion. They too, make salad bowls, which are freshly prepared as well as healthy sandwiches. Their confectionery and gourmet chocolates were molded using the finest chocolate such as savor artisanal chocolate barks, pralines, and bonbons that will surely amaze cocoa lovers.
Colony Bakery Menu Best Seller
Upper Crust Cookies – You will be enthralled with the mellifluousness of every bite of this cookie in a box. It is made up of Almond Muffin, Apricot Filling, and Apricot & Milk Chocolate. Also in a box are Raspberry Muffins, Lychee & Rose Filling, Rose & White Chocolate savor, and a lot more. Grab yours! Crush the magnificent fit for a king cookie.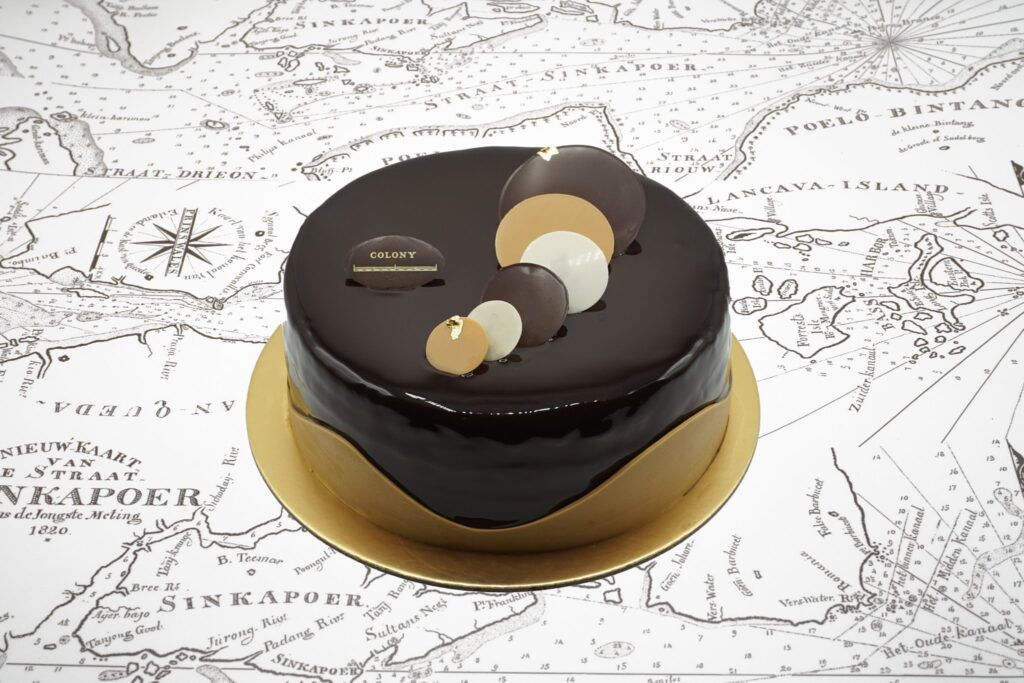 Chocolate Fudge Cake – Made of Chocolate Fudge Sponge, Guanaja 70% Dark Chocolate Crémeux, Crunchy Milk Chocolate Hazelnut Feuilletine, and Dark Chocolate Glaze. It is known for its seductive and luscious flavor. Get tempted by its mien, be allured by its taste.
Cream Cheese Brioche – Nestled in a creamy and citrus cream cheese filling, this buttery Colony Bakery menu is excellent with a trace of freshness and creaminess in your mouth.
Mango Cake – I don't eat ripe mangoes because of their aftertaste. Trying this fantastic Mango cake, I never realized the flavor I didn't like was exactly the thing that excite me for a bite. It's composed of Villa Ladyfinger Biscuits, Mango Jelly, and Mango Mousse with the exact amount of sweetness and velvety you must love.
Colony Bakery Artisanal Cakes Menu
Try Colony's Artisan cake that comes with different savor. You can't help yourself just beholding the fluffy, spongy, and moist look of each. That beautiful and attractive appearance in the first glimpse of a cake is a bundle of joy to those who love it. Most of all, Colony Cakes has its enticing flavors you can't resist. It comes in the different flavorful tastes of chocolate, vanilla, velvet, hazelnut, mango, strawberry, and a lot more that you must try.
Colony Bakery Mooncake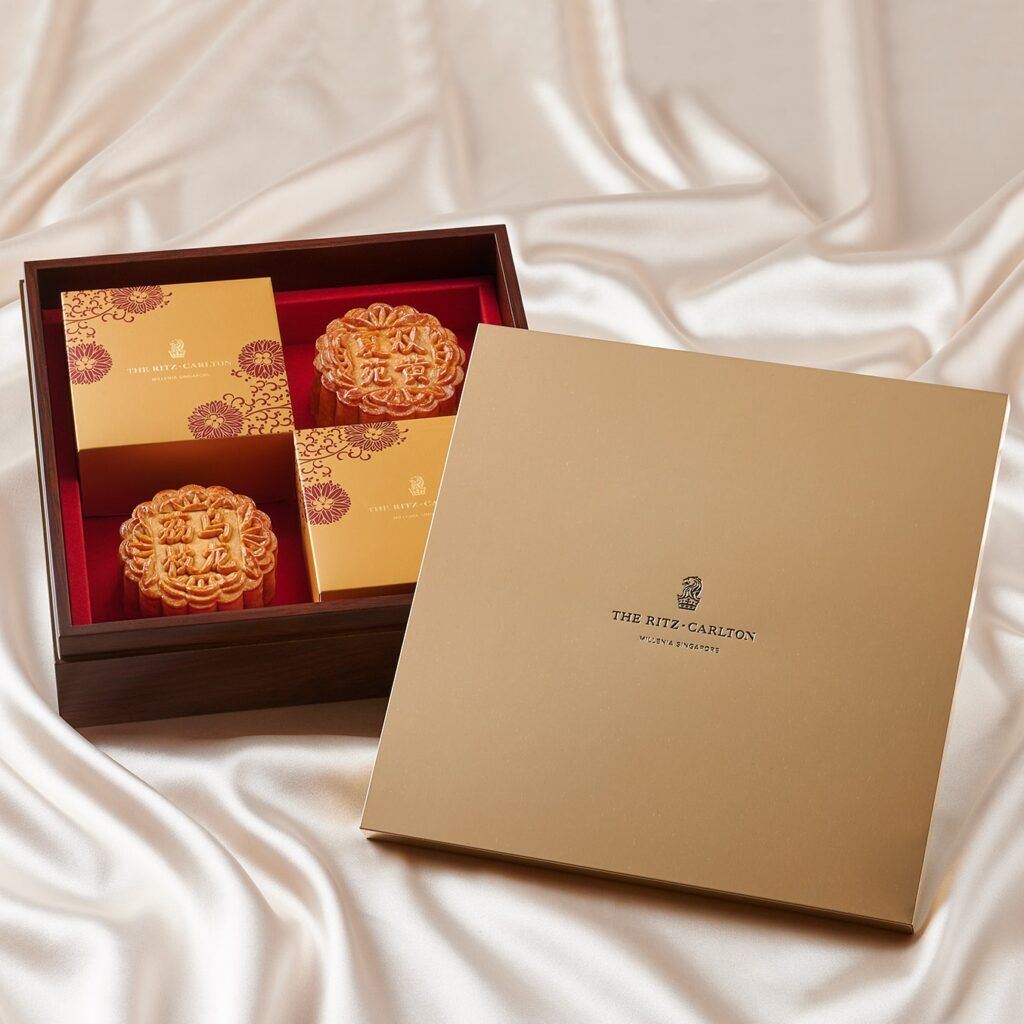 Colony Bakery's mooncake menu really tastes better it's a must-try one to really appreciate the toothsome taste. It is also well packed in a box and is exquisitely designed and decent, good for gifting or as a present to your loved ones. Though moon cakes are a bit small, the sweetness is adequate and not too greasy. This product from colony bakery has a reasonable price and the good service of their crews is a plus factor to it.
Diwali Sweet Box
In the festival of Diwali, the festival of lights, Colony Bakery observes its celebration. Named after the festival, this shop shadowed the label DIWALI as one of the bread menus that they offer. Diwali is renowned for the giving of sweets. These sweets are small acts of greeting friends and family with the pleasure of celebrating the holiday.
Mathai, made with ingredients like chickpea flour, condensed milk, ghee, cardamom, nuts, saffron, and other spices, was packed and made as presents or gifts to friends or family, etc. This box's contents are filled with the luscious flavor of carefully baked bread. Diwali sweet box is perfect during the celebration of this festival. You can order personalized Diwali gift boxes as a present fit for weddings, birthdays, or any occasion.
Colony Bakery Menu Delivery
Colony Bakery delivers your order right to your doorstep. Just simply click https://colonybakery.oddle.me/en_SG/stores to be redirected to their official website.
Follow these steps:
Open the Colony Bakery Website
Click Order
Choose the bread pastries that you want to place in the cart and click add
Review the items on your cart to finalize orders
Click you dining preference (Pick-up or Delivery)
Place the complete address of the place for delivery
Select the date and time of pick-up or delivery
If orders are final, confirm the order.
Wait or pick up your orders to arrive on the date and time you specified. Pick-up and delivery time is from 11:00 A.M.to 9:00 P.M only from Monday to Sunday. You may also call the telephone number +65 6434 5288 to place your order.
Social Media Pages
In order to get the latest trends of the Colony Bakery menu, prices, and promo, you have to follow them. If you are unsure how to find their official social media pages, simply refer to the following Facebook link below:
Facebook: https://www.facebook.com/ColonySingapore/
Conclusion
A bakery that serves its best, deserves an excellent complement. I salute the skillful hands and compassionate heart of the Master Baker of this bread shop. Making their best in crafting each bread, cake and other pastry really made the people love bread and live with bread. This bakery is awesome in facilities, its chief bakers, service crews, sanitation is commendable and most of all the beauty and elegance of each bread, the appealing tastes of their cakes, and delectable pastries that will make you fall in love with and can't resist buying more than the second time. Overall, the food on the Colony Bakery menu is wonderful and highly recommended.