As our society reaches its peak in terms of the food industry, instant burgers and other delightful instant food now dominate our dining table. That's why MOS Burger hop on the current waves of trends and didn't stop dominating our table with their own brand. The MOS Burger menu is known for its delectable, Hot Dogs, Salad-in-a-cup, and other foods. MOS can surely offer you a taste of nature in every bite.
In early 1972, MOS Burger had already provided its nearby residents with a wide variety of distinctive and innovative MOS Burgers in addition to local food delicacies that they can also offer. We may notice a change in terms of styling and menu, however, the commitment of the company and its passion to serve food at your own comfort doesn't end as they innovate their product.
MOS Burger originated in Japan, though as the company grows and expands, MOS Burger now reaches the land of Singapore. So if you want to get your own MOS Burger experience then it is your sign to visit them now!
MOS Burger Menu Price List [Updated]
You can find the updated pricing information for the MOS Burger food items below.
MENU
PRICE (SGD)

Breakfast

Deluxe Morning Toast Plate
$4.95
Chicken Ham & Omelet Burger
$2.50
French Toast Chicken Ham & Cheese
$2.50
French Toast Teriyaki Chicken
$2.50
Morning Toast Plate
$3.90

Desserts

Durian Ice Cream
$5.00
Durian Milk Shake
$5.70

Drinks | Milkshake

Ayataka Green Tea (Non-Sugar)
$2.90
Coffee Milkshake
$4.50
Coke Less Sugar
$2.60
Coke Less Sugar (Cafe)
$3.20
Coke Zero Sugar
$2.75
Durian Milk Shake
$5.70
Fanta Grape
$2.60
Fanta Grape (Cafe)
$3.20
Freshly Brewed Gourmet Coffee
$2.80
Freshly Brewed Gourmet Coffee (Cafe)
$3.80
Hot Berries Tea
$2.80
Hot Berries Tea (Cafe)
$3.20
Hot Capuccino
$3.80
Hot Capuccino (Cafe)
$4.20
Hot Latte
$3.80
Hot Latte (Cafe)
$4.20
Hot Lemon Tea
$2.95
Hot Lemon Tea (Cafe)
$3.20
Hot Matcha Latte
$3.50
Hot Milk Tea
$2.80
Hot Milk Tea (Cafe)
$3.20
Iced Lemon Tea
$2.95
Iced Lemon Tea (Cafe)
$3.80
Iced Matcha Latte
$3.50
Iced Milk Tea
$2.95
Iced Milk Tea (Cafe)
$3.80
Iced Peach Tea
$2.95
Iced Peach Tea (Cafe)
$3.80
Matcha Milkshake
$4.50
Mineral Water
$2.45
Oolong Tea (Non-Sugar)
$2.90
Orange Juice
$2.50
Orange Juice (Cafe)
$3.00
Peanut Butter Milkshake
$4.50
Seasonal Milkshake
$4.50
Vanilla Milkshake
$4.50

Kids Meal

Kids Beef Burger (Ketchup)
$6.50
Kids Beef Burger (Marmite)
$6.50
Kids Beef Rice Burger (Ketchup)
$6.50
Kids Beef Rice Burger (Marmite)
$6.50
Kids Chicken Burger (Ketchup)
$6.50
Kids Chicken Burger (Marmite)
$6.50

Burgers

Cheese Burger
$2.30
Chicken Burger
$4.15
Coney Wagyu Burger
$7.95
Double Mushroom Wagyu Burger
$7.95
Fiery Wagyu Cheeseburst Burger
$9.30
Fish Burger
$3.80
Golden Double Ebi Burger (Salted Egg Sauce)
$6.60
Hamburger
$2.00
Hokkaido Croquette Burger
$2.95
MOS Burger
$3.90
Portobello Wagyu Burger
$9.30
Roasted Garlic Chicken Burger
$9.30
Spicy MOS Burger
$4.10
Teriyaki Beef Burger
$3.90
Teriyaki Chicken Burger
$4.35
Tropical Wagyu Burger
$6.00

Hot Dogs

Chili Hot Dog
$4.15
Plain Hot Dog
$3.90
Spicy Chili Hot Dog
$4.30

Japanese Onigiri

Black Pepper Chicken Onigiri
$3.20
Kimchi Yakiniku Onigiri
$3.20
Seafood Kakiage Onigiri
$3.20
Tuna Onigiri
$3.20

Natsumi

Natsumi Beef Burger
$3.70
Natsumi Fish Burger
$3.70
Natsumi Teriyaki Chicken Burger
$4.30

Rice Burger

Ebi Rice Burger
$4.30
Kakiage Rice Burger
$4.30
Osaka Yaki Rice Burger
$5.60
Yakiniku Rice Burger
$4.30

Rice Plate

Chicken Vegetable Curry Rice Plate with Chicken Cutlet
$12.65
Teriyaki Chicken Rice Plate
$9.80
Wagyu Demi Glace Rice Plate
$10.85
Yakiniku Rice Plate
$9.70

Salad Bowls

Crispy Chicken Salad
$9.70
Grilled Teriyaki Chicken Salad
$8.05
Quinoa & Grain Salad
$6.05

Salad Cups

Egg Salad
$4.00
Fruit Salad (Mango)
$4.00
Smoked Duck Salad
$4.50

Soup

Clam Chowder
$2.90
Cream of Potato Soup
$3.50
Hokkaido Corn Soup
$2.90

Snacks

Butterfly Prawns (15pcs)
$9.35
Butterfly Prawns (5pcs)
$3.85
French Fries (Large)
$3.00
French Fries (Small)
$2.35
French Fries with Golden Dip (Salted Egg Sauce)
$3.80
Green Salad
$2.60
Hokkaido Croquette Pie
$2.35
MOS Chicken
$3.50
MOS Specialty Fries
$3.80
Mussel Nuggets (10pcs)
$9.15
Mussel Nuggets (4pcs)
$4.10
New Chicken Nuggets (15pcs)
$9.75
New Chicken Nuggets (5pcs)
$3.85
Signature Platter
$15.90
Teriyaki Mayo Fries
$3.80
Variety Plate
$16.65
About MOS Burger
We may know stories from other companies that narrates a cliché storyline of Failure to Success. However MOS Burger doesn't have stories related to some other cliché company story, it is a story of ongoing business success.
In the year 1972, MOS Burger establishes its name in the heart of Tokyo Japan. It thus created its own unique brand of burgers and other delicacies that piques the attention of not just the local citizen but also internationally. In the year 1973 MOS Burger establish its first franchise in the land of Japan too. And in just a span of 6 fast-running years, MOS Burger had already a hundred franchises that were scattered across the land of the rising star. In addition, MOS opened outlets in all 47 regions for the first time in the food services sector in 1986; and only in Japan did MOS Burger's 500th location open.
After the 500th outlet has been opened in Japan, many companies think that it will be the start of MOS Burger's breaking point. However, the thought of a foreseen failure has been rebutted by a successful first international franchise in Taiwan. After the success in Taiwan, MOS Burger aggressively opened stores all throughout the world, especially in the Asia Pacific region.
Best Burger at MOS Burger
To successfully enjoy your best experience at MOS Burger, you can select from a selection of menu that MOS Burger offers. To make all your efforts at peace, you may choose from the list of best burgers that this fast food restaurant can offer.
Portobello Wagyu Burger – Having fun eating protobello? Then try tasting the special Portobello Wagyu Burger for a minimum cost! This special burger is as special just like the place where it can only be bought! Buy Portobello Wagyu Burger exclusively at MOS Burger ION Orchard.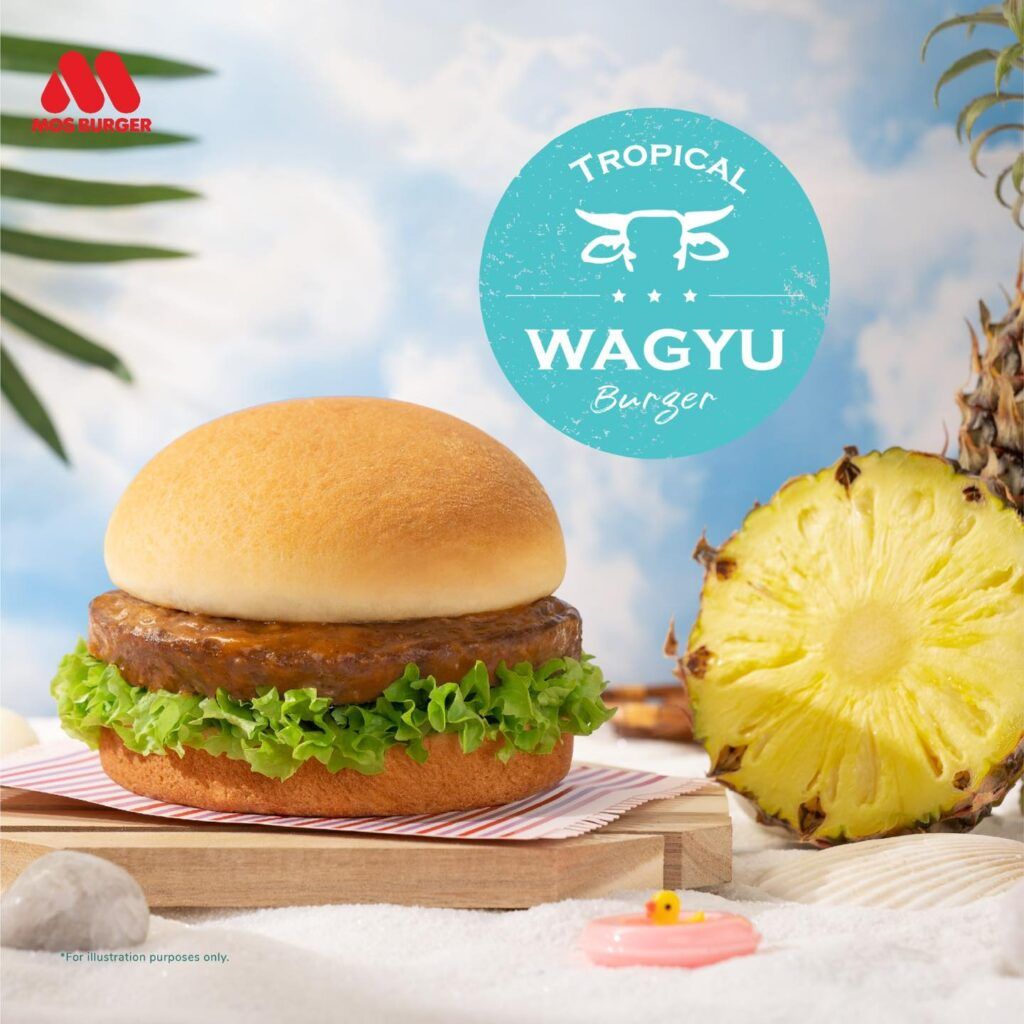 Tropical Wagyu Burger – Get your own one-of-a-kind burger at a reasonable price! Own your Tropical Wagyu Burger which offers you the best of summer! Get this MOS Burger menu and experience summer even if it is winter season!
Golden Double Ebi Burger (Salted Egg Sauce) – Have a taste of the rich salted egg yolks with an almost luxurious flavor for each bite of this ebi burger. This burger, which is served between two slices of fresh, fluffy brioche buns, has two pieces of breaded prawn that have been coated in salted egg sauce, egg, coral greens, and cheese.
Double Mushroom Wagyu Burger – Craving a yummy mushroom dipped in a special sauce with a twist? Try this Double Mushroom Wagyu Burger with wagyu patty crowned with marinated shimeji and shiitake mushroom sauce to increase your mushy experience!
Famous Menu at MOS Burger
We know for a fact that all company that is related to the food industry offers best-sellers and famous menu. MOS Burger famous menu is indeed the top-selling menu and not just a typical marketing strategy that other companies usually offer.
Signature Platter – Every restaurant had its own signature dish. Here is a platter of love and compassion offered by MOS Burger! Try this signature menu to have your multiple cravings on a single platter.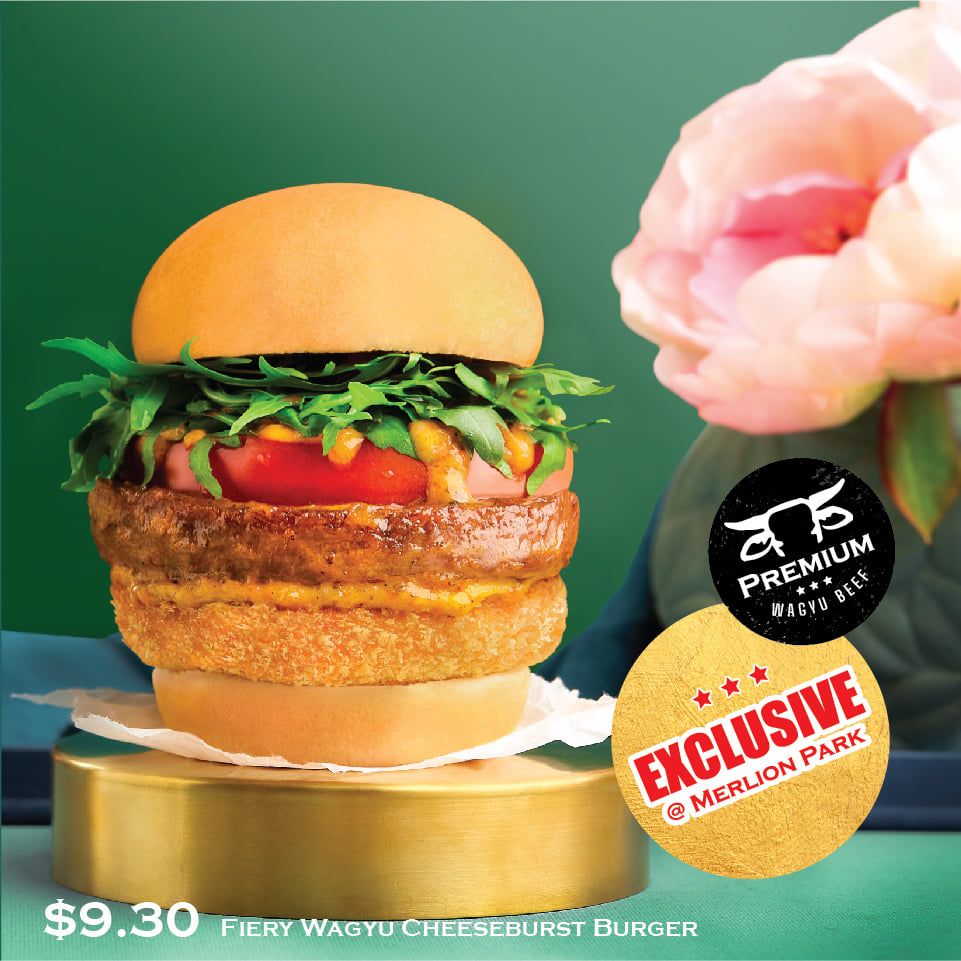 Fiery Wagyu Cheeseburst Burger – This exclusive burger that can only be experienced at MOS Burger is topped with fresh vegetables, and tomatoes, with a kick of spice that can only be purchased for as low as $9.30. The Wagyu patties, a MOS Burger, are sandwiched between the restaurant's renowned soft and fluffy buns. The burger is spiced with Tabasco and Mongolian sauce to give it an additional bite.
Roasted Garlic Chicken Burger – Want to have a bite of roasted garlic chicken but in a form of a burger? Why not try the famous Roasted Garlic Chicken Burger that the MOS Burger menu can offer? Taste the aromatic flavor of roasted garlic at your own convenience.
Kids Beef Burger (Ketchup) – Enjoy the beefy burger with a twisted side dish of a toy! Amusing right? If your kid likes to play while eating then I surely recommend trying this kids' beef burger meal!
FAQs
People may ask questions regarding which is which. Below is the list of frequently asked questions by customers who have inquiries.
What to eat at MOS Burger?
You can taste the one-of-a-kind MOS Burger in Singapore, with just one visit you can judge whether it tastes just like the mountains, feels like an ocean, and is hot like the sun. Fast foods and local Japanese delicacies can also be experienced at MOS Burger. In addition to it, you can order the following food: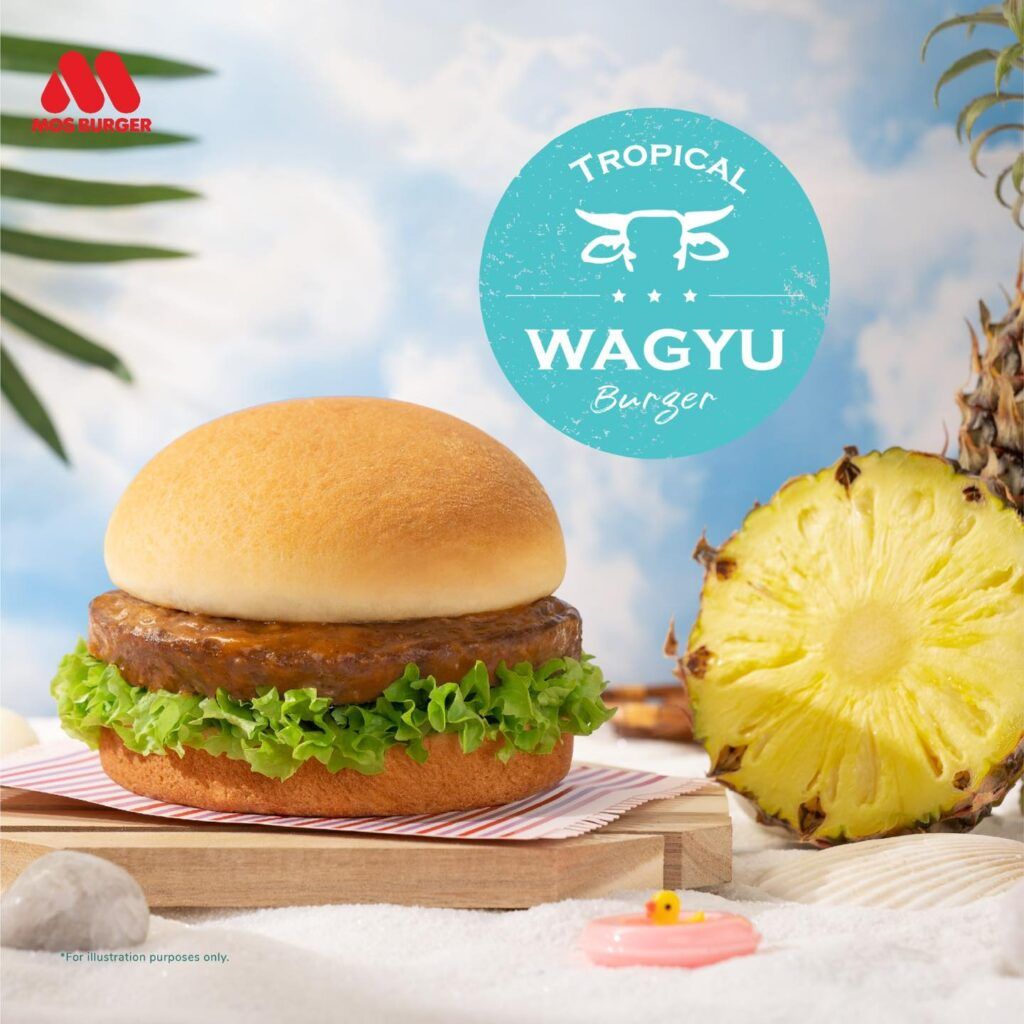 Butterfly Prawns
Chicken nuggets
Clam Chowder
Hokkaido Croquette pie
A salad that can be served on a plate or in a cup; and a lot more!
When did MOS Burger come to Singapore?
As people across the world crave MOS Burger, it really crawls from Japan to the oceans of the world up to the rich island of Singapore. In the year 1992, MOS Food Singapore PTE LTD is founded in Singapore. In the following year 1993, MOS Burger became an official store in Singapore and served fresh burgers and other delightful menus.
What does MOS in MOS Burger stand for?
We may not be that much familiar with what MOS is nevertheless, this infamous brand generated its name "MOS" as an abbreviation for Mountain, Ocean, and Sun. As quoted by Mr. Sakurada, MOS is defined as "Mountain firm and standing tall, a heart that is deep and extensive like the Ocean, and burning passion just like the Sun that will never fade". The quotation of the founder of MOS Burger did reflect how passionate and how intrinsic Mr. Sakura is.
Is MOS Burger healthy?
We are all aware that fast food isn't that good for our bodies, it may contain a lot of fats that may not be good for us but MOS Burger is different from that. As MOS Burger was created from fresh vegetables and pure beef and other meat, MOS Burger is certainly the top fast food restaurant that can offer Burger with much healthier ingredients.
Is MOS burger Singapore halal?
As per the love of Mr. Sakurada for all its customers, they can assure you that the meat and chicken eaten at MOS Burger Singapore come from Halal Suppliers. To support the Muslim Family, the founder also greet all its Muslim customer with a Selamat Hari Raya!
MOS Burger Menu Delivery
You may probably know food panda right? Then you can still enjoy your MOS Burger at the convenience of your own home. You can just order through food panda or you may visit the official website of MOS Burger. You may also try using the MOS Burger app to personally choose your best menu bundles. Note that delivery date and time always vary to the outlet that you've ordered from.
To have faster communication, you can contact MOS Burger through their email. You may send your inquiries to [email protected]. Just leave an email and all your concerns or order can be heard immediately.
Social Media Pages
In order to get the latest news about the MOS Burger menu, price, and promo, you can subscribe to their social media pages to make sure that you will always get an update from them.
Facebook: https://www.facebook.com/mosburgersg/
Instagram: https://www.instagram.com/mosburgersg/
Conclusion
Since the beginning of the food industry, raw foods are originally created. Up until now, raw foods are still in demand, however, with the evolution that our world has created, our way of cooking, eating, and other habits have also been altered by the huge development. With that, MOS Burger's innovation and creativity fall into place, and successfully developed their first fast food restaurant that can immediately resolve customers' hunger. MOS Burger intelligently created its burger to ensure that the traditional spices will never fade on every local table. They still incorporated ingredients that can bring us back to where we used to be, that's why MOS knowledge in terms of marketing is true.