In today's article, I have found the perfect place for you to visit if you're looking for a comfort food. BBQ Express menu has a lot to offer from snacks, finger foods, and bento meals. And the best part is the foods that they offer are just like any normal price in a fast food restaurant, affordable. I am going to list down their menu, and prices and tell you guys a little something about them. If you're already interested in this one let's start! 
You can find the updated pricing information for the BBQ Express menu below.
MENU
PRICE (SGD)

For sharing

Honey pork ribs
$25
Grilled chicken yakitori
$18
Hot & spicy drummets
$13
Grilled honey middle wing
$14
BBQ corn on cob
$5.40
3 honey glazed chicken wings
$6.50

Bento Meals

Grilled chicken bites omelette rice
$7.60
Crispy chicken karaage omelette rice
$7.60
Saba fish omelette rice
$8.50
Grilled chicken wings omelette rice
$8.60
Roasted chicken leg omelette rice
$9.30
Chicken katsu omelette rice set
$8.60

Extras

Bacon sausage
$2.80
Crispy chicken karaage
$2.40
Chicken meatballs
$2
Cheese meatballs
$2.10
About BBQ Express
BBQ Express first opened its doors to its customers in 1986. This establishment is created to satisfy the customers' demand in Singapore for affordable and wholesome foods just as chicken and delicious and savoury ribs before BBQ Express started their business ribs dishes are often expensive and can only be found in a restaurant. BBQ Express keeps its price in an affordable state and reaches the average working class in Singapore by serving restaurant quality foods.
There are set of meals that are available to order but in some of their branches, customers will get the chance to mix and match their food making their own combo meals. BBQ Express is a casual dining place that is good to go by groups, children friendly, and also accessible by wheelchair. They offer dine-in and take-out orders and are open from 10 in the morning until 10 in the evening. As of today they already have 7 branches across Singapore and still continue to provide delicious and affordable meals to their customers. 
BBQ Express Menu Best Seller
Here's the list of BBQ Express's best-selling food items.
Honey Pork Ribs – This one is included on their for-sharing menu. Their honey pork ribs have that gorgeous taste and tender meat, this one is seasoned really well before grilling, and this is great with garlic rice or just by itself. It is also 500g already and perfect for sharing. This is one of the best finger food on their menu and we really enjoyed this one. This is also great with beer, to be honest. Very tasty and savoury, meat is not dry.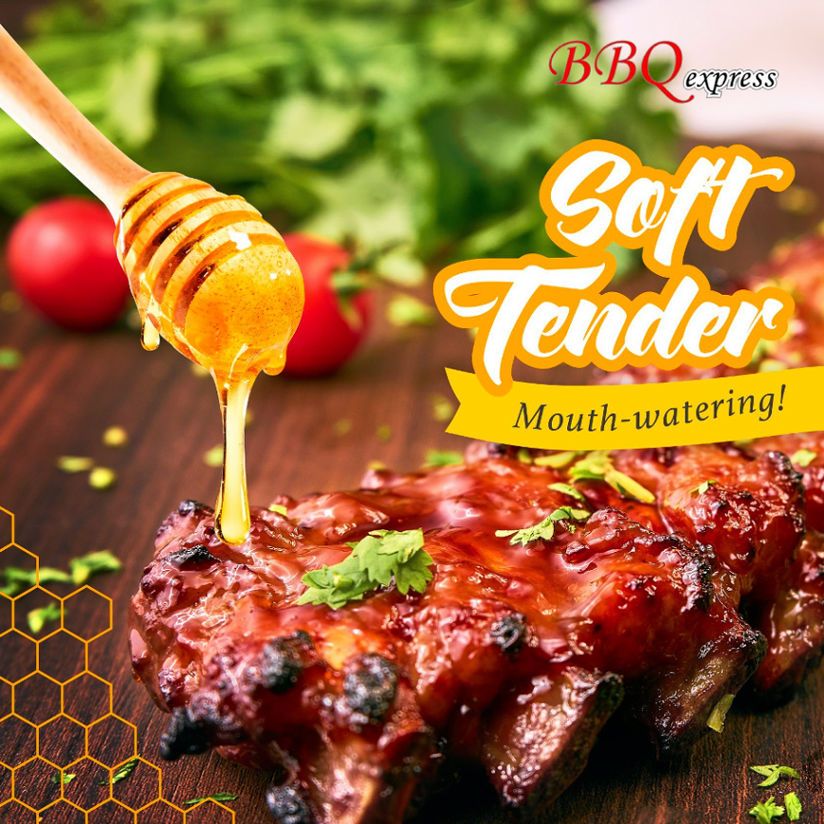 Honey-glazed Chicken Wings – This honey-glazed chicken wings menu of BBQ Express are literally good. It is a bomb and the taste is really good. Their honey-glazed chicken wings always impress a lot of their customers because of how good it is. They served this in 3's but I wouldn't judge if you can finish 2 batches without rice. One of their best-selling products whether it's for dine-in or takeaways. 
Grilled Chicken Bites Omelette Rice – This is made with chicken leg meat cut into bite-size and grilled with their special seasonings. This is served with their famous omelette garlic rice plus their non-GMO buttered corn. The grilled chicken taste good and is also tender, it is perfectly grilled and not burnt, and really good with omelette garlic rice.
BBQ Express Menu Bento Meals
Their BBQ meals serve with omu rice. They have 6 choices on this menu. The first one is their grilled chicken bites omelette rice which is made with grilled chicken leg meat with omelette garlic rice and a portion of buttered corn as a side. The next one is their crispy chicken karaage omelette rice, which is also served with buttered corn for sides and omelette garlic rice. Next is their saba fish omelette rice which is made with grilled saba mackerel fish fillet and served with omelette garlic rice plus buttered corn as a side.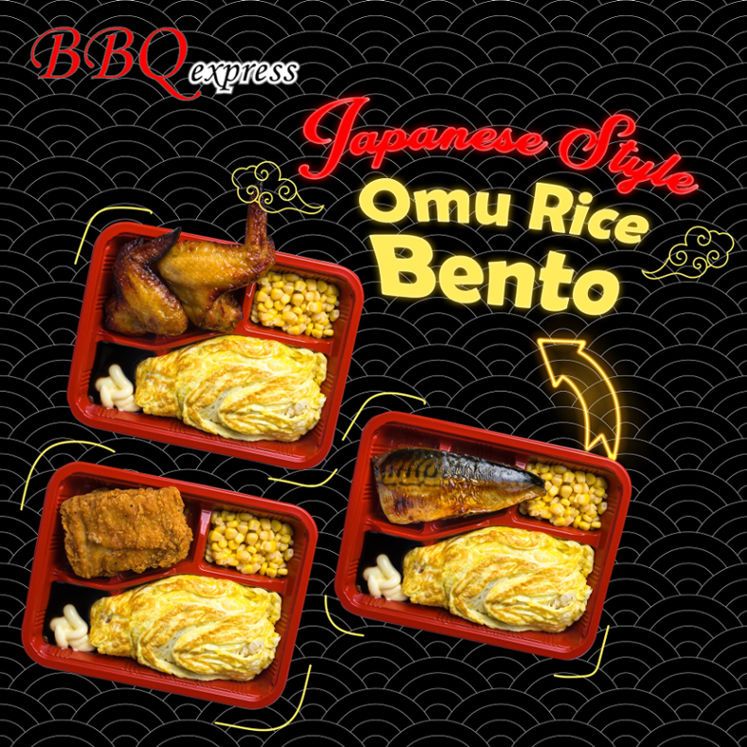 Grilled chicken wings omelette rice is also included in their bento meals, this has 2 grilled chicken wings plus omelette garlic rice and buttered corn. Roasted chicken leg omelette rice is also a great option on this menu, this has 1 whole chicken leg, omelette garlic rice and buttered corn. Last but not least is their chicken katsu omelette rice set which includes 2 pcs of fried chicken katsu, omelette garlic rice and buttered corn for sides.
Extras
At BBQ Express, you can spice up your meal with their extras menu that offers four delectable options. These include the Bacon Sausage, a Japanese pork sausage wrapped in crispy bacon, Crispy Chicken Karaage with three juicy pieces of fried chicken, Chicken Meatballs and Cheese Meatballs, each served in a set of three. Whether you're looking for a savory snack to complement your meal or a small dish to share with friends, these extras will surely satisfy your cravings.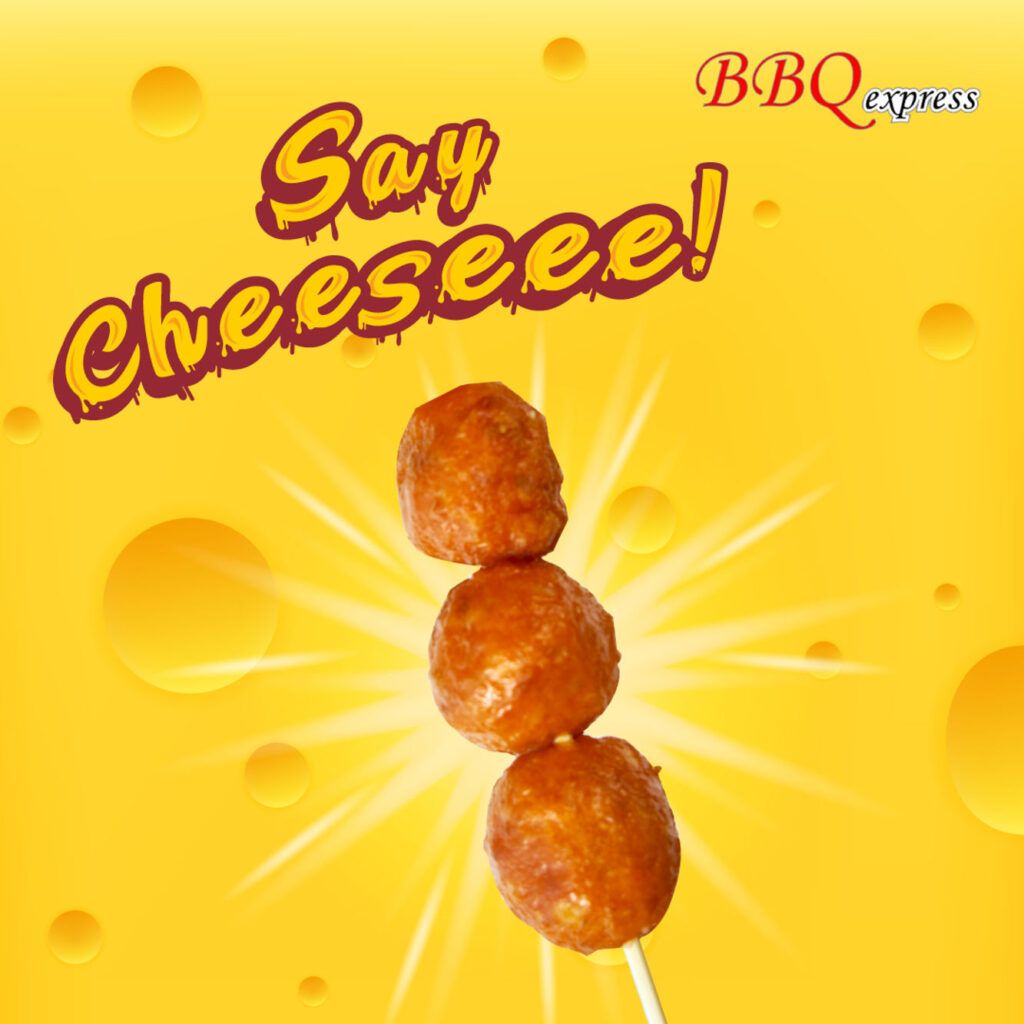 For Sharing
On their for-sharing menu, they have 6 options. Those are bbq corn on the cob, 3 pcs of honey glazed chicken wings, grilled honey middle wing 12 pcs, hot & spicy drummettes 12 pcs, 12 sticks of grilled chicken yakitori, and lastly their honey pork ribs which is 500g.
BBQ Express Menu Delivery
Satisfy your cravings for delicious BBQ express food items with just a few clicks! You can now easily order from the comfort of your own home using popular food delivery platforms like Deliveroo and FoodPanda. Simply visit their online delivery page or mobile apps, search for your favourite BBQ express restaurant, select your preferred items from their menu, and place your order.
With these delivery options, you don't have to worry about going out to get your food. Instead, you can sit back and relax while your food is being prepared and delivered straight to your doorstep. So, whether you're in the mood for mouth-watering grilled meats, tasty sides, or refreshing drinks, ordering from BBQ Express has never been easier. Try it out today and enjoy a satisfying meal without any hassle!
BBQ Express Social Media Pages
Looking for mouth-watering barbecue dishes? Follow BBQ Express on their social media pages to stay updated on their latest promotions and events. Don't miss out on the chance to try their delicious offerings and dine in at their restaurant!
Facebook: https://www.facebook.com/BBQExpressSG
Instagram: https://www.instagram.com/bbqexpress_sg/
YouTube: https://www.youtube.com/@cstay8292
FAQs
What types of BBQ food does BBQ Express Singapore offer?
Each location of BBQ Express has a popular menu of delicious barbecue dishes. Every dishes that they offer are good quality, and affordable made from the freshest ingredients.
What are the payment options for orders with BBQ Express Singapore?
Upon visiting their place for dine-in you can pay in cash. They also accept credit cards. When ordering the payment method would be bank-to-bank transfer.
Is BBQ Express halal-certified?
BBQ Express serves food items that are made with pork or just like bacon sausage therefore BBQ Express is not halal certified however they serve a lot of dishes which is non pork base.
Does BBQ Express accept reservations?
Yes BBQ Express accepts reservations. Getting reservations from them is made easy thru online reservations and other platforms.
Conclusion
BBQ Express when it comes to ambiance is great, the place is clean and the design is very minimalist with a touch of modernity and casualness. The chosen colour of their place is comfortable. What made you drool is their display of appetizing BBQs and meats which will really catch your eye. This place is very suitable for casual dining but as I noticed people mostly order for takeaways. Their service is self-service and you just have to pay over the counter but their staff will assist you and actually can ask them what to order if you do not know which one is the best.
Staffs do efficient cleaning of used tables to you'll have a clean table while dining. Staff also are approachable though they can only speak basic English as they most of the time communicates in Mandarin. BBQ Express's menu mostly serves Asian and Western-style dishes. The food quality is great and the serving size is pretty huge. A highly recommendable place if you love to try great quality at an affordable price.