Singaporeans enjoy their BBQ, and the Yakiniku-GO menu seems to be a favorite with nearby customers. One of the most well-known types of cooking in Japan is yakiniku, which is the term used to describe a method of grilling bite-sized meats. Yakiniku-GO focuses primarily on serving customers in smaller groups, including singles and couples, as each electric grill is suitable for 1-2 people to share. Hey, there's no need to share your delicious grilled meats with others. All of the yakiniku restaurant's facilities, including full-sized tables, are available at the pork-free establishment, in a cozy setting. For those of you concerned about leaving the dinner smelling like a chimney, the electric grills don't emit any smoke, so there isn't any residual BBQ odor.
Yakiniku-GO Menu Price List [Updated]
MENU
PRICE (SGD)

Ala Carte Menu

Angus Ribeye Steak 120 g
$15.80
Gyutan 100 g
$12.90
Lamb Leg Slice 100 g
$5.90
Chicken 100 g
$4.90
Salmon Batayaki
$10.80
Seafood Hoiru Yaki
$13.90
Supreme Topside 100 g
$11.90
Karubi 100 g
$6.90
Ribeye Slice
$5.90
Manzoku Platter
$19.80
Nakaochi Karubi 100 g
$8.90

Drinks

Mineral Water
$2.00
Coke
$3.00
Coke Zero Sugar
$3.00
Sprite
$3.00
Pokka Jasmine Green Tea
$3.00
Pokka Lemon Tea
$3.00
Pokka Honey Yuzu
$3.00
Pokka Houjicha
$3.00
Pokka Sparklin' Fuji Apple
$3.00
Pokka Kiyo Kyoho Grape Juice
$3.60

Takeaway Bento

Double Karubi Jyu
$18.80
Spicy Nanban Miso Chicken Jyu
$11.80
Kimchi Gyu Don
$12.80
Karubi Jyu
$13.80
Negi Shio Chicken & Tamago Jyu
$10.80
Karubi & Tamago Jyu
$10.80
Angus Ribeye Steak Jyu
$18.80
Karubi & Negi Shio Chicken Jyu
$13.80
Karubi & Ribeye Jyu
$14.80
Gyu Don
$11.80
Salmon Butter Yaki Jyu
$16.80
Ribeye Jyu
$14.80
Karubi & Gyutan
$17.80

Side Dishes

Kimchi
$2.00
Kinoko Hoiru Yaki
$5.00
Veggie Platter
$4.00
Edamame
$2.20
Lettuce with Spicy Mayo
$4.00
Rice Set ( soup, kimchi, or salad)
$5.50
Kimchi Radish
$2.00
Mini Salad
$2.00
Seaweed Soup
$2.00
Chawanmushi
$2.80
About Yakiniku-GO
Hiroshi Tatara, an Osaka native who created RE&S in 1988, brought a little of the Japanese way of life to Singapore with our Takahashi and Fiesta restaurants. They are now well-known across Singapore. A number of new food products have been added to our present selection as a result of the most recent expansion of our Japanese food production and distribution capabilities. RE&S, a company specializing in Japanese food, was established in Singapore in 1988. RE&S is an abbreviation for the initial company concept of creator Mr. Hiroshi Tatara, which stands for "Restaurants, Entertainment, and Shows." Currently, the RE&S network consists of a procurement team in Osaka, Japan, the global headquarters and central kitchen in Tai Seng, and 60 locations in Singapore and Malaysia, and a central kitchen. The RE&S enterprises brand encompasses 18 distinct themes.
The seven-story, 100,000-square-foot skyscraper was constructed at a cost of S$30 million, and the Building & Construction Authority has designated it as a Green Mark Building (BCA). In addition to being an office building, it has a laboratory that checks the consistency and hygiene of RE&S's cuisine, a research and development kitchen that develops more intriguing meals for all 18 distinct ideas, and a central kitchen that supplies the company's 54 locations island-wide.
Yakiniku-GO Menu Best Seller
Angus Ribeye Steak – Compared to most cattle, Angus meat grows with higher intramuscular fat marbling.
Lamb Leg – A leg of lamb is delicious and quite fatty. They are ideal for enjoying as thin fillets or cooked with potatoes, a meal that is really tasty since they have more flesh than the shoulder and the meat is a bit more compact. Although some individuals use the word gamey to describe the flavor, grassy, well-balanced, strong, or pastoral are preferable. The branched-chain fatty acids in the fat of the lamb provide the taste.
Chicken – Like a crunchy piece of deep-fried chicken in flavor. Because of the tenderization procedure, the inside is soft. It goes perfectly with Katsu sauce, a sweet tangy sauce. For hens as well, there are established Japanese Agricultural Standards. The meat is chewy and has several distinctive tastes since it was raised and reared under such stringent circumstances. Additionally, there is no grading system for chicken flesh, unlike for beef or pig.
Yakiniku-GO Takeaway Bento Menu
Gyu Don – is a well-known dombi meal made of beef and onion and served with a bowl of rice. Onion and beef are cooked together. Gyudon is a food that is always associated with being affordable, fast, and delicious. Meals at many of the businesses are around 500 yen, making gyudon affordable for a variety of patrons. If you don't have access to Japanese grocers, you may use any beef used for Philly cheesesteaks instead. Good meat for gyudon can be found there.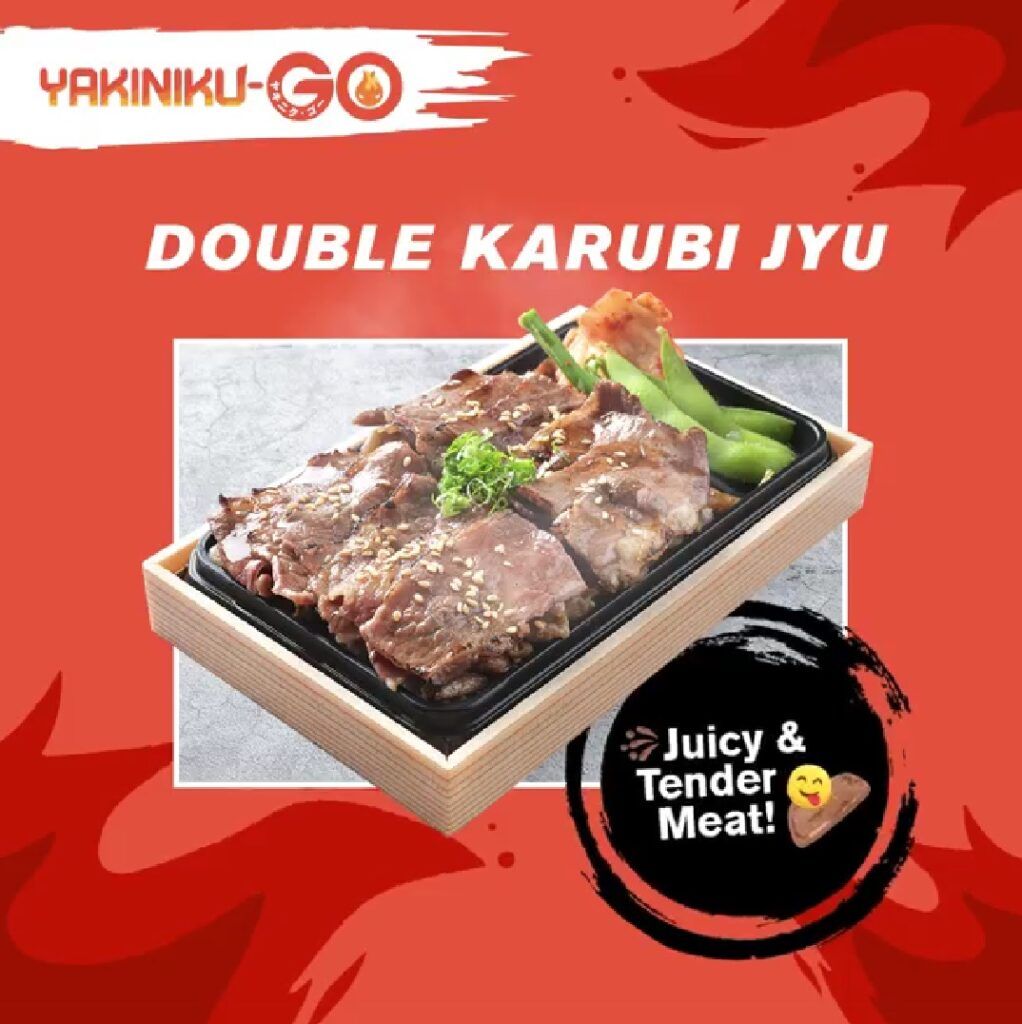 Karubi Jyu – Japanese cuisine uses yakiniku sauce, a blend of salty and sweet ingredients with a strong sesame flavor, to season grilled meats. The karubi is more marbling-rich than roast cuts and is incredibly tender and juicy.
Negi Shio Chicken & Tamago Jyu – fried chicken in a pan with a salty, fresh leek sauce. In Japanese, shio denotes salt and negi means leek. In Japan, this is well-liked and well-known. Sliced chicken thighs or breasts are impaled with slices of green or Welsh onion negi in a dish known as negima, a kind of yakitori. Similar to other yakitori varieties, negima is frequently seasoned with salt shio or tare, a thick and mildly sweet soy sauce seasoning.
Side Dish
Seaweed Soup – Although you wouldn't necessarily expect an oceanic or fishy flavor, the seaweed gives it a slight saltiness that means you don't need to add much further spice. By adding steak pieces, it is actually given a boost and becomes a meal rather than a side dish. Salty and briny seaweed is possible. Its texture can be anything from crunchy and crispy to rubbery.
Edamame – Even though edamame is made from the same soybean as tofu, it tastes better than the tasteless bean curd. It has a little peas-like flavor and is buttery with a nuttiness and sweetness undertone. However, it has a stronger feel than a pea—it is soft with a bite.
Promotion
For their first year, Yakiniku-GO locations will be selling Bestseller Sets at a 50% discount for $10.90. Weekday lunch specialties at Yakiniku-GO are $9.90 as part of a special deal in Suntec City. It usually costs between $10.80 and $15.80. The promotion is accessible from Monday through Friday from 11.30 am to 3 pm, except for the weekend and school holidays, PH eve, and PH. Valid until March 31, 2023.
Yakiniku-GO Menu Delivery
In Singapore, Japanese eateries are prevalent. Customers would frequently throng on these eateries because of the reasonable prices and distinctive flavors. Yakinku Go is no different.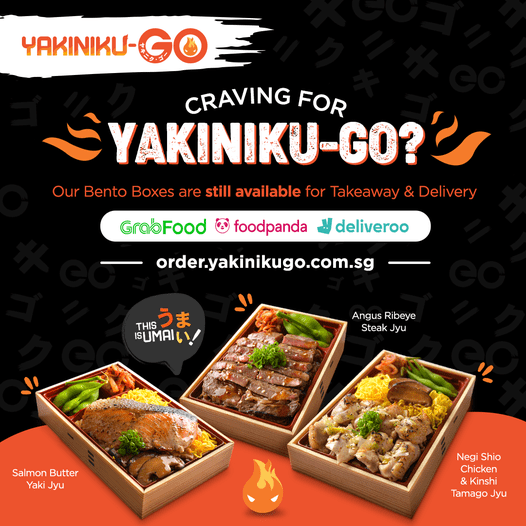 Many people frequent this location since it has established a reputation for being reasonably priced. Fortunately, getting a taste of Japan doesn't need visiting an actual shop. You can place an order via the GrabFood or Foodpanda app.
Talk to Yakiniku-GO Singapore Staff
If you have something to tell about the Yakiniku-GO Singapore staff, you can send them your message anytime. They usually respond within 24 hours. To contact them, simply refer to the following links:
Facebook: https://www.facebook.com/YakinikuGO.sg/
Instagram: https://www.instagram.com/yakinikugo.sg/
We also highly encourage you to start following the Yakiniku-GO social media pages to get the latest news about their menu, foods, and promos.
Conclusion
A rapid, hassle-free, and smoke-free grilling experience is provided with the Yakiniku-GO menu. Enjoy a variety of beef cuts, poultry, and seafood, grilled to your preference, then dipped in their house-made sauces. Watching fat bubble and flow from meat on the barbecue is strangely pleasant. But because quality meats are so expensive, I don't have yakiniku very frequently. The Seletar Mall's Yakiniku-GO is here to alter that. At Yakiniku-GO, the prices for yakiniku are astoundingly low. We certainly want to return for the Wagyu Tokujou Karubi and the Karubi, which were our absolute favorites. It was also amazing that after our lunch, we did not smell like barbecue. The main drawback was that Seletar Mall is inaccessible if you don't live nearby.