The Kulto menu features modern Spanish cuisine with an Asian twist. They have a selection of paellas, grilled meats, seafood, and vegetarian and vegan alternatives in addition to tapas. Each food that they offer is prepared using high-quality, fresh ingredients and is beautifully presented. The menu has a good balance of meat and seafood dishes, with options for different preferences and dietary restrictions. In addition, they have a huge wine list with an excellent variety of Spanish and other foreign wines as well. Overall, Kulto's menu offers a refreshing take on Spanish cuisine with its fusion of Asian flavors and innovative twists.
You can find the updated pricing information for the Kulto menu below.
MENU
PRICE (SGD)

Tapas to Start

Jamon Iberico Bellota
$38.00
Homemade Cheese Terrine
$24.00
Jamon Iberico Croquettes
$16.00
Grilled Carrots with Machego Cream
$16.00
Iberiko Pork Belly
$20.00
Salmon Tartare
$26.00
Zucchini, grapes, cherry toamtoes
$20.00
Iberico Pork and Beef Cannelloni
$30.00
Charcoal Grilled Spanish Squid
$30.00
Iberico Chorizo
$26.00
Charcoal Bone Marrow with Steak Tartare
$30.00

Vegetables

Grilled Eggplants, Tahini, Pomegrate and Raisins
$20.00
Padron Peppers
$18.00
White Asparagus with Pipirrana
$28

From The Sea

Octopus Galician Style
$36.00
Grilled Prawns
$30.00
Black Cod with Homemade Sofrito
$38.00
Whole Seabass with Panadera
$55.00

From the Land

Charcoal Chicken with Brussel Sprouts
$34.00
Iberico Pork Ribe Eye
$38.00
Iberico Pork Ribs
$44.00
Charcoal Lamb Rack
$38.00
Aged Beef Rib Eye
$35.00

Paella

Seafood
$44.00
Squid-Ink
$44.00
Pork Sasuage and Mushroom
$44.00
Vegetables
$38.00
Additional Carbinero
$18.00

Sweet

Kulto Cheese Cake
$16.00
Charcoal Pineapple
$14.00
Apple Tarte Tatin
$16.00
Whisky Cake
$16.00
Chocolate Tart
$14.00

Set Lunch

1 Starter + 1 Main
Addons
$5.00
About Kulto
Kulto is a Filipino restaurant located in Singapore that provides customers with a modern take on traditional Filipino cuisine, using fresh and locally sourced ingredients and an added twist to the cooking method to create unique and flavorful dishes. Kulto's menu is inspired by the diverse culinary heritage of the Philippines, incorporating elements from Spanish, Chinese, and Malay cuisines. The restaurant's interior features a sleek and stylish design, with an open kitchen and a relaxed atmosphere. Kulto also offers a range of craft cocktails, local beers, and Filipino-inspired drinks to complement the food.
Kulto Menu Best Seller
This menu is made up of the best-selling dishes that Kulto offers both at its physical and online stores.
Jamon Iberico Bellota – This dish features slices of high-quality Iberico ham, made from free-range acorn-fed pigs, which gives the meat a unique nutty flavor. The dish is beautifully presented, with the ham arranged in thin slices on a wooden board, accompanied by some bread and olive oil making it the perfect appetizer for those who love the rich, savory flavors of cured meats.
Homemade Cheese Terrine – This dish features a homemade cheese that's creamy and flavorful, with a slight tanginess that pairs well with the sweet figs and crunchy pistachios. The presentation is simple but elegant, with the cheese terrine sliced and arranged on a plate with the figs and nuts on top.
Salmon Tartare – This dish is a beautifully presented starter, with fresh, diced salmon mixed with avocado and other ingredients, then molded into a small tower and topped with caviar. The flavors are fresh and light, with the creamy avocado balancing out the acidity of the salmon.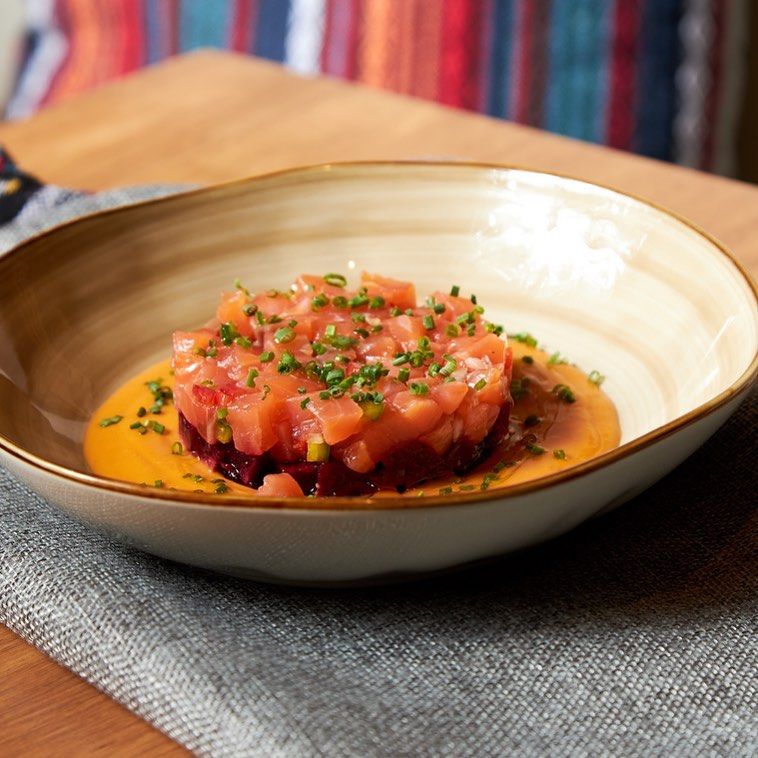 Octopus Galician Style – This dish features tender, perfectly cooked octopus served with potatoes and a paprika-based sauce. The octopus in this dish is cooked just right, with a slightly charred exterior and a soft, flavorful interior. It has a lovely smoky flavor from the paprika and is a great option for seafood lovers.
Grilled Prawns – This dish features large, succulent prawns grilled to perfection and served with garlic and chili oil. The prawns are beautifully cooked, with a slightly charred exterior and a juicy, flavorful interior. The garlic and chili oil adds a nice kick of flavor, making it a perfect starter for those who enjoy bold, spicy flavors.
Tapas to Start
This menu of Kulto is made up of a different variety of tapas which is a type of cured beef that has a very strong and salty flavor.
Charcoal Grilled Spanish Squid – This dish features tender and succulent squid that has been perfectly grilled over charcoal, giving it a smoky and slightly charred flavor and served with a tangy and flavorful romesco sauce, which complements the dish well.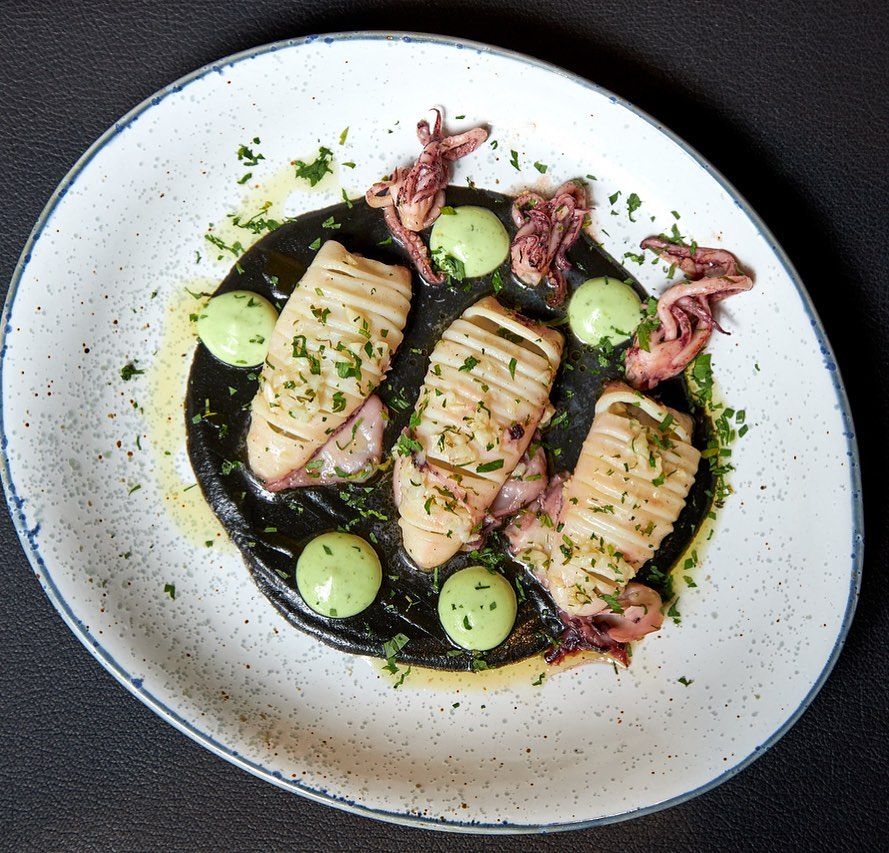 Iberico Chorizo – This dish is made from the finest Iberico pork, this chorizo is rich and flavorful, with a slightly spicy kick. The dish is presented simply, allowing the quality of the chorizo to shine.
Charcoal Bone Marrow with Steak Tartare – The bone marrow used in this dish is roasted to perfection and served alongside a generous portion of rich and flavorful steak tartare. This rich dish is sure to impress anyone because of the genuinely delicious combination of textures and flavors.
From The Land
This menu is made up of different dishes that use ingredients from land such as chicken meat, pork, beef, and vegetables.
Charcoal Chicken with Brussel Sprouts – This menu from the Kulto features tender pieces of charcoal-grilled chicken that are well-marinated, which gives it a delicious taste, while the brussels sprouts that are added to it give this dish a nice crunch to it. 
Iberico Pork Ribe Eye – This dish features a well-marbled, juicy pork rib eye that is cooked to perfection over charcoal, resulting in a beautiful sear on the outside and tender, flavorful meat on the inside.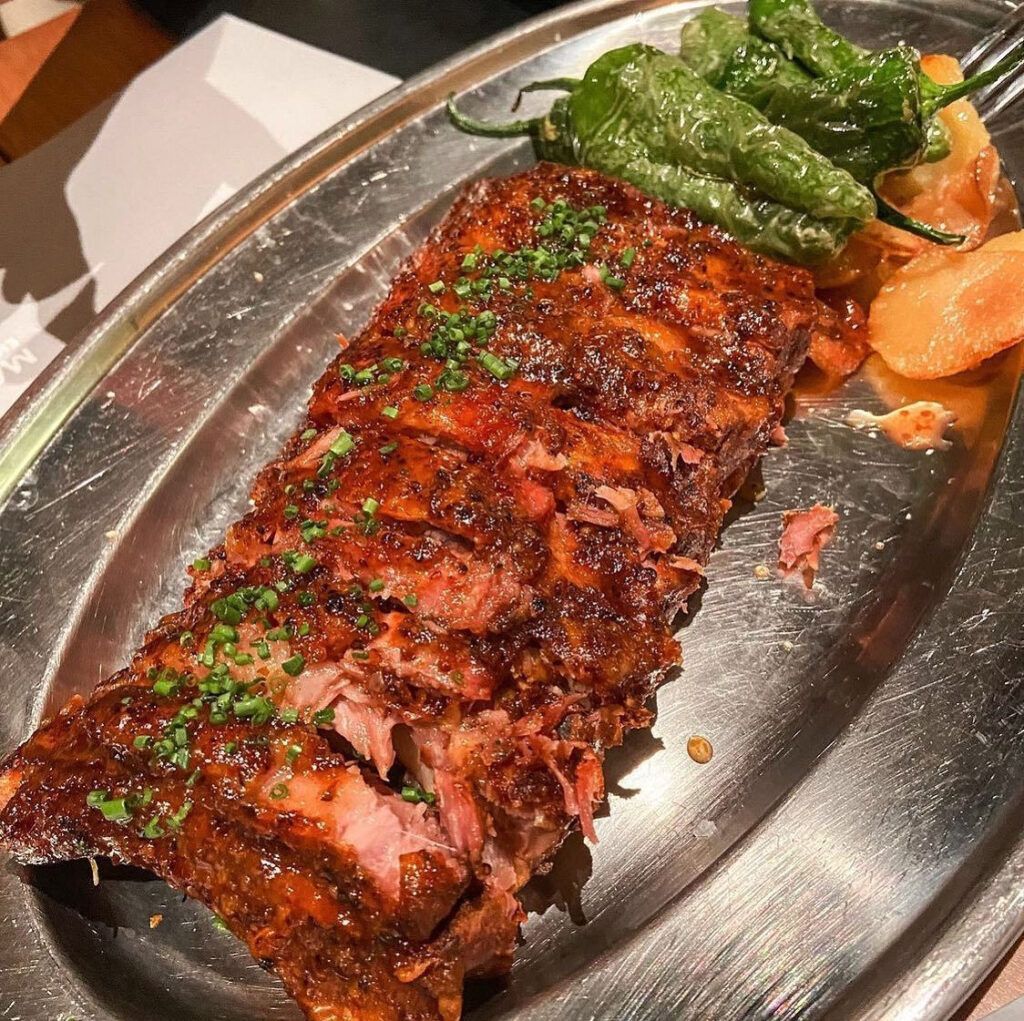 Charcoal Lamb Rack – This dish features a juicy and succulent lamb rack that has been grilled over charcoal, giving it a delicious smoky flavor and making it a great choice for those who love lamb and enjoy smoky flavors.
Kulto Menu Vegetables
This menu is made up of different dishes that are both flavorful and healthy as it uses vegetables as its main ingredients.
Grilled Eggplants, Tahini, Pomegranate, and Raisins – The dish consists of a perfectly cooked, juicy, and tender piece of steak that has been generously seasoned for a powerful, spicy flavor. The dish is well-balanced and hearty because the steak is served with a side of vegetables and your choice of starch.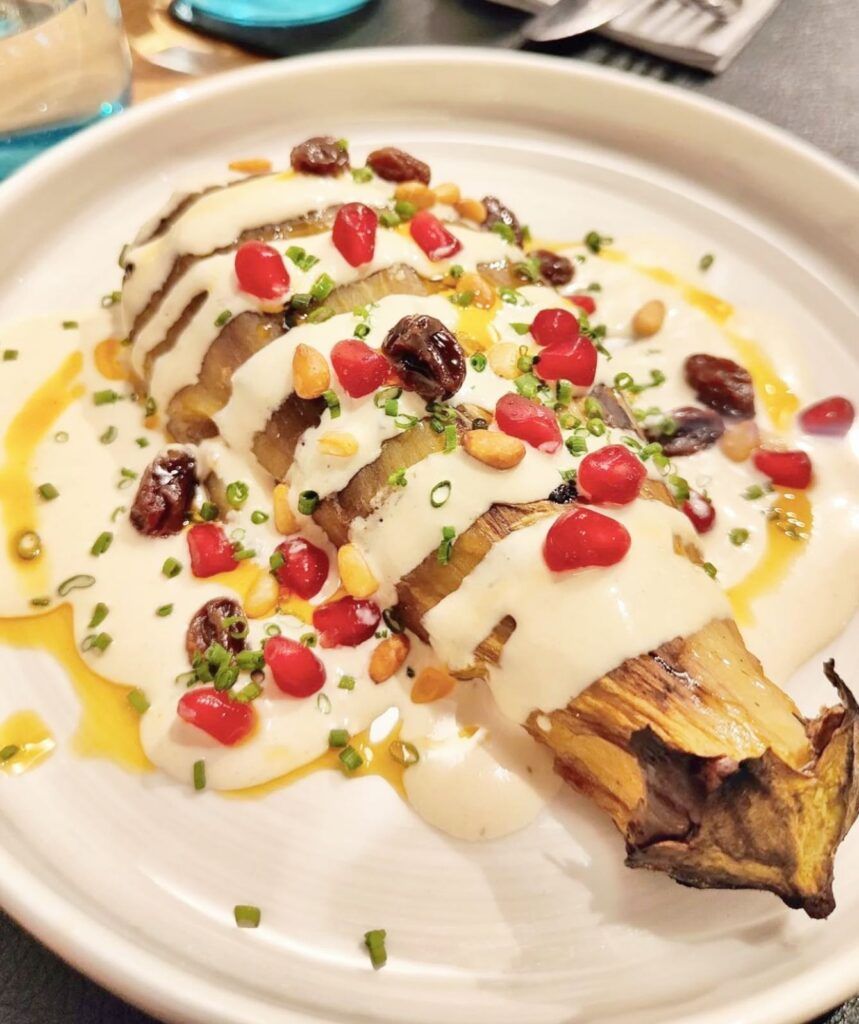 Padron Peppers – A simple but flavorful dish features small, mild peppers that are grilled and seasoned with salt. The peppers are tender and slightly charred, and the salt brings out their natural sweetness making it a great option for those looking for a light and flavorful appetizer.
White Asparagus with Pipirrana – This dish features tender, juicy white asparagus served with pipirrana, a traditional Spanish sauce made with tomatoes, bell peppers, onions, and olive oil. The sauce is tangy and slightly sweet, which complements the mild flavor of the asparagus making it a refreshing and satisfying dish.
Kulto Menu Paella
At Kulto, their menu comprises a delightful selection of dishes that include Seafood, Squid-Ink, Pork Sausage, Mushroom Vegetables, and Additional Carbinero options. Each dish on this menu is incredibly delicious and offers a unique and distinct flavor profile to enhance your dining experience at Kulto. Whether you're a fan of seafood, enjoy the boldness of squid-ink, crave the savory goodness of pork sausage, or savor the earthy flavors of mushroom and vegetables, you'll find a dish that tantalizes your taste buds and leaves you satisfied.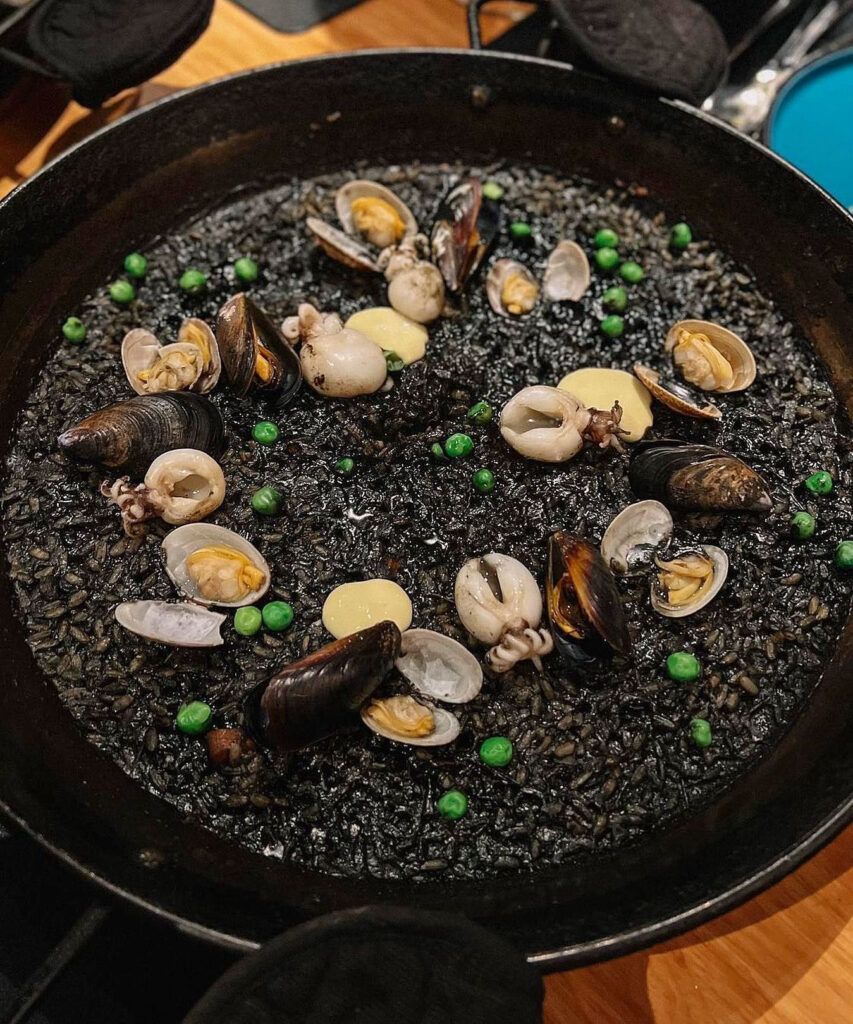 Set Lunch
The menu consists of pre-made set lunches carefully crafted by Kulto, making it convenient for customers to choose their lunch options. Each item on this menu is not only satisfying and filling but also budget-friendly, ensuring a delightful and economical dining experience.
Kulto Menu Delivery
Kulto understands the importance of convenience, which is why they offer a delivery service. This allows customers to easily order their favorite dishes from the comfort of their homes or offices. Kulto has partnered with popular delivery apps like FoodPanda and GrabFood, making the ordering process seamless and hassle-free. With just a few taps on your phone, you can have your desired dishes from Kulto delivered right to your doorstep.
Social Media Pages
Stay ahead of the curve with the latest updates on Kulto's tantalizing menu offerings by joining them on social media. Follow their accounts to ensure you're in the know about their exciting new dishes and promotions. Show your support by engaging with their posts—give them a follow, like, and share to spread the love. By subscribing to their social media pages, you'll have the inside scoop on their upcoming promotions, events, and delectable surprises. Experience the culinary wonders of Kulto's and become a part of their thriving community today!
Facebook: https://www.facebook.com/kulto87.sg
Instagram: https://www.instagram.com/kulto.sg/
Website: https://www.kulto.com.sg/contact-us/
FAQs
Is there a dress code at Kulto?
Although there isn't a set dress code for the Kulto restaurant, it is advised to wear appropriate attire for a fine-dining environment and experience.
What types of dishes are available at Kulto?
Kulto offers a range of contemporary dishes that are inspired by Filipino cuisine. The menu features a variety of small plates, large plates, and desserts. Some of the dishes on the menu include seafood ceviche, beef tartare, pork belly adobo, and grilled octopus.
Does Kulto offer tasting menus?
Yes, Kulto offers a 7-course tasting menu that showcases their seasonal dishes and culinary creations as well as their vegetarian offerings.
Is Kulto halal-certified?
Kulto is not halal-certified as they serve pork dishes as well as alcoholic drinks.
Conclusion
Kulto's menu offers a wide range of choices, including vegetarian and gluten-free dishes, as well as innovative cocktails and drinks. The restaurant emphasizes using foods that are produced locally and utilizes sustainable practices while preparing meals. It is a trendy and modern restaurant in Singapore, with a menu that offers a fusion of Asian and Western flavors making it a popular dining destination in Singapore for those who appreciate high-quality food and a modern, sustainable dining experience.