The regional and traditional cuisines of Japan that have evolved over centuries of political, economic, and social development are included in Japanese cuisine. The focus of Japanese traditional food is on seasonal ingredients, and it is built on rice with miso soup and other dishes. Try the Tokyo Shokudo menu if you want a taste of Japan. In this post, we'll talk about Tokyo Shokudo's top dishes and the benefits of dining there.
Tokyo Shokudo Menu Price List [Updated]
You can find the updated pricing information for the Tokyo Shokudo food items below.
MENU
PRICE (SGD)

Yuzu

Chicken 2pc Chashu Yuzu Ramen
$13.00
Chicken 4pc Chashu Yuzu Ramen
$16.00
Seafood Yuzu Ramen
$19.50
Scallop Yuzu Ramen
$18.50
Asari Yuzu Ramen
$18.50
Aburi Chicken Drumstick Yuzu Ramen
$21.00

Tom Yam Ramen

Chicken Chashu Tomyam Ramen
$13.00
Seafood Tomyam Ramen
$22.00
Scallop Tomyam Ramen
$18.50
Asari Tomyam Ramen
$18.50

Gyudon

Gyu Don
$15.00
Gyu Egg Don
$16.00

Drinks

Coke
$3.50
Sprite
$3.50
Ice Lemon Tea
$3.50
Houji Tea (Hot)
$2.50
Houji Tea (Cold)
$2.50
Lychee Lemon Tea
$7.00
Lychee Lemon Mint Tea
$8.00
Ice Milo
$4.50
Milo Dinosaur
$6.00
Homemade Panna Cotta
$6.00

Original Ramen

Menu Items
Prices
Chicken Chashu Ramen (2 pcs)
$11.50
Chicken Chashu Ramen (4 pcs)
$15.00
Beef Suki Ramen
$17.50
Scallop Ramen
$17.50
Duck Ramen (3 pcs meat)
$11.50
Duck Ramen (5 pcs meat)
$15.00
Seafood Ramen
$18.50
Asari Ramen
$17.50
Corn Chicken Chashu Ramen
$13.00
Corn Duck Ramen
$13.00
Chicken Drumstick Ramen
$19.50
Chilli Crayfish Ramen
$21.00

Spicy Ramen

Chicken Chashu Spicy Ramen
$14.00
Beef Suki Spicy Ramen
$17.50
Seafood Spicy Ramen
$18.50
Seafood Spicy Ramen
$18.50
Asari Spicy Ramen
$17.50
Duck Spicy Ramen
$15.00
Chicken Drumstick Spicy Ramen
$19.50

Tendon

Signature Tendon
$16.00
Ebi Tendon
$19.50
Ebi Tempura & Beef Shabu Don
$16.00
Ebi Tempura & Tartar Fried Chicken Don
$15.00
Mixed Tempura Rice Set
$17.50
Ebi Tempura Rice Set
$21.00

Side Dish

Chicken Gyoza
$7.00
Chicken Gyoza with Okonomiyaki Sauce
$8.00
Fried Chicken
$7.00
Fried Chicken Salad
$10.50
Mixed Tempura
$15.00
Takoyaki
$7.00
Chuka Wakame
$7.00
Baby Octopus
$8.00
Cuttlefish
$9.50
Shishamo Tempura
$8.00

Rice Set

Salmon Teriyaki Rice Set
$19.50
About Tokyo Shokudo
Godaime Tendon, which is generally translated as 5th Generation Tendon, earned the gold prize at the Japan Donburi Awards for six consecutive years by bringing his years of expertise as the 5th generation's successor and his own self-created masterpiece. Additionally, Tokyo Shokudo provides Tempura Rice Sets and other traditional Japanese Rice Sets, all of which are well-liked and welcoming to families.
Japan Foods Holding opened its first concept shop with halal certification. The Master Chefs prepared genuine Japanese dishes using a HALAL recipe that had no pork or grease. The Group runs a network of more than 50 restaurants in Singapore that provide real Japanese food under a variety of franchise and house labels.
Tokyo Shokudo Menu Best Seller
Asaru Yuzu – The broth is fresh and vibrant with just a hint of citrus accentuated with sea salt; it doesn't taste like you just sucked on a lime. Yellow citrus fruit is known as yuzu. It tastes almost like a cross between grapefruit and lemon. Salt is shio. So we're talking about citrus-flavored, salt-seasoned ramen.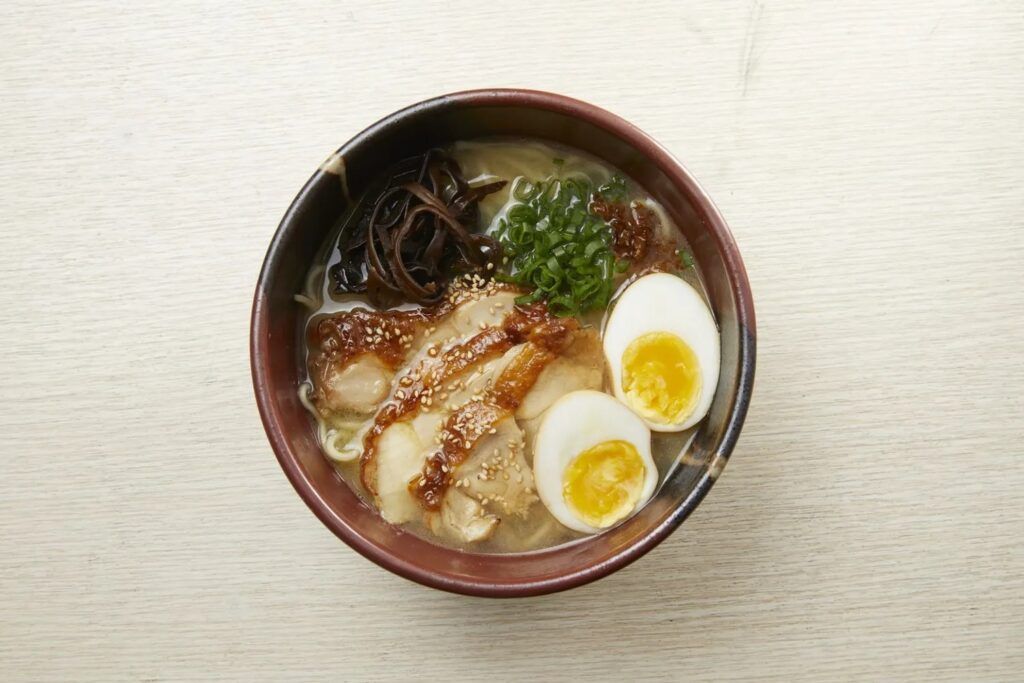 Chicken Chashu Ramen – The Japanese also love Chashu over steamed rice, known as Chashu Don, which is similar to a rice bowl, and as a topping for Ramen and other noodles. Chashu Pork is a slow-braised pork belly that has been carefully blended to become very soft. It's a mandatory garnish at every ramen shop, and thanks to this streamlined process, it's simple to prepare at home.
Ebi Tendon – The most popular ingredients used to make tendons are king, tiger, or shrimp ebi. Keep the tail attached, but trim the sharp ends, then push firmly with the dull side of the knife to let the water drain. Peel the shell, take off the head, and take off the body. The deep-fried shrimp won't splatter this way. Tendon is a dish of tender tempura that is topped with a delectable mild soy sauce and served over freshly steamed rice. Enjoy a small dinner in the evening or during lunch.
Gyudon – This Tokyo Shokudo menu has a well-known beef and onion donburi dish that is served over a bowl of rice. The dish's sweet, salty flavor comes from the beef and onion being simmered in a blend of soy sauce, mirin, sugar, and sake. A sweet and delicious Japanese beef dish known as gyudon is also known as the beef bowl of comfort. Any weekday supper would be ideal for this beef rice bowl. Typically, it is prepared with ribeye or chuck that has been finely cut.
Chicken Gyoza – Gyoza, which are dumplings filled with minced pork and veggies and wrapped in a thin dough, may be served with ponzu sauce or other homemade sauces. Gyoza, sometimes referred to as pot stickers, were first made in China under the name jiaozi but have since gained enormous popularity in Japan. Gyoza are best eaten when picked up whole with chopsticks and dipped into the dipping sauce on the side that hasn't been cooked
Tokyo Shokudo Ramen Menu
The Tokyo Shokudo Ramen menu is composed of three different types of ramen. It consists of the following:
Yuzu – This yuzu ramen soup is a clear, light ramen broth made with refined salt (shio). The citrus-flavored yuzu shio soup is delectably light and flavorful. It's not like the greasy, heavy, and thick bone broth that's popular in Japan. Tokyo Yuzu Shoyu Ramen is a traditional, rich bowl of ramen in the Tokyo style that has been given a yuzu citrus kick.
Spicy – Excellent duck taste; the oil packet adds authenticity and depth. The non-fried noodles are usually a pleasure since, if that makes sense for an instant ramen dish, they tend to taste a little more "fresh." That is to say, they often lack the cardboard-like taste that is occasionally present in classic fried noodles.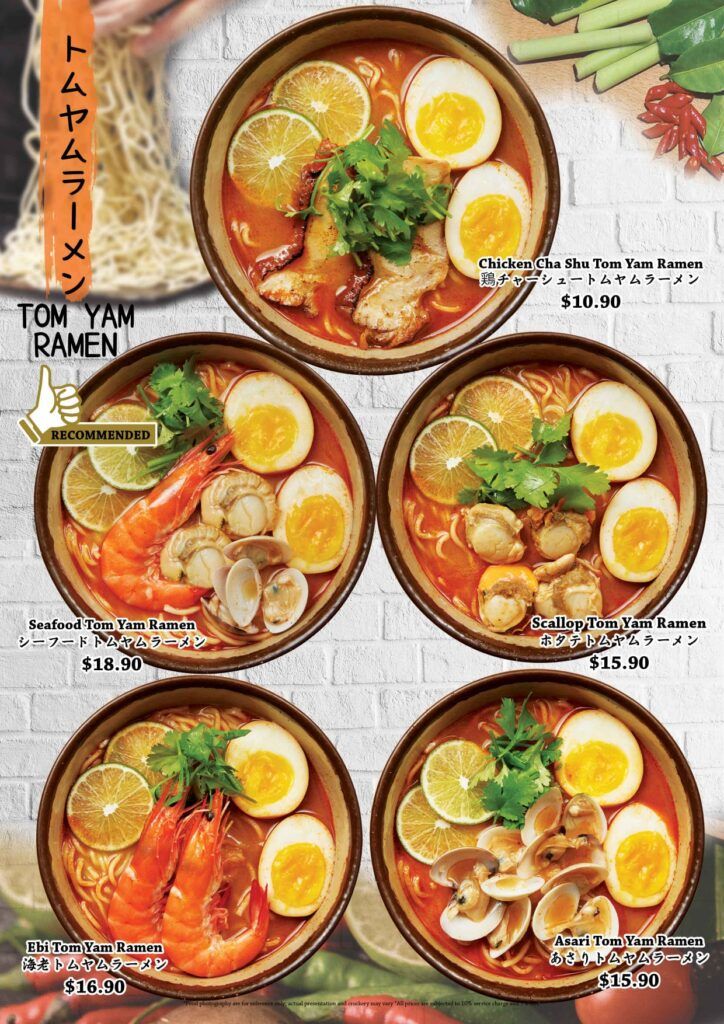 Tom Yam – The abundance of fragrant spices and herbs used in the broth give tom yum its characteristic spicy and sour tastes. Also cooked with fresh ingredients is the soup. A spicy and sour Thai soup known as tom yam or m yum is typically made with shrimp and prawns. Tom yum initially emerged in Thailand. Tom yam has recently been more well-liked all across the world. Two Thai words are the origin of the words tom yam. Tom is the Thai word for boiling, whereas yam is a hot and sour salad.
Tokyo Shokudo Tendon
The different best sellers of Tokyo Shokudo tendon menu were already discussed in the best sellers section. A gourmet method of maintaining the health of bones and joints is to consume cow tendons. According to studies, eating foods high in collagen can help you make up for any collagen deficiencies.
Tokyo Shokudo Menu Delivery
As Singapore grows, there have been more people in the country. This means that there is more consumption from consumers. This leads to restaurants like Tokyo Shokudo being full of people almost all the time. With its delicious menu items, it is a given that this store will have many customers during meal hours. However, you can always get a taste of Japan in the comfort of your home. Here are the following ways you could order through delivery from Tokyo Shokudo:
Website: https://tokyoshokudo.oddle.me/en_SG/
Social Media Pages
Are you eager to get the latest updates on the Tokyo Shokudo menu, price, and promo? In that case, you should go to their official social media pages and then follow them. In this case, you will not miss any news about their current offers.
Facebook: https://www.facebook.com/TokyoShokudoSG
Instagram: https://www.instagram.com/tokyoshokudosg
Conclusion
The Tokyo Shokudo menu provides this. Traditionally, there was no dining room in Japanese homes. The living room was visited with food and place settings that had been brought from the kitchen. Western culinary traditions are responsible for introducing the concept of designating a place entirely for dining. You can always have some Japanese food at Tokyo Shokudo if you're in the mood.