The Daebak Korean Restaurant menu is known for its authentic and satisfying Korean cuisine. It serves soups, BBQ, ramyeon, bibimbap, kimchi fried rice, noodles, vegetable pancake, and spicy rice cake. The homemade sauce and special blend of ingredients give its dishes a special twist, making them unique. Its customers love the surprising goodness, appetizing taste, good portion, and reasonable price of its cuisines. 
You can find the updated pricing information for the Daebak Korean Restaurant menu below.
MENU
PRICE (SGD)

Soup

Beef Soup
$12.70
Bulgogi Soup
$12.70
Kimchi Soup
$12.70
Tofu Soup
$11.70

BBQ

BBQ Beef
$12.70
BBQ Chicken
$11.70
BBQ Pork
$12.70
Gochujang Pork
$12.70

Ramyeon

Army Stew Ramyeon
$12.90
Dumpling Ramyeon
$11.70
Kimchi Ramyeon
$11.70
Korean Ramyeon
$10.70
Seafood Ramyeon
$12.70
*Add On: Cheese
$1.00

Rice

Bibimbap (Beef)
$12.70
Bibimbap (Chicken)
$12.70
Bibimbap (Tofu)
$11.70
Kimchi Fried Rice
$12.70

Specials

Jajangmyeon
$12.70
Japchae
$12.20
Rappokki
$11.70
Spicy Rice Cake
$10.60
Udong
$11.70
Vegetable Pancake
$12.70

Additionals

Fried Egg
$2.30
Kimchi
$3.00
Rice
$2.30

Beverages

A&W
$2.20
Ayataka
$2.20
Bottled Water
$1.70
Chilsung Cider
$2.70
Coca Cola
$2.20
Coca Cola Zero
$2.20
Fanta Orange
$2.20
Ice Lemon Tea
$2.20
Jasmine Green Tea
$2.20
Korean Barley Tea
$2.70
Korean Corn Silk Tea
$2.70
Korean Grape Tea
$2.70
Oolong Tea
$2.20
Qoo (Grape)
$2.20
Shikhye
$2.70
Sprite
$2.20
About Daebak Korean Restaurant 
Daebak Korean Restaurant is famous for its authentic and mouthwatering cuisines inspired by the vibrant culture of Korea. The talented chefs of this restaurant create a special sauce, choose the best and healthy ingredients, and cook the dishes expertly to serve diners' meals with authentic flavors. It has a casual setup and good ambiance that complements the food it serves. 
Daebak Korean Restaurant Menu Best Seller 
Daebak Korean Restaurant is a popular place serving authentic and distinctive Korean cuisines. The best sellers of this restaurant are notable for their unique taste as it uses a special blend of ingredients in preparing these dishes. 
Tofu Soup – Tofu soup is the best-selling item of this restaurant as it is bursting with flavor. The broth of this stew has a unique taste as it is made with the restaurant's special blend of ingredients, spices, and seasonings. It also comes with soft tofu, various vegetables, seafood, and egg that imparts a yummy taste.  The meat choices for this soup are chicken, pork, and seafood. 
Spicy Rice Cakes – It is a popular snack in Korea with an irresistible spicy taste. This hearty tteokbokki is well-seasoned and has a vivid color that enhances its visual appeal. The soft and chewy texture and umami-rich flavor profile of rice cakes and sauce make this dish highly addicting. 
BBQ Beef – Enjoy a delicious Korean BBQ Experience with this menu of Daebak Korean Restaurant. The beef is marinated in a special homemade sauce made with fresh and healthy ingredients. 
Bibimbap – A widely popular nutritious and mouthwatering Korean dish where rice is topped with various meats, vegetables, and egg. The flavors and textures of this cuisine's ingredients are well-balanced, so people enjoy it. This restaurant also creates a special sauce to give this dish a distinctive flavor while keeping its authenticity. 
Kimchi Fried Rice – One of the most-loved Korean cuisine of its patrons as it has a rich taste and aroma that will satisfy your Korean food craving. This dish is made with rice stir-fried in fermented spicy and salty kimchi. It is topped with a sunny-side-up egg that adds a delicious taste and texture to the rice and kimchi.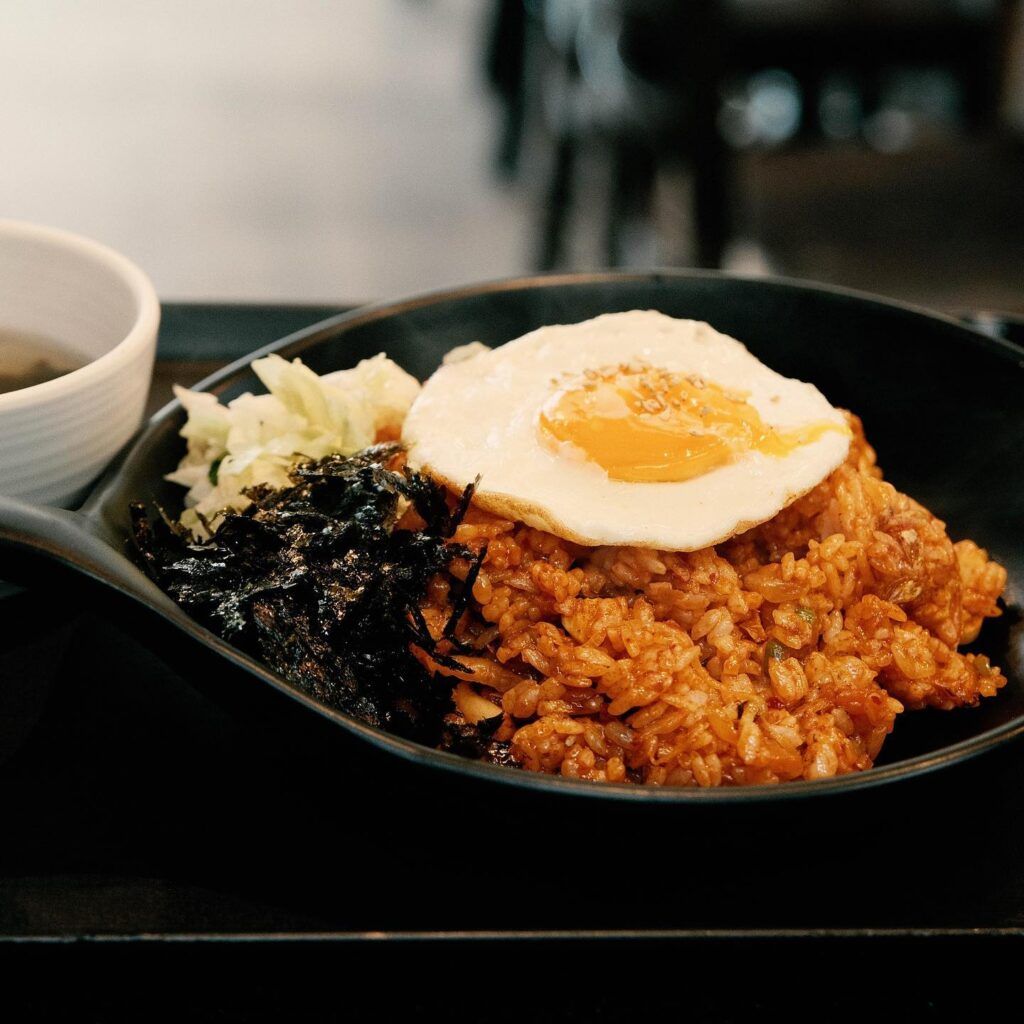 Daebak Korean Restaurant Menu Soup 
Daebak Korean restaurant serves tofu, kimchi, beef, and bulgogi soup. These soups are served with rice and side dishes such as kimchi and vegetable pancake to give diners a complete meal. 
Beef Soup – This dish comprises beef, radish, and vegetables that harmoniously go together. The meat and radish are slowly cooked for a couple of hours to make its broth thick and flavorful. You can also choose your preferred spiciness level that suits your taste. 
Bulgogi Soup – The special bulgogi sauce gives the soup a sweet and savory flavor. It uses fine cuts of meat grilled expertly to bring out bulgogi's natural juiciness and delicious taste. The blend of aromatic spices, vegetables, and other secret ingredients gives diners a gratifying meal. This dish is available in beef and chicken variants. 
Kimchi Soup – Kimchi soup is one of the most famous dishes served by most Korean restaurants. This sensational dish has an exciting explosion of spicy taste that people love. It has an authentic taste as the restaurant uses the traditional recipe, and the homemade kimchi gives a distinctive flavor. The meat options for this cuisine are chicken, pork, and tuna.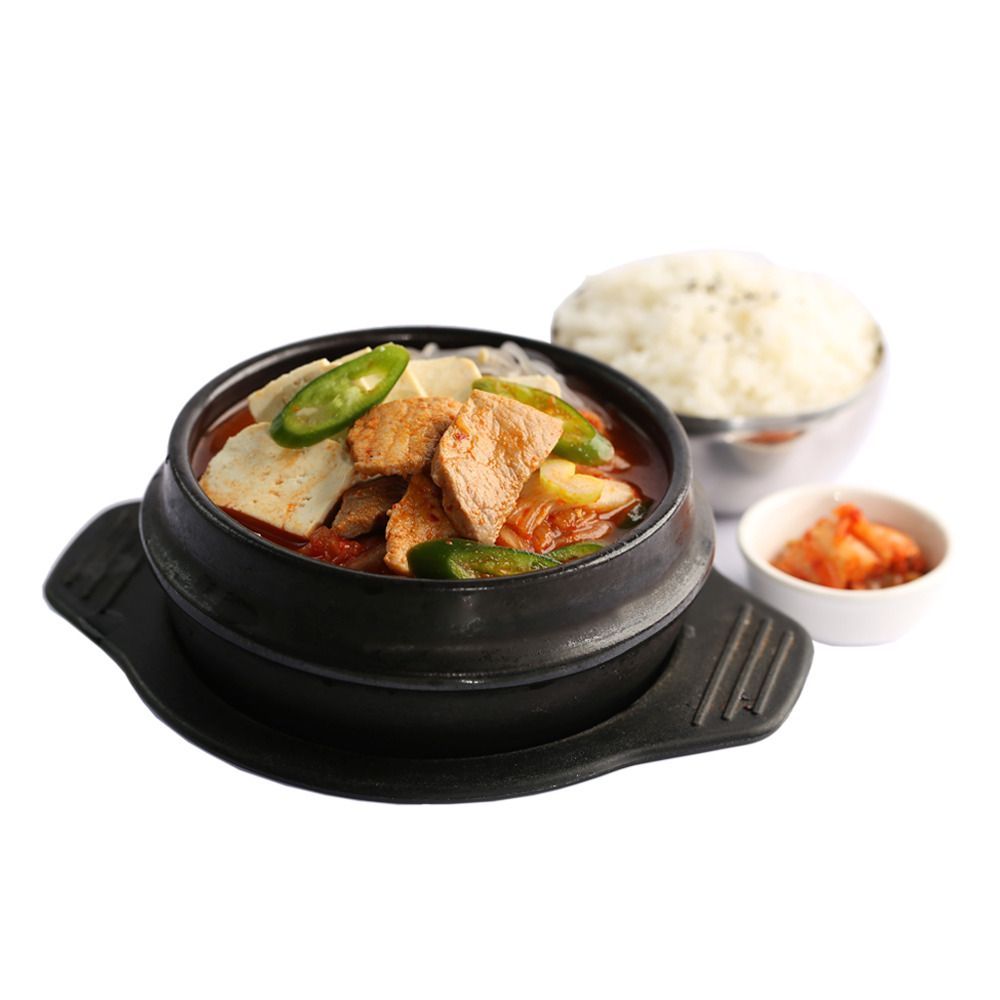 Daebak Korean Restaurant Menu BBQ
The BBQ dishes Daebak Korean Restaurant serves consist of Beef, Pork, and Chicken marinated and cooked expertly. These cuisines are served on a hot plate that keeps them hot and delicious. 
BBQ Chicken – The BBQ Chicken served by this restaurant has a unique and flavorful taste as the special sauce used in marinating and cooking this dish is made with twenty-one ingredients thoughtfully mixed.  
BBQ Pork – This cuisine has an extraordinary taste as the sauce is made with fresh and healthy ingredients such as fruits. It also comes with chilies, mushrooms, and other ingredients that enhance its flavor.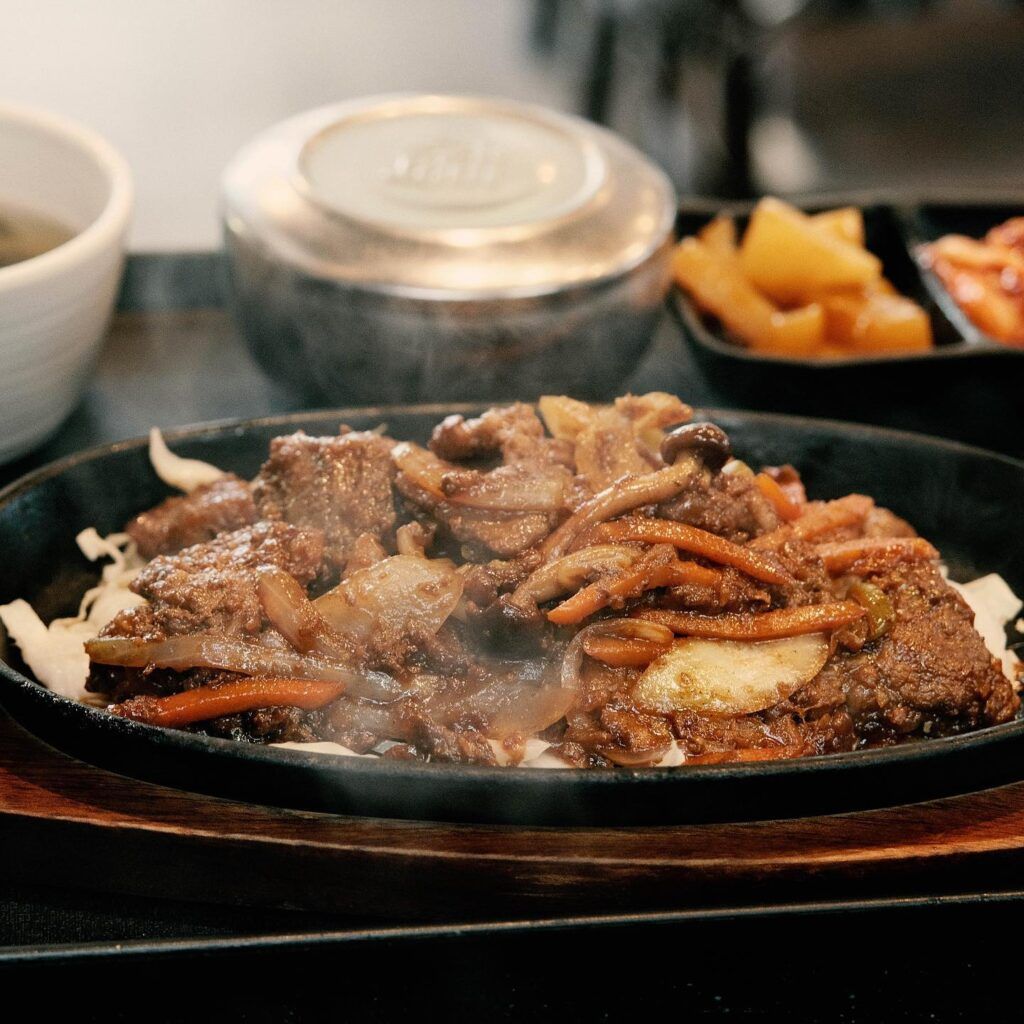 Gochujang Pork – Gochujang is a popular Korean condiment used in cooking different cuisines. It is made with red chili paste that imparts a sweet, spicy, savory flavor and vibrant color. This paste complements well with the pork and other elements cooked with it. 
Ramyeon 
Ramyeon is a popular noodle dish in Korea as it is easy to prepare and works harmoniously with various ingredients. These ramyeon cuisines are served with an egg that adds a gooey texture and satisfying taste. 
Army Stew Ramyeon – Daebak Korean Restaurant offers a simplified version of this well-known Army Stew Ramyeon. It is topped with spam, chicken sausages, and vegetables. This is one of the favored stews as it is easy to cook and made with simple ingredients. 
Korean Ramyeon – It is a classic variant of ramyeon with a heartwarming broth and delicious toppings such as fresh vegetables. The restaurant added a secret recipe or ingredient that makes this dish unique and flavorsome. 
Dumpling Ramyeon – Level up your favorite classic Korean ramyeon with this meal, where pork and vegetable dumplings are added. This dish is packed with delicious flavors as the dumplings complement well with noodles and other vegetable cuisines.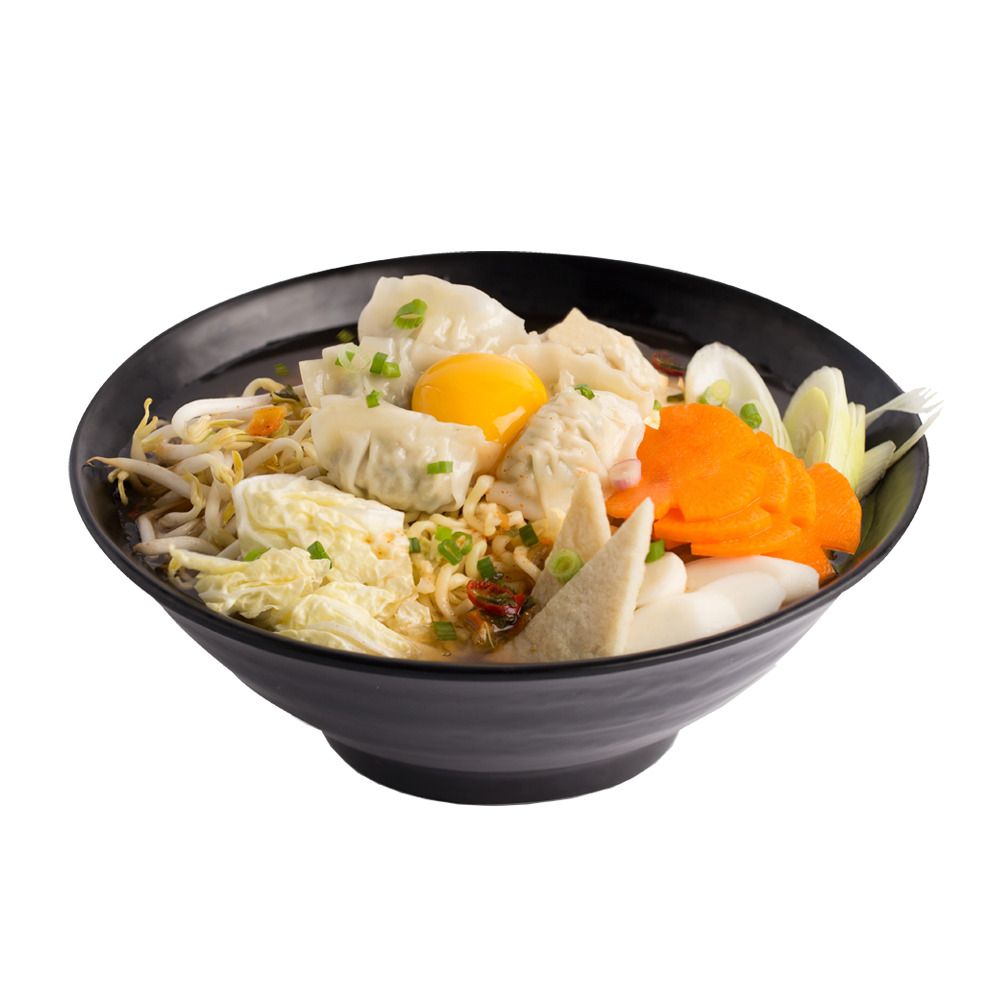 Specials 
Daebak Korean Restaurant serves special Korean Dishes like noodles, a pancake, and rice cake. The noodles it offers are Udong, Japchae, and Jajangmyeon. It also provides a vegetable pancake and spicy rice cakes, two popular snacks and side dishes in Korea. This restaurant also serves Rappokki, where spicy rice cakes and ramyeon noodles are combined. 
Daebak Korean Restaurant Menu Delivery 
Daebak Korean Restaurant offers islandwide delivery services through partnered platforms such as GrabFood, Deliveroo, Foodpanda, and Oddle so that you can enjoy a Korean dining experience anywhere. 
Social Media Pages
Whether you're a Korean food enthusiast or new to this delightful cuisine, Daebak Korean Restaurant is your gateway to an authentic culinary journey. Join them on social media to explore the vibrant flavors, share your love for Korean cuisine, and stay up-to-date with all things Daebak.
Facebook: https://www.facebook.com/DBWilkie
Instagram: https://www.instagram.com/daebak.wilkie/
Website: https://daebak.sg/contact/
FAQs
What is Daebak Korean Restaurant known for? 
Daebak Korean Restaurant is known for authentic Korean cuisine. 
Where is Daebak Korean Restaurant located in Singapore? 
Daebak Korean Restaurant Singapore is located at Wilkie Edge (8 Wilkie Rd, #01-18, Singapore 228095)
Are there any signature dishes at Daebak Korean Restaurant? 
Yes, Daebak Korean Restaurant has signature dishes such as Tofu Soup. 
Is Daebak Korean Restaurant halal certified? 
No, Daebak Korean Restaurant is not a halal-certified restaurant in Singapore. 
Conclusion
The Daebak Korean Restaurant menu is simple and highly recommended by its customers as its cuisines are budget-friendly, good-tasting, and authentic. It has limited seating, and diners are given a one-hour dine-in time limit, so it is best to plan your visit and avoid a long queue. This restaurant also offers delivery and takeaway service so that you can enjoy Korean cuisine conveniently.