India has a rich culture and traditions as well as their food, they are using a lot of unique spices to create their best-tasting food for everyone. In this article, we are going to talk about a restaurant that serves Indian cuisine. Have you heard of or bumped into London Curry House? The London Curry House menu has a lot of delicious and unique food to offer plus their foods are for sure tasty and delicious. There are a lot of Indians and other nationalities in Singapore who will love this kind of food aside from them people like me who are adventurous will surely appreciate the kind of food that they offer. Let's get to know London Curry House a little bit more and let's take a look at their prices and of course their best-selling items. Let's go. 
You can find the updated pricing information for the London Curry House menu below.
MENU
PRICE (SGD)

Rice & biryani

Basmati rice
$4.90
Jeera rice
$6.90
Vegetable pulao
$7.90
Lsmb dum biryani
$14.90
Tiger prawn biryani
$17.90
Fish biryani
$13.90
Lamb shank biryani
$25.00

Kebabs

Chicken malai kebab
$15.90
Chicken tikka kebab
$14.90
Lamb boti kebab
$15.90
Lamb seekh kebab
$16.90
Fish tikka
$15.90
Tandoori prawn
$15.90
Malai prawn
$20.50
Paneer tikka
$15.50

Chicken

Butter chicken
$14.90
Palak chicken
$14.90
Chicken vindaloo
$14.50
Kadai chicken
$14.90
Chicken chettinad
$14.50

Mutton

Lamb korma
$15.50
Mutton rogan josh
$15.90
Gosht vindaloo
$15.90
Kadai gosht
$14.50
Keema muttar
$12.90

Seafood

Fish curry
$13.50
Goan fish curry
$13.90
Fish masala
$14.90
Prawn masala
$17.50
Prawn vindaloo
$17.90

North Indian cuisine

Mixed vegetables
$12.50
Shahi paneer
$13.90
Paneer butter masala
$13.90
Mattar paneer
$13.50
Chana masala
$12.50
Rajma masala
$12.50
Mushroom masala
$13.00
Aloo gobi
$13.50
Jeera aloo
$13.50
Dum aloo
$14.00
Bhindi masala
$13.50
Palak paneer
$13.90
Dal makhani
$13.50
Dal tadka
$13.00

Salads

Fattoush
$11.90
Green salad
$5.90

Breakfast

Poori & bhaji
$10.90
Aloo paratha with dahi
$10.90
Choley bathura
$10.90

Soups

Lentil soup
$7.50
Cream of mushroom
$8.50
Chicken soup
$10.90
Mutton soup
$12.00

Shorba

Tamatar shorba
$9.90
Dal Dhaniya shorba
$9.90
Chicken shorba
$10.90

A la carte

Chilli Gobi
$12.90
Fish amritsari
$14.90
Chili chicken
$14.90
Chicken 65
$14.90
Chicken manchurian
$15.90
Chilli prawn
$16.90
Kadai vegetable
$12.50
Chili fish
$15.90
Potato greeny
$10.90

Special lebanese charcoal grill

Grilled chicken
$26.90
Shish tawouk
$23.50
Chicken kofta
$23.50
Dajaj mashwi
$24.50
Chicken mandi
$24.50

Mashawi grilled meats

Lamb chops with fries
$24.90
Lamb mandi
$24.90
Lamb mashawi
$24.90
Lamb kofta
$24.90
Mixed grill
$35.00

Breads

Onion kulcha
$5.50
Masala kulcha
$5.50
Roomali roti
$7.90
Tandoori roti
$3.20
Tandoori paratha
$4.50
Butter tandoori roti
$3.90
Aloo paratha
$5.90
Plain naan
$4.20
Naan basket
$18.50

Indian fried rice

Vegetable fried rice
$9.90
Chicken fried rice
$10.90

Sides

Gobi manchurian
$12.90
Mixed vegetable pakoras
$10.90
Chicken liver
$10.90

Desserts

Rosogolla
$7.90
Rasmalai
$8.50

Beverages

Lemonade mint
$5.90
Apple juice
$4.90
Mango juice
$4.90
Lemon juice
$4.90
Watermelon juice
$4.90
Mango lassi
$4.90
Sweet lassi
$3.90
Salted lassi
$1.90
Soft beverages
$1.90
Mineral water
$1.90
About London Curry House
London Curry House is a restaurant that serves Indian food. What makes this restaurant different from other Indian restaurants is that they only use the freshest ingredients and only cook when they have orders. Their kitchen helpers and chefs only serve mouthwatering dishes and strive hard to give their customers the best-tasting Indian foods that they will experience. One thing that is really great about this restaurant is that if ever your favorite food is not on their menu you can actually ask them to cook it for you and they will do their best to give you what you want as long as they have the ingredients of your request on their kitchen. Reggie Raj Arora and Priya Arora are the owners of London curry house. This restaurant has Indian food with a modern twist and they are giving their customers the best and most unforgettable Indian food experience as much as possible. 
London Curry House Menu Best Seller
Here are some of London Curry House's best sellers and popular items that you should try. 
Fish & Chips – The fish fillet is seasoned very well before frying until golden making it delicious already even without the curry sauce, the chips are also cut in just enough size seasoned as well, and fried until also golden and crispy. The addition of curry sauce makes this dish alive since instead of traditional ketchup as dipping sauce they put curry on it but the change is great and only made this dish delicious even more. One of their most popular meal. 
Lamb Rogan Josh – London Curry House's version of Lamb Rogan Josh consists of lamb pieces or mutton with garlic gravy that is too flavorful. I can taste some aromatic spices like bay leaves, clove, bay leaves, cinnamon and cardamom plus ginger, some version of this dish incorporates yogurt or onions. After braising the lamb, the dish will be finished by slow cooking technique.  it has a very rich taste and a great aroma from spices. The color of this dish is deep red because of the paprika that they used in cooking.
Chicken Masala – London Curry House version of chicken tikka masala is a dish made from marinating boneless chicken slices that they traditionally cooked in a tandoor before serving in a creamy tomato sauce. Their chicken masala is slightly spicy, it also has that grilled flavor that is perfectly paired with the creamy sauce of this dish.
London Curry House Menu Rice & Biryani
London Curry House's rice and biryani menu has 7 menu options to choose from. First on the list is their basmati rice which is just plain and steamed basmati rice. Next on the list is their Jeera rice which is tempered cumin seed in steamed basmati rice. Next on the list is their vegetable pulao, vegetable pulao is made with basmati rice and mixed vegetables. Another option on this menu is their lamb dum biryani which is included on our list of their best sellers. Tiger prawn biryani is another great option, you can also choose fish biryani or add mb shank biryani.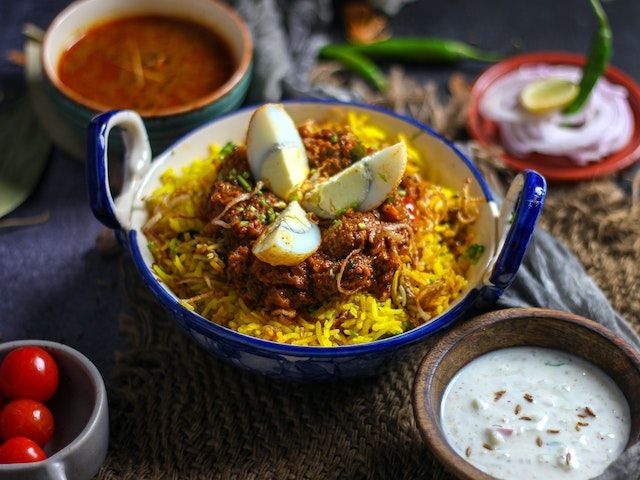 London Curry House Menu Kebabs
The Kebab menu of London Curry House has 8 options as well, first option is their chicken malai kebab, you can also try chicken tikka kebab or lamb boti kebab for your meat needs. Lamb seekh kebab is also one of their best options. Fish tikka if you want to take a break from meats. Tandoori prawns and malai prawns are also one of the finest items on this menu. Lastly, paneer tikka which is a fresh cottage cheese that they coated with spices and yogurt before cooking in an earthy pot. 
Mutton
They have 5 menu in the London Curry House, the first item is their lamb korma which is lamb cooked in a mildly spicy almond curry. The next item on this menu is their mutton rogan josh which is included on their best-seller list. Another item on this menu is their Gosht vindaloo which is a spicy hot lamb curry. They also have kadai gosht, this one is tender lamb cubes with tomato, capsicum, and onion. Lastly their keema mutar, this one is minced meat and peas cooked the Indian way.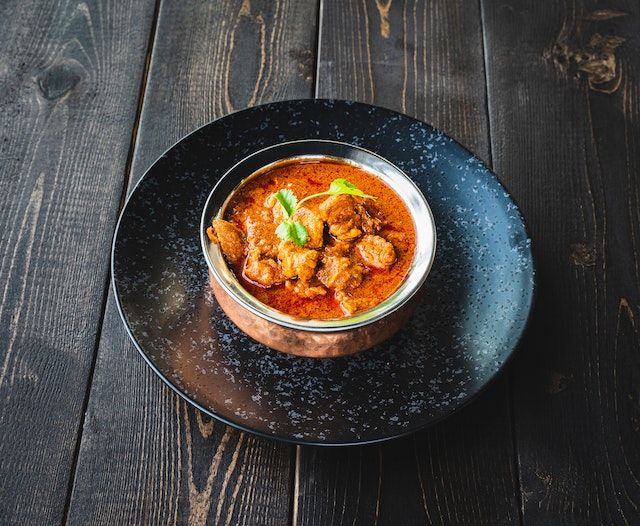 London Curry House Menu Delivery
While London Curry House doesn't currently have its own delivery website, fret not! You can still enjoy your favorite dishes from them through the convenience of third-party delivery services. Simply hop on popular platforms like Deliveroo, GrabFood, and Foodpanda, and place your order with ease. London Curry House has made it possible for you to indulge in their flavorful offerings without leaving the comfort of your home. So, satisfy your cravings and let these reliable delivery services bring the deliciousness of London Curry House right to your doorstep. It's a hassle-free way to enjoy a fantastic meal!
Social Media Pages
Discover the essence of authentic Indian cuisine in the heart of the city at London Curry House. Keep yourself informed about our latest menu creations, exciting promotions, and upcoming events by following their vibrant social media pages. Feel free to reach out to them with any questions or inquiries through messaging.
Facebook: https://www.facebook.com/ICHSG
Instagram: https://www.instagram.com/indian_curry_house/
Website: http://www.indiancurryhouse.com.sg/contactus.html
FAQs
What type of cuisine does London Curry House serve?
London Curry House serves Indian cuisine however they have a menu for a special Lebanese charcoal grill. 
What are some popular dishes on the London Curry House menu?
Popular dishes in London Curry House are lamb rogan josh, their fish and chips that are really delicious, and masala. 
Does London Curry House offer vegetarian or vegan options?
Yes, they offer vegetarian options on their menu. You can ask their crews first and they will recommend a dish for you.
Is London Curry House halal?
Yes, London Curry House is certified halal that's why this is one of the best places to go for our Muslim friends. 
Conclusion
Of the best to go for your Indian food cravings. The London Curry House menu offers certified halal foods that why this is a great restaurant for our Muslim friends. The dishes that they serve in this restaurant are delicious and very tasty. The food is always fresh. The restaurant itself is clean and has a fresh and customer-friendly atmosphere. Service crews are awesome as well. So for those of you who are curious about Indian cuisine, this place is worth trying. Highly recommended.