The PastaMania menu consists of Italian cuisines, such as pasta and pizza. It also serves appetizers that are great for sharing, baked rice, dessert, and beverages. All pasta dishes are freshly cooked to give diners a hearty and flavorful meal. The restaurant offers halal-certified, vegetarian, low-calorie, spicy, and luscious cuisine to cater to people from different walks of life.
You can find the updated pricing information for the PastaMania menu below.
MENU
PRICE (SGD)

Great for Sharing

Calamari
$6.80
Cheddar Cheese Sticks
$6.50
Chicken Wings
$7.20
Crispy Chicken Fillets
$6.50
Honey Garlic Chicken
$6.50
Waffle Potatoes with Nacho Cheese
$7.20
Cheesy Garlic Bread Trio
$4.00
Chicken Minestrone
$3.90
Cream of Mushroom
$3.90
Garlic Bread
$3.00

Pasta

Basil Chicken Aglio
$9.90
Kecap Manis Chicken Bacon
$12.80
Otah Aglio
$13.80
Salted Egg Chicken
$13.80
Seafood Mala
$13.80
Seafood Tom Yum
$13.80
Seafood Zuppa
$13.80
Aglio Olio
$7.90
Prawn Aglio
$12.20
Chicken Bacon Aglio
$10.50
Arrabata
$8.20
Beef Bolognese
$9.90
Beef Meatballs
$12.20
Chicken Bolognese
$9.90
Chicken Cheese Salsiccia
$12.90
Chicken Sausages
$10.20
Marinara
$13.80
Pomodoro
$7.90
Spicy Chicken
$9.90
Vongole
$12.90
Al Funghi
$10.50
Alfredo
$11.90
Carbonara
$12.80
Cheesy Crumble
$7.90
Cheesy Crumble Chicken Bacon
$9.90
Cheesy Crumble Chicken Ham
$9.90
Creamy Chicken
$11.90
Truffle Trio
$13.80
*Pasta Upsize
$2.70
*Add On: Soup Set (Soup with Garlic Bread + Soft Drink 16oz)
$5.80
*Add On: Snack Set (Great for Sharing Snacks + Soft Drink 16oz)
$7.20

Pizza

Beef Pepperoni 7''
$11.90
Beef Pepperoni 10''
$15.90
Chicken Ham & Mushroom 7''
$10.90
Chicken Ham & Mushroom 10''
$14.90
Hawaiian 7''
$10.90
Hawaiian 10''
$14.90
Hot Basil Chicken 7''
$10.90
Hot Basil Chicken 10''
$14.90
Margherita 7''
$9.90
Margherita 10''
$13.90
Meat Lovers 7''
$11.90
Meat Lovers 10''
$15.90
Vegetarian 7''
$10.90
Vegetarian 10''
$14.90
Truffle Mushroom 7''
$11.90
Truffle Mushroom 10''
$15.90

Baked Rice

Chicken Ham & Chicken Sausage Baked Rice
$11.50
Mushroom Baked Rice
$10.90

Dessert

Choco Banana (Pizza Base)
$6.90
Choco Banana (Brownie Base)
$7.90
Nutty Ciocolato (Pizza Base)
$6.90
Nutty Ciocolato (Brownie Base)
$7.90
Udders Ice Cream (Dark Chocolate)
$4.60
Udders Ice Cream (Cookies & Cream)
$4.60

Signature Drinks (Carafe)

Calamansi Cooler
$5.50
Honey Lemon Refresher
$5.50
Indigo Lemonade Soda
$5.50
Passion Tea Quencher
$5.50

Italian Sodas (Sparkling)

Passion Fruit
$5.50
Strawberry
$5.50

Cold Drinks

Coca-Cola Original Taste Less Sugar (Medium)
$3.00
Coca-Cola Original Taste Less Sugar (Large)
$3.50
Coca-Cola Zero Sugar (Medium)
$3.00
Coca-Cola Zero Sugar (Large)
$3.50
Sprite (Medium)
$3.00
Sprite (Large)
$3.50
Fanta Grape (Medium)
$3.00
Fanta Grape (Large)
$3.50
Iced Lemon Tea (Medium)
$3.30
Iced Lemon Tea (Large)
$3.80
Iced Green Tea (Can)
$3.30
Drinking Water (Bottled)
$2.90
Sparkling Apple (Can)
$3.30
Coconut water (Bottled)
$3.90
Iced Milo (Cup)
$4.30

Hot Drinks

Camomile Tea
$3.60
Earl Grey Tea
$3.60
English Breakfast
$3.60
Hot Milo
$3.80
Cappucino
$4.60
Latte
$4.60
Long Black
$3.50
About PastaMania
PastaMania is a casual dining and halal-certified restaurant chain in Singapore specializing in Italian cuisine. It was founded in 1988 in Scotts Shopping Centre. Quality is their top priority, and they ensure that each dish is made with authentic ingredients and goes through a rigorous quality control process. This is also an international brand with a large market presence in Singapore and other countries.
Great for Sharing Menu
Start your meal with these light-bite and flavorful dishes seasoned and cooked with a special blend of spices. These appetizers and snacks served by PastaMania are great for sharing as they have a generous serving.
Cheddar Cheese Sticks – One of the best-seller menu of PastaMania. This cheesy and delicious snack is made with cheddar cheese coated with breading mix and served with ketchup. It is soft and creamy on the inside and crunchy on the outside. The cheesy goodness of this appetizer makes it one of the most-sought dishes in the restaurant.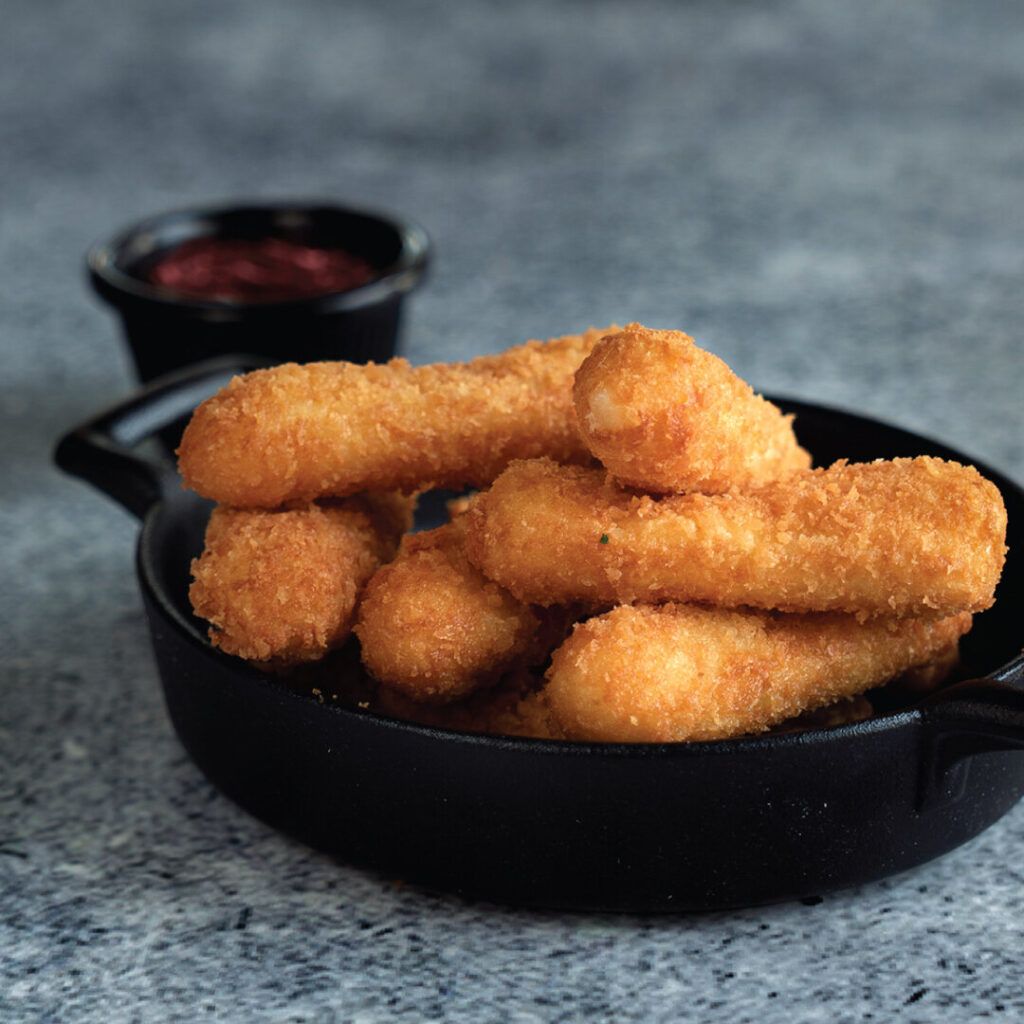 Honey Garlic Chicken – Chicken bites are cooked in a honey garlic sauce giving this dish a sweet and savory flavor. Its distinctive taste comes from the homemade sauce with a special mix of honey, garlic, and other special seasonings. This is one of the popular dishes of this restaurant as it has a crunchy skin, tender meat, and yummy taste.
Mala Mid-wings – Mala is a spicy and numbing seasoning popular in Sichuan province. It is made from peppercorn and chili and is one of the most-loved flavor profiles in Chinese cuisine. PastaMania uses this spicy seasoning as one of the special ingredients of their chicken mid-wings.
Chicken Minestrone – A hearty and classic Italian soup with a rich and flavorsome tomato base. The chicken bits on this soup and the fine herbs on its top add a delicious flavor. It is a soul-soothing soup that can make you feel better and is perfect during cold weather. This simple yet wholesome meal will increase your appetite, making you enjoy your meal.
Waffles Potatoes with Nacho Cheese – Criss-cut waffles potatoes are seasoned with special spices, cooked until crispy, and served with nacho cheese. The criss-cut technique makes every bite satisfying as the spices are spread through the cuts of waffle potatoes. It is a must-try snack with a crispy, cheesy, and savory flavor.
PastaMania Menu Pasta 
Pasta is the specialty of this restaurant. These dishes are inspired by traditional Italian pasta, and to make it flavorful and unique, PastaMania adds a special twist. It offers aglio, fusion, tomato-based, and creamy-based pasta dishes.
Carbonara – One of the best comfort foods and iconic pasta dishes in Italy. The creamy and silky sauce is made from Parmesan cheese and fresh eggs. Bits of turkey bacon are also cooked with pasta adding delicious flavor and texture. The excellent combination of creamy sauce, tender pasta, and flavorful bacon makes it one of the restaurant's best-selling dishes.
Otah Aglio – A classic Italian pasta cuisine with a wonderful Singaporean twist. Pasta is sauteed with crispy prawn chili, fried baby shrimp, delicious fish otah, and minced garlic. It is simply delicious, making it irresistible and flavorful. The spicy flavor note of this pasta gives this a unique taste.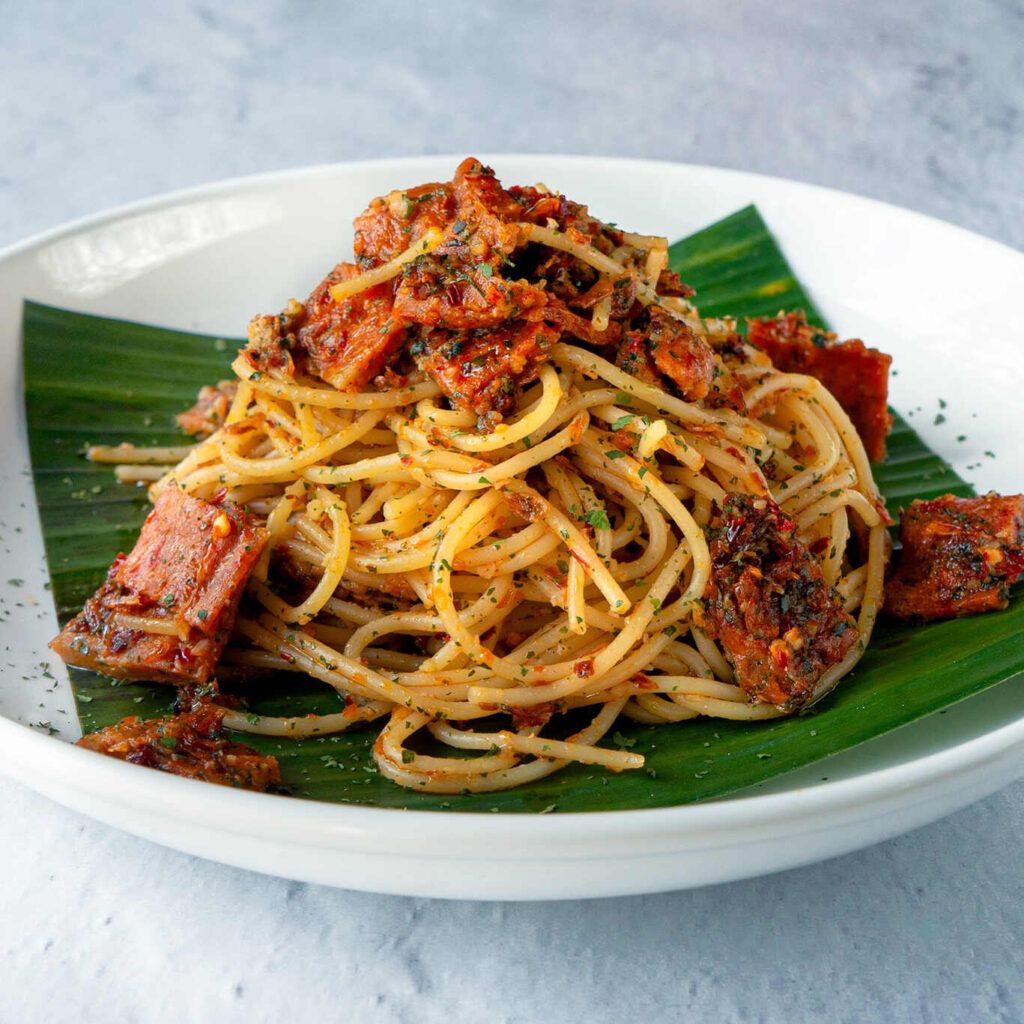 Seafood Mala – Your choice of pasta is cooked with creamy and spicy mala sauce. Slices of onions, mussels, prawns, and whole-shell clams are laid on top to make them more flavorful. This restaurant's pasta choices are Linguine, Spaghetti, Penne, Fusili, and Wholemeal Spaghetti. This piping hot pasta dish of PastaMania is so numbingly good, making you crave more. It is ideal for those who love pasta, seafood, and spicy food.
PastaMania Menu Pizza
The pizzas served by PastaMania are available in seven and ten inches. Most of these pizzas contain low calories, making them perfect for those who follow a healthy diet. It consists of spicy, meaty, and vegetarian pizzas.
Vegetarian – Specially made for vegetarians and health-conscious customers, this pizza is made with mushrooms, olives, capsicum, a special sauce, and other spices. It is one of the most-loved pizzas of its patrons as it is healthy and contains low calories. This is also one of the chef's recommendations, as it is bursting with delicious flavors.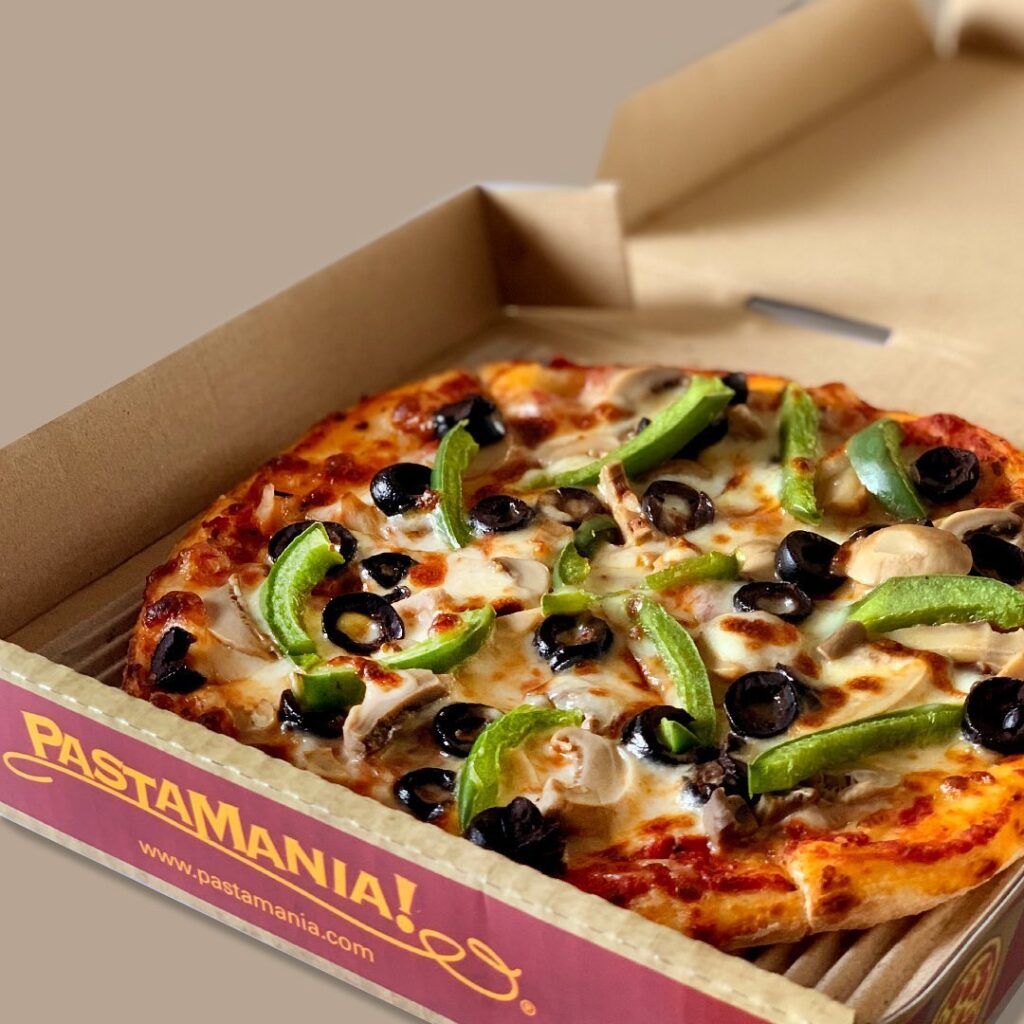 Hot Basil Chicken – It is a spicy pizza with minced tender chicken, chili, and fresh basil. The flavor and texture of its ingredients complement perfectly, making each bite gratifying. Diners can also add toppings such as chicken ham, meatballs, prawns, broccoli, and many more to enjoy a wholesome pizza.
Meat Lovers – Enjoy the meaty and surprising goodness of this pizza. It includes beef Bolognese, beef pepperoni, chicken sausages, and chicken bacon. The hearty combination of beef, chicken, and other spices makes this pizza delicious. This pizza can also be ordered with a soup set or snack set.
Dessert
The dessert menu served by PastaMania consists of choco banana and nutty cioccolato. Pizza and brownies are the two base options for these sweet and delicious desserts. The choco banana brownie is the dessert recommended by their chefs. It also offers Udders Ice Cream in Dark Chocolate and Cookies & Cream flavors. Each serving consists of a single scoop served in a cup.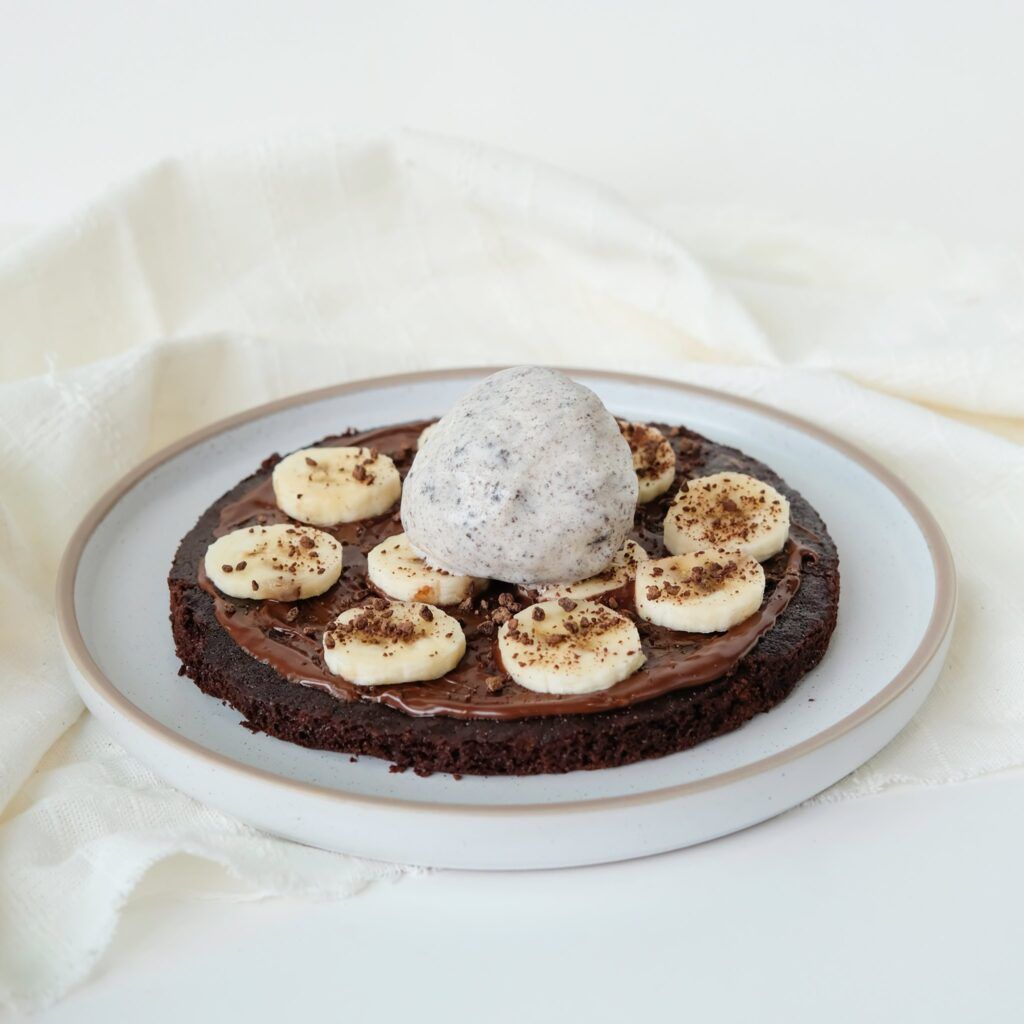 PastaMania Menu Delivery
Wherever you are, indulge in the mouthwatering dishes from PastaMania through convenient delivery services. You can now access their menu on popular delivery platforms like Deliveroo, FoodPanda, GrabFood, and Oddle.me. With just a few taps, you can have their delectable offerings delivered straight to your doorstep. Whether you're craving a comforting plate of pasta or other delectable options, PastaMania ensures that you can enjoy their delicious cuisine from the comfort of your own home.
Social Media Pages
Craving delicious pasta? Look no further than PastaMania! Follow their social media pages for mouthwatering updates, exclusive deals, and behind-the-scenes sneak peeks. Be part of their pasta-loving community and stay connected to your favorite Italian flavors.
Facebook: https://www.facebook.com/PastaManiaSingapore
Instagram: https://www.instagram.com/pastamaniasingapore/
YouTube: https://www.youtube.com/@pastamaniasingapore
Email: [email protected]
FAQs
What type of cuisine does PastaMania serve?
Pastamani serves Italian cuisine with a Singaporean twist.
Does PastaMania offer any promotions or discounts?
Yes, PastaMania offers promotions and discounts. Check out their current promotions at https://www.pastamania.com.sg/promotions. 
Is PastaMania halal-certified?
Yes, PastaMania is a halal-certified restaurant in Singapore.
Conclusion
The PastaMania menu is known for its hearty and authentic pasta. It has a wide array of pasta dishes so you will surely find the one that will suit your taste. All pasta cuisines are made to order to ensure that they will satisfy the cravings of their customers. It also offers exclusive promotions, and some of its delivery platforms provide a set meal where you can enjoy your favorite dishes at a more affordable price. The restaurant has a special workshop for kids called Doughworkz, where parents can bond with their kids by creating bread and soups.