The Karubi menu is a mouthwatering array of Japanese flavors and grilled delights which specializes in yakiniku. A variety of premium cuts of beef, hog, and chicken are available on the menu and are perfect for grilling at the customers' table. The menu also includes an assortment of fresh seafood options, such as shrimp and scallops, for those seeking alternative choices. To complement the grilled meats, Karubi offers a variety of savory marinades and dipping sauces that add an extra layer of flavor. 
You can find the updated pricing information for the Karubi menu below.
MENU
PRICE (SGD)

Premium Flaming Wagyu Beef Bowls

Signature Truffle Wagyu Beef Bowl
$22.80
Original Wagyu Beef Bowl
$19.80
Spicy Mentaiko Wagyu Beef Bowl
$21.80
Mentaiko Wagyu Beef Bowl
$21.80

Classic Specials

Mentaiko Salmon
$17.00
Spicy Mentaiko Salmon
$17.80
Teriyaki Chicken Don
$13.80

Poke Series

#colspan#$16.8
Original Soy Glazed Poke Bowl
$7.80
Mentaiko Poke Bowl
$17.80
Spicy Mentaiko Poke
$18.00
Yuzu Sesame Poke
$17.80
Umami Tofu Poke (Vegan)
$15.80

Side Dishes

Breaded Calamari
$12.80
Mentaiko Fries
$9.80
Truffle Fries
$9.80
Japanese Cold Tofu
$4.80
Chicken Yakitori Skewers 3pcs
$5.80
About Karubi
Karubi is a popular Japanese restaurant located in Singapore, known for its delectable grilled meat dishes. Karubi offers a cozy and inviting atmosphere, perfect for casual dining or gatherings with friends and family. The menu features a variety of high-quality cuts of beef, pork, and chicken, along with a selection of fresh seafood. The restaurant specializes in yakiniku, a style of Japanese barbecue where diners can grill their own meat at the table. Diners can choose from different marinades and seasonings to enhance the flavors of their grilled meats. 
Karubi Menu Best Seller
This menu consists of the best-selling dishes at Karbui, each of which is made unique with delectable flavors and a mouthwatering aroma.
Original Soy Glazed Poke Bowl – The bowl features a bed of sushi rice topped with tender and marinated cubes of fish, accompanied by a medley of vibrant vegetables.  And the soy glaze adds a savory and slightly sweet note to this dish, which complements the freshness of the fish and adds a delightful umami element to the dish.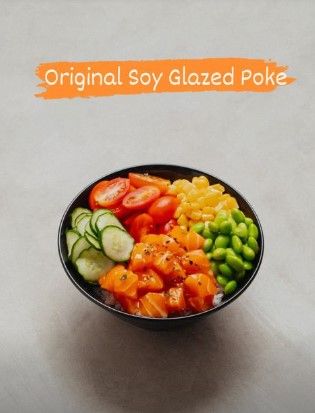 Spicy Mentaiko Poke – The combination of fresh fish, spicy mentaiko sauce, and a variety of toppings in this dish creates a flavor explosion in every bite. The richness of the mentaiko sauce is balanced with the freshness of the fish, while the toppings add texture and additional layers of flavor.
Original Wagyu Beef Bowl – This dish consists of succulent and tender slices of wagyu beef that are cooked to perfection and served atop a bed of fluffy rice. Each bite is a melt-in-your-mouth experience, with the rich and savory flavors of the beef taking center stage. 
Breaded Calamari – The Breaded Calamari at Karubi is a delightful appetizer that combines crispy and tender textures with a delicate seafood flavor. The calamari rings are coated in a light and crispy batter, and fried to golden perfection then served with a tangy dipping sauce.
Truffle Fries – These fries are perfectly crispy and seasoned with a hint of truffle oil, creating an enticing aroma and flavor. The truffle fries flavor is subtle yet distinct, elevating the humble fries into a more indulgent and memorable treat
Premium Flaming Wagyu Beef Bowls 
This menu of Karubi is made up of a different variety of wagyu beef bowls that offer a unique and memorable dining experience due to their exquisite flavors.
Signature Truffle Wagyu Beef Bowl – This dish combines the richness of wagyu beef with the luxurious aroma and flavor of truffle. The tender and succulent wagyu beef is perfectly grilled and served atop a bed of fluffy rice while the truffle-infused sauce adds a delightful earthy note, enhancing the overall savory experience.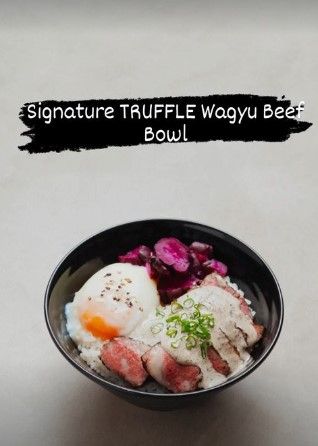 Spicy Mentaiko Wagyu Beef Bowl – The dish features tender slices of wagyu beef cooked to perfection and topped with a generous serving of spicy mentaiko sauce. The sauce provides a creamy and spicy flavor profile that beautifully complements the richness of the beef.
Mentaiko Wagyu Beef Bowl – The dish features thinly sliced wagyu beef, cooked just right to retain its tenderness then generously topped with creamy and briny mentaiko sauce, which adds a burst of umami flavor to each bite. 
Karubi Menu Classic Specials
This menu is made up of different dishes that deliver a delightful dining experience thanks to their fresh and high-quality ingredients.
Mentaiko Salmon – The salmon used in this dish is perfectly cooked, with a tender and flaky texture that pairs beautifully with the rich and flavorful mentaiko sauce. The sauce gives the food a creamy, umami-rich boost that brings out the salmon's inherent sweetness.
Spicy Mentaiko Salmon – This dish features succulent salmon topped with a spicy mentaiko sauce and spicy sauce creates a tantalizing flavor profile that will awaken your taste buds. The spicy mentaiko sauce adds another layer of depth to the dish, while still letting the natural flavors of the salmon shine.
Teriyaki Chicken Don – The chicken in this dish is cooked to perfection, boasting a caramelized exterior and juicy interior. The teriyaki sauce infuses the dish with its rich flavors, adding a delightful sweetness that complements the savory chicken.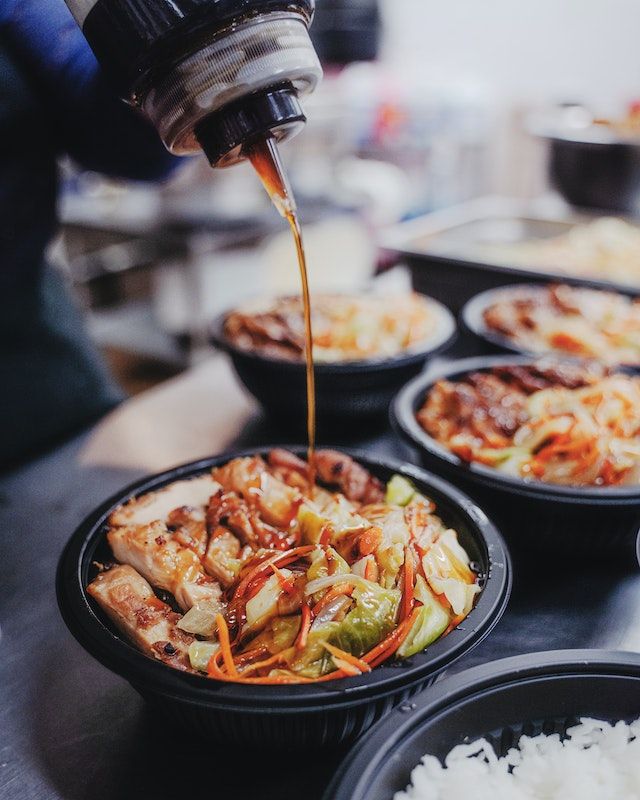 Karubi Menu Poke Series
This menu is made up of different variety of Poke which is a dish that consists of raw pieces of tuna cut into cubes.
Mentaiko Poke Bowl – This dish features a generous serving of fresh poke made with high-quality ingredients, such as marinated fish or seafood, and is complemented by a variety of toppings and seasonings and a mentaiko sauce that adds a rich umami flavor to the dish.
Yuzu Sesame Poke – The poke in this dish is made with a combination of fresh seafood or vegetables, marinated in a tangy yuzu dressing, and garnished with sesame. The yuzu provides a citrusy and refreshing note, while the sesame adds a delightful crunch and nuttiness to the dish. 
Umami Tofu Poke (Vegan) – This dish features marinated tofu, carefully seasoned with umami-rich ingredients, and served with an array of fresh vegetables. The tofu itself is flavorful and has a satisfying texture that mimics the tenderness of fish or seafood.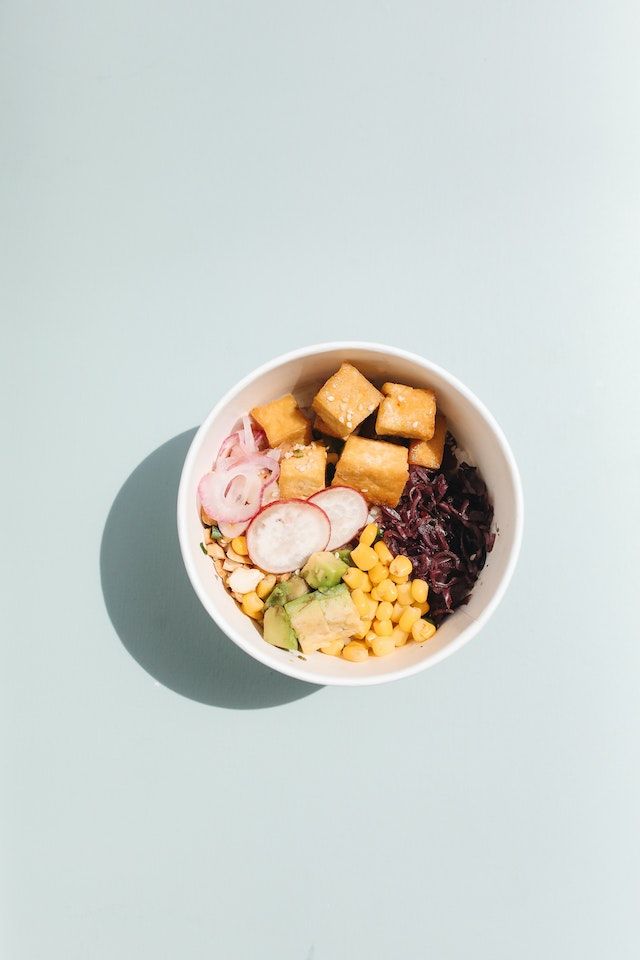 Side Dishes
This menu offers a delectable array of accompaniments that perfectly complement their main dishes. Karubi's side dishes menu is a testament to their dedication to providing a well-rounded dining experience with a variety of flavors and textures that will satisfy every palate.
Karubi Menu Delivery
Karubi understands that sometimes customers prefer to enjoy their delicious food in the comfort of their own homes. That's why Karubi is pleased to offer delivery services for those who crave their mouthwatering food but prefer not to venture outside. Now, you can easily order your favorite dishes from Karubi through popular delivery platforms like FoodPanda. Simply place your order online, and your scrumptious meal will be delivered right to your doorstep. It's a convenient way to satisfy your cravings without leaving the comfort of your home.
Social Media Pages
Calling all food enthusiasts! Join the Karubi community and stay connected with the latest updates from the restaurant by following them on social media. Be the first to know about new menu items, exclusive promotions, and upcoming events. Don't miss out on the opportunity to indulge in their mouthwatering Karubi and other delicious offerings. Follow them today and let your taste buds be tantalized by the flavors of Karubi. You may also visit their store to experience a culinary delight like no other.
Facebook: https://www.facebook.com/Karubisg
Instagram: https://www.instagram.com/karubisg/
FAQs
What type of cuisine does Karubi specialize in?
Karubi specializes in Japanese cuisine, with a focus on yakiniku, which is the art of grilling meat at the table.
Can I make reservations at Karubi?
Yes, it is advisable to make reservations at Karubi to secure your preferred dining time.
Does Karubi Singapore offer delivery services?
Yes, the Singaporean branch of Karubi does offer delivery services.
What are the operating hours of Karubi Singapore?
Karubi's operating hours vary from the location.
Is Karubi a halal-certified restaurant?
Karubi is a halal-certified restaurant.
Conclusion
The Karubi menu features a range of high-quality beef, pork, chicken, and seafood options that can be personalized with various marinades and seasonings making it a must-visit Japanese restaurant in Singapore especially for meat lovers. The cozy ambiance and attentive service create a welcoming atmosphere for diners to enjoy a memorable meal with friends and family. Overall, Karubi promises a delightful dining experience through the flavors of Japanese cuisine.