The Genki Sushi menu showcases the art of Japanese cuisine. It serves Aburi, Appetizer, Dai Man Zoku, Dessert, Donburi, Gunkan, Nigiri Sushi, Rice & Noodles, Roll and Handroll, Sashimi, Sides, Platters, and Kid's Meals. This restaurant uses Shari or Japanese Rice that is directly imported from Japan: Su or Vinegar, a special ingredient that is solely created for Singapore branches to make the flavors of their dishes perfectly balanced; and Shoyu or Soy Sauce, a premium sauce that is formulated by a producer with a history of more than 200 years.
You can find the updated pricing information for the Genki Sushi menu below.
MENU
PRICE (SGD)

Aburi

Aburi Maguro
$3.60
Salmon 3 Flavours
$4.80
Salmon Spicy Mayo
$3.30
Salmon Mentai
$3.30
Salmon Black Pepper
$3.30
Hokkaido Cheese Abalone
$3.60
Ebi Mentai
$3.30
Ebi Garlic Butter
$3.30
Kani Black Pepper
$3.20
Kani Mentai
$3.20
Tamago Mentai
$3.20
Chicken Cheese Burger
$3.60

Appetisers

Agedashi Tofu Hamburg
$4.80
Agedashi Tofu
$4.20
Crab Yuzu Chawanmushi
$4.90
Chawanmushi
$3.20
Salmon Miso Soup
$3.20
Nameko Miso Soup
$2.90
Chuka Idako
$4.20
Chuka Kurage
$4.20
Chuka Hotate
$4.20
Chuka Wakame
$4.20
Edamame
$2.90

Dai Man Zoku

Akaebi Garlic Butter
Salmon Belly
Sukiyaki Beef
$1.90
Salmon Belly Black Pepper
Unagi Cheese
Engawa (Fluke Fin)
$1.90
Jumbo Ebi Fry
Jumbo Kani Mentai

Dessert

Caramelised Tamagoyaki
$2.60
Maple Caramelised Imo
$4.20
Hokkaido Milk Vanilla
Matcha
Japanese White Peach
Mini Cream Puffs

Gunkan

Spicy Salmon Gunkan
$2.80
Salmon Ikura Gunkan
$5.60
Ika Capelin Gunkan
$4.20
Ebikko Gunkan
$2.80
Cheese Tobikko Gunkan
$3.20
Amaebi Gunkan
$3.20
Crab & Crab Miso Gunkan
$4.20
Scallop Wasabi Gunkan
$2.60
Kani Salad Gunkan
$2.60
Inari Kani Salad
$2.20
Lobster Salad Gunkan
$3.50
Inari Lobster Salad
$2.80
Tuna Salad Gunkan
$2.20
Inari Tuna Salad
$2.20
Corn Mayo Gunkan
$2.20
Chuka Hotate Gunkan
$2.60
Chuka Wakame Gunkan
$2.20
Natto Gunkan
$2.20

Nigiri Sushi

Kajiki Sushi (Swordfish Belly)
$3.60
Hamachi Sushi (Yellowtail)
$4.20
Ika Sushi (Squid)
$2.60
Hokkigai Sushi (Surf Clam)
$3.20
Salmon Sushi
$2.80
Yaki Salmon Sushi
$3.00
Hana Sushi
$4.50
Ebi Sushi
$2.80
Unagi Sushi
$3.20
Maguro Sushi (Tuna)
$3.20
Kani Sushi
$2.60
Smoked Duck Sushi
$2.60
Edo Tamago Sushi
$2.60
Tamago Sushi
$2.20
Yaki Corn Sushi
$2.60
Inari Sushi
$2.20
Hotate Sushi
$4.20
Tako Sushi
$4.20
Amaebi Sushi
$2.80
Hotate Ikura

Rice & Noodles

Spicy Salmon & Engawa Don
$6.60
Mini Chirashi Don
$6.60
Mini Salmon Ikura Don
$6.60
Mini Salmon Avo Mental Don
$6.60
Chicken Teriyaki Don
Unagi Don
Oyako Don
Gyu Don
White Rice
$1.80
Ebi Tempura Udon
$8.50
Beef Udon
$8.50
Kitsune Udon
$6.20
Kake Udon
$5.00
Maze Soba
$6.20
Zaru Soba (Cold)
$4.80
Hanjuku Egg
$1.20

Makimono (Roll)

Genki Roll
$4.50
Mentai Roll
$5.50
Spicy Salmon Roll
$4.80
Cheese Tobikko Ebi Roll
$4.20
Lobster Salad Roll
$4.90
Soft Shell Crab Roll
$4.90
California Roll
$4.20
Salmon Maki
$3.20
Tekka Maki
$3.20
Tuna Salad Maki
$2.60
Kani Maki
$2.60
Tamago Maki
$2.20
Kappa Maki
$2.20
Natto Maki
$2.20

Temaki (Handroll)

Salmon Handroll
$2.80
Spicy Salmon Handroll
$2.80
Soft Shell Crab Handroll
$4.20
California Handroll
$2.80

Sashimi

Premium Sashimi Platter
$20.50
Sashimi Platter
$16.50
Salmon Sashimi
$6.50
Salmon Belly Sashimi
$8.20
Hotate Sashimi
$6.50
Akaebi Sashimi
$6.50
Maguro Sashimi (Tuna)
$6.50
Hamachi Sashimi (Yellowtail)
$8.20
Kajiki Sashimi (Swrodfish Belly)
$6.50
Amaebi Sashmi (Sweet Shrimp)
$6.50

Sides

Okonomiyaki Skewer
$5.30
Chicken Nanban
$5.90
Tori Karaage
$4.50
Fried Gyoza
$4.50
Ebi Tempura
$5.80
Crispy Prawn w Yuzu Mayo
$5.50
Shishamo (Smelt)
$4.50
Salmon Skin
$4.90
Fried Soft Shell Crab
$7.90
Fried Squid Tentacles
$4.80
Takoyaki
$4.50
Snow Crab Croquette
$2.90
Maple Cheese Fries
$4.50
Mentai Mayo Fries
$4.50
French Fries
$3.50
Mentai Mayo Sauce
$0.50

Platters

Classic Set A
$10.90
Classic Set B
$13.90
Classic Set C
$16.90
Special Set A
$19.90
Special Set B
$15.90
Special Set C
$24.90
Genki Set A
$55.90
Genki Set B
$56.90

Delivery Exclusive

Teriyaki Chicken & Ebi Soba Bento
$12.90
Teriyaki Chicken & EBI Bento
$12.90
Beef & Chicken Bento
$14.50
Unagi & Ebi Bento
$16.50

Kid's Meal

Starry Delight Bento
$7.90
Rainbow Sushi Bento
$7.90

Promotions

Chicken Wings 6 pcs
$14.90

Beverages

Jasmine Green Tea
$2.80
Ayataka
$2.80
Coke
$2.80
Coke No Sugar
$2.80
Sprite
$2.80
Qoo Grape
$2.80
Bottled Water
$2.00
Green Tea Powder
$11.00
About Genki Sushi
Genki Sushi is a restaurant founded by Fumio Saito that offers Japanese dishes. It takes pride in serving customers top-notch, authentic, and contemporary cuisine. The management also maximizes the use of technology to give diners an exceptional experience. This delivery express system is one of the features of this restaurant that excites its diners.
Genki Sushi Menu Best Seller
Genki Sushi is known for the authentic Japanese dishes that it offers. Here are some of the best sellers of this restaurant that you should not miss out on to make your Japanese dining experience more exciting.
Chawanmushi – A heartwarming appetizer that will stimulate your appetite as it has made up of savory broth with scallions, mushrooms, dashi, and sake. This is a perfect dish to start your meal here at Genki Sushi as it is not too light and filling, but satisfying.
Ebi Tempura – Ebi Tempura is a Japanese dish that is well-loved by people from different parts of the world because of its popularity and delicious taste. This shrimp tempura is an excellent side dish for any Japanese cuisine.
Sashimi Platter – This sashimi platter consists of Salmon, Kajiki (Swordfish Belly), and Hamachi (Yellowtail). It is great for those sashimi lovers as three of the most-sought dishes are included in it.
Salmon Sashimi – It is a sashimi that is made with fresh salmon. The light texture, vibrant color, and melt-in-your-mouth goodness of this dish make it surprisingly good. The flavor of this dish is enhanced by the soy sauce that is served with it.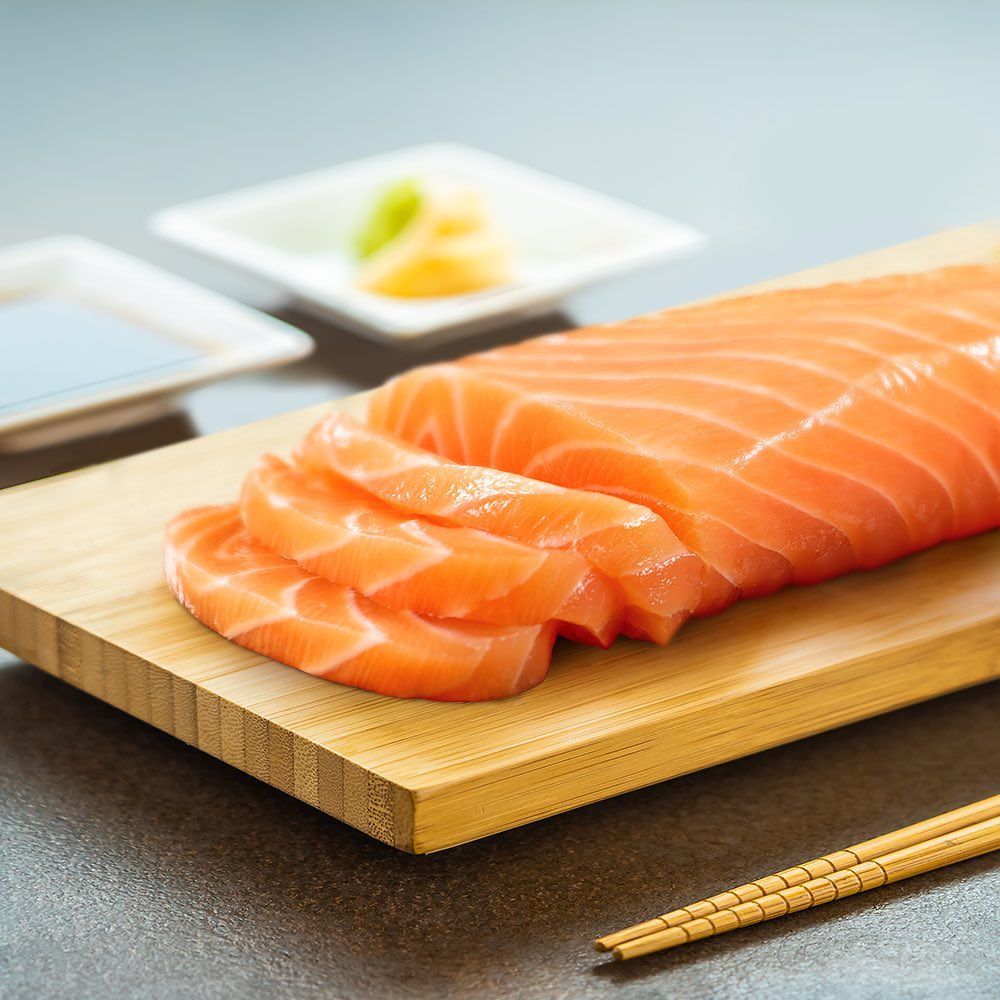 Kake Udon – Enjoy a comforting meal with this Kake Udon that is popular for its noodles that are cooked perfectly and flavorful light broth. Fried tempura bits are served separately on a spoon to prevent them from getting soggy.
Genki Sushi Menu Aburi
Aburi refers to a contemporary way of cooking sushi where it is flame-seared to cook it lightly. This technique enhances the flavor as it creates new textures making sushi more delicious.
Salmon Spicy Mayo – Fresh salmon is laid on rice, flame-seared, and topped with spicy mayo. The spicy and creamy taste of spicy mayo complements well with this salmon aburi.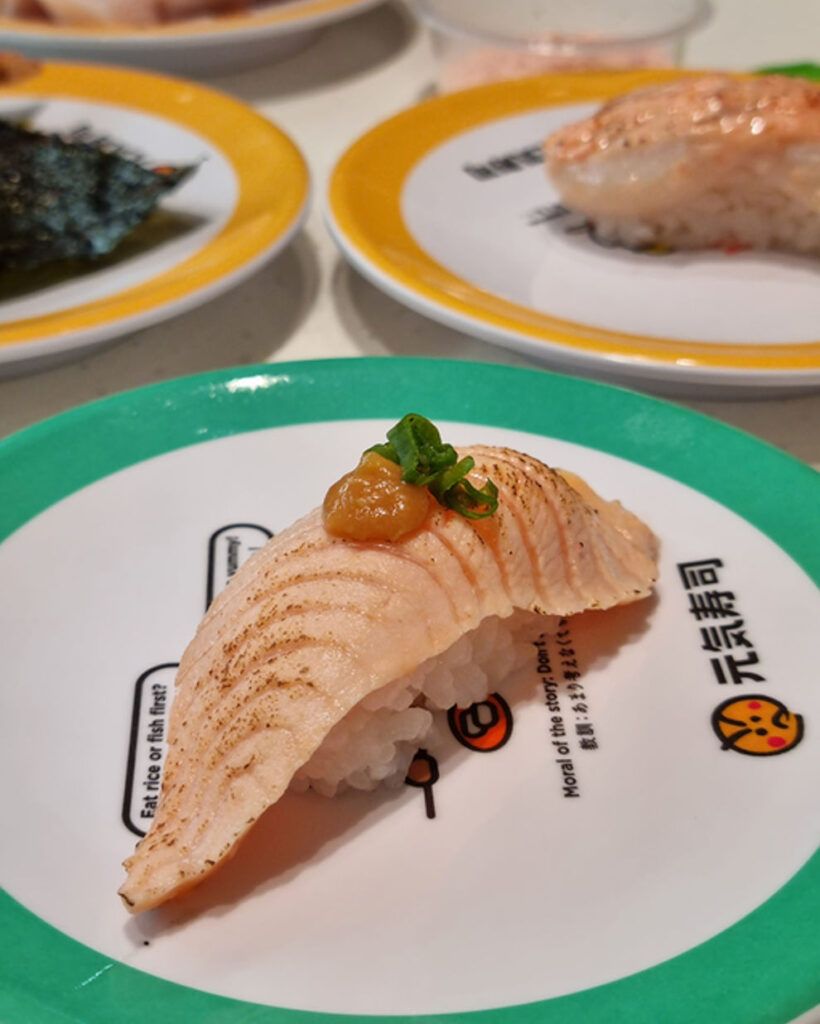 Hokkaido Cheese Abalone – Rice and abalone are topped with rich and creamy Hokkaido cheese sauce. It is a perfect treat for those who love cheese and seafood.
Chicken Cheese Burger – It is a one-of-a-kind aburi that consists of a layer of rice, chicken, and cheese. If you want to try something new, it is a great option for you. This is also ideal for those who are not a fan of seafood dishes.
Roll and Handroll
The rolls of Genki Sushi are made up of maki and Japanese sushi where the seafood is wrapped in Japanese rice and topped with special ingredients. The handrolls that it offers are also known as temaki sushi in the shape of a cone.
Spicy Salmon Roll – In this menu of Genki Sushi, a Spicy Salmon is stuffed in rice and topped with spicy sauce and other special ingredients. It is bursting with flavors that make each bite pleasurable. 
Genki Roll – It is a special makimono of Genki Sushi where fried salmon skin, salmon belly, and Japanese cucumber are rolled in sushi rice and seafood.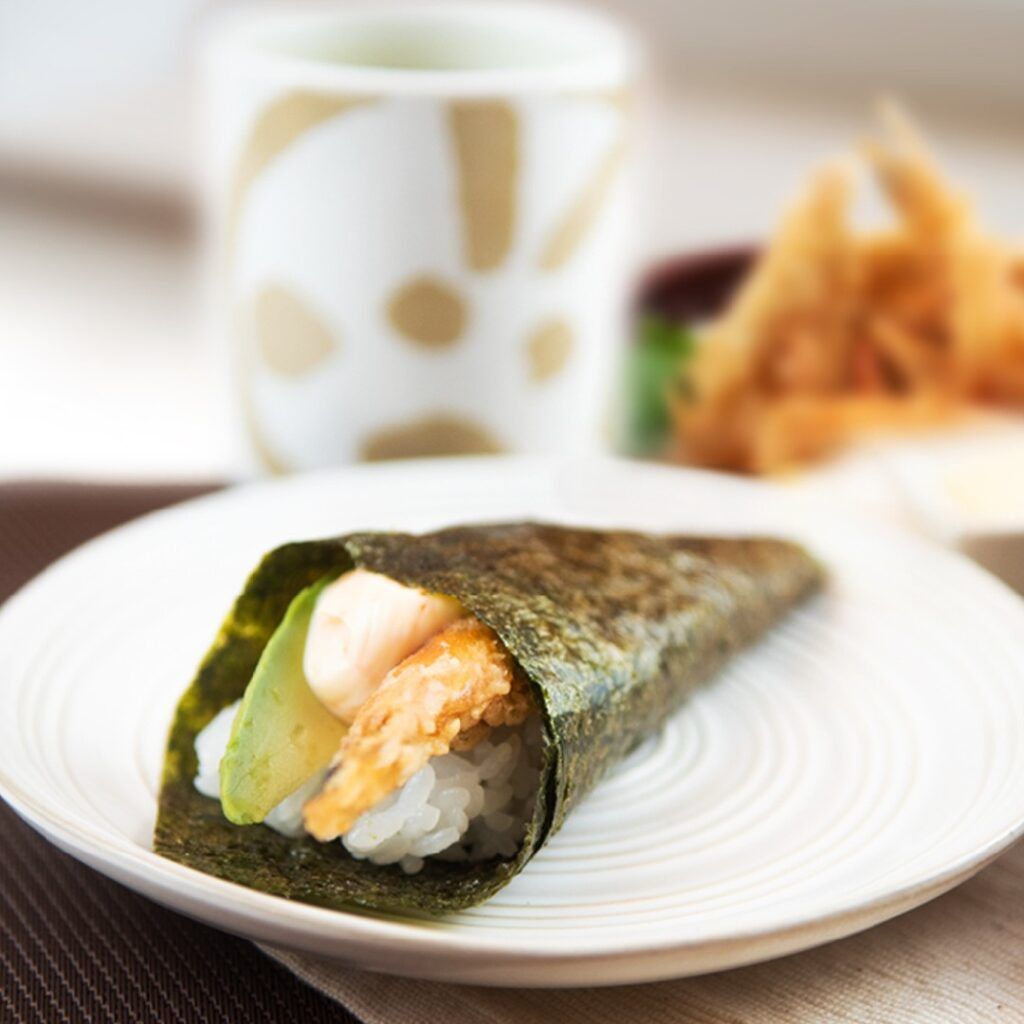 California Handroll – This handroll consists of Japanese cucumber, kanikama, Japanese mayonnaise, and sushi rice that is wrapped in a nori sheet.
Genki Sushi Dai Man Zoku Menu
Dai Man Zoku is a Japanese word that means ultimate satisfaction. These dishes of Genki Sushi will surely satisfy your cravings as are well-crafted to make them flavorful and appetizing.
Sukiyaki Beef – Rice is stuffed in a slice of beef. Each bite will satisfy your cravings as the beef has an appetizing sweet and smoky flavor. It is served with soy sauce which makes the meat more appetizing.
Engawa (Fluke Fin) – This sushi is made with Japanese rice that is topped with engawa or fluke fin. The customers enjoy its soft texture and delicious flavor that gives them a gratifying meal. The all-white color of this dish gives this dish an aesthetic look that encourages diners to try it.
Jumbo Kani Mentai – Upgrade your meal with this jumbo kani mentai that is bigger in size than the regular one. If you are a fan of kani mentai, this jumbo size will stimulate your appetite making you feel satisfied.
Genki Sushi Menu Gunkan 
In Japanese, the term Gunkan means war boat, warship, or battleship. These gunkan sushi dishes are shaped in ovals to make them look like small boats or ships. It is made up of rice that is wrapped in a nori sheet and topped with seafood and other ingredients.
Spicy Salmon Gunkan – Stimulate your sense of taste with this salmon gunkan that has a spicy kick. The special blend of spicy sauce of this restaurant is the ingredient of this dish that makes it simply irresistible.
Corn Mayo Gunkan – Sushi rice is wrapped in a nori sheet and topped with corn and Japanese mayo. The sweetness of the corn and the creaminess of the mayonnaise complements well with sushi rice making every bite pleasurable.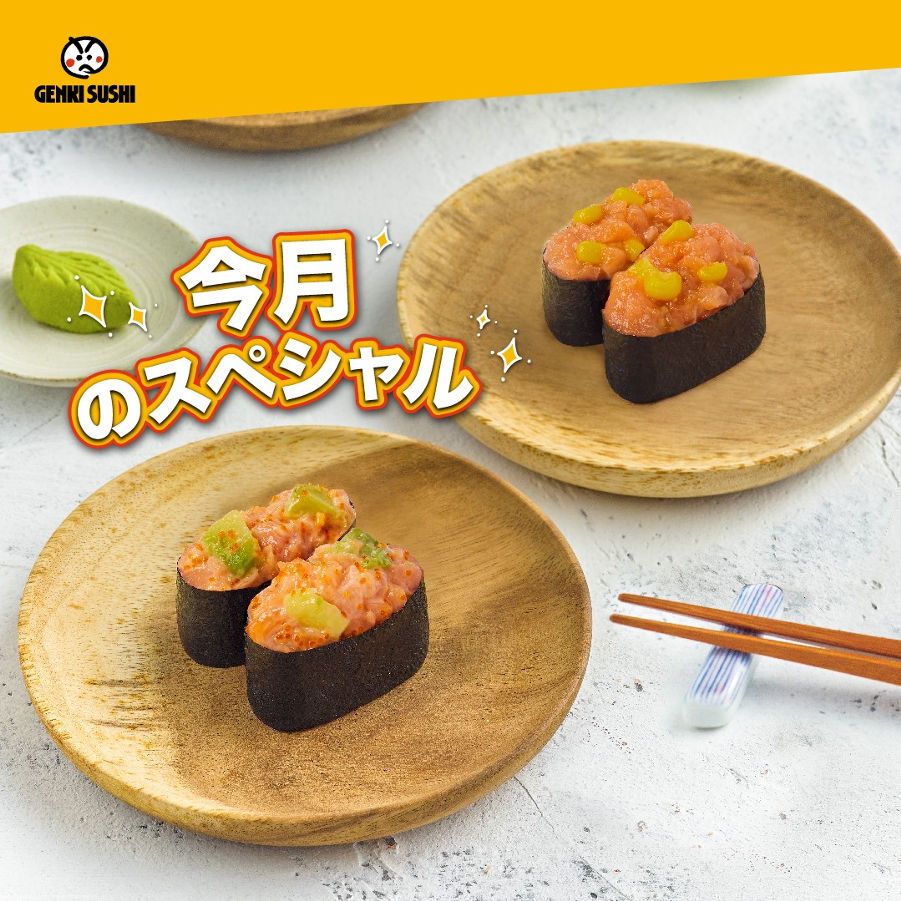 Natto Gunkan – Natto is a fermented soybean that is laid on sushi rice. It is traditionally enjoyed in Japan during breakfast. Pairing nato with sushi is one of the common ways Japanese people eat it. This nato gunkan is great for those who are not a fan of seafood.
Nigiri Sushi
Nigiri Sushi is a Japanese cuisine where rice is shaped in an oval and topped with different kinds of seafood. It serves a Hana Sushi that has an iconic presentation where Japanese rice is wrapped with salmon and topped with Japanese mayonnaise and fish roe. It also provides inari sushi which is made up of seasoned and deep-fried tofu that is stuffed with Japanese rice. Some of the other nigiri sushi dishes that it offers are Kajiki, Hamachi, Ika, Hokkigai, Salmon, and Maguro Sushi. This wide variety of Nigiri Sushi offered by Genki Sushi gives diners a lot of dishes to try.
Sashimi
The Sashimi dishes served by Genki Sushi are composed of Salmon, Hotate, Salmon Belly, Akaebi, Hamachi, Maguro, Kajiki, and Amaebi. Sashimi Platter is also served which is good for sharing as it consists of three different sashimi dishes. It can also be upgraded into Premium Sashimi Platter which includes five different sashimi. Include these sashimi dishes in your meal to taste the goodness of these authentic Japanese foods.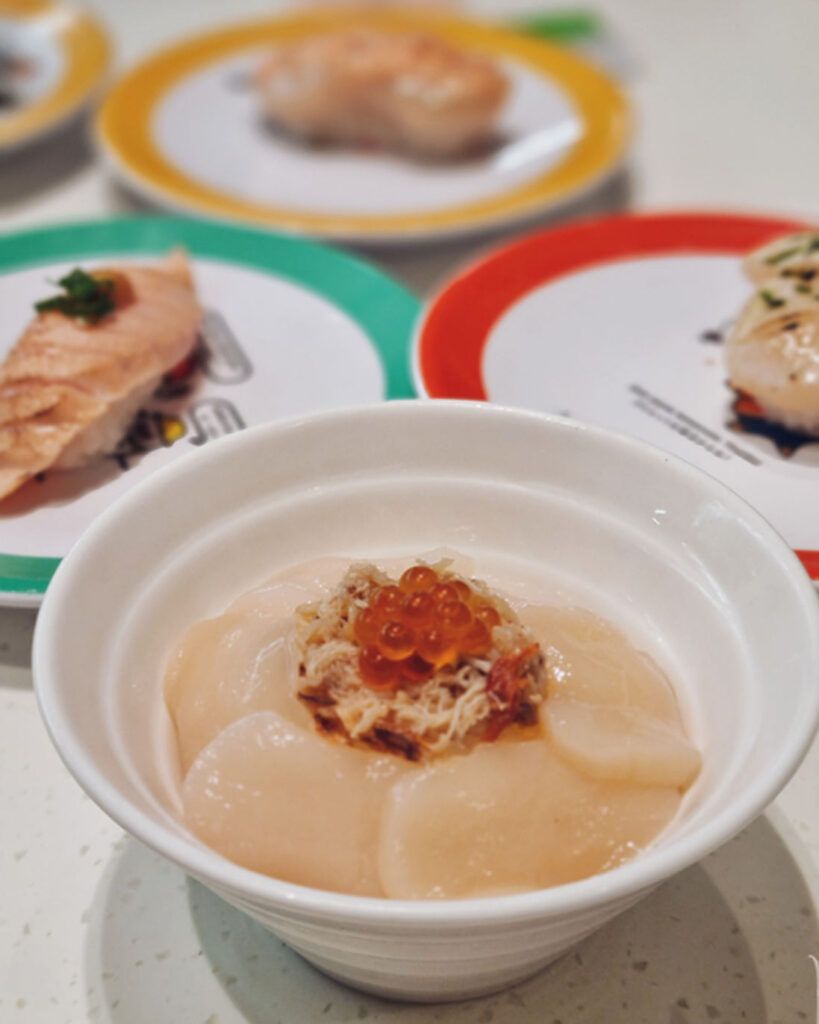 Genki Sushi Menu Delivery
You can conveniently enjoy the menu offerings of this sushi restaurant through Islandwide delivery and pickup services. To place your order for your favorite Japanese dishes, you can download their app or visit their website at https://genkisushi.oddle.me/en_SG. In addition to their own platform, you can also find them listed on popular food delivery apps such as Foodpanda and Grabfood, making it even easier to satisfy your sushi cravings.
Social Media Pages
Looking for a delicious and unique sushi experience? Look no further than Genki Sushi! Follow their social media pages to keep up with their latest offerings and promotions, and don't miss out on the chance to try their amazing sushi creations.
Facebook: https://www.facebook.com/GenkiSushiSg/
Instagram: https://www.instagram.com/genkisushisg/
Website: https://www.genkisushi.com.sg/locate-us/
Conclusion
The Genki Sushi menu is like art as the dishes that it offers are aesthetically pleasing and satisfying. This restaurant is the first one that comes into its customer's minds when they are craving Japanese cuisine. It offers a unique and unconventional dining experience by serving authentic dishes and integrating a Kousoku Train System. The management is also dedicated to giving diners excellent value by continuously improving its products and services.