An extraordinary restaurant with an exceptional touch of Korean-Chinese cuisine can now be relished on the Obba Jjajang menu. Mixed with fresh seasonings and raw materials that are cultivated from the rich forest and are then crafted with pure love and compassion, Obba Jjajang offers us a set of Korean-Chinese feelings with every single bite. Obba Jjajang isn't just an ordinary BBQ restaurant, what makes it stand out among its competitors is the cozy interior with tables that best suits a small group who loves to create new memories at new places like Obba Jjajang.
Seasoned with herbs and spices that were crafted through time, Obba Jjajang offers a BBQ experience that you can traditionally feel in Korea or even in China. This combination of delightful cuisine can certainly give you butterflies while you enjoy every bit of food that they offer. Indeed Obba Jjajang is a restaurant worthy of your time, patience, and money, so why not give it a try and let your own Korean-Chinese character radiates within you?
Obba Jjajang Menu Price List [Updated]
MENU
PRICE (SGD)

BBQ (Raw)

Chicken
$21.00
Mushrooms
$13.00
Pork Collar
$24.00
Pork Jowls
$24.00
Prawn
$16.00
Prime Beef
$48.00
Ribeye
$43.00
Sliced Pork Belly
$21.00
Thin Sliced Beef Belly
$22.00

BBQ Sets (RAW)

Best Set
$56.00
New Set
$78.00
O.BBa Set
$53.00

Korean

Bibim Naengmyeon Spicy Buckwheat Noodle
$18.00
Bossam Steamed Pork Belly
$42.00
Jokbal Pigs Trotter
$54.00
Jokbal Pigs Trotters & Bossam Steam Pork Belly
$81.00
Jumeokbap Flying Fish Roe with Rice
$11.00
Mul Naengmyeon Buckwheat Noodle Soup
$18.00
Rose Tteokbokki Creamy Korean Rice Cake
$27.00
Steamed Gong Gi Bab White Rice
$2.00
Tteokbokki Korean Original Rice Cake
$23.00

Korean Chinese

Garlic Chicken
$38.00
Jajangmyeon Black Bean Sauce Noodle
$14.00
Japchae Korean Glass Noodle Stir-fried with Vegetable
$21.00
Jjamppong Chinese Style Seafood Vegetable Soup
$18.00
Kkanpunggi Deep-fried Chicken in Hot Pepper Sauce
$41.00
Saeu Bokkeumbap Shrimp Fried Rice
$17.00
Seafood Jajangmyeon Black Bean Sauce Noodles with Seafood
$32.00
Seafood Udon
$18.00
Tangsuyuk Sweet & Sour Pork
$30.00
Yangnyeom Chicken
$38.00

Korean Pancakes

Cheese Haemul Pajeon Cheese Seafood Spring Onion Pancake
$30.00
Cheese Kimchijeon Cheese Kimchi Pancake
$27.00
Haemul Pajeon Seafood Spring Onion Pancake
$27.00
Kimchijeon Kimchi Pancake
$24.00

Korean Soup & Stew

Budae Jjigae Army Stew
$43.00
Doin Jang Jjigae Bean Paste Stew
$14.00
Honghabtang Mussel Soup
$41.00
Kimchi Jjigae Kimchi & Pork Soup
$14.00
Samgyetang Ginseng Chicken Soup
$21.00
Soondubu Jjigae Soft Tofu Stew
$14.00

Soft Beverages

Bong Bong Grape Beverage
$4.00
Coke Original
$3.00
Coke Zero
$3.00
Fanta Orange
$3.00
Galamandenbae Pear Beverage
$4.00
Sekseek Orange Beverage
$4.00
Sikhye Sweet Rice Beverage
$4.00
Sprite
$3.00

Soju

Apple
$20.00
Chamisul
$20.00
Chum Churum
$20.00
Grapefruit
$20.00
Green Grape
$20.00
Jinro Soju
$22.00
Peach
$20.00
About Obba Jjajang
Just like any other restaurant story, Obba Jjajang started its journey to achieve greatness which also aims to cross and combine multi-faceted customs into a single delightful dish. Jae Kyoung Han the CEO of the company gives credence to the idea that you should have a mindset that customer experience always comes first.
The delightful story of Obba Jjajang started in the year 2012 with nothing except a desire to discover the greatest Korean cuisine in Singapore. The young CEO believes that being an entrepreneur isn't just a task that prioritizes money over everything, he believes that as an entrepreneur we should always prioritize recognizing the customer's voices. With that, Obba Jjajang now holds five (5) firm and delicate outlets that expands across Singapore.
If you are a Korean enthusiast and love eating at a comfy and low-cost restaurant but still want to have a premium and quality experience, then Obba Jjajang is your best shot. Visit us now and we'll set your fine dining today!
Obba Jjajang Menu Famous Foods
Through the idea of serving customers while harboring the traditional and classic feelings from the countries, Korea and China, Obba Jjajang hand-picked all the archetypal foods that can only be experienced in the above-mentioned countries. To give you knowledge of what we offer at Obba Jjajang, below is a list of famous food that you can certainly enjoy with us.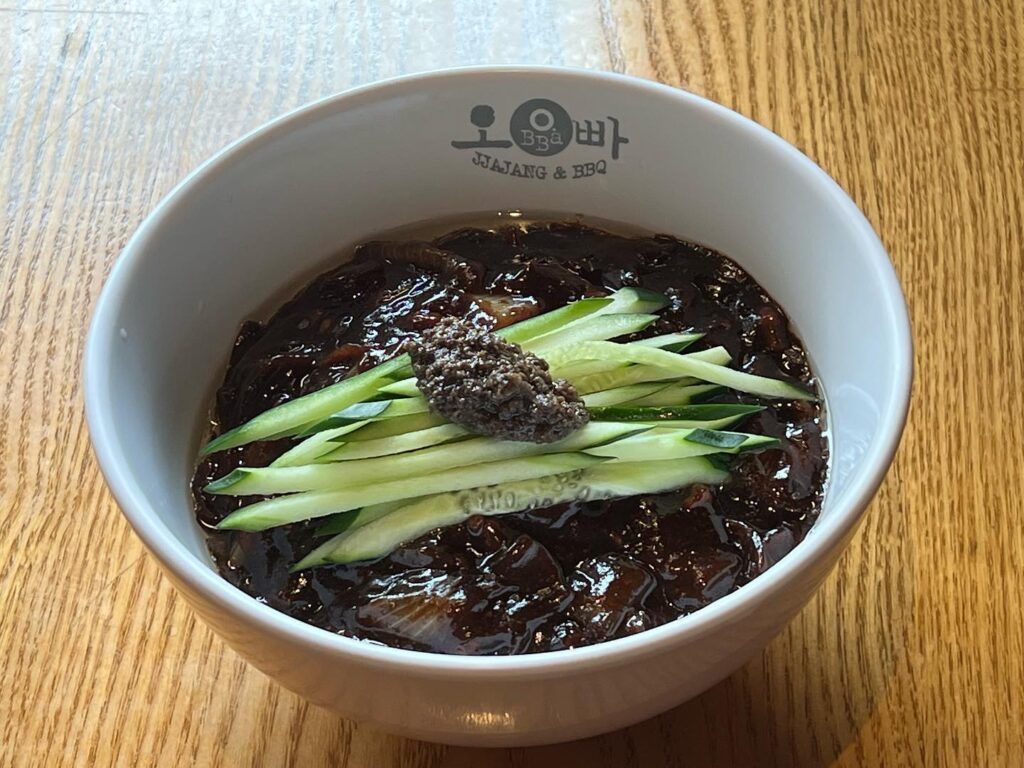 Jjajangmyeon – Of course, Jjajangmyeon would be the first on the list which derives from the name of the restaurant Obba Jjajang. These black soybean sauce noodles are crowned with chunjang sauce – a salty black soybean paste -, fresh vegetables, and minced pork.
Special beef BBQ set – This Obba Jjajang menu is a combination of traditional marinated beef, ribeye, marinated beef short rib, prime beef, and a 2mm sliced beef belly. A side dish of your choice can also be added to this set, choose between soft tofu soup, kimchi soup, or Korean bean paste stew.
Tangsuyuk – love to take out food? Then this Korean takeaway sweet and sour pork is best for you! Since it was listed on the must-try menu then I believe the company wouldn't disappoint you as they certainly give affection to each chew.
Obba Jjajang Menu Best Seller
Memorable moments at Obba Jjajang require a memorable meal, so if you are aiming for that single memory that you can always cherish infinitely, then below are the Obba Jjajang menu best sellers' that you should try.
Jjamppong – The fine ocean can be felt with a spoonful scoop of the famous Korean jjamppong. Have your seafood noodle with a kick at Obba Jjajang! Due to the high tolerance of Koreans to spicy foods, you should expect that Jjamppong has this thrill which is not suitable for individuals with low tolerance to spice and chili.
Budae Jjigae – A bowl of happiness can be enjoyed with this one-of-a-kind meal. Have your own set of noodles, beef, fresh vegetables, and kimchi in a single serving. Budae Jjigae is a $45 meal but served on a huge platter that can be shared with a partner or by two to three people. You can also add Spam Ham to this meal for $4 only.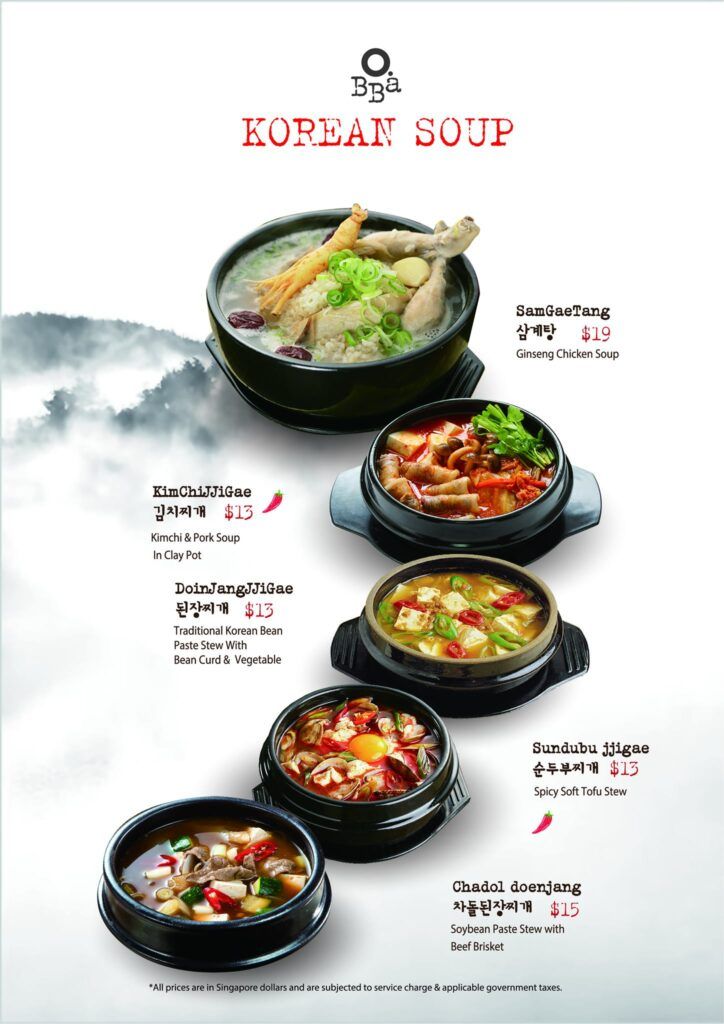 Sundubu Jjigae – This Obba Jjajang menu is served side by side with your BBQ set, you can choose between Fried Rice, Jajangmyeong, Jjamppong, Kimchi Stew, Miso Stew, or Sundubu Jjigae. Sundubu Jjigae is the best side soup dish as it contains a flavorful stock that is a base for enchanting soup.
GoChu Jajangmyeon – The picture already speaks spiciness, as it is quoted as the sibling of Jajangmyeon. Made with ground sun-dried chili peppers, gochugaru toppings, and a smoky attitude; I believe it should be tried by spicy lovers and you must try it too!
Kkanpunyuk – A deep-fried pork dish in a hot pepper sauce, this new was recently added to the diverse menu that Obba Jjajang offers. Combine with minced lotus root, diced green and red pepper, and bite-size pork – a happy tummy is your conclusion.
Food Delivery
Love the idea of enjoying Korean-Chinese food while watching your favorite TV show? Then grab your nearest device and order your Obba Jjajang right now! You can have your own me-time while your favorite Obba Jjajang menu!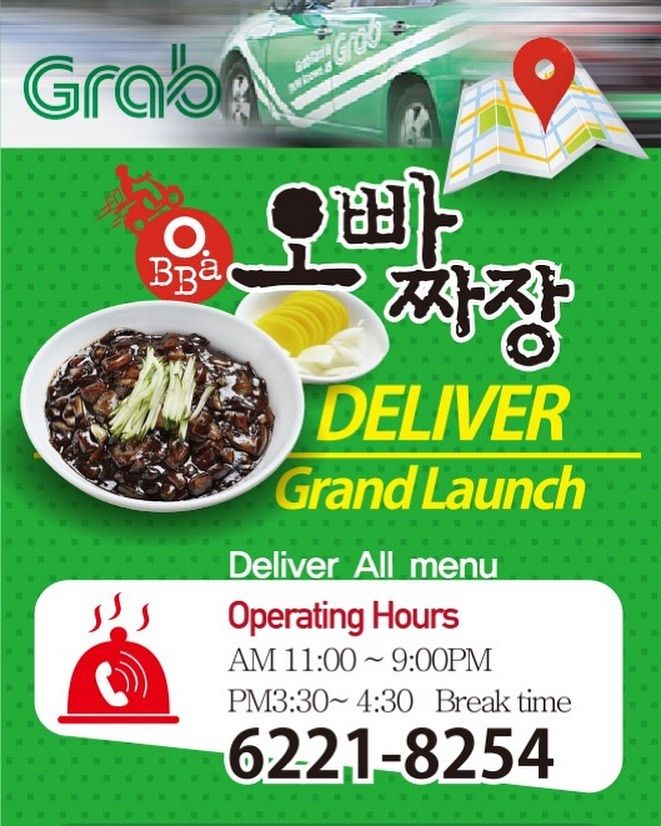 How to order? You can purchase via Grab Food as they offer an island-wide delivery. After opening your Grab food app search for O.BBa Jjajang, choose your preferred dish, confirm your location, and wait for a few minutes as they deliver your hot meal.
If in case that you are currently living in the northern or western part of rich Singapore, you can order via O.BBa Bukit Timah. To have faster communication with Obba Jjajang, then you can contact them through [email protected].
Obba Jjajang Reservation
With the huge number of customers that runs towards Obba Jjajang, you as a customer must queue outside the restaurant before the opening hours. The usual operating hours are between 11:30 am to 10 pm, however, operating hours vary from different outlets. Below is a list of operating hours for different outlets:
OBBA BBQ @ Tanjong Pagar (63 TG)
Operating Hours
| | |
| --- | --- |
| Thursday | 11:30am – 3pm, 5 – 11pm |
| Friday | 11:30am – 3pm, 5 – 11pm |
| Saturday | 11:30am – 3pm, 5 – 11pm |
| Monday | 11:30am – 3pm, 5 – 11pm |
| Tuesday | Closed |
| Wednesday | 11:30am – 3pm, 5 – 11pm |
OBBA Jjajang & BBQ @ Bukit Timah
Operating Hours
| | |
| --- | --- |
| Thursday | 11:30am – 3pm, 5 – 10pm |
| Friday | 11:30am – 3pm, 5 – 10pm |
| Saturday | 11:30am – 3pm, 5 – 10pm |
| Monday | 11:30am – 3pm, 5 – 10pm |
| Tuesday | Closed |
| Wednesday | 11:30am – 3pm, 5 – 10pm |
OBBA BBQ @ Tanjong Pagar (59 TG)
Operating Hours
| | |
| --- | --- |
| Thursday | 5 – 2am |
| Friday | 5 – 2am |
| Saturday | 5 – 2am |
| Monday | 5 – 2am |
| Tuesday | Closed |
| Wednesday | 5 – 2am |
OBBA BBQ @ Tanjong Pagar (77 TG)
Operating Hours
| | |
| --- | --- |
| Thursday | 11:30am – 3pm, 5 – 10pm |
| Friday | 11:30am – 3pm, 5 – 10pm |
| Saturday | 11:30am – 3pm, 5 – 10pm |
| Monday | 11:30am – 3pm, 5 – 10pm |
| Tuesday | Closed |
| Wednesday | 11:30am – 3pm, 5 – 10pm |
OBBA Jjajang Express @ Woodlands
Operating Hours
| | |
| --- | --- |
| Thursday | 11am – 3pm, 5 – 8:30pm |
| Friday | 1am1 – 3pm, 5 – 8:30pm |
| Saturday | 11am – 3pm, 5 – 8:30pm |
| Monday | 11am – 3pm, 5 – 8:30pm |
| Tuesday | Closed |
| Wednesday | 11am – 3pm, 5 – 8:30pm |
Talk to Obba Jjajang Singapore Staff
Inquiries, questions, and other problems may arise as we order online. As a solution for this, Obba Jjajang released their company's telephone number to instantly contact them – +65 6221 8254 or +65 6463 9262.
Since Obba Jjajang had its own company website, you can navigate it online! If you don't like phone calls that are usually answered by AI bots, then you can just send your email directly to the company. Otherwise, you can also send your queries to their social media accounts.
Website: https://obba-sg.com/
Facebook: https://www.facebook.com/obbajjajang/
Instagram: https://www.instagram.com/o.bba_bbq_jjajang/
Conclusion
A Korean-Chinese odyssey is what the CEO wants its customer to experience. The Obba Jjajang also assures that all the menu and servings are created by pure Koreans to fully felt the Korean Vibe. In addition, with the combination of both BBQ and Jjajang offered in a single restaurant, Obba Jjajang certainly gives us butterflies in our stomachs.
If you really don't have an idea what to match on your BBQ, then asking the counter service crew can certainly give you an amalgamation of true Korean classics. As per the competitiveness of the company, the enterprise gives us not just an entry-level experience but an elegant and memorable memoir.
Since the beginning of its journey in 2012, Obba Jjajang has innovated and rapidly responds to what the community asked. As a result, it created a brand that caters to the customer's requests and applied it immediately to not disappoint the opinion and the suggestion of its customers.