Spago by Wolfgang Puck's menu offers a delicious menu inspired by contemporary Californian cuisine. Customers can indulge in a wide variety of seafood and meat specialties, including grilled fish, seared scallops, roasted chicken, and tender steaks. Pasta lovers can enjoy house-made pasta dishes with flavorful sauces, while vegetarians can savor plant-based options featuring seasonal vegetables. This just speaks volumes about how vast their menu is and that there is something for everyone.
You can find the updated pricing information for the Spago menu below.
MENU
PRICE (SGD)

Pasture and Green Market

Warm Eggplant Salad
$18.00
Burrata with Roasted Beets
$28.00
Falafel Burger
$28.00
Japanese Fried Chicken Karaage
$19.00
Chicken Laksa Spring Roll
$22.00
Cassolette of Trippa ala Romana
$29.00
Agnolotti with Porcini Mushrooms
$28.00
Orecchlette with Lamb ragu
$31.00

Dessert and Cheese

Coconut Panna Cotta
$16.00
Farmer's Market Fruit Sorbets
$16.00
Sticky Toffee Pudding
$21.00
Artisanal Cheese
$14.00

Marine

Big Eye Tuna Tartare Cones
$32.00
Sashimi Salad
$46.00
Hamachi and Hokkaido Scallop Cleviche
$38.00
Kaluga Queen Caviar
$150.00

Grilled, Boiled, Roasted

Honey Miso Broiled Black Cod
$48.00
Smoked Brisbane Valley Quail
$45.00
Grilled Mushroom-Swiss Burger
$36.00
Grilled Iberico Pork Loin
$42.00
Double Lamb Chop
$55.00
Snake river american Wagyu Flat iron Steak
$62.00
USA Prime New York Striploin
$95.00

Wines

California
$73.00
Burgundy
$60.00
Bordeaux
$49
Piedmont
$105.00
Tuscany
$100
Other Regions
$95

Sparkling Wine

Moscato d'Asti | Ca'd'gal
$25.00
Champagne | Lanson –
$42.00
Champagne | Henri Giraud
$55
Rosé Champagne | Laurent Perrier
$62.00

White Wine

Sauvignon Blanc | Alain Cailbourdin
$33.00
Riesling | Dr. Loosen
$29.00
Grüner Veltliner | Jurtschitsch
$29.00
Viognier | Yves Cuilleron
$32.00
Chardonnay | Pascal Marchand –
$36.00
Chardonnay | Rodney Strong
$36.00

Red Wine

Pinot Noir | Fullerton Wines
$35.00
Malbec | Mascota Vineyards
$32.00
Sangiovese/Merlot | Vignamaggio –
$33.00
Barbera | Cordero di Montezemolo
$36.00
Tempranillo | Bodegas La Horra
$35.00
Cabernet Sauvignon/Cabernet Franc | Le Menut des Jacobins –
$34.00
Cabernet Sauvignon | Double Canyon
$35.00
Syrah | Frankland Estate –
$35.00

Specialty Items

Dim Sum
Eggs Florentine
Omelet
Eggs

Buttermilk Pancakes

Bee Hoon Soto
Nasi Lemak
Roti Prata

Cold Pressed &Freshly Squeezed

Radiance
Stimulate
ABC
Purify
About Spago
Spago by Wolfgang Puck is a renowned restaurant located in Singapore which is considered to be an upscale dining establishment known for its sophisticated ambiance, exquisite cuisine, and breathtaking views.  Spago offers contemporary Californian cuisine that features a combination of classic and innovative dishes, often showcasing the finest seasonal and locally sourced ingredients. The establishment has an elegant and stylish interior, coupled with floor-to-ceiling windows, creating a luxurious and inviting atmosphere
Spago Menu Best Seller
This menu is made up of the best-selling items at Spago which presents a unique culinary experience that reflects the skill and creativity of their chefs.
Grilled Iberico Pork Loin – It is a standout dish that showcases the succulence and flavor of premium Iberico pork that was expertly grilled to perfection, resulting in tender and juicy meat with a delightful smoky char. The dish is often by complementary items like seasonal vegetables, flavorful sauces, or aromatic herbs, enhancing the overall experience.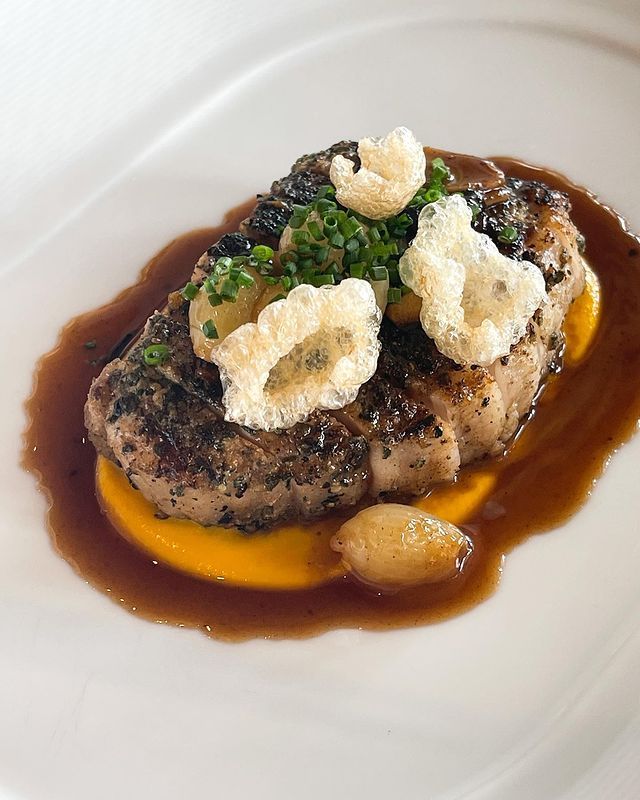 Double Lamb Chop – It is a delectable dish that exemplifies the culinary expertise at Spago which features tender and succulent lamb chops, this dish is cooked to perfection, allowing the natural flavors of the meat to shine through. Served alongside complementary sides or sauces, the Double Lamb Chop at Spago is a must-try for those who appreciate the robust and distinctive taste of quality lamb.
Sashimi Salad – The Sashimi Salad at Spago offers a refreshing and light option for seafood enthusiasts. This vibrant dish combines fresh and expertly sliced sashimi, often including a variety of fish such as salmon, tuna, or yellowtail, with a bed of crisp greens and a tantalizing dressing. 
Falafel Burger – This vegetarian option features a flavorful falafel patty made from a blend of chickpeas, herbs, and spices, providing a satisfying and protein-rich alternative. The Falafel Burger offers a delicious and innovative choice for diners looking for a plant-based option with a burst of Middle Eastern flavors.
Spago Menu Pasture and Green Market
This menu is made up of a variety of vegetarian options that are sure to impress and satisfy your culinary cravings.
Warm Eggplant Salad – It is a delightful dish that showcases the natural flavors and textures of eggplant that was roasted or grilled to perfection, resulting in a tender and smoky base. It is then paired with a medley of complementary ingredients such as fresh herbs, tangy dressings, and crunchy toppings.
Japanese Fried Chicken Karaage – The Japanese Fried Chicken Karaage at Spago is a crowd-pleasing dish that offers a perfect balance of crispiness and tenderness. The chicken is coated with seasoned flour or potato starch before being marinated in a savory blend of soy sauce, ginger, and garlic. The chicken is marinated in a flavorful mixture of soy sauce, ginger, and garlic before being lightly coated in seasoned flour or potato starch.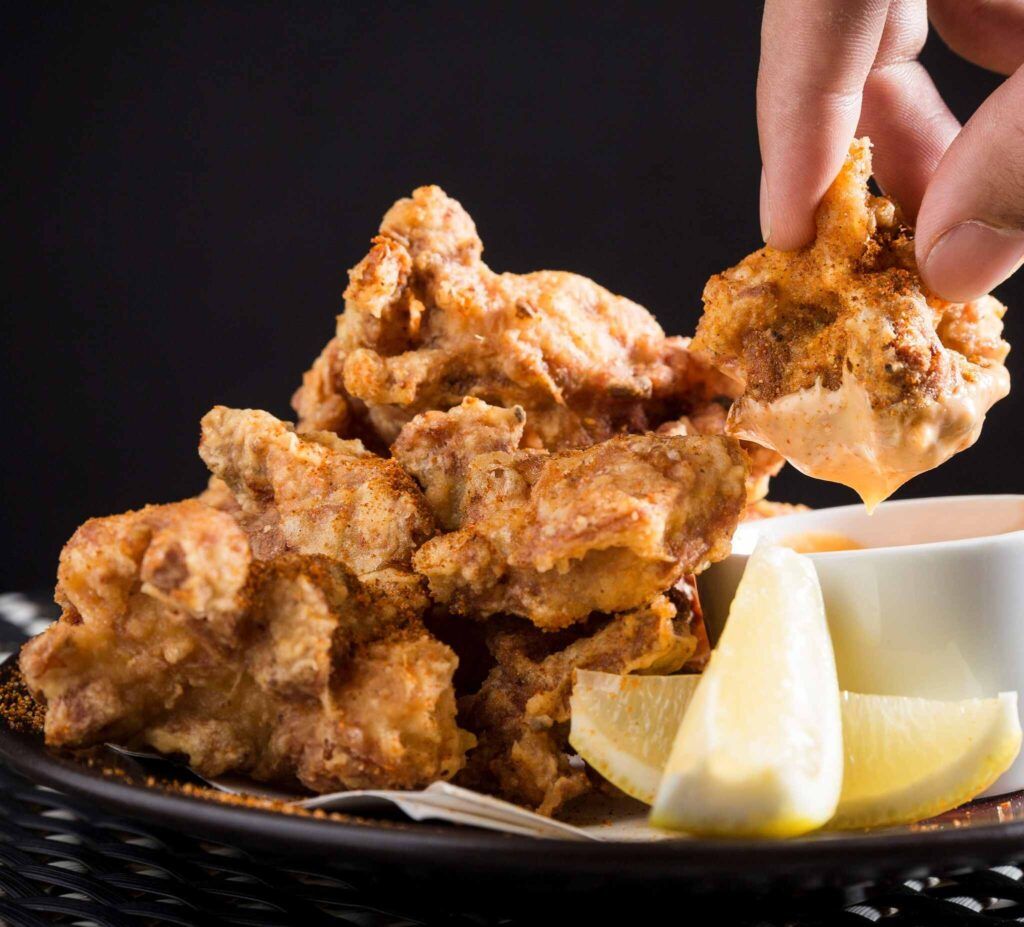 Chicken Laksa Spring Roll – This dish features a creative fusion of flavors, combining the beloved flavors of laksa with the convenience and crunch of a spring roll. The filling consists of tender chicken, aromatic laksa spices, and a medley of vegetables, all wrapped in a delicate and crispy spring roll wrapper. 
Spago Menu Marine
This menu is made up of seafood dishes, each of which exemplifies the delicate flavors that Spago is known for.
Big Eye Tuna Tartare Cones – These bite-sized cones feature a luscious combination of fresh and finely diced Big Eye tuna, tossed with flavorful seasonings and accompanied by a selection of complementary ingredients.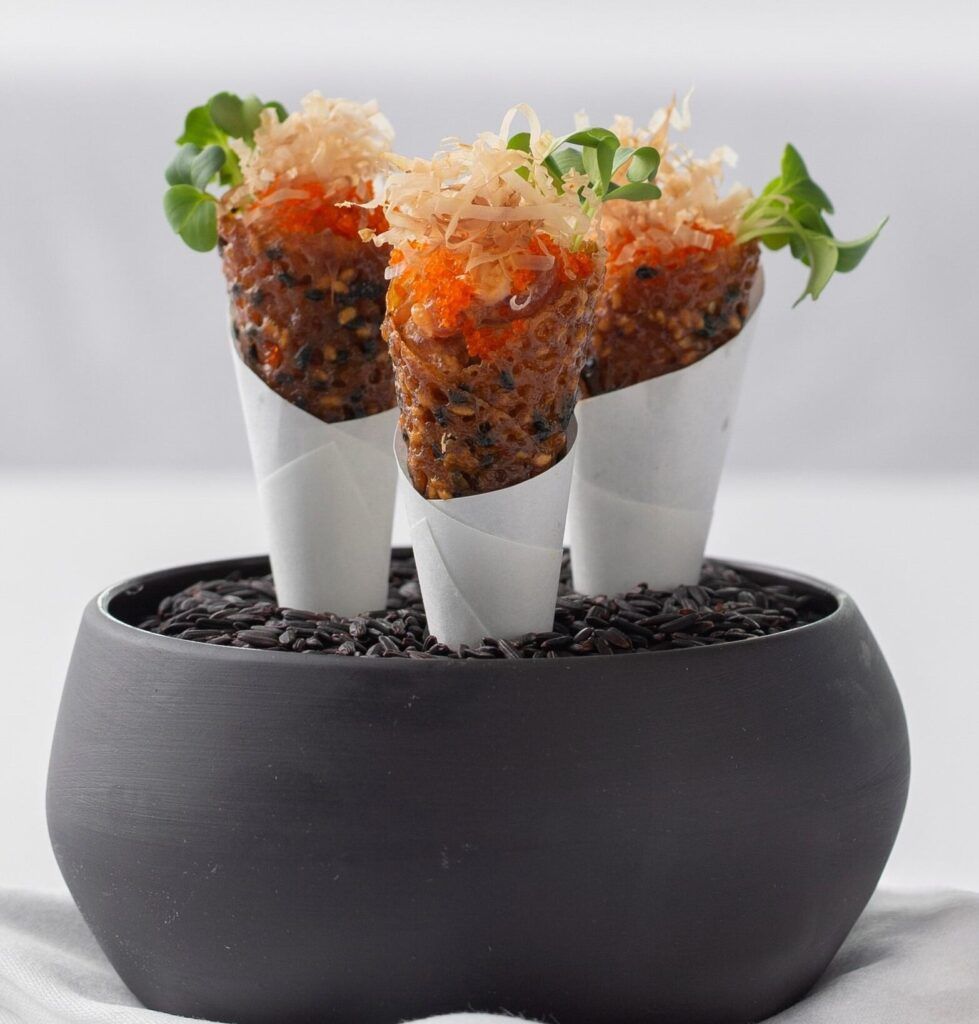 Hamachi and Hokkaido Scallop Cleviche – The dish features thinly sliced Hamachi and Hokkaido scallops, marinated in a tangy and refreshing citrus-based dressing. The ceviche is enhanced with a medley of complementary ingredients, creating a delightful combination of flavors and textures.
Kaluga Queen Caviar – The caviar used in this dish was sourced from the prized Kaluga Queen sturgeon which boasts large, glossy pearls with a rich buttery flavor. Served with traditional accompaniments, the Kaluga Queen Caviar delivers a decadent and sophisticated experience.
Grilled Broiled and Roasted
This menu of Spago is made up of grilled, broiled, and roasted items that offer a range of options that will satisfy your cravings.
Honey Miso Broiled Black Cod – This is a standout dish that exemplifies the restaurant's culinary prowess. The black cod is marinated in a delightful blend of honey and miso, creating a perfect balance of sweetness and umami while the fish is expertly broiled to bring out its natural flavors and achieve a melt-in-your-mouth tenderness.
Smoked Brisbane Valley Quail – This is a dish that showcases both the tender texture and robust flavor of quail. The quail is skillfully smoked to infuse it with smoky notes that enhance its natural richness.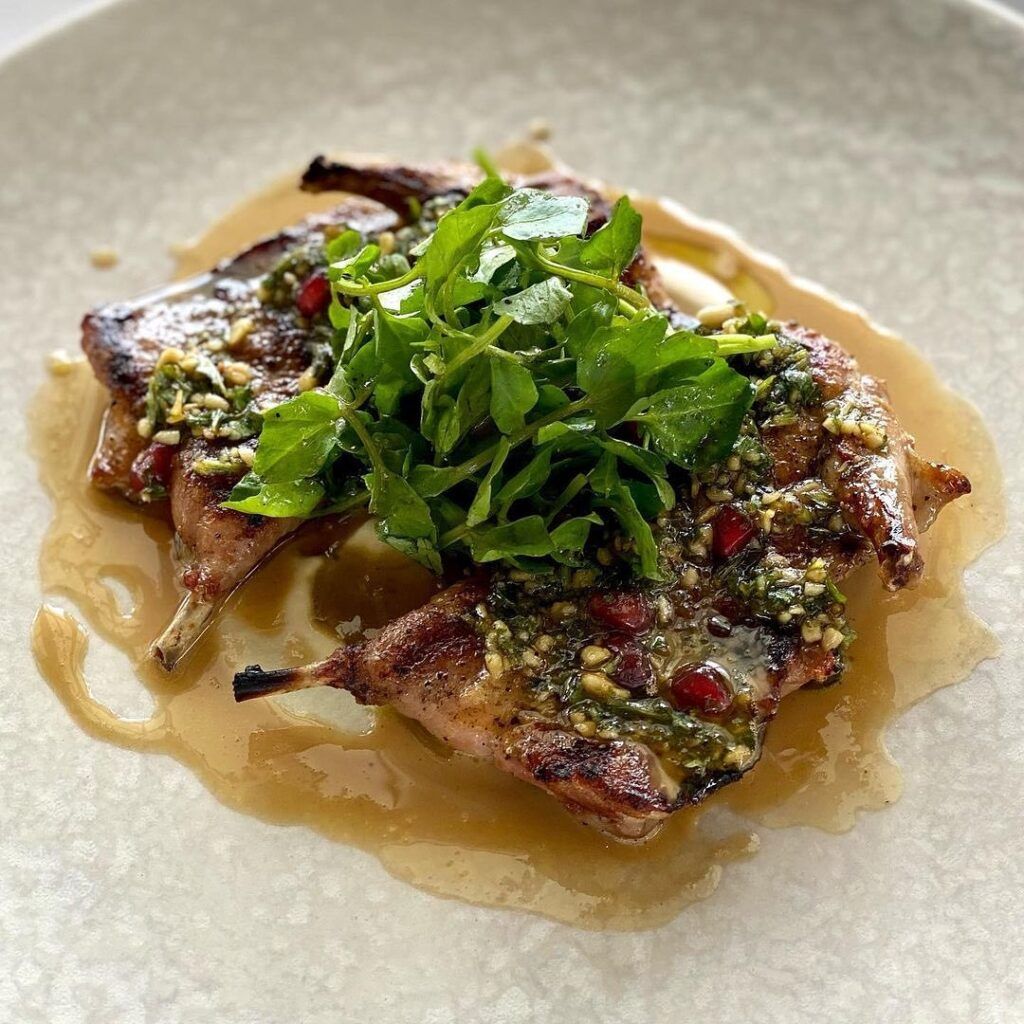 Grilled Mushroom-Swiss Burger – It is a satisfying option for burger enthusiasts which features a juicy and flavorful patty, often made from premium cuts of beef, grilled to perfection, and topped with a generous portion of sautéed mushrooms and melted Swiss cheese.
Breakfast Menu
Spago's breakfast menu offers a delightful array of options to kickstart your day with style and flavor. The menu features a harmonious blend of sweet and savory dishes, catering to different preferences and dietary needs.
Dessert and Cheese
The dessert menu at Spago is a testament to creativity and craftsmanship, with a diverse range of options to suit every taste while their cheese selection is equally impressive. 
Spago Menu Delivery
Spago now also provides its customers with menu delivery to make ordering a lot quicker and more convenient. Customers can order through their laptops, pcs, and mobile devices through third-party delivery services like FoodPanda.
Spago Social Media Pages
Stay connected with their social media pages to immerse yourself in a world of gastronomic delights, seasonal menus, and special events. Follow Spago today and embark on a culinary journey that will tantalize your taste buds and leave you craving for more. Join their vibrant community of food enthusiasts and be inspired by the artistry of Chef Wolfgang Puck's creations.
Facebook: https://www.facebook.com/SpagoSingapore
Instagram: https://www.instagram.com/spagosingapore/
Website: https://www.marinabaysands.com/restaurants/spago.html
FAQs
Where is Spago Bar and Lounge located?
Spago is located at Sands SkyPark, Tower 2 Level 57 Access from Hotel Lobby Tower, #2, Singapore 018956
What type of cuisine does Spago Bar and Lounge serve?
Spago Bar and Lounge in Singapore offers contemporary Californian dishes that are famous globally.
Is there a dress code at Spago Bar and Lounge?
Spago Bar and Lounge in Singapore maintains a smart casual dress code.
Does Spago Bar and Lounge offer any special events or promotions?
Spago does offer special events and promotions from time to time.
Is Spago Bar and Lounge halal?
Spago does not have halal certification, so it is safe to assume that they are not halal-certified.
Conclusion
Spago by Wolfgang Puck's menu offers contemporary Californian cuisine,  and aside from its exquisite menu offerings, the restaurant also has a stunning setting which is why guests keep coming back. With the wide variety of delectable items that they offer on their menu combined with attentive service and a sophisticated atmosphere, Spago has become a top choice for discerning food enthusiasts and those looking to celebrate special occasions in style. Overall, Spago's dishes are excellent when it comes to flavor, presentation, and attention to detail, which is why guests are always satisfied with their dining experience at Spago.