The Maki-San menu is a delightful fusion of Japanese flavors and contemporary creations that highlights their made-to-order sushi rolls, where customers can choose from a variety of fresh ingredients to create their own unique combinations. In addition to sushi rolls, Maki-San also offers a selection of Japanese-inspired bowls that are packed with flavorful ingredients such as marinated proteins, fresh vegetables, and a choice of tasty sauces. Maki-San's menu promises a satisfying and delicious experience for sushi and bowl enthusiasts alike.
You can find the updated pricing information for the Maki-San menu below.
MENU
PRICE (SGD)

Monthly Special Combo Meals

MEGA D.I.Y KIMCHI GYOZA COMBO - SUSHI
$15.90
MEGA D.I.Y KIMCHI GYOZA COMBO - SALAD
$15.90

Maki-San Campaigns

Breakfast Set Crispy Chicken Patty
$11.20
(U.P. 21.20) Mega Combo A (Sushi)
$16.40
(U.P. 21.20) Mega Combo A (Salad)
$16.40
(U.P. 23.6) Mega Combo B (Sushi)
$19.30
(U.P. 23.6) Mega Combo B (Salad)
$19.30

Bundles Meals

Double Joy - House Maki & Salad Combo
$33.90
MakiParti Platters
All House Maki Platter (For 4-6pax)
$65.30
All House Maki Platter (For 8-10pax)
$129.50

D.I.Y Sushi

Little San Sushi
$11.20
Mega San Sushi
$13.40

D.I.Y Salad

Little San Salad
$11.20
Mega San Salad
$13.40

House Sushi

Child's Play
$6.00
California Dreaming
$11.20
Salmon Says
$12.20
Seas The Day
$13.40
Veggie Delight
$15.40

House Salad

Chick Flick
$13.40
Ebi-Body's Fav
$13.40
Eelin Happy
$13.40
Gone Fishing
$13.40
What A Catch
$13.40

Snacks

Tempura Kani Sticks
$4.70
Tempura Enoki Mushroom
$4.70
Tori Karaage Pops
$7.10
Meat-Free Crispy Nuggets
$7.10
Crispy Chicken Patty
$7.10
Ebi Fry
$9.20
Tempura Otah
$9.25
Tempura Soft Shell Crab
$9.25

Hot Drinks And Soup

Hot Tea
$1.80

Drinks

Coca-Cola Original Less Sugar
$2.30
Coke Zero Sugar
$2.30
Sprite
$2.30
H&E Iced Lemon Tea
$2.30
H&E Jasmine Green Tea
$2.30
Ayataka Japanese Green Tea
$2.30
Jusu Jusu Yuzu Lemonade
$3.10
Jusu Jusu Kyoho Grape
$3.10
About Maki-San
Maki-San is a restaurant in Singapore that specializes in made-to-order sushi rolls and Japanese-inspired bowls. Customers can select from a range of fresh ingredients to make their own sushi rolls or bowls, offering a distinctive and individualized dining experience. The menu features a wide selection of proteins such as raw salmon, cooked chicken, and tofu, along with an array of vegetables, toppings, and sauces. Maki-San emphasizes the use of quality ingredients and focuses on providing healthy and tasty options for its customers. 
Maki-San Menu Best Seller
This menu is made up of the most ordered items from Maki-San due to their delectable flavors and beautiful presentations.
Veggie Delight – It is a delightful and refreshing option for vegetarians that is packed with an assortment of fresh vegetables making it a colorful and crunchy dish. The combination of crisp lettuce, cucumber, carrots, and avocado creates a delightful texture, while the tangy sauce adds a burst of flavor.
Tempura Enoki Mushroom – It is a delectable treat that combines the delicate and earthy flavors of Enoki mushrooms with a light and crispy tempura batter. This dish has the perfect balance of crunch and tenderness resulting in a satisfying texture and an enjoyable umami taste.
Tori Karaage Pops – These are bite-sized pieces of succulent and flavorful fried chicken that were marinated in a savory blend of spices, giving it a deliciously seasoned coating. The crispy exterior gives way to tender and juicy meat, making it a delightful option for chicken lovers.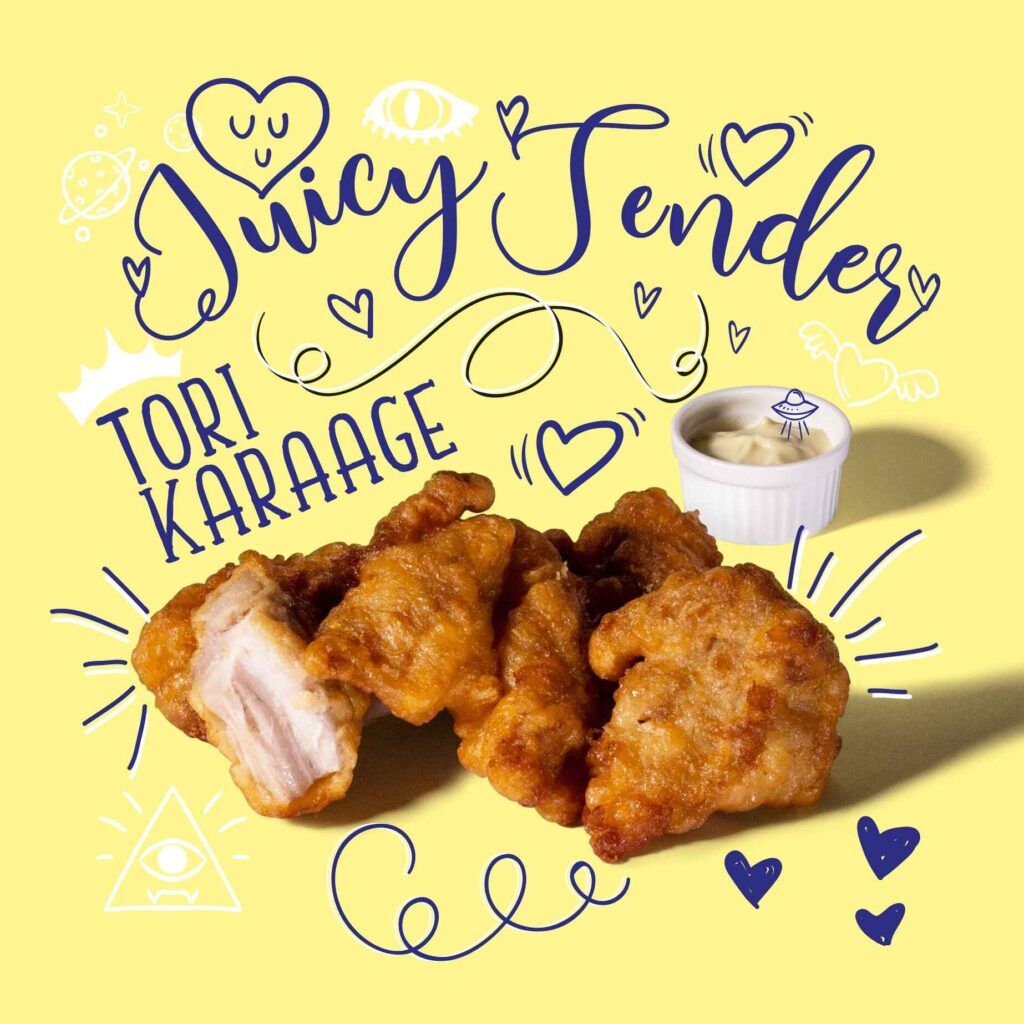 Crispy Chicken Patty – This dish Patty is a mouthwatering choice for those craving a hearty and satisfying meal with a crispy and golden-brown exterior. It pairs well with Maki-San's selection of sauces and toppings, adding a delicious twist to their sushi rolls or bowls.
Ebi Fry – It is a delightful dish featuring crispy and succulent breaded shrimp that was expertly fried to achieve a golden-brown exterior while retaining its juicy and tender texture inside. This dish, which is accompanied by a tart dipping sauce, features a delicious medley of tastes and textures.
Maki-San Menu Campaigns
This menu is made up of well-crafted dishes that make for a flavorful and satisfying meal.
Breakfast Set Crispy Chicken Patty – The Breakfast Set Crispy Chicken Patty from Maki-San is a delightful morning meal option that consists of a crispy chicken patty accompanied by a variety of fresh vegetables, creating a balanced and satisfying combination. The crispy exterior of the chicken patty contrasts nicely with the tender and juicy meat inside. It is a hearty and flavorful choice to start your day on a delicious note.
(U.P. 21.20) Mega Combo A (Sushi) – This generous platter features a wide assortment of sushi rolls, carefully crafted with a variety of ingredients. From classic options like salmon and tuna to creative combinations with avocado, cucumber, and more, each roll offers a burst of flavors. 
(U.P. 23.6) Mega Combo B (Sushi) – Mega Combo B is another fantastic sushi option from Maki-San. Similar to Mega Combo A, it offers a delightful assortment of sushi rolls with various fillings. 
Maki-San Menu House Sushi
This menu is made up of a different variety of sushi items, each of which is unique and has different flavors and tastes.
Child's Play – This roll features a combination of ingredients that are both familiar and appealing to young taste buds. The roll is compact and easy to eat, making it perfect for little hands which makes it a great choice for introducing children to sushi.
California Dreaming – It combines the freshness of avocado, cucumber, and crabstick, wrapped in a layer of sushi rice and seaweed. The cucumber's sharpness and the avocado's creamy smoothness pair well, while the crabstick brings in some saltiness.
Salmon Says – It showcases the rich and buttery flavor of fresh salmon, paired with refreshing cucumber and creamy avocado. The blending of flavors and textures in this dish results in a wonderful taste sensation.
House Salad
This menu offers a variety of dishes with different flavors and ingredients that cater to different preferences.
Chick Flick – It features tender and crispy chicken karaage, which adds a savory and crunchy element to the roll. The chicken is complemented by a refreshing mix of cucumber and tangy teriyaki sauce. 
Ebi-Body's Fav – It showcases succulent and flavorful tempura prawns, which are the star ingredient of this roll. The prawns are perfectly cooked, with a crispy exterior and tender interior.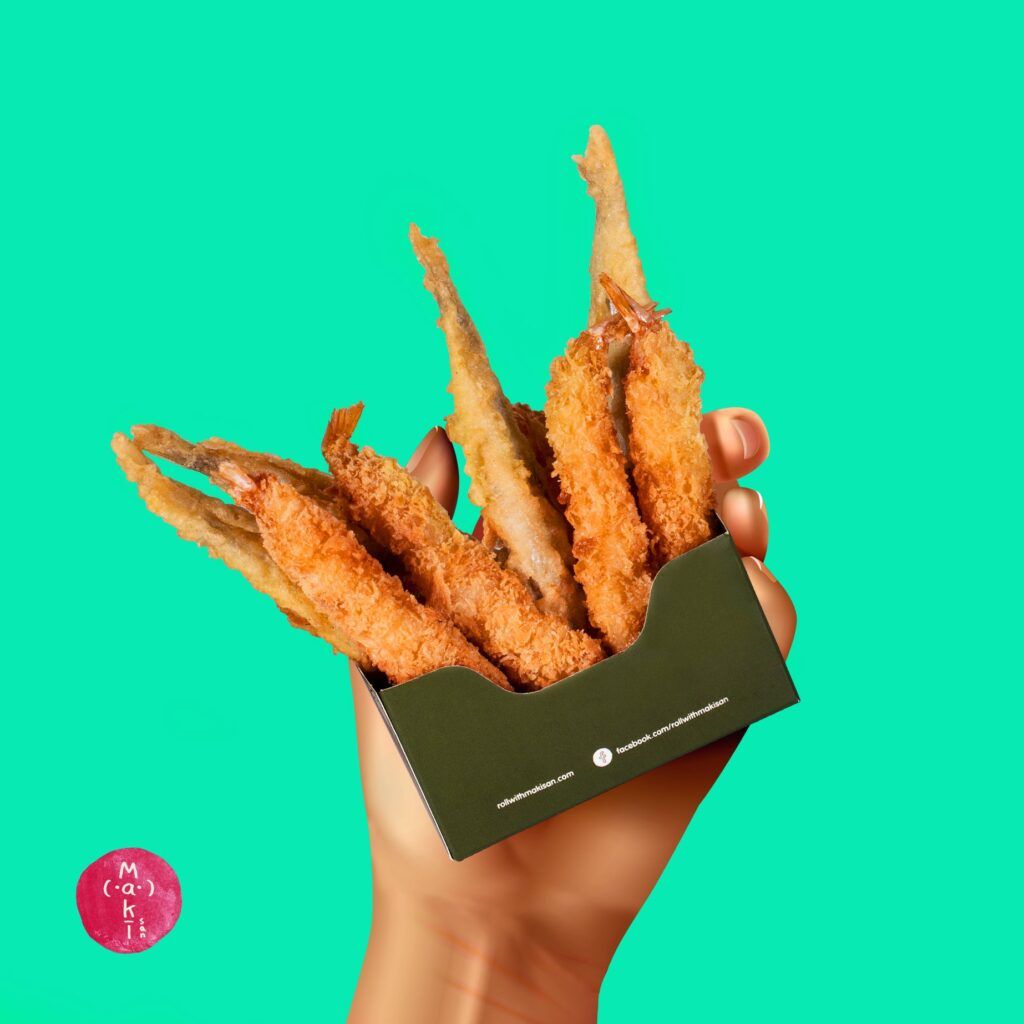 Eelin Happy –  In this roll, the eel is paired with cucumber, avocado, and a special sauce that enhances the flavors of the ingredients. The combination of the buttery eel, creamy avocado, and refreshing cucumber creates a harmonious blend of flavors.
Maki-San Bundles Meals Menu
Maki-San's bundle meals are a convenient and satisfying option for those looking for a complete meal. The bundle meals offer a variety of choices that cater to different preferences and appetites. Each bundle includes a combination of sushi rolls, sides, and drinks, providing a well-rounded and satisfying dining experience.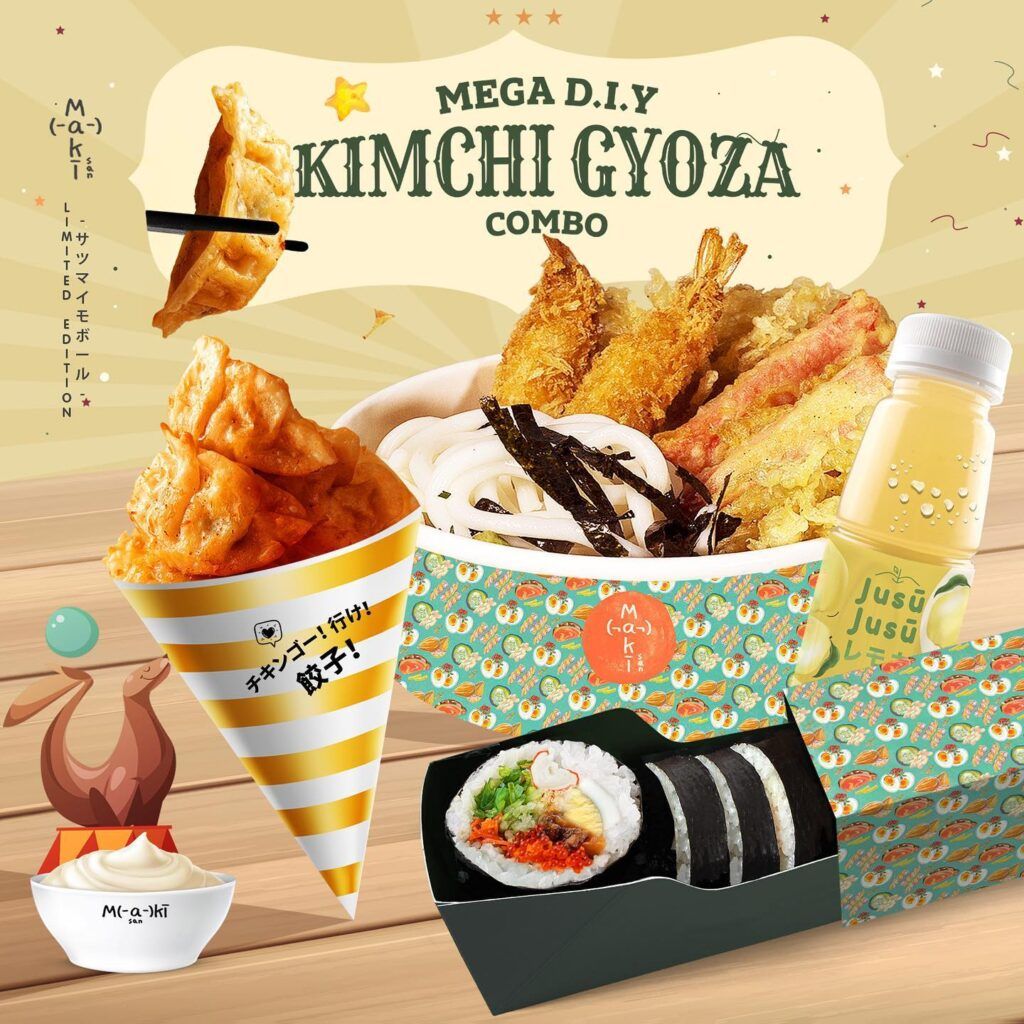 MakiParti Platters
Maki-San's MakiParti Platters are a fantastic choice for sharing and enjoying a delicious assortment of sushi rolls. These platters offer a generous selection of different maki rolls, showcasing Maki-San's creativity and commitment to using fresh ingredients. 
Maki-San Menu Delivery
Maki-San's menu delivery is a convenient and reliable way to enjoy its delicious offerings from the comfort of your own home or office. With the help of third-party delivery services like FoodPanda, the ordering process is pretty simple and user-friendly.
Maki-San Social Media Pages
Stay up to date with their latest menu additions, promotions, and events. Join the Maki-San community and be inspired by their innovative sushi and rice bowl creations. Whether you're a fan of classic favorites or eager to try new flavors, Maki-San has something for everyone. Don't miss out on the opportunity to connect with Maki-San and discover a world of culinary delights.
Facebook: https://www.facebook.com/rollwithmakisan
Instagram: https://www.instagram.com/rollwithmakisan/
Twitter: https://twitter.com/rollwithmakisan
Website: https://www.makisan.com/contact-us
FAQs
Where are the Maki-San outlets located in Singapore?
There are three outlets of Maki-San that are spread in the heart of Singapore which can be found at Bedok Town Square, Cineleisure, and Jurong Point.
What kind of food does Maki-San serve?
Maki-San specializes in serving customizable sushi rolls and bowls.
Are there vegetarian or vegan options at Maki-San?
Yes, Maki-San offers vegetarian and vegan options on their menu. 
Does Maki-San offer any promotions or loyalty programs?
Maki-San frequently runs specials and provides a range of discounts to continually improve the experience for its clients.
Is Maki-San a halal-certified restaurant?
Maki-San is a restaurant is a halal-certified restaurant.
Conclusion
The Maki-San menu offers a diverse and exciting menu that combines the best of Japanese cuisine with a modern twist. They offer made-to-order sushi rolls and flavorful bowls which provide a customizable dining experience that caters to individual preferences. They use fresh ingredients and innovative flavor combinations which sets Maki-San apart from other sushi restaurants, making it a popular choice for sushi and bowl lovers in Singapore. Maki-San is sure to satisfy your cravings with its delicious offerings if you're looking for a satisfying and convenient dining experience.