Texas Chicken's menu focuses on fried chicken and includes a variety of chicken dishes, sides, desserts, and beverages. Some of the popular menu items include crispy fried chicken, spicy chicken, chicken tenders, burgers, wraps, salads, and sides like mashed potatoes, coleslaw, and corn on the cob. They also provide a variety of combo meals and value deals to accommodate different group sizes and budgets. They also offer delivery and catering options for special occasions and gatherings.
You can find the updated pricing information for the Texas Chicken menu below.
MENU
PRICE (SGD)

Chicken Choices

Original Chicken
$12.90
Spicy Chicken
$12.90
Tenders
$12.50
Burgers and Wraps
Classic Chicken
Tex supreme
$11.50
Tex Wrap
$13.50

Classic Sides

French Fries
$5.20
Mashed Potatoes
$4.20
coleslaw
$5.20
Onion Rings
$5.70
Honey Butter Biscuits
$2.60

Delectable desserts

Ice-Cream cone
Sundae
Strawberry Shortcake
Biscuit Helado
Coke Float

Hearty Breakfast

Tex Breakfast
Scrambled Eggs
Tex Golden Pancakes
Chicken Breakfast Burger
Chicken N Egg Breakfast Burger
Classic Chicken Burger

Salted Egg

Salted Egg combo
$14.90
Salted Egg Bundle
$40.80
Salted Egg Wrap combo
$13.80
National Day Bundle
$60.80
Salted Egg chicken
$7.00
Salted Egg Wrap combo
$10.00

Combo Meals

Chicken meal
$11.40
3pc Chicken Meal
$13.80
Tex Sampler Meal
$12.20
3 pc tenders Meal
$11.00
6 pc Nuggets Meal
$10.50

Duo and Sharing combo

Chicken Combo
$32.90
Feast Box A
$14.80
Feast Box B
$27.50

Party Meals

Super Value Meal
$122.00
Delightful
$152.00
Abundance
$162.00

Family Meals

8 pc Chicken Meal
$42.00
12pc Chicken Meal
$52.00
About Texas Chicken
Texas Chicken is a fast-food restaurant chain based in Texas that specializes in fried chicken. The business was established in 1952 in San Antonio, Texas, USA, and has since expanded to over 1,500 locations around the world. Overall, Texas Chicken is a fantastic fast-food establishment that serves delicious, high-quality fried chicken and sides. The restaurant has a casual, friendly atmosphere and offers a range of menu items including chicken, sandwiches, sides, and drinks.
Texas Chicken Menu Best Seller
This menu is made up of the most popular and most-ordered dishes at Texas Chicken both for dine-in or take-out.
French Fries – Texas Chicken's crispy and flavorful fries are a popular menu item and for good reason. These fries are cooked to a golden brown and seasoned with a special blend of spices that make them addictive.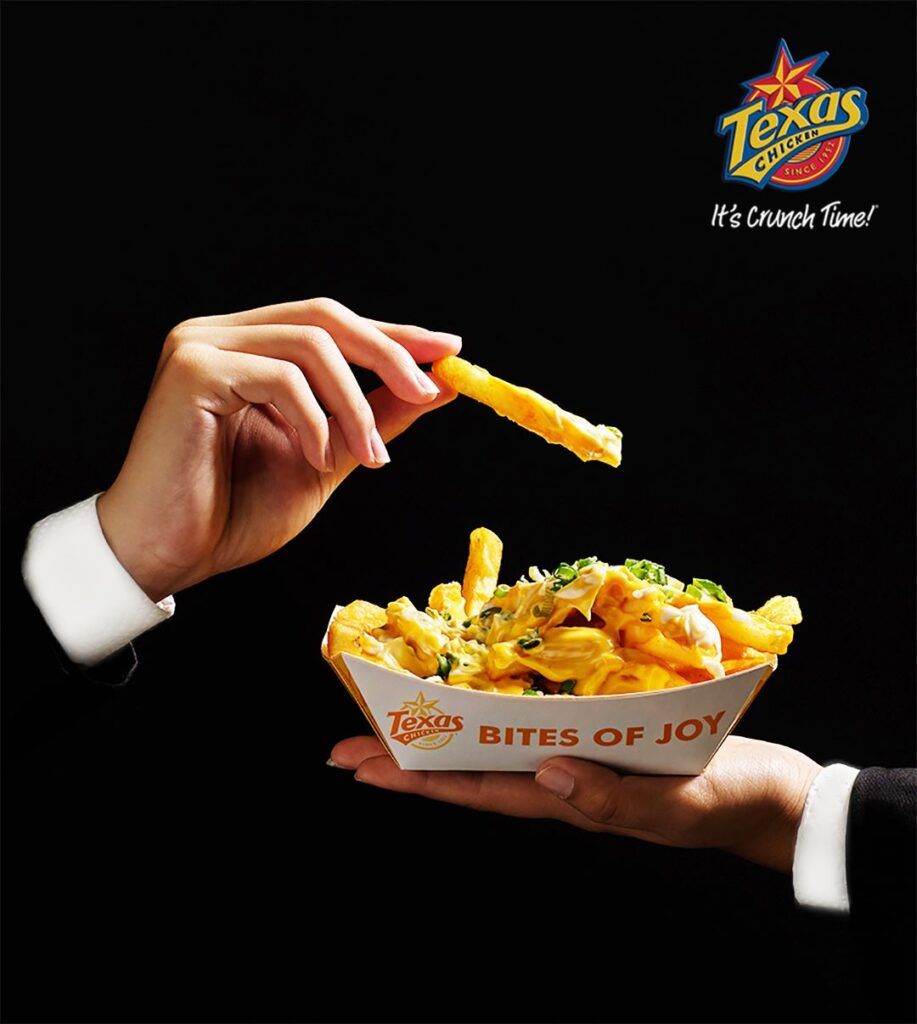 Chicken Breakfast Burger – This dish is made up of three ingredients, a juicy chicken patty, a slice of cheddar cheese, and a freshly cracked egg, all of which are sandwiched between two soft buns. Overall, this burger is perfect for breakfast or any time of day, really.
Chicken N Egg Breakfast Burger – Similar to the Chicken Breakfast Burger, this item adds an additional layer of flavor with a crispy chicken skin that complements the juicy chicken patty and the egg.
Classic Chicken Burger – This burger is a fan favorite and a classic for a reason. It has a juicy, crispy chicken patty, lettuce, and mayo between two soft buns. It is a filling and mouthwatering option due to the right blend of flavors and textures.
Texas Chicken Menu Chicken Choices
This menu is made up of Texas Chicken's specialty dishes that use chickens as their main ingredient.
Original Chicken – This dish is made up of crispy chicken fillet, lettuce, and mayonnaise, all wrapped in a tortilla. The chicken fillet is juicy and flavorful, while the lettuce and mayonnaise provide a refreshing contrast to the crispy chicken.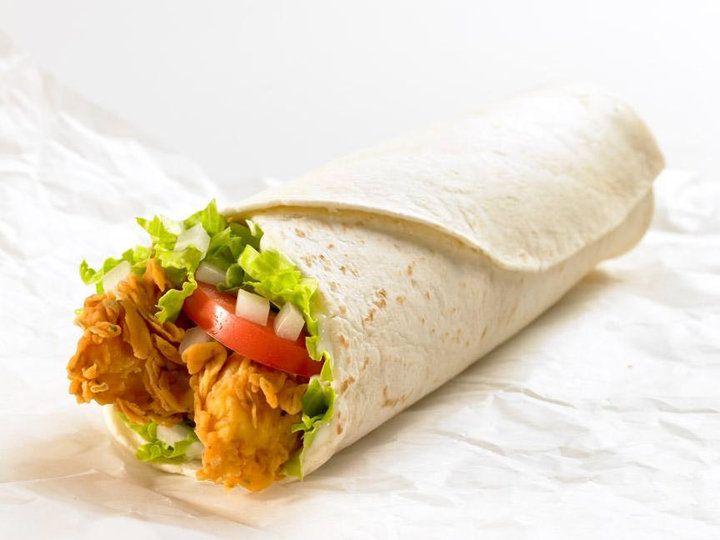 Spicy Chicken – Wrapped in a warm tortilla, this dish has a crispy and spicy chicken fillet, lettuce, and a spicy sauce. The spicy sauce gives the wrap a nice kick, which is balanced out by the lettuce. It is an excellent choice for those who prefer a more spicy food.
Tenders – It uses tender and juicy chicken tenders, lettuce, and mayonnaise, all wrapped in a tortilla. The tenders are cooked to perfection and the lettuce and mayonnaise complement the chicken well making it a simple but very satisfying dish.
Burgers and Wraps
This menu of Texas Chicken is made up of a different variety of hearty and tasty burgers and wrapped dishes.
Classic Chicken – It features a juicy chicken patty topped with lettuce, tomato, and mayo served on a sesame seed bun. The chicken patty is well-seasoned and has a crispy coating on the outside, while the bun is soft and fluffy making it a satisfying option for those looking for a classic fast-food burger.
Tex Supreme – This dish is a more indulgent option, with a chicken patty topped with cheese, bacon, lettuce, tomato, and mayo. The burger is quite huge and filling, with a mouthwatering blend of flavors and textures.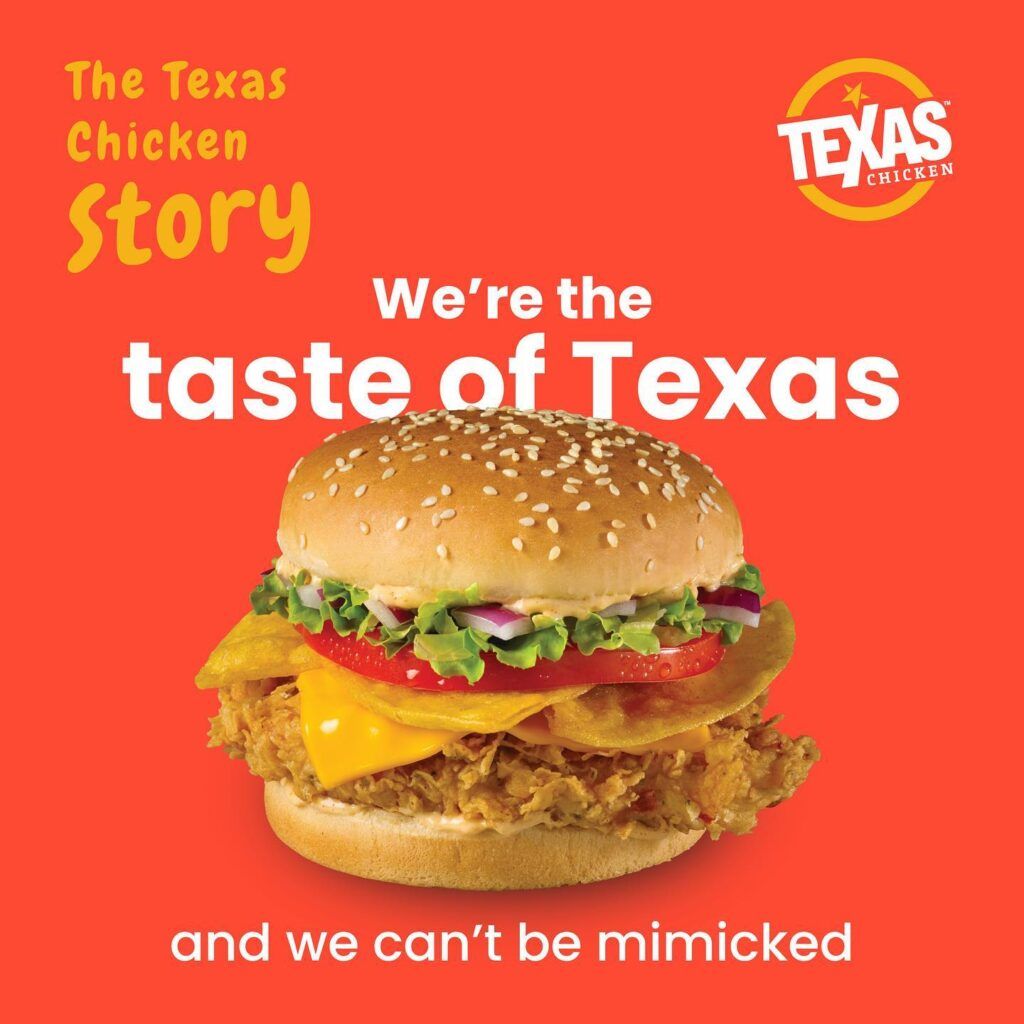 Tex Wrap – This wrap from Texas Chicken features crispy chicken tenders that are wrapped in a soft tortilla with lettuce, tomato, and a creamy and tasty sauce. This wrap is a good option for those who want a quick and easy meal on the go.
Texas Chicken Menu Hearty Breakfast
This menu offers a great selection of delicious and satisfying breakfast options that are sure to please anyone looking for a hearty and filling breakfast.
Tex Breakfast – This set meal is a hearty and filling breakfast option that includes a choice of chicken, scrambled eggs, and a biscuit or toast. The chicken is flavorful and juicy, and the eggs are cooked to perfection.
Scrambled Eggs – The scrambled eggs in this meal are fluffy and well-seasoned, making for a delicious and satisfying breakfast. They are also an excellent choice for those seeking a lighter breakfast.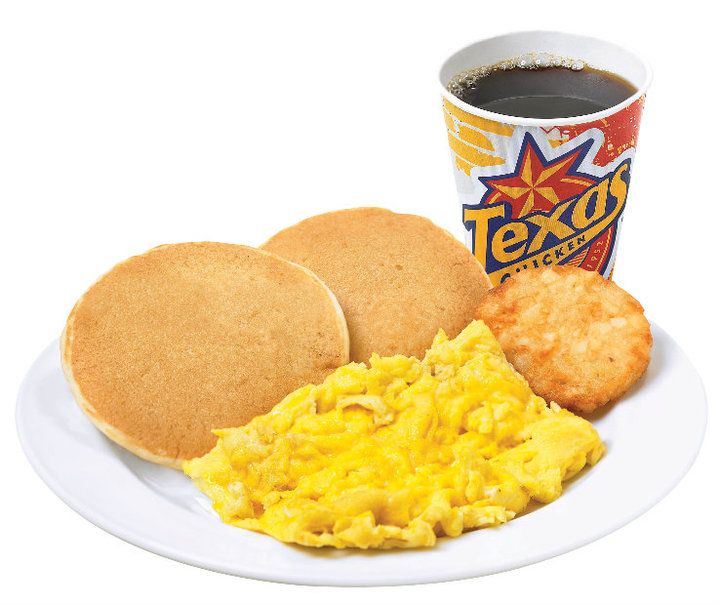 Tex Golden Pancakes – The Tex Golden Pancakes are fluffy and delicious, with a slight sweetness that is perfectly complemented by a drizzle of syrup. These pancakes are an ideal option for those who love sweet treats and would make a very nice addition to all the breakfast meals that Texas Chicken offers.
Desserts
When it comes to desserts, Texas Chicken may not have an extensive range, but what they do offer is guaranteed to please those with a sweet tooth. Despite the limited options, they excel in providing classic sweet treats that will unquestionably satisfy your cravings.
Their carefully curated selection of desserts is designed to cater to a variety of tastes. From decadent chocolate brownies to creamy and refreshing ice cream, each dessert is crafted with utmost care and quality ingredients. Even though the choices may be modest, the focus remains on delivering outstanding flavors that will leave you wanting more.
So, if you find yourself yearning for something sweet, Texas Chicken's dessert menu is worth exploring. While it may be compact, it promises to deliver a delightful experience for dessert enthusiasts, ensuring that your desire for a sugary delight will be met with absolute satisfaction.
Texas Chicken Menu Delivery
Texas Chicken offers delivery services through various food delivery platforms such as GrabFood, Foodpanda, and Deliveroo. Customers can use these platforms to order their favorite foods from Texas Chicken and have them delivered to their door. Additionally, Texas Chicken has its own online ordering system where customers can place orders for delivery or pickup.
Talk to Texas Chicken SG Staff
Satisfy your cravings with Texas Chicken's mouth-watering menu items! From juicy fried chicken to crispy tenders and buttery biscuits, Texas Chicken has something for everyone. Don't miss out on the delicious flavors and follow their social media pages for the latest updates on their menu offerings, promotions, and more. You can also message them for more information and get ready to indulge in some of the best-fried chicken around!
Facebook: https://www.facebook.com/texas.chicken.singapore
Instagram: https://www.instagram.com/texaschickensg/
TitTok: https://www.tiktok.com/@texaschicken.sg
Website: https://sg.texaschicken.com/Contactus
YouTube: https://www.youtube.com/@texaschickensingapore
FAQs
Does Texas Chicken Singapore have a rewards program for frequent customers?
Yes, Texas Chicken Singapore has a rewards program for frequent customers called the TC Loyalty Program.
What are some of the most popular menu items at Texas Chicken Singapore?
Some of the most popular items at Texas Chicken Singapore include their Original and Spicy Fried Chicken, Chicken Tenders, Biscuits, Mashed Potatoes, Coleslaw, and Honey-Butter Biscuits.
Is Texas Chicken halal-certified?
Yes, Texas Chicken Singapore is halal-certified by the MUIS.
Conclusion
Texas Chicken is a popular fast-food chain in Singapore known for its delicious fried chicken and a variety of sides and beverages. The menu offers a wide range of options including crispy chicken, tenders, burgers, sandwiches, wraps, salads, and sides. They also have meal sets and family buckets that are great for sharing. Overall, Texas Chicken is an excellent choice for those who want a quick as well as filling meal.