There are a lot of fast food chains that are mushrooming anywhere, however, have you tried going into a place where they serve Western-style foods? That's our topic for today's article since I have found a place for you to consider the next time you're eating out with family and friends or even ordering online. This article is about Abang Gemuk. Have you tried their food or not yet? If not leave it to me and stay with me here. The Abang Gemuk menu for sure has something that you're looking for since they have a lot of delicious food items waiting to be tried especially for those who are not familiar with them. Let's get to know this place a little bit more and without further ado let's start! 
You can find the updated pricing information for the Abang Gemuk menu below.
Menu
PRICE (SGD)

Popular

Fish and chips
$9.90
Black pepper chicken chop
$9.50
Brown sauce chicken chop
$9.50
Chicken cutlet
$9.90
Grill chicken pasta
$9.90

Burgers

Cheesy chicken burger
$9.20
Cheesy beef burger
$11.90
Double beef burger
$14.50

Western Grill Series

Black pepper chicken chop
$9.50
Brown sauce chicken chop
$9.50
Fish N chips
$9.90
Chicken cutlet
$9.90
Half spring chicken
S$10.20
Pepper ribeye steak
$15.90
Pepper lamb chop
$16.50
Norweigian salmon
$16.90
Gemuk grill
$18.90

Pasta and Rice Series

Half spring chicken pasta
$10.50
Half spring chicken rice
$10.50
Crispy fish pasta
$10.20
Crispy fish rice
$10.20
Chicken cutlet rice
$10.20
Grill chicken pasta
$9.90
Grill chicken rice
$9.90
Tender beef rice
$15.90
Tender beef pasta
$15.90

Finger Food

Coleslaw
$4.20
Mashed potato
$5
Cheese pasta
$5.50
Cheesy chicken popcorn
$9.20
Onion rings
$5.80
Roasted wing stick
$7.60
Nuggets
$7
Gemuk fries
$5.50
Cheesy fries
$6.50
Tomato beef fries
$8.20
Gemuk platter
$15.50
Tasty bun
$1.70
Crispy mid wing
$7.50
About Abang Gemuk
Fatty Bom Bom is a halal type of establishment that offers Western food and actually also the one behind Abang Gemuk. Abang Gemuk literally translates to fat bro. This restaurant becomes famous for its big portions of servings, affordable food, and delicious meals. It is noticeable that this restaurant is something like a coffee shop-styled place that serves Western goodness. Just like their also established sister restaurant, they specialize more in the affordability of the food that they offer while not compromising the quality and of course the taste of the food that they serve. Abang Gemuk is located on Ang Mo Kio Avenue and for sure you'll never get lost since they have a large sign of their restaurant's name and they are open from Tuesday to Sunday from 4:30 in the morning until 10:00 in the evening.
Abang Gemuk Menu Best Seller
We have gathered Abang Gemuk's best-selling and popular food items. Here is the list.
Fish N' Chips – One of their most popular and best-selling food items is their version of Fish N' Chips. Abang Gemuk's fish n' chips are made with fish fillet cuts tossed in a wet and dry batter before deep frying until golden in color. It is also served with fried potatoes or French fries which I found weird since it should have chips, not fries or they could just name it fish and fries right? Aside from those they also serve this with a bun and some serving of salad as sides. They also put lemon on top of the fish fillet to contradict the fishy flavor which is a good idea actually. Fish meat is cooked just right and the dipping sauce is a bomb. A must-try.
Black Pepper Chicken Chop – Abang Gemuk's version of black pepper chicken chop is made with chicken cooked with a smoky and delicious sauce. This one is also included in their best-selling items. They also serve this with fries, bun, and salad as sides. You'll definitely like how savory and tasty their black pepper chicken chop is, I mean the meat is cooked perfectly, it is tender and the taste is fantastic. This is a must-try as well.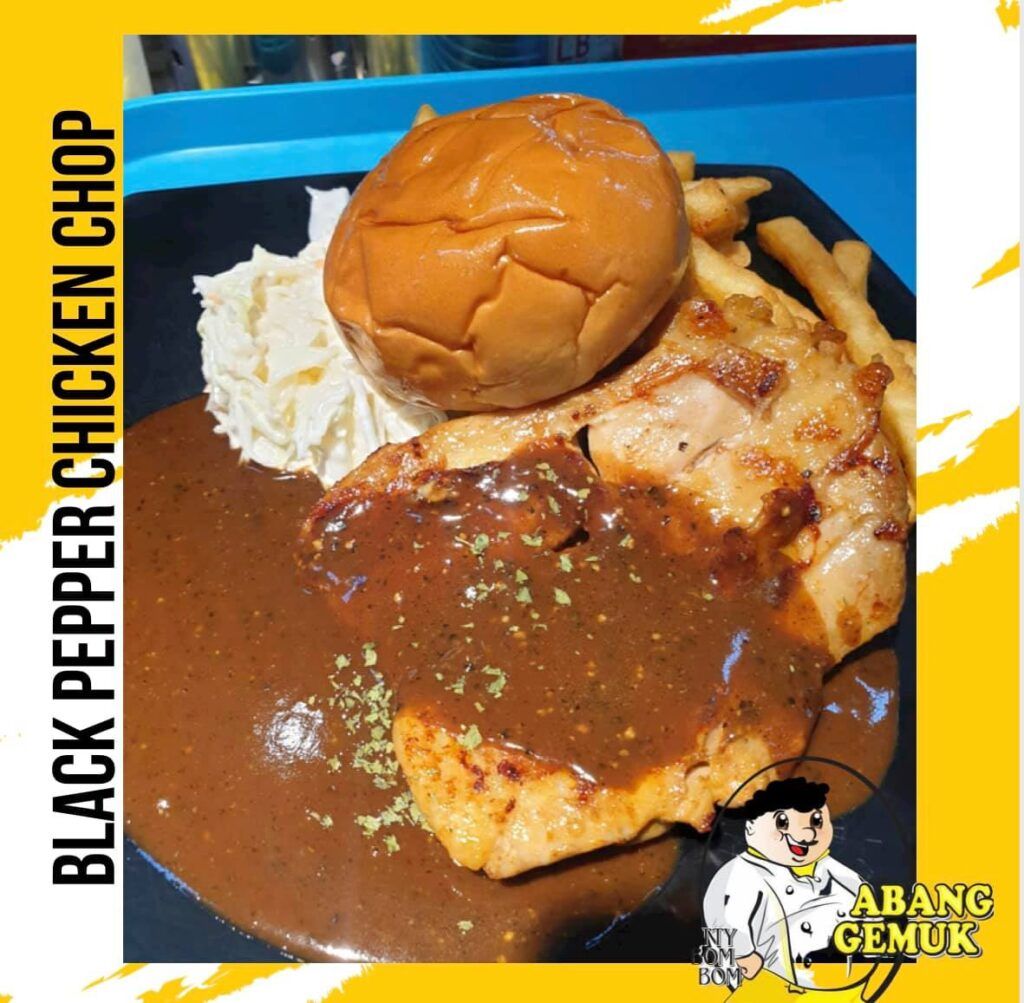 Brown Sauce Chicken Chop – This menu of Abang Gemuk is quite popular already among their customers. Their brown sauce chicken chop is made with a marinated chicken thigh that they cooked until crispy and golden with the delicious and thick sauce. Just like their black pepper chicken chop their brown sauce chicken chop is also served with fried potatoes, salad as sides, and buns. The sauce has just the right amount of texture and flavor that made it delicious plus the chicken is cooked perfectly. 
Chicken Cutlet – It is also included in their best-selling food items. This is made with a large piece of chicken meat marinated with some condiments and spices then deep fried until golden brown in color. They serve their chicken cutlet with a dipping sauce which is a combination of mayonnaise, yogurt, and other special ingredients plus the serving also includes fries, salad on the sides, and bun. 
Gemuk Grill – Gemuk Grill is a meaty lover's dream. This is made with 1 piece of lamb, 1 piece of ribeye, and 1 piece of grilled chicken all on the same plate with fries. I can highly recommend this one if you're a meat lover because this is so good. Grilled meats are very tasty as well.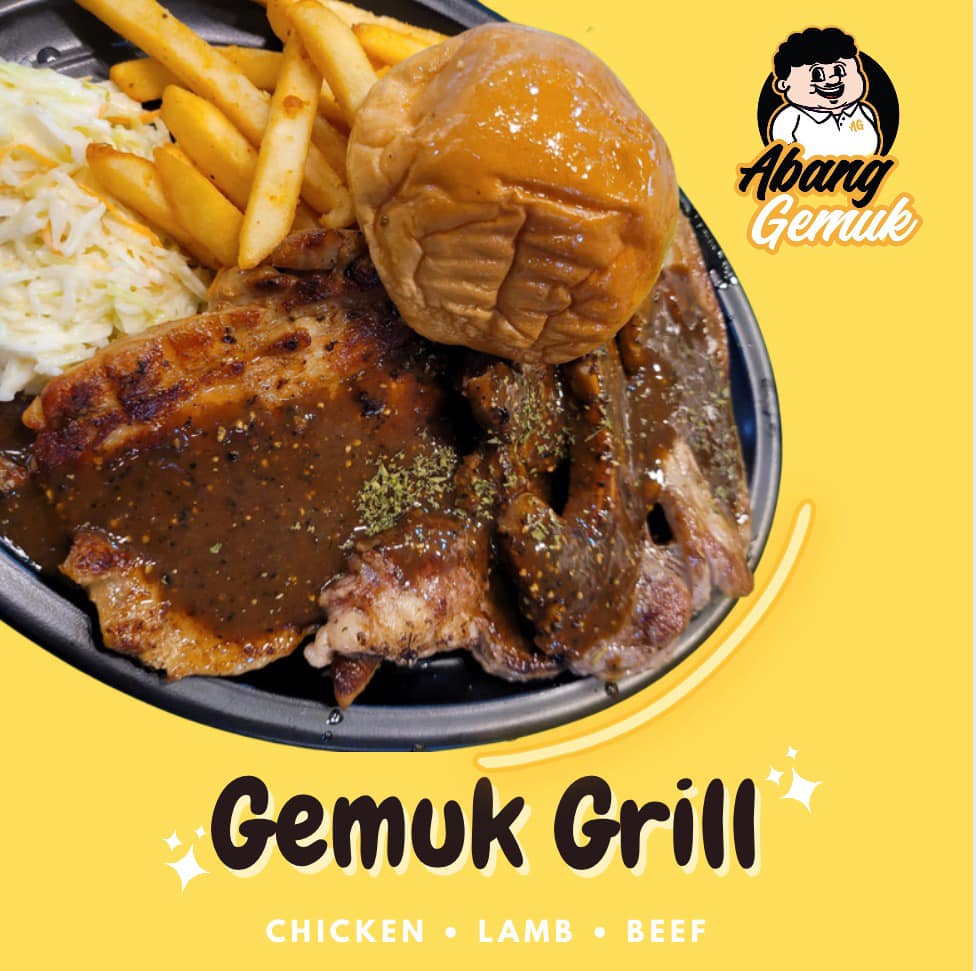 Burgers
Abang Gemuk has 4 options for its burger menu. The first option is their cheesy chicken burger, which is literally a burger made of crispy chicken fillet as a patty and served with fries and dipping sauce. Next is their cheesy beef burger, which is one of the best burgers that they have, the patty is grilled making this very tasty plus cheese and veggies assembled into a bun. They also serve this with fries. Next is the double beef burger this is literally just like the cheesy beef burger the only difference is that this one has two beef patties. Last but definitely not least is their pepper grill chicken burger, just like the chicken burger this one is also a must-try and is really delicious.
Western Grill Series
A lot of food items on their Western grill series are already on our list of best sellers just as Gemuk grill, chicken cutlet, fish n' chips, brown sauce chicken chop, and black pepper chicken chop. Aside from those they also have a half-spring chicken on their Western grill series menu together with pepper ribeye steak, pepper lamb chops, and Norwegian salmon.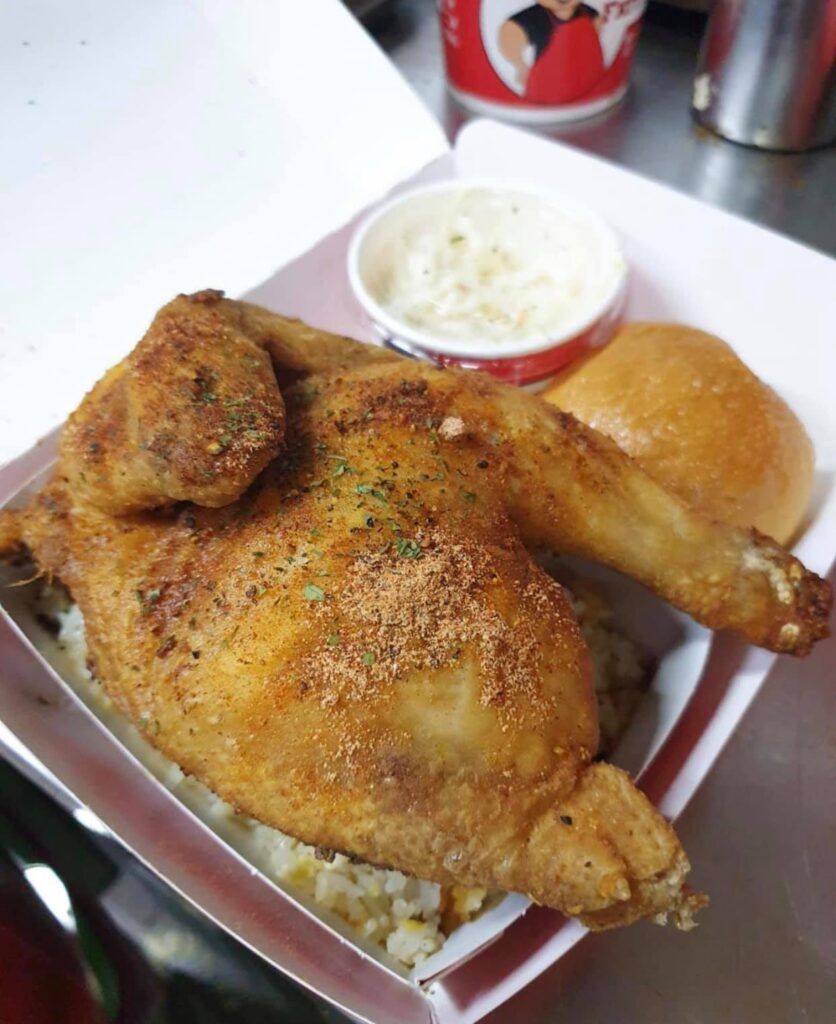 Abang Gemuk Finger Food Menu
Finger food is quite popular in Abang Gemuk. They have a lot of delicious and affordable finger foods on their finger food menu. Those are coleslaw and mashed potato which is great as extra sides, cheese pasta for cheese lovers, cheesy chicken popcorn, onion rings, crispy mid-wing, and roasted wing stick for pika pika with your friends. Nuggets, also have different kinds of fries those are Gemuk fries, cheesy fries, and tomato beef fries. And the Gemuk platter is great for sharing. They also have a tasty bun.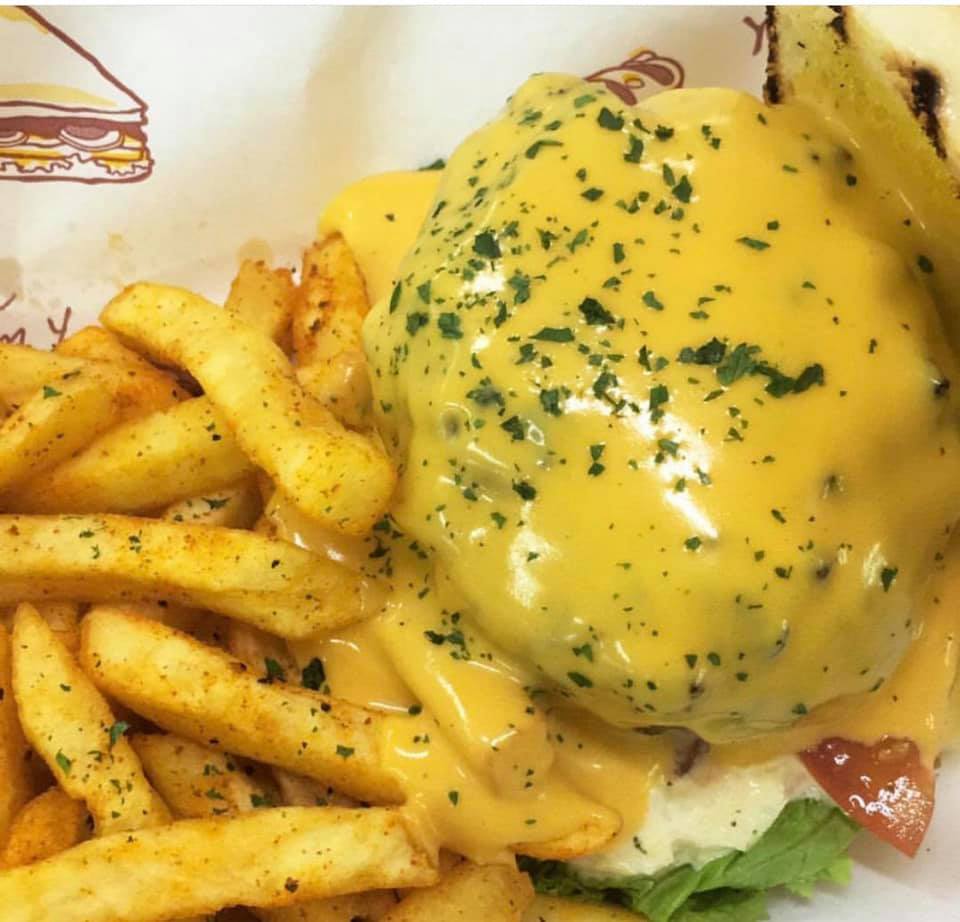 Abang Gemuk Menu Delivery
Ordering your favorite Abang Gemuk Food item is made easy simply by going to this site or you can also book your favorite delivery services like Grab Food, Food Panda, or any courier that is available in your location.
Social Media Pages
Indulge in a gastronomic journey with Abang Gemuk! Follow their social media pages to keep updated on their latest menu offerings and promotions. Join their online community to connect with other foodies and share your dining experiences.
Facebook: https://www.facebook.com/abanggemukbyfattybombom
Instagram: https://www.instagram.com/eatbooksg/
Twitter: https://twitter.com/abanggemuk
TikTok: https://www.tiktok.com/@abang_gemukk
Conclusion
A great place to go if you are looking for Western-style dishes. The Abang Gemuk menu has a lot to offer especially chicken and other easy-to-eat foods just like their finger foods and burgers. The place itself is amazing, I love how warm their staffs are when it comes to their guests. The only thing I noticed is the serving is quite too long it will take 30 mins for our orders to be served but that's understandable. Clean place despite how busy their restaurant is. I highly recommend this place for those who love to try Western-style foods.