The Daruma Tavern menu has one of the most exciting cuisines from Singapore. They offer a lot of incredible variety of Asian cuisines. The cuisine is quite fantastic in terms of culture and heritage. It is one of the greatest and ideal locations for you to discover more about Singapore's culinary traditions. Moreover, they are a restaurant that offers authentic Japanese food and beverages. The menu that they offer is a variety of different Asian cuisine that is prepared with a fusion of traditional and contemporary tastes.
Daruma Tavern Menu Price List [Updated]
MENU
PRICE (SGD)

Authentic Thai

Thai Style Wanton Mee (Original/Black Sauce)
$7.90
Thai Style Chicken
$7.90
Thai BBQ Pork
$10.00
Wanton Soup
$5.90
Fried Wanton
$4.90

Western

Breakfast Platter
$18.90
Poached Egg avocado toast
$13.90
Parma & Poach
$15.90
Creamy Carbonara
$13.90
Prawns Aglio Olio
$14.90
Mushrooms Aglio Olio
$12.90
Classic Chicken Chop
$12.90
Fish & Chips
$13.90
Mushroom Soup
$5.90

Japanese

Tonkatsu Rice Bowl
$8.90
Ebi Tempura Rice Bowl
$8.90
Oyakodon
$7.90
Grilled Teriyaki Salmon with Asparagus
$16.90
Japanese Potato Salad
$4.90

Local

Nasi Lemak
$7.90
Fried Rice with Cabbage & Anchovies
$6.90
Fried Rice with Crab Meat
$8.90
Curry Chee Cheong Fun
$4.90
Stir-Fry Pork Belly Rice
$7.90
Ipoh Curry Noodles
$7.90
Hougang Siz Miles Stone Fried Hokkien Mee
$7.90
Bek Beehoon
$7.90
Curry Fishball
$4.00

Beverages

lce Lemon Tea
$3.00
Sour Plum
$3.00
Aiyu jelly
$3.50
Orange Juice
$4.00
Thai iced coffee
$3.50
Thai iced coffee with pearl
$4.50
Thai iced milk Tea
$3.50
Thai iced milk Tea with pearl
$4.50
Thai iced green Tea
$3.50
Thai iced green Tea with pearl
$4.50
Iced Milo
$3.50
Coke
$2.50
Sprite
$2.50
Ayataka
$2.50
100 Plus
$2.50
Daruma soda water
$3.50
Mineral Water
$2.00
About Daruma Tavern
Together with her brother Alex, age 38, and wife Eve, age 38, Claire Ng, 42, runs the Daruma Tavern. The head chef here is Jeff Lim, 39, who is Claire's boyfriend. Both have subsequently distanced themselves from Soi 19 in order to concentrate on growing Daruma Tavern, leaving the management of the noodle chain—which now has a total of four locations—in the hands of a different family member. The sibling team wasn't always active in food and beverage.
Daruma Tavern was the former hawkers' attempt to bring craft beer closer to their homes, even if the idea may have seemed bizarre to them. However, considering their position inside the Brooks II condominium, they are more geared toward families than the hard-core drinking population. Daruma Tavern's establishment ultimately cost the quartet $300,000. The eating space is styled in an urban, kind trendy quiet residential area, manner. The walls are plain concrete with imitation exposed brick, while the shelves are decorated with colorful Daruma dolls. Beer keg tables are lit by the radiance of vintage Edison lamps.
Daruma Tavern Menu Best Seller
Wanton Soup – A bouillon-like soup called wonton soup has cooked, delicate wontons, which are dumplings stuffed with shrimp or pork and served with veggies, soy sauce, and sesame oil. The soup may occasionally still contain noodles or veggies like bok choy. Spring onions or chives are frequently added as garnish.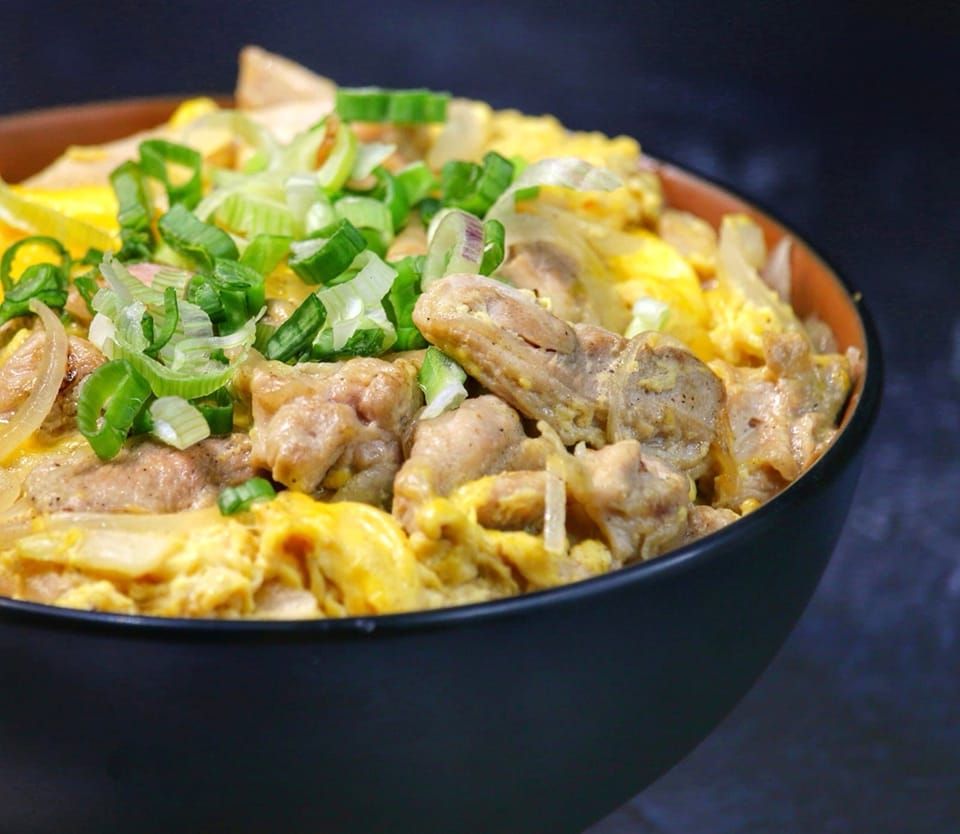 Oyakodon – Japanese people like to eat their food from the bottom up, therefore the rice is always partially covered by the topping. You've done it wrong if you discover that after eating all of the egg and chicken mixture, your bowl still contains rice. This is where you should utilize mitsuba if you can get your hands on some. It is a Japanese plant that resembles parsley in appearance and flavor but has considerably softer undertones.
Creamy Carbonara – Few foods better capture the flavor of Rome than carbonara pasta.
Daruma Tavern Thai Menu
Thai Style Chicken – Every nation has its own take on the traditional meal, but the Thais are particularly skilled at making theirs stand out. Thai customers prefer dark chicken flesh to white meat, making chicken the most popular type of meat among them. A decent chicken satay tastes like grilled chicken that has been marinated in sugar, curry powder, coconut milk, lemongrass, and lime leaves without the sauce.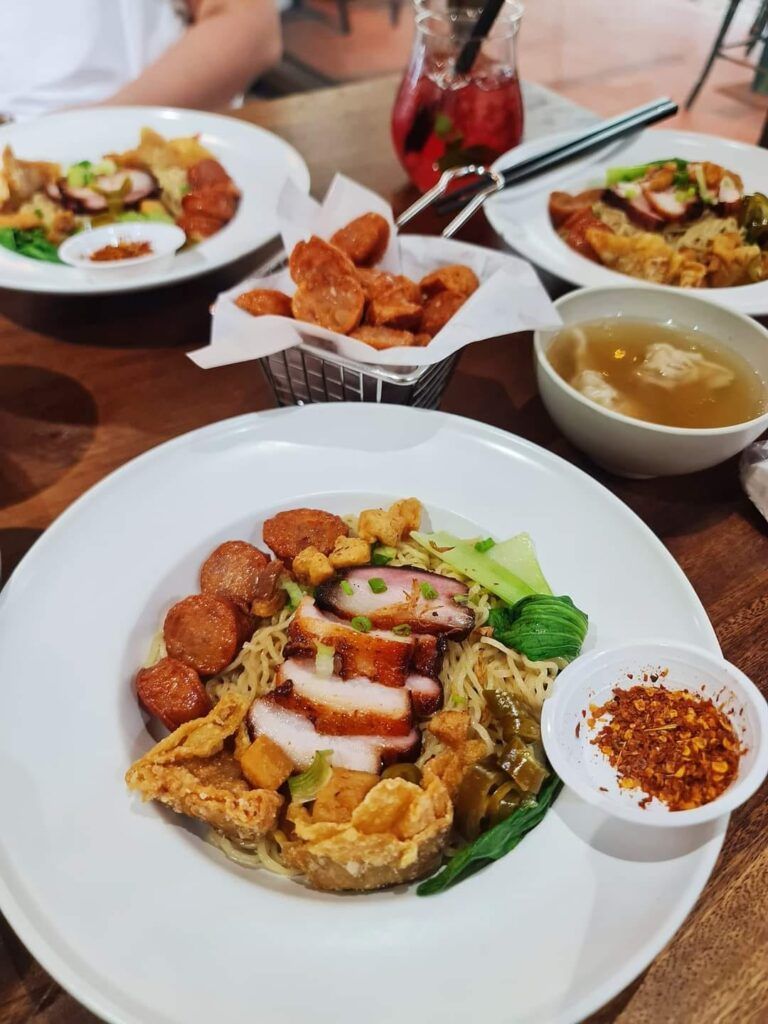 Thai Style Wanton Mee – This Daruma Tavern menu has a little burnt flavor with a wonderful meaty taste and a caramelized finish, albeit it isn't as sweet as the char siew found in the wanton noodles here. It was similar to the char siew seen in Japanese ramen—huge, finely sliced, and with just a touch of charred edges. Egg noodles, wanton, and pork pieces are included. In addition, the sauce and oil-based hog fat give it a unique flavor. After that, toppings like chili flakes are added. Although the Thai version, in general, tends to be dryer than others, the use of hog grease and little sauce gives it a unique flavor.
Thai BBQ Pork – These soft pork skewers, which are modeled by the well-known Thai street dish, have the ideal ratio of salty, sweet, spicy, and sour flavors. Try these at your next BBQ. They were marinated for four hours to ensure optimum flavor, grilled to perfection, then finished with a kick of lime, chili, and coriander.
Daruma Tavern Japanese Menu
Japanese Potato Salad – Japanese potato salad has been a traditional, home-cooked dish for more than a century. It stands out due to the colorful addition of fresh vegetables, the creamy texture, and the well-balanced flavor. It is the best crowd-pleaser there is.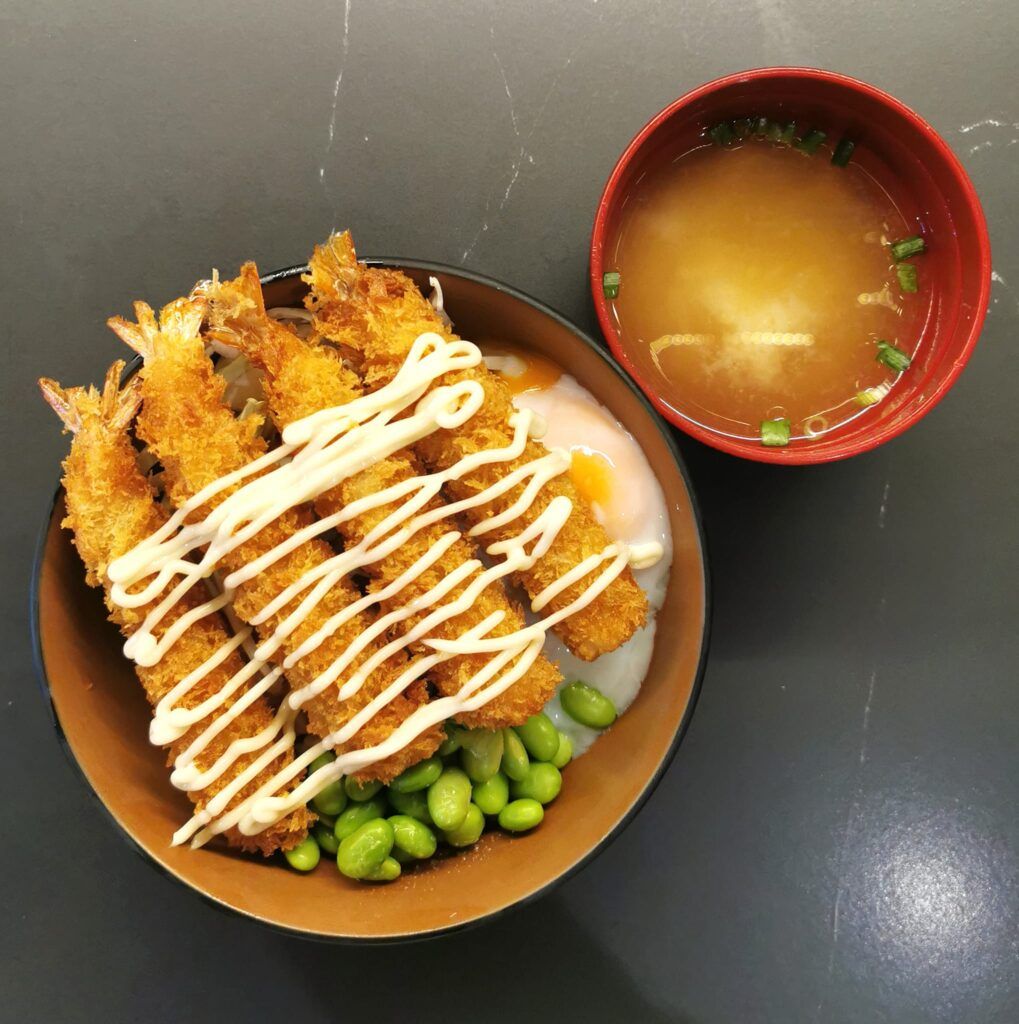 Ebi Tempura Rice Bowl – Empura often has the flavor of a lightly fried version of the item that serves as its foundation
Tonkatsu Rice Bowl – One of the most well-known Japanese foods is tonkatsu, which is a deep-fried Japanese pork cutlet. A batter made of flour and egg is used to cover the pork loin or pork medallion before it is deep-fried and served in a variety of ways. Fruits and vegetables are the primary sources of their sweet flavor, while vinegar provides its sour flavor and spices give it its fiery punch.
Daruma Tavern Western Menu
Classic Chicken Chop – Chicken chops are a cut made from the whole leg. The chicken chop with the knuckle linked to the end of the drumstick meat and the thigh meat. The Western food that originated in Malaysia is chicken chop. Because it is either grilled like a steak or baked, it is somewhat western.
Mushrooms Aglio Olio – is somewhat peppery and has a herbaceous flavor from the parsley. This is something you cannot stop doing once you begin eating. literally translated from Italian, olive oil with garlic. It is a typical Neapolitan pasta dish. Toss in some pasta, such as fettuccine, linguini, or spaghetti.
Fish & Chips – The first should taste good and feel wet. Typically, a mild white fish like cod, haddock, or plaice is used to make it. Ideal chips are large and hand-cut. Chips are frequently seasoned with vinegar in England. Previously covered in newspaper, but now mostly packaged in styrofoam.
Promotions
Promotions come and go. As of this writing here are the available promotions that Daruma Tavern has to offer, if this is not available by the time you see it, you could always visit their Facebook page.
Daruma Ramen provides a 35% off discount deal on all your purchases. Get the deal now!
Save Up To 30% On All Orders
Get an Extra 15% Off For Your Orders with the Daruma Ramen Coupon
Flat 25% Off on Your Purchase
Get a 20% Discount with Student Offer
Flat 15% Off Promotional Code
Save Up to 55% with the Daruma Ramen Thanksgiving Day Sale
Daruma Tavern Menu Delivery
In Singapore, there have always been Japanese eateries. Everyone who lives in or travels to this nation can eat it. There are many responsibilities and prospective clients that come along with this. Consequently, these eateries are busier than ever, as well. There would be a wait for some customers' orders to be served. This could be a hassle for someone who doesn't have the luxury of time. Fortunately, you may always place an order through GrabFood, their Facebook page, or by calling +65 9734 3484.
Social Media Pages
If you love the menu of Daruma Tavern and became a fan of them, then you must be thinking of liking or following their social media pages. Worry not, because below you will find their official pages that you can start subscribing to get the updates.
Facebook: https://www.facebook.com/Darumatavern/
Instagram: https://www.instagram.com/darumatavern/
Conclusion
They provide a wide variety of delectable and motivational selections that will satisfy you and give you the energy you need to finish the remainder of your day. How do you choose what to buy from the extensive menu at Daruma Tavern menu? They've got you covered, so don't worry. Depending on your mood, they have divided their menu into several categories. Daruma Tavern wanted to share their enthusiasm with you and provide a setting where you could unwind and savor a delicious dinner with the people you care about. Daruma Tavern Singapore is the place to go for a laid-back evening with friends or a delectable supper to take home.