A casual restaurant that specializes in eggs, Tamago en menu uses only the finest eggs that are imported straight from Okinawa. For the greatest levels of food safety, all eggs go through a UV sanitization process. Because they are so fresh, they may be consumed uncooked.
Tamago En Menu Price List [Updated]
Menu Items
Price (SGD)

All day Breakfast

Curried Shashuka
$18.20
Eggcellent Platter
$19.90
Japanese Kaya Toast Set
$10.50
Pork Katsu Sando
$17.10
Ultimate Steak Burger
$20.60

Salad and Sandwich

Poached Egg Caesar Salad with Caesar Dressing
$14.10
Avocado Chicken Salad
$16.40
Smoked Salmon Avocado Salad
$17.50
Tamago Sando
$11.20

Omurice

Chicken Steak Omurice
$18.20
Salmon Steak Mentaiko Cream Omurice
$19.40
Beef Steak Omurice
$23.40

Kids Meal

Tori Karaage set
$11.70
Teriyaki Chicken set
$11.70

Drinks

Orange Juice
$5.80
Cranberry Juice
$5.80
Mango Juice
$5.80
Apple Juice
$5.80
Coke
$4.60
Coke Zero
$4.60
Sprite
$4.60
Soda Water
$4.60
Oolong Tea
$4.60
Bottled Water
$3.40

Ala Carte

5-kinds Dashimaki Tamago Skewers
$11.80
Cheese Mentaiko Hashimaki
$6.50
Chicken Nanban
$12.40

Donburi

Tamago-EN Oyako Don
$16.40
Unatama Don
$20.60
Pork Katsu Don
$18.20
Chicken Katsu Don
$17.50

Pasta

Prawn Mentaiko Pasta
$19.40
Seafood Medley Pasta
$19.40
Carbonara Pasta
$15.20
Prawn Pesto Pasta
$19.40

Dessert

Black Sesame Panna Cotta
$4.50
Homemade Egg Pudding
$4.50
Matcha Homemade Egg Pudding
$4.50
About Tamago En
The Japanese term EN denotes a celebration of harmony and kinship. The EN Group works to promote Japanese and Okinawan cuisine and culture in Singapore and other places. The EN Group is committed to offering only the best meat, fish, and veggies. In order to offer a diverse menu that even includes traditional Okinawan meals, which are uncommon outside of the lovely island, the chefs use fresh ingredients imported straight from Japan. Visit our various businesses, each different from the others, and peruse our authentic Japanese meals to experience a journey to Japan.
The company has since grown and created brands. A network of Japanese restaurants called EN Group wants to introduce Singapore and other countries to the cuisine and culture of Okinawa and Japan. Our business strives to provide the finest cultural experience to our clients by delivering quality, genuine Japanese and Okinawan cuisine, from fresh fish to mouthwatering beef. The Japanese restaurant chain EN Group sources its premium ingredients from all throughout Japan. Miyazaki Beef, which has won three straight awards in the Wagyu Olympics in Japan, is used in several restaurants run by the EN Group.
Tamago En Menu Best Seller
Cheese Mentaiko Hashimaki – Cheese and fish roe on a rolled okonomiyaki pancake. the umami of the mentaiko, the sweetness of the okonomiyaki sauce, and the saltiness of the cheese. Of course, the chewy pancake soaked up the golden yolk, giving the entire meal a rich, creamy feel. Even some red pickled ginger was tossed within to counteract the dish's richness.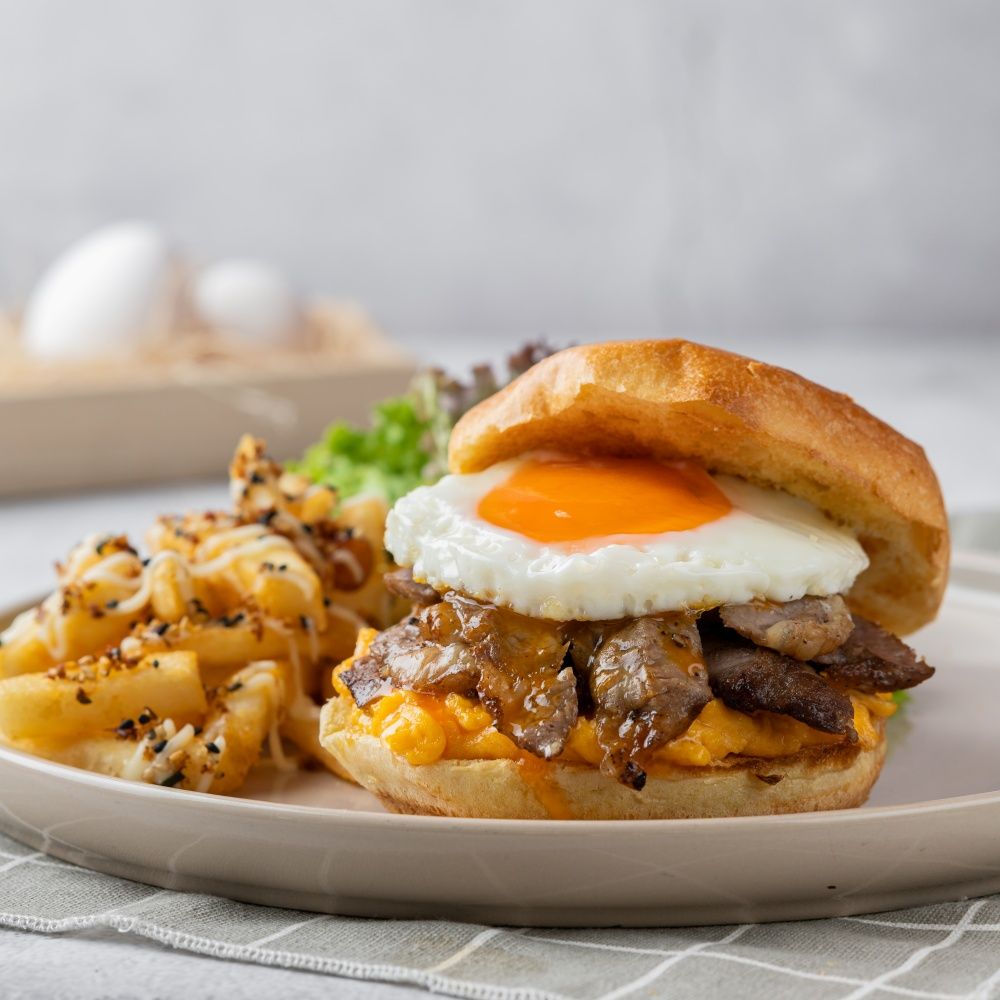 Ultimate Steak Burger – Juicy beef sirloin served on a brioche bun with scrambled eggs, ume mayo, and sunny side up. Furikake fries and a mesclun salad are included with it. Steak may be used in this Tamago En menu to make different varieties of burgers, which are generally thinner than hamburger patties.
Chicken Nanban – Crispy fried chicken served with homemade tartar sauce and tangy nanban sauce. Chicken Nanban is crispy, deep-fried chicken covered in a tangy sauce and served with homemade tartar sauce. It is influenced by Portuguese cuisine. One of the most well-liked ways to eat fried chicken in Japan, it is the pinnacle of fusion cuisine. the egg and flour coating. This technique creates a light, flavorful crust that enhances the meat's ability to absorb sauces while preventing the meat from drying out.
Ultimate TKG – Japanese rice and condiments with the freshest raw egg yolk and whipped egg white. By cracking the egg with your chopsticks and consuming it with the rice, you can consume Ultimate TKG. Yoshio enjoys including a small amount of soy sauce. The "ultimate TKG" is a novel fluffy tamago kake gohan that is simple to make at home, but the flavor will be quite weak if you mix the white meat until it resembles meringue.
Tamago En Lunch Menu
Carbonara Pasta – Few foods better capture the flavor of Rome than carbonara pasta.
Chicken Steak Omurice – A Japanese cuisine that consists of a thinly fried egg omelet combined with fried rice that is typically served with ketchup. It is a well-liked dish that is frequently prepared at home. The Tamago En Omurice menu is particularly beloved by kids.
Pork Katsu Don – Tonkatsu breaded deep-fried pork and eggs boiled in a sweet and salty broth are served over rice in the well-known Japanese meal known as katsudon. Meat that has been thinly pounded before cooking is referred to as katsu, or cutlet, in Japanese.
Avocado Chicken Salad – Using up avocados that won't ripen, this dish pairs fiery chicken with a soft, creamy avocado for the ideal family dinner.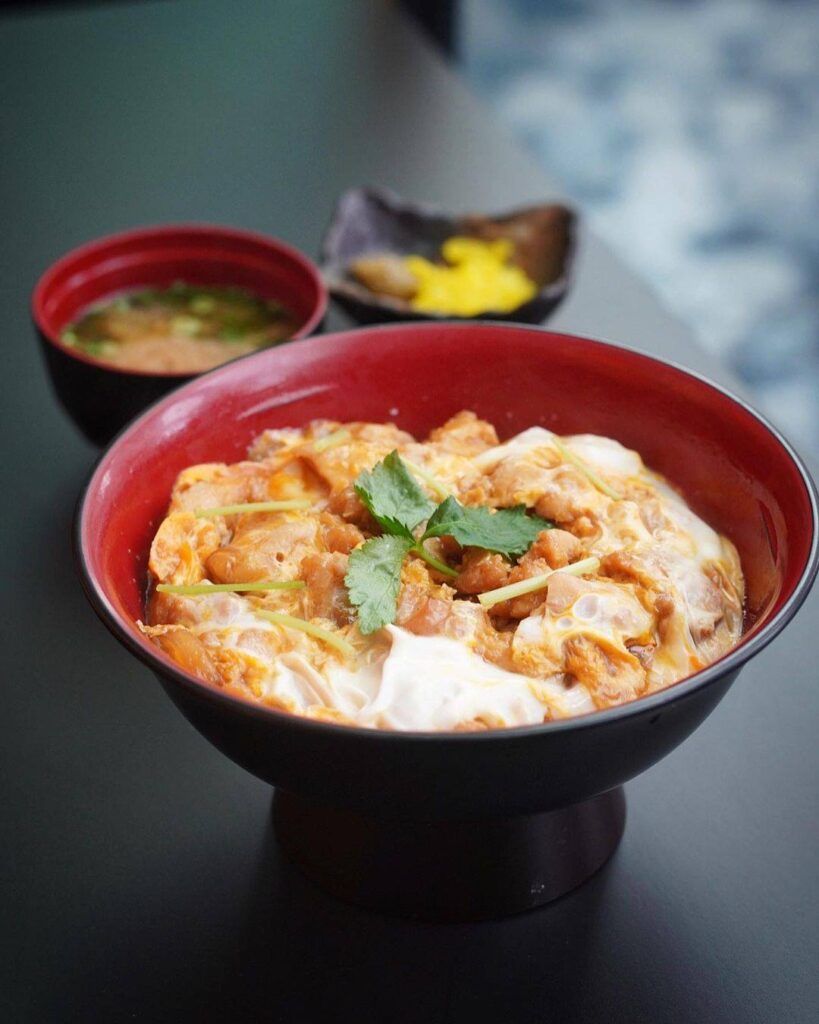 Tamago En Oyako Don – In Japan, oyakodon is a preferred comfort meal. Both chicken and eggs are used as toppings in this rice bowl meal. Oyakodon really means parent and kid. This soup has a balanced flavor of sugar and soy sauce that is both sweet and salty.
Tamago En Kids Meal
Tori Karaage Set – Tomato rice is served with dashimaki tamago, tori karaage, tater tots, sweet corn, and mesclun salad. Orange juice or calpis are your options. A dry sake like this one imparts a lot, while the soy in the marinade provides bite-sized chunks of chicken thigh a delicious punch. In the Japanese cooking method known as karaage, various meals are deep-fried in oil, most frequently chicken but occasionally other meat and fish. Small chunks of the meat or fish are delicately coated as part of the procedure.
Teriyaki Chic Set – Additionally, there is tomato rice served with dashimaki tamago, cherry tomatoes, teriyaki chicken, tater tots, and esclun salad. Orange juice or calpis are your options.
Tamago En Promotion
As of this writing, here are some of the available promotions that Tamago En offers:
Halloween Menu – Available at all outlets, for a limited period only.
Puddings in a Box – Enjoy 3 puddings for $9.90 ($11.40) For a limited period only.
Dinner Deal – Monday to Thursday, 5pm – 7pm. Available at all outlets, except NEX & Junction 8 till 31 October 2022.
Tamago En Menu Delivery
Food retailers like Tamago En would undoubtedly draw a sizable number of clients. Many people would be drawn to a store in a mall, especially if it was nearby and they were hungry. This implies that there will be a large crowd in Tamago En waiting for their dinner to be served. Luckily, you can order through GrabFood or the Foodpanda app. You can also visit their website to place an order tamago-en.oddle.me.
Social Media Pages
If you love eating with the Tamago En, why not follow them on their social media accounts? In this way, you will not miss any updates on the Tamago En menu, price, and promo. To start, open their social media pages below:
Facebook: https://www.facebook.com/TamagoENsg/
Instagram: https://www.instagram.com/tamagoen_sg/
Conclusion
Egg fans will like the Tamago en menu in Singapore, which offers a variety of meals prepared with eggs imported from Okinawa. Before making it into your plate, its eggs go through a meticulous nine-stage procedure. The hens are fed first. The development of Japanese food through the years in each prefecture has led to the delectable and nutritious cuisine we enjoy today. Japan's citizens may enjoy every aspect of its cuisine, from its seafood to its veggies, since each season offers new foods to the nation. Japan is well known for the excellent seafood that the ocean that surrounds the country provides.