The A&W menu consists of classic American fast-food items such as burgers, hotdog sandwiches, fries, onion rings, chicken, and waffles. Each dish on its menu is well-crafted as they are created using fresh and authentic ingredients. Root beer is the famous beverage of this restaurant that is loved for its authentic and original flavor. It also offers combo meals that make it easier for diners to choose the perfect food combination. These dishes and beverages are prepared expertly giving diners a wholesome dining experience.
MENU
PRICE (SGD)

Burgers

Mozza Burger
$9.4
Double Cheeseburger
$7.45
Chubby Chicken Sandwich
$7.45
Marina Fish Sandwich
$5
A&W Cream Cheese Beef Burger
$9.9
A&W Cream Cheese Chicken Burger
$9.9

Coney

Chicken Coney Dog with Beef Sauce
$6.6
Chicken Coney Dog with Chicken Sauce
$6.6

Hot Dog

Chicken Hot Dog
$4.9

Golden Aroma Chicken

Golden Aroma® Chicken - 1 Piece
$4.5
Golden Aroma® Chicken - 2 Pieces
$9
Golden Aroma® Chicken - 6 Pieces
$23.55

Snacks

Curly Fries
$4.75
Stealth Fries
$4.75
Beef Coney Cheese Curly Fries
$6.6
Chicken Coney Cheese Curly Fries
$6.6
Onion Rings
$5.25

Add On

Nacho Cheese Sauce
$1.45

Combo w/ Burger and Regular Curly Fries

Mozza Burger® Combo
$14.05
Double Cheeseburger Combo
$12.8
Chubby Chicken Sandwich Combo
$11.6
Marina Fish Sandwich Combo
$10.35
Chicken Coney Dog with Beef Sauce Combo
$11.6
Chicken Coney Dog with Chicken Sauce Combo
$11.6
Chicken Hot Dog Combo
$10.75
2 Pieces Golden Aroma® Chicken Combo
$11.85
A&W® Cream Cheese Beef Burger Combo
$14.15
A&W® Cream Cheese Chicken Burger Combo
$14.15

Beverages

A&W Root Beer Regular
$3.65
Coca-Cola (Regular)
$3.55
Sprite (Regular)
$3.55
H&E Ice Lemon Tea
$3.9
Coke Zero Can 320ml
$3.65
Dasani Purified Water 600ml
$3.4
Authentic Tea House Ayataka Green Tea 315ml
$3.65
Iced Milo
$4.65
About A&W
A&W is a fast-food restaurant that has branches in the United States and Southeast Asia. It is named after its founders, Roy Allen, and Frank Wright. Back in 1966, this has been the first fast food restaurant in Singapore and was closed in 2003. After 16 years, it returns to Singapore and was gladly welcomed by its patrons.
A&W Menu Signature Burgers
A&W offers signature burgers that are suited for every taste as its selections consist of Mozza, Double Cheeseburger, Chubby Chicken, Marina Fish, and Cream Cheese Burger. These burgers stand out from the rest as they are overloaded with special fillings.
Mozza Burger – This exquisitely layered burger has a unique combination of juicy and tender beef patties, chicken strips, cheddar cheese, classic A&W® Mozza® sauce, and a freshly toasted semolina bun. Lettuce, tomato, and pickles complete this mozza burger. The savory, sweet, and tangy flavor of this burger makes it mouthwatering in every bite.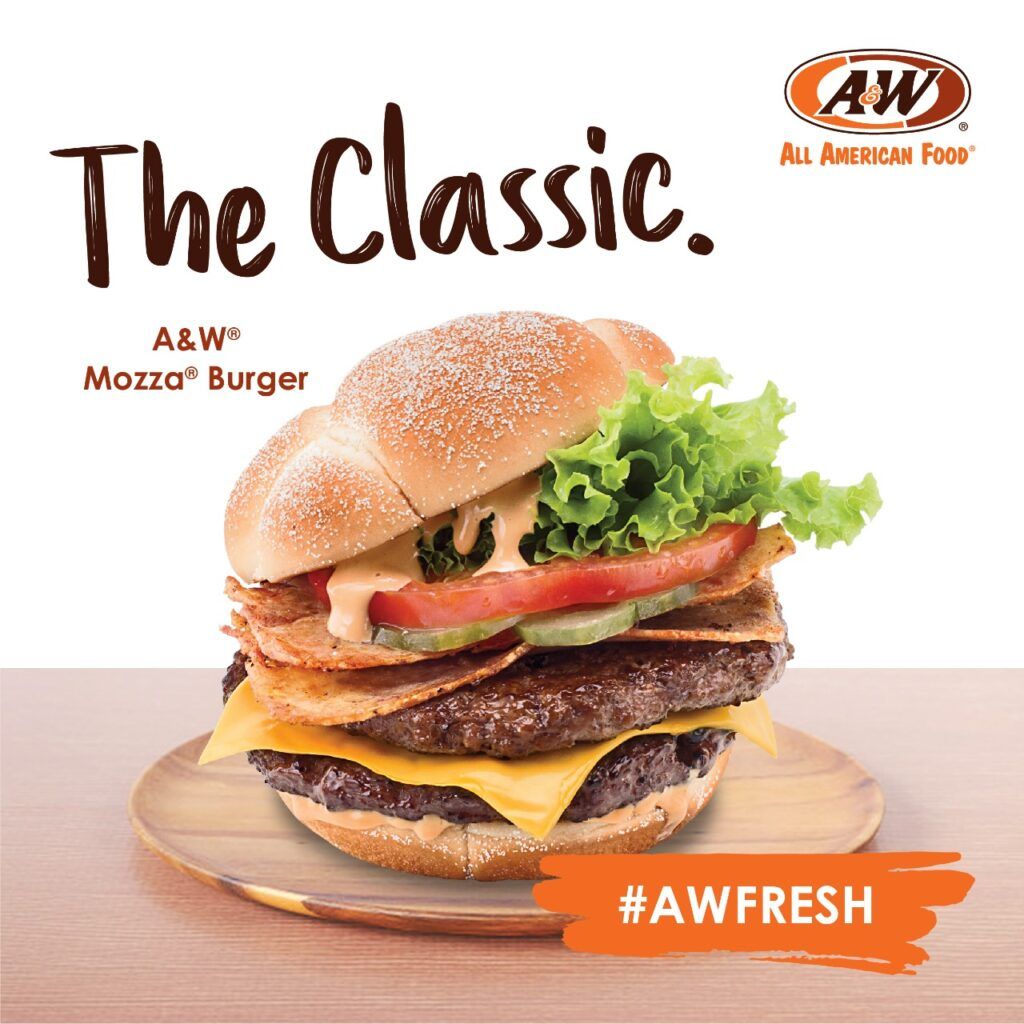 Double Cheeseburger – Double the fun with this Double Cheeseburger that will satisfy your cravings in every bite. The semolina bun is stuffed with a layer of two 100% beef patties & cheeseburgers, mustard, pickles, and tomato ketchup. This is a perfect choice for cheese lovers as its cheesy goodness will captivate your sense of taste.
A&W® Cream Cheese Chicken Burger – A fulfilling burger menu from A&W that will give you a one-of-a-kind experience as it is loaded with flavorful fillings. It comes with a juicy chicken cutlet, fried onion ringlet, sauteed onions, tomato, and lettuce. The special cream cheese and the signature A&W® sauce make this burger more flavorful.
Coneys
The coney dog served by A&W restaurant is one of the ultimate American staples. Beef and chicken sauces are the two kinds of topping options for these flavorful chicken hotdog sandwiches.
Chicken Coney Dog with Chicken Sauce – It is a chicken hotdog topped with a special coney chicken sauce and diced onions. The savory flavor of this dish will surely make you come back for more.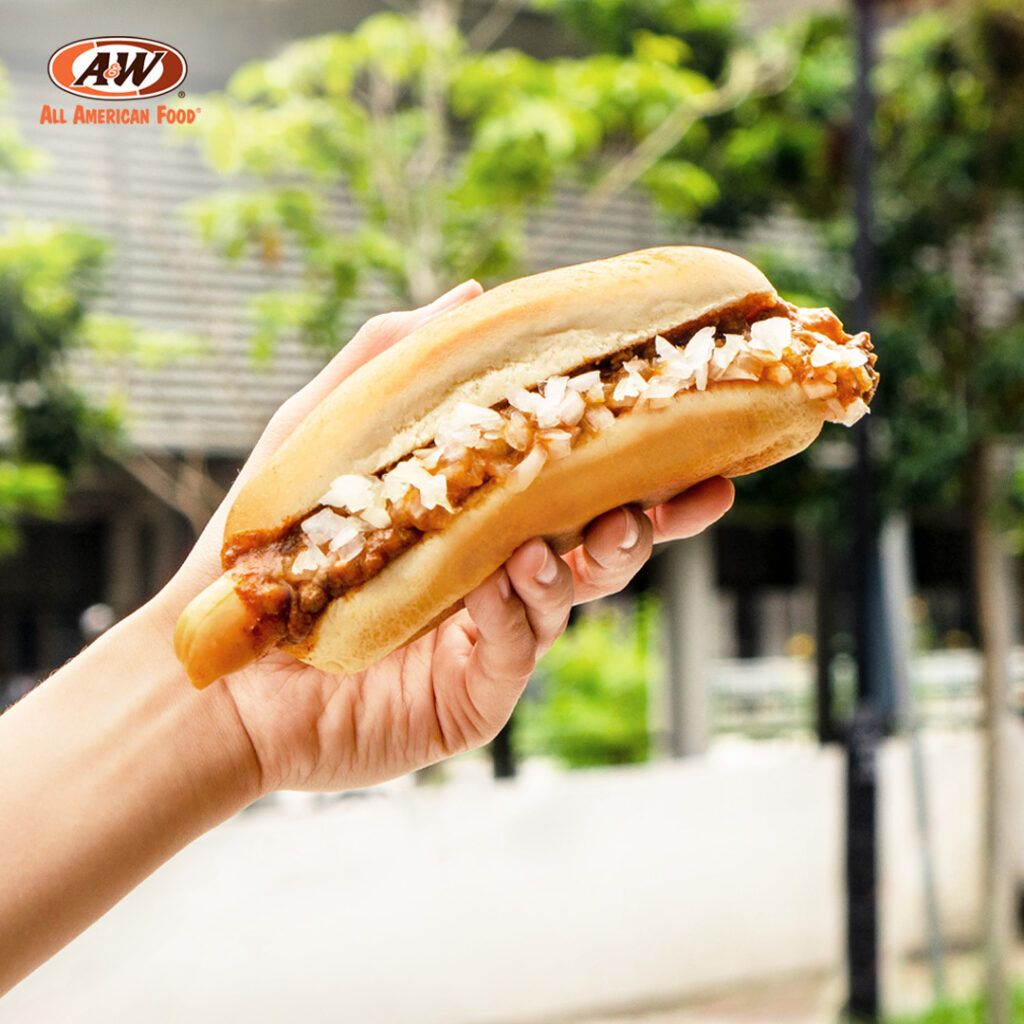 Chicken Coney Dog with Beef Sauce – Another coney chicken hotdog from A&W with beef sauce and freshly diced onion toppings. It is great for those who love the flavor combination of beef and chicken.
A&W Snacks Menu
The snacks offered by this restaurant consist of traditional American snacks such as fries and onion rings. Their savory taste is well-loved by the crowd making them hard to resist.
Chicken/Beef/Coney Cheese Fries – Level up your meal with these special curly fries that are topped with your choice of beef or chicken and creamy cheese sauce. Each bite of these cheesy fries will add a special twist to your day. These fries are bursting with flavors as they are made with 100% authentic ingredients.
Onion Rings – White onions are coated with the restaurant's special breading mix and deep-fried until it becomes crunchy and golden brown. These crispy onion rings are one of the great-tasting snacks of A&W that will amaze you.
Curly Fries – These regular classic fries stood the test of time as their flavor never fails to impress the crowd and they can be enjoyed on their own. This is made with curled potatoes that are expertly cooked. It is well-seasoned and has the right level of crispiness making it a great snack.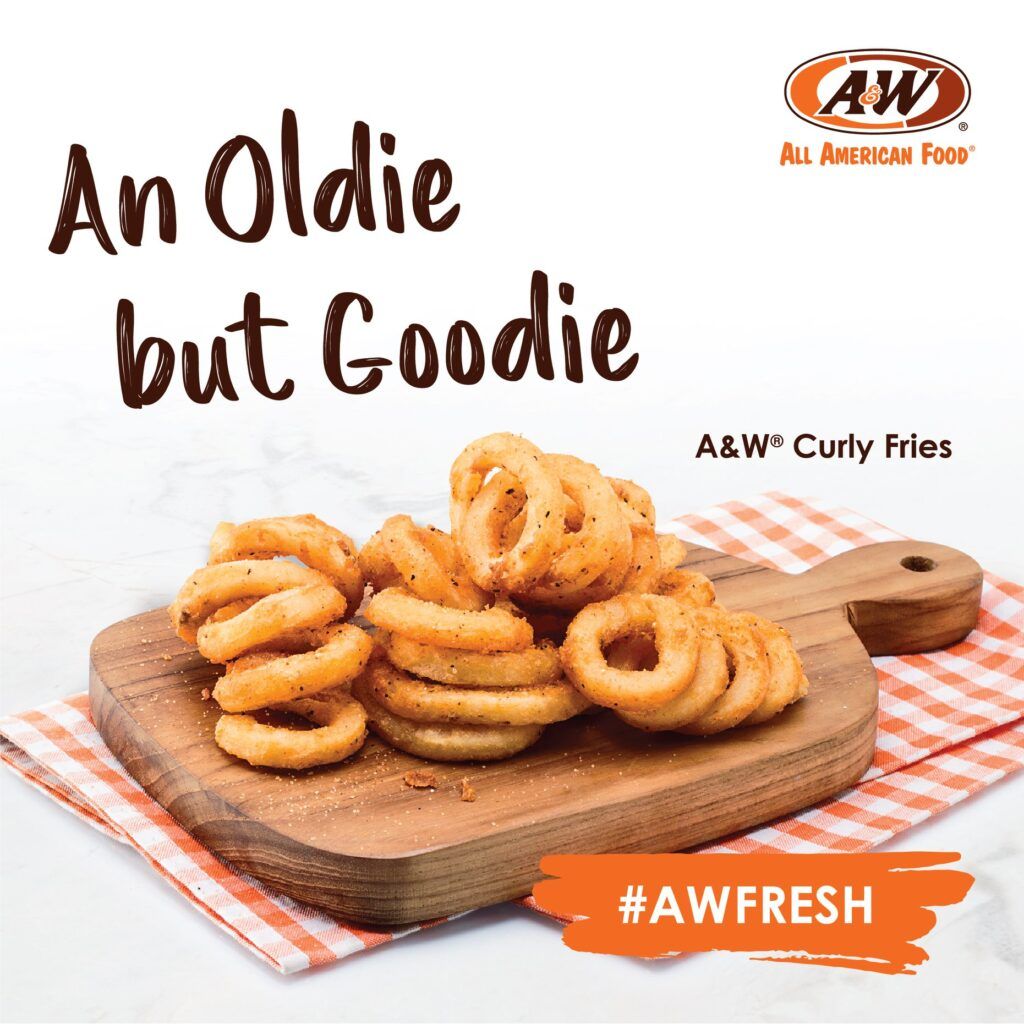 Dessert
Make your day sweeter with these waffle desserts garnished with your preferred choice of toppings. Ice cream and butter & syrup are the two topping options that the restaurant serves.
Waffle Ice Cream – Freshly baked waffle is topped with a scoop of vanilla ice cream. The melt-in-your-mouth goodness and a generous serving of ice cream will make your dining experience memorable.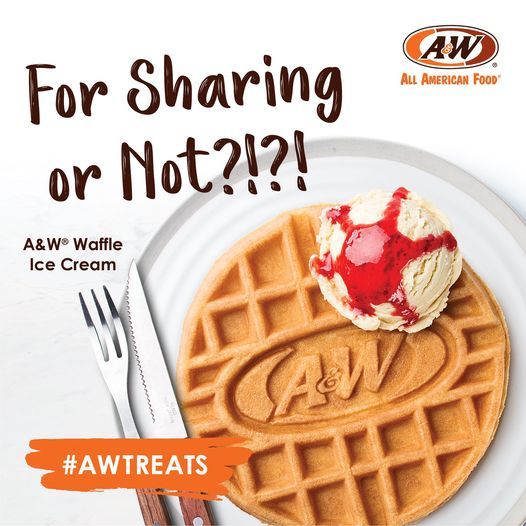 Waffle with Butter & Syrup – This combination is a traditional way of enjoying waffles. The butter and syrup are the two classic garnishes that people love as their flavor complements well together.
Chicken
The Golden Aroma® Chicken of A&W menu is the crowds' most-sought dish. Fresh chicken is expertly hand-breaded and deep-fried until it becomes juicy, tender, and crispy. Its breading is made with a secret blend of herbs and spices that makes its taste distinctive and unique. The golden crispy skin and the savory aroma of this chicken dish is the special and unique feature that makes it notable. This chicken is perfect and can be paired with the other snacks that this restaurant offers. It will amaze your sense of taste on your first bite as it is simply irresistible.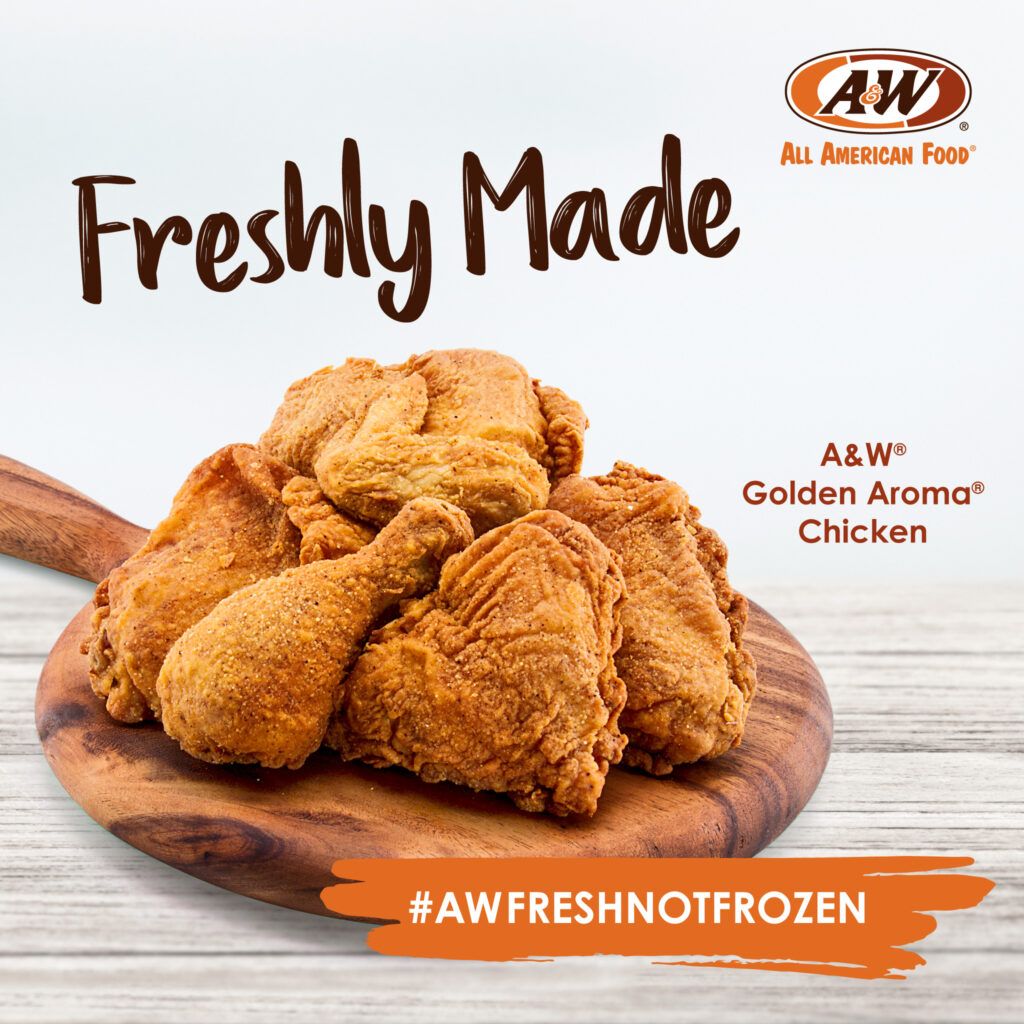 Root Beer
Root beer is a famous beverage that customers enjoy with their favorite dishes. It is made with a blend of secret ingredients and real cane sugar. The foamy topping of this drink will make you crave more. It can also be upgraded into a Root Beer Float if you want to make it creamier as it consists of a vanilla soft serve. This is served on a frosty mug that enhances the visual presentation that makes it more appealing. The mugs are kept in a freezer to achieve their frosty look. Each sip of this classic treat is filled with goodness and goes well with other snacks and treats that it offers.
A&W Menu Delivery
A&W's menu is easily accessible for customers through Grabfood and Foodpanda's online delivery platforms. Additionally, to cater to customers residing in areas not covered by the aforementioned delivery services, A&W provides the convenience of in-store pick-up. This feature enables customers to easily order and collect their food without any hassle.
Social Media Pages
To stay up-to-date on the latest posts and hottest promotions of the company, we highly recommend subscribing to their social media pages. They are most active on these platforms, particularly on Facebook. Additionally, you can use their official social media accounts to ask any queries you may have. This is a great way to engage with the A&W and receive timely responses to your inquiries. Now, for the links, simply refer to the following:
Facebook: https://www.facebook.com/awrestaurants.sg
Instagram: https://www.instagram.com/awrestaurants/
Conclusion
The A&W menu is suitable for kids and Muslims as they offer foods that are flavorful and do not contain pork or lard. Mozza Burger, Fries, and the Golden Aroma® Chicken are the food items that you should not miss out on. Its iconic Root Beer is the item on its menu that adults must try as it has a smooth and original flavor. These convenient, fulfilling, and satisfying traditional American dishes will give you an exciting dining experience.