A distinguished fast-food restaurant that's evolved through time; a glimpse of our past can reminisce as you bite its famous chicken. Drizzled with 11 herbs and spices, KFC created its own masterpiece – a chicken – that is ultimately finger-lickin'-good. A bowl of chicken filled with different seasonings can be enjoyed at a fine dining fast-food restaurant or even at the convenience of your own home. The KFC menu offers a wide range of food variations with minimum cost; they have chicken and burgers, rice meals, buddy/bucket meals, and even a variety of boxes.
You can experience a one-of-a-kind meal at over 80 stores that are spread across the streets of Singapore. KFC as one of the largest fast food chains in Singapore can serve an optimum service that can undoubtedly make your hunger satisfied, so why not try KFC? Give it a bite, and get your delightful meal today!
KFC Menu Price List [Updated]
You can find the updated pricing information for the KFC food items below.
Menu Items
Prices (SGD)

KFC Bowls

Curry Rice Bowl
$5.35
Famous Potataoe Bowl
$5.35
Original Recipe Rice Bowl
$5.35

KFC Burgers and Chicken

BBQ Cheese Zinger Meal
$9.60
Hot and Crispy Chicken
$3.80
Original Recipe Chicken
$3.80
Tangy Pockett
$5.85
Zinger 
$5.95
Zinger Burger
$5.85
Zinger Stacker
$7.85

KFC Drinks

Iced Milao (Med)
$4.30
Iced Milao (Reg)
$3.80
Pepsi (Med)
$3.35
Pepsi (Reg)
$2.85
Pepsi Black (Med)
$3.35
Pepsi Black (Reg)
$2.85
Pepsi Black Bottle (1.5L)
$3.85
pepsi Bottle (1.5L)
$3.85
Polar Mineral Water 
$2.40
Sjora Mango Peach (Med)
$4.30
Sjora Mango Peach (Reg)
$3.80

KFC Sides

Chees Fries
$5.20
Cheese Sauce
$1.50
Chicken Rice
$1.00
Cole Slaw (Med)
$3.70
Cole Slaw (Reg)
$3.50
Curry Sauce
$1.00
Egg Tarts 2pcs
$3.20
Egg Tarts 6pcs
$8.00
Fries (Med)
$3.80
Hot and Crispy Tenders 5pcs
$7.25
Nuggets 20pcs
$12.90
Nuggets 6pcs
$4.80
Original Recipe Sauce
$1.00
Popcorn Chicken
$4.90
Smoky Chipotle BBQ Sauce
$0.30
Snack N Share Box
$12.95
Sour Cream and Onion Sauce
$0.30
Whipped Potato (Med)
$3.70
Whipped Potato (Reg)
$3.50

Delivery Menu

2 Pcs Chicken Meal
$8.40
3 Pcs Chicken Meal
$10.40
Crispy Tenders Box
$7.40
Pocket Box
$9.40
Satay Crunch Box
$11.95
Zinger Box
$9.40
Buddy Meal
$18.90
Cheesy BBQ Meltz Hearty Variety Box (For 3)
$26.90
Pockett Bandito Hearty Variety Box (For 3)
$26.90
Zinger Hearty Variety Box (For 3)
$26.90
Variety Feast (For 4)
$39.90
Mega Meal (For 7)
$59.90
XXL Feast (For 20)
$85.95
XXL Feast (For 10)
$79.90
10 pcs Chicken Bucket
$29.95
10 pcs Satay Crunch Bucket
$35.95
10 pcs Satay Crunch Celebration Feast
$52.50
Mega Feast
$65.95
12 Pcs All-Chicken Bucket (For 12)
$31.00
20 Pcs All-Chicken Bucket (For 20)
$51.00
BBQ Pockett Family Box (Satay Crunch)
$29.50
BBQ Cheese Zinger Family Box (Satay Crunch)
$30.50
Original Recipe Burger Family Box (Satay Crunch)
$29.50
Satay Crunch Buddy Meal
$22.95
Savers Feast for 4
$29.95
Zinger Family Box (Satay Crunch)
$29.50
About KFC
Every success has its own story, KFC also known as Kentucky Fried Chicken founded by Colonel Harland Sanders has been rejected 1009 times by individuals and companies not until it has been successfully accepted and franchised at the year 1952. Colonel Sanders is indeed a person worthy of inspiration; if you think you are a failure, remember the downfall that Sanders experienced.
After a thousand failures, KFC successfully landed on the road of Somerset, Singapore in 1977. Up until today, KFC is still producing fresh and highly seasoned chicken with the surveillance of KFC Malaysia. KFC's delicious story doesn't stop as it conquers the corners of 150 countries across the globe.
KFC today serves as a source of happiness, not just for kids but also for adults. As KFC progressed and create its brand, the 11 herbs, and spices secret is still a mystery among competitors. Beyond that, KFC still runs at the top of the food market that can serve a meal worthy of your penny.
KFC Menu Best Seller in Singapore
In order to ultimately enjoy the finger-lickin'-good meal variations of the KFC menu, below is a list of the Best Seller food that can be purchased from their fast food.
Savers Feast for 4 – Grabbed KFC's best-selling savers feast for 29.95$ only. This feast is composed of 8 pcs freshly cooked chicken drizzled with the secret recipe of KFC, combined with nuggets that were deep fried until their crispiness gratify your hunger, and Two medium whipped potato that can be consumed by people who are very strict with their diet but still wants to taste the heavenly flavor of KFC.
Best KFC Menu Combo Meals
Do you have buddies who like discounts and want to save but still want to eat at KFC? We love to offer you the following best KFC Combo Meals.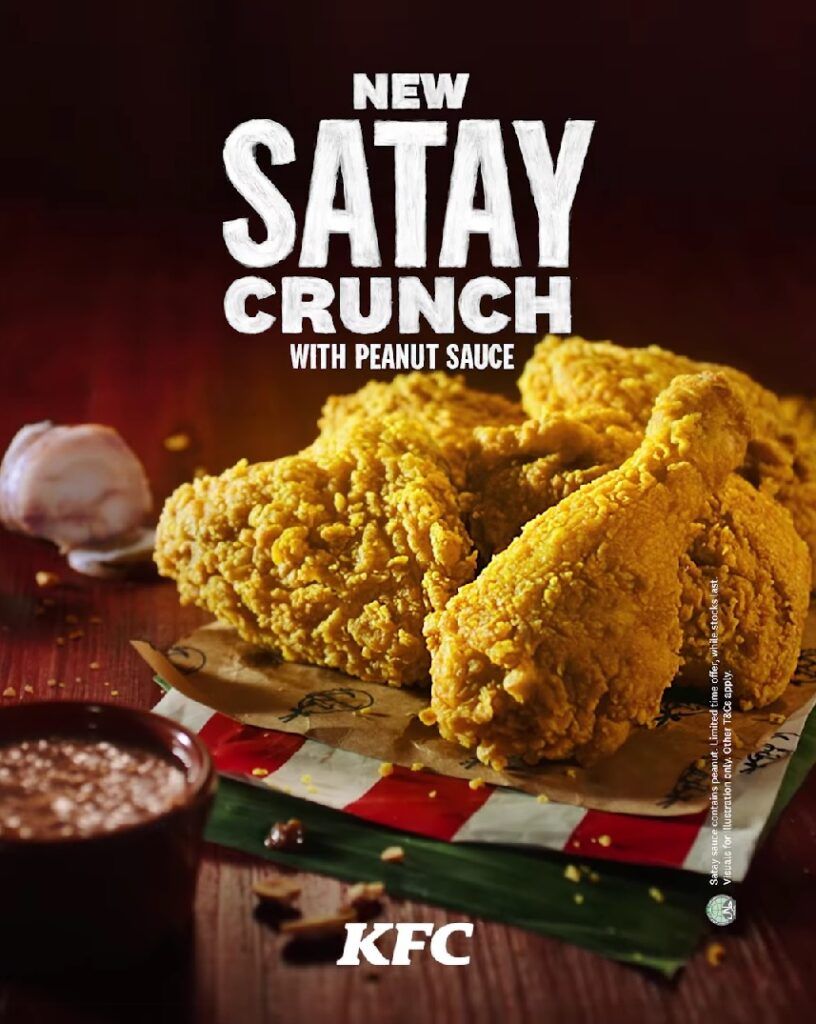 Satay Crunch Buddy Meal – This KFC menu meal includes 4 pcs Chicken, 3 pcs Hot & Crispy Tenders, (2 Med) Whipped potatoes and 2 (Reg) Cola. This full meal can be consumed by 3-4 persons, share your stories with your buddies as you bite the enjoyable buddy meal.
BBQ Pockett Family Box (Satay Crunch) – A box of Chicken, Nuggets, Hot and Crispy Tenders, and Whipped Potato combined with oozing BBQ Pockett wrapped with a soft tortilla. The special BBQ Pocket comes with a smoky BBQ sauce, mayonnaise, fresh lettuce, and crunchy nacho chips that can certainly give you and your buddy gratification.
Zinger Family Box (Satay Crunch) – This box contains Satay sauce which is made of peanuts, be wary of eating Satay Crunch if you have allergies to nuts, especially peanuts. Grab your Zinger Family Box right away to enjoy it for four people at a cheap price!
10 pcs Satay Crunch Bucket – This KFC menu consists of 10 pieces of either Satay Crunch, Original Recipe, or Hot & Crispy chicken that can be purchased as a take-home meal for the family. Chicken is indeed a good source of protein that's why KFC's Satay Bucket can be a good choice for high protein diet.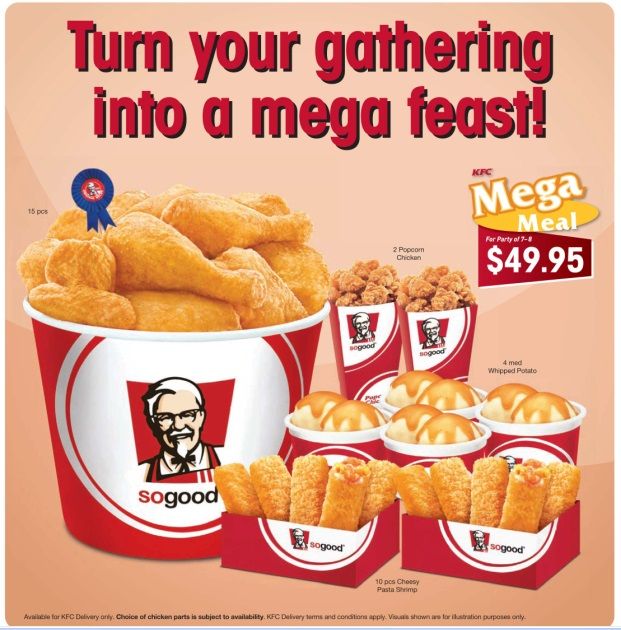 Mega Feast – KFC's well-known chicken can be paired with nuggets, zingers, whipped potato, and an additional Popcorn chicken. This finger-lickin' feast is best for family gatherings and friend's nights out. It can also be paired with the best sour cream sauce and onion sauce that can be bought separately.
10 pcs Chicken Bucket – Do you like to reminisce about the past memory that you had with KFC's original bucket? You can recall your back for every crunch of KFC's original chicken. Wrapped with 11 herbs and spices, KFC can assure you that it can bring back your childhood memory.
KFC Hot Deals Singapore
Promos and Hot Deals are also available for a limited time in KFC Singapore. You can choose from the following hot deals:
1 for 1 Original Recipe Burger – The original recipe of KFC fried chicken can now be felt in between the sesame buns of the KFC burger. This burger filled with chicken thigh dripped with special pepper mayonnaise topped with lettuce is a mouthwatering food that can surely satisfy your chicken burger cravings. KFC Singapore now offers a limited-time meal from August 15-17 only!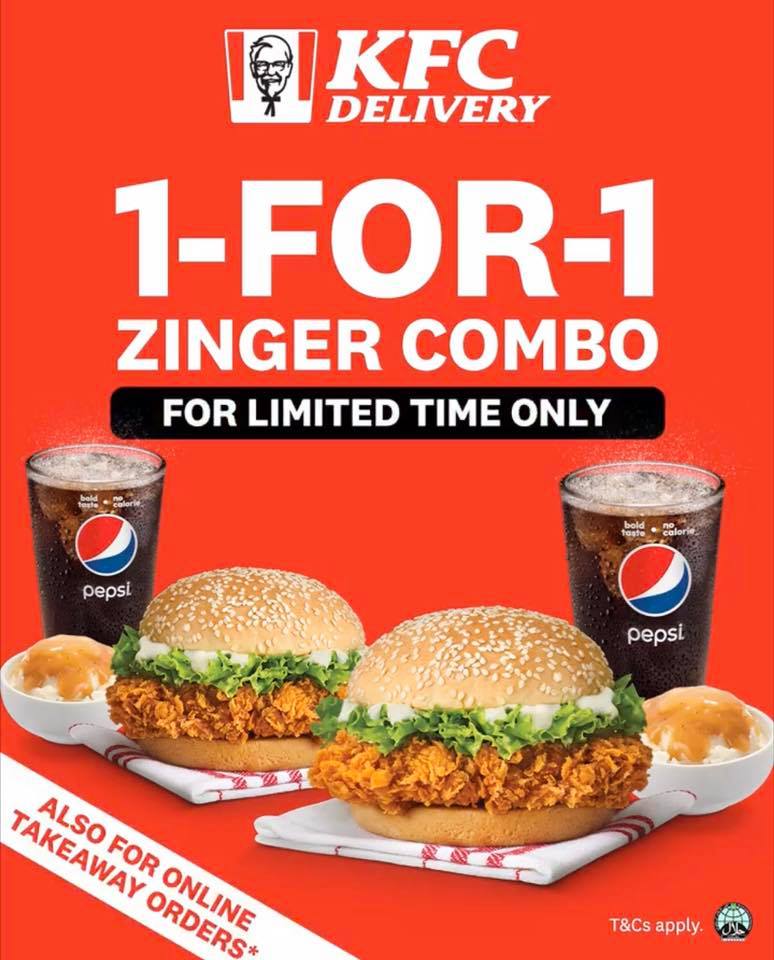 1 for 1 Zinger – A double zinger can now be experienced with a single order! A limited meal that runs from August 15-17 can be purchased at any KFC outlet. A perfect chicken sandwich that was sprinkled with ZING for spicy lovers! You can taste the pepper mayonnaise and lettuce with a twist for each Zinger bite.
Snack N Share Box – A box of 5 pcs Hot and Crispy tenders with 12 pcs Nuggets can now be ordered at your own convenience! Taste the flavor of crispy tenders and nuggets that can be paired with KFC's sour cream and onion sauce which can be only found at different KFC outlets only.
KFC Menu Delivery
Do you yearn for a KFC chicken menu? You may now experience a bucket of delight in the comfort of your own home, so just sit back and relax. Singapore KFC delivery service is open from 11 AM up to 11 PM to valid locations only. In addition, KFC requires a minimum of 14$ order and every delivery order will be subject to a 4$ charge. You can order through KFC's official website or you can use another Food Servicing/Delivery App just like Food Panda.
Talk to KFC Singapore Staff
For concerns and the phone order, you can contact KFC Singapore's call center at 6222 6111. If you have concerns with delivery and orders, you can fill out the form that can be found at the official site of KFC Singapore. Just fill out your details and wait for 2 business days to process your concerns. For an immediate response, you can just call them through the above-stated number.
Another way to reach their team is by sending them a message via their social media accounts from the following:
Facebook: https://www.facebook.com/Kfcsfb1/
Instagram: https://www.instagram.com/kfc_sg/
Twitter: https://twitter.com/kfc_sg/
Lastly, you can always see their updates if you look at their website at https://www.kfc.com.sg/
FAQs
Is KFC Singapore halal?
As KFC progressed and considered different ethnic and cultures, KFC has been given the designation of "Halal" by the Islamic Council of Singapore in the year 1994.
Is there a KFC promo?
KFC Singapore now offers promo and app exclusives! Just visit the official website of KFC Singapore, click promo code and rewards, then you can finally redeem your four exclusive promos! Promo includes Zinger Stacker Combo for 5.7$, 2 twisters for 5.7$, 1-for-1 Sjora Mango Peach, and Nuggets Combo for 3.95$. Zinger Stacker Combo, and twister, while Sjora Mango Peach and Nuggets Combo can be claimed up for a limited time. Note that this promo can only be redeemed by valid registered users only, and it is limited to one-time redemption per transaction only.
Conclusion
KFC's founder's life-changing story is worth knowing while munching a bucket of Original KFC chicken. Colonel Harland Sanders faced rejection but that doesn't stop him to pursue his dreams of serving a wide range of communities. Now KFC becomes a well-known fast-food restaurant that gives us a variety of menu lists that we can choose from. You can choose from different burgers, zingers, pocket, nuggets, and especially their best-selling chicken. KFC is the fulfillment of every chicken lover's fantasy. You'll be spoiled for choice with KFC's enormous selection of chicken bites. The store also offers a variety of drinks and pastries to satisfy the customers. So what are you waiting for? Grab a phone and place your order now!