Do you want to experience good quality fried chicken? Have you ever wondered where you could get the best-tasting chicken in Singapore? Your search is over since I have found one of the top-tier fried chicken that is available in the market these days. 4Fingers menu has a lot to offer when it comes to fried chicken, aside from those they also have different food items to offer like burgers, calamari, seafood, and many more. This very promising place already gained popularity throughout the years and becomes one of the favorites to go to places. Interesting isn't it? If I already tickle the curiosity in you then stay with me in this article and let's talk about 4 fingers. Let's go!
You can find the updated pricing information for the 4Fingers menu below.
MENU
PRICE (SGD)

Wingettes & drumettes

6 pcs combo
$10.95
6 pcs ala carte
$8.45
12 pcs combo (2 pax)
$20.45
12 pcs ala carte (2 pax)
$15.45
18 pcs combo (3 pax)
$28.45
18 pcs ala carte (3 pax)
$20.95

Drumsticks

3 pcs combo
$11.95
3 pcs ala carte
$9.45
6 pcs combo (2 pax)
$22.95
6 pcs ala carte (2 pax)
$17.95
9 pcs combo (3 pax)
$33.95
9 pcs ala carte (3 pax)
$26.45
1 drumsticks + 3 wings combo
$10.95
1 drumsticks + 3 wings ala carte
$8.45
Chicken chop combo
$10.95
Chicken chop ala carte
$9.45

Rice box

Drumsticks combo
$9.95
Drumsticks ala carte
$8.45
Wings combo
$9.95
Wings ala carte
$8.45
Seafood combo
$11.45
Seafood ala carte
$9.95
Tofu combo
$7.95
Tofu ala carte
$6.45

Burger & sandwich

B.f.f combo
$10.45
B.f.f ala carte
$7.95
Chicken katsu sandwich combo
$10.45
Chicken katsu sandwich ala carte
$7.95

Crispy seafood

Calamari combo
$10.45
Calamari ala carte
$7.95
Shrimp combo
$10.45
Shrimp ala carte
$7.95
Calamari & shrimp combo
$10.45
Calamari & shrimp ala carte
$7.95

Salad

Chicken katsu combo
$10.45
Chicken katsu ala carte
$7.95
Tofu combo
$9.95
Tofu ala carte
$7.45
Seafood combo
$12.45
Seafood ala carte
$9.95

Sides

Sweet potato fries
$3.50
Kimslaw
$3.50

Beverages

Coke regular
$2.55
Coke small
$2.00
Fanta regular
$2.55
Fanta small
$2.00
Grape regular
$2.55
Grape small
$2.00
Ice lemon tea regular
$2.55
Ice lemon tea small
$2.00
Sprite regular
$2.55
Sprite small
$2.00
Sjora regular
$3.45
Sjora small
$2.95
Iced milo regular
$3.45
Iced milo small
$2.95
Bottled water small
$1.75

Others

Smackers
$10.95
A la carte
$8.45
Chickless wings
$10.95
Surf & turf
$22.45
Time square
$19.45
Manhattan
$19.95
Green-wich
$19.45
About 4Fingers
4Fingers in Singapore was established in the year 2009. This brand has already expanded from its first outlet in Singapore to 21 more outlets in the Asia Pacific region and made it in just 4 years. Vijay Sethu is the owner of 4Fingers and they specialize in Fried chicken, salads, and burgers. 4Fingers originates in Singapore thru a group of friends who experience Korean-style fried chicken one time on their Vacation in the US. They are located in various areas like Changi Airport, Plaza Singapura, and many more. In the year 2017, this establishment announced its expansion to Australia, their first branch is located in Bourke Street. They also have a branch in Kuala Lumpur that started in 2016.
They also have a branch in L.A. California but unfortunately closed down in 2020. They announced their 50 percent acquisition with Mad Mex Fresh Mexican Grill which is an Australia-based company. This brand has a strong influence in New Zealand as well so it's not surprising if they will announce to open their first branch in New Zealand anytime soon. As a result of this partnership, 4Fingers will establish Mad Max fresh Mexican grills presence in Southeast Asia and is expected to open multiple branches across Malaysia and Singapore.
4Fingers Menu Best Seller
Presented below is the compilation of 4Fingers' top-selling menu, designed to satisfy your cravings with the most delectable dishes:
6 Pcs Wingettes & Drumettes – This is one of their best sellers. Made with their signature crispy chicken wings. Top solo order and is quite popular among its customers. Other options are also popular.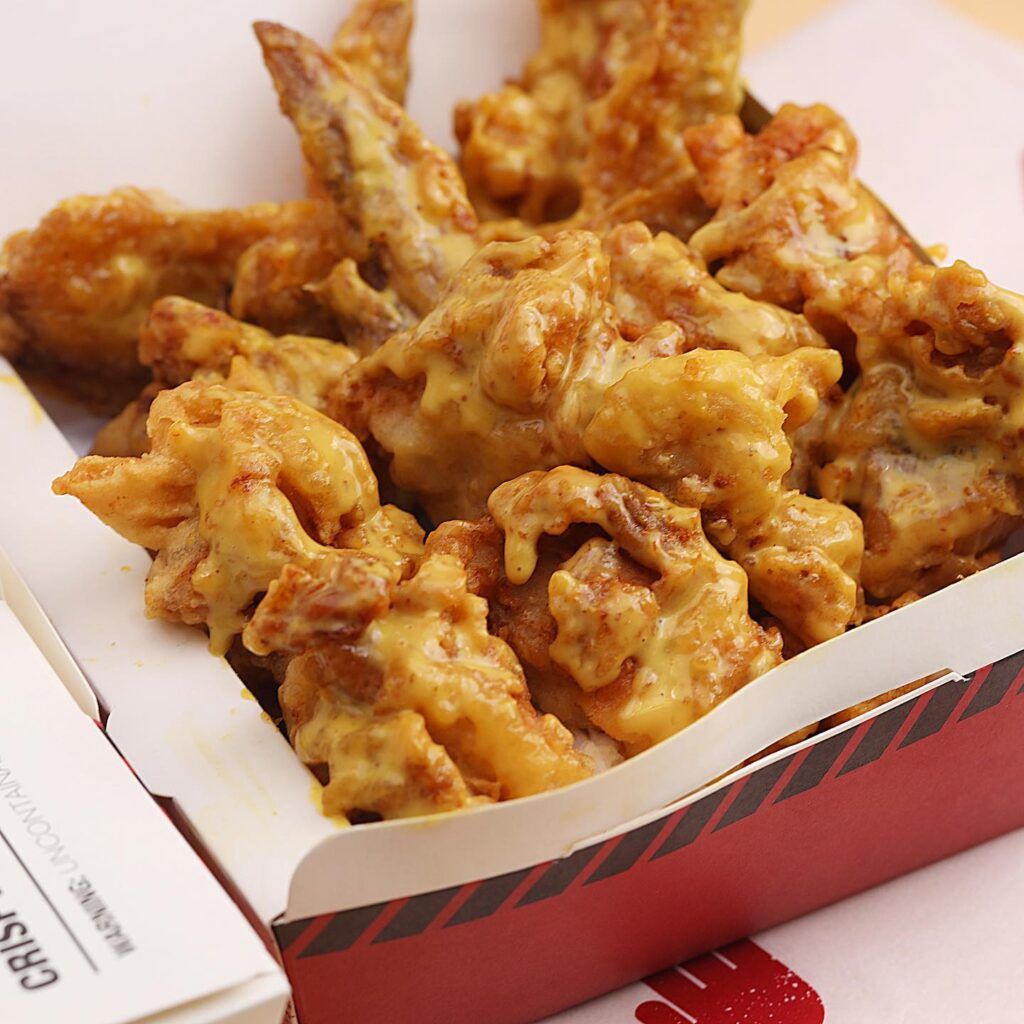 Kimslaw – This is also one of their most popular menus. Their kimchi coleslaw is best to order with chicken to balance the taste.
Plain Fries – Also one of their most popular menu, this is ordered mostly along with their chicken items or burgers. Plain fries are crispy and not too salty.
Signature Crispy Chicken
4Fingers' signature crispy chicken has a wide variety of choices on their menu. They have winggettes and drummets that you can order in 6 pcs, 12 pcs, and 18 pcs. Chicken drumsticks are available in 3 pcs, 6 pcs, and 9 pcs. Also, they have 1 pc drumsticks & 3 pcs winggettes and drumettes. Aside from those they have 50 pcs, 100 pcs, and 150 pcs winggettes and drummets for big orders.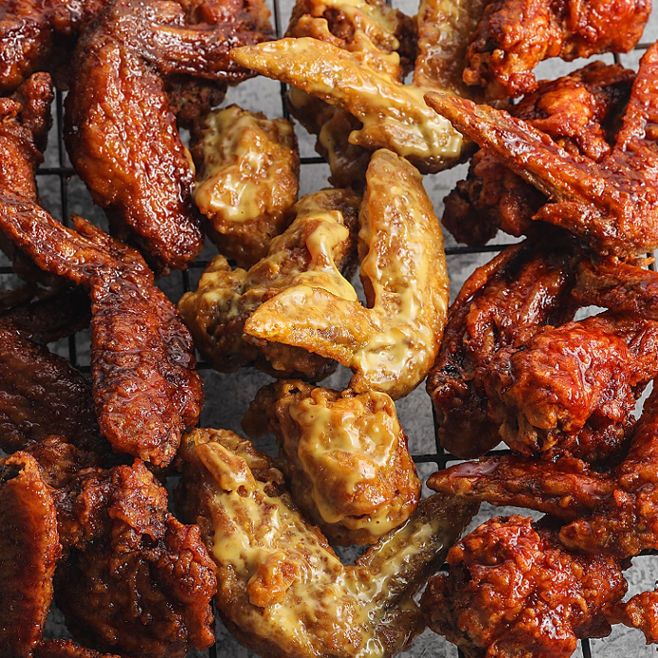 4fingers Menu Jawbreaker Burgers
They have 3 delicious jawbreaker burgers on their menu. The first one is their monster tower which is also the tallest burger on their jawbreaker menu, this has 2 chicken burger chops with enormous sizes and signature hot sauce, or could be soy garlic sauce. Next is their chees-zila this one is made for cheese lovers since this has 4 different cheeses on it. The last one is their chicky crisp, this one has a single crispy chicken chop along with smoked cheddar cheese and greens. All of the jawbreaker burgers had addictive goodness and for sure everybody will love these.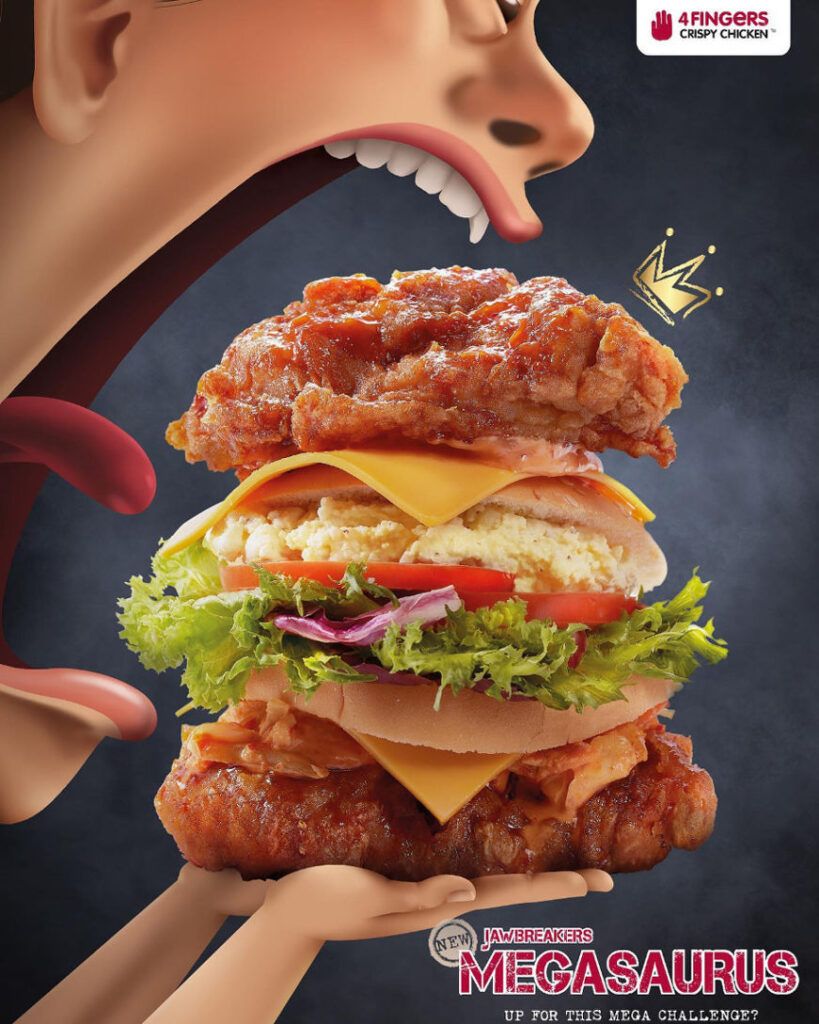 Crispy Seafood
4Fingers crispy seafood has 3 choices. The first on the list is their calamari, their calamari can be ordered in 2 choices, could be a combo or a la carte. Next on their crispy seafood menu is their shrimp which can be ordered combo and a la carte as well and lastly their calamari & shrimp which is just like the other two options can be ordered combo and a la carte. 
Rice Boxes
The 4Fingers has 4 selections on its rice boxes dishes. The first one is their drumsticks rice box which is available in combo and a la carte, next is their wings rice box which is also available in combo and a la carte. Next on the list is their seafood rice box just like the previous two this is also available in combo and a la carte. Last but not least is their tofu rice box, this is a vegetarian option on their rice box menu and is also available in combo and a la carte.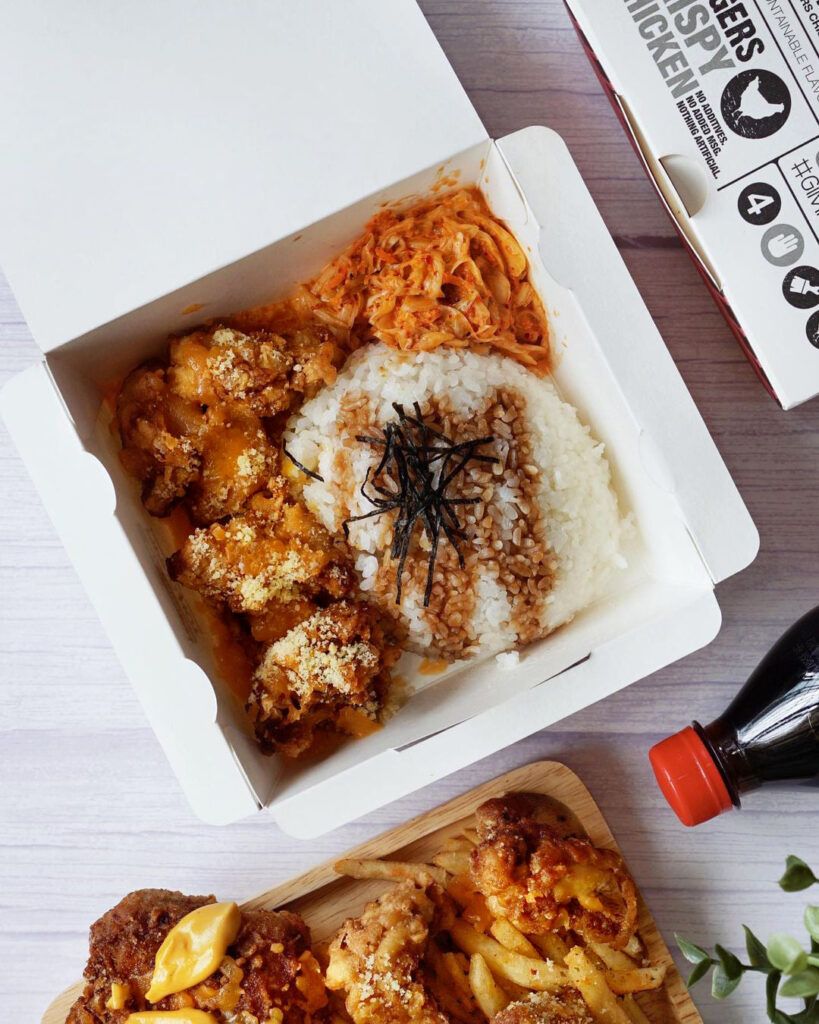 4Fingers Menu Delivery
Craving fried chicken? No worries since ordering your favorite 4Fingers fried chicken and other food items are made easy simply by going to their website at https://www.4fingers.com.sg/ on their website you can also find their location near you or pre-order items for pick up so you won't have to wait in line. Aside from that you can also try using other flat forms such as delivery services like Deliveroo and Food Panda. 
Social Media Pages
Experience a culinary journey with 4Fingers! Follow their social media pages to stay up-to-date on their latest menu offerings and promotions. Join their online community to connect with other food enthusiasts and share your dining experiences.
Facebook: https://www.facebook.com/gimme4fingers
Instagram: https://www.instagram.com/gimme4fingers/
Twitter: https://twitter.com/gimme4fingers
FAQs
What types of fried chicken do 4Fingers offer?
4Fingers is offering Asian-style fried chicken as they specialize in creating the best and most healthy fried chicken without compromising the quality and the taste of their products.
Do 4Fingers have any special deals or promotions?
Yes! They have special deals and promotions for their customers however their promotions have a time limit so to be able to avail of the promotion you must be updated always. How to do that? You can follow or like their social media accounts like Facebook or Instagram.
Does 4Fingers offer vegetarian or vegan options?
Yes, they have vegetarian options on their menu however we can say that it's just a few items but at least they have right? Tofu rice box is the best example of their vegetarian dish that I'm sure you will truly enjoy because it's delicious.
Is 4Fingers restaurant halal-certified?
Yes, 4Fingers is halal-certified. They are committed to providing their Muslim customers with halal-certified products for their peace of mind while enjoying their delicious products.
Conclusion
One of the best places to go especially if you are a fan of fried chicken. 4Fingers menu is one of the top choices. Their products are delicious with good quality. All of their products are flavorful also their sauce. The chicken meat is clean and crispy, one thing that I really appreciate about this place is their products are still delicious even if it's not hot since I tend to order and forgot that I have it and realize it after a day. Great place clean and fresh surroundings, great service crews, delivery is fast as well. One of my top favorites and highly recommended.