According to the legend, at about 2700 BCE, tea has been well-known in China. Over a period, it was a medicinal beverage acquired by boiling fresh leaves in water. In the 3rd century CE, it turns into an everyday drink after every meal. From that time on, tea agriculture and processing began. Tea has been a part of daily life in Asian countries. Discovering the advantage it gives to the body, this then was commercialized. Here comes the evolution of how tea can be consumed as a beverage. From traditional hot tea to the invented iced tea, now we enjoy its creaminess with the combination of milk, and we call it, Milk Tea. The Alley menu serves you a lot of choices of teas with your desired flavors.
The Alley Menu Price List [Updated]
MENU
PRICE (SGD)

Premium Milk Tea Series

Hone Classis Milk Tea
$5.50
Honey Milk Tea
$5.50
Honey Green Milk Tea
$5.50
Garden Milk Tea
$6.00
Peach Oolong Milk Tea
$5.00
Classic Milk Tea
$4.40
Royal No 9 Milk Tea
$4.80
Jasmine Green Milk Tea
$4.40

Himalayan Salt Macchiato

Black Tea Macchiato
$4.80
Jasmine Green Tea Macchiato
$4.80
Royal No 9 Tea Macchiato
$5.50
Peach Oolong Macchiato
$5.70
Matcha Macchiato Latte
$6.50
Brown Sugar Macchiato Latte
$6.50

Brown Sugar Deerioca Series

Brown Sugar Deerioca Fresh Milk
$6.80
Matcha Brown Sugar Deerioca Fresh Milk
$7.30
Cocoa Brown Sugar Deerioca Fresh Milk
$7.30
Brown Sugar Deerioca Creme Brulee Milk
$7.80

Specialty Menu

Honey Classic Black Tea
$4.90
Passionfruit Green Tea
$5.70
Lychee Green Tea
$6.00

Yogurt Series

Original Purple Rice Yogurt
$7.10
Lychee Yogurt
$7.50
Strawberry Yogurt
$7.50
Matcha Purple Rice Yogurt
$7.50

Lulu Fresh Fruit Series

Snow Strawberry Lulu
$7.20
Snow Mango Lulu
$7.20
Snow Lychee Lulu
$7.20

Original Brewed Tea Series

Classic Black Tea
$3.80
Royal No 9 Black Tea
$4.20
Jasmine Green Tea
$3.80
Peach Oolong Tea
$4.40

Party Box & Merchandize

Party Box perfect for 5! Enjoy a mini bubble tea party with your family or friends!
$48.00
The Alley Reindeer Plushie Deer Papa
$30.80
The Alley Ombre/Silver Tumbler - 500 ml
$26.20
The Alley Eco Cup - 500 ml
$14.10
About The Alley
In 2015, Mao-ting Chiu, a graphic designer, founded this new Taiwanese brand Tea and has grown across Taiwan, Japan, China, the Philippines, Singapore, Australia, Canada, France, and the USA. This Taiwanese-based modern bubble tea chain is identified for its Brown Sugar Deerioca (tapioca pearl) drinks. It has stylish and distinct branding features their signature logo – a buck head or a male deer – which is patronized and loved by the people.
A tea that is carefully crafted by their own hand and flavored with the warmth of their heart, the ALLEY TEA. In producing these invigorating drinks, they picked high-quality sugar canes and go through a boiling process to make the sweetness of each taste delicate. Tapioca, as one of their ingredients, was kneaded and rolled carefully into a dough and made into small balls that produce a smooth fine texture. The main component, which is the tea leaves, was deftly picked and went through a roasting process along with other ingredients. The combination of each element is life-giving to the taste.
The Alley Menu Best Seller Tea
Every drink in the Alley represents every chapter of their success according to the Taiwanese founder Mao-ting Chiu. The Alley menu has the following as their best seller for it is made popular by the customers; Royal No.9 Milk Tea, Brown Sugar Deerioca Fresh Milk, Brown Sugar Deerioca Creme Brulee Milk, Cocoa Brown Sugar Deerioca Fresh Milk, and Snow Velvet Brown sugar Tea Latte.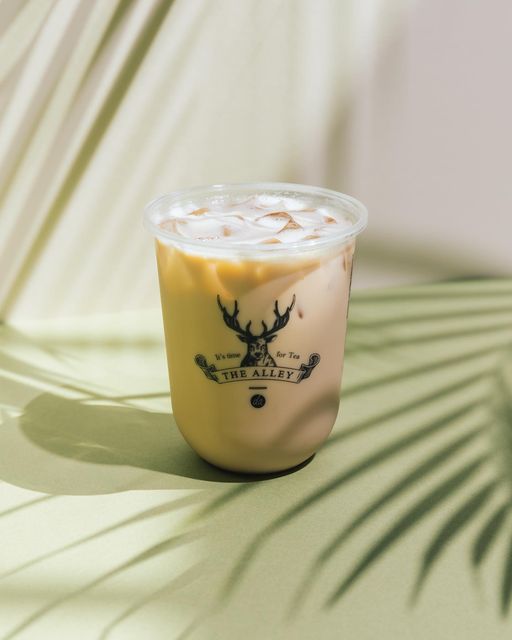 These flavoured teas were the most accepted by the majority. Spiced with brown sugar, Deerioca pearls, milk, and crème, these teas gain popularity. The Alley had captured the taste of many. The choice is yours and the joys of seeing each client satisfied with the service belong to The Alley. Every business is not just a business to profit but, to leave a mark of fulfillment, that once, you have made one's life blissful.
The Alley Black Tea
Black tea is the most common kind of tea in the west, most likely due to its valiant savor. It can also be enjoyed either hot or cold. Came from the Camellia sinensis plant, black tea is a true tea. Black tea leaves undergo full oxidation before being processed and dried.
The Alley menu uses black tea with a combination of other elements such as high-quality sugar cane syrup, tapioca pearl, and black tea leaves. And to enhance its flavor, it is combined with fresh milk and soy, which make this drinks taste absolutely incredible. The Alley black tea is one of a kind you will always wish for when dull moments of life exist.
The Alley Crunchy Milk Tea
Here comes the new launch Milk Tea Series, the Crunchy Milk Tea. This series features three new flavors which contain Crunchy Brown Sugar Milk Tea (S$6.30), Crunchy Cocoa Milk Tea (S$6.30), and Crunchy Tiramisu Milk (S$7.30).
Be delighted with the new innovation of a dessert in a cup. This beverage is topped with crunchy butter crisps, with a sugar milk tea, and is chocolate-based. These are the Crunchy Brown Sugar Milk Tea and the Crunchy Cocoa Milk Tea.
Blend in the golden-brown bits, and this lip-smacking and luscious crunchy milk tea will surely surprise you. The explosive flavors and spellbinding textures of each component of this newly launched milk tea will embrace your memory.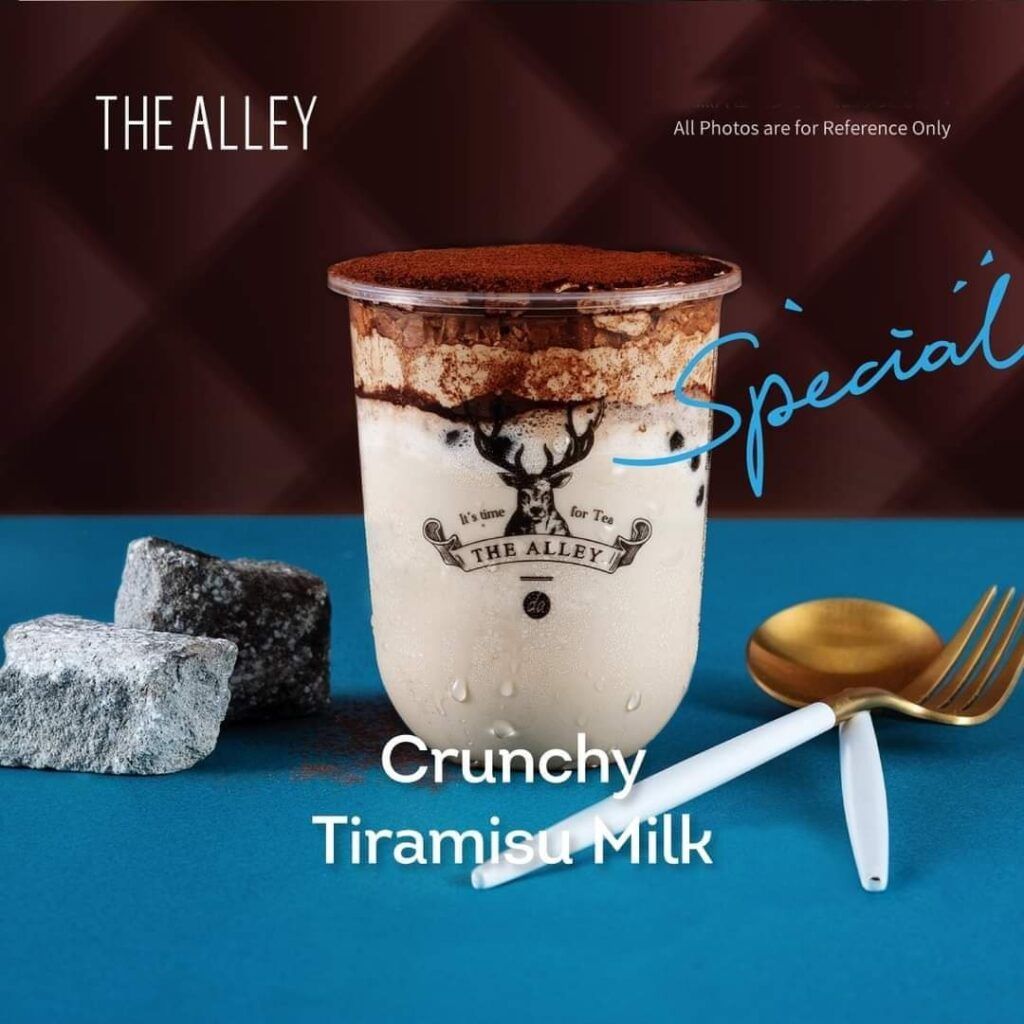 Be fascinated by the overwhelming sweetness of the caffeinated beverage, Crunchy Tiramisu Milk. You will be amused by the thick foamy coating of mascarpone cream and crumbled butter biscuits concealed under a princely covering of cocoa powder. This Crunchy Tiramisu Milk will leave you yearning for more even after you have consumed the entire cup.
What are you waiting for? Try now, have a cup of these new crunchy milk tea. A Tea that is for you and me!
The Alley Menu Delivery
Alley delivers right to your doorstep whether you are at home, school, or office. Alley values each customer with care for they are partners to the success of this refreshment. They cater to you wherever you may be. Just click http://www.the-alley.sg/ and it will redirect you to Alley's page for your inquiries and orders. Or you may send a message thru FB messenger The Alley Singapore. You may also use FoodPanda App or GrabApp to grab a tea from Alley. Try Alley Tea and you will never regret each sip that will amaze your gustatory palates. Surely, life is awesome, don't miss experiencing Teas in THE ALLEY.
Conclusion
The only way to know, to prove, and to tell is to EXPERIENCE it. Do not be content to become a mere listener to the hearsay, be the ONE to say. If you have not yet familiar with THE ALLEY menu, take the opportunity to know by taking a chance to grab a tea from them. Experience the beauty of each delicate way of preparing each teas coupled with the love to make you feel blissful while enjoying and being refreshed by the food and drinks that they prepare for you. Enjoy with families, friends, and your loved ones and create a happy memories for The ALLEY is for you and me!