The Gimee Face menu includes Chinese-inspired cuisine, such as noodles and soups. These dishes' common toppings or ingredients are fish balls, mushrooms, pork balls, pork slices, pork liver, and minced pork. Diners love the combination of its ingredients and its local taste with a modern twist. These heartwarming dishes are available for dine-in, takeout, and delivery.
You can find the updated pricing information for the Gimee Face menu below.
MENU
PRICE (SGD)

Give Face Special

Abalone Pork Noodle
$8.80
Longevity Dry Mee Sua
$6.80
Spicy Volcano Mee Kia Soup
$8.80

Noodles

Original Pork Noodle
$5.50
Mala Spicy Pork Noodle
$6.80
Teochew Fish Ball Noodle
$6.80
Braised Pork Rib Noodle
$7.50
Silky Pork Liver Noodle
$5.50
Fish Ball Kuey Teow Soup
$5.50

Add Ons

Noodle
$1.00
Half Soy Lava Egg
$1.00
Squid Abalone
$1.00
Mini Abalone
$2.50
Fish Ball
$1.00
Teochew Fishball
$2.00
Meatball
$1.00
Pork Slice
$1.00
Minced Pork
$1.00
Pork Liver
$1.00
Pork Ribs
$3.00

Soups

Homemade Pork Ball Soup
$6.00
Bouncy Fish Ball Soup
$5.50

Choice of Extras for Soup

Mee Kia
$1.00
Mee Pok
$1.00
Kway Teow
$1.00
Yellow Noodle
$1.00
Bee Hoon
$1.00
Mee Sua
$1.50

A La Carte

Hei Bee Hiam Pork Liver
$5.00
Hei Bee Hiam Duo Balls
$6.50
About Gimee Face
Gimee Face is a noodle house in Singapore founded by Kelvin Chua and Daniel Tay. They named it Gimee Face as they want people to give some face and try their delicious dishes. This restaurant's jade green and gold shades complement the fancy bowl of noodles and soups it serves.
Gimee Face Menu Best Seller
Gimee Face offers various noodles and soups. Here are some of the best sellers of this restaurant that are well-loved by its patrons as it gives a comforting feeling and makes them feel better.
Original Pork Noodles – The original taste of this pork noodle gives diners a sense of warmth. Mee Kia and Mee Pok are the noodles that customers can choose from. Chili can be added if you want a spicy meal.
Teochew Fish Ball Noodle – Fish ball is one of the favorite food of Singaporeans because of its versatility and delicious taste. It is one of the common ingredients added to soups and noodles, as its flavor and texture go well together. This delicious noodle dish comprises mee kia or mee pok, fishball, fishcake, and mushrooms.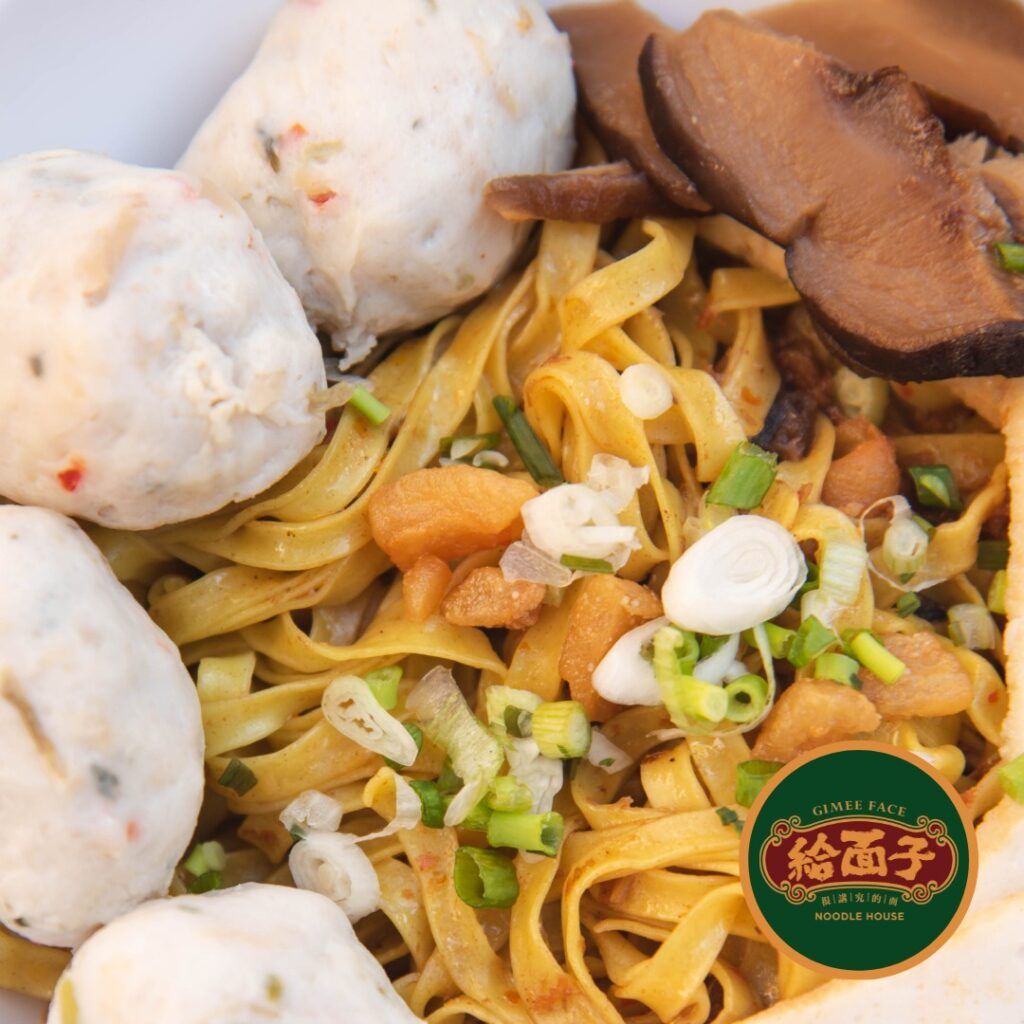 Bouncy Fish Ball Soup – A heartwarming soup menu of Gimee Face that consists of bouncy and delicious fish balls and other special ingredients. The white and glossy fish ball enhances this soup's flavor and visual presentation. It can warm you up inside and out, improving your mood. 
Mala Spicy Pork Noodle – Wake up your senses with this mala spicy pork noodle made with mee kia, slices of pork, minced pork, fishball, pork liver, pork balls, and mushrooms. The Mala paste gives a hint of spiciness that tingles the tongue. Its fiery level of spiciness is consistent throughout the whole bowl, making it exciting. Pork balls are soft and bouncy, and soft noodles create an appetizing fusion.
Homemade Pork Ball Soup – One of the special dishes of Gimee Face. It can make you feel better as its soup is comforting, and the other ingredients are flavorful. The generous amount of pork balls make this soup hearty. It is made with minced pork and special seasonings and shaped into a ball.
Gimee Face Menu Give Face Special 
These are the special dishes of Gimee Face Singapore that encourages people to come back more. The ingredients of its dishes are perfectly combined, making them delicious, soul-soothing, and one-of-a-kind.
Abalone Pork Noodles – One of the popular noodle dishes of Gimee Face. Your choice of noodles is served with whole abalone, pork slice, ramen egg, minced pork, fish ball, pork liver, mushroom, and pork ball. The whole abalone enriches this dish with its salty and buttery flavor profile.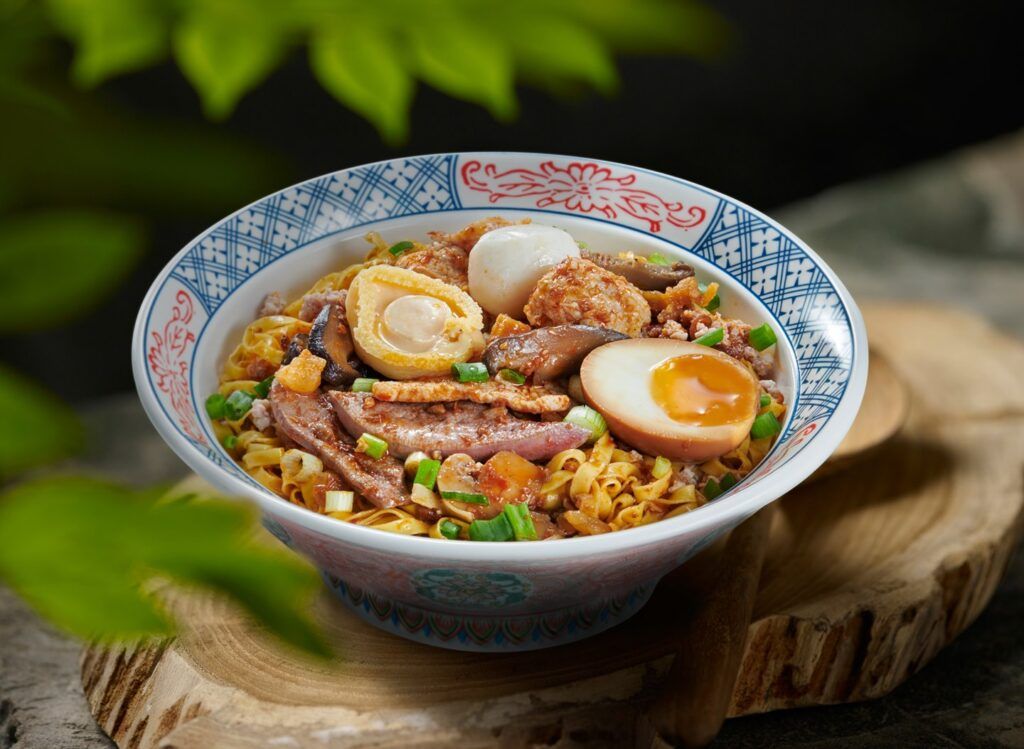 Spicy Volcano Mee Kia Soup – A dish that is bursting with savory and spicy flavor. Pork slices, minced pork, fish ball, pork liver, ramen egg, and mushroom are topped with your preferred noodle. It is a great dish that will surely satisfy the cravings of spicy food lovers.
Longevity Dry Mee Sua – Longevity noodles represent long life and good health. It is a classic food commonly served on traditional and special occasions. The chunky sambal dressing and flavorsome toppings of this noodle make it extraordinary.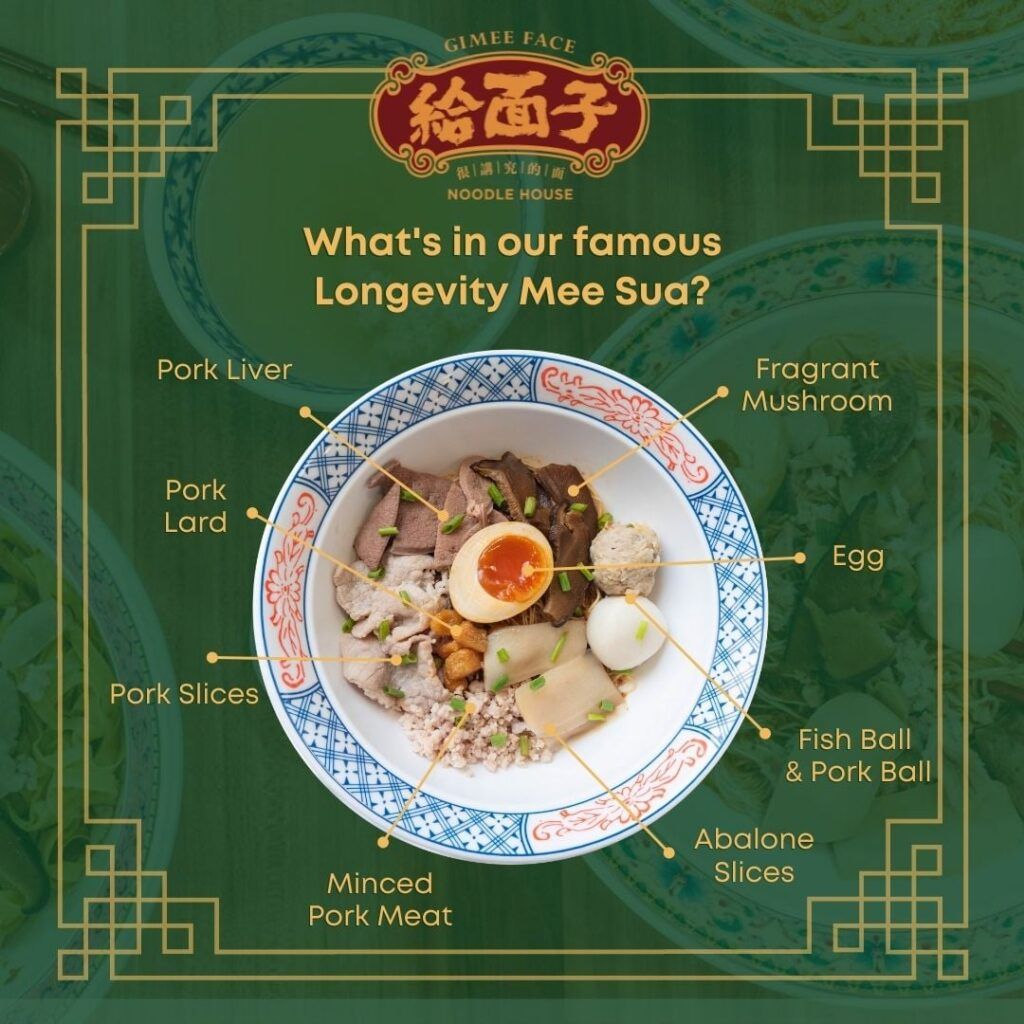 Gimee Face Menu Noodles
Noodles are one of the go-to foods of people of all ages as they are bursting with flavors, can be enjoyed at any time of the day, and gives a comforting feeling. Gimee Face serves dry and soup noodles.
Braised Pork Rib Noodles – Noodles are stir-fried with flavorful ingredients and topped with braised pork. Pork ribs are expertly marinated with a special mix of ingredients. The tenderness and mild sweetness of the pork and the savory sauce complement well with the noodles.
Silky Pork Liver Noodle – The slices of silky pork liver are laid on top of your preferred noodle. It is remarkable for the soft and silky texture of its noodles. For those who love spicy food, adding chili will enhance its taste, making each bite gratifying.
Fish Ball Kuey Teow Soup – It is a light soup made with kuey teow noodles and topped with fish balls and slices of fish cake. The white color of noodles, fish balls, and fish cake and the light soup of this dish makes it look elegant. This luscious soup is perfect for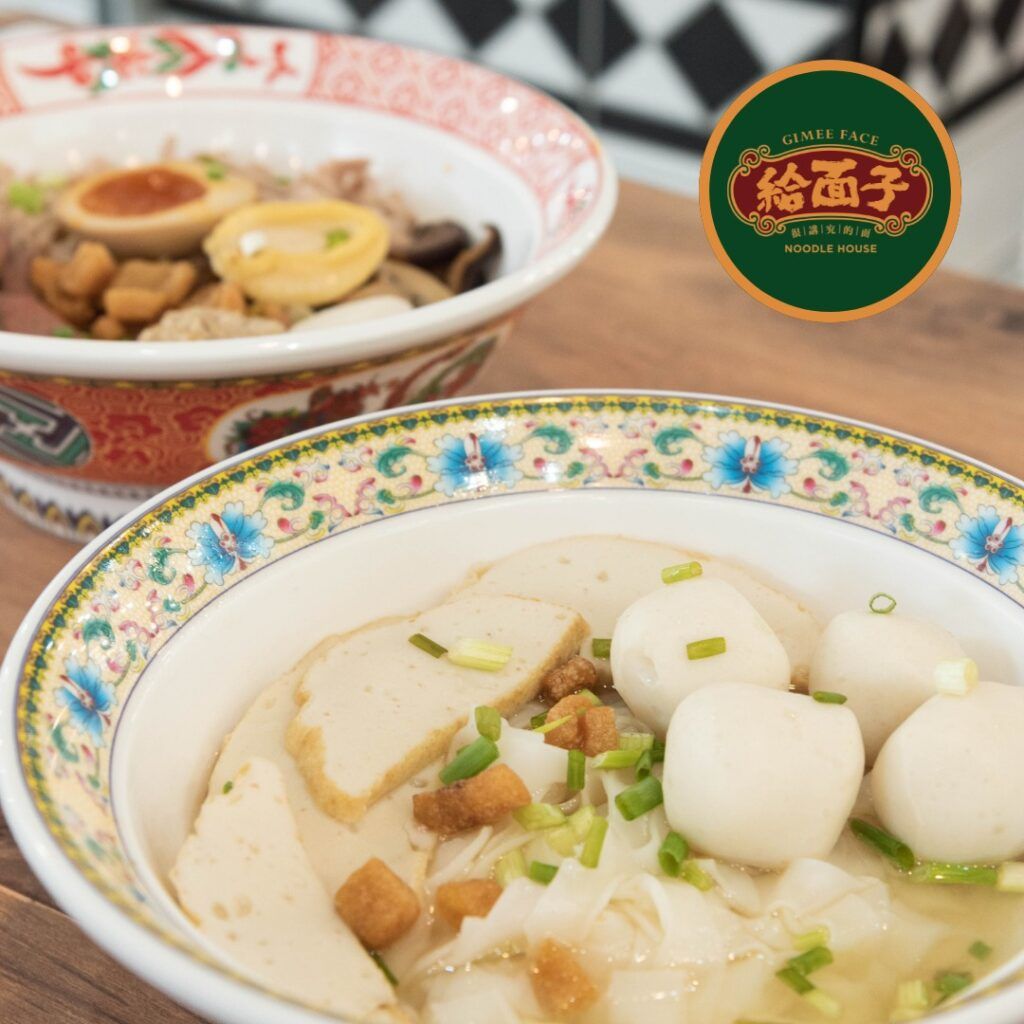 Soups
Soups are one of the comfort foods known to boost serotonin levels, a brain chemical that can make you feel relaxed. The soup served by Gimee Face consists of Homemade Pork Ball Soup and Bouncy Fish Ball Soup. Both soups are made with the same ingredients, except pork and fish balls. To make it more filling and flavorful, add extra food items such as Mee Kia, Mee Pok, Kway Teow, Yellow Noodles, Bee Hoon, and Mee Sua.
Gimee Face Menu Delivery
Warm your heart and nourish your body with the nutritious and comforting dishes from Gimee Face, now available for delivery through the user-friendly websites and applications of Deliveroo, FoodPanda, and GrabFood. Say goodbye to the hassle of cooking or dining out, as Gimee Face brings their delectable offerings straight to your doorstep. With just a few simple taps on your preferred delivery platform, you can enjoy a satisfying and wholesome meal from the comfort of your own home. Embrace the convenience and flavors that Gimee Face has to offer, and let the reliable delivery services take care of the rest. It's time to treat yourself to a nourishing and delightful dining experience without any stress.
Gimee Face Social Media Pages
Stay up-to-date with the latest news and delicious menu items from Gimee Face by following their social media pages. And if you have any questions or need more information, don't hesitate to send them a message. They're always happy to hear from their customers!
Facebook: https://www.facebook.com/gimeeface
Instagram: https://www.instagram.com/gimeeface/
Email: [email protected]
FAQs
What kind of food does Gimee Face Singapore serve?
Noodles and soups are the kinds of food that Gimee Face Singapore serve.
Where is Gimee Face Singapore located?
Gimee Face Singapore has outlets in the following locations:
Hougang – 681 Hougang Ave 8 S530681
Ang Mo Kio – 339 Ang Mo Kio Ave 1, #01-1601 S560339
Telok Blangah – 46 Telok Blangah Drive S100046
Holland – 46 Holland Drive S270046
Hougang – 21 Hougang Green St 51 S538719
Bukit Batok – 371 Bukit Batok St 31 s650371
Toh Guan – 267A Guan Road S601267
Does Gimme Face Singapore offer vegetarian options?
Gimee Face Singapore does not offer vegetarian options.
Is Gimee Face halal?
Gimee Face Singapore is not a halal-certified noodle house, as most noodles and soups contain pork.
Conclusion
The Gimee Face menu is simple, consisting of only noodles and soups. It is perfect for those who want a comforting and filling meal. The special combination of its ingredients is the feature of these dishes that make them different from other noodle houses. These dishes are perfect if you are not feeling well or during cold weather.