The Chug Chug menu offers a diverse range of offerings, combining Asian and Western flavors to create a unique and exciting dining experience that ranges from food items to beers, cocktails, and other beverages. However, their menu offerings do vary or change periodically which allows customers always to be excited whenever they come back to Chug Chug because they don't know what to expect. Aside from its menu, Chug Chug also offers a lively and relaxed atmosphere, making it a great place to hang out with friends, catch up over drinks, or enjoy a meal.
You can find the updated pricing information for the Chug Chug menu below.
MENU
PRICE (SGD)

Pasta

Fiery Mala Pasta
$18.00
Tomato Cream Beef
$18.00
Bacon Aglio Olio
$14.00
King Prawn Chug's Tom Yam
$20.00
Scallop Mentaiko Pasta
$20.00
Vongole
$18.00
Truffle Wild Mushroom Pasta
$18.00
Seafood Chilli Crab Pasta
$22.00

Finger Food

Truffle Angel Hair Cold Pasta
$13.00
Duck & Seafood Crepe
$16.00
Crispy Roasted Pork Belly
$14.00
Har Cheong Gai
$13.00
Fried Garlic Pork
$13.00
Chug's Style Sambal Stingray
$18.00
Japanese Pitan Tofu
$13.00
Fried Mushrooms with Curry Cream
$13.00
Basket of Fries
$12.00
Mala Calamari
$14.00
Mala Fries
$14.00
Spam Fries
$13.00
Mala Fried Calamari
$13.00

Mains

Chug's Buttermilk Chicken Burger 2.0
$18.00
Fish & Chips
$16.00
Black Angus Kalbi Ribeye with Truffle Mash
$29.90
Signature Mala Mini Pot
$22.00
Fresh Salmon Fillet with Truffle Mash & Spinach Cream Sauce
$24.00
Ginseng Chicken Noodle Stew
$20.00
Chef Recommended Chug's Wasabi Prime Beef Burger
$18.90

Non Alcoholic Chugs

Shirley Temple
$8.00
Virgin Mojito
$8.00
Cinderella
$8.00
Mango Yuzu Smoothie
$8.00
Strawberry Smoothie
$8.00
Yuzu Mint Smoothie
$8.00

Canned & Bottled Beverages

Coke
$4.50
Ginger Ale
$4.50
Yoyic Original
$4.50
Tonic Water
$4.50
Soda Water
$4.50
Red Bull
$4.50
Sprite
$4.50
Green Tea
$4.50

Teas

Chug's Iced Tea
$4.50
Chug's Mango Iced Tea
$6.00
British Breakfast Tea
$4.50
Lemon Ginger Mint Tea
$4.50
Chamomile Dream Tea
$4.50
Osmanthus Sencha Tea
$4.50

Beers

Hite
$8.00
Tiger Crystal
$8.00
Hahn Superdry
$8.00
Hoegaarden Rose
$11.00

Soju

Jinro Grapefruit Soju
$16.00
Jinro Green Grape Soju
$16.00
Jinro Strawberry Soju
$16.00
Jinro Plum Soju
$16.00
Jinro Peach Soju
$16.00

Premium

Babydoll Sauvignon Blanc 2017
$56.00
Babydoll Pinot Noir 2016
$60.00
Fetzer Sundial Chardonnay 2017
$56.00
Fetzer Valley Oaks Cabernet Sauvignon 2016
$60.00
Marrenon Merlot 2017
$58.00
Michel Lynch Sauvignon Blanc 2017
$58.00

Sparkling Wines

Pico Maccario Moscato Docg 2017
$56.00
Casa Burti Flute En Rose
$52.00
Moet Imperial Brut
$118.00

Chug's Special Cocktails

Yuzu Burst
$16.00
Forbidden Yogurt
$18.00
Chug Beer
$16.00
Head Spin
$25.00

Cider & Others

Sparkling Peach Sake Jelly
$13.00
Brother's Toffee Apple Cider
$14.00
Sparkling Yuzu Sake Jelly
$13.00
Row Hard Root Beer
$11.00
About Chug Chug
Chug Chug Singapore is a gastro bar in Singapore that offers a casual and vibrant dining experience. With a fusion of Asian and Western cuisine paired with its lively and relaxed ambiance, Chug Chug aims to delight diners with a diverse menu that caters to various preferences and a place to gather for drinks and a casual meal. Overall, Chug Chug provides a welcoming environment for the locals in Singapore and those tourists who come to visit.
Chug Chug Menu Best Seller
This menu is made up of the best-selling items at Chug Chug because of their superior flavor, quality, and taste.
King Prawn Chug's Tom Yam – This is a soup dish that has a good balance of sourness and spiciness, with a generous portion of fresh and succulent king prawns. The lemongrass and kaffir lime leaves added a refreshing aroma to the dish making this dish a delicious and comforting bowl of tom yam.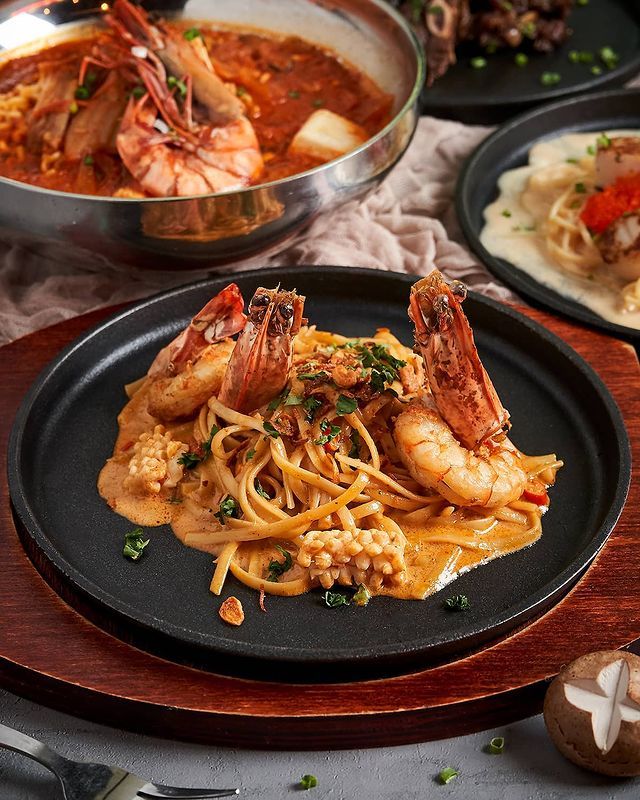 Crispy Roasted Pork Belly – This pork belly dish has a crispy and well-seasoned skin, while the meat is juicy and tender. The accompanying apple sauce added a nice touch of sweetness and tartness to balance the richness of the pork making it a satisfying and indulgent dish.
Fish & Chips – The fish in it is coated in a crispy and golden batter, while the flesh is moist and flaky. The accompanying fries are also crispy and well-seasoned and the tartar sauce had a tangy and creamy flavor that paired well with the fish.
Signature Mala Mini Pot – This mini pot contains an assortment of ingredients, such as sliced beef, pork belly, vegetables, and glass noodles, all cooked in a spicy and numbing mala broth.
Chug Chug Menu Pasta
This menu is made up of different varieties of pasta dishes that are luxurious, flavorful, and filling.
Vongole – The clams used in this dish are fresh and cooked just right, with a subtle briny flavor that complemented the light and fragrant white wine and garlic broth. The spaghetti is cooked al dente to properly absorb the flavors of the sauce well, resulting in a satisfying and flavorful dish.
Truffle Wild Mushroom Pasta – This is a pasta dish that features a delightful combination of earthy wild mushrooms and the aromatic essence of truffle. The pasta is cooked to a perfect al dente texture, and the sauce had a rich and creamy consistency while the truffle flavor added a luxurious touch, enhancing the overall taste profile of the dish.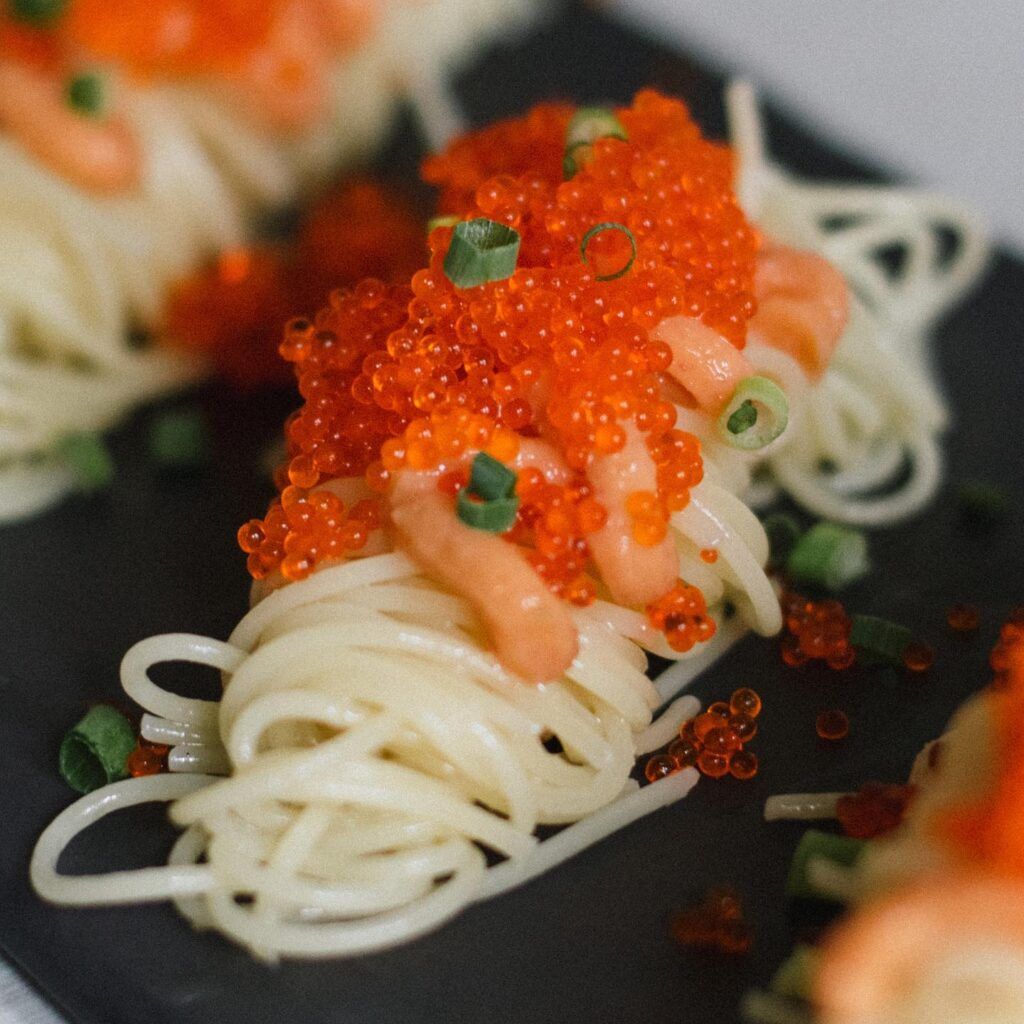 Seafood Chilli Crab Pasta – The pasta in this dish is cooked with a spicy and tangy chili crab sauce that incorporates the sweetness of crab meat and the savory notes of spices. The dish is generously loaded with fresh and succulent seafood, such as prawns and squid, adding a delightful seafood element that makes for a unique and satisfying dining experience.
Finger Food
This menu is made up of small food offerings that can be eaten by simply picking up from the plate with your fingers.
Basket of Fries – The basket of fries at Chug Chug is a classic and comforting appetizer and is a great dish to share and pairs well with drinks. The fries are well-seasoned, crispy on the outside, and fluffy on the inside and are made more perfect by the selection of dipping sauces, adding an extra layer of flavor.
Mala Calamari – The calamari is tender and cooked to perfection, coated with a spicy and numbing mala seasoning. The dish had a nice balance of heat and flavor, with the mala spices adding an enjoyable kick. It has a unique and flavorful twist on the traditional calamari dish making it a great choice for those who enjoy spicy and aromatic dishes.
Mala Fries – The fries in this dish are all crispy and seasoned with a mala spice blend, giving them a fiery kick. The mala seasoning provided a numbing sensation and added a depth of flavor to the fries making it one of the must-tries for spice enthusiasts looking for a unique twist on their favorite snack.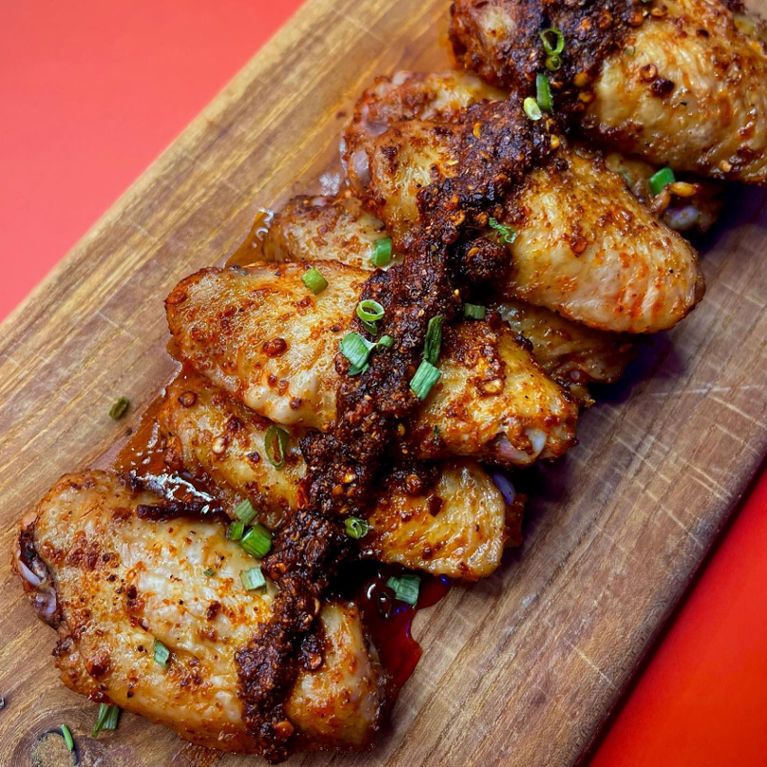 Chug Chug Main Menu
This menu is made up of luxurious but budget-friendly main dishes that are both flavorful and generously proportioned.
Fresh Salmon Fillet with Truffle Mash & Spinach Cream Sauce – This is a delightful dish that combines tender salmon fillet with rich flavors which combines the flavors and textures of the fresh salmon and truffle mash to create a well-balanced and satisfying dish.
Ginseng Chicken Noodle Stew – This is a comforting and nourishing dish that features tender chicken pieces, fragrant ginseng, and a medley of vegetables all in a flavorful broth. The stew itself has a hearty and comforting quality, making it a great choice for a comforting meal on a chilly day.
Chef Recommended Chug's Wasabi Prime Beef Burger – This is a unique and bold take on a classic burger that uses a juicy and flavorful beef patty complemented by a tangy and spicy wasabi sauce. The combination of the savory beef, the spicy kick from the wasabi, and the freshness of the toppings made this burger a standout choice for those looking for a flavorful and satisfying meal.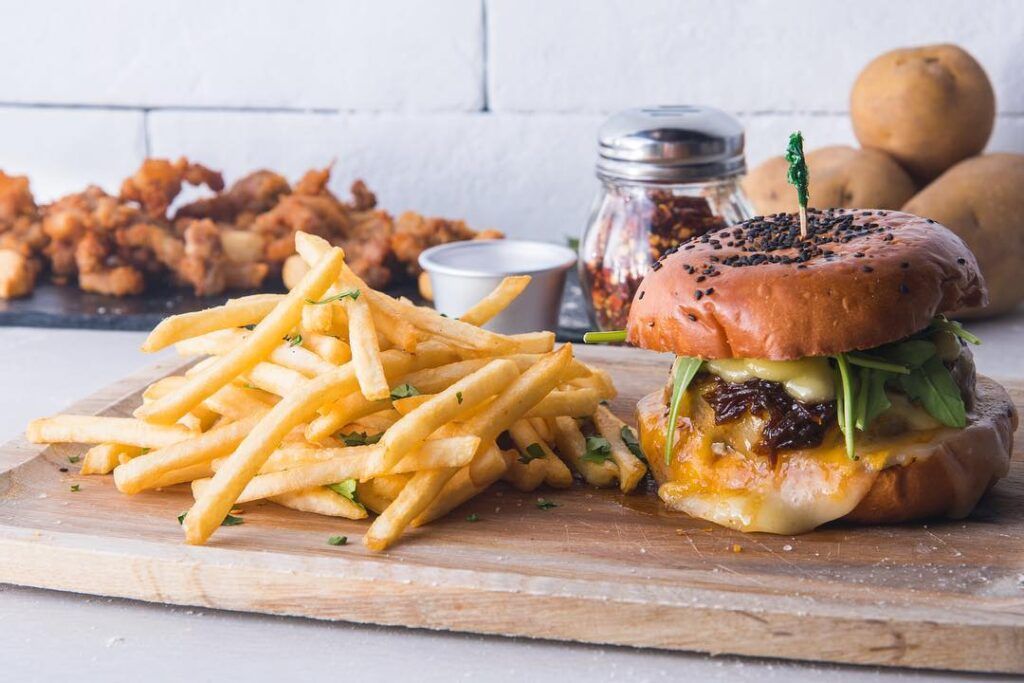 Non Alcoholic Chugs
Experience a diverse menu of non-alcoholic chugs specially crafted to deliver a refreshing and flavorful journey, sans alcohol. These delightful beverages combine a medley of juices, syrups, soda, fresh fruits, and herbs to create a tantalizing and invigorating experience. Quench your thirst with our selection of vibrant and revitalizing chugs, available to satisfy your craving for a non-alcoholic beverage that's bursting with delightful flavors. Enjoy the perfect blend of ingredients, carefully chosen to provide a refreshing alternative without compromising on taste.
Chug Chug Menu Delivery

Don't worry about not being able to visit Chug Chug in person! They've got you covered with their convenient delivery service, ensuring that you can enjoy their delicious offerings from the comfort of your own home. With just a few taps, you can now satisfy your cravings and have your favorite dishes promptly delivered to your doorstep. Thanks to their partnership with reliable third-party delivery services like FoodPanda, getting your hands on their scrumptious food has never been easier or faster. So, sit back, relax, and let Chug Chug bring their mouthwatering menu straight to you.
Chug Chug Social Media Pages
Looking for a great cozy dining experience in Singapore? Look no further than Chug Chug! Be sure to follow their social media pages for the latest updates and promotions. Come visit them today!
Facebook: https://www.facebook.com/profile.php
Instagram: https://www.instagram.com/chugchugsg/
Website: https://chugchugsg.com/contact
FAQs
What is Chug Chug Singapore known for?
The Chug Chug Singapore is known for its vibrant and lively atmosphere and a wide variety of food and drinks to cater to different tastes.
What type of cuisine does Chug Chug Singapore serve?
Chug Chug offers a diverse menu inspired by the fusion of Western and Asian flavors.
Does Chug Chug Singapore take reservations?
Yes, Chug Chug Singapore does accept reservations.
Is Chug Chug a halal-certified restaurant?
Chug Chug Singapore is not halal-certified.
Conclusion
Chug Chug Singapore is a gastro bar that offers a diverse menu of Asian and Western dishes, along with a selection of craft beers and cocktails. With a range of small bites, sharing plates, burgers, sandwiches, pasta, rice dishes, seafood options, mains, and sides, there's something to satisfy various cravings and preferences. Overall, Chug Chug provides a vibrant atmosphere and foods that caters to different tastes making it a great spot to enjoy good meals, drinks, and company in Singapore.