Black Tap is a burger joint that offers amazing burgers along with the timeless NYC vibe you're looking for. They started out at SoHo's Broome Street and now you can see them all over the world. They offer more than just their meals; they offer a unique experience; the dream. The Black Tap menu isn't limited to meals, they're also offering unique shakes that have cakes, cookies, and cotton candy on them. From the ambiance to the shakes, they strive to make everything picture-perfect. With their partnerships with some of the biggest companies like Hershey's and Netflix, there will always be something to look out for.
You can find the updated pricing information for the Black Tap menu below.
MENU
PRICE (SGD)

Happy Hour

Crispy Brussels Sprouts
$5.00
Fried Pickles
$5.00

Specials

Pumpkin Spice Burger
$18.00
Red Velvet Cookie Crazyshake
$18.00
Bourbon Maple Pumpkin Classic Shake
$11.00

Craft Burgers

The All American Burger
$18.00
The Mexico City
$20.50
The Wagyu Steakhouse Burger
$22.00
The Texan Burger
$21.00
The Old Fashioned
$19.00
The Greg Norman
$21.00
Vegan Falafel Burger
$17.00

Craft Burgers Salads

Black Tap Burger Salad
$19.50
Crispy Chicken Caesar Salad
$20.00
Greek Falafel Salad
$18.50

Wings

Korean BBQ
$16.00
Nashville Hot
$16.00

Chicken & Sandwiches

Crispy Chicken
$20.00
The Cali Chicken Sandwich
$19.50

Fries

Idaho Fries
$8.00
Sweet Potato Fries
$9.00

Specialty Fries

Cheese Fries
$14.00
Nashville Hot Fries
$14.00

Snacks and Slides

Fried Pickles
$9.00
Guac & Chips
$13.00
Crispy Brussels Sprouts
$11.00
Caesar Salad
$8.00
Arugala Salad
$8.00
Fried Mozz
$12.00
Quezo & Chips
$10.00
Teriyaki Broccoli
$9.00
Buttermilk Fried Chicken Tenders
$12.50
House Salad
$7.00
Fried Pickles
$9.00

The Crazyshake

Cotton Candy
$19.00
Cookies 'n Cream Supreme
$17.50
Brooklyn Blackout
$16.00
Bam Bam Shake
$16.00
The Cakeshake
$18.50
The Cookieshake
$16.50
Strawberry Shortcake
$16.00

The Classic Shakes

Chocolate
$9.50
Vanilla
$9.50
Strawberry
$9.50
Nutella
$9.50
Peanut Butter
$9.50
Oreo Cookies & Cream
$10.00
Cake Batter
$10.00
Black Tap Menu Best Seller
The Greg Norman – You can never go wrong with The Greg Norman, which was the 3x People's Choice Award Winner of the NYC Wine and Food Festival's Burger Bash. It contains half a pound of wagyu goodness, their delicious house buttermilk dill, amazing blue cheese, and arugula.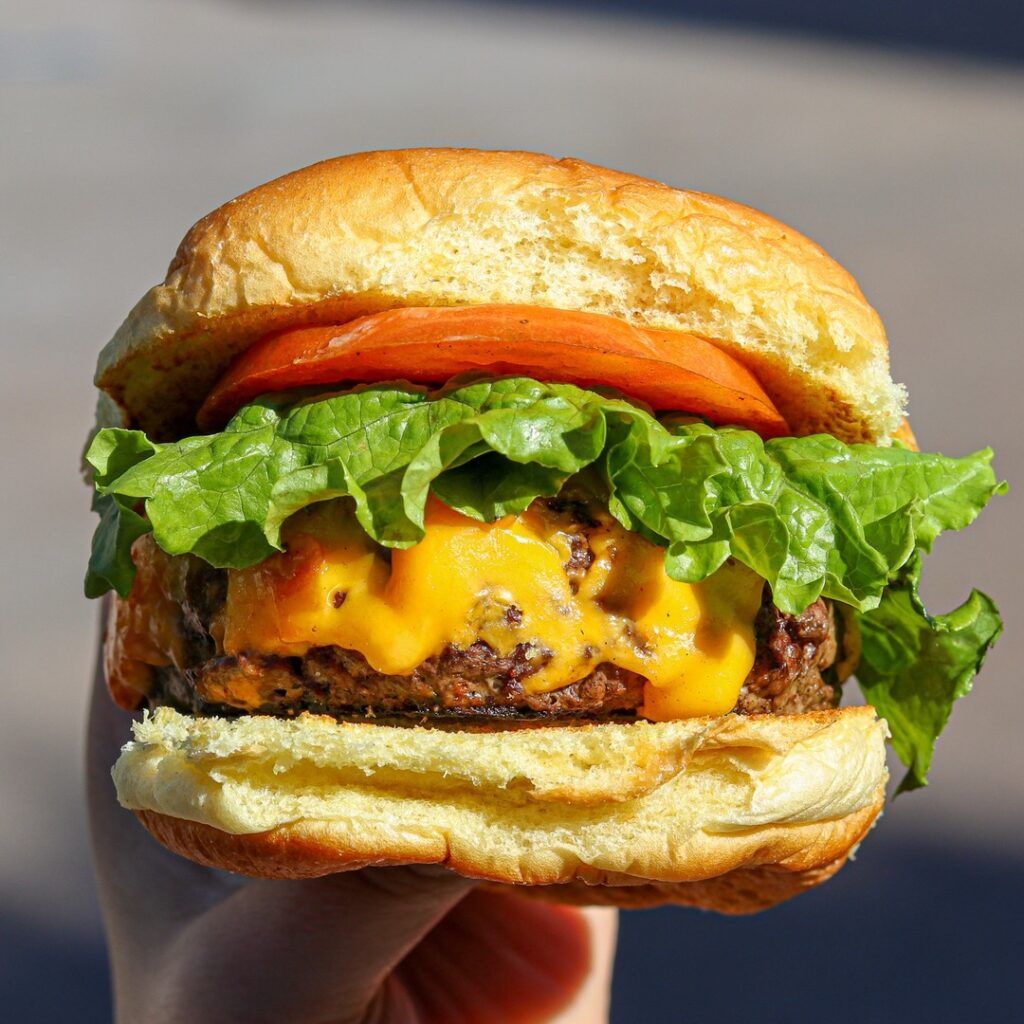 All American Burger – Another note-worthy mention is the All American Burger. This Black Tap menu is a simple prime burger, American Cheese, and special sauce combination that are the simplest of the bunch, but it sure packs a punch. If you want to try out how Black Tap makes their food but you're too afraid to try out eccentric flavors, make sure to give this one a try!
The Nashville Hot Wings – When people think of Chicken Wings, we usually think of spicy flavors. The Nashville Hot Wings meal offers six pieces of deliciously flavored spicy wings that will make you go crazy.
Cotton Candy Crazyshake – Their Cotton Candy Crazyshake is to die for. They vanilla frost the rim with chocolates that come in the colors: blue, pink, and pearl, topped with a pink lollipop, blue and pink rock candy, whipped cream, and of course, cotton candy. The colorful appearance isn't the only thing good about this shake, it's packed with a sweetness that will surely give your face an ear-to-ear smile.
The Crispy Chicken Caesar Salad – The Crispy Chicken Caesar Salad is a must-taste. When you think of healthy meat, your first bet is probably chicken, and for a good reason! If you want a healthy, but still meaty salad, then look no further than the Crispy Chicken!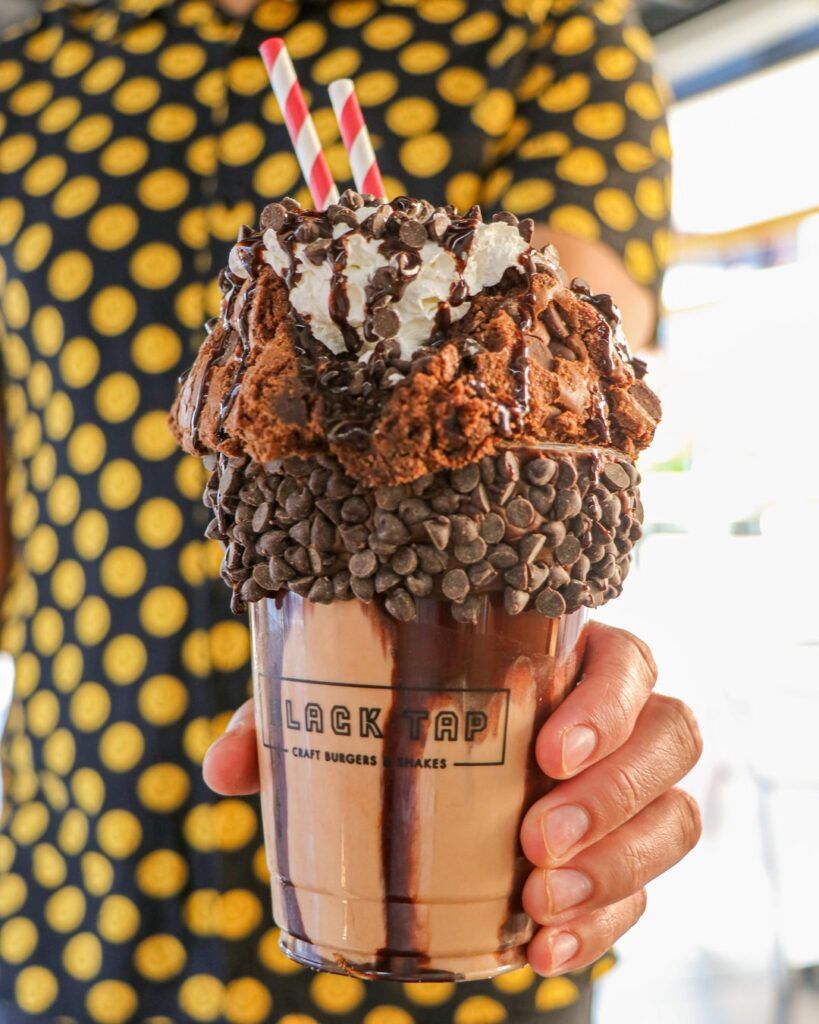 Brooklyn Blackout Crazyshake – You also need to try their Brooklyn Blackout Crazyshake. Its rim is chocolate frosted with mini chips with two chocolate brownies on top. On top of that, you'll find whipped cream and chocolate drizzle to finish the drink off. If you are a sweet tooth, then this Black Tap menu is a must.
Black Tap offers a wide variety of mouth-watering meals and they will surely not disappoint. There's something for everyone, and each dish and drink will leave you
Black Tap Menu Craft Burgers
You'll be welcomed by the shakes, but you'll stay for the burgers. All of Black Tap's Crafts Burgers menu are served with lettuce, tomato, a pickle, & fries. Each choice varies widely from another, making sure that customers would have a unique experience with every burger. Their all-American Burger is their simplest burger, yet it doesn't get left behind. Black Tap's Texan Burger leans in on the western taste. Aside from their normal menu, they also offer Vegan Falafel Burgers. Black Tap makes sure no one's missing out on the action.
Black Tap is also the one behind the amazing, award-winning Greg Norman Burger. They also offer The Wagyu Steakhouse Burger. It's made with Wagyu Beef, pepper jack cheese, bacon, and roasted garlic mayo. Black Tap serves this burger with an amazing A1 Sauce that brings out the flavors sleeping within the meat.
Another noteworthy burger from Black Tap is their Mexico City. This burger is composed of the prime burger, pickled jalapenos, crispy onion ring, and Chipotle Mayo.
You can never go wrong with going to Black Tap to satisfy your cravings.
Black Tap Menu Wings
Every beer session deserves quality wings. It's a staple food in American beer sessions; it would be weird not to add any to menus featuring beer and good times. Black Tap offers two chicken wing flavors: Korean BBQ and Nashville Hot.
The Korean BBQ flavor is covered with sweet & spicy barbecue sauce, scallion, sesame seeds, and lime, and served with house buttermilk dill. If you're into spicier flavors, then the Nashville Hot is for you. The Nashville Hot is covered with a spicy, flavors cayenne hot sauce, served along with a house buttermilk dill that is worth every bill. Both flavors are offered in servings of six.
Craft Salads
Black tap also offers these amazing Craft Burger Salad Meals for everyone. The Black Tap Burger Salad is the first one on their menu. It has the prime burger, the classic American cheese, bacon, lettuce, tomato, cucumber, pickle, scallions, and the Black Tap special sauce. This meal lets you enjoy the perfect burger as a salad.
If you're on a diet, then the Greek Falafel Salad is for you. It has a falafel patty, hummus, green lettuce, cherry tomatoes, pickled onions, vegan feta, olives, cilantro, parsley, and tahini dressing.
Beef is not the only thing that they offer; Black Tap also serves Crispy Chicken Caesar Salad which is made up of crispy chicken, lettuce, roasted tomato, Moroccan Spice, shaved parmesan, croutons, and Caesar dressing. The Crispy Chicken Caesar Salad is the perfect combination of healthy and party.
FAQs
Why is Black Tap called Black Tap?
Black Tap is a reference to black tap handles that you can find in craft beer bars. Black Tap's roots lie in its craft beer, and this is all just the beginning. They offer cocktails, burgers, wings, and more!
When did Black Tap open in Singapore?
Black Tap first opened its doors to Singapore's bay on September 1, 2018. That day marked the new era for Burgers and Beer in Singapore.
Who is the founder of Black Tap?
Chris Barish, a restaurateur, wanted to create a prime dining experience with an authentic New York atmosphere and bring it all over the world, so he founded Black Tap.
Social Media Pages
If you like the foods on the Black Tap menu, and you wanted to follow their news, you need to follow their social media pages. By following them, you will get the latest news about their foods and many more. Now, to start following them, simply refer on the following links:
Facebook: https://www.facebook.com/blacktapsg/
Instagram: https://www.instagram.com/blacktapsg/
Twitter: https://twitter.com/blacktapsg
Conclusion
If you're looking for great, affordable meals served with the authentic New York experience, then look no further and choose the Black Tap menu. From burgers to salads, and from beers to milkshakes, they offer a wide variety of items that will leave you with only one thought in mind: So. Crazy. Good!
So if they're in your area, be sure to give them a try, and make sure to enjoy their great meals and amazing drinks with the New York experience they are meant to be enjoyed.