The Larder Cafe offers a diverse menu that features a range of dishes, including all-day breakfast options, sandwiches, pasta, and salads. In addition to its menu of food items, The Larder Cafe also provides a variety of hot and cold drinks, such as coffee, tea, and fresh juices, and is also known for its homemade cakes and pastries, which are prepared using fresh and high-quality ingredients making The Larder Cafe a great choice for customers looking for a casual dining experience or a quick bite to eat.
You can find the updated pricing information for the Larder Cafe menu below.
MENU
PRICE (SGD)

Pizza

Pizza Mushroom Truffle
$17.90
Pizza Teriyaki Chicken
$17.90

Brunch

Chicken Avocado Wrap
$15.30
Pulled Pork Wrap
$17.10
Bacon Eggs Benedict
$18.20
Honey Baked Ham Eggs Benedict
$19.50
Smoked Salmon Eggs Benedict
$21.20
Mushroom Truffle Melts
$18.20
Big Breakfast
$23.00

Starters

Sweet Potato Fries
$8.20
Nacho Chips
$9.40
Cheese Fries
$9.40
Truffle Fries
$10.60
Baked Escargots
$11.80
Crispy Hot Wing
$12.90
Mushroom Quesadillas
$14.10
German Sausage Platters
$17.90
CHICKEN MEATBALLS (10Pcs)
$11.80
The Dowagers Fingers
$11.80

Salads

House Salad
$9.40
Caesar Salad
$11.80
Smoked Duck Salad
$15.30

Mains

Fish & Chips
$17.90
Grilled Buttermilk Chicken
$21.80
Pan Seared Seabass
$21.80
Grilled Salmon
$23.00
BBQ Pork Ribs
$23.00
Sirloin Steak
$24.70
Lamb Shanks
$24.70

The Big Bite

Black Mama Pork Burger
$17.90
Wagyu Beef Burger
$26.90
Chicken Burger
$17.90
Pulled Pork Burger
$18.20
Beef Burger
$19.80

Pasta

Carbonara Spaghetti
$17.50
Chicken Linguine
$17.50
Mushroom Aglio Olio Spaghetti
$16.40
Arrabiata Linguine
$17.50
Seafood Aglio Olio
$19.90
Tom Yam Seafood Spaghetti
$19.90
Mushroom Truffle Gratin
$19.90
Seafood Gratin
$21.80

Sides

Mashed Potatoes
$3.00
Coleslaw
$3.00

Cake

Blueberry Cheesecake
$8.80
Ondeh-Ondeh
$8.00
Rainbow Cake
$7.70
Oreo Cheesecake
$8.80

Kids Menu for The Little Ones

Kids Cheese Pasta
$10.60
Kids Tomato Pasta
$10.60
Chicken Bolognese
$10.60
Kids Fish & Chips
$10.60
Kids Burger
$10.60
About The Larder Cafe
The Larder Cafe is a cafe located in the heart of Toa Payoh in Singapore. It was established in 2013 and has since gained a reputation for serving quality coffee and brunch dishe in a cozy and welcoming atmosphere. The cafe is known for using fresh and locally sourced ingredients to create its dishes, and its menu features a range of breakfast and brunch options, as well as sandwiches, burgers, and desserts.  
The Larder Cafe Menu Best Seller
This menu is made up of different kinds of offerings that are considered to be The Larder Cafe's best-selling dishes.
BBQ Pork Ribs – Many customers choose this steak because of one simple reason, that it is cooked to perfection, with a beautiful sear on the exterior and a juicy and tender interior. The meat is well-seasoned and flavorful, and it comes with a side of fries and a salad making it both great tasting and satisfying as well.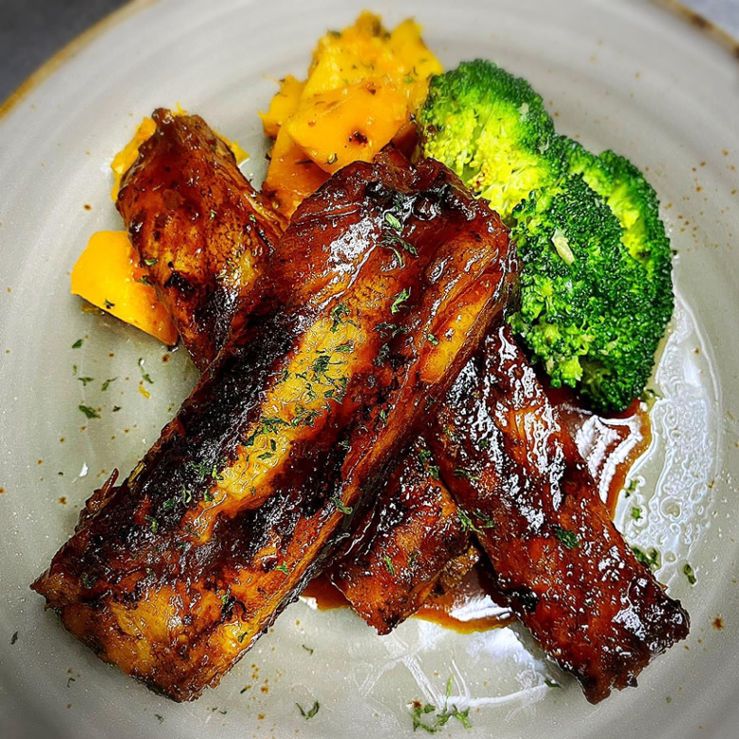 Sirloin Steak – The BBQ Pork Ribs at The Larder Cafe is a must-try for meat lovers because the ribs that they use in this dish are juicy and tender, with a slightly sweet and tangy BBQ sauce that perfectly complements the smoky flavor of the meat.
Lamb Shanks – The lamb meat is slow-cooked to perfection, resulting in a tender and succulent dish that falls off the bone. The lamb is served with a side of mashed potatoes, which perfectly complement the rich flavors of the dish.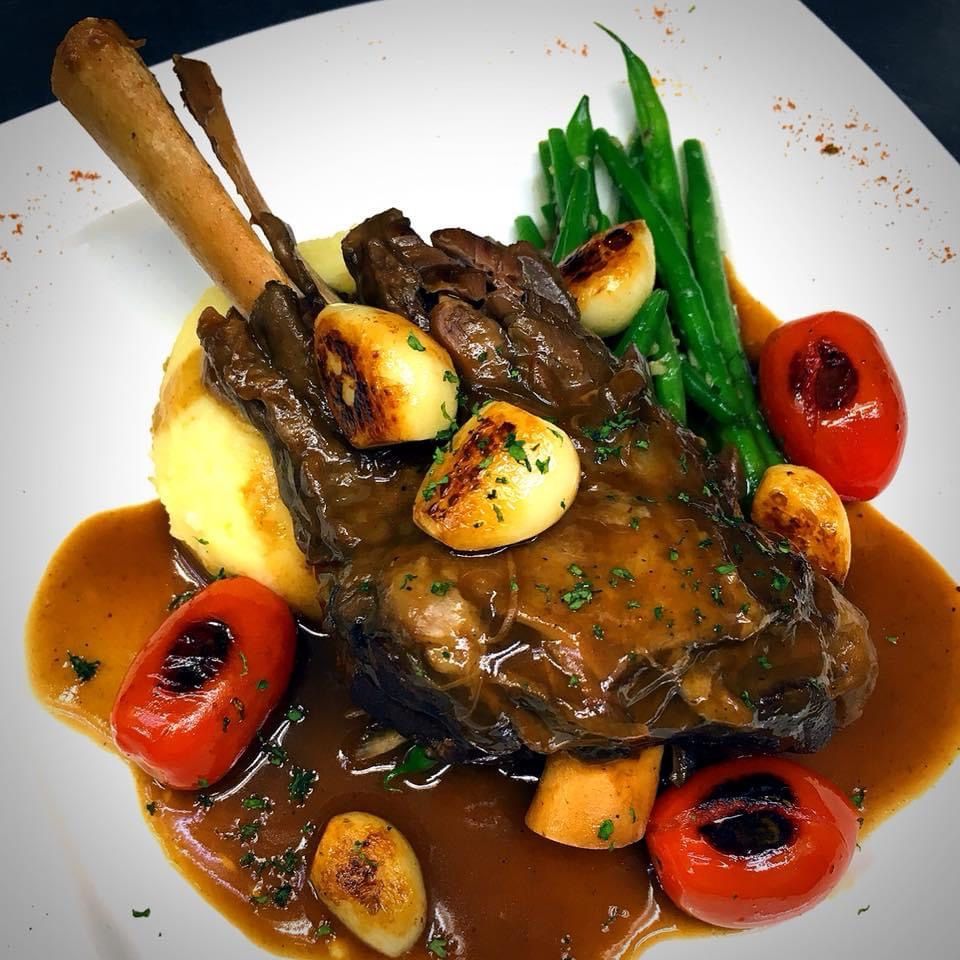 Truffle Fries – The Truffle Fries at The Larder Cafe is a must-try for those who are looking for a snack or a side dish. The fries are crispy and well-seasoned, with a generous serving of truffle oil and parmesan cheese that add a rich and savory flavor to the dish.
Chicken Meatballs (10Pcs) – These meatballs are juicy and flavorful, with a crispy outer layer and a tender center. They're served with a tangy and slightly sweet dipping sauce that adds a nice contrast to the savory flavors of the meatballs.
The Larder Cafe Menu Starters
This menu is made up of a variety of starter items that will help you ready your stomach for the anticipated main course.
Cheese Fries – These fries are crispy and golden brown, and they come smothered in a generous amount of melted cheddar cheese. The cheese that is drizzled on the fries are gooey and savory making the two a perfect combination.
Baked Escargots – The six escargots in this dish are baked in a garlic and herb butter sauce, which gives them a rich and savory flavor. The butter sauce is well-balanced and not too overpowering, allowing the delicate taste of the escargots to shine through.
German Sausage Platters – The German Sausage Platter at The Larder Cafe is a great option for those looking for a hearty and savory appetizer. Each sausage has its own unique flavor and texture, but they are all juicy and bursting with flavor. 
The Larder Cafe Menu Salads
This menu is made up of a different variety of salad dishes that are both healthy and satisfying.
House Salad – This salad features mixed greens, cherry tomatoes, onions, and croutons, topped with a balsamic vinaigrette dressing. The fresh vegetables are crunchy and complement the tangy dressing, making for a simple yet tasty salad.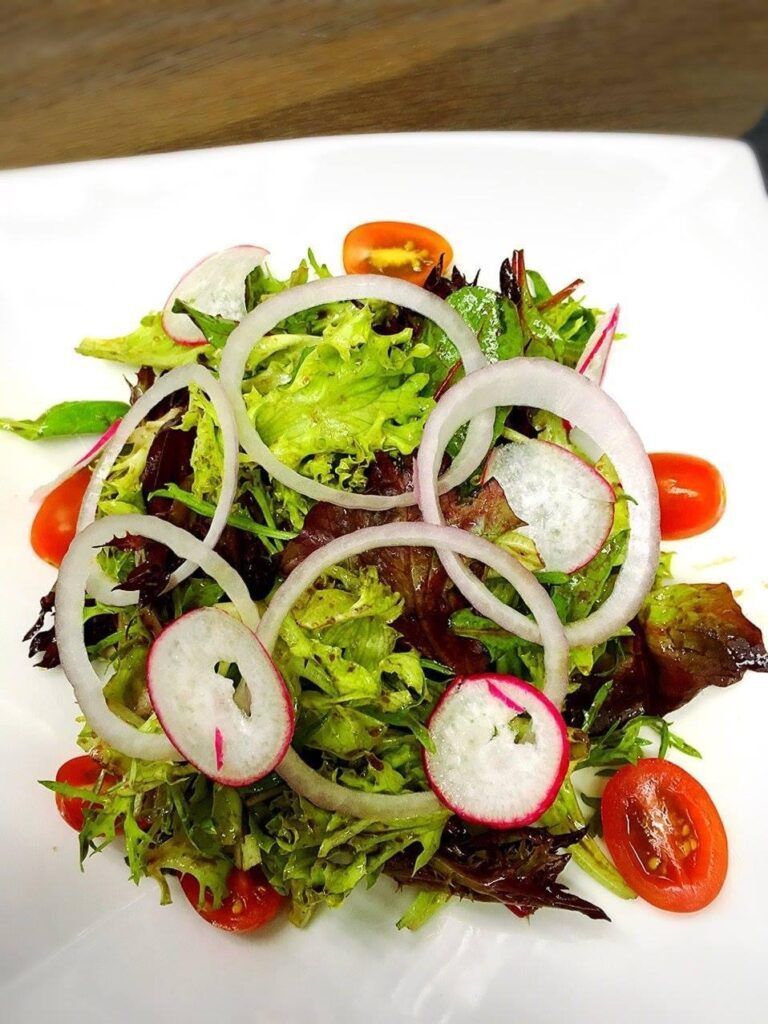 Caesar Salad – This salad is a classic favorite which is made up of romaine lettuce, bacon bits, croutons, and parmesan cheese, tossed in a Caesar dressing making it both refreshing and satisfying while the bacon adds a nice salty flavor to the mix.
Smoked Duck Salad – It is a unique and flavorful option that comes with mixed greens, smoked duck, cherry tomatoes, and onions, drizzled with a sesame dressing. The duck is tender and smoky, and the sesame dressing provides a nice nutty flavor that complements the savory meat.
The Larder Cafe Menu Pastas
This menu is made up of different pasta dishes that are both flavorful and filling.
Carbonara Spaghetti – It is a creamy and satisfying dish with perfectly cooked spaghetti, crispy bacon, and a generous amount of Parmesan cheese. The dipping sauce added to it is rich and velvety, with just the right level of saltiness from the bacon and cheese.
Chicken Linguine – This is a delicious and hearty pasta dish. The linguine is al dente, and the sauce, with a creamy tomato base, is rich and flavorful while the chicken is tender and well-seasoned which adds a layer of flavor to the dish.
Mushroom Aglio Olio Spaghetti – This dish is a great choice for vegetarians. The is cooked linguine is al dente, and the sauce, with a creamy tomato base, is rich and flavorful while the chicken is tender and well-seasoned which adds a layer of flavor to the dish.
Brunch
This menu from The Larder Cafe is made up of different brunch options that customers can order for both breakfast and lunch. Every dish that makes up this menu is great-tasting, satisfying, and filling making it an ideal option for those who are on a tight-budget.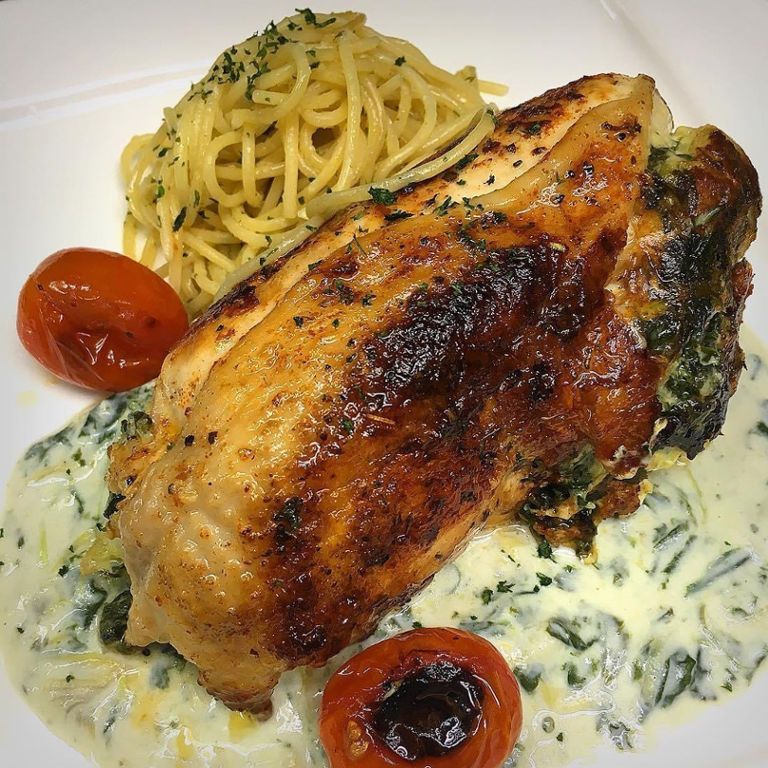 The Big Bite
This menu is made up of different varieties of burgers that are both filling and satisfying due to their size. Every burger that is part of this menu will definitely give your money's worth as they don't lack in every aspect, be it in taste or in size.
The Larder Cafe Menu Delivery
The Larder Cafe offers delivery services so that their customers can now conveniently order their favorite dishes anytime and anywhere they want. Third-party delivery services like FoodPanda, GrabFood, and Deliveroo can help customers with their orders easily and quickly.
Social Media Pages
Looking for a cozy place to enjoy a delicious meal? Look no further than The Larder Cafe! With their mouth-watering dishes and friendly atmosphere, you're sure to have a great time. Be sure to follow their social media pages to stay up-to-date on their latest offerings and promotions. Come and support this local gem today!
Facebook: https://www.facebook.com/thelardercafesg/
Instagram: https://www.instagram.com/thelardercafesg/
Website: http://lardercafe.com/locate
FAQs
Can I make a reservation at The Larder Cafe?
Yes, you can make a reservation at The Larder Cafe. They have an online reservation system available on their website, and you can also call them to make a reservation.
Are there any promotions or loyalty programs at The Larder Cafe?
Yes, The Larder Cafe oftentimes offers promotions and discounts. For the loyalty program, it is recommended to check it directly with the branch that you are visiting.
Is The Larder Cafe suitable for families with young children?
Yes, The Larder Cafe is suitable for families with young children. They have a kids' menu that includes dishes such as pancakes, scrambled eggs, and chicken bites, as well as high chairs available for use.
Is The Larder Cafe halal-certified?
There is no certification that proves that The Larder Cafe is halal-certified. However, as they offer pork dishes, we can assume that they are not halal-certified.
Conclusion
The Larder Cafe is a cozy and welcoming cafe that offers a variety of menu for breakfast, brunch, and lunch. Their menu offers a variety of both traditional and modern dishes, with an emphasis on using high-quality, fresh ingredients and the best part of it is that their customers who have dietary restrictions can also choose from vegetarian and gluten-free options. Overall, The Larder Cafe is a great spot for a casual meal or coffee catch-up with friends or family.