Every successful story should start with a single step, so as IKEA. IKEA was once a tiny business at Älmhult, a small Swedish village that is located in the countryside far from the urban areas. IKEA only sells mail-order catalogs and the headquarters for design is still sitting in the countryside. IKEA as a successful brand today which reaches millions of hearts at home was founded by Ingvar Kamprad. He established this famous brand today in the year 1943 at the age of 17. In their own small town, he sells ménage goods like pens, wallets, picture frames, and the like. In his hometown, people who reside there usually had nothing, so innovation takes place in his mind of Ingvar. IKEA not only provides these goods but food as well. Today, the IKEA Restaurant menu is one of the best if you want to try Swedish foods.
To give you an idea of where "IKEA" came from, it originated from the monograms of Ingvar. Ingvar Kamprad (IK) is the full name of the founder of IKEA, he came from the farm Elmtaryd (E) where he grew up, and lastly Agunnaryd (A) which is the nearby village where Ingvar resides. IKEA today creates history in every home, it can truly give satisfaction to the individual who bought an item, especially those mothers. But today, IKEA isn't just a furniture shop. It can now cure famine with its food variations! So come and visit IKEA today and take out your favorite furniture and food.
IKEA Menu Price List [Updated]
You can find the updated pricing information for the IKEA Restaurant food items below.
MENU
PRICE (SGD)

Biscuits and Cookies

IKEA Biscuits with Chocolate Flavoured Filling 176g
$2.90
IKEA Biscuits with Raspberry Flavoured Filling 176g
$2.90
IKEA Gold Marie Bisquits 200g
$2.50
IKEA KEX Biscuits 175g
$3.00
IKEA Oat Biscuits 600g
$7.20
IKEA Oat Biscuits with Chocolate UTZ 600g
$9.00

Canned Seafood

IKEA Marinated Herring Onion & Carrot MSC 250g
$2.90
IKEA Marinated Matjes Herring MSC 250g
$2.90

Cheese

IKEA Herrgard Semi-soft Part-skim Cheese 300g
$7.90
IKEA Prast Semi-hard Pasteurised Milk Cheese 300g
$7.90

Chips, Crisps & Sticks

IKEA OLW Cheez Ballz 160g
$4.90
IKEA OLW Salted Pretzels 250g
$5.90

Chocolate Bars & Blocks

IKEA Dark Chocolate UTZ 100g
$2.00

Cordials & Syrups

IKEA Elderflower Drink Concentrate 500ml
$5.50

Dressings and Toppings

IKEA Fried Onion 100g
$1.50
IKEA Mustard and Dill Sauce for Salmon 200g
$3.20
IKEA Savoury Sauce Mix 28g
$2.60

Frozen

IKEA Chicken Meatballs 500g
$8.50
IKEA Cured and Cold Smoked Salmon ASC 200g
$12.00
IKEA Meatballs 1kg
$16.00
IKEA Peeled Cold Water Shrimp MSC 250g
$13.50
IKEA Salmon Fillet Frozen ASC 500g
$20.90

Ground Coffee, Beans & Filters

IKEA Coffee Beans Dark Roast Organic 250g
$6.00
IKEA Espresso Coffee Beans Organic 250g
$6.00
IKEA Espresso Ground Organic 250g
$6.00
IKEA Ground Coffee Dark Roast Organic 500g
$9.90
IKEA Ground Coffee Medium Roast Organic 500g
$9.90
IKEA Press Coffee Dark Roast UTZ Organic 500g
$9.90

Jam & Kaya Menu with Price

IKEA Blueberry Jam Org 425g
$6.50
IKEA Cloudberry Jam Organic 425g
$12.90
IKEA Lingonberry Jam Organic 400g
$6.50
IKEA Raspberry and Blueberry Jam Organic 425g
$6.50
IKEA Strawberry Jam Organic 400g
$6.70

Other Breads

IKEA Multigrain Bread 350g
$3.50

Other Spreads

IKEA Kalles Cod Roe Spread MSC 190g
$5.90
IKEA Orange and Elderflower Marmalade Organic 425g
$5.50

Pasta

IKEA Dried Durum Wheat Pasta Organic 400g
$2.50

Prepacked Food Menu

IKEA Almond Cake with Chocolate and Crunchy Caramel 400g
$9.90
IKEA Almond Cake with Roasted Almond 400g
$9.90
IKEA Cheese Pie Frozen 185g
$4.90
IKEA Cinnamon Bun, Ready to Bake 510g
$6.00
IKEA Cream Cake w Almond Paste 320g
$8.90
IKEA Gooey Choc Cake 400g
$8.90
IKEA Mashed Potatoes 600g
$3.50
IKEA Mushroom Soup Retail 500g
$5.50
IKEA Pizza Vegetarian FR 700g
$8.50
IKEA Plant Balls FR 500g
$8.00
IKEA Salmon Chowder Retail ASC 500g
$5.90
IKEA Vegetable Balls 1kg
$8.90
IKEA Vegetable Medallion 600g
$8.60
About IKEA Restaurant
Enjoy your Swedish menu experience at every IKEA outlet! This restaurant don't only serve delicious foods and desserts but you can truly enjoy your visit to IKEA while looking at the furniture. Every Wednesday at IKEA, there would be a special Wednesday dinner promo. IKEA offers a special promo that incorporates three meals, this includes smoked pork ribs with black pepper sauce and mixed vegetables, lamb ribs with mashed potato and mixed vegetables, and even beef steak with mashed potato and mixed vegetables. Note that this special promo will only run up to September 28, 2022. So visit us now and enjoy these limited food variations!
This distinguished restaurant now offers a "new restaurant opening", this promo is an IKEA Family offer that will last until September 23, 2022. You can actually pick from the food variations at IKEA, you can have your own dessert, canned seafood, cordials & syrup, Jam & Kaya menu, pasta, and a lot more! Pay a visit today and try their set of meals!
IKEA Family Offers
IKEA family offers are synonymous with what a usual membership card benefits. As IKEA evolve into a much greater firm, they now offer us a free meal for our kids! You heard it right? Yes! Your kids' meal is absolutely free if you signed up for a membership card. As a member, IKEA believes that you deserve more! To be part of the IKEA family and to enjoy its benefits, you can just sign-up online via their official link: https://www.ikea.com/
To have an idea of what benefits you can get once you are part of the Family then below is your classic guide to knowing your benefits as part of the IKEA family.
Redeem Rewards – Being able to hop into a cashless society, at IKEA you can just scan or swipe your virtual card at different IKEA outlets. With that idea, IKEA also promises to get 1 IKEA family point for each dollar spent. In addition, you may earn $5 for every 500 points you accrue and use it instantly when you check out at the other IKEA outlets.
Member Discounts – Get your unique monthly updated discounts on selected IKEA products, not only you can have food discounts but you can also have your discounts on selected items at IKEA. You just need to look for the blue IKEA Family labels, which can be seen at different IKEA shops.
Birthday Special – Who wouldn't like a birthday treat right? As a member of IKEA, you can definitely earn your 3x family points for your first purchase during your birthday month exclusively.
Kid's Free Meal – Your child will probably enjoy it here at IKEA as they are free from charge. You just need to buy your own main dish and you can now receive your free Kid's meal.
IKEA Restaurant Breakfast Menu
IKEA is known for its furniture which can give beauty to every home. Early in the morning, a lot of people already queue in front of IKEA stores to have their own furniture because most of the items are in limited stock. However, we may not have yet eaten our breakfast due to our rush going through IKEA outlets. And if you find yourself hungry while looking at IKEA furniture, then you can just eat at IKEA for the breakfast menu!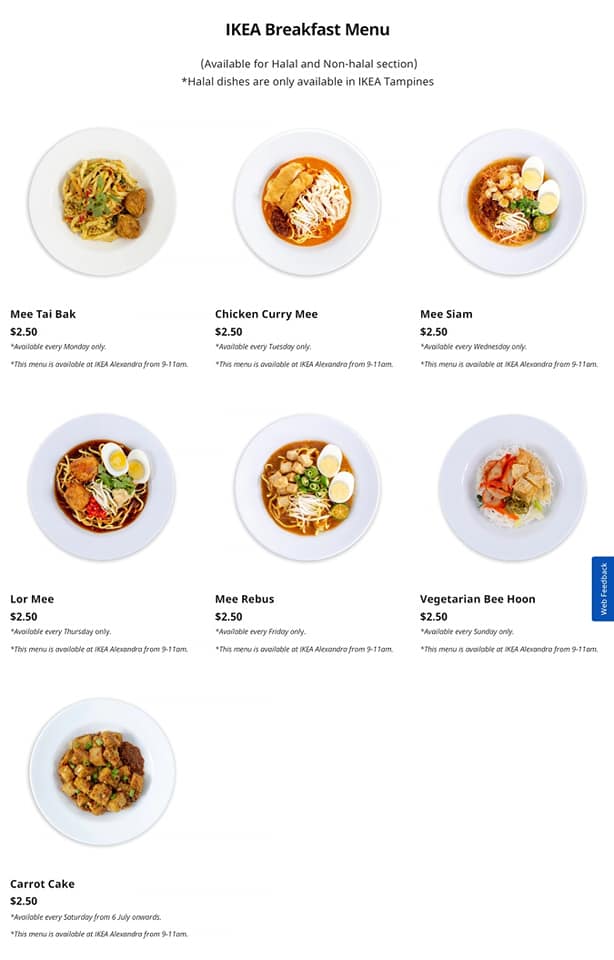 IKEA open's their breakfast cafeteria from 9:30 am up until 11 am. Be wary that 20% of IKEA visitors came to not visit the furniture but to taste the IKEA menu. So if you plan to get an IKEA menu, then you should be early because you don't want to queue outside the IKEA store.
IKEA Lunch Box
IKEA's lunch boxes are indeed a kitchen saver. Manage your kitchen with the aesthetic lunch box that IKEA offers! Buy the IKEA 365+ food storage series which can certainly aid you to bring food with you on the go. You can use these lunch boxes outside or you can just use them as a storage box for the condiments. These simple food jars and lunch box comes in different sizes, so you can just pick your own size which fits your kitchen style.
IKEA Restaurant Menu Delivery
Love to have an IKEA meal at your own convenience then order online today!
We cannot argue that an IKEA meal at your own dining is the best! So if you plan to have a meal at the expediency of your own home, you can order online through different food servicing apps.
First on the list would be FoodPanda, this food servicing app is the best as it operates years ago. You just need to fill in the required details and book your own IKEA experience. Eatbook also offers delivery with the three (3) IKEA Stalls. On the other hand, Deliveroo (deliveroo.com.sg) can also be your guide to having your delicious IKEA meal. Singaporefoodie also announces the support for IKEA door-to-door delivery. Set your cravings up, choose your payment method, and pick your own meal of choice which can surely cure your famine. Lastly, order.place can help you with your IKEA meal, just search the link that I've started and you are now good to go.
IKEA Restaurant Singapore Opening Hours
As a restaurant that aims higher than anyone else, I'd love to provide details with regard to opening hours and the address where you can locate us. One of the main reasons why people got disappointed with their cravings aside from the food taste is the inability of the shop to open during their visiting hours or in simpler terms, the shop is not operating when they visit.
So to stop being disappointed below is an exemplary guide on the opening hours of different branches, their contact number, and the exact location of IKEA Restaurant in Singapore.
| | |
| --- | --- |
| Operating Hours | 10:00 am to 10:00 pm |
| Address | 50 Jurong Gateway Rd, #02-12/13/14 #03-15/16/17, #04-20/21/22, Singapore 608549 |
| Contact Number | +65 6786 6868 |
| | |
| --- | --- |
| Operating Hours | 10:00 am to 9:00 pm |
| Address | 60 Tampines North Drive 2, Singapore 528764 |
| Contact Number | +65 6786 6868 |
IKEA Alexandra Restaurant
| | |
| --- | --- |
| Operating Hours | 9:00 am to 10:00 pm |
| Address | 317 Alexandra Rd, Singapore 159965 |
| Contact Number | +65 6786 6868 |
IKEA Singapore Customer Support
Connect with IKEA Singapore through their official website! Click "connect with us" fill out the required contact details and submit your form! An easy-peasy right? So go ahead and make your inquiries now! You can also contact IKEA via telephone which may apply charges: +65 6786 6868.
If you would like a personal and professional conversation. You can email IKEA at [email protected], send your concerns today and rest assured that your concerns will be heard. Be part of the IKEA Family and be ready for the rewards that await you!
Social Media Pages
Since the beginning of social media, IKEA hop in this trend. For starters you can follow IKEA on Facebook (IKEA); like, comment, and share your story with us. You can also follow them on Instagram. Be mesmerized by IKEA's feed and be part of the growing community on this social media platform. You can also earn promos and discounts from the social group so don't miss your opportunity. The above-mentioned social media account doesn't only serve the purpose of enticing people, but you can actually place your concerns through their social media pages.
Facebook: https://www.facebook.com/IKEASingapore/
Instagram: https://www.instagram.com/ikeasingapore/
Conclusion
IKEA's founder life-changing story is worth knowing while munching your own set of food choices. Ingvar may experience the most tragic life as he grew up with nothing on his plate, but that doesn't stop him to pursue his dreams of serving a wide range of communities. Now the IKEA menu becomes a well-known restaurant and not only a furniture shop which gives us a surfeit of food lists that we can choose.
IKEA is indeed a restaurant worth trying if you become tired while looking at the furniture. Then you can just sit at IKEA's restaurant, order your refreshing beverage partnered with biscuits and cookies, and continue your IKEA experience.