The Pick-A-Pasta menu consists of Italian pasta dishes. This restaurant offers Cheesy Madness, perfect for cheese-flavored macaroni lovers. A salted egg prawn pasta, one of the cuisines inspired by Singaporean cuisine, is also served. The pasta in white sauce, red sauce, aglio olio, and classic side dishes consist of hearty and comforting food. Customers can turn their a la carte meal into a set meal by adding garlic bread and a canned drink. 
You can find the updated pricing information for the Pick-A-Pasta menu below.
MENU
PRICE (SGD)

Cheesy Madness

Beef & Cheesy Macaroni
$8.90
Cheesy Macaroni
$6.00
Cheesy MacPepperoni
$9.50
Cheesy MacSausage
$9.10
Cheesy MacTurkeyHam
$9.20
*Add On: Make It A Set (Garlic Bread & Canned Coke)
$3.00

Singaporean Delights

Salted Egg Prawn
$11.20
*Add On: Make It A Set (Garlic Bread & Canned Coke)
$3.00

Pastas in Red Sauce

Beef Arrabbiata
$8.50
Beef Bolognese
$8.50
Chicken Bolognese
$8.20
Garlic & Tomato Shrimp
$9.20
Mariner's Pasta
$12.20
Tomato Mushroom
$8.20
*Add On: Make It A Set (Garlic Bread & Canned Coke)
$3.00

Pastas in White Sauce

Chicken & Muchroom
$10.00
Creamy Mushroom
$8.50
Tuna & Mushroom
$9.80
*Add On: Make It A Set (Garlic Bread & Canned Coke)
$3.00

Aglio Olio

Plain Aglio Olio
$5.90
Prawn Aglio Olio
$9.80
*Add On: Make It A Set (Garlic Bread & Canned Coke)
$3.00
Side Dishes
Cheesy Fries
$5.50
Chicken Karaage
$7.00
Chicken Tenders
$7.00
Fried Wings
$6.90
Garlic Bread
$3.70
Mini Donuts
$7.20
Mozza Sticks
$7.00
Nuggets
$7.00
Onion Ring
$7.00
Plain Fries
$3.70
Potato Wedge
$6.50
Sweet Potato Fries
$7.00

Desserts

Choco Cake
$5.50
Mini Muffins
$3.00

Iced Lemon Tea

Iced Lemon Tea
$2.50
Jasmine Green Tea
$2.50
About Pick-A-Pasta
Pick-A-Pasta is an Italian restaurant in Singapore specializing in comforting pasta dishes. This restaurant is open from 11:00 AM to 10:00 PM on Sunday, Monday, Tuesday, Wednesday, and Thursday and from 11:00 AM to 11:00 PM on Friday and Saturday. It has three outlets in Singapore, including Greenwich V, Changi, and Junction 10. 
Pick-A-Pasta Menu Best Seller 
Pick-A-Pasta is known for its satisfying pasta dishes. The best sellers of this restaurant are loved for their excellent taste and a great combination of ingredients. These are the popular and highly recommended dishes by its patrons. 
Beef and Cheesy Macaroni. Macaroni is cooked with minced beef, cheese, and nacho cheese sauce. The tenderness of macaroni, beef's meatiness, and cheese's goodness are combined perfectly, making it one of the best-selling dishes. This is one of the diner's favorite comfort foods, as each bite brings happiness.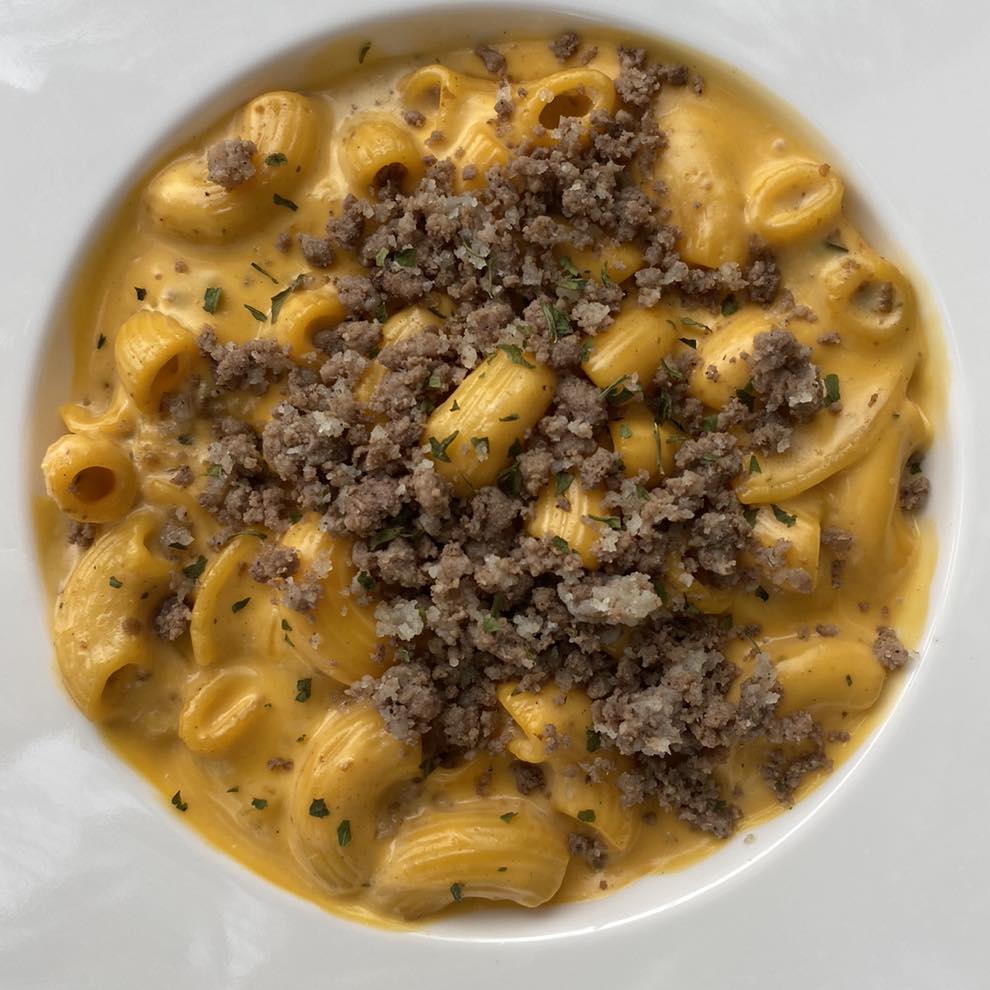 Cheesy Macaroni. A classic recipe of macaroni where pasta is expertly cooked with nacho cheese sauce and cheese mix. It is one of the macaroni variants commonly cooked at home as it is easy to prepare, which is why this dish always comforts and satisfies its customers. 
Chicken & Mushroom. Chicken chunks, mushroom slices, white cream sauce, garlic, and other ingredients are mixed. The white cream sauce gives this dish a rich and creamy taste. Special spices are sprinkled on its top to make it appealing and flavorful. 
Creamy Mushroom. This dish is perfect for those who love the goodness of mushrooms and pasta. The restaurant's white cream sauce and special ingredients are garnished on its top to enhance its taste. 
Beef Bolognese. This is one of the most popular pasta dishes in this restaurant. Beef Bolognese is a notable sauce as it has a meaty goodness and is rich in flavor. The cream sauce and red sauce give a vibrant color making it eye-catching. 
Pick-A-Pasta Menu Cheesy Madness 
The Cheesy Madness Pasta of this restaurant consists of cheese-flavored macaroni cooked in cheese mix and delicious nacho cheese sauce. Pepperoni, Sausage, Turkey Ham, Cheese, and Minced Beef are the ingredients that this restaurant paired with its pasta dishes. 
Cheesy MacPepperoni. It is a delicious dish where cheesy macaroni is topped with delicious pepperoni. The salty, spicy, and tangy flavor of pepperoni and its chewy texture complements well with pasta. This is a simple and unique cuisine as pepperoni is used as a topping on macaroni, not pizza. 
Cheesy MacTurkeyHam. Cheesy macaroni and turkey ham are combined in this pasta dish. Turkey ham contains low fat, as it typically contains only 5 percent fat, making it one of the best substitutes for pork ham. This ham has a wholesome taste that will boost your appetite.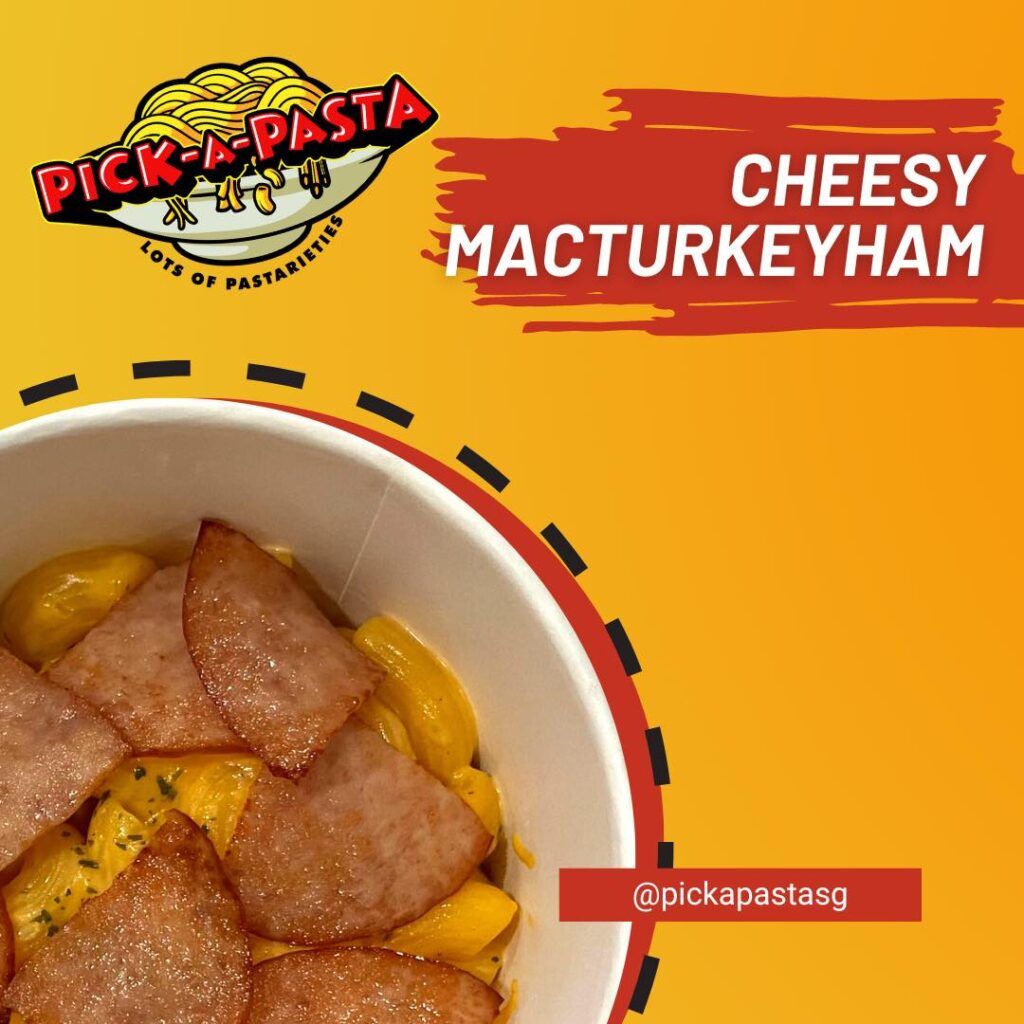 Cheesy McSausage. Sausages are cut into small cubes and mixed with cheese-flavored macaroni. It has a high-fat content that gives a meaty goodness and burst of flavors. Macaroni and sausages are two of the irresistible comfort foods that people love. 
Pastas in White Sauce / Pastas in Red Sauce 
The pasta menu of Pick-A-Pasta is available in white sauce and red sauces. Creamy mushrooms, tuna & mushrooms, and chicken & mushrooms are the varieties of pasta in white sauce. Some of the pasta of this restaurant cooked in red sauce are Chicken Bolognese and Beef Arrabbiata.
Beef Arrabbiata. Slices of chicken sausages and minced beef give a meaty goodness to this pasta dish. The combination of red sauce, cream sauce, garlic, and chili flakes makes it appetizing. 
Mariner's Pasta. This is an ideal dish for those who enjoy pasta and seafood. Prawn and squid slices are the kinds of seafood cooked with this pasta. The garlic, onion, red sauce, and cream sauce add flavor and aroma, making this macaroni gratifying. 
Tuna and Mushrooms. One of the restaurant's pasta dishes in white sauce. Tuna chunks, mushrooms, garlic, and other special ingredients are mixed in this heartwarming pasta. It is a must-try dish as it has an extraordinary taste that will give you a satisfying meal.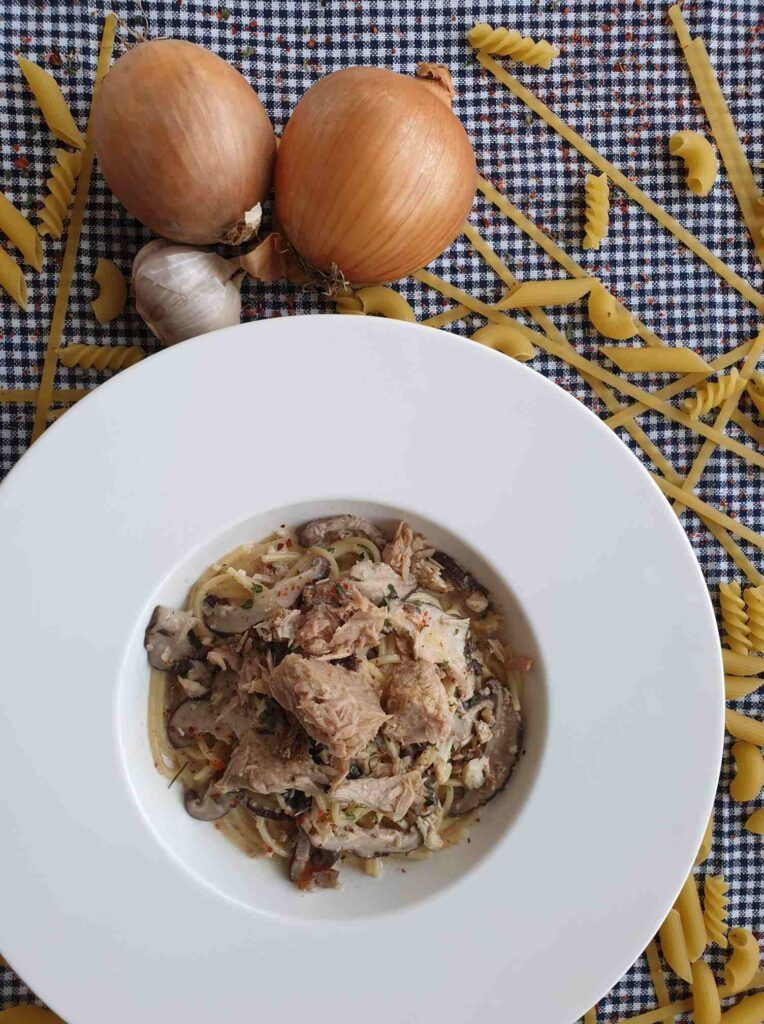 Pick-A-Pasta Menu Aglio Olio 
The word Aglio Olio refers to spaghetti with garlic and oil. This iconic variation of Italian pasta is well-loved by the crowd. The Aglio Olio pasta dishes Pick-A-Pasta serves are plain and prawn pasta. 
Plain Aglio Olio. Aglio Olio is one of the popular Italian pastas. This classic and simple cuisine is made with pasta, oil, chili flakes, olives, and capsicum. The taste of its ingredients is blended perfectly, giving diners a hearty meal. 
Prawn Aglio Olio. This prawn aglio olio is a great choice for a more flavorsome dish. Capsicum, chili flakes, olives, and prawn are laid on a bed of pasta. Garlic slices are slowly toasted in olive oil. The spicy flavor goes well with the taste and texture of other ingredients.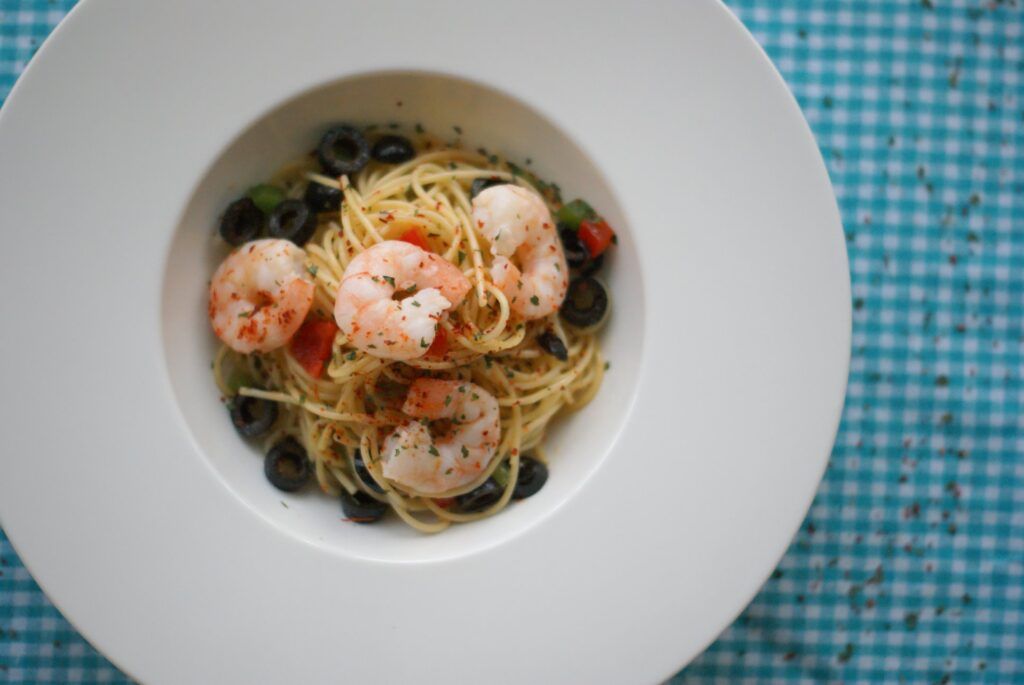 Pick-A-Pasta Menu Singaporean Delights 
The Salted Egg Prawn is a Singaporean delight that Pick-A-Pasta offers. The creaminess and softness of salted egg work incredibly with pasta, cream sauce, garlic, and prawns. Garlic adds an excellent taste and nutritional value to this pasta. This dish has a vibrant color and hearty flavor that makes this cuisine satisfying. It is a delicious dish you should try when visiting this restaurant.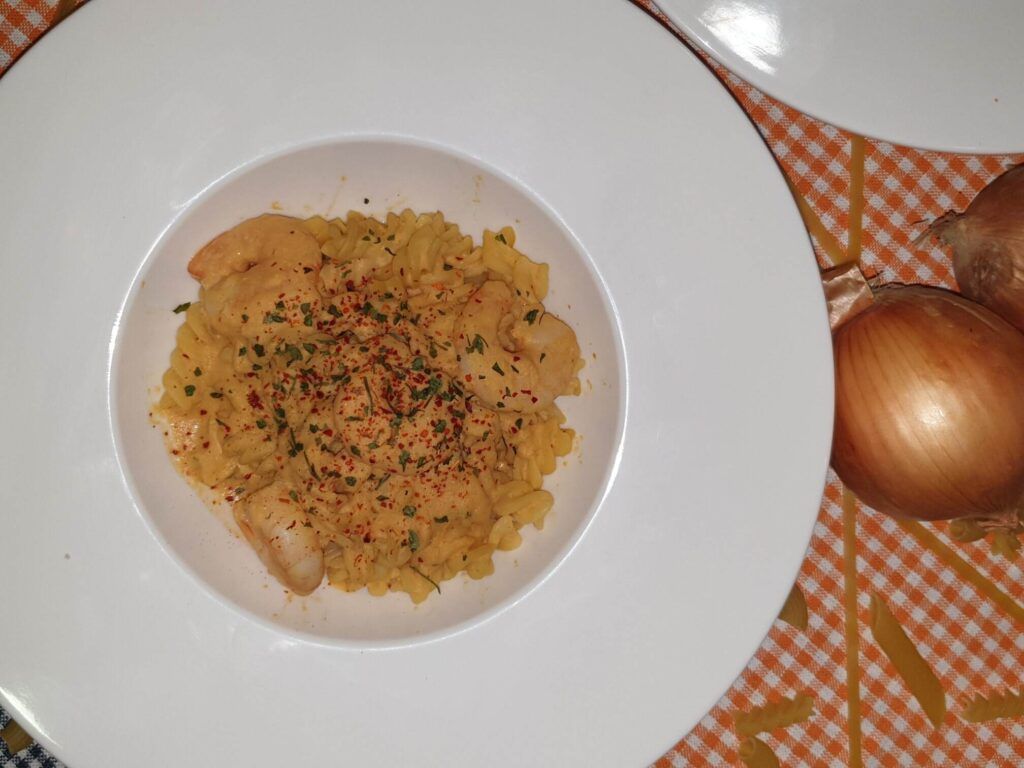 Pick-A-Pasta Menu Delivery 
Foodpanda, Grabfood, Deliveroo, and Caterspot are the partner delivery platforms of Pick-A-Pasta, where you can order your favorite dishes. Its menu is also available at https://order.pickapasta.sg.com. 
Pick-A-Pasta Social Media Pages
Are you a pasta lover in search of your next favorite dining spot? Look no further than Pick-a-Pasta! Indulge in their wide selection of made-to-order pasta dishes, each crafted with the freshest ingredients and bursting with flavor. Stay connected and never miss out on their tantalizing specials, seasonal creations, and exciting promotions by following their social media pages.
Facebook: https://www.facebook.com/pickapastasg
Instagram: https://www.instagram.com/pickapastasg
FAQs 
Where are the Pick-A-Pasta outlets located in Singapore? 
The outlets of Pick-A-Pasta Singapore are located in the following locations: 
1 Seletar Rd, 01-15, Greenwich V, 807011
1 Woodlands Rd, 01-03, Junction 10, 677899
116 Changi Rd, 01-09, wis@changi, 419718
How does Pick-A-Pasta's customization process work? 
You can customize your order at Pick-A-Pasta by choosing your preferred variation, such as a la carte or set with garlic bread & canned coke. It also allows customers to choose their favorite type of pasta. Side dishes include fried wings, mozza sticks, garlic bread, onion ring, chicken tenders, potato wedge, cheesy fries, sweet potato fries, chicken karaage, and plain fries. 
What are some popular pasta sauces available at Pick-A-Pasta? 
Some popular pasta sauces at Pick-A-Pasta are beef Bolognese, cheese, red sauce, and white sauce. 
Does Pick-A-Pasta offer any promotions or loyalty programs? 
Pick-A-Pasta does not have loyalty programs but offers exclusive and limited promotions through its partner delivery platforms.  
Is Pick-A-Pasta Halal certified? 
Pick-A-Pasta is not a halal-certified restaurant in Singapore. 
Conclusion 
The Pick-A-Pasta menu is loved for its wide selection of pasta flavors. It is an excellent place for pasta lovers and those who want to try various pasta dishes. The hearty cuisine of this restaurant always satisfies its patrons and makes them look forward to their next visit. It also offers promotions through its partnered delivery platforms, where you can enjoy your favorite dishes at lower prices.