Shake Farm is a health-conscious cafe that offers a variety of nutritious and delicious options for breakfast, lunch, and dinner. A wide range of salads, wraps, smoothie bowls, and cold-pressed juices are available on Shake Farm's menu, along with plant-based burgers and gluten-free options. In addition to its food menu, Shake Farm also offers a range of cold-pressed juices, smoothies, and other beverages, all made with natural and organic ingredients. Overall, their menu emphasizes healthy, nutrient-rich options that are appealing to customers who are mindful of their health or have certain dietary restrictions.
You can find the updated pricing information for the Shake Farm menu below.
MENU
PRICE (SGD)

What's Hot

Espresso
$3.00
Americano
$4.50
Flat White
$5.00
Cappuccino
$5.50
Latte
$5.00
Mocha
$7.00
Cinnamon Coconut Latte
$6.00
Golden Milkj
$6.00
Coconut Matcha Latte
$6.00
Bullet Proof
$8.00

Iced Coffee shakes

Awesome Acai
$9.00
Wakey Wakey
$9.00
Mocha Muscle
$11.00
Coco Coconut
$9.00

Herbal Remedy

Vanilla Spice energy
$5.00
Breathe deep
$5.00
Blueberry Green Tea
$5.00
Throwat comfort
$5.00

Detox Water

Apple Decider
$8.50
Fruit Fix
$8.50
Skinny Mint
$8.50
Sassy Water
$8.50
Berry Lovely
$8.50
WAter Water Melon
$8.50
Mango Ginger
$8.50
Blueberry Rose
$8.50

Better Burgers

Classic Bombastic
$19.90
Macho Mexican
$20.90
Keto King
$24.90
No Misteak
$25.90
Sexy Fish
$23.90
Captain Possible
$25.90
Proper Impossible
$28.90

Breakfast Shakes

Breakfast Blend
$8.00
Sunrise Shake
$8.00
Morning Mender
$8.00
Early Energiser
$8.00

Nature Remedies

Body Boost
$8.00
Stress Less
$8.00
Antioxidant Affair
$8.00
Hangobver healer
$8.00

Protein Shakes

Poower Dump
$9.00
Clean Cut
$9.00
Muscle Max
$9.00
Super Strength
$9.00

Detox Diet Shakes

Clean Cleanse
$8.00
Fat Fighter
$8.00
Deep Detox
$8.00
Summer Slimmer
$8.00

Super Toast

Eggs and Avocado
$12.00
Wholesome Hummus
$12.00
Go Greek
$12.00
Banana Nutter
$12.00

Protein Bowls

Grandma Roast
$12.00
Beef Bros
$12.00
Mexicana
$12.00
Veganlicious
$12.00
All Day Brunch
$12.00

Breakfast Bowls

Morning Mix
$12.00
Totally Tropical
$12.00
Coco Crunch
$12.00
Apple Crumble
$12.00

Super Salads

The Super Salad
$12.00
Mighty Mexican
$12.00
Perfect Pesto
$12.00
Green Goodness
$12.00

Pita Pockets

Chick-a Pita
$12.00
Tunalicious
$12.00
Healthy Hummus
$12.00
Let's Go Pesto
$12.00

Acai Bowls

The Super Bowl
$12.00
Mighty Mango
$12.00
Awesome Avocado
$12.00
Tropical Bliss
$12.00

Chia Bowls

Man Goes chia
$12.00
Cha Cha Chia
$12.00
Chocochia
$12.00
Muscle Chia
$12.00
About Shake Farm
Shake Farm is a health-conscious restaurant located in the heart of Singapore. Shake Farm strives to offer customers environmentally friendly, delicious, and healthy food selections. The interior of the restaurant has a cozy and relaxed atmosphere, with rustic wooden furniture and plants adding to the natural and organic theme. Shake Farm also offers a takeaway and delivery service, making it a convenient option for those looking for healthy and sustainable food on the go.
Shake Farm Menu Best Seller
This menu is popular for offering a variety of healthy and delicious options, with a focus on fresh and nutritious ingredient
Cappuccino – Shake Farm's cappuccino is a well-balanced and smooth coffee drink with a nice frothy layer on top which makes it one of the best-selling offerings at the said establishment. It has a good coffee-to-milk ratio and is not too bitter which makes for a very satisfying drink.
Latte – The latte at Shake Farm is creamy and smooth, with a mild coffee flavor that is not overpowering making it a great option for those who prefer a milder coffee taste.
No Misteak – No Misteak is a vegan dish made with marinated portobello mushrooms, roasted peppers, caramelized onions, and vegan cashew aioli. The mushrooms are well-marinated and have a savory flavor that complements the sweetness of the onions and peppers and the cashew aioli adds a creamy texture to the dish.
Eggs and Avocado – This dish consists of two poached eggs served with avocado and multigrain toast which are cooked perfectly with runny yolks and nicely toasted, adding a crunchy texture to the dish, while the avocado used in this dish is fresh and ripe.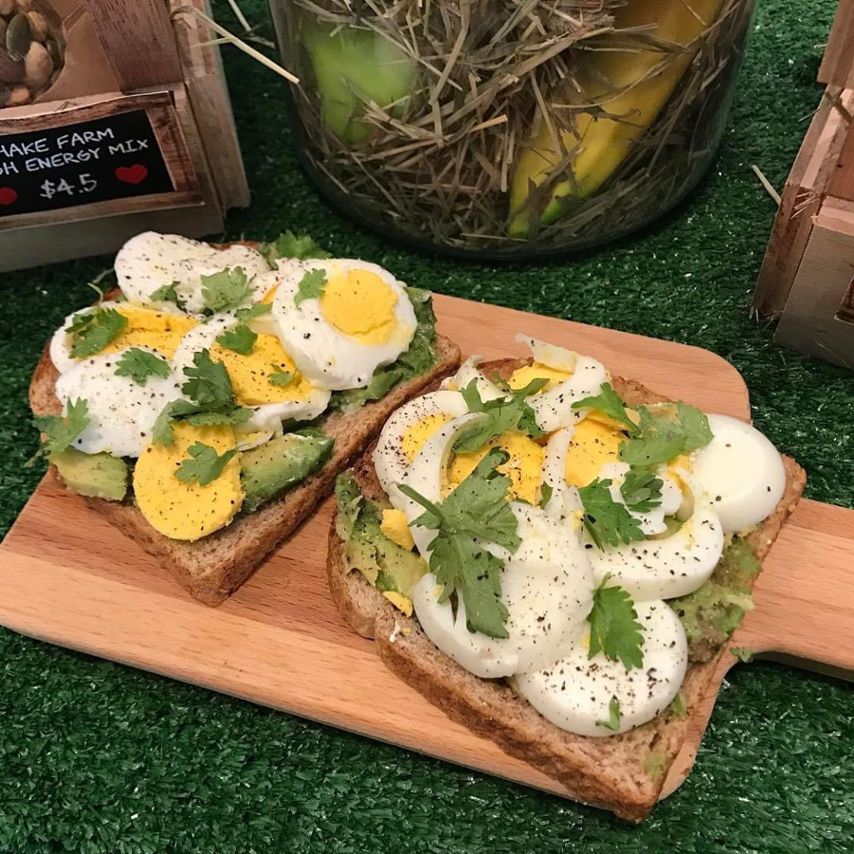 Chick-a-Pita – This is a vegan dish made with grilled chickpea patties, hummus, roasted red peppers, and mixed greens, served on warm pita bread. The chickpea patties are well-seasoned and have a nice smoky flavor, the hummus is creamy and flavorful, while the red peppers add a sweet and tangy taste to the dish.
Shake Farm All Day Menu
Totally Tropical – This smoothie is a refreshing blend of pineapple, mango, and banana with coconut water which has a tropical flavor that is perfect for a hot day. The smoothie is thick and creamy, and the sweetness from the fruits is well-balanced making it a delicious and healthy option for a mid-day snack or breakfast.
Coco Crunch – This smoothie bowl is made with acai berries, bananas, coconut milk, granola, and coconut flakes. These ingredients combine to produce a dish with a delightful and delectable creamy and crunchy texture.
Apple Crumble – The dish is made with baked apples, topped with granola and almond butter which gives a healthy twist on the classic dessert. The apples are soft and juicy, and the granola adds a crunchy texture to the dish while the almond butter is a perfect complement to the sweetness of the baked apples.
Better for your Burgers
This menu of Shake Farm is made up of healthy burgers that are very popular, especially for customers who have dietary restrictions.
Classic Bombastic – This menu item is a classic burger that includes a homemade patty made of lentils and brown rice, topped with mixed greens, tomato, pickles, and vegan mayo, and served with a side of sweet potato fries.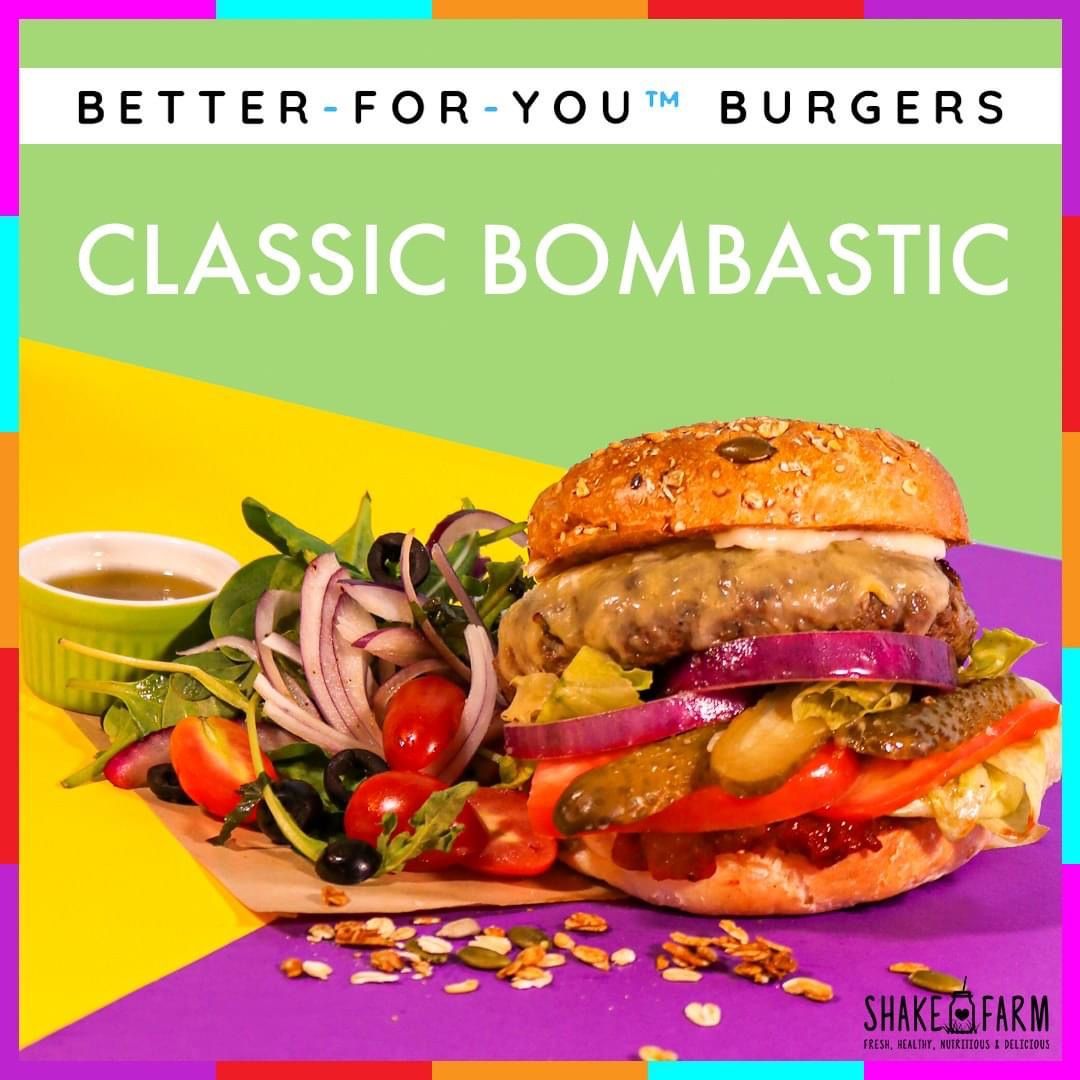 Captain Possible – This dish is a poke bowl made with marinated salmon, edamame, pickled ginger, avocado, and mixed greens on a bed of quinoa, drizzled with sesame dressing.
Proper Impossible – This menu item is a burger that features a plant-based patty made with Impossible Meat, topped with vegan cheddar cheese, tomato, mixed greens, and vegan mayo and served with a side of sweet potato fries.
Shake Farm Menu with Price Big Shot Coffee
This menu is made of different variety of coffee offerings that are perfect for coffee lovers with different preferences and caffeine levels.
Espresso – Shake Farm blends a classic shot of espresso that is perfect for coffee lovers who want a strong, bold flavor.
Americano – This coffee variety is one of the more popular coffee drinks at Shake Farm that is made by simply adding hot water to a shot of espresso. This coffee drink is best known for its smooth taste and slightly bitter aftertaste.
Flat White – It is an Australian coffee drink that has gradually become popular around the world made by pouring microfoam over a shot of espresso, creating a smooth and velvety texture.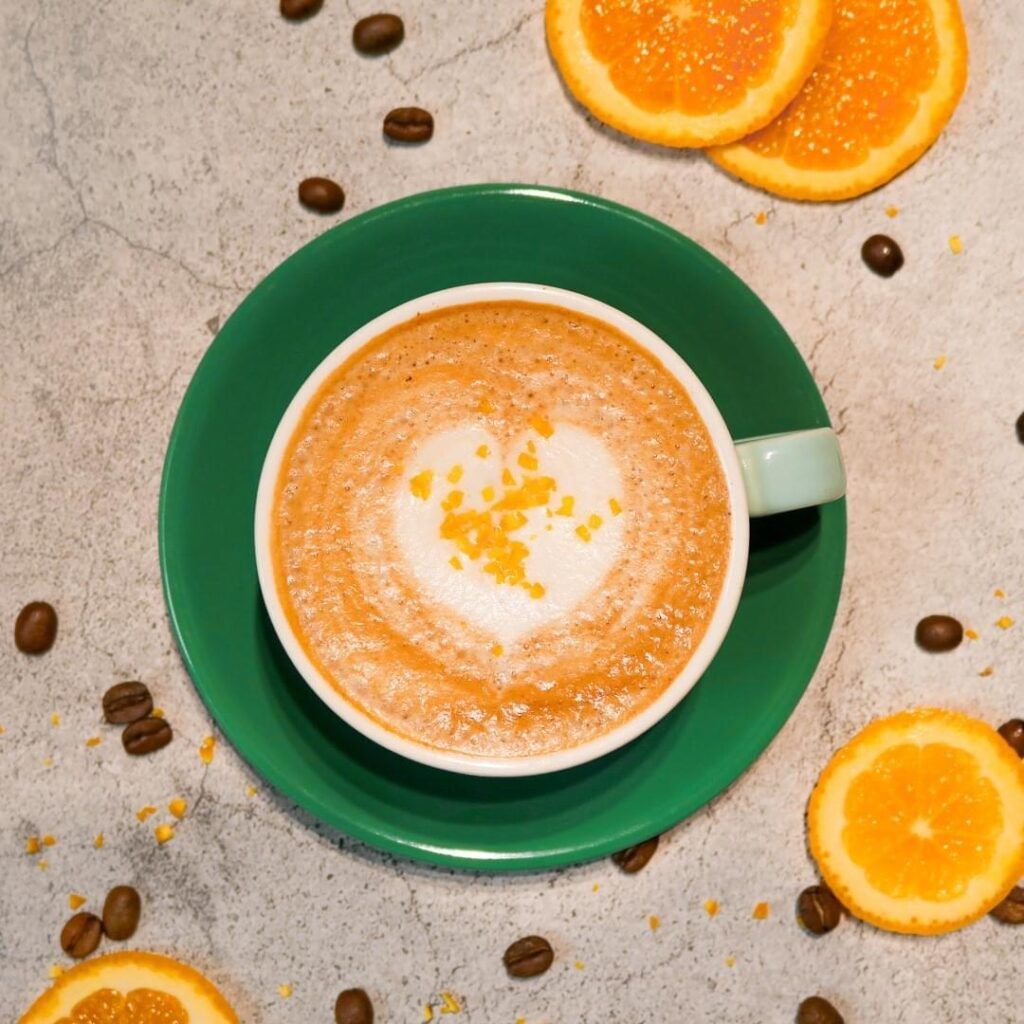 Build your Own Bowl
At Shake Farm, the power is in your hands with their "Build Your Own Bowl" option. It's all about customization, allowing you to craft your very own healthy and nutritious meal. Start by selecting your preferred base, then choose from a range of proteins, vegetables, and toppings to create a bowl that perfectly suits your taste and dietary needs. Whether you're craving a protein-packed delight or a veggie-filled sensation, Shake Farm's "Build Your Own Bowl" ensures that every bite is tailored to your liking. So get ready to unleash your creativity and nourish yourself with a personalized culinary masterpiece!
Shake Farm Menu Delivery
For a better and more convenient ordering experience, Shake Farm has got you covered with their menu delivery service. This service is designed to make the process quicker and easier for customers. Thanks to the assistance of popular third-party delivery services like GrabFood, Deliveroo, and FoodPanda, you can enjoy Shake Farm's delicious offerings without any hassle. Simply browse their menu, place your order, and have it delivered right to your doorstep. It's a seamless way to savor the wholesome goodness of Shake Farm's menu, all from the comfort of your own home. So, sit back, relax, and let the flavors come to you with their reliable delivery options.
Shake Farm Social Media Pages
Stay connected with Shake Farm and join their vibrant community on social media! Follow them for daily inspiration, mouthwatering food photos, and updates on the latest menu creations. Get a glimpse into the world of healthy eating, and wellness tips, and discover how we're committed to providing nourishing and delicious meals. Don't miss out on exclusive promotions and giveaways!
Facebook: https://www.facebook.com/shakefarm
Instagram: https://www.instagram.com/shakefarm
Website: https://shakefarm.com
FAQs
What are some popular dishes and drinks on the Shake Farm menu?
Some popular dishes and drinks on the Shake Farm menu include the Acai Bowl, Breakfast Burrito, Truffle Mushroom Quinoa, Shake Farm Burger, and Super Green Juice.
What type of cuisine does Shake Farm serve?
Shake Farm offers organic, nutritious food with a focus on regional products.
Where is Shake Farm located in Singapore?
There are two Shake Farm outlets in Singapore. One is located at 126 Telok Ayer St, Singapore 068595, and the other is at 89 Neil Road, Singapore 088849.
Is Shake Farm halal-certified?
Shake Farm is not halal-certified because they serve a variety of dishes, including some with non-halal meat such as bacon and ham.
Conclusion
Shake Farm is a health-focused restaurant whose menu offers a variety of healthy and organic options for breakfast, lunch, and dinner. Their menu features salad dishes, grain bowls, wrapped foods, smoothie bowls, cold-pressed juice, and a wide variety of coffee selections. The restaurant highlights the use of natural, fresh ingredients in all of its dishes. Overall, Shake Farm is a decent choice for locals and tourists who are looking for wholesome meal options and are concerned about their health.