Sushi Express is a safe haven for many sushi lovers in Singapore as it offers a wide variety of carefully crafted sushi dishes that will surely satisfy and delight anyone! If you want to have a taste of the best sushi menu from Japan, then Sushi Express is the best place to go. They have traditional sushi rolls and innovative creations that were carefully curated with an array of delectable options that will tantalize anyone's taste buds.
You can find the updated pricing information for the Sushi Express menu below.
MENU
PRICE (SGD)

Platter

Premium Salmon Platter
$40.00
Signature Sushi Platter
$40.00
Aburi Platter
$30.00

Bento

5-Varieties Bento
$11.65
Grilled Cheese Abalone & Aburi Salmon Bento
$11.60
Grilled Caramelized Salmom & Aburi Salmon Bento
$11.60
Cooked Sushi Bento
$11.60
Kid Bento
$9.30
Hanamaki Bento
$19.60
Hanamaki Seafood
$0.90
Salmon Mentaiyaki
$16.30
Salmon Duo
$14.00
Salmon Hanamaki
$5.50
Hosomaki Mayo
$9.30

Don

Salmon Don
$10.50
Tilapia Don
$9.00

Side Dishes

Salmon Sashimi (10 pcs)
$15.50
Wakame
$5.00
Seasoned Octopus
$5.00
Miso Soup
$2.50
About Sushi Express
Sushi Express is a popular sushi chain in Singapore known for its affordable and convenient sushi offerings. The restaurant aims to provide a casual and quick dining experience, making it a favorite among sushi lovers who are looking for a convenient and budget-friendly option. Sushi Express offers a wide variety of sushi rolls, sashimi, and other Japanese dishes, all freshly made and served on a conveyor belt. Sushi Express has become one of the go-to destinations for sushi enthusiasts in Singapore for its fast service and affordable prices.
Sushi Express Menu Best Seller
The menu is composed of a wide selection of delectable items that are mostly ordered by all of the customers that visit Sushi Express.
Kid Bento – This bento box includes bite-sized sushi rolls, tempura, and other kid-friendly items that cater to young diners. It provides a balanced meal and introduces children to the flavors of sushi in a fun and approachable way. 
Hanamaki Bento – This visually stunning and delicious option features a variety of sushi rolls beautifully arranged to resemble a flower. The bento showcases the skillful artistry of the sushi chefs and adds an elegant touch to the dining experience.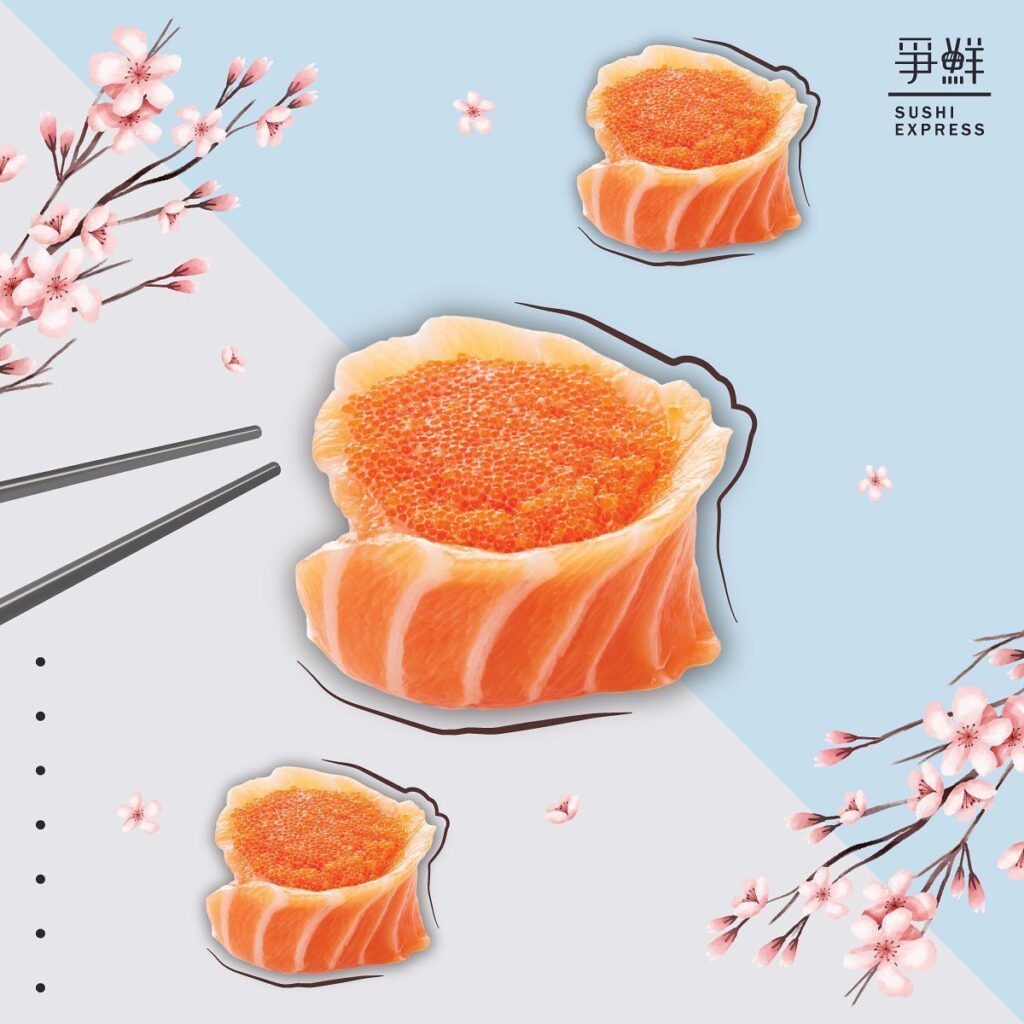 Salmon Don – This rice bowl is topped with generous portions of fresh, tender salmon sashimi, making it a perfect choice for salmon lovers or anyone seeking a simple yet flavorful option. The delicate fish is expertly sliced and served atop a bed of seasoned rice, creating a satisfying and well-balanced meal.
Miso Soup – This soup is made with a traditional miso paste, and the soup features a delicate balance of umami flavors which is served hot and filled with tofu, seaweed, and scallions, creating a comforting and satisfying soup that complements the sushi dishes perfectly.
Sushi Express Menu Platter
This platter menu provides a convenient way to order for those who come to Sushi Express in large groups.
Premium Salmon Platter – It features a generous assortment of premium salmon sushi, showcasing the rich, buttery flavors of this popular fish. Each piece is expertly crafted, with the salmon's melt-in-your-mouth texture and delicate flavor taking center stage.
Signature Sushi Platter – This platter includes a mix of traditional nigiri sushi and creative rolls, offering a balance of flavors, textures, and ingredients. It is an ideal choice for those looking for a well-curated selection of sushi that highlights both traditional and contemporary flavors.
Aburi Platter  – This platter features a selection of sushi that has been lightly torched to enhance the flavors and impart a delightful smoky taste. The searing process adds depth and complexity to the sushi, creating a harmonious balance between the charred exterior and the tender fish inside.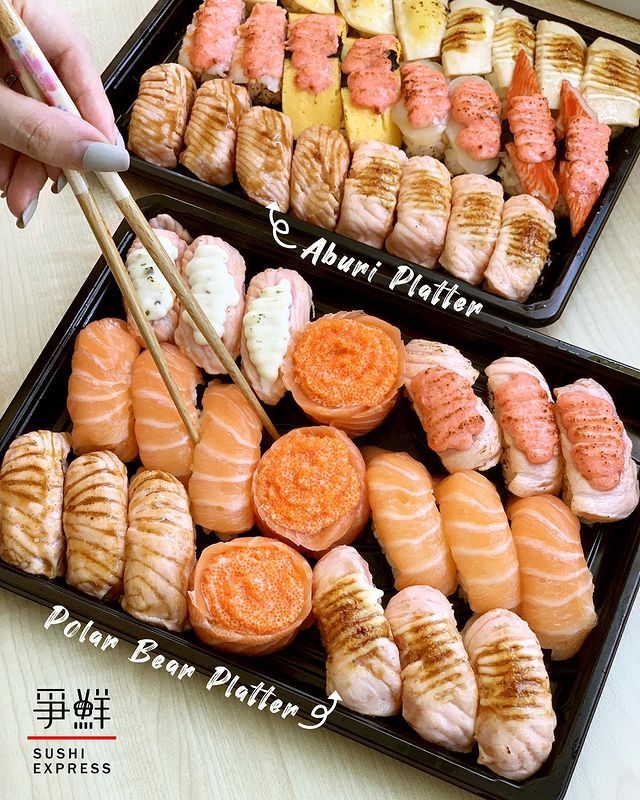 Sushi Express Menu Bento
Sushi Express' Bento menu showcases the creativity and versatility of all their sushi creations that highlight the skill and expertise of the sushi chefs.
5-Varieties Bento – This bento box offers a selection of five different sushi varieties, allowing you to enjoy a range of flavors and textures in one convenient package. The bento box is thoughtfully assembled, providing a balanced and well-rounded meal that showcases the versatility of sushi.
Grilled Cheese Abalone & Aburi Salmon Bento – This bento box combines the richness of grilled cheese abalone with the smoky and savory notes of aburi salmon. The grilled cheese abalone offers a satisfying crunch and creamy cheesiness, while the aburi salmon brings a delightful seared texture and umami flavors.
Grilled Caramelized Salmon & Aburi Salmon Bento – The bento box features two preparations of salmon: grilled caramelized salmon and aburi salmon. The grilled caramelized salmon boasts a sweet and slightly charred exterior, complementing the tender and flaky flesh inside. The aburi salmon, on the other hand, is lightly torched to enhance its flavors and provide a subtle smoky taste.
Sushi Express Menu Side Dishes
This menu provides a wide range of flavors and textures to enhance your sushi dining experience.
Salmon Sashimi (10 pcs) – The dish features ten generous pieces of fresh and succulent salmon slices, expertly sliced to showcase the vibrant color and delicate texture of the fish. Each piece is melt-in-your-mouth tender, with a clean and buttery flavor that is characteristic of premium salmon.
Wakame – It is a refreshing and nutritious side dish that is made with marinated seaweed, this salad offers a balance of flavors and textures. The wakame seaweed is tender with a slight chewiness, and it is complemented by a light and tangy dressing that enhances the natural umami flavors.
Seasoned Octopus – The Seasoned Octopus dish at Sushi Express is a flavorful and unique option for those seeking a taste of the sea. The octopus is marinated with a savory and tangy seasoning which gives it tender and has a slightly chewy texture, making it a delightful bite.
Don Menu
This menu offers a variety of donburi options on their menu, providing a satisfying and convenient meal in a bowl. Overall, Sushi Express' don menu provides a range of options to suit different preferences and appetites whether you are looking for raw or cooked seafood, or you're looking for a kid-friendly option.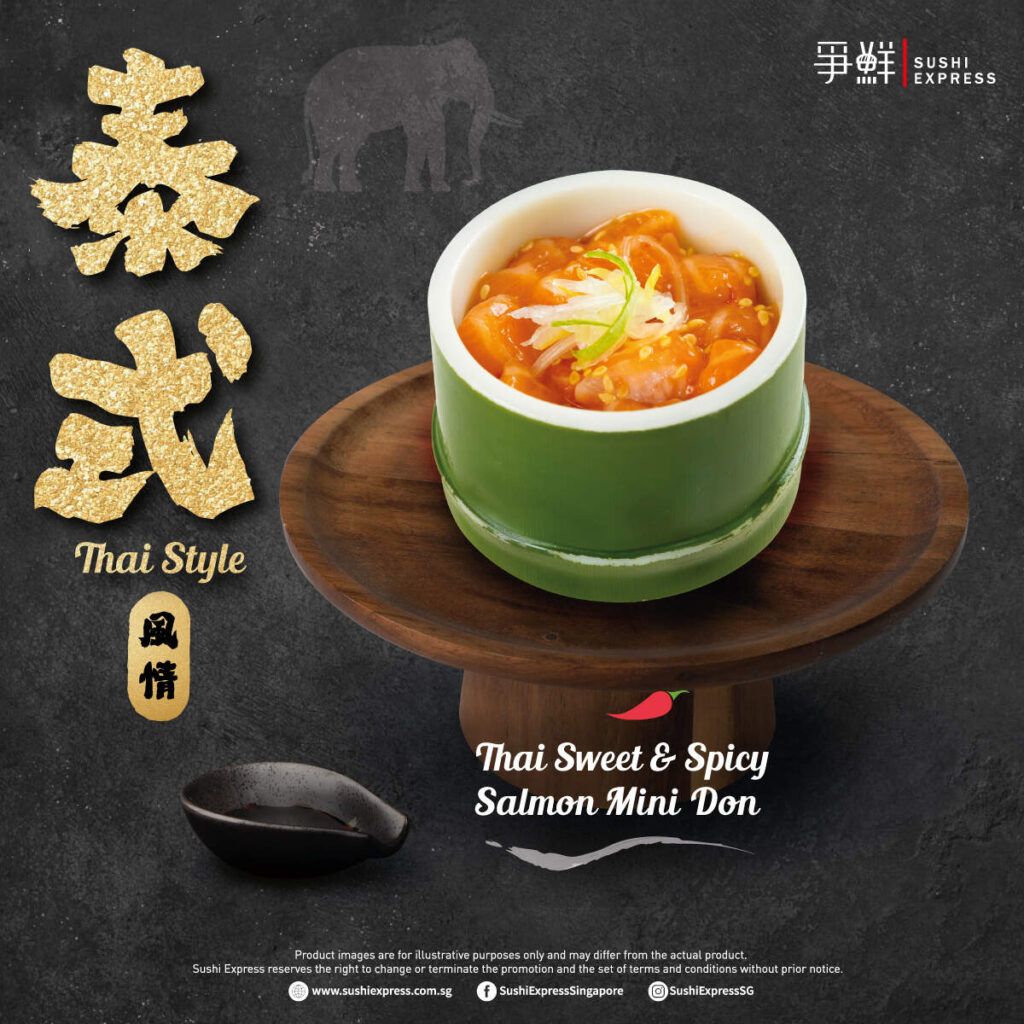 Dessert
While Sushi Express is known primarily for its savory sushi and bento options, it also offers a selection of delightful desserts to satisfy your sweet tooth. One standout item on their dessert menu is the Mochi Ice Cream. These bite-sized treats consist of a soft and chewy mochi exterior wrapped around a creamy and flavorful ice cream filling.
Sushi Express Menu Delivery
Sushi Express offers a convenient and hassle-free menu delivery service, allowing customers to enjoy their favorite sushi and Japanese dishes in the comfort of their own homes. With its delivery, customers can browse through a wide selection of sushi rolls, sashimi, bento boxes, and more through third-party delivery services like GrabFood.
Social Media Pages
Welcome to Sushi Express, where sushi dreams come true! Follow their social media pages to stay updated on the latest sushi creations, promotions, and exclusive offers. Sushi Express's passion for delivering fresh, delicious, and affordable sushi is evident in every bite.
Facebook: https://www.facebook.com/SushiExpressSingapore
Instagram: https://www.instagram.com/sushiexpresssg/
Website: http://www.sushiexpress.com.sg/locations
FAQs
Where are the Sushi Express outlets located in Singapore?
Sushi Express is located at 107 North Bridge Road, #B2-14, Funan Mall, Singapore 179105.
What types of sushi are available at Sushi Express Singapore?
Some popular types of sushi that are available at Sushi Express are Nigiri Sushi, Maki Rolls, Gunkan Sushi, and Temaki Sushi.
Is there a set price for the sushi plates at Sushi Express?
Yes, at Sushi Express, the sushi plates are typically priced at a fixed and affordable rate.
Are there any promotions or discounts available at Sushi Express?
Yes, Sushi Express often offers promotions and discounts to provide additional value and savings to their customers.
Does Sushi Express have any halal certifications?
Sushi Express doesn't have halal certification.
Conclusion
Sushi Express is a popular dining destination for sushi enthusiasts in Singapore with an extensive menu that features a wide range of sushi, sashimi, and appetizers, there is something to satisfy every palate. The restaurant's commitment to using high-quality ingredients ensures that each dish is fresh and flavorful. Sushi Express offers a convenient and enjoyable way to indulge in delicious Japanese cuisine that will surely leave any customers satisfied and coming back for more.