Most Singaporeans enjoy drinking bubble tea. It seemed that no one could possibly object to it. Your demands for milk tea could be satisfied by the Itea menu. Every consumer may get a lot from them at a reasonable price. The Itea menu's top sellers are mentioned in this article. You might want to give them a try after reading this one.
MENU
PRICE (SGD)

TaroBobo

Taro Bobo Fresh Milk
$5.70
Taro Bobo Milk Tea
$5.70

Premium Tea

Peach Green Tea
$4.10
Golden Oolong Tea
$3.80
Honey Earl Grey
$4.10
Aloe Vera Passion Fruit Green Tea
$4.70
Fresh Lemon Green Tea
$4.40
Honey Green Tea
$4.10
Fresh Lemon Earl Grey
$4.70
Passion Fruit Green Tea
$4.10
Assam Black Tea
$3.40
Peach Green Tea White Pearl
$4.70
Lime Green Tea
$4.10
Jasmine Green Tea
$3.40
Yakult Green Tea
$4.70
Ribena Black Tea
$4.10

Macchiato Latte

Green Tea Macchiato
$4.40
Fresh Milk Grass Jelly
$4.90
Brown Sugar Pearl Fresh Milk
$4.70
Golden Oolong Macchiato
$4.60
Macchiato Chocolate
$5.00
Macchiato Mocha
$5.60
Earl Grey Latte
$5.40
Black Tea Macchiato
$4.40

Premium Ice Blended

Chocolate Oreo Ice
$4.70
Chocolate Ice
$4.10
Coffee Ice
$4.10
Mocha Coffee Ice
$5.00
Cappuccino Ice
$4.10
Oreo Ice
$4.10
Coco Shiok
$5.70

Stylo Milo

Milo Macchiato
$4.90
Milo Ice
$4.10
Hazelnut Milo
$4.90
Caramel Milo
$4.90
Peppermint Milo
$4.90
Milo Latte
$5.40

Popular Drinks

Pearl Milk Tea
$3.70
Brown Sugar Pearl Milk Tea
$4.70
Coco Shiok
$5.70
Chocolate Oreo Ice
$4.70
Peach Green Tea White Pearl
$4.70
Caramel Milk Tea
$4.70

Milk Tea

Pearl Milk Tea
$3.70
Mint Chocolate Milk Tea
$5.00
Strawberry Milk Tea
$4.40
Caramel Milk Tea
$4.70
Honey Milk Tea
$4.40
Green Milk Tea With Pearl
$3.70
Ice Cream Milk Tea
$4.90
Hazelnut Milk Tea
$4.70
Earl Grey Milk Tea
$4.10
Brown Sugar Pearl Milk Tea
$4.70
Grass Jelly Milk Tea
$4.70
Peppermint Milk Tea
$4.40
Golden Oolong Milk Tea
$4.10
HoneyDew Milk Tea
$4.40
Oreo Milk Tea
$4.70
Chocolate Milk Tea
$4.70

Juice/Yakult

Fresh Lemon Yakult
$5.00
Mango Yakult
$5.00
Peach Yakult
$5.00
Sprite Lime
$3.80
Passion Fruit Yakult
$5.00
Aloe Vera Honey Lemon Aiyu
$4.70
Green Apple Yakult
$5.00

Cool Ice Blended

Passion Fruit Ice
$3.50
Bandung Ice
$3.50
Strawberry Ice
$3.50
Green Apple Ice
$3.50
Ribena Ice
$3.50
Mango Ice
$3.50
Honeydew Ice
$3.50
Peach Ice
$3.50
Green Lime Ice
$3.50

Smoothie

Mango Yogurt
$4.70
Peach Yogurt
$4.70
Strawberry Smoothie
$4.70
Mango Peach Yogurt
$5.00
Mango Smoothie
$4.70
Peach Smoothie
$4.70

Q-Ball

Q Ball Grass Jelly Fresh Yam
$5.60
Q Ball Grass Jelly Aiyu
$4.90
Q Ball Grass Jelly Aiyu White Pearls
$5.70
Q Ball Grass Jelly
$4.10
Q Ball Grass Jelly Aiyu Coconut Jelly
$5.30
Q Ball Grass Jelly Pudding
$4.90
About Itea
When he opened up his bubble tea store in 2011, Mr. Kelvyn Choo, 30, who is the owner of iTea at the Institute of Technical Education College East, recalls having to do everything by hand. Since 2011, iTEA has existed in Singapore. For everyone, they work to create the Perfect Tea. Their goal is to give customers an inexpensive, refreshing experience with excellent tea.
Itea Menu Best Seller
The goal of the café iTea is to provide you with the highest quality tea. You deserve tea that tastes wonderful, is healthy, and is reasonably priced, according to iTea. Come check out their assortment of teas here in Singapore if you're seeking for something novel and delicious. iTea guarantees you'll discover something to your liking.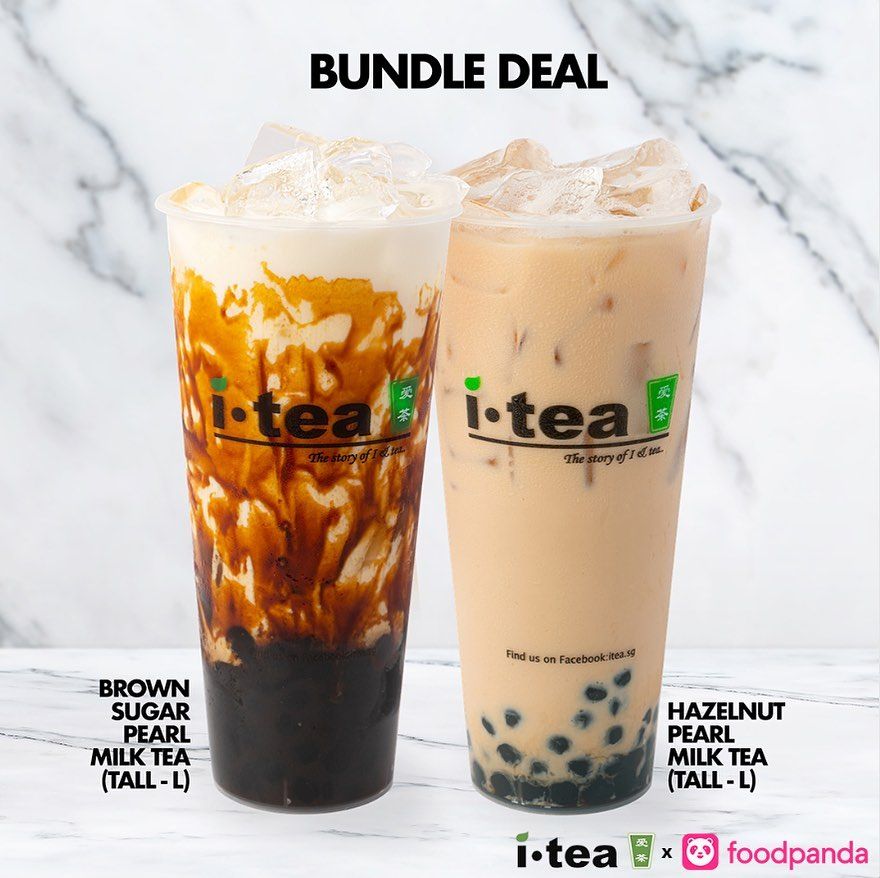 Brown Sugar Pearl Milk Tea – Brown Sugar Pearl Milk Tea is the perfect option if you're searching for a daring beverage. This beverage has a sense of salinity and is both sweet and savory, elevating it above regular tea. The brown sugar pearls have a smooth, chewy texture that blends in beautifully with the rest of the beverage. The tea itself has the ideal ratio of salty to sweet; it is rich and creamy without being too sweet.
Caramel Milk Tea – The tea gives the sweet, creamy beverage a touch of bitterness. This Itea menu has a flavor of caramel that is delectable and not overbearing. In essence, it's like sipping a melted caramel sundae, except with tea in place of ice cream. And it arrives in a cup rather than a bowl when you order it. Therefore, it is essentially the same thing but better. It has a creamy, rich, and sweet texture that is just sweet enough to leave you feeling full after drinking it. The taste is mild yet distinct; you can taste the milk but also get a hint of tea at the end of each sip. It resembles a little gathering for your mouth.
Matcha Latte – A matcha latte is created using green tea powder that has been shade-grown, unlike a conventional latte. This creamy, foamy beverage has a sweet, moorish vegetal flavor thanks to green tea. While some argue that matcha itself has an umami flavor, others assert that it has a spinach-like flavor. Matcha and coffee both have a bitter flavor and few calories. Despite the fact that both coffee and matcha contain caffeine, coffee has more per serving.
Itea Premium Tea Menu
Assam Black Tea – Assam tea has a malty, earthy, and spicy flavor that is deep, rich, and full-bodied. The amount of time the tea is brewed will determine how bitter and astringent it is; both characteristics are mild. It is frequently referred to as red tea and has its origins in the Assam area of India. This tea is enormous in every way, including the leaf. Assam tea is frequently described as having a malty taste and being full-bodied and robust. Full-bodied teas are typically associated with black tea and are described as being rich and nuanced. To provide a stronger base and depth, Assam tea is frequently utilized as an ingredient in tea blends.
Jasmine Green Tea – The sweet, flowery flavor and perfume of jasmine tea often balance out the harshness of the base tea. Delectable and simple to include in your diet. Jasmine tea is not only tasty and simple to incorporate into your diet, but it is also highly healthful. It tastes sweet and mild with a flowery fragrance. When compared to normal green tea beverages, jasmine tea often has a sweeter, more delicate floral flavor. Some individuals still do not enjoy plain jasmine tea, so they may add milk or sugar to the beverage to create delectable jasmine milk tea.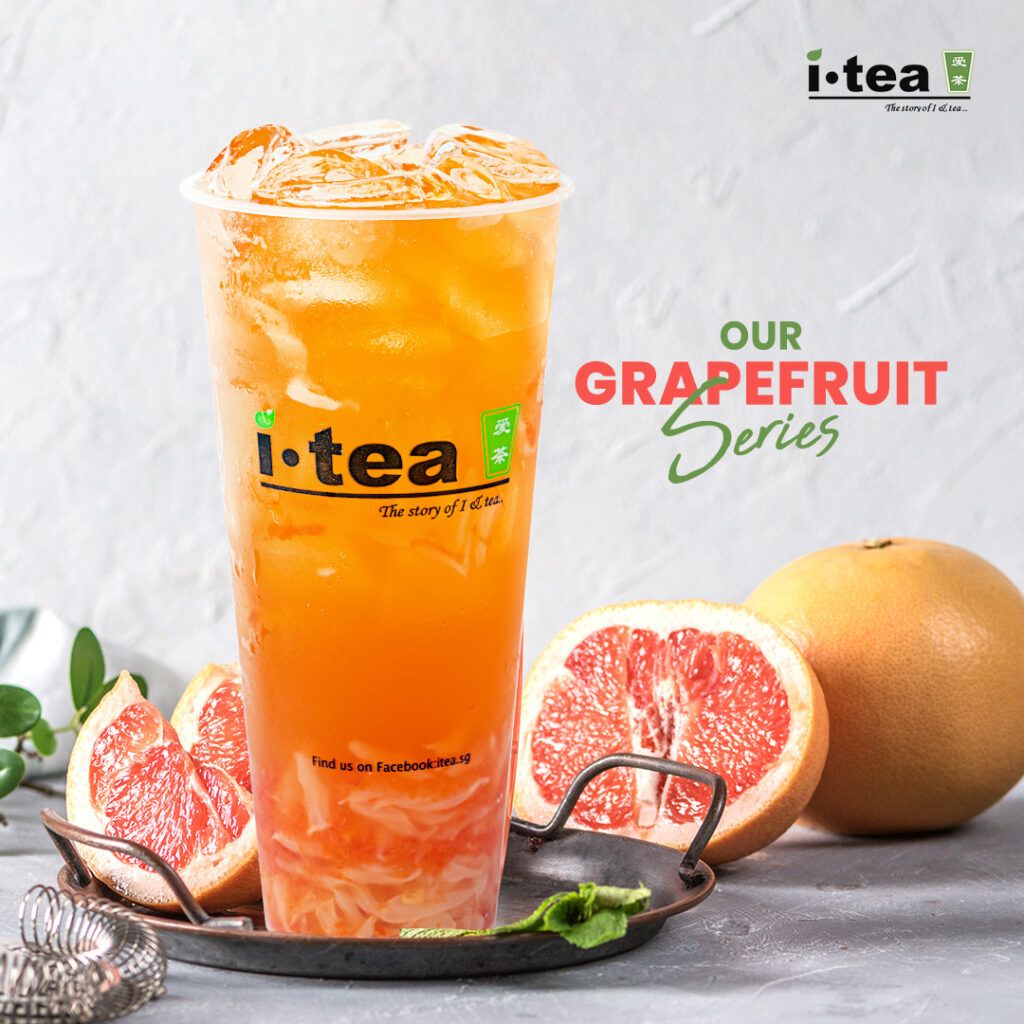 Grapefruit Green Tea Pomelo – Pomelo and grapefruit both have flavors that can be described as sweet to bittersweet, although pomelo is substantially sweeter and frequently has a softer flavor profile. Comparatively speaking, pomelo often contains less liquid than grapefruit. The pomelo, which has a flavor similar to sweet grapefruit, is often consumed and utilized in Southeast Asian celebrations. Pomelos generally taste remarkably similar to grapefruits. Pomelo types that are popular at grocery stores and farmers' markets and highly sought after by growers have a more delicate, flowery flavor than grapefruits. A common kind of pomelos with pale yellow skin and meat and a moderate flavor is the honey pomelo.
Peach Green Tea White Pearl – The flavor has notes of apple with a flowery white tea base, and it is sweet, succulent, juicy, and evocative of a summer day spent in a Georgia peach orchard. This Itea menu has a subtle flavor and is pleasant. scented with jasmine flowers and flavored with a ripe, white peach taste. White peach tea detoxifies the body, has a high antioxidant content, and is good for improving skin tone and minimizing fine lines and wrinkles, according to research.
Itea Toppings
Sago – Because starch lacks any distinctly identifiable flavor, yet has a distinct mouthfeel, both forms of pearls have neutral tastes. Sago pearls resemble the pearled starches from other sources, such as tapioca and potato starch, in appearance. Since they are produced for considerably less money, tapioca pearls are frequently advertised as sago and may be used interchangeably in some recipes.
Oreo – Similar to highly addictive substances like cocaine and morphine, Oreos trigger the same pleasure receptors in the brain as other foods. Regardless of the type, they are tasty but should only be had seldom. They may be used in a variety of dishes since they are so versatile and have such a rich flavor. Also, common methods of consumption include twisting the cookies, eating the cream, and immersing them in milk.
Mango Pudding – This creamy, thick mango pudding menu topping is flavored with juicy mangoes. This dessert is perfect for guests since it is very straightforward.
Itea Promotion
To commemorate Children's Day this year, iTEA is providing a unique 1-for-1 student promotion to ALL Primary & Secondary students. Only pupils in the Primary and Secondary grades are eligible for this promotion. For redemption, the staff just has to see one student card. Per student card, one redemption is permitted. The complimentary item must be the cheaper one, and both beverages must be the same size. There will only be one stamp granted for the two beverages. Show your student ID to receive a 1-for-1 discount. For more information about promotions, you can always visit their website at itea.sg.
Itea Menu Delivery
One of the most popular drinks to purchase online is bubble tea. It could be the beverage that Singapore's young people order the most frequently. It is well-liked for both its flavor and its sensation. The majority of bubble tea stores are packed with young people, especially when the drinks are inexpensive and delicious. Fortunately, you can get bubble tea online without visiting a real establishment. You can order through the GrabFood or Foodpanda app. You could also visit their website to order and to have more information.
Social Media Pages
If you would like to see the updates of Itea for the latest menu or promos, you have to start following them. Thankfully, they have social media pages that they regularly update. We highly recommend starting by liking and subscribing to their account so you can always get the updates. To follow them, click the links below:
Facebook: https://www.facebook.com/itea.sg/
Instagram: https://www.instagram.com/itea.sg/
Conclusion
On the iTea menu, a variety of drinks are available, including milk teas, juice, Yakult blends, and fruity brews. They are a well-liked option among native Singaporeans and are spread in several core regions. Although it established its first location in 2011, they have since grown to become a well-known tea brand in Singapore. The distinctive flavor of bubble tea is created by the sweet flavor of the tea combined with mouthwatering toppings. The texture of drinks like iced coffee and juice is the same, but with bubble tea, the pearls provide a type of diversion from the monotonous consistency.