Are you looking for a coffee shop that has the perfect blend that you are going for? Then Dal.Komm Coffe is for you! Dal.Komm Coffee is a haven for coffee lovers and enthusiasts alike that is located in the heart of Singapore that caters to both coffee enthusiasts and those looking for a refreshing non-coffee option. Their menu also includes hand-drip coffees for those who appreciate a slower brewing process that brings out the unique flavors of the beans. Try and discover the art of coffee making by letting Dal.Komm Coffe takes you to a world of pure indulgence through its great-tasting and affordable coffees.
You can find the updated pricing information for the Dal.Komm Coffee menu is below.
MENU
PRICE (SGD)

Hot Bites

French Fries
$10.90
Honey Butter Tater Tots
$11.90
Sweet Potato Fries
$12.90

Savory Treats

Ham & Cheese Croissant
$8.90
Breakfast Burrito
$9.90
Garlic Cheese Toast
$10.00
Croque Monsieur
$10.90
Kimchi Cheese Sandwhich
$10.90
Kimchi Cheese Chicken Burrito
$11.90
Sunny Cruffin
$3.90
Signature Ssamjang Chicken Cruffin
$13.90
Shiitake Mushroom & Egg Cruffin
$13.90

Pizza

Garlic Cheese Pizza
$12.90
Shiitake Mushroom Pizza
$14.90
Kimchi Cheese Pizza
$15.90
Ssamjang Chicken Pizza
$15.90

Ramyun

Shiitake Samyang Ramyun
$11.90
Ssamjang Chicken Shin Ramyun
$11.90

Toast

Injeolmi Toast
$9.90

Coffee

Espresso
$5.50
Americano
$6.00
Cafe Latte
$7.50
Cappuccino
$7.50
Vanilla Latte
$8.00
Mocha
$8.00
Caramel Machiatto
$8.00
Rose Latte
$8.00

Non Coffee

Chocolate
$9.40
Green Tea Latte
$9.40
Sweet Potato Latte
$9.40
Royal Milk Tea
$9.40
Injeolmi Latte
$9.40

Specials

Coffee Cube
$9.40
Honey Coffee Cube
$9.40
Strawberry Cube
$9.40
Mango Cube
$9.40
Honey Grapefruit
$9.40
Mango Overload
$9.40

Ice Blended

Mocha Ice Blended
$8.50
Caramel Ice Blended
$8.50
Vanilla Ice Blended
$8.50
Chocolate Ice Blended
$8.50
Green Tea Ice Blended
$8.50
Greek Yogurt Ice Blended
$8.50
Sweet Potato Ice Blended
$9.00
Yuzu Greek Yogurt Ice Blended
$9.00

Ade

Grapefruit Ade
$8.40
Strawberry Lemonade
$8.40
Yuzu Citron Ade
$8.40

Tea

Citron Tea Yuzu
$7.00
Red Elderberry
$6.50
Sweet Rooibos Tea
$6.50
Earl Grey
$6.50
Camomile
$6.50
Peppermint
$6.50
Green Tea
$6.50
About Dal.Komm Coffee
Dal.Komm Coffee is a popular coffee chain originating from South Korea that has made its mark in Singapore. With its trendy and modern ambiance, it offers a unique coffee experience to its patrons. Dal.Komm Coffee is known for its specialty coffee made with premium Arabica beans, ensuring a rich and aromatic brew with every sip. The menu features a wide selection of coffee-based beverages, including espresso-based classics, hand-drip brews, creative specialty drinks, and a range of teas, smoothies, and desserts, providing a delightful variety of options for customers to enjoy. 
Dal.Komm Coffee Menu Best Seller
This menu offers a range of well-crafted and flavorful coffee options that will help you go through your day.
Green Tea Latte – It is a delightful blend of matcha green tea and steamed milk that offers a smooth and creamy texture with a distinct, earthy flavor of green tea. The drink is expertly crafted, balancing the bitterness of the tea with the sweetness of the milk resulting in a refreshing and comforting choice for green tea lovers.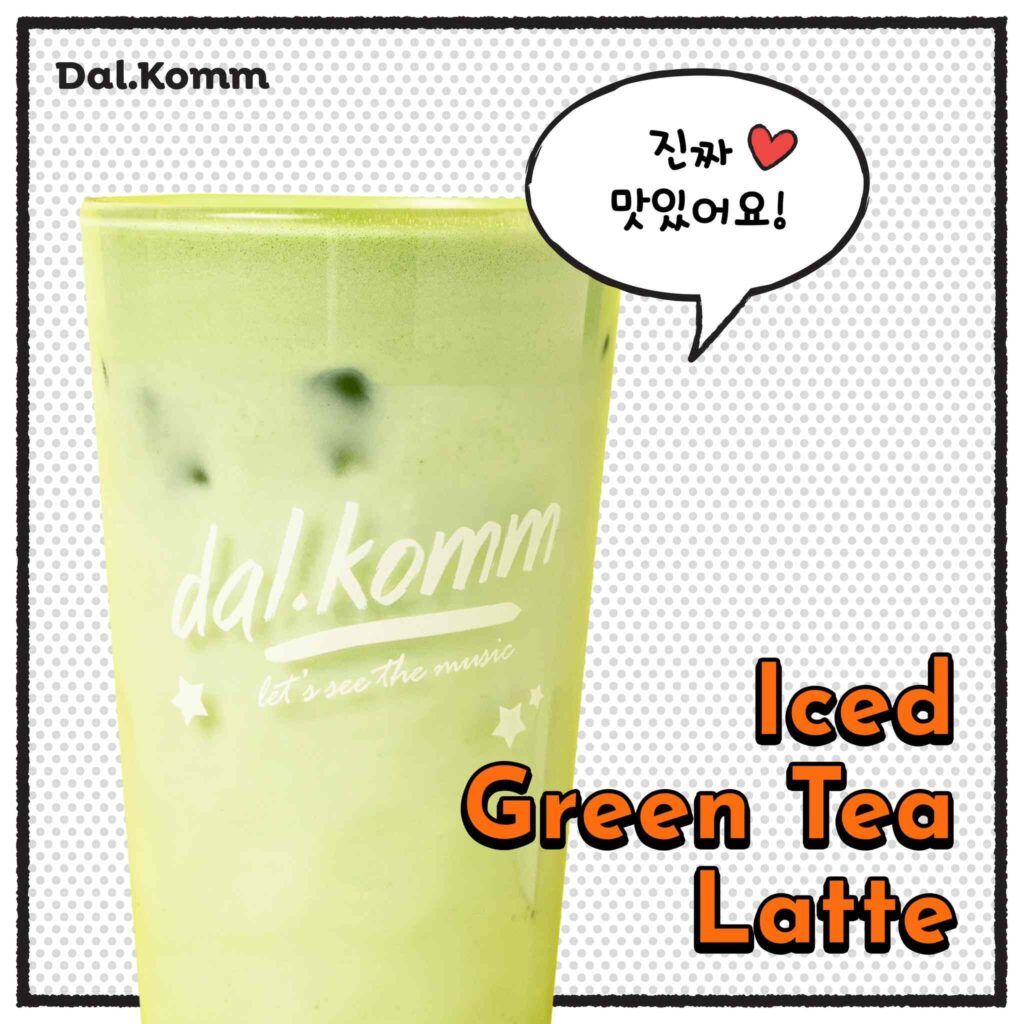 Americano – The Americano at Dal.komm Coffee is a classic coffee choice for those who appreciate a strong and robust flavor. Made by combining a shot of espresso with hot water, the Americano delivers a rich and bold taste. 
Cafe Latte – The combination of espresso and milk in this drink creates the perfect blend of flavors, with the richness of the coffee that is enhanced by the velvety texture of the milk. The Cafe Latte from Dal.Komm is a comforting and indulgent drink that can be enjoyed throughout the day.
Cappuccino – This is a classic espresso-based drink known for its luxurious foam and equal parts of espresso, steamed milk, and velvety milk foam. It strikes a perfect balance between the intensity of espresso and the creaminess of milk offering a harmonious blend of flavors and textures, with a rich and smooth taste.
Espresso – The Espresso at Dal.Komm Coffee is a bold and intense shot of pure coffee goodness. Made from finely ground coffee beans, it packs a powerful punch of flavor and aroma. The Espresso has a strong and concentrated taste, with notes of bitterness and a lingering finish.
Dal.Komm Coffee Menu Special
The items that are a part of this menu are made up of unique offerings that provide a delightful twist to the usual coffee experience.
Coffee Cube – This drink is a unique and innovative concept that adds a delightful twist to your coffee experience. Made from frozen coffee, the cube is placed in a glass, and hot milk is poured over it, causing it to slowly melt and infuse the milk with rich coffee flavor.
Honey Coffee Cube – It is a variation of the Coffee Cube, enhanced with the addition of honey.  The rich and delicious flavor of chocolate in this drink has the right combination of sweetness and creaminess.
Strawberry Cube – This drink is made from frozen strawberry puree, the cube adds a burst of vibrant flavor to your drink. When combined with hot milk or other beverages, the Strawberry Cube slowly melts, infusing the drink with the luscious taste of strawberries
Dal.Komm Coffee Menu Coffee
These are one of the many drinks from Dal.Komm Coffee showcases the artistry and craftsmanship of the baristas
Vanilla Latte – It is a delightful blend of smooth espresso, steamed milk, and a touch of fragrant vanilla syrup. The espresso has a rich and powerful flavor and the steamed milk adds a bit of a creamy texture to it.
Mocha – The espresso provides a strong and aromatic foundation, complemented by the smooth and creamy steamed milk. The addition of chocolate syrup adds a luscious and decadent touch, infusing the drink with a delightful chocolate flavor.
Caramel Machiatto – The espresso serves as the bold and robust base, while the steamed milk provides a creamy and smooth texture. The final touch of caramel sauce adds a sweet and buttery flavor that beautifully blends with the coffee.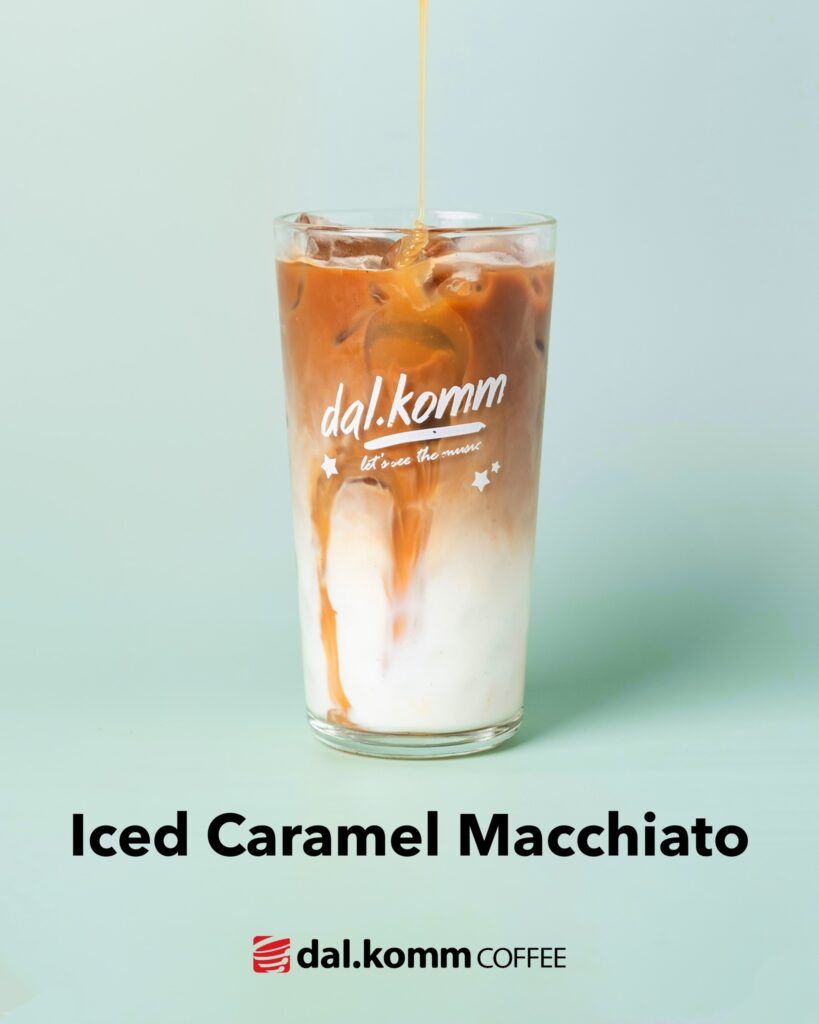 Dal.Komm Non-coffee Menu
The drinks that consist on this menu could be a great option for those who want to relax and enjoy non-coffee drinks.
Chocolate – This drink is made with high-quality cocoa powder and steamed milk, it offers a smooth and creamy texture. It has a deep chocolate flavor that is very satisfying that strikes a perfect balance of richness and sweetness to the drink.
Sweet Potato Latte –  It combines the comforting taste of sweet potato with the smoothness of steamed milk. The latte has a natural sweetness from the sweet potato, which adds a distinctive and delightful twist to the traditional latte.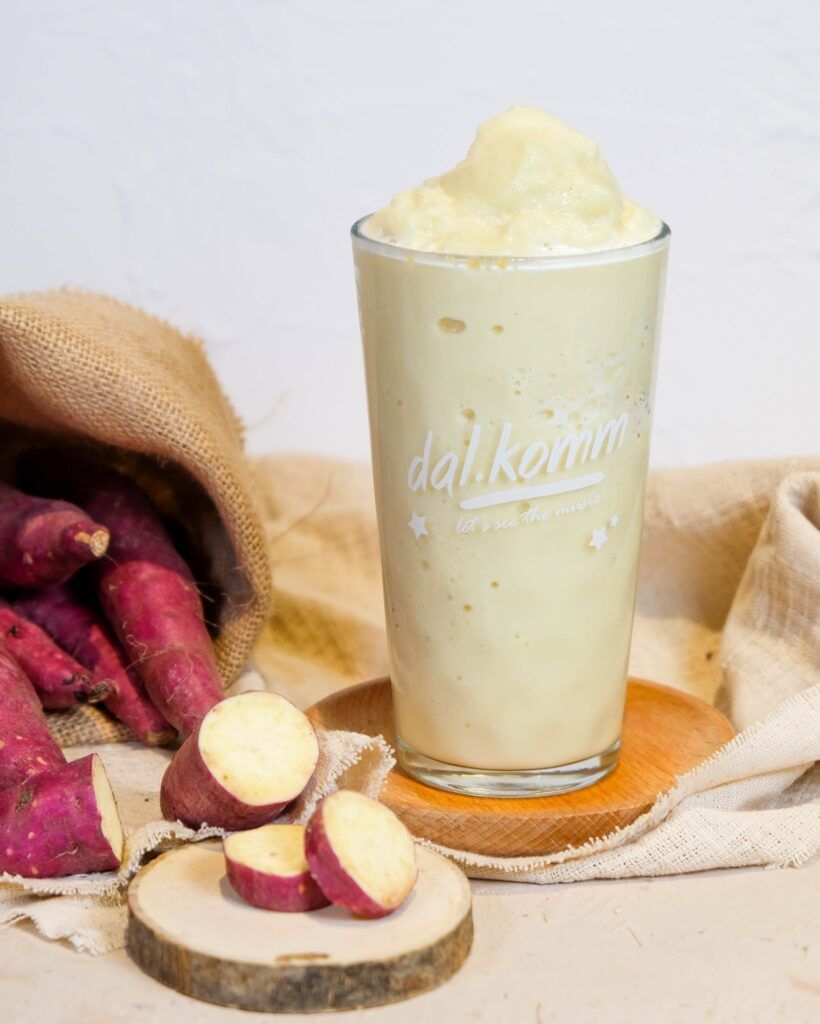 Royal Milk Tea – This drink features a blend of premium black tea and creamy milk, resulting in a smooth and aromatic drink. The tea leaves impart a robust flavor with a hint of natural sweetness, while the milk adds a silky and luxurious texture.
Mixture
This menu is a fantastic selection of mixed drinks that bring together a fusion of flavors and textures. Dal.Komm Coffee has put together a clever combination of ingredients that are blended to craft one-of-a-kind and thrilling taste experiences for the beverages.
Bingsu
This menu of Dal.Komm Coffee offers a delightful selection of cool and refreshing treats that are perfect for anyone looking for a tasty dessert. The star of the show is Bingsu, a beloved Korean dessert made of shaved ice. You'll find a tempting array of flavors and toppings to choose from, making it even more irresistible.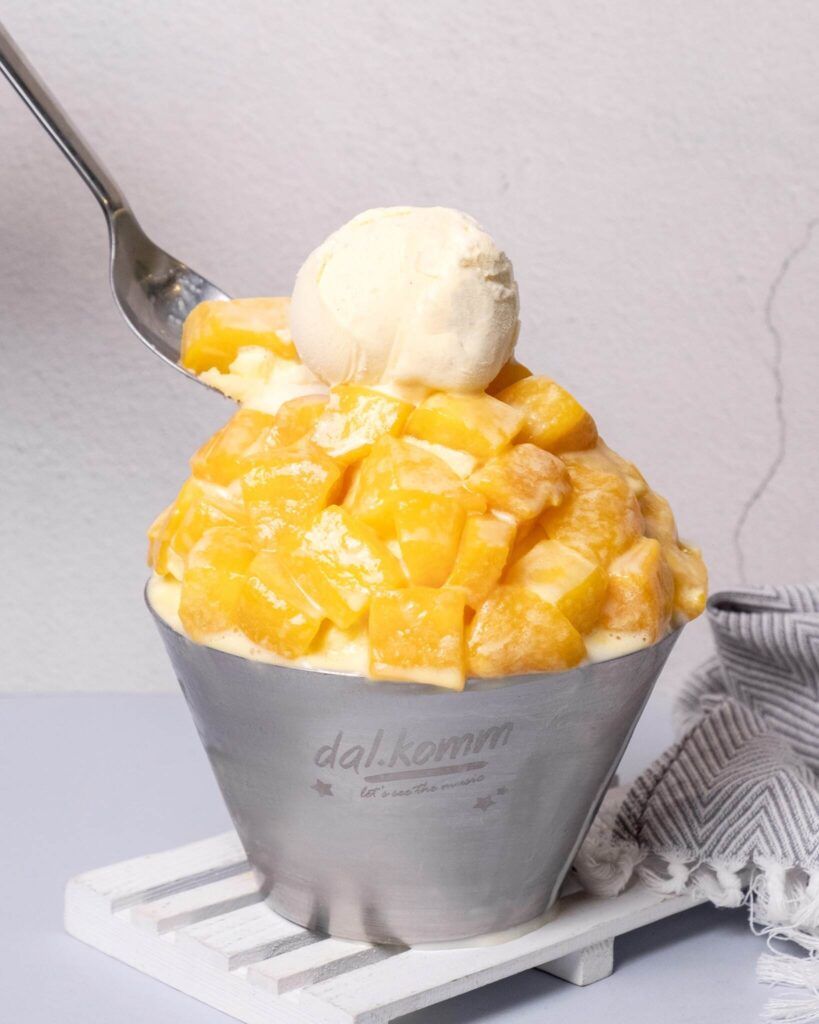 Dal.Komm Coffee Menu Delivery
Dal.Komm Coffee's menu delivery service brings the delightful flavors of their signature beverages and delectable treats directly to the customers' doorsteps. Customers can order their favorite beverages through FoodPanda or GrabFood for a much easier, quicker,  and overall more convenient ordering process.
Dal.Komm Social Media Pages
Discover the world of Dal.Komm Coffee and embark on a sensory journey like no other. Follow their social media pages to stay updated on the latest coffee innovations, promotions, and exclusive events. Indulge in the rich aroma and exquisite flavors of their expertly crafted beverages, carefully brewed to perfection.
Facebook: https://www.facebook.com/dalkommsg
Instagram: https://www.instagram.com/dalkommsg/
Website: http://www.dalkomm.com.sg/contact/
FAQs
Where are the locations of Dal.Komm Coffee in Singapore?
You can find Dal.Komm Coffee outlets at Funan and Marina Square in Singapore.
Can I bring my laptop and work at Dal.Komm Coffee?
Yes, Dal.Komm Coffee provides a welcoming environment for customers to work or study.
Can I host meetings or events at Dal.Komm Coffee?
Yes, Dal.Komm Coffee is a great venue for hosting meetings or small events. 
Are there any special promotions or loyalty programs at Dal.Komm Coffee?
Yes, Dal.Komm Coffee often offers special promotions and loyalty programs to enhance the customer experience and reward their loyal patrons.
Does Dal.Komm Coffee have any halal certifications?
Dal.Komm Coffee does not have specific halal certifications. 
Conclusion
Dal.Komm Coffee's menu caters to various tastes and preferences, with a range of espresso-based drinks, hand-drip coffees, and non-coffee options like teas and fruit-infused beverages. The inviting atmosphere of their outlets, coupled with their delectable desserts and pastries, make it an ideal destination for coffee lovers and those looking for a cozy place to relax. Overall, Dal.Komm Coffee focus more on quality and expertise in order to deliver a satisfying coffee experience to their customers.