The Five Guys menu is iconic for its mouthwatering and handcrafted snacks that are expertly prepared using fresh ingredients and a special cooking technique. The burger, hotdogs, and sandwiches that this restaurant offers are customizable as you can fill them with your favorite toppings. It offers a wide array of toppings to make sure its burgers and sandwiches are perfect for all kinds of diners. It also serves fries and milkshakes that can be paired perfectly with the other products that it offers.
MENU
PRICE (SGD)

Burgers

Hamburger
$16.50
Cheeseburger
$18.50
Bacon Burger
$18.50
Bacon-Cheeseburger
$20.50
Little Hamburger
$14.50
Little Cheeseburger
$16.50
Little Baconburger
$16.50
Little Bacon-Cheeseburger
$18.50

Hotdogs

Hotdog
$12.50
Hotdog with Cheese
$14.50
Hotdog with Bacon
$14.50
Hotdog with Cheese and Bacon
$16.50

Sandwiches

Veggie Sandwich
$10.00
Cheese Veggie Sandwich
$12.00
Grilled Cheese Sandwich
$10.50
BLT Sandwich
$9.50

Fries

Five Guys Style Fries
$9.50
Cajun Style Fries
$9.50

Milkshakes

Five Guys Shake
$13.00

Drinks

Coca-Cola
$4.00
Coca-Cola Zero
$4.00
Sprite
$4.00
Bottled Water
$4.00
Heaven and Earth Ice Lemon Tea
$4.00
About Five Guys
Five Guys is founded by Jerry and Janie Murrell in 1986 in Arlington, Virginia. This fast-food chain was named after the five sons of its founders, which is why its brand is called Five Guys. In 2003, it opened its doors for franchising and it has now different branches around the world including Singapore. The simple and unique system of preparing their products makes this restaurant successful.
Five Guys Burgers Menu
The burgers offered by Five Guys consist of ham, cheese, bacon, and bacon cheese. These burgers are available in regular and little sizes. Regular has two patties while the little has only one patty. These burgers can be topped with as many toppings as their customers want.
Hamburger – A classic and all-time favorite burger of its patrons. It is made up of hand-formed patties that are stuffed in a toasted sesame seed bun. This is an ideal burger for those who are not a fan of cheese. It can be customized by adding your favorite toppings.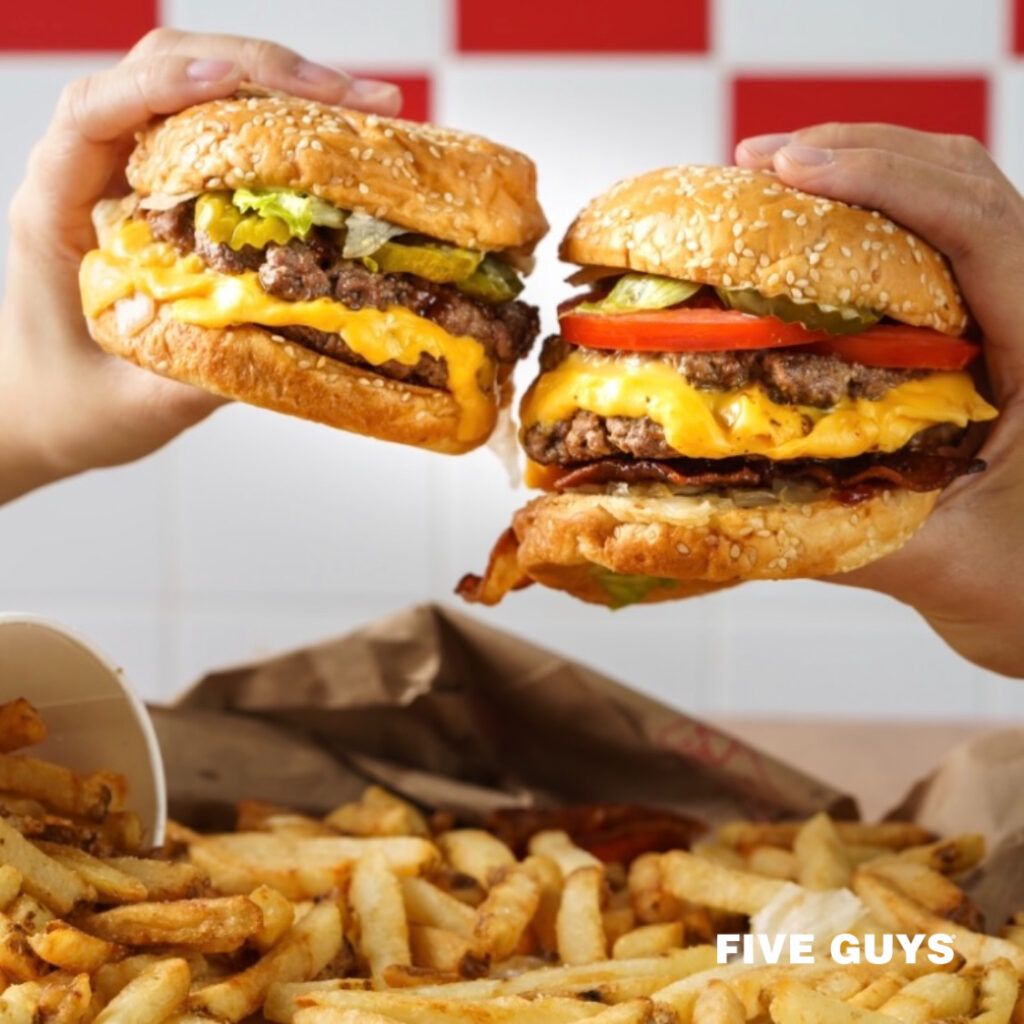 Cheeseburger – The American-style cheese is melted and placed in between two juicy patties. This Five Guys menu is one of the types of burgers that are always present in restaurants or fast-food chains. Here at Five Guys, they serve unique cheeseburgers that are expertly cooked and prepared according to the preference of their customers.
Bacon Burger – This is like a classic hamburger; the only difference is the strips of apple-wood smoked bacon that is added to it. The crispy texture of bacon, the juiciness of patties, and your preferred toppings are the features of this burger that makes it distinctive. Bacon Cheeseburger is the other variant of this burger that consists of American-style cheese.
Five Guys Hot Dogs Menu
The signature cooking style of Five Guys where the hot dog is split and grilled lengthwise is what makes it unique. The caramelized exterior of these hotdogs makes them stand out from the rest.
Hot Dog – It is a traditional hot dog that is commonly served in fast-food restaurants. This hot dog does not contain bacon or cheese, leaving more space for your favorite toppings. Customize it by topping it with your choice of special ingredients.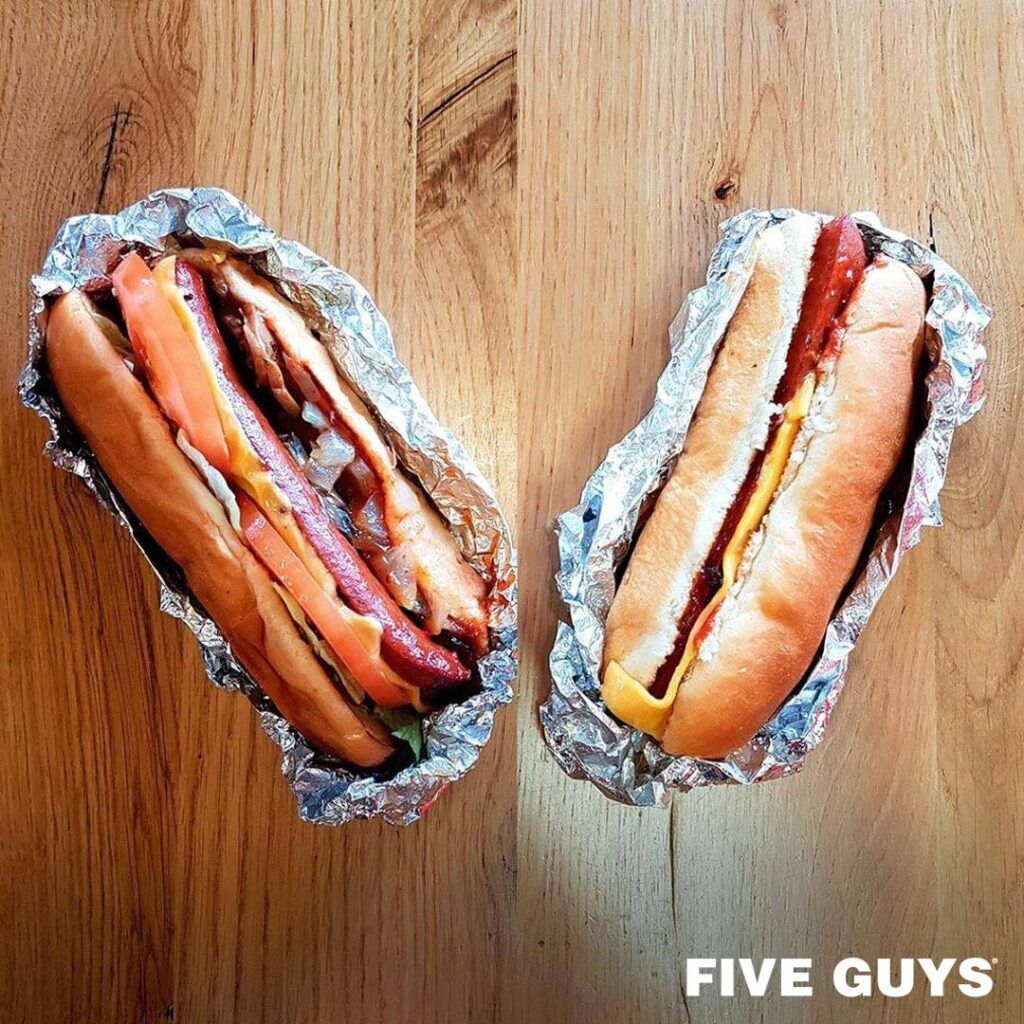 Cheese Dog – Cheese dog is a popular sandwich that is well-loved for its cheesy flavor. The flavors of American-style melted cheese and the all-beef hot dog goes well together making it taste great. This cheese dog will amaze cheese lovers as each bite is bursting with flavors.
Bacon Cheese Dog – Bacon and cheese are the two ingredients that make it delicious. The mouthwatering taste of an all-beef hot dog, the gooey melted cheese, and the crispy bacon topped with your preferred toppings give diners a flavorful and extraordinary meal.
Fries
Five Guys restaurant uses 100% pure peanut oil and a unique cooking style in preparing their fries. These fries are pre-cooked for about two and a half minute and it is cooked again in the same manner before it is served to the customers.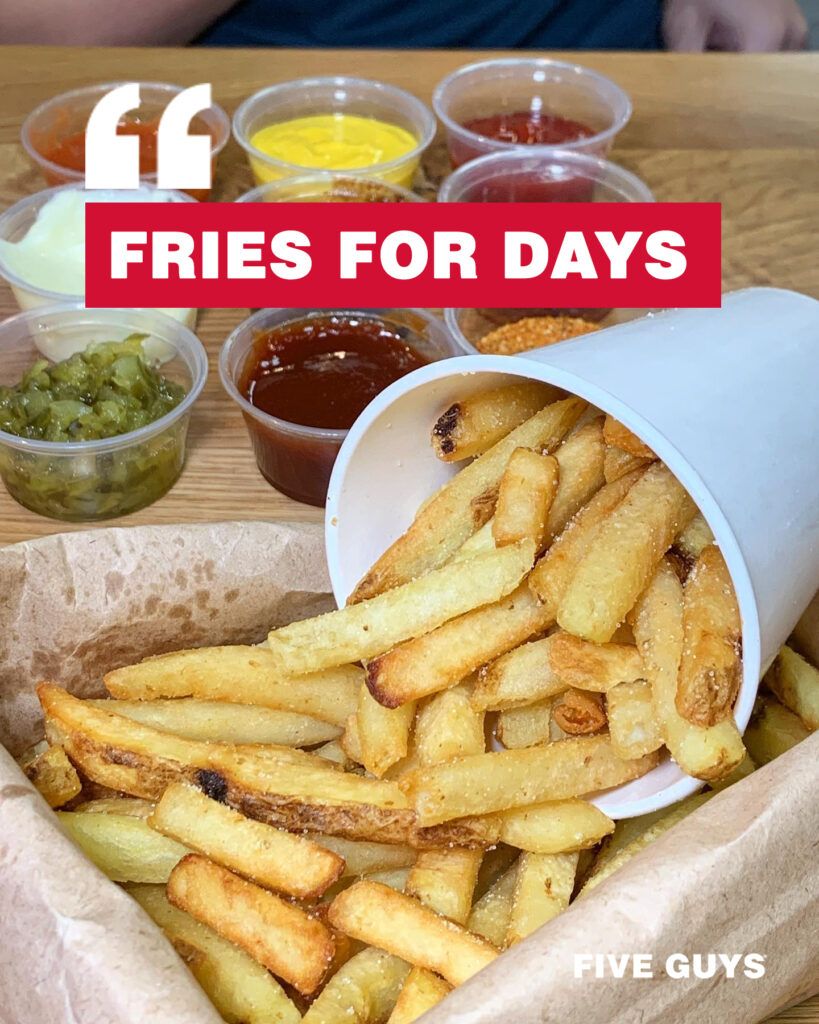 Five Guys Style – This is a signature fries menu of Five Guys that does not include spices. It has a melt-in-your-mouth goodness as it is cooked using peanut oil. With the special cooking method of the restaurant, the inside of these fries is cooked slowly so their inside part does not get burned.
Cajun Style – Cajun spice is generously showered on fries to make them flavorful. These fries are crunchy on the outside and soft on the inside. Five guys served generous servings to satisfy the cravings of its customers. As it uses the purest peanut oil, the fries that they served do not contain any preservatives or trans-fat.
Milkshakes
The milkshake mix-ins of Five Guys make these beverages customizable and remarkable. These delicious milkshakes are created with passion as they are expertly made by their staff and not by machines.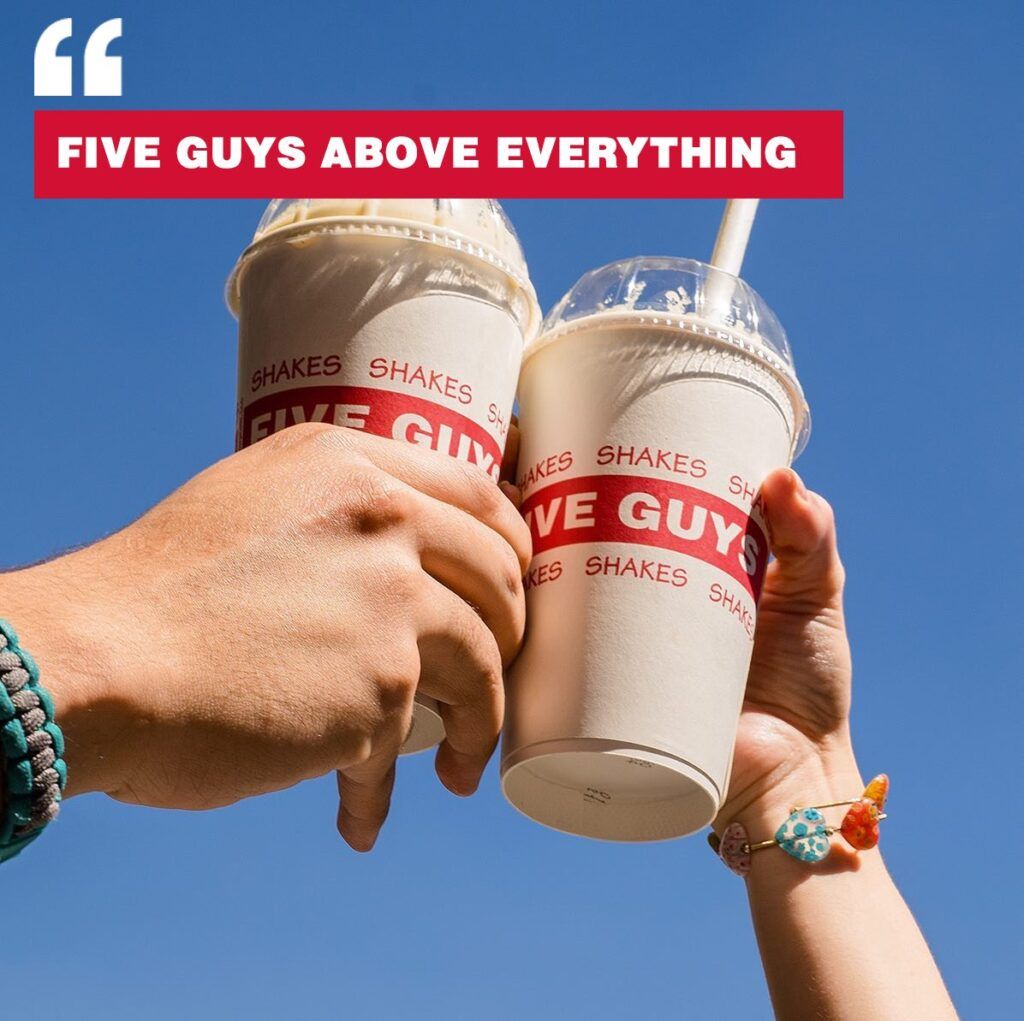 Bacon – Add a crunchy texture to the milkshake by adding chopped applewood-smoked bacon. It has the right balance of sweet and salty flavor that makes it irresistible. If you want to try something new, this milkshake with bits of bacon is perfect for you.
Strawberries – This is one of the best-tasting milkshakes that has a great blend of cream and strawberry. The fresh strawberries in this Five Guys menu, combined with homemade syrup, create a lovely color that makes it visually appealing. Its creamy and refreshing goodness makes every sip gratifying.
Chocolate – It is a milkshake that is popular as it is the flavor that most restaurants offer. This luscious drink is made with chocolate and fudge that has a perfect level of sweetness.
Oreo Cookie Pieces – The cookies and cream milkshake flavor is always sought by its customers as it has a pleasing taste. The crushed Oreo cookies and their cream add a crunchy texture and rich flavor to every sip. Creamy malt is also added to this milkshake which gives it a classic taste that will make you crave more.
Peanut Butter – It is one of the all-time favorite milkshakes of its diners. The natural and creamy peanut butter gives an extra thick texture and it goes well with the sweet vanilla base. This peanut butter with honey has rich, sweet, creamy, and salty flavors that make them pleasurable.
Five Guys Menu Sandwiches
Five Guys restaurant is committed to providing diners with a satisfying meal by offering customized sandwiches. These sandwiches are prepared based on the preference of customers to give them an enjoyable and unique dining experience.
Veggie Sandwich – Mushrooms, green peppers, lettuce, freshly grilled onions, and tomatoes are stuffed in between soft toasted sesame seed bun. Diners can also customize their burgers by choosing their choice of fillings. The bun can also be replaced by lettuce to make it healthier.
Grilled Cheese – The sesame seed bun is filled with slices of American-style cheese that are topped with your choice of toppings. Its gooey cheese makes every bite of this sandwich mouthwatering.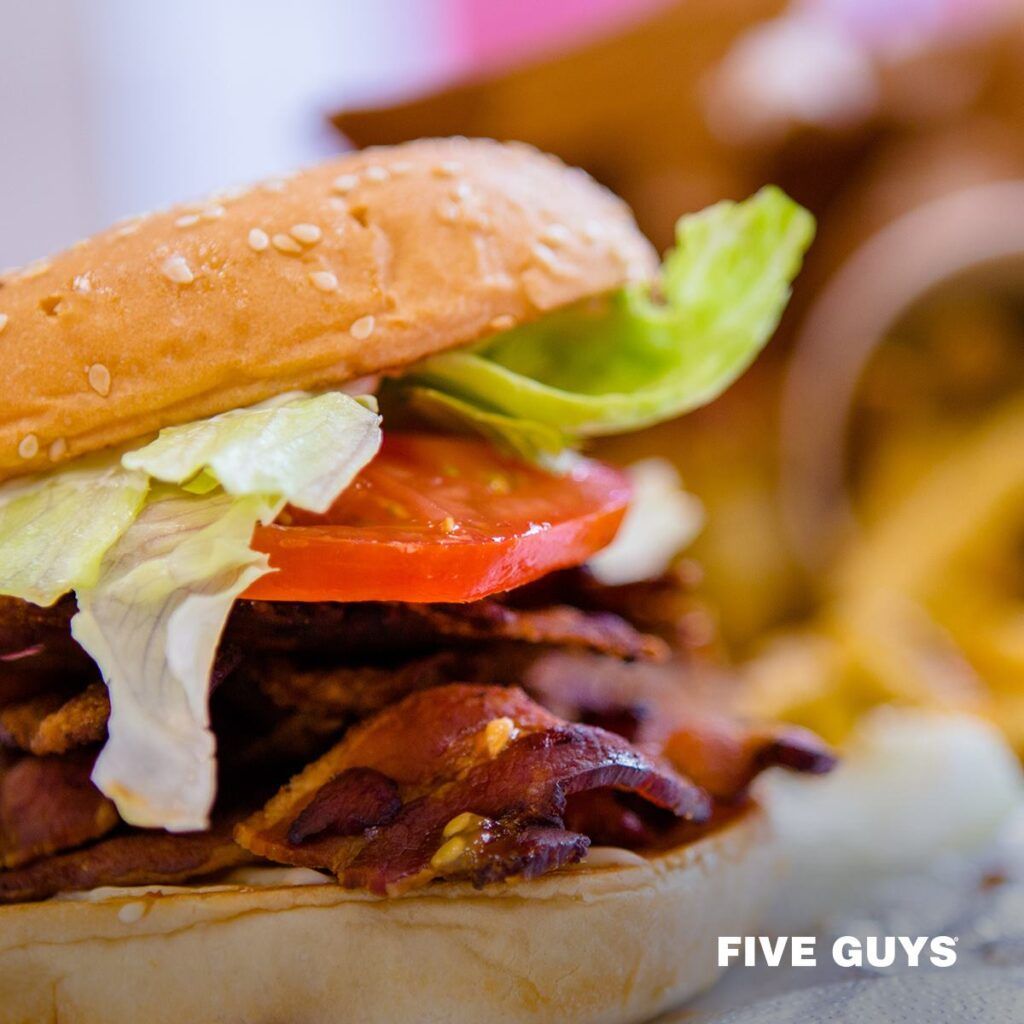 BLT – BLT is one of the well-known that is loved for its appetizing taste. This flavorsome sandwich is made with apple-wood smoked bacon strips, hand-torn lettuce, and fresh slices of tomato. The perfect combination of this bacon, lettuce, and tomato together with your favorite topping makes it exquisite.
Toppings
The toppings offered by Five Guys make its sandwiches, hot dogs, and burgers customizable. It serves lettuce, pickles, tomatoes, grilled mushrooms, grilled onions, relish, onion, Jalapeño peppers, green peppers, mustard, mayonnaise, ketchup, bar-b-que sauce, hot sauce, and original steak sauce. With these toppings, you will be able to have a perfect meal that suits your taste.
Five Guys Menu Delivery
Five Guys' delectable and noteworthy snacks can now be enjoyed through the convenience of Grabfood and Foodpanda's user-friendly websites and mobile applications. Whether you're craving for their famous burgers or their irresistible fries, Five Guys' mouth-watering menu is just a few clicks away from being delivered straight to your doorstep.
Moreover, this fast-food joint operates daily from 11:00 AM to 10:00 PM, ensuring that you can satisfy your hunger pangs with their delicious treats at any time of the day. Don't miss the chance to experience the flavors of Five Guys, and order now through Grabfood or Foodpanda.
Social Media Page
If you're a fan of Five Guys and want to keep up with their latest offers and posts, then subscribing to their social media page is the way to go. With just a few clicks, you can easily access their social media accounts and stay up-to-date on their latest happenings. To access their social media pages, simply follow the link below:
Facebook: https://www.facebook.com/FiveGuysSG/
Instagram: https://www.instagram.com/fiveguyssingapore/
Conclusion
The Five Guys menu is well-loved by its customers for its simple and customizable menu. The simplicity of its menu and the extensive toppings that it offers makes its snacks perfect for different kinds of diners. Its signature cooking style, generous servings, and a lot of options to customize snacks make its products unique and notable.