The fact that Mexican cuisine is a fusion of several cultures is one of the key things that makes it so enticing. Its distinctive combination of herbs, spices, and brilliant colors makes for a lovely appearance. You've found the perfect menu if you're looking for something to sate your hunger and are feeling particularly peckish in Singapore. Don't limit yourself to only the popular menu, kebab, and burrito dish listings on Stuff'd menu, you can also order additional dishes like Daily Bowl and Quesadilla.
Stuff'd Menu Price List [Updated]
MENU
PRICE (SGD)

Popular Menu

Chicken Daily Bowl
$10.30
Chicken Kebab
$7.60
Chicken Burrito
$9.80
Smoked Salmon Daily Bowl
$10.80
Chicken Quesadilla
$10.70

Burrito

Chicken Burrito
$9.80
Veggie Burrito
$9.80
Impossible Burrito
$12.80

Quesadilla

Chicken Quesadilla
$10.70
Impossible Quesadilla
$13.70

Sides

Butter corn
$1.50
Cilantro Rice
$1.50
Couscous
$1.50
Adobo Black Beans
$1.50
Mashed Potatoes
$1.50
Edamame
$1.50
Broccoli
$1.50
Soba
$1.50

Kebab

Chicken Kebab
$7.60
Impossible Kebab
$10.60

Daily Bowl

Chicken Daily Bowl
$10.30
Veggie Daily Bowl
$10.30
Smoked Salmon Daily Bowl
$10.80
Impossible Daily Bowl
$13.30

Chips and Dip

Chips & Salsa Dip
$6.60
Chips & Guacamole Dip
$6.60
About Stuff'd
The quick-service restaurant company Stuff'd in Singapore has begun a three-month statewide initiative to totally replace beef on its menu with Impossible Beef, making it the first business in Asia to do so. Impossible Foods, a US food technology firm, produces Impossible Beef, which it claims has the appearance, flavor, and aroma of ground beef but is manufactured completely of plants. A quick-casual restaurant chain with its headquarters in Singapore is called Stuff'd. They were established in 2014 by CEO Adrian Ang and have a purposeful focus on health. They provide healthy yet tasty kebabs, burritos, salads, and bowls that are freshly produced.
The Stuff'd tale started in 2014 when Adrian Ang established a business that specializes in nutritious cuisine. Since then, they have grown to be Singapore's biggest kebab and burrito franchise. Through local franchising, Stuff'd expanded into West Malaysia in 2017 and has since developed quickly in the Klang Valley region. It debuted its first store in Indonesia in 2018. They are eager to broaden their reach throughout Asia and beyond.
Stuff'd Menu Best Seller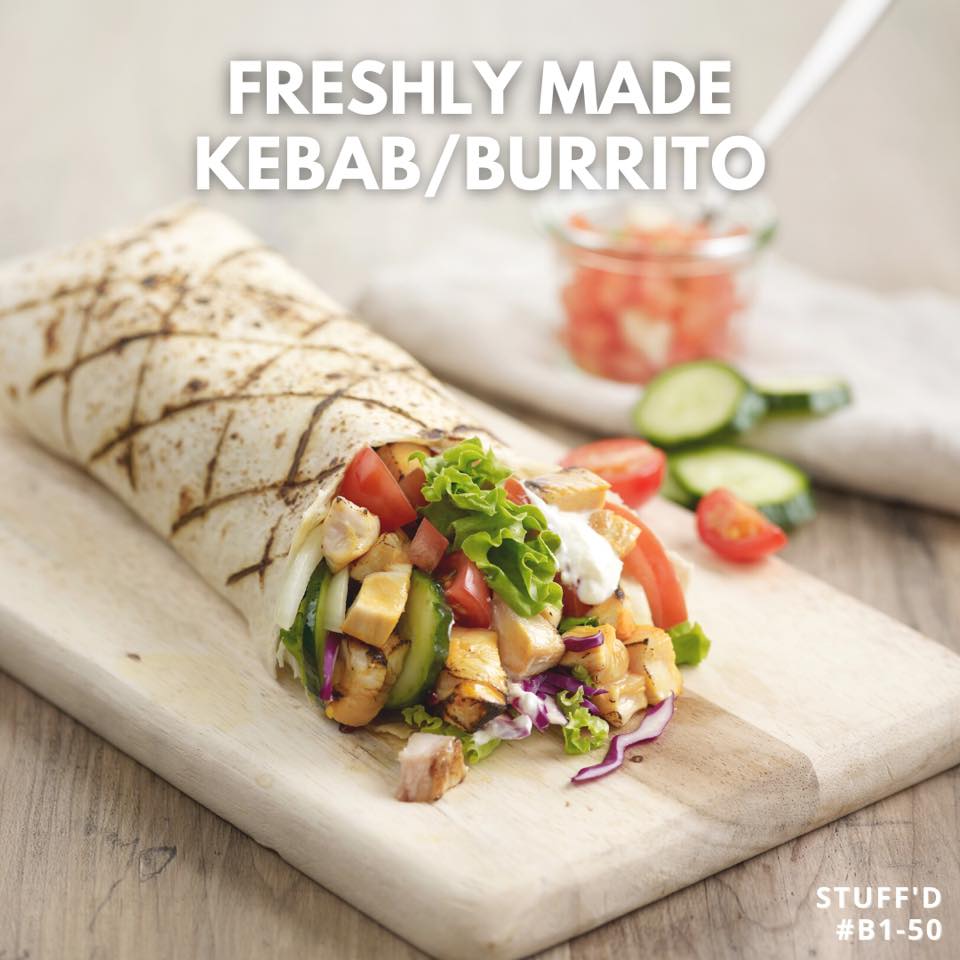 Stuff'd Chicken Kebab – Stuff'd Chicken Kebab will help you improve your kebab. The most discriminating foodies will be yearning for seconds after tasting this unquestionably decadent masterpiece, which will entice their taste buds. It complements every dish on the Stuff'd menu and is free of artificial nasties. They serve their Stuffed Chicken Kebab on a soft flour tortilla with freshly selected vegetables and juicy, seasoned chicken that has been grilled. It is a finely prepared, mouthwateringly juicy kebab made with the finest ingredients. For a delectable kebab, your choice of sauces and toppings is included.
Stuff'd Chicken Quesadilla – Chicken quesadillas have never been prepared this way before! We aren't joking. They are then covered in their spicily hand-blended habanero sauce after being filled with juicy spit-grilled chicken, fresh lettuce and tomato salsa, melted cheddar, and sour cream. The Stuff'd Chicken Quesadillas have a crispy outside and a soft inside. You will be able to taste every flavor as you bite into them since they are loaded with juicy chicken that has been expertly seasoned. When you order from Stuff'd, you can't go wrong because their menu is packed with delectable options that are just waiting for you to taste them all.
Stuff'd Chips & Guacamole Dip – With each bite, you'll feel satisfied. Salsa Dip or Guacamole Dip, depending on your craving.
Stuff'd Chicken Burrito – It is encased in a softly pressed flour tortilla, stuffed with delectable cilantro lime rice, and garnished with black beans. Toppings include a dab of sour cream and fresh tomato salsa. You may choose from ground beef, shredded beef brisket, or shredded chicken breast, all of which are delectable options. We adore the habanero sauce's fiery spice on this burrito, but if you prefer something a little mellower, they also have smokey bbq sauce and sweet Thai sauce available. Their burritos may likewise appear unimpressive, but they are packed with staples like guacamole, sparkling tomato salsa, and black beans! The portions are rather generous, and you may customize your burrito by adding more bitter cream and/or your favorite sauce. They produce fresh salsa and guacamole every day.
Stuff'd Daily Bowl
You recognize the emotion. You don't have time to cook since you're rushing late for work. But your stomach is rumbling, and it's morning. You must eat something in a bowl, but you don't have time for something intricate with many moving pieces. The greatest option is this Stuffed Chicken Daily Bowl since, in addition to offering nutritious portions, it also lets you pick your primary components, base, toppings, and sauce. Regarding their primary components, you have a wide range of choices, including chicken, beef, smoked salmon, and guacamole.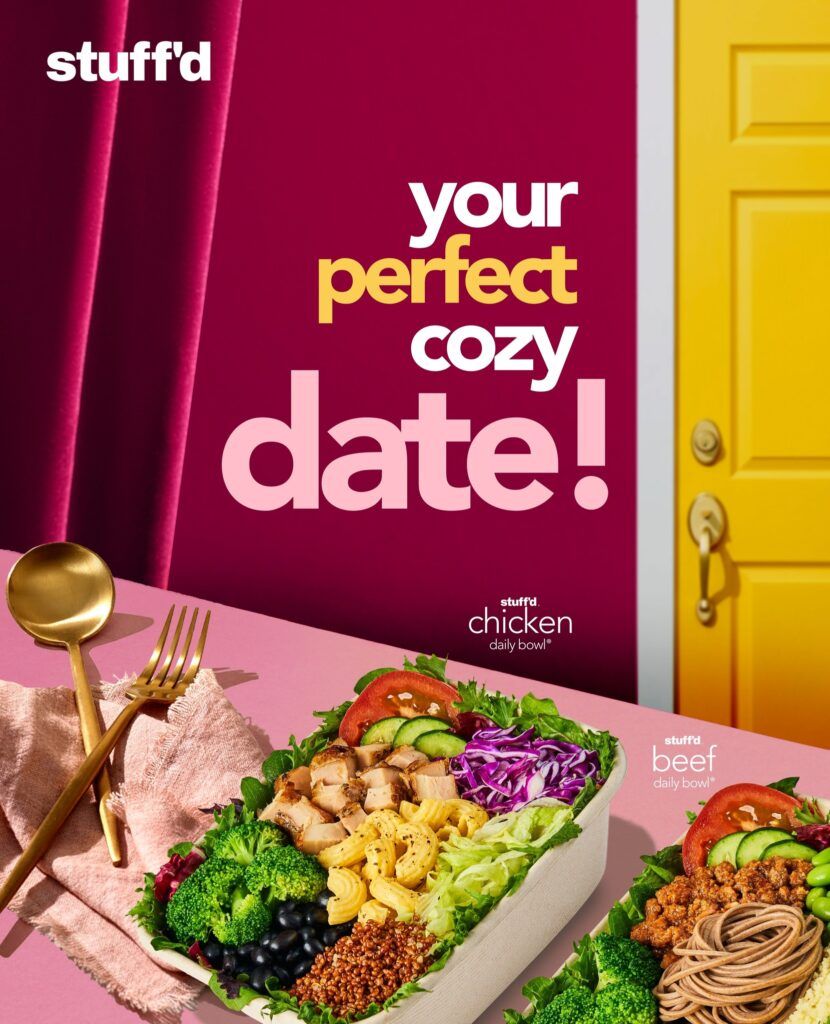 Therefore, chicken is the greatest option for their main course. You'll be satiated by its luscious and creamy flavor, which will leave you wanting more. A crisp and energizing combination of tomato, lettuce, cucumber, and cabbage salad will be delivered. The following vegetables are used as garnishes: broccoli, adobo black beans, butter corn, herbed zucchini carrot, and sautéed French beans. Finish it off with the dressing of the sauce, and I suggest going with the tangy honey mustard and mayonnaise to balance the flavor of this special meal. You won't ever regret visiting Stuff'd if you order this Chicken Daily Bowl from their menu if you're searching for a tasty, vibrant dinner.
Stuff'd Menu Delivery
The meal at Stuff'd don't have to be consumed while seated in a real store for a very long period. The meal is available anytime and wherever you like. There is no need to panic, though, if you are the sort that cannot wait that long or does not have the luxury of time. You can always order via the Foodpanda or GrabFood app. You can also order through Deliveroo.
Social Media Pages
Do you want to get notified whenever there is something new on the Stuff'd menu, prices, or promos? In that case, you have to start following their social media accounts. This will let you get the latest updates whenever they post something. To follow them on the most popular social media such as Facebook, and Instagram, click the links below:
Facebook: https://facebook.com/stuffedsg/
Instagram: https://www.instagram.com/stuffedsg/
FAQs
Who owns Stuff'd Singapore?
A quick-service restaurant chain with its headquarters in Singapore called Stuff'd offer freshly produced kebabs, burritos, salads, and bowls. Adrian Ang, the CEO, created it in 2014 with a purposeful emphasis on health.
Is Stuff'd daily bowl healthy?
The components of Stuff'd are rich in minerals, fiber, and protein and contain healthful oils. One serving of the Stuff'd Chicken Daily Bowl has 482 calories.
How long can I keep Stuff'd kebab?
After the kebab meat has cooled to normal temperature, store it within two hours. Use any kebab meat that is left over within three days of preparing it.
Conclusion
You may find it on the Stuff'd menu whether you're searching for something light and nutritious or substantial enough to fill you up. Visit their restaurant to see their selection of nutritious cuisine, which will enable you to lead the active lifestyle you've always desired. For vegetarians, Stuff'd Singapore Menu is a fantastic choice. It was good to see a fun range of freshly prepared alternatives on the menu, and the flavors were all spot on. Certain chemicals and extra sugars may not support a healthy diet, it's true. However, there are vegetarian burritos that serve as a respectable substitute for their meat-based counterparts.