There are a lot of Japanese restaurants that are scattered across Singapore, and you may not know where to go when craving delicious Japanese foods like sushi and sashimi. So let me introduce Issho Izakaya to you! Issho Izakaya offers an enticing menu that showcases the best of Japanese cuisine with a contemporary twist. From sushi and sashimi to grilled meats, tempura, and small plates like yakitori and gyoza, there is something to satisfy every palate at Issho Izakaya.
You can find the updated pricing information for the Issho Izakaya menu below.
MENU
PRICE (SGD)

Zensai

Hotate Carpaccio
$23.43
Edamame
$6.96
Lobster Salad
$8.45
Tako Wasabi
$6.96
Wasabi Hotate
$9.10
Ehire
$10.17
Fugu Mirin Boshi
$17.12
Salmon Carpaccio
$21.29
Wagyu Carpaccio
$25.57

Salads

Salmon Salad
$20.22
Buta Goma Salad
$17.98
Summer Seafood & Fruit Salad
$20.22

Sashimi

Salmon Sashimi
$13.70
Mekajiki Sashimi
$17.98
Akami Sashimi
$17.98
Chu Toro Sashimi
$46.55
Otoro Sashimi
$54.04
Ikura Sashimi
$19.05
Nama Hotate Sashimi
$17.98
Botan Ebi Sashimi
$27.82
Kanpachi Sashimi
$17.98
Tai Sashimi
$15.84

Sushi Moriawase

Salmon Zanmai
$16.06
Maguro Zanmai
$46.01

Nigiri Sushi

Salmon Nigiri (2pcs)
$7.06
Akamai Nigiri (2pcs)
$8.56
Chu Toro Nigiri (2pcs)
$19.26
Otoro Nigiri (2pcs)
$23.54
Nama Hotate Nigiri
$10.70
Salmon Belly Nigiri (2pcs)
$7.92
Tamago Nigiri
$5.35
Kanpachi Nigiri (2pcs)
$8.56
Tai Nigiri
$8.56

Aburi Sushi

Aburi Chutoro 2pcs
$20.97
Aburi Otoro 2pcs
$25.25
Aburi Hotate 2pcs
$10.70
Aburi Hotate Mentai 2pcs
$12.84
Aburi Salmon Mentai 2pcs
$9.20
Aburi Salmon 2pcs
$7.06
Aburi Salmon Shoyuzuke 2pcs
$5.99

Makimono

Wagyu Maki
$26.54
Aburi Salmon & Cream Cheese Maki
$21.19
California Maki
$14.78
Lobster Cheese Maki
$24.40
Unagi Ebi Maki
$25.47

Donburi

Salmon Ikura Don
$25.47
Chirashi Don
$29.75
Wagyu Don
$28.68

Menrui

Kani Mentaiko Pasta
$20.87
Nabeyaki Udon
$19.05
Cha Soba
$12.63

Bento Sets

Unagi & Yasai Itame Bento
$26.54
Yakiniku & Salmon Teriyaki Bento
$26.54
Tori Teriyaki & Garlic Fried Rice Bento
$21.19
Oyako & Saba Shioyaki Bento
$21.19
Kushiyaki Bento
$22.26

Sides

Curly Fries
$8.03
Age Gyoza
$8.35
Ebi Tempura
$19.26
Tempura Moriawase
$17.12
Yasai Tempura
$10.70
Japanese Rice
$3.21
Miso Soup
$3.21

Desserts

Warabi Mochi
$9.42

Beverages

Coke
$3.00
Sprite
$3.21
Coke Light
$3.00

Beers

Orion Beer
$9.63
Sapporo Beer
$9.63
Hitachino Beer
$14.98
Suntory Premium Malt Beer
$14.98

Alcoholic Beverages

Kiku Masamune Daiginjo Sake
$22.26
Ginrei Gassan Junmai Ginjo
$38.31
Sawanotsuru Taru Sake
$21.19
Dassai 45
$51.36
Sawanotsuru Yamadanishiki Junmai
$84.53
Dassai Junmai Daiginjo 45
$104.86
Dassai Junmai Daiginjo 39
$158.36
Dassai Junmai Daiginjo 23
$211.86
About Issho Izakaya
Issho Izakaya is a popular Japanese restaurant located in Singapore that prides itself on serving authentic Japanese cuisine with a modern twist, using high-quality ingredients and traditional cooking techniques. It has a cozy and inviting atmosphere that provides people visit there good food and drinks in a relaxed setting. Aside from their classic Japanese food items, their menu also includes an extensive selection of sake, Japanese beers, and other beverages to complement customers' meals and round up their dining experience at Issho Izakaya.
Issho Izakaya Menu Best Seller
This menu consists of a wide variety of popular dishes from Issho Izakaya that are mostly ordered by visiting customers.
Salmon Sashimi – The Salmon Sashimi at Issho Izakaya is a delightful dish that showcases fresh, high-quality salmon slices that are skillfully cut into thin, tender pieces, allowing you to fully appreciate the natural flavors of the fish
Ikura Sashimi – The ikura or salmon roe is carefully selected and served fresh, providing a unique and indulgent experience for seafood lovers. The vibrant orange ikura bursts with a juicy and briny flavor, creating a delightful explosion of taste in your mouth.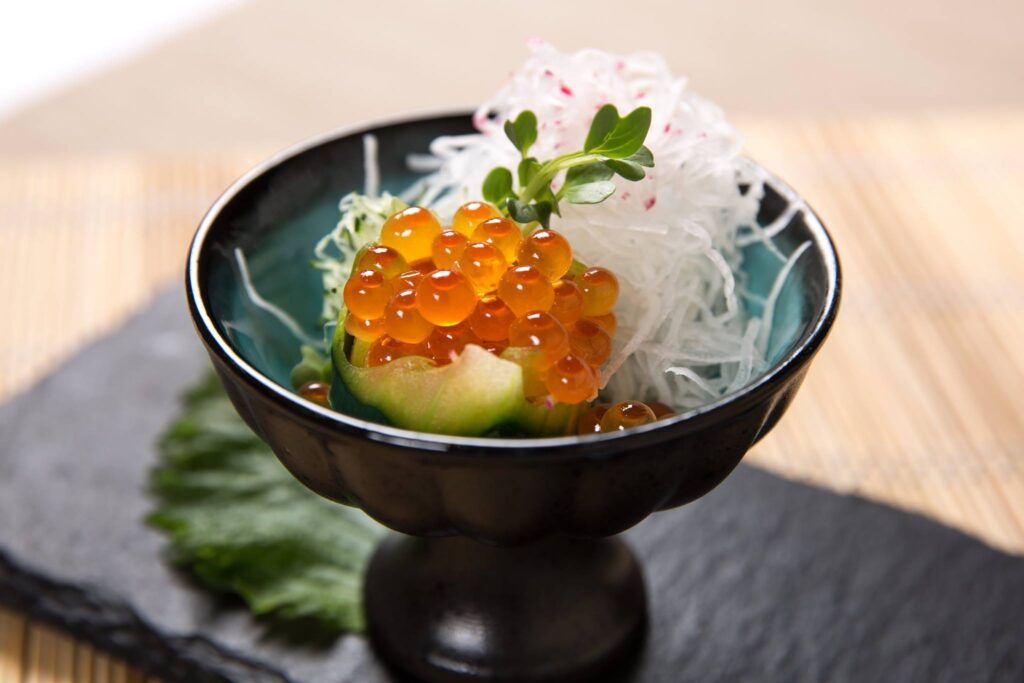 Edamame – Edamame is a classic appetizer that is beloved by many, and at Issho Izakaya, they offer a satisfying version of this popular dish. The edamame is steamed to perfection, resulting in bright green pods with a tender yet slightly crunchy texture. 
Salmon Nigiri (2 pcs) – This juicy salmon is expertly sliced and placed on top of a bed of perfectly seasoned sushi rice. Each bite offers a delicious combination of flavors and textures, with the richness of the salmon complementing the slight tang of the rice.
Salmon Belly Nigiri (2 pcs) – This is made up of 2 delicate and tender salmon belly slices that are carefully selected and sliced to showcase its texture and rich flavor. The sushi rice acts as a perfect base, balancing the richness of the salmon belly with its subtle sweetness.
Issho Izakaya Menu Zensai
This menu is made up of a wide selection of Japanese appetizers that would kickstart your dining experience at Issho Izakaya.
Hotate Carpaccio – The thinly sliced scallops are arranged artfully on a plate, accompanied by a zesty and refreshing dressing. The scallops themselves are tender and have a slightly sweet taste, while the dressing adds a touch of acidity and brightness.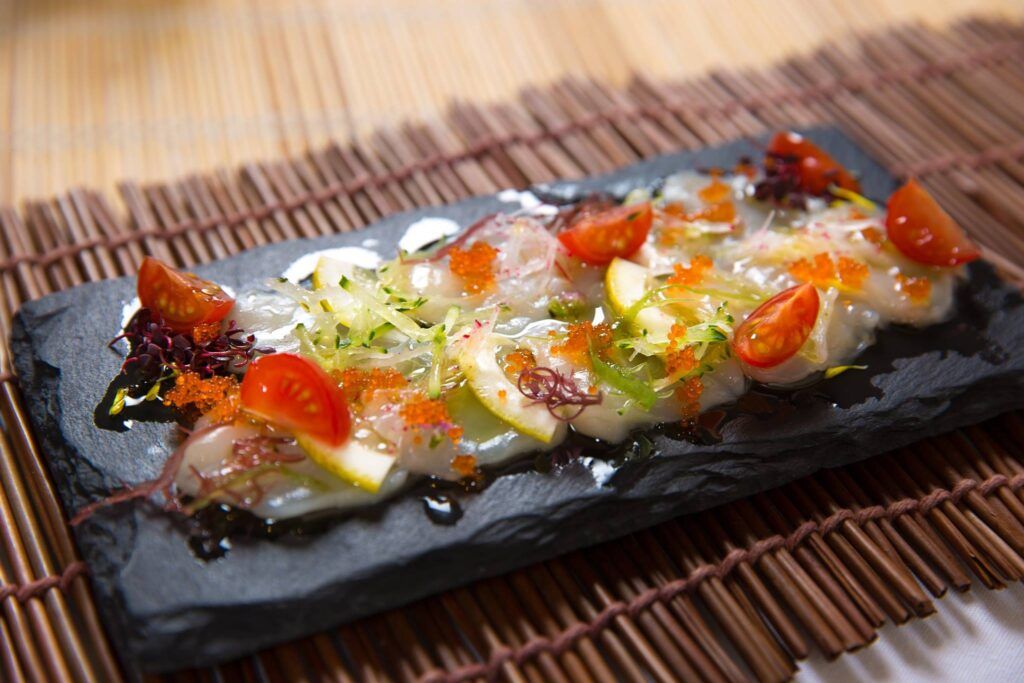 Lobster Salad – This is a delightful combination of fresh lobster meat and crisp vegetables. The lobster is cooked to perfection, with its meat being tender and flavorful while the salad is tossed in a tangy and well-balanced dressing that enhances the natural sweetness of the lobster.
Wasabi Hotate – The dish features plump and succulent scallops that are lightly seared and served with a generous dollop of wasabi. The scallops have a delicate and slightly sweet flavor, and the wasabi provides a kick of heat that adds a unique dimension to the dish.
Issho Izakaya Menu Salads
This menu is made up of a different variety of salad options that are perfect for those who are looking for a light meal.
Salmon Salad – Issho Izakaya's salmon salad features slices of fresh salmon placed on a bed of crisp salad greens. The salmon is flavorful and has a buttery texture, complemented by the tangy dressing that adds a zing to the dish.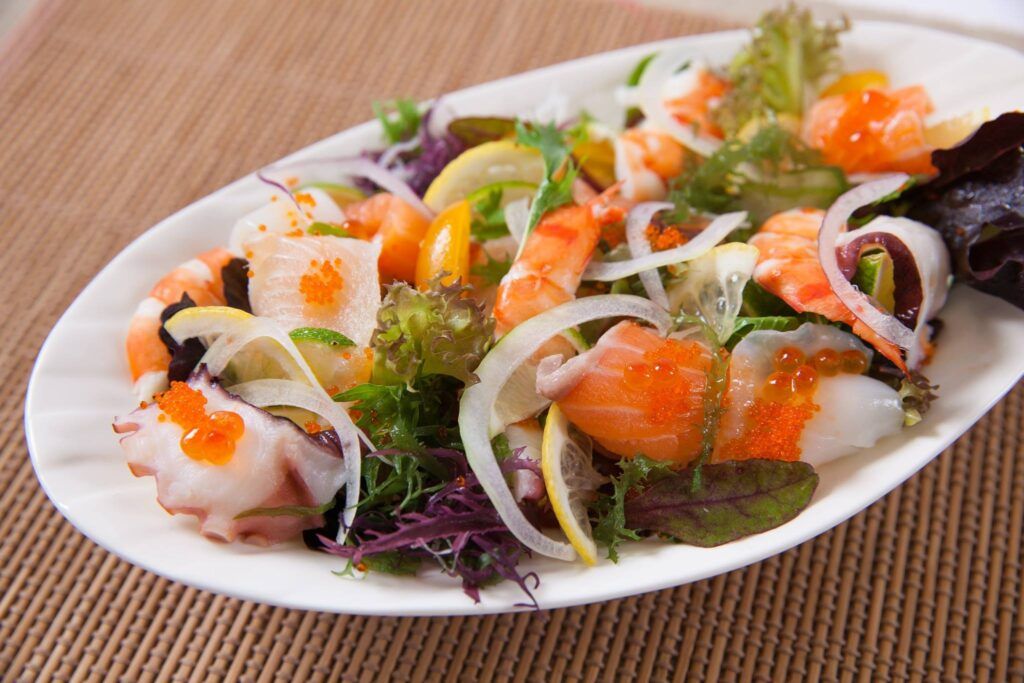 Buta Goma Salad – It combines tender slices of grilled pork with a generous amount of sesame dressing. The pork is succulent and has a smoky flavor, while the sesame dressing adds a nutty and savory element to the dish. 
Summer Seafood & Fruit Salad – The salad showcases a medley of fresh seafood, such as shrimp and squid, along with a variety of seasonal fruits. The seafood is perfectly cooked, retaining its natural flavors and textures, while the fruits add a touch of sweetness and juiciness to the dish.
Issho Izakaya Menu Sashimi
This menu is made up of a wide variety of one of the most popular Japanese food items which is sashimi.
Mekajiki Sashimi –  This sashimi is expertly sliced, offering thin and delicate pieces of fish that are both visually appealing and enjoyable to eat. The swordfish has a firm and meaty texture with a mild, slightly sweet flavor and is served with soy sauce and wasabi, allowing you to enhance the natural flavors of the fish. 
Akami Sashimi – This sashimi features lean cuts of tuna, known for its deep red color and rich flavor. The sashimi is skillfully prepared, showcasing the freshness and quality of the fish with a firm buttery texture, while the flavor is robust and slightly meaty.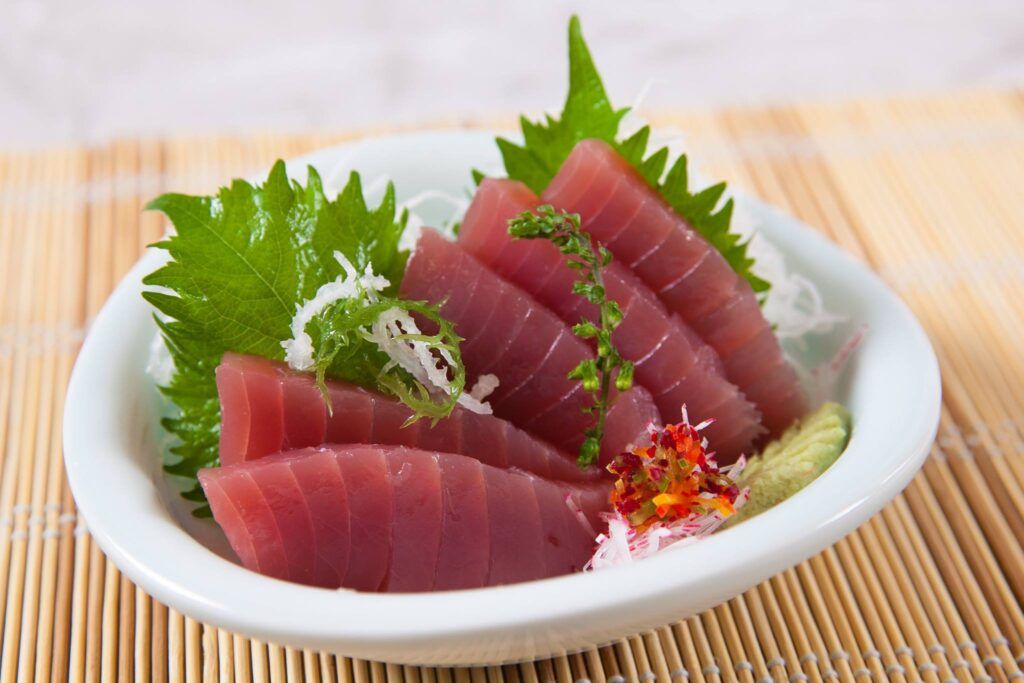 Chu Toro Sashimi – Chu Toro refers to the medium fatty part of the tuna belly, known for its melt-in-your-mouth texture and rich flavor. The sashimi is beautifully marbled, with tender and buttery slices of fish that practically dissolve on the palate.
Sushi Moriawase
This menu is made up of a delicious assortment of sushi that showcases the skillful craftsmanship and attention to detail of the chefs. Overall, the Sushi Moriawase at Issho Izakaya offers a well-rounded and satisfying sushi experience. From the expertly prepared rice to the fresh and flavorful toppings, each bite delivers a harmonious blend of textures and tastes.
Nigiri Sushi
This menu offers a delightful selection of traditional and creative sushi creations. Each bite-sized sushi is expertly prepared, featuring a perfect balance of rice and fish, and served with accompanying garnishes and sauces to enhance the overall experience.
Issho Izakaya Menu Delivery
Issho Izakaya's menu delivery provides customers with a convenient way of ordering their favorite Japanese foods to fill their cravings. Customers can order through third-party delivery services such as FoodPanda with their mobile phones, laptops, or PCs.
Social Media Pages
Whether you're looking for a casual dining experience or a place to unwind with friends and colleagues, Issho Izakaya is the perfect destination. Join their online community and embark on a gastronomic journey that will leave you craving for more. Visit their restaurant today and let us transport you to the vibrant streets of Japan.
Facebook: https://www.facebook.com/isshoizakaya
Instagram: https://www.instagram.com/isshoizakaya
Website: http://isshoizakaya.com.sg/greatworld/contact/
FAQs
What type of cuisine does Issho Izakaya offer?
Issho Izakaya offers a wide variety of Japanese cuisine with a focus on izakaya-style dishes.
Where is Issho Izakaya located in Singapore?
Issho Izakaya is located at 1 Kim Seng Promenade, #01-123 Great World City, Singapore 237994
Does Issho Izakaya have a sake or drinks menu?
Yes, Issho Izakaya offers a sake and drinks menu.
Does Issho Izakaya have a dress code?
Issho Izakaya does not have a strict dress code, but it is recommended to dress in smart casual attire.
Does Issho Izakaya have any halal certifications?
No, Issho Izakaya does not have halal certification.
Conclusion
Issho Izakaya is a must-visit destination for both locals and tourists who are looking for a memorable Japanese dining experience in Singapore. This Japanese restaurant captures the essence of an izakaya, where good food, good drinks, and good times come together. So whether you're looking forward to helping yourself to fresh sushi of Issho Izakaya, savoring their flavorful grilled items, or exploring the rich and comforting flavors of Japanese cuisine, Issho Izakaya is sure to leave a lasting impression on you and your loved ones.