Ever wonder where you could get the most authentic and classic style of Chinese food? If you're living in Singapore you're lucky since I found an interesting restaurant that serves classic style Chinese food and they are the most authentic Chinese restaurant that you could get nowadays. The Red Star Restaurant menu has a lot of Chinese foods to choose from their menu is rich with the most authentically prepared dishes for their customers. This restaurant also offers delicious yet affordable meals. Have you heard about Red Star Restaurant? I'm sure you already have since this restaurant is one of the oldest in Singapore. Let's get to know this restaurant more and let's see if it'll catch your interest after this article. Let's go!
You can find the updated pricing information for the Red Star Restaurant menu below.
MENU
PRICE (SGD)

Steamed Dim Sum

Big bag (1 pcs)
$7.20
Quicksand bags (3 pcs)
$5.10
BBQ pork buns (3 pcs)
$3.90
Chicken Bun (2 pcs)
$3.90
Milk yellow bag (3 pcs)
$4.90
Siu Mai (4 pcs)
$4.90
Shrimp dumplings (4 pcs)
$4.90
Phoenix claw
$4.90
Pork ribs
$4.90

Fried Dim Sum

Prawn corners (3 pcs)
$4.90
Tofu Roll (3 pcs)
$4.90
Spring rolls (3 pcs)
$4.90
Taro Horn (3 pcs)
$4.90
Carrot cake (3 pcs)
$4.90

Mee

Roast duck (1 / 4duck breast)
$12.00
Roast duck (1 / 4duck leg)
$14.00
Char siew
$12.00
Roast meat
$12.00
Barbecued pork meat
$12.00
Roasted pork three
$40.00

Cantonese Dishes

Winter melon fire fish head
$28.00
Kyoto Spare Ribs King
$14.00
Sweet and Sour Pork
$14.00
Stir-fried milk white
$8.00
Lohan
$12.00
Hibiscus omelette
$14.00
Fried Shrimp Roll
$12.00
Fried shrimp with broccoli
$20.00

Staple (1 serving)

Ginger Onion Venison Rice
$7.50
Goulash Rice
$7.00
Yangzhou fried rice
$7.00
Assorted Hor Fun
$7.00
Dry noodles
$7.00
About Red Star Restaurant
Red Star Restaurant was founded by chefs that specialized in Cantonese foods, they are Hooi Kok Wai and Sin Leong together with Tham Yew Kai and Lau Yoke Pui. On their popular days, these men are well known especially in the culinary world as the Four Heavenly Kings of Cantonese Cuisine which is based in Singapore. They are credited for inventing the famous worldwide favorite of Lohei. These four founders of Red Star are all disciples of Chef Luo Chen Seng of a legendary Cantonese restaurant back in the 50s. It was known as the best Chinese restaurant in the country at that time. A single meal in that prestigious restaurant was compared to a luxurious affair and a wedding banquet can only be possible only if you are a super rich person.
Red Star Restaurant could be the most authentic, classic-looking restaurant that is left in Singapore because of the changes that occur in the past. Dining in this restaurant looks like you've used a time machine and stepped back in time to the '70s. Red Star Restaurant's menu and even recipes have remained and there is nothing much changed for more than 4 decades giving their customers nostalgic memories of their childhood.
Red Star Restaurant Menu Best Seller
Based on research we gather Red Star Restaurant's best sellers to provide you with their top-selling and popular items. Here is the list.
Carrot Cake – I am going to start with their carrot cake and this is not a dessert and that's unusual for a name because this is a fried dumpling. The Red Star Restaurant carrot cake menu has that mild crisp to the top portion of the cake, it is not overly starchy but pretty good. A small bite will give you enough sweetness that you need. I like how firm their carrot cake it's not too fluffy which is great. 
Roast Duck – Red Star Restaurant's version of the roasted duck is simply amazing and delivers. It has that nice and beautiful roasted skin and the duck meat is really tender. The taste is just right you don't have to dip their roasted duck in any dipping sauce because it is already good as it is. Not salty just right.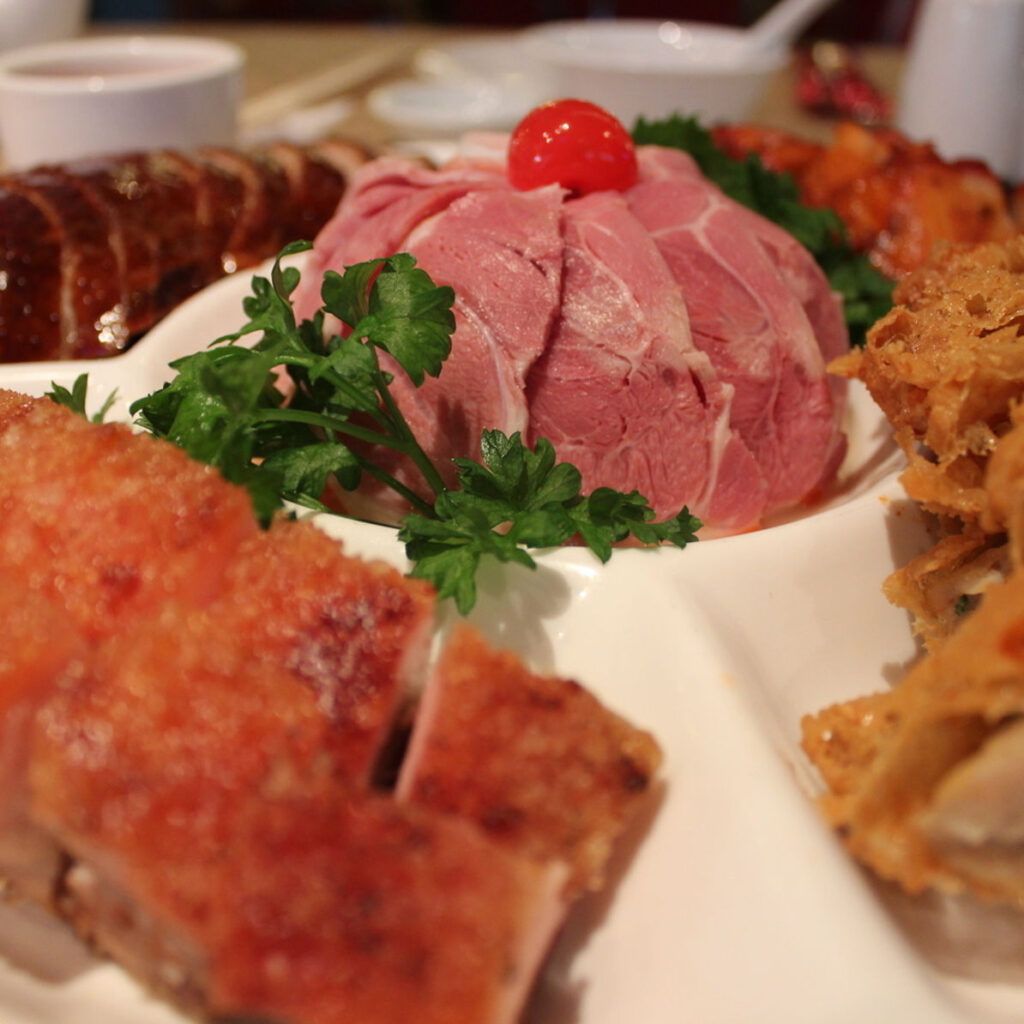 Banana Fritters – Another dessert of the Red Star Restaurant is their version of banana fritters. In their banana fritters, they actually use ripe bananas giving their banana fritters a very soft texture. It also has that sweet and aromatic filling. This has also a crispy layer. Their banana fritters are one of the best that you could order on their menu and this is also a must-try.
Char Siew Bao – Red Star Restaurant's version of char siew bao is fluffy and huge. This is actually a barbecue Pork bun that has that soft skin and delicious inside. Char siew is delicious but if you like salty or overly marinated and seasoned food maybe this is not for you. This is also a must-try as well.
Red Star Restaurant Menu Dim Sum
Red Star Restaurant has a lot of dim sum to offer they have a variety of dim sum to choose from and for sure you will find what you want. They have two types of dim sum steamed dim sum and fried dim sum. For their steamed dim sum they have a big bag which is 1pc, a quick sandbag that is 3 pcs, BBQ pork buns also 3 pcs, chicken bun of 2 pcs, milk yellow bag which is also 3 pcs, siu mai for 4 pcs, shrimp dumplings also 4 pcs, phoenix claw and pork ribs. On their fried dim sum option, they have prawn corners which are served in 3 pcs. Tofu rolls also 3 pcs per serving, spring rolls also 3 pcs, taro horn also 3 pcs, and their carrot cake which they also serve in 3 pcs.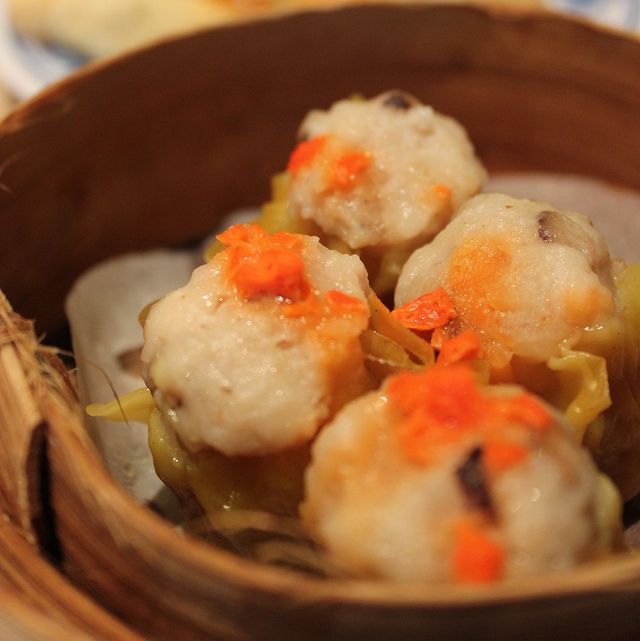 Crispy Roasted Chicken Menu
The crispy roasted chicken of Red Star Restaurant is something that you will never forget and crave. This is made with, of course, chicken that they roast and then fried to achieve that crispy skin. The meat of the chicken is tender and not dry and when it comes to the taste this is really good. The smokey flavor of the chicken when they toasted it give a different taste to this dish plus the crispiness of the skin is really amazing. It also comes with dipping sauce but believe me, this is already good without it.
Red Star Restaurant Menu Pork Ribs Special 
Red Star Restaurant's version of the pork ribs special is what I can highly recommend. This Chinese dish is delicious, it is tangy it is a bit sticky a bit salty, and sweet at the same time. It has all the right kind of good in a dish. The meat is very tender to be fair and at the same time very tasty because it comes from the rib part. Made with water ginger spring onions and other spices and herbs this is really something that you shouldn't miss.
Shark's Fin with Crab Meat and Dried Scallop – This is what you're looking for if you're looking for a superb taste. Every spoonful of this soup will fill your mouth with different flavors and a bit of sweetness from the crab meat and some powerful intense flavors coming from the dried scallops. Bamboo shoots and shiitake mushrooms are also some of the ingredients in this dish that elevate the taste and texture of this dish.
Abalone with Vegetables – This is made with abalone that they cooked very fast then add steamed vegetables and spices to enhance the taste of this dish. Red Star Restaurant's version of Abalone with vegetables is also one of their top dishes because of how good it is.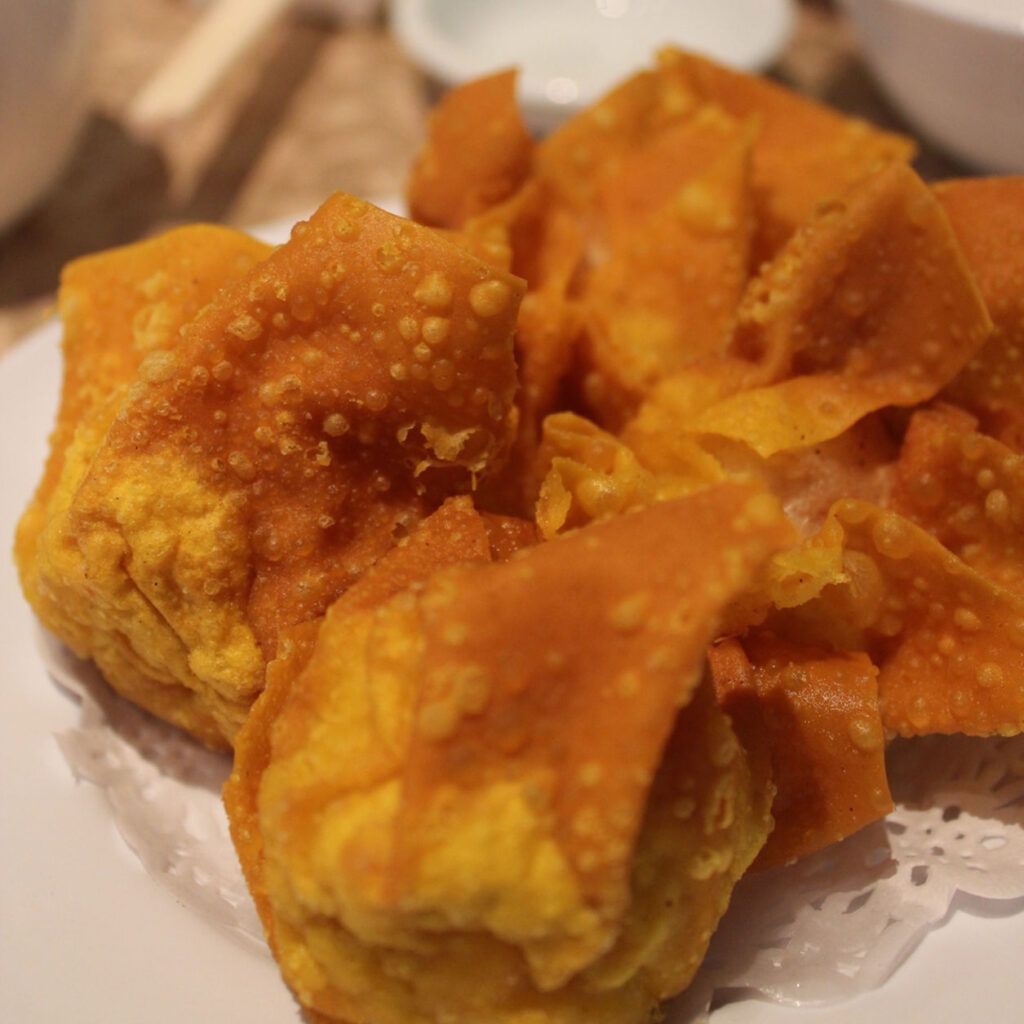 Red Star Restaurant Menu Delivery
Craving for your favorite Red Star Restaurant Cantonese-style Chinese dishes? No worries since Red Star Restaurant is catering deliveries as well. All you have to do is to call their number at +65 6532 5266 or you can book your favorite food courier like food panda and grab food for your orders.
Social Media Pages
Come and experience authentic Cantonese cuisine at Red Star Restaurant, one of Singapore's most renowned Chinese restaurants. Indulge in our signature dim sum and savor our exquisite dishes made with the freshest ingredients. Don't forget to follow our social media pages for updates and promotions!
Facebook: https://www.facebook.com/profile.php?id=100067657718790
Instagram: https://www.instagram.com/redstarsg/
Conclusion
This is my honest opinion about Red Star Restaurant, the place is wide but there are a lot of customers dining so it's not too spacious at all but that's fine since the food that they serve is all delicious. The Red Star Restaurant menu has a lot of awesome food to serve and their prices are affordable, to be honest. Their service crews are busy but still can accommodate the customers and that's fine and understandable. The place is nice food looks amazing and delicious as well. I highly recommend the place to those who are looking for Cantonese-style Chinese food.