The Gado & Grill menu features authentic Indonesian dishes such as Ayam Penyet, Ayam Geprek, Bawal Penyet, Tempe, and Bihun Bakso. It offers combo meals and side dishes prepared using secret ingredients and authentic spices to make their flavor unique, delicious, and satisfying. The cuisines in combo meals are well-thought-out to give diners a great experience, encouraging them to return for more. 
You can find the updated pricing information for the Gado & Grill menu below.
MENU
PRICE (SGD)

Combo Meals

Ayam Geprek
$10.05
Ayam Penyet
$10.05
Balanced Diet Set
$11.15
Bawal Penyet
$11.05
Bihun Bakso
$10.05
Chunky Satay™
$10.05
Gado Gado
$9.35
GadoMie™
$9.35
Grilled Chicken
$10.05
NasiGO™
$10.05
Pecel Lele
$10.05

Side Dishes

Beef Ball Soup
$7.85
Chicken Wings
$4.55
Oxtail Soup
$8.35
Prawn Cracker
$2.80
Rice
$1.20
Tempe
$4.15
TES Cassava Chips Balado
$2.35
TES Corn Stick Balado
$2.35
TES Tortilla Chips Balado
$2.35

Beverages

Coke
$ 2.20
Mineral Water
$2.20
Sprite
$2.20
Teh Kotak (Less Sugar)
$2.20
Teh Pucuk Less Sweet (350ml)
$2.20
About Gado & Grill 
Gado & Grill is a restaurant in Singapore that showcases the rich and unique culture of Indonesia by offering locals and tourists authentic and flavorsome Indonesian cuisines. The management is committed to serving customers quality food and exceptional service. It has multiple outlets in Singapore located in accessible areas, making it easy to find and visit. 
Gado & Grill Menu Best Seller 
Gado & Grill offers hearty Indonesian cuisines known for their authentic and unique taste. These are some of the best sellers and popular dishes of Gado & Grill that always satisfy its customers' cravings. 
Grilled Chicken – It comprised a quarter of chicken glazed in Indonesian sweet soya sauce and grilled expertly. This chicken has a delicious, unique taste and smoky flavor, making meals pleasurable. The other dishes that complete this meal are rice, bean curd, mixed greens, and crackers. 
Ayam Penyet – One of its patrons' well-loved Indonesian cuisines as the chicken has a unique preparation method where it is smashed or flattened to make it tender. It also has a spicy flavor and is served with rice, crackers, crunchy flakes, bean curd, and hot chili. 
Gado Gado – A special salad dish of Gado & Grill comprises boiled vegetables, bean sprouts, hard-boiled egg, bean curd, and rice cake. The peanut sauce dressing is the special ingredient of this unique salad dish. It is also served with crackers that have a satisfying saltiness, crunchiness, and delicious taste.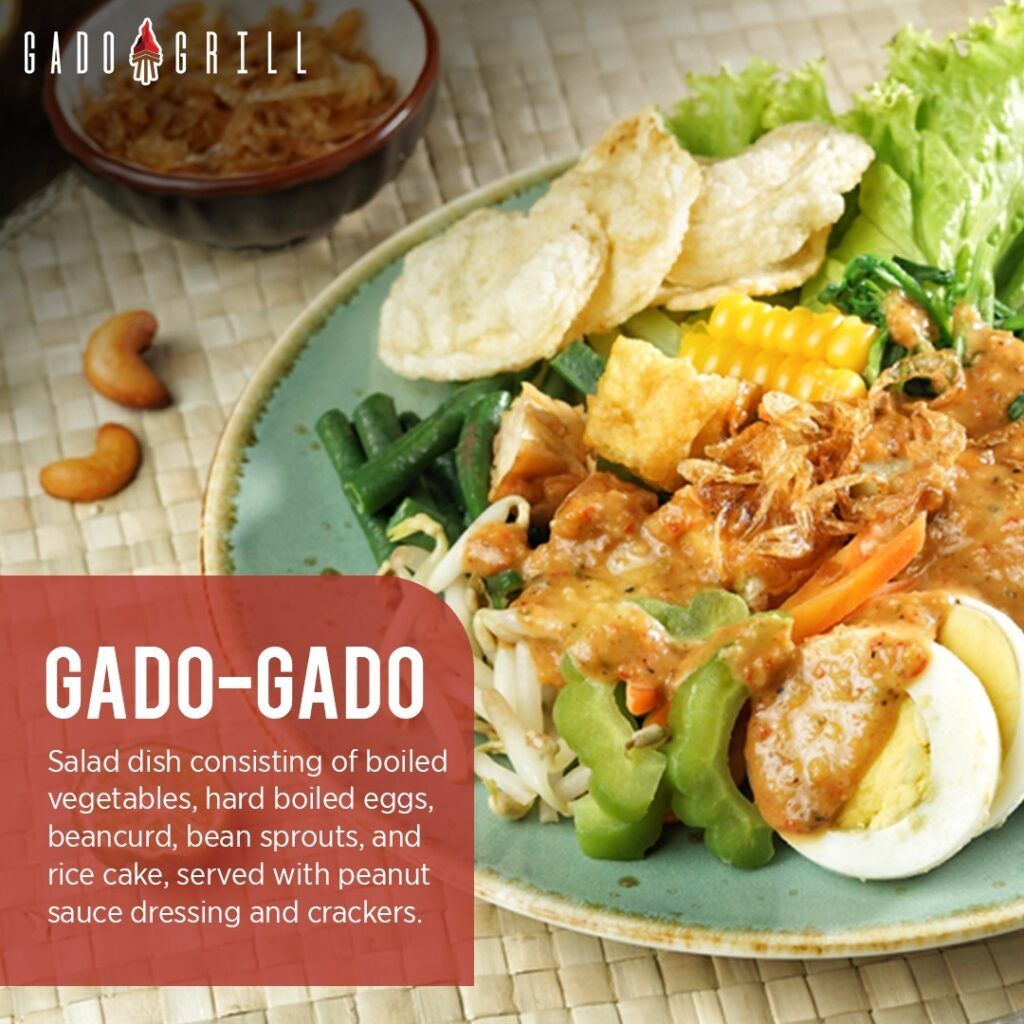 GadoMie™ – Indomi Mi Goreng is a famous instant noodle in Indonesia as it is easy to cook and goes well with other ingredients. Gado & Grill added a special twist by pairing it with the restaurant's special chunky satay, crackers, greens, special sauce, and a sunny-side-up egg. 
NasiGo™ – Nasi Goreng is a traditional fried rice in Indonesia widely known for its delicious flavor. To make this dish more extraordinary, this restaurant cooked it with a tinge of belacan and soya sauce. This meal includes crispy crackers, mixed fresh greens, special sauce, chicken, and egg. 
Gado & Grill Menu Combo Meals 
Gado & Grill offers combo meals consisting of salad, chicken, and noodles paired with side dishes and other cuisines. Customers can add or remove chili from their cuisines and choice of beverage. 
Ayam Geprek – This dish consists of ayam geprek, or chicken dish coated with special batter, crushed, and mixed with spicy sambal sauce. It is notable for its appetizing spiciness and crunchiness, making meals more exciting.
Chunky Satay – Chunky Satay is made with large chicken chunks garnished with sweet soya sauce from Indonesia, skewered, and grilled expertly. It is served with crunchy crackers, beancurd, and mixed greens. The white steamed rice paired with it is topped with a special sauce to enhance its flavor. 
Balanced Diet Set – Gado & Grill offers a balanced diet set that can keep you healthy, active, and feel better. This set is similar to Gado Gado, a salad dish offered by this restaurant, and the only difference is the addition of chunky satay, which makes it more satisfying. 
Bihun Bakso – A comforting noodle dish and the perfect meal that can be enjoyed at any time of the day. It consists of bee hoon noodles cooked in a delicious soup with vegetables and beef balls. The beef balls have a mouthwatering aroma and taste, giving diners a comforting meal.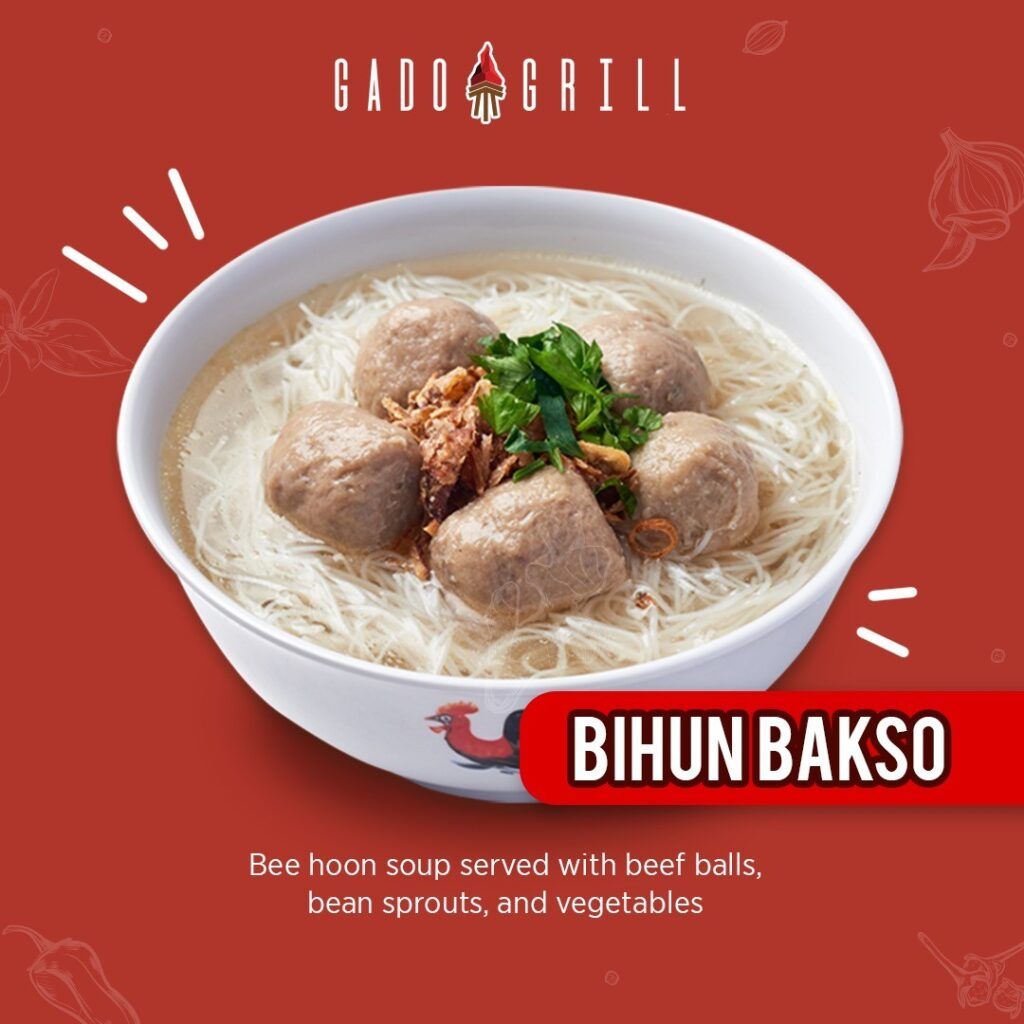 Pecel Lele – Pecel Lele is a popular Javanese cuisine where catfish is fried and garnished with special spices. The surprising goodness of this fried catfish will surely satisfy your seafood cravings. This dish also comes with white rice, bean curd, greens, crackers, and a special sauce. 
Gado & Grill Side Dishes Menu
The side dishes of Gado & Grill consist of rice, chicken wings, beef ball soup, oxtail soup, prawn crackers, and tempeh. It also provides comforting packed snacks such as TES Cassava Chips, Corn Sticks, and Tortilla Chips with a balado or hot and spicy flavor. 
Prawn Cracker – Prawn crackers are one of the popular Indonesian side dishes served with various cuisines. It can also be enjoyed as an appetizer or snack, as it has a pleasant taste and texture that can boost your appetite and curb your hunger. 
Tempe – Tempe is a classic Indonesian dish made with fermented soybean and is loved for its firm and chewy texture and savory, earthy, and nutty taste. This cake-like dish is marinated in a special blend of spices and seasonings to enhance its flavor. 
Beef Ball Soup – This heartwarming soup consists of fresh green vegetables, hearty beef balls, and flavorsome broth. The beef balls are chewy and pair perfectly with other ingredients, resulting in delicious cuisine. 
Chicken Wings – It is commonly served in different restaurants around the world, as people love its finger-licking goodness. The chicken wings served by Gado & Grill are seasoned with spices and garnished with homemade sauce, giving a glossy appearance and adding delicious flavor.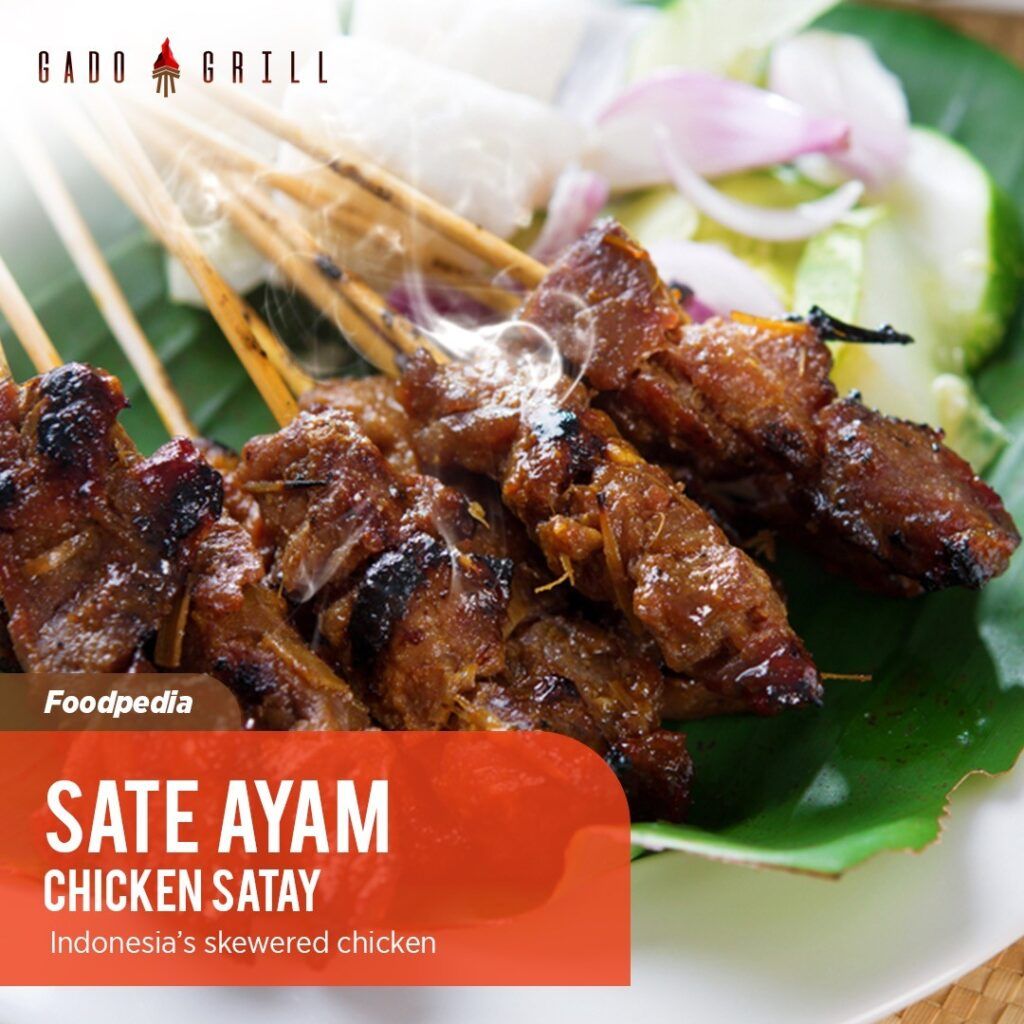 Beverages 
The beverages served by Gado & Grill consist of canned soft drinks, bottled mineral water, and carton-pack tea. These drinks are popular and perfect for people from different walks of life as they are refreshing and have a pleasurable taste. 
Coke – Coke is one of the favorite beverages of people from different parts of the world, as each sip makes them happy and satisfied. It is a delicious soft drink that is always part of meals and is served at various celebrations. 
Teh Kotak – It is a delicious tea drink made with carefully chosen high-quality tea leaves. Gado & Grill serves a Teh Kotak Less Sugar variation in a 300 ml carton pack. This drink has a genuine taste of Jasmine tea. 
Sprite – Sprite is a popular beverage among kids and adults as it is refreshing goodness that can make you feel good. Its lemon-lime flavor makes it a perfect drink during hot weather. 
Gado & Grill Menu Delivery 
The Indonesian cuisines of Gado & Grill are available through its partner delivery platforms, such as GrabFood, Deliveroo, Oddle, Caterspot, and Foodpanda, so that customers can enjoy them at their own convenience. 
Social Media Pages
Stay connected with Gado & Grill's social media pages to keep up with the latest updates, tempting food photos, and irresistible promotions. Indulge in their delectable selection of grilled dishes, from succulent meats to fresh vegetables, all expertly seasoned and prepared to perfection.
Instagram: https://www.instagram.com/gadogrill/
Website: https://gadogrill.com/
FAQs
Where is Gado & Grill located in Singapore? 
Gado & Grill Singapore has outlets in the following areas: 
Bukit Panjang Plaza (1 Jelebu Rd, #01-42, Singapore 677743)
City Square Mall (180 Kitchener Rd, #B1-26, Singapore 208539)
One Raffles Place (1 Raffles Place #B1-20 Singapore 048616)
Our Tampines Hub (1 Tampines Walk #B1-K4, Singapore 528523)
Paya Lebar Square (60 Paya Lebar Road, #b1-29/30/31, Singapore 409051)
Sengkang (Blk 277C Compassvale Link, #01-13 (2c), Singapore 543277)
Yishun Integrated Transport Hub (920 Yishun Avenue 2, #01-20, Singapore 769100) 
What types of meat dishes are available at Gado & Grill? 
Chicken, beef, and oxtail are the types of meat dishes available at Gado & Grill. 
Are there vegetarian or vegan options available at Gado & Grill? 
Yes, Gado & Grill offers some vegetarian options such as salad and tempe. 
Is Gado & Grill halal-certified? 
Yes, Gado & Grill is a halal-certified Indonesian Restaurant. 
Conclusion 
The Gado & Grill menu is simple, making it easy to choose the perfect meal that will give you a great dining experience. This restaurant has a pleasing atmosphere that goes well with its dishes. It is an excellent place for those who want to try Indonesian cuisine, as its foods are family-friendly, affordable, and have authentic flavors.