There are many restaurants that in Singapore serve dim sum items. However, if you are looking for a place that serves dim sum items with authentic Chinese flavors, Sum Dim Sum is the perfect place to go. Sum Dim Sum offers a diverse and mouthwatering menu that showcases a wide range of traditional and authentic dim sum dishes. From steamed dumplings to fried snacks, the menu at Sum Dim Sum caters to every dim sum lover's preferences. Visit Sum Dim Sum to indulge in classic dishes like char siu bao, or explore unique options such as truffle xiao long bao.
You can find the updated pricing information for the Sum Dim Sum menu below.
MENU
PRICE (SGD)

SDS Signature Set

SDS Signature Set (4-5pax)
$96.80
SDS Signature Set (9-10pax)
$186.80

Dim sum Fried

Pan Fried Carrot Cake
$6.05
Deep Fried Shrimp Dumpling
$5.83
Deep Fried Salted Egg Sesame Ball
$5.83
Crispy Beancurd Skin
$4.84
Deep Fried Yam Dumpling
$5.83
Fried Prawn Roll in Beancurd Skin
$5.83

Dim sum Steamed

Xiao Long Bao (3/6 pcs)
$6.71
Char Siew Bao
$6.71
Red Bean Paste Bao
$5.39
Bamboo Roll w/ Oyster Sauce
$5.39
Golden Liu Sha Bao
$5.39
Spare Ribs w/ Black Bean Sauce
$5.83
Mala Dumplings (3pcs)
$5.39
Wolfberry w/ Mushroom Siew Mai (3pcs)
$5.83
Scallop Dumplings (3pcs)
$7.26
Malay Sponge Cake
$4.84
Fresh Prawn Hargow
$5.94
Fresh Prawn Tiffany Blue XL Hargow
$7.26
Glutinous Rice Wrapped in Lotus Leaf
$6.27
Signature Hot & Spicy Dumplings (3pcs)
$5.83

Rice Roll

Prawn Rice Roll with Asparagus
$7.26
Scallop Rice Roll
$9.57
BBQ Pork Rice Roll
$5.94
Crispy Prawn Rice Roll
$11.77

Baked

Signature Crispy Pork Bun
$7.26
Egg Tart
$5.39
BBQ Pork Pastry
$5.50

Appetiser

Crispy Beancurd Skin
$4.95
Chicken Feet w Abalone Sauce
$6.60

Vegetable

Trio Eggs Spinach Soup
$11.88
Boiled Seasonal Vegetables
$9.46
Vegetable w Oyster Sauce
$9.46
Sole Fish Garlic Kale
$11.88
Shrimp Fried String Beans
$11.88

Porridge

Hong Kong style congee
$6.27
Century Egg & Lean Meat Congee
$6.27
Scallop congee
$9.57

Soup and Noodles

Hor fun w Gravy Egg
$13.09
Moonlight Hor fun
$13.09
HK-Style Wanton Soup
$6.38
HK-Style Wanton Noodle Soup
$7.81
Fresh Prawn Dumpling Soup
$6.38
Fresh Prawn Dumpling Noodle Soup
$8.47
Beef Noodle
$9.90
Seafood White Bee Hoon
$13.09

Rice

Yang Zhou Fried Rice
$8.36
Shrimp Egg Fried Rice
$9.57

Seafood

Signature Crab (chilli)
$108.90
Signature Crab (Black Pepper)
$108.90
Signature Crab (Salted Egg)
$108.90
Golden Salted Egg Prawn
$19.36
Curry Fish Head
$33.88
Wasabi Prawn
$19.36
Cereal Prawn
$19.36
Sambal Sotong
$19.36
Fried Sotong
$19.36

Meat

Salted Egg Pork Rib
$19.03
Pork Rib King
$17.93
Dongpo meat
$14.41
Roasted Herbal Duck(Whole)
$82.28
Roasted Herbal Duck(Half)
$41.14
Roasted Herbal Duck(Quarter)
$22.99
3 Treasures Combo(1-2pax
$22.99
3 Treasures Combo(3-4pax)
$45.98
Spicy Chicken
$16.72
Almond Ball Shrimp & Minced Meat
$14.30
Prawn Paste Chicken Wing
$14.41

Dessert

Mango Sago w Pomelo
$5.17
Osmanthus jelly (3pcs)
$5.17
About Sum Dim Sum
Sum Dim Sum is a popular restaurant in Singapore that specializes in serving authentic dim sum dishes and is known for its menu filled with bite-sized dishes, including steamed, fried, and a variety of baked dim sum options. Their chefs ensure that each dim sum is prepared carefully and with attention to detail to serve dishes with the perfect combination of flavors and textures. Whether you're visiting for a casual brunch or a sumptuous feast, Sum Dim Sum promises to provide an unforgettable culinary experience through the flavors of authentic Chinese dim sum. 
Sum Dim Sum Menu Best Seller
This menu is composed of a wide variety of Chinese dishes that are mostly ordered by Sum Dim Sum customers.
Char Siew Bao – Sum Dim Sum's Char Siew Bao is a delicious steamed bun filled with savory barbecued pork. The bun is soft and fluffy, while the char siu filling is tender and packed with flavors of sweet and savory tastes making it a classic dim sum favorite that is sure to satisfy your cravings for a tasty and comforting bite.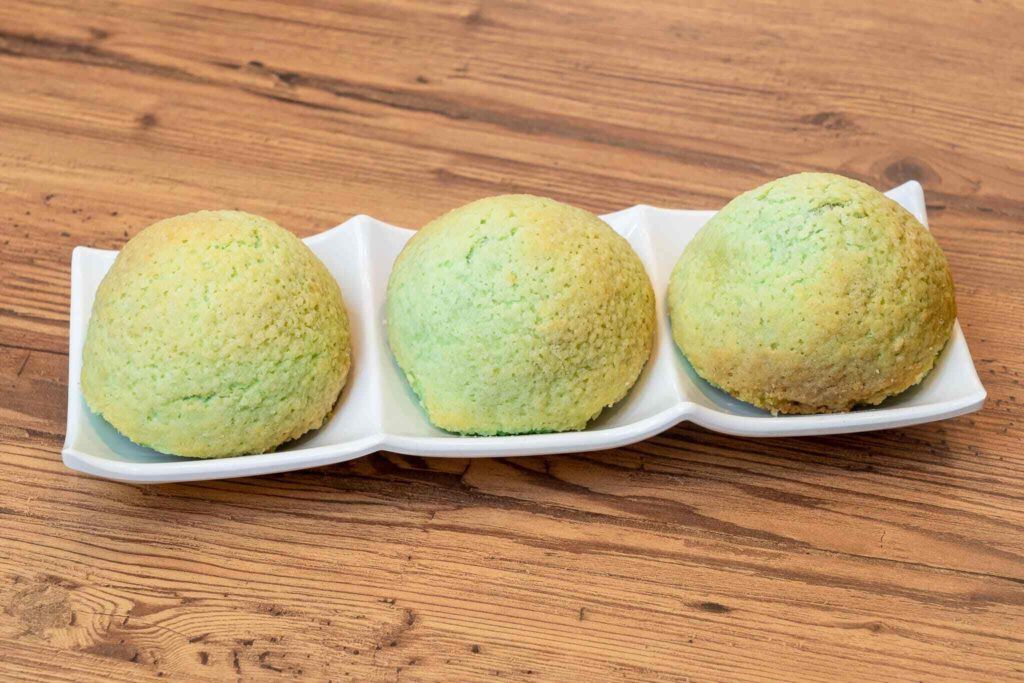 Spare Ribs w/ Black Bean Sauce – It is a flavorful dish that features tender and juicy pork ribs cooked in a rich black bean sauce while the sauce adds a savory and slightly salty taste, complementing the meat. It's a satisfying choice for those who enjoy bold flavors and hearty dishes for those who visit Sum Dim Sum.
Crispy Prawn Rice Roll – This dish is a delightful combination of crispy deep-fried prawns wrapped in a delicate rice roll. The contrast between the crispy prawns and the soft rice roll creates a pleasing texture, while the prawns provide a burst of seafood flavor.
Signature Crispy Pork Bun – This bun is a must-try for pork lovers as it is filled with juicy and flavorful roasted pork that has been marinated and cooked to perfection. The outer layer of the bun is crispy which adds a satisfying crunch to each bite. 
Dongpo Meat – This is a classic Chinese dish that features a tender braised pork belly that is cooked slowly to achieve a melt-in-your-mouth texture, and the sauce enhances the natural sweetness of the meat. It's a hearty and satisfying dish that is enjoyed by the customers when paired with steamed rice.
Dim Sum Fried Menu
This menu is composed of a wide variety of fried dim sum items that will give dim sum fans something unique and new.
Pan-Fried Carrot Cake – This is a delicious dish made with a carrot cake that has been pan-fried to a golden crisp.  It is stir-fried with eggs, preserved radish, and a combination of savory sauces, resulting in a flavorful and satisfying dish that is loved by many.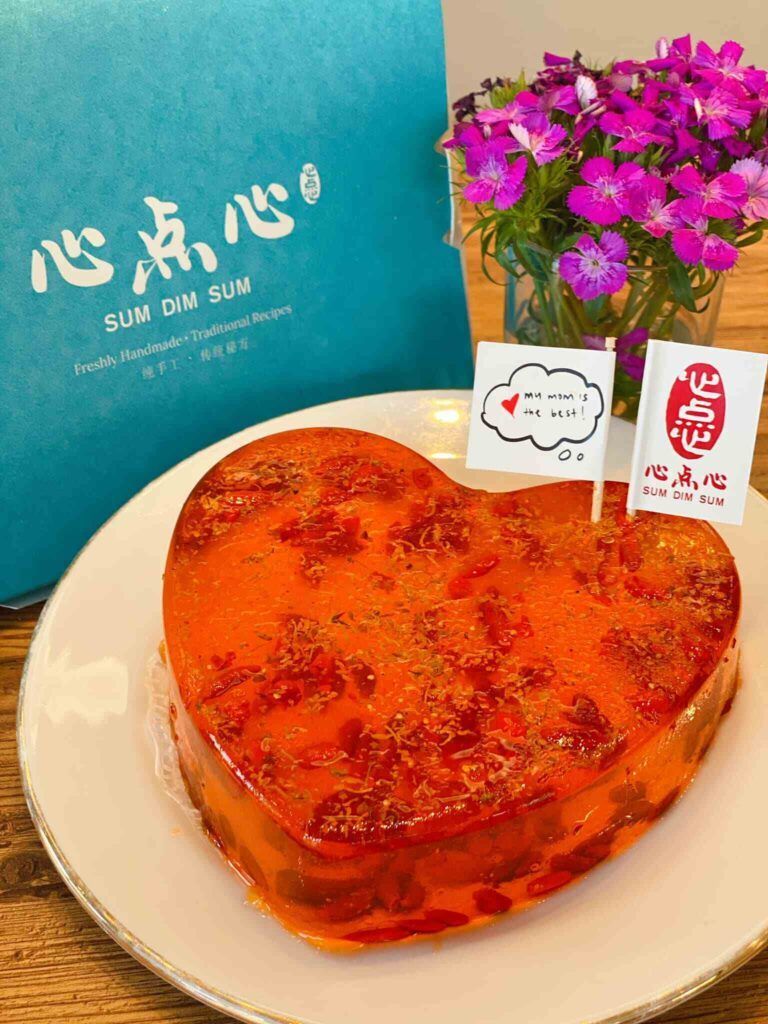 Deep Fried Shrimp Dumpling – This is a tasty treat that features plump shrimp encased in a thin and crispy dumpling wrapper. The dumplings are carefully deep-fried to achieve a golden-brown color and a delicate crunch, while the shrimp filling is juicy and flavorful, providing a delightful contrast to the crispy exterior.
Crispy Beancurd Skin – This is a popular appetizer at Sum Dim Sum that offers a delicious combination of both flavors and textures. The beancurd skin is deep-fried until it becomes crispy and golden and then served with a savory dipping sauce, adding a burst of umami taste to each bite.
Dim Sum Steamed Menu
This menu is composed of a selection of dim sum items that are steamed to create fluffy and delicious-tasting buns.
Red Bean Paste Bao – It is a classic dessert option that is filled with a smooth and sweet red bean paste that offers a comforting and familiar taste. It's a popular choice for those who have a sweet tooth and enjoy the combination of the fluffy steamed bun and the richness of red bean filling.
Bamboo Roll w/ Oyster Sauce – The delicate rice noodle rolls in this dish are filled with a variety of ingredients such as shrimp, barbecued pork, or vegetables, and then topped with a savory oyster sauce. The combination of the soft and smooth rice noodle rolls with the umami flavor of the oyster sauce creates a perfect balance of textures and tastes.
Golden Liu Sha Bao – These steamed buns are filled with a delicious and creamy salted egg yolk custard that drips out each time you take a bite. The contrast between the soft and fluffy bun and the rich, sweet, and slightly salty custard filling creates a delightful explosion of flavors.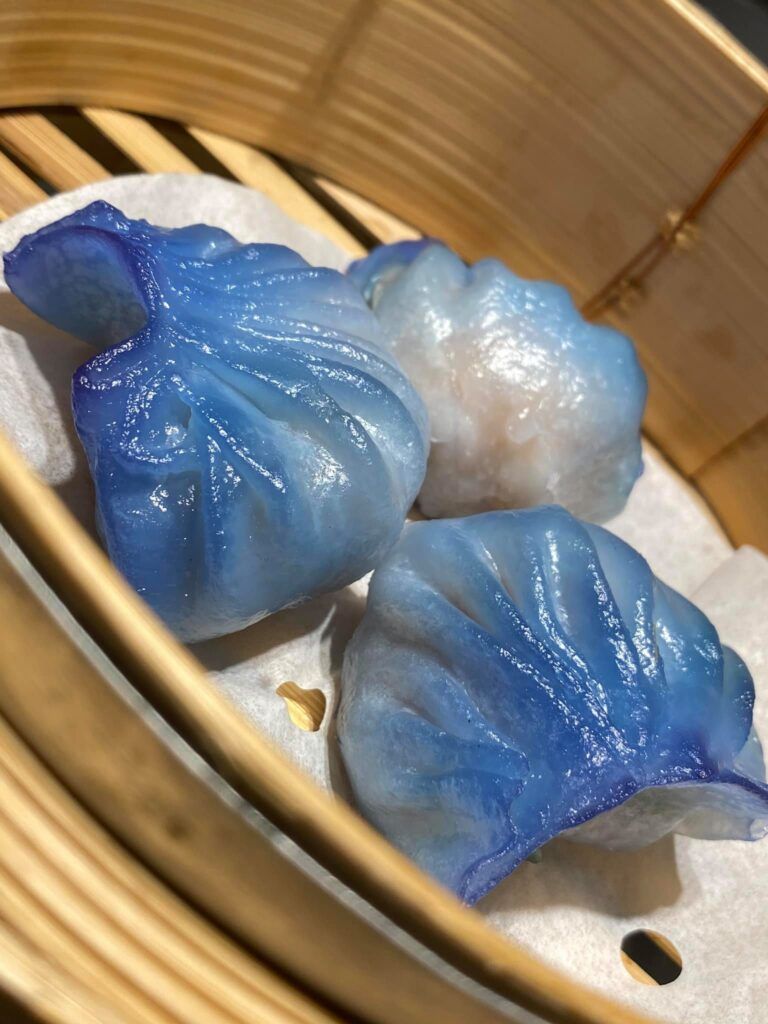 Rice Roll
This menu offers a selection of dishes featuring delicate and smooth rice noodle rolls filled with various ingredients and accompanied by flavorful sauces. These rolls are a popular dim sum item that combines the tenderness of the rice noodles with the richness of the fillings and sauces.
Vegetable
This menu focuses more on traditional Chinese cooking techniques and ingredients to offer a variety of vegetarian and vegan options that cater to different palates and preferences. 
Sum Dim Sum Menu Delivery
Sum Dim Sum now provides a menu delivery for their customers for a convenient ordering process. Customers can order through Sum Dim Sum's online store or through third-party delivery services like FoodPanda.
Social Media Pages
Unleash your love for dim sum and join their thriving community of food enthusiasts. Follow them on social media to stay connected with the latest updates from the kitchen. Stay tuned to their social media pages for exclusive promotions, limited-time offerings, and behind-the-scenes peeks into culinary craftsmanship.
Facebook: https://www.facebook.com/sumdimsum.sg
Instagram: https://www.instagram.com/sumdimsumsg/
TikTok: https://www.tiktok.com/@sumdimsum
Website: https://sumdimsum.oddle.me/en_SG/stores
FAQs
What type of cuisine does Sum Dim Sum serve?
Sum Dim Sum specializes in Cantonese cuisine, specifically dim sum items.
Are there any signature dishes or must-try items at Sum Dim Sum?
Char Siew Bao, Spare Ribs w/ Black Bean Sauce, Crispy Prawn Rice Roll, and Signature Crispy Pork Bun are some of the must-tries at Sum Dim Sum.
Does Sum Dim Sum offer delivery or takeout services?
Yes, Sum Dim Sum offers delivery and takeout services to their customers.
Does Sum Dim Sum accept reservations?
Yes, Sum Dim Sum accommodates customers with reservations.
Is Sum Dim Sum halal-certified?
There is no information as to whether or not Sum Dim Sum has any halal certifications or not so it is recommended to go to the nearest branch and inquire in regards to this matter.
Conclusion
Sum Dim Sum is a must-visit destination for dim sum lovers in Singapore, both locals, and tourists alike. It has an extensive menu featuring a wide variety of traditional and modern dim sum dishes and other Chinese dishes. The restaurant's commitment to using high-quality ingredients and authentic flavors results in near-perfect Chinese-inspired dishes from flavors to textures. In addition, the cozy ambiance, attentive service, and delectable dim sum creations make Sum Dim Sum a go-to spot for families and groups of friends.