Italian cuisines such as pizza and pasta are the highlight of the Publico menu. It offers an extensive selection of pasta, woodfired traditional and Bianco pizzas, antipasti, charcuterie, mains, side dishes, desserts, special dishes for kids, soft drinks, and beer & wine. This restaurant uses authentic ingredients to give diners cuisines with evocative Italian flavors. It also offers a dynamic space where you can celebrate various special occasions or events. 
You can find the updated pricing information for the Publico menu below.
MENU
PRICE (SGD)

Bundle Deals

Kids Eat Free Bundle
$69.77
Menabrea & Pizza
$42.23
Perfect Pairings
$87.21

Pasta

Burrata Paccheri
$25.70
Clam & Bottarga Linguine
$29.38
Classic Beef Lasagna
$22.95
Crab "Mamma Rosa" Rigatoni
$33.05
Lamb Ragu Mafalde
$31.21
Maccheroncini Amatriciana
$24.79
Orecchiette Bolognese
$27.54
Publico Lobster Spaghetti
$42.23
Spaghetti Pomodoro & Olives
$22.95
Vodka Tortelli
$25.70
Chili Oil
$2.75
Parmesan Cheese
$2.75

Woodfired Pizza - Bianco

Gamberi
$26.62
Quattro Formaggi
$24.79
Tartufata
$27.54
Anchovy
$2.75
Burrata
$7.34
Chili Oil
$2.75
Mozzarella
$3.67
Parma Ham
$7.34
Spicy Salami
$7.34
Truffle Oil
$2.75

Woodfired Pizza - Traditional

Burrata
$29.38
Capricciosa
$26.62
Carne
$26.62
Chorizo
$28.46
Diavola
$25.70
Margherita
$22.95
Prosciutto
$29.38
Anchovy
$2.75
Burrata
$7.34
Chili Oil
$2.75
Mozzarella
$3.67
Parma Ham
$7.34
Spicy Salami
$7.34
Truffle Oil
$2.75

Woodfired Pizza - Vegan

Sicilia
$22.03
Anchovy
$2.75
Burrata
$7.34
Chili Oil
$2.75
Mozzarella
$3.67
Parma Ham
$7.34
Spicy Salami
$7.34
Truffle Oil
$2.75

Antipasti

Chicken Caesar Salad
$17.44
Eggplant Parmigiana
$15.61
Kale & Pumpkin Salad
$15.61
Meatballs al Forno
$17.44
Publico Salad
$17.44
Soup del Giorno
$13.77

Charcuterie, Cheese & Burrata

Burrata & Cherry Tomato (150g)
$29.38
Burrata & Cherry Tomato (300g)
$44.09
Charcuterie (Full)
$40.39
Charcuterie (Half)
$27.54
Cheese Board (Full)
$40.39
Cheese Board (Half)
$27.54

Mains

18 Hour Beef Short Ribs
$36.72
Barramundi
$34.88
Beef Burger
$20.20
Bistecca Ribeye
$47.74
Black Truffle Chicken
$32.13
Caprese Ciabatta
$16.52
Fish N Chips
$18.36
Iberico Pork
$40.39
Lamb Chops
$44.06
Lamb Kawarma Sandwich
$17.44
Mediterranean Chickpea Pita
$16.52
Naughty Chicken Burger
$18.36
Only Shrooms Burger
$14.69
Prosciutto Ciabatta
$16.52

Sides

Arugula & Parmesan Salad
$12.85
Caponata "Sicilian Braised Eggplant"
$9.18
Truffle Fries
$14.69

Dessert

Nutella Pizza
$19.28
Publico Tiramisu
$14.69

Kids

Meatball Pasta
$12.85
Mushroom Alfredo
$11.02
Tomato & Chicken
$11.02

Soft Drinks

Aranciata (200ml)
$5.51
Bottled Sparkling Water (750ml)
$6.43
Bottled Still Water (750ml)
$6.43
Coca Cola
$3.67
Coca Cola No Sugar (320ml)
$3.67
Limonata (200ml)
$5.5.1
Sprite (320ml)
$3.67

Beer & Wine

AIX, Rose Coteaux d'Aix en Provence AOC '19 - Provencce France (750ml)
$44.06
Astoria, Prosecco DOC NV - Veneto Italy (750ml)
$29.38
Chateau des Tourelles, Lalande-de-Pomerol AOC '18 - Bordeaux France (750ml)
$58.75
II Borro, Le Lamelle Toscana IGT '19 - Tuscany, Italy (750ml)
$58.75
II Borro, Pian di Nova Rosso Toscana IGT '17 - Tuscany. Italy (750ml)
$58.75
Menabrea Bottle (330ml)
$9.18
Peroni Nastro Azzurro Bottle (330ml)
$9.18
Podere Poggio Scalette, Chianti Classico DOCG '18 - Tuscany, Italy (750ml)
$44.06
Saint Clair, Origin Sauvignon B;anc '19 - Malborough New Zealand (750ml)
$44.06
About Publico 
Publico Ristorante is an Italian restaurant situated along the Singapore River. It aims to bring the flavors of Italy to Singapore. It offers a wide array of pasta and pizza with authentic flavors. The aesthetically pleasing interior of this dining place is designed by AvroKO, a firm in New York. This restaurant has an indoor and outdoor space with a lively and relaxing ambiance. 
Publico Menu Best Seller 
Publico specializes in Italian cuisines such as pizza and pasta. The best sellers of this restaurant are the traditional dishes and comfort foods that are always on the list of its customers. 
Burrata Pizza – Burrata is a cow milk cheese with a soft cream mixture wrapped in a mozzarella cheese shell. It gives the pizza a rich accent, and its flavor goes well with other ingredients. The creaminess of this pizza and the softness of the cream and mozzarella makes it addicting.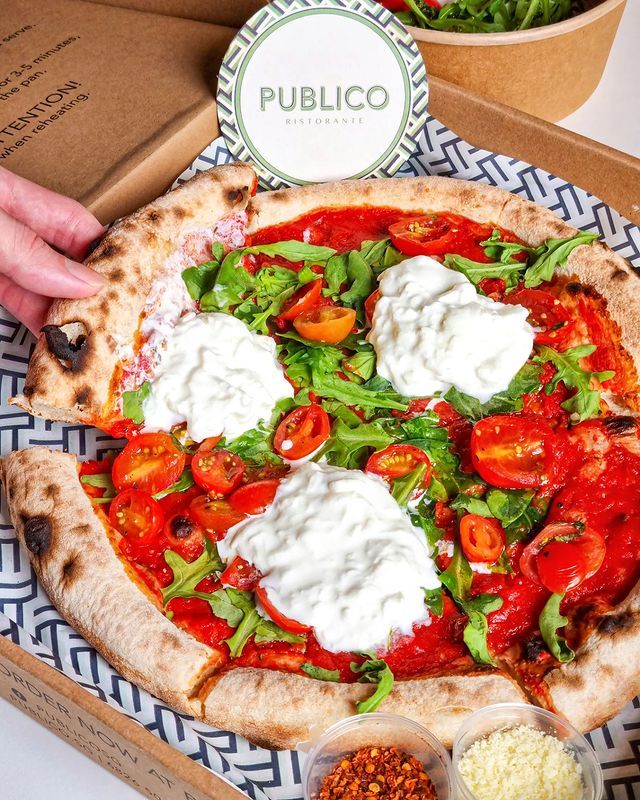 Margherita – One of the famous Italian pizzas that always satisfy customers. Virgin olive oil, mozzarella, and Ligurian basil are the toppings of this pizza. This classic pizza is simple yet flavorsome, and the few ingredients make each bite perfect. 
Diavola – Diavola is an Italian term for "deviled pizza." The chili oil and spicy salami give a spicy note, and the melted mozzarella cheese balances its flavor. Its spicy notes in each bite make it one of the patron's most loved dishes. 
Orecchiette Bolognese – Orecchiette is named after its shape, as it looks like an ear. It is an Italian word which means small. The beef ragu, "alla Bolognese," which is cooked with it, gives a mouthwatering taste, rich flavor, and appetizing aroma. Parmesan cheese adds cheesy goodness that will make you crave more. 
Truffle Fries – Fries are one of the popular comfort foods that people of all ages love, which is why it is always present on the menu of most restaurants. The truffle fries served by Publico are garnished with truffle oil, grated parmesan cheese, and special ingredients. It has an extraordinary taste as these toppings combine perfectly with the fries' texture and flavor. 
Publico Menu Pasta 
The pasta served by Publico consists of spaghetti, paccheri, rigatoni, linguine, tortelli, mafalde, orecchiette, lasagna, and maccheroncini amatriciana. Chili oil and parmesan cheese are the ingredients that diners can add to their favorite pasta dish. 
Clam & Bottarga Linguine – Linguine pasta is expertly cooked with the restaurant's choice of ingredients and decorated with clam and bottarga. The grated bottarga and other toppings enhance its visual presentation, making it more appealing.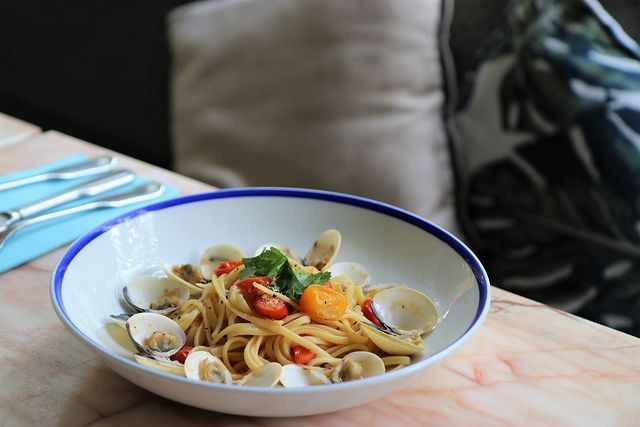 Publico Lobster Spaghetti – Half Boston lobster is the special ingredient of this spaghetti that makes it special. Its sweetness and tenderness give this dish a delicious twist. The other ingredients that come with it are white wine, cherry tomatoes, garlic, greens, and special spices. 
Lamb Ragu Mafalde – Lamb Shank Ragu is slowly braised with spices, herbs, and ingredients. It is a well-known comfort food in Italy that imparts an intense flavor to other dishes, such as pasta. It is tossed in a mafalde, a ribbon-shaped pasta that pairs perfectly with datterino tomatoes, parmesan, and roasted chili. 
Woodfired Pizza – Bianco 
Woodfired Pizzas menu from Publico are cooked using a wood-fired oven to make them irresistible. In culinary, Bianco refers to a pizza with a white pizza base. These are the Bianco pizzas offered by Publico that are loved for their gratifying taste. 
Gamberi – Gamberi is an Italian term for shrimp. This popular Italian pizza is topped with sauteed prawn, mozzarella, garlic confit, semi-dried tomatoes, and green asparagus. It is a mouthwatering seafood pizza and one of Italy's most well-loved comfort foods. 
Tartufata – This is one of the crowd's favorite pizzas offered by Publico. The tartufata salsa or truffle sauce made with truffle oil and Italian black truffle is notable for its distinctive flavor and aroma that people love. Porcini mushrooms, mozzarella, and smoked scamorza are laid on its top for an additional taste. 
Quattro Formaggi – Quattro Formaggi is a pizza consisting of four kinds of cheese: mozzarella, Parmigiano, provolone, and gorgonzola. An aged balsamic vinegar is drizzled on it to enhance its taste and appearance. 
Woodfired Pizza – Traditional 
In this menu of Publico, the pizza is cooked in a woodfire oven and is notable for its delicious and distinctive taste. These traditional pizzas of Publico are extraordinary as they are made with homemade tomato base sauce. 
Prosciutto – Prosciutto is an Italian word that means ham. This delicious ham is laid on top of pizza dough and decorated with shaved parmesan, mozzarella, and arugula. The toppings of this pizza are combined perfectly, giving this dish a depth of satisfying flavor.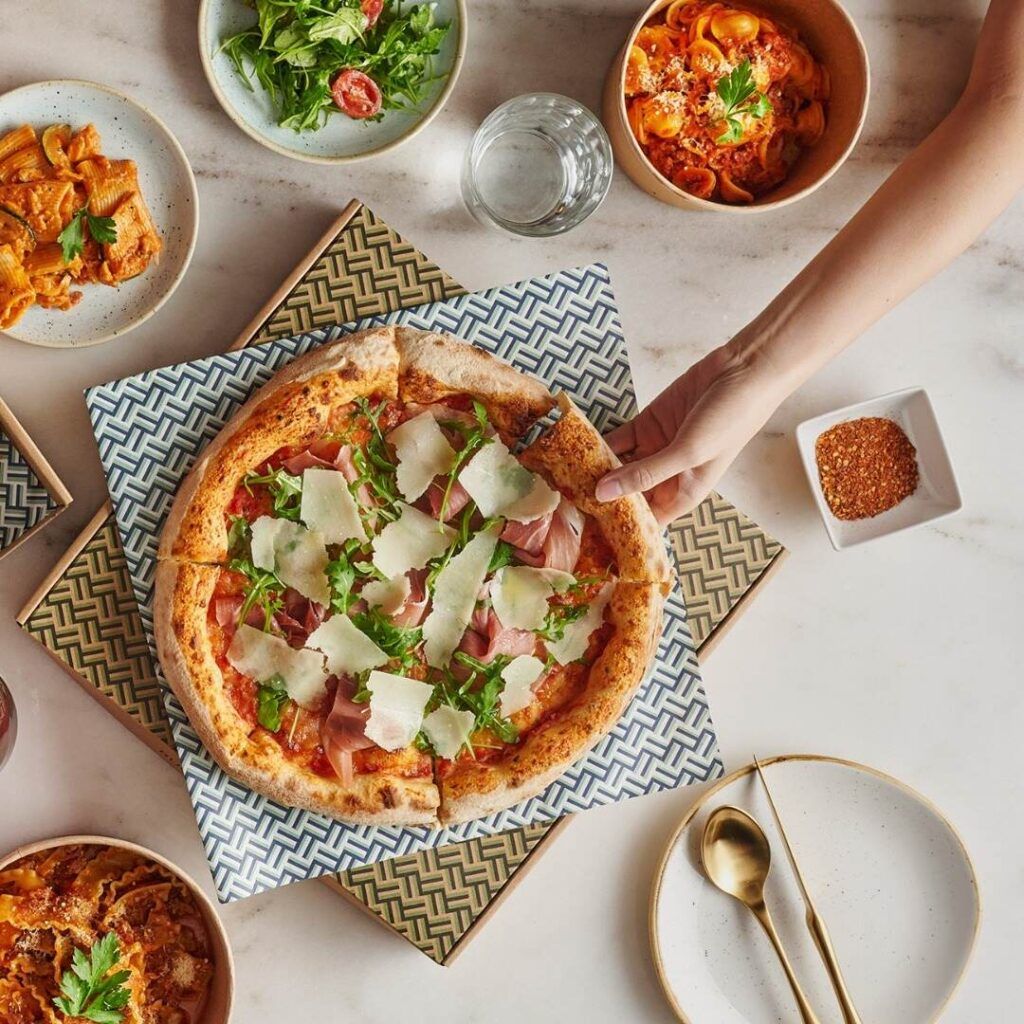 Capricciosa – A classic Italian pizza that is packed with surprising goodness. Its toppings vary from one region to another. Here at Publico, it is prepared using pork sausage, black olives, artichokes, mushrooms, mozzarella, and shaved ham. 
Carne – This pizza is excellent for meat lovers as it consists of pancetta, pork sausage, bacon, salami, and bresaola. The chili oil, mozzarella, arugula, and shaved parmesan are added to make it more flavorful. 
Bundle Deals 
Publico offers three kinds of bundle deals. It serves Menabrea & Pizza, which consists of 1 pizza and Menabrea Italian beer; Perfect Pairings, which comprise one pasta, one pizza, one side dish, and a bottle of Astoria prosecco; and Kids Eat Free Bundle, which includes two pizza and mushroom alfredo or tomato & chicken. These bundle meals come in your choice of pasta and pasta. 
Publico Menu Antipasti 
In Italy, an appetizer is called an antipasto, the first course in a formal Italian meal. These are light dishes that can increase your appetite to enjoy your meals. It offers salads such as Publico, Chicken Caesar, and Kale & Pumpkin. Soup del Giorno, Eggplant Parmigiana, and Meatball al Forno are the other hearty and flavorful appetizers it serves.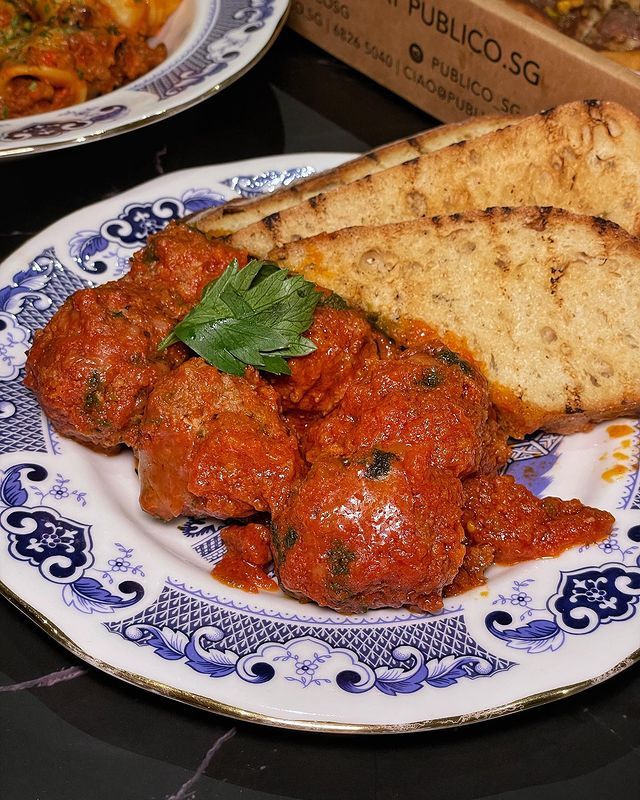 Publico Menu Delivery 
Publico's heartwarming Italian-inspired cuisines and beverages are available through their partnered delivery platforms, such as Deliveroo, Foodpanda, and Grabfood. You can also visit its official delivery website at https://www.publico.sg/to-go. 
Social Media Pages
From delectable pasta dishes to mouthwatering wood-fired pizzas, Publico offers a tantalizing menu that will leave you wanting more. Join their online community and be part of the conversation as you explore the world of Italian gastronomy. Whether you're planning a romantic dinner or a casual gathering with friends, Publico is the perfect destination. Follow their social media pages today and let your taste buds embark on an unforgettable Italian culinary journey.
Facebook: https://www.facebook.com/publicosg
Instagram: https://www.instagram.com/publico_sg
YouTube: https://www.youtube.com/@publicosingapore
TikTok: https://www.tiktok.com/@publico.sg
FAQs
Where are the Publico outlets located in Singapore? 
Publico is located at 1 Nanson Rd, Singapore, 238909, at InterContinental Singapore Robertson Quay, an IHG Hotel. 
Can I make a reservation at Publico Singapore? 
Yes, you can make a reservation at Publico Singapore at https://www.sevenrooms.com/reservations/publicoristorante. 
Is there a dress code at Publico Singapore? 
Yes, smart casual is the dress code at Publico Singapore. 
Does Publico offer any promotions or loyalty programs? 
Yes, Publico offers perks, exclusive deals, and the latest offers when you join their Telegram community. 
Is Publico Halal certified? 
Publico is not a halal-certified Italian restaurant in Singapore. 
Conclusion
The Publico menu is notable for its Italian dishes, giving diners a multi-sensory dining experience. Its dishes provide a glimpse of the rich culture of Italy. This place is well-loved by its patrons for its delicious food and relaxing tropical paradise ambiance. Most of its customers commend its staff's impeccable customer service and look forward to their next visit.