Kailash Parbat is a vegetarian restaurant whose menu provides locals with a wide variety of Indian cuisine to choose from. Their menu features appetizers like samosas and pakoras, as well as a range of chaats, including the popular dish, bhel puri. For mains, there are curries, biryanis, and tandoori dishes, such as paneer tikka and tandoori mushrooms. The restaurant also offers a selection of Indian bread, such as naan and roti, as well as rice dishes like pulao and biryani.
You can find the updated pricing information for the Kailash Parbat menu below.
MENU
PRICE (SGD)

Home Made Soups

Cream of Tomato Soup
$8.64
Manchow Soup
$8.64
Lemon Coriander Soup
$8.64
Sweet Corn Soup
$8.64
Cheesy Corn Tomato Soup
$8.64

Accompaniments

Papad
$4.32
Masala Papad
$5.40
Malai Dahi Raita
$6.48
Plain Curd
$6.48
Fresh Green Salad
$8.64

Indian Breads

Tandoori Roti
$4.86
Naan
$5.50
Garlic Naan
$6.48
Cheese Garlic Naan
$7.10
Special Chur Chur Naan
$7.56
Lacchedaar Paratha
$5.94
Assorted Roti Basket
$16.20
Onion kulcha
$6.48
Masala kulcha
$7.56
Stuffed Paratha
$7.56
Chehro Phulko
$8.64
Koki
$10.26

Flavours of Punjab

Paneer Tikka Lababdar
$18.36
Dal Tadka
$16.20
Saag Paneer
$18.36
Dal Makhani
$16.20
Paneer Khurchan
$18.36
Paneer Butter Masala
$18.36
Paneer Bhurji
$18.36
Kofta e Dilbahar
$19.44
Vegetable Chilli Milli
$17.28
Diwani Handi
$17.28
Paneer Methi Makhani
$17.28
Bhindi Do Pyaza
$8.36
Pindi Chole Masala
$17.28
Corn Tomato Bharta
$17.28
Taka Tak Mushroom Masala
$19.44
Aloo Aap Ki Pasand
$17.28
Sabz Aur Methi Ki Sabzi
$17.28
Bhaigan Aloo Tomator Ki Sabzi
$17.28
Methi Malai Mutter
$17.28
Tarkari Mandi
$17.28
Rice Preparation
$16.20
Vegetable Pulao
$16.20
Khaas Khichdi
$16.20
Palak Dal Khichdi
$16.20
Masala Dal Khichdi
$16.20
KP Special Vegetable Biryani
$17.28
Paneer Tikka Biryani
$18.36
Vegetable Palak Biryani
$17.28
Jeera Rice
$11.88
Steamed Basmati Rice
$8.64

Our House Special

Ragda Pattice
$11.88
Punjabi Samosa
$10.80
Pav Bhaji
$12.96
Cheese Pav Bhaji
$14.58
Masala Pav
$11.88
Cheese Masala Pav
$13.50
Chole Bhature
$15.12
Sindhi Bhajiya
$10.00
Tuk Tuk
$10.80
Seyal Dhabal Roti
$11.89
Seyal Manni
$11.89
Extra Chole
$8.10
Extra Bhatura
$7.02
Extra Pav
$4.86
Bhatura Platter
$25.92

Indian Street Food

Pani Puri
$9.72
Ragda Pani Puri
$9.72
Bambaiya Dahi Puri
$11.34
Schezwan Dahi Puri
$11.34
Ragda Dahi Puri
$11.34
Dahi Wada
$11.34
Bhalla Papdi Chaat
$11.88
Papdi Chaat
$11.34
Schezwan Papdi Chaat
$11.34
Sev Puri
$10.80
Ragda Sev Puri
$11.34
Bombay Bhel Puri
$10.80
Schezwan Bhel Puri
$11.34
Samosa Chaat
$11.34
Tikki Chaat
$11.88
Mixed Chaat
$12.96
Mexican Chaat
$12.84
KP Chaat Platter
$21.60
Crispy Corn Basket
$10.80

Bambai Nagri

Lokhandwala Frankie
$11.88
Bombay Vada Pav
$10.80
Borivali Ki Dabeli
$10.80
Kurkure Bhindi Fries
$11.88
Aamchi Mumbai Sandwich
$11.88
Pattice Cheese Grilled Sandwich
$11.88
Cheese Chilli Grilled Sandwich
$11.88
Juhu Chowpaty Tawa Pulao
$11.88
Vegetable Kheema Pav
$17.28
Mini Naan Bomb
$16.20
Vegetable Kheema Pav
$12.96
Crispy Skinny Potato with Chilli Mayo Sauce
$12.96
Kaju Mutter Ki Tikki
$12.96
Cheese Chilli Garlic Bread
$11.88
Chinese Bhel
$10.80
French Fries
$8.10
Bombaiya Veg Pizza
$18.36
Cheese Pizza
$17.12
Paneer Pizza
$18.50
Cheese & Corn Pizza
$18.36

From the Clay Pot

Paneer Tikka
$17.28
Achari Phool Gobi
$16.20
Mirchwale Stuffed Aloo
$16.20
Mushroom Mukhmali
$18.36
Do Rukha Khumb
$18.36
Vegetable Cheesy Sheekh Kabab
$17.28
Peri Peri Paneer Tikka
$18.36
Mini Kebab Platter
$23.76
KP Kebab Platter
$38.88

Oriental Kitchen

Paneer Three Pepper
$17.28
Crispy Vegetable
$6.20
Crispy Spicy Potato
$16.20
Paneer Chilli
$17.28
Vegetable Manchurian
$6.20
Gobi Manchurian
$16.20
Stir-fried Vegetables
$6.20
Vegetable Momos with Schezwan Sauce
$11.88
Exotic Vegetable in Black Pepper Sauce
$16.20
Vegetable Fried Rice
$4.04
Schezwan Fried Rice
$5.12
Vegetable Hakka Noodle
$14.04
Schezwan Hakka Noodle
$15.12
Pot Rice
$19.44
Pot Noodle
$19.44
About Kailash Parbat
Kailash Parbat is an Indian vegetarian restaurant chain that originated in Mumbai, India. It has several branches worldwide, including one in Singapore. The restaurant offers a wide range of vegetarian dishes from street food to more traditional Indian dishes. The Singapore branch of Kailash Parbat is located on Race Course Road and offers a casual and relaxed dining experience. It is popular for its vibrant and colorful ambiance and its delicious, healthy, and satisfying vegetarian dishes.
Kailash Parbat Menu Best Seller
Kailash Parbat best selling menu is made up of mostly Indian bread that is ideal for their vegan customers.
Paneer Tikka Lababdar – This dish is made up of chunks of paneer that were marinated in spices then grilled to perfection and presented beautifully with a rich and creamy tomato gravy. The paneer was soft and had a smoky flavor from the grill, while the gravy is flavorful and well-balanced making it a delicious and satisfying vegetarian option.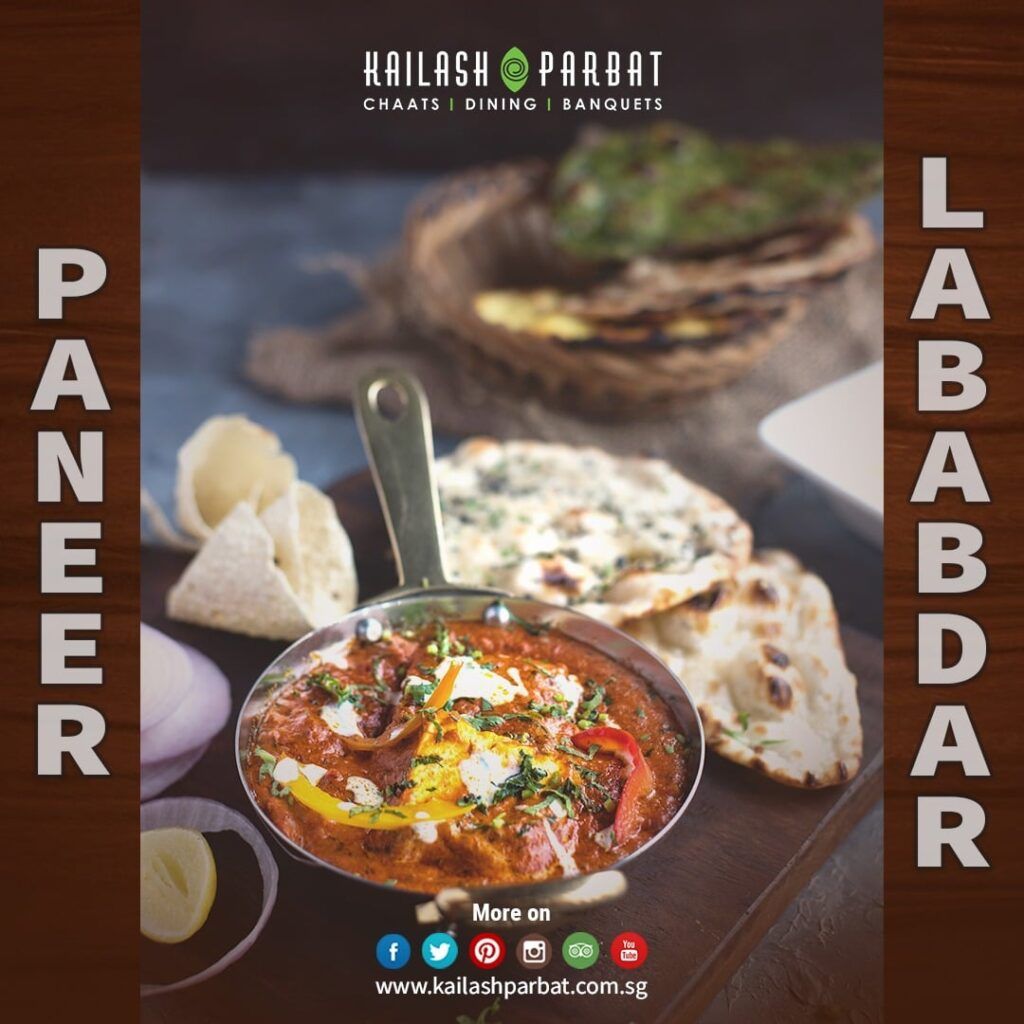 Dal Tadka – This dish is composed of lentils, and tempered spices then garnished with additional ingredients such as fried garlic and onion. The lentils in it were cooked to a perfect consistency, and the tempering of spices added a nice flavor and aroma to the dish.
Saag Paneer – Another vegetarian dish that features paneer, the only difference is that this dish is cooked in a creamy spinach gravy. The paneer is soft and goes well with the mildly spiced gravy making it a good choice for those who want something filling but not too rich.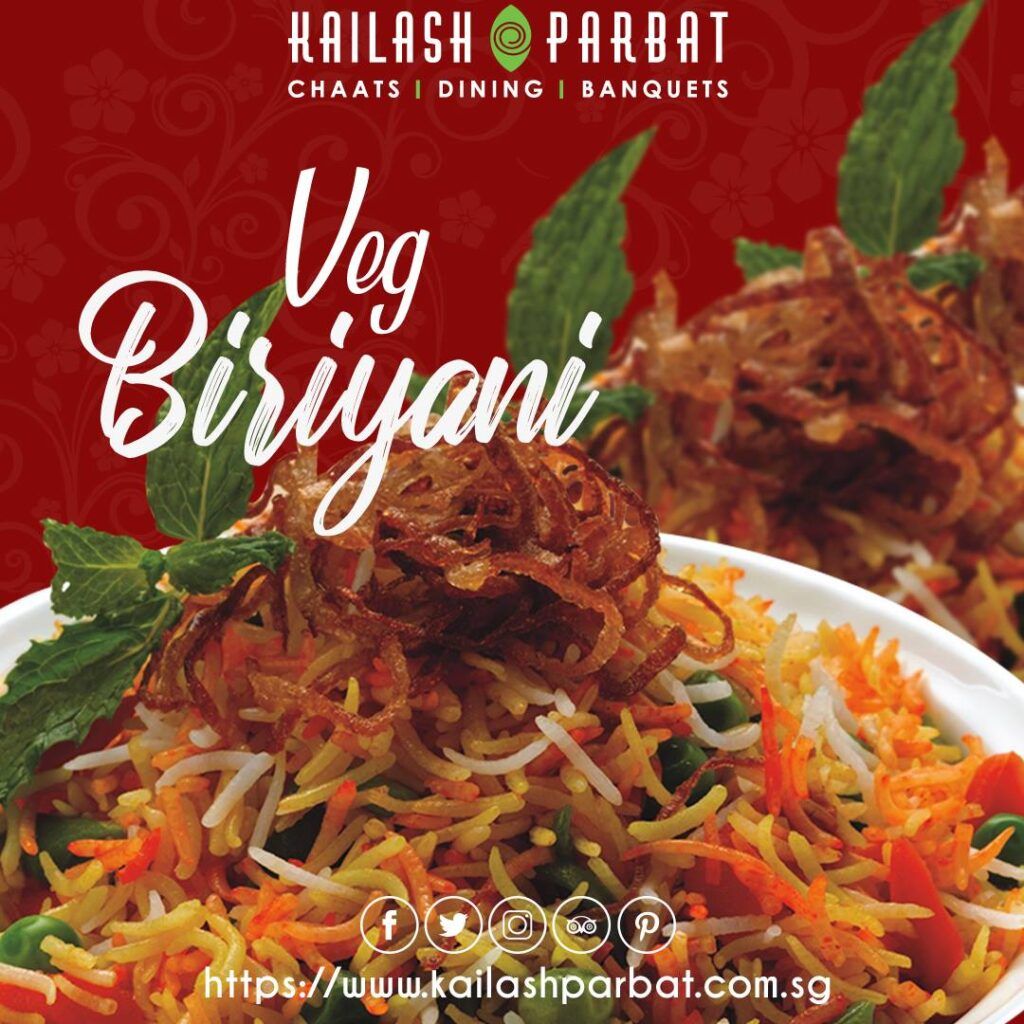 Tandoori Roti – This is a type of Indian flatbread made in a tandoor oven, which is why it has a slightly crispy texture and smoky flavor. The roti in it is well-made and went well with the curries making this dish very satisfying.
Naan – This Indian bread is similar to pita bread but softer and lighter. The naan is fluffy and has a nice flavor from the tandoor oven making this dish a good accompaniment to the curries and adding an extra dimension to the meal.
Kailash Parbat Menu Home-made Soups
This menu is made up of homemade soups from Kailash Parbat that are rich, flavorful, and above all, healthy.
Cream of Tomato Soup – This is a classic comfort soup made with fresh tomatoes, cream, and a blend of spices that is perfect for those who love the tangy and creamy flavor of tomatoes.
Manchow Soup – It is a popular Chinese soup that is made with vegetables, noodles, and a variety of spices. This soup itself has a slightly spicy and tangy taste which makes it perfect for guests that enjoy Chinese cuisine.
Lemon Coriander Soup – This soup dish is a light and refreshing soup made with a combination of lemon and coriander which makes it perfect for those who enjoy a tangy and fresh taste.
Kailash Parbat Accompaniments Menu
Papad – This is a classic Indian appetizer that is always satisfying because it is crispy and well-seasoned which makes it ideal for a satisfying snack or accompaniment to a meal.
Masala Papad – The masala papad is a nice variation of the regular papad, as it is topped with a blend of spices and onions. The crunchiness of the papad paired with the tanginess of the spices makes for a flavorful experience.
Malai Dahi Raita – This is a refreshing yogurt-based accompaniment that pairs well with spicy Indian dishes. It's a great option for those who prefer milder dishes.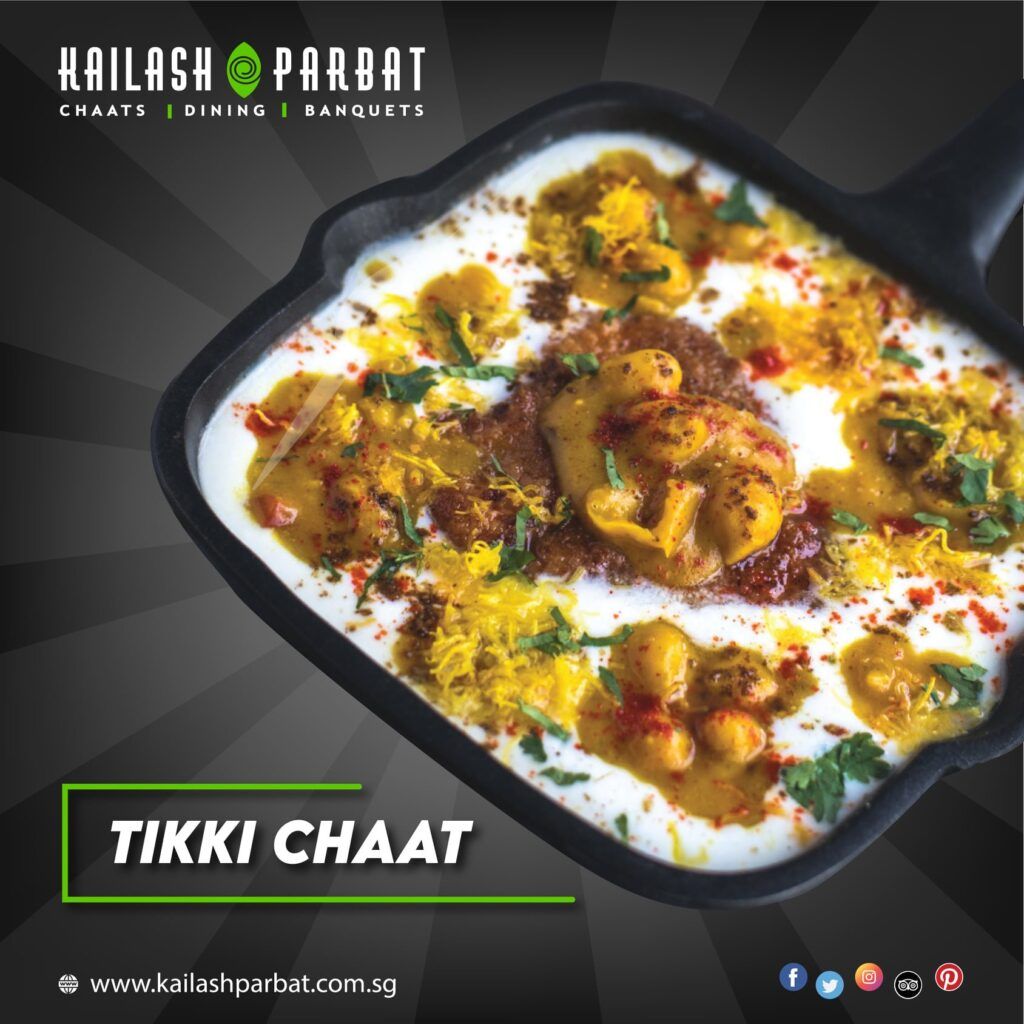 Kailash Parbat Menu Indian Breads
This menu consists of various Indian bread varieties that will provide diners with a wonderful dining experience.
Garlic Naan – The naan used in this dish is soft and fluffy with just the right amount of garlic flavor, making it a tasty and fragrant accompaniment to any curry or dal dish.
Cheese Garlic Naan – The addition of cheese in this dish adds a creamy and slightly salty taste, while the garlic still shines through. This is a great option for those who love cheese and want to try something different from the traditional naan.
Special Chur Chur Naan – This naan is made by layering and twisting the dough before cooking, which gives it a crispy texture and a slightly chewy center making it a perfect match for any of the rich and creamy curries or gravies on the menu.
Flavors of Punjab
This menu offers a good variety of traditional North Indian/Punjabi dishes which features a mix of vegetarian and non-vegetarian options, and there are many dishes to choose from. Kailash Parbat always uses fresh ingredients, especially with these dishes to provide a range of spice levels that caters to different customers' preferences.
Indian Street Food
The Indian street foods menu at Kailash Parbat in Singapore offers a wide variety of popular and traditional street food dishes. From classic chaat items like Pani Puri, Bhalla Papdi Chaat, and Sev Puri, to fusion creations like Schezwan Dahi Puri and Mexican Chaat, there is something to please every palate.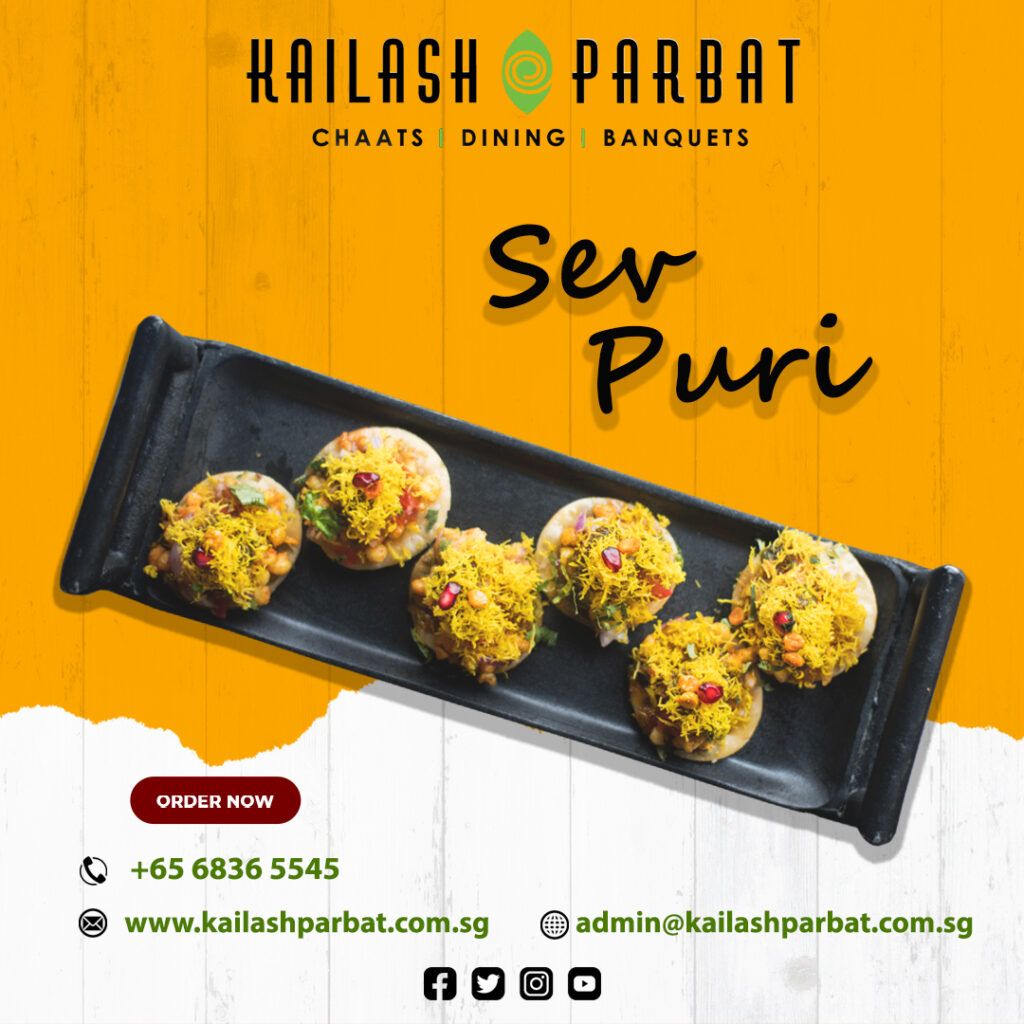 Kailash Parbat Menu Delivery
Kailash Parbat provides delivery service for their customers to make ordering convenient and quicker. Customers can now order their favorite dish from Kailash Parbat through delivery services like GrabFood, FoodPanda, and Deliveroo.
Social Media Pages
Keep yourself in the loop with Kailash Parbat's ever-evolving menu by following their vibrant social media pages. Engage with their posts, show your support, and spread the word. By subscribing to their social media channels, you'll stay informed about their exciting promotions and tantalizing culinary creations. Stay connected and discover the delights that await you here!
Facebook: https://www.facebook.com/kailashparbatsingapore
Instagram: https://www.instagram.com/kailashparbatsingapore/
Website: https://kailashparbat.com.sg/contactus
YouTube: https://www.youtube.com/@kailashparbat
FAQs
What type of food does Kailash Parbat serve?
Kailash Parbat is known for serving vegetarian and Indian cuisine. Their menu features a wide range of Indian dishes including chaats, curries, dosas, biryanis, and more.
Is the restaurant good for vegetarians?
Yes, Kailash Parbat is known for its vegetarian cuisine and is a great option for vegetarians.
Does Kailash Parbat offer any delivery or takeout options?
Yes, the restaurant provides customers with delivery and takeout options.
Is Kailash Parbat halal-certified?
Even though Kailash Parbat is a vegetarian restaurant that serves Indian and Sindhi cuisine, it is not halal-certified as it may use alcohol and animal-derived ingredients such as ghee (clarified butter) in some of its dishes.
Conclusion
Kailash Parbat appears to be a popular vegetarian restaurant in Singapore whose menu is known for its chaats, curries, and biryanis, as well as its thalis and street food options. It features a wide range of vegetarian selections as well as other options like gluten-free dishes. It has a casual and comfortable ambiance, making it suitable for casual dining and family gatherings making it a great choice for those who are looking for delicious and authentic Indian vegetarian cuisine in Singapore.