Faasos is a popular fast-food chain that originated in India and whose menu provides locals and tourists with a wide range of delicious wraps, biryanis, desserts, and sides. They have an extensive menu that provides customers with a selection of both vegetarian and non-vegetarian that they can freely choose from. In addition to traditional Indian dishes, they also serve a selection of fusion items such as wraps with Mexican and Chinese influences because their menu is designed to cater to a range of dietary requirements, with gluten-free, vegan, and Jain-friendly options available.
You can find the updated pricing information for the Faasos menu below.
MENU
PRICE (SGD)

Combos

Combo for 1
$12.90
Combo for 2
$24.80

Classic Wraps

Salted Egg Crispy Chicken Wrap
$9.80
Hot & Spicy Wrap
$9.80
Chicken Tikka Wrap
$9.80
Cheesy Chicken Wrap
$9.80
Satay Chicken with Peanut Sauce Wrap
$9.80
Paneer Tikka Wrap
$9.80

Signature Wraps

Meat Overload Wrap
$11.50
Beef Rendang Wrap
$11.50

Sides

Plain Fries
$2.90
Mozzarella Cheese Sticks
$4.90

Sauces

Garlic Aioli
$1.00
Hot Sauce
$1.50
BBQ Sauce
$1.00
Tomato Sache
$0.10
Chili Sachet
$0.10

Beverages

Coca Cola Classic
$2.50
Sprite
$2.50
Bottled water
$1.50
Coca Cola no sugar
$2.50
About Faasos
Faasos is an Indian "food on demand" company that primarily serves a range of Indian cuisine, with a focus on wraps, biryanis, and rice bowls. The restaurant was founded in 2011 and has since expanded its reach to multiple countries like Singapore. The restaurant offers both vegetarian and non-vegetarian options to cater to a variety of dietary preferences and an online ordering system through its website and mobile app, making it easy for customers to order their favorite meals from the comfort of their own homes.
Faasos Menu Best Seller
This menu is made up of different dishes that are considered to be the most popular ones at Faasos.
Salted Egg Crispy Chicken Wrap – This wrap has a unique flavor profile with the salted egg adding a savory richness to the crispy chicken. The wrap itself is soft and chewy, providing a good contrast in texture making it a tasty and satisfying option for customers of different ages.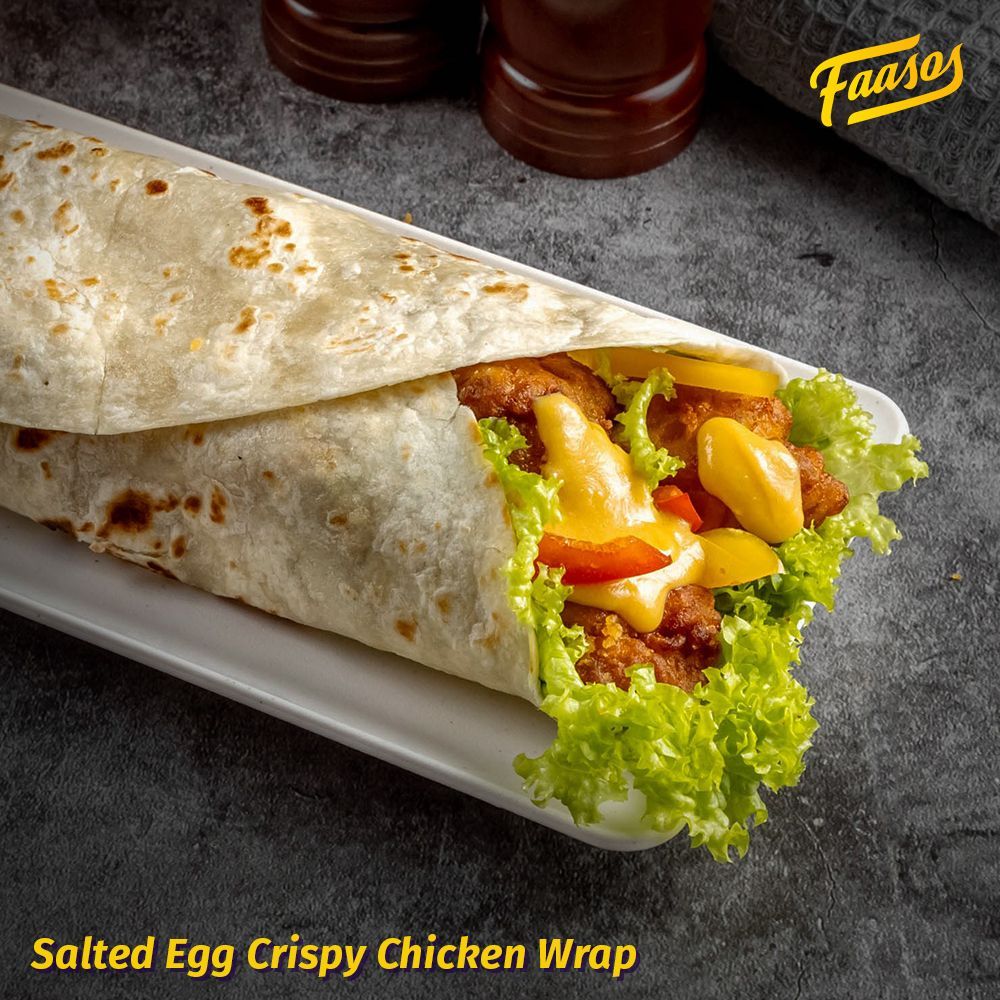 Hot & Spicy Wrap – As the name suggests, this wrap packs a bit of heat and the spiciness is balanced out by the flavors of the chicken and vegetables, making for a delicious and satisfying meal and surely a great choice for those who love spicy food.
Chicken Tikka Wrap – This wrap is filled with tender and flavorful chicken tikka, which is complemented by fresh veggies and soft wrap. The spice level is mild but still adds a nice depth of flavor making it a classic choice that's always able to please customers.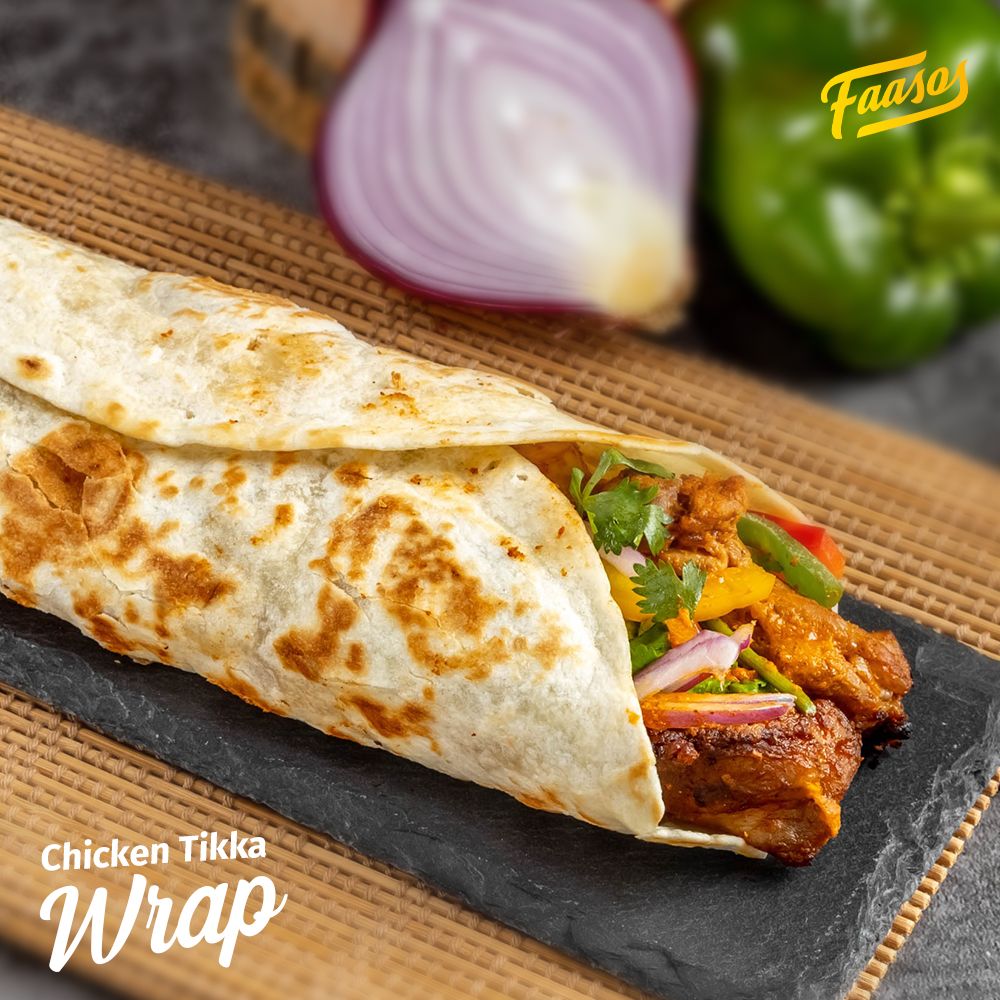 Plain Fries – These fries are simple but satisfying as they are served while crispy and they are also well-seasoned, making them a great side dish for any meal.
Mozzarella Cheese Sticks – These cheese sticks are crispy on the outside and gooey on the inside, with melted mozzarella cheese oozing out with each bite which is why they are a great appetizer or snack to share with friends.
Faasos Menu Combos
This menu is made up of combo meals that provide customers with an easier option when dining in this eatery.
Combo for 1 – This combo meal at Faasos comes with a single delicious wrap that is fresh and healthy. The wrap is accompanied by one side dish and one refreshing drink which makes this combo filling and satisfying.
Combo for 2 – The content of this combo meal is pretty much the same as the first one, it is made up of two fresh and delicious wraps, two satisfying sides, and two refreshing drinks which makes it good for two people.
Faasos Classic Wraps Menu
This menu is made up of a different variety of wrapped dishes that are both delicious and affordable
Cheesy Chicken Wrap – This wrap contains juicy chicken pieces along with cheese, fresh lettuce, and a tangy sauce wrapped in a soft tortilla wrap. It is a good choice for customers searching for a substantial meal especially those who love cheese.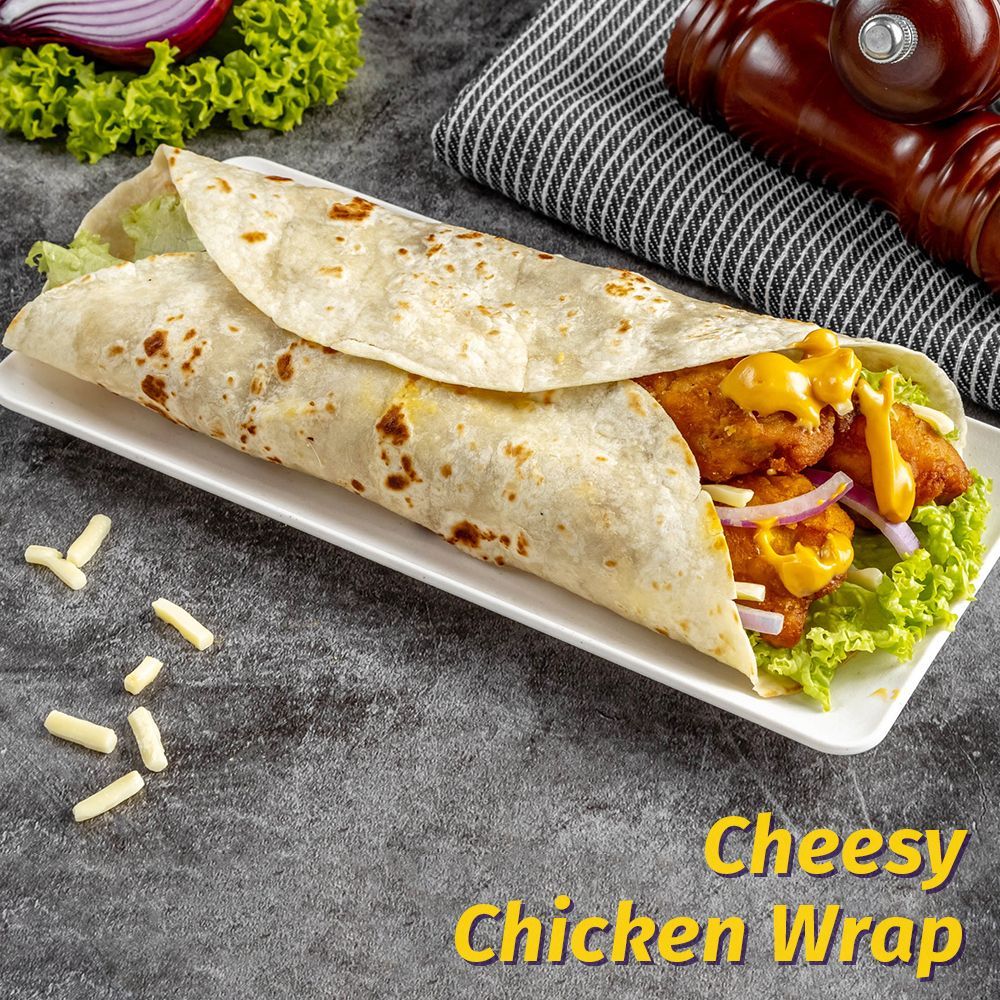 Satay Chicken with Peanut Sauce Wrap – This wrap features marinated chicken in a delicious peanut sauce and is served with fresh vegetables and a soft tortilla wrap. It has a different flavor one that can be a good option for those who are looking for something unique.
Paneer Tikka Wrap – This vegetarian wrap includes paneer which is an Indian cottage cheese that was marinated in tikka spices, fresh vegetables, and a soft tortilla wrap. It is a good option for customers who are vegetarians and those looking for a healthier meal.
Signature Wraps
This menu is made up of a special version of Faasos' classic wraps. These items are the signature dishes at Faasos.
Meat Overload Wrap – The Meat Overload Wrap from Faasos is a non-vegetarian wrap that contains juicy chicken chunks, mutton seekh kebab, and chicken kebab rolled in a flavorful paratha which is perfect for meat lovers who enjoy bold flavors and a variety of textures.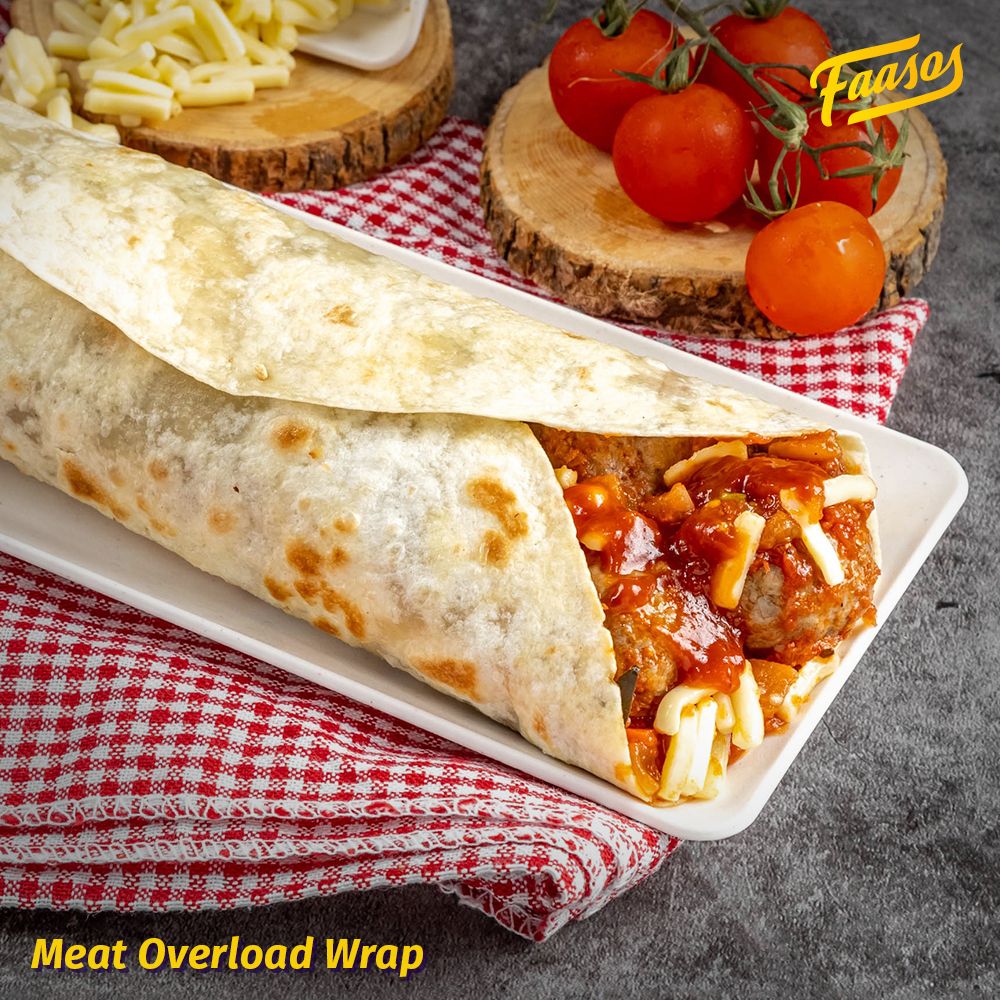 Beef Rendang Wrap – The Beef Rendang Wrap is another non-vegetarian option that features tender beef cooked in a spicy and aromatic Rendang sauce. The beef is served with fresh vegetables, and the wrap is made with soft and chewy paratha making this dish perfect for those who enjoy spicy and savory dishes with a touch of sweetness.
Sides
At Faasos, you'll find a range of tasty side dishes that perfectly complement their main menu. These sides are designed to cater to various tastes and dietary preferences, ensuring there's something for everyone. If you're looking for both delicious and healthy options, you'll absolutely adore the offerings on this menu.
Faasos Menu Delivery
Faasos understands the need for convenience, especially for customers who are unable to leave their homes or offices. That's why they now offer delivery services, making it incredibly convenient for those who want to enjoy their delicious meals. Ordering is as simple as using your mobile device and relying on popular delivery apps like FoodPanda and GrabFood. With just a few taps, you can have your favorite Faasos dishes delivered right to your doorstep.
Faasos Social Media Pages
Craving flavorful and convenient meals? Look no further than Faasos in Singapore! Indulge in their mouthwatering dishes and support their business by following and engaging with their social media pages. Stay updated on their latest menu additions, promotions, and delivery options. Don't miss out on a delightful dining experience – follow Faasos today!
Facebook: https://www.facebook.com/Faasos-Singapore
Instagram: https://www.instagram.com/faasos_singapore/
FAQs
What are some of the popular dishes on the Faasos menu?
Some of the most popular dishes at Faasos include Chicken Tikka Wrap, Veggie Delight Wrap, Jumbo Falafel Wrap, Cheesy Chicken Wrap, Chocolate Fantasy Dessert, and Paneer Makhani Wrap.
Does Faasos offer any vegetarian options?
Absolutely! Faasos has a dedicated vegetarian section on their menu, filled with a wide range of delectable options. You'll find vegetarian wraps, rice bowls, and snacks that cater specifically to those who prefer plant-based meals. Whether you're a vegetarian or simply looking for a delicious meat-free option, you'll be delighted by the variety of choices available at Faasos.
Does Faasos have any outlet-specific items?
At Faasos, you won't find food items that are exclusive to specific outlets. Their menu remains consistent across all locations, ensuring that you can enjoy the same delicious offerings no matter which outlet you visit. This approach allows customers to have a consistent dining experience and enjoy their favorite dishes wherever they go.
Is Faasos halal-certified?
While Faasos offers a range of options including both vegetarian and non-vegetarian dishes, it's important to note that they do not possess halal certification.
Conclusion
Faasos is a popular fast-food chain in India and its branch in Singapore provides a menu list that offers a wide range of Indian and international food options, including wraps, rice bowls, biryanis, desserts, and beverages. The menu caters to different tastes and dietary preferences, including vegetarian and non-vegetarian options while the availability of online ordering and delivery services also makes it convenient for customers to enjoy their food without leaving their homes or offices.