There are a lot of fast food chains that offer different varieties of delicious foods but If you're looking for a place that will fix your chicken cravings look no more since Popeyes is one of the best places to go especially if you are a chicken lover. Popeyes menu has a lot to offer from chicken burgers to fried chicken and many more. They are also quite popular around the world so it's not surprising that their foods are really good.
Have you heard about Popeyes? Or have you tried dining in this fast food restaurant? If not and you don't have any idea about them no worries you can stay in this article to know more about them, the food products and services that they offer, and of course, the price of their food. This is actually taking too long for an introduction so without further ado let's start humans!
You can find the updated pricing information for the Popeyes menu below.
MENU
PRICE (SGD)

Popeyes chicken popular menu

3 pc chix combo
$15.20
2 pc chix combo
$12.60
3 pc tenders combo
$9.60
Popeyes chicken sandwich set
$14.60
Biscuit with jam (1 piece)
$2.40
1pc chicken

Popeyes chicken promotion

Double fortune box for 2
$41.14

Popeyes chicken hot deals

4pc chicken golden box
$21.50
Prosperity family feast
$49.90
Chick n' fish bundle
$21.80

Popeyes limited time offer

1pc choco dino
$2.50
4pc choco dino
$7.90
Choco dino combo for 2
$28.50
Kimchi cheese buddy
$25.90
Kimchi cheese saver
$35.90
Kimchi cheese chicken box
$15.50
Kimchi cheese chicken set
$12.50
Kimchi cheese tenders set
$11.50
Kimchi cheese nuggets set
$10.90
Kimchi cheese tenders
$8.50
Kimchi cheese sandwich
$8.90
1pc kimchi cheese chicken
$5.40
Kimchi cheese nuggets
$8.30
Kimchi cheese fries
$6.50
Kimchi cheese sauce
$2.00

Popeyes chicken (popeyes chic sandwich)

Popeyes chicken sandwich
$8.90
Popeyes chicken sandwich tender set
$14.70
Popeyes chicken sandwich set
$14.60

Popeyes chicken for 1

2pc chix combo
$12.60
3pc chix combo
$15.20
3pc tenders combo
$9.60
6pc nuggets combo
$10.90
9pc nuggets combo
$12.90
Chic & burg combo
$13.50
Surf and turf rice platter
$10.90
2 pc fish combo
$9.90

Popeyes chicken burgers and pasta

Surf & turf pasta platter
$12.40
Chicken pasta platter
$12.90
Cajun burger combo
$9.50
Creole burger combo
$9.50
Fish burger combo
$9.50

Popeyes chicken for 2

3pc chick n' burger buddy meal
$32.00

Popeyes chicken for 3 or more

15pc chicken bundle
$78.80
10pc chicken bundle
$55.50

Popeyes chicken snack

10pc drumlets
$15.30
6pc mushroom
$6.90
6pc fish nuggets
$5.20

Popeyes chicken Singapore ala carte

1pc chicken
$4.90
3pc tenders
$6.80
Creole burger
$6.90
Cajun burger
$6.90
Fish burger
$6.90
Regular mashed potatoes
$4.00
Large mashed potatoes
$4.80
Regular coleslaw
$4.00
Large coleslaw
$4.90
Regular fries
$4.00
Large fries
$5.00
Large cheese fries
$6.60
Garlic rice
$3.60
Mac n' cheese
$4.90
Pasta
$4.50
Biscuit with jam (1piece)
$2.40
Biscuit with jam (4piece)
$7.80
Cheese sause
$1.50
Tartar sauce
$1.00
Cajun gravy
$1.50

Popeyes chicken Singapore drinks

Lrg Sjora
$4.90
Reg Sjora
$4.50
Lrg ice milo
$4.90
Reg ice milo
$4.50
Lrg ice lemon tea
$4.20
Reg ice lemon tea
$3.80
Lrg green tea
$4.20
Reg green tea
$3.80
Pepsi can
$3.90
Bottled water
$2.90
About Popeyes
Popeyes branch in Singapore is one of the most famous and most loved fast food restaurants available that serve different delicious and mouth-watering meals especially chicken to their beloved customers. This establishment's former name is Popeyes Chicken and Biscuits. Then eventually change its name to a more simple but catchy one which is their name nowadays. Popeyes is actually an American fast-food chain that runs internationally. They are established in 1972 in New Orleans but their headquarters is in Miami.
According to their website as of 2021 they already have 3000 plus branches of fast food restaurants all over 46 states of the United States, Puerto Rico, and Colombia plus different locations across the globe in 30 countries. Samples of countries that have Popeyes branches are Mexico, Canada, China, Cayman Islands, Bahrain, Cyprus, Bangladesh, South Korea, Hong Kong, India, Israel, Jordan, Japan, Kuwait, Lebanon, Indonesia, Qatar, Philippines, and many more. Despite the competition, Popeyes remains one of the favorites among customers because of how delicious and delightful their chicken meals are so if ever you happen to cross one of their branches in Singapore make sure that you'll try specially their chicken.
Popeyes Menu Best Seller
After gathering some data thru research we have listed Popeyes best sellers for those that don't have any idea on what to get from them. Here is the list.
Kimchi Cheese Chicken – I love Korean food since I love spicy fish and Popeyes' version of kimchi cheese chicken is one of the best that I tried so far. And to be honest, I absolutely love their kimchi cheese chicken. It is made with chicken that they marinated in a special sauce and then fried until golden. It is also covered in kimchi sauce that is spicy but not too much and has that tangy flavor as well as I am expecting it to. The cheese is also creamy and melted perfectly on top of their gorgeous chicken. The sauce on top of the chicken is also a game changer and was amazing as well. Highly recommended for those who love spicy food but don't expect this one to be super hot, just moderate.
Popeyes Chicken (Chili Crab Chicken) – The Chilli Crab Chicken version of this menu of Popeyes is a delicious dish that you shouldn't miss. You really have to try this one because this is so good and spicy as well. This one is basically a Chinese-style way of cooking chicken with chili sauce that they combined on this dish, super good to be quite far! Though it is not too spicy if you're expecting it to be mega hot but just enough to give your mouth a little kick of spiciness that will make you crave more.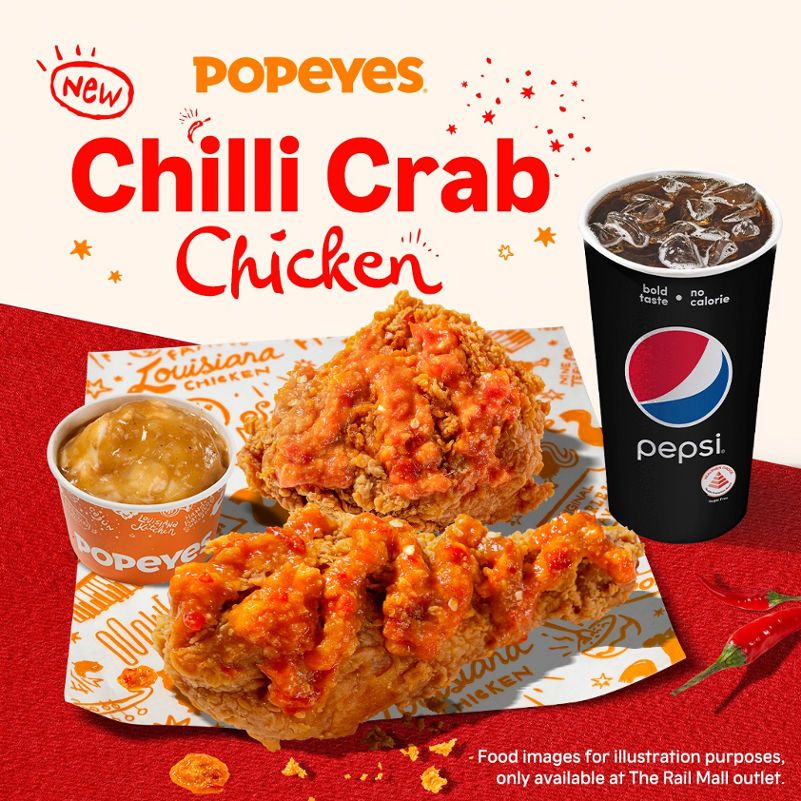 Popeyes Chicken 2 pc Chix Combo – Popeyes chicken 2 pc chix combo is something that you wouldn't want to miss out especially if you're a fried chicken lover just like me. Aside from how delicious their fried chickens are I am overly impressed by how huge is the portion that they serve. It's a win-win situation you'll get the chance to eat decent and delicious fried chicken plus the serving won't leave you hanging just satisfied and full. Their fried chickens are solid, unlike other fast food that has a lot of breading and batter that made the chicken big. One of the best that I can recommend.
The Popeyes Chicken Sandwich – Popeyes version of a chicken sandwich is one of your best choices if ever you're stuck on what to order on their menu. This chicken sandwich is really good and definitely one of the best food items on their menu. The chicken is moist and delicious, also it is flavorful and the bun is just a bit fluffy, the sauce that they used to make their chicken sandwich is a bit sweet for my taste but not too much. You'll probably love their chicken sandwich once you tried it just like me. Popeyes chicken sandwich is made with buttered brioche buns and chicken that they marinated with buttermilk before frying until crispy and golden in color. The meat that they used is thigh meat instead of the usual chicken breast to make it healthier especially for their customers.
Popeyes Menu Cajun Fried Chicken
Popeyes version of cajun chicken is marinated for 12 hours then battered and breaded before frying until golden to infuse the richness of Louisiana flavor. They have 2 options for their cajun chicken which is the spicy and mild. They served both with their signature sides and hot and delicious biscuits.
Tenders
Popeyes tenders are made with chicken breast meat that they marinated in their special Louisiana seasoning before being battered and breaded. Just like the cajun fried chicken they have options for their tenders which are mild tenders that they served with sides and biscuits, cajun pepper nuggets that they also serve with sides and biscuits, and cajun rice platter which is cajun rice with bell pepper and corn, 2 tenders and a special dipping sauce.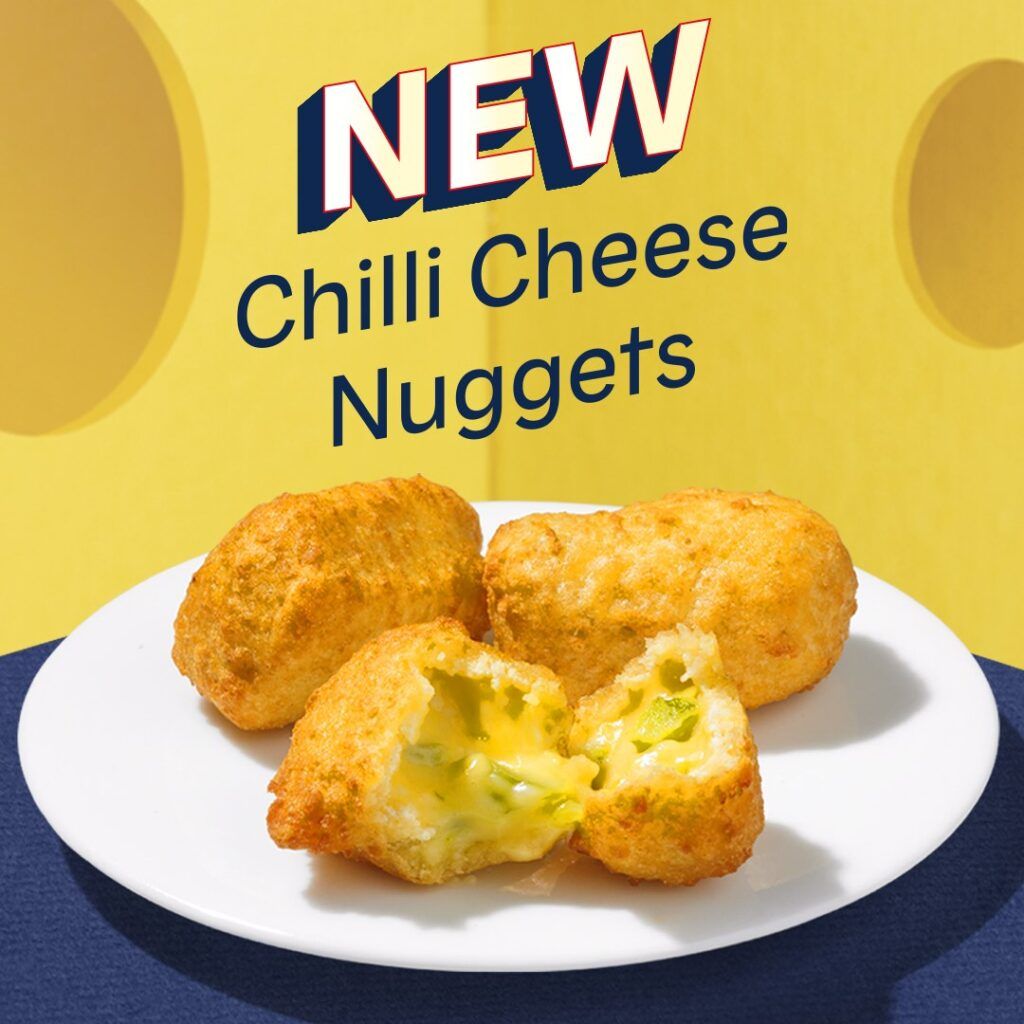 Seafood
Popeyes' seafood menu is made with seafood that they season with a spicy blend of traditional herbs and spices and are served crispy. On their seafood menu, they have cajun fish which is basically fish fillet that they marinated for hours before dipping into a batter and rolled into breeding and then fried until golden, this too is served with fries biscuits, and dipping sauce. They also have a cajun rice platter which is cajun rice with whole white fish fillet.
Popeyes Menu Burgers
Popeyes has 3 burgers to choose from which is cajun chicken their famous burger that is made with deboned chicken thigh marinated for hours assembled with a fluffy bun with special spicy pepper sauce. Creole chicken this one is just like the Cajun chicken the only difference is the sauce made to do this is a creole sauce and has lettuce and tomato. Lastly is their cajun fish, this one is made with a cajun white fish fillet assembled in a delicious bun with lettuce and special sauce. You can also order this Items combo style with fries and drinks.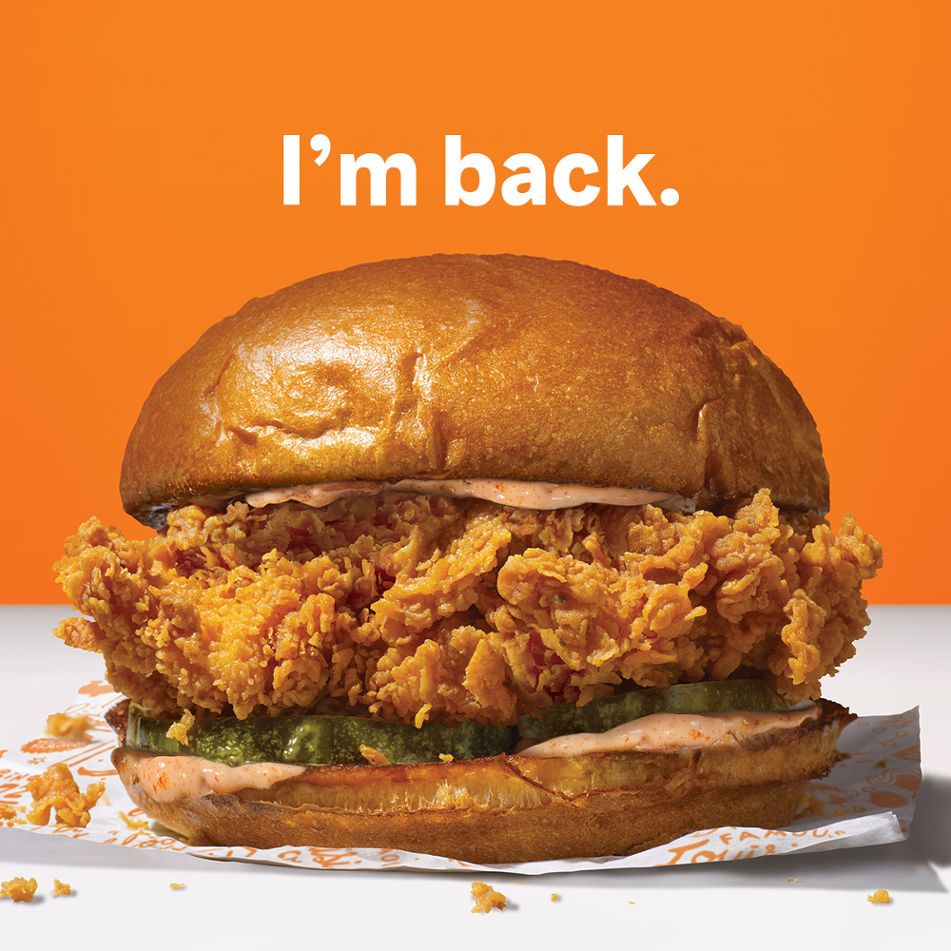 Popeyes Menu Delivery
Ordering online is made easy simply by just getting to their website at this link to order your favorite Popeyes food items. Aside from that you can also use third-party services like food couriers that are available on your location.
Social Media Pages
Looking for a delicious fried chicken fix? Look no further than Popeyes! Our signature spicy or mild chicken, mouth-watering biscuits, and an array of sides will leave you satisfied and craving more. Follow our social media pages to stay updated on new menu items and promotions, and don't forget to order through our delivery partners for a hassle-free meal. Come for the chicken, stay for the flavor!
Facebook: https://www.facebook.com/PopeyesSGP
Instagram: https://www.instagram.com/popeyes.sg/
Twitter: https://twitter.com/PopeyesSG
YouTube: https://www.youtube.com/@PopeyesSingapore
FAQs
Does Popeyes Singapore offer any vegetarian or vegan options?
Based upon my research unfortunately Popeyes Singapore doesn't offer vegetarian or vegan options on their menu as of the moment but no worries maybe soon they'll consider including vegetarian and vegan food on their menu list, however they offer other items like fries and biscuits that I do believe vegan and vegetarian friendly.
Popeyes Singapore halal-certified?
The answer is yes. There's nothing to worry about if their foods are prohibited on your beliefs, Popeyes Singapore is a halal-certified fast food chain.
Does Popeyes Singapore have any promotions or deals?
Yes, you can visit their social media accounts like Facebook and Instagram to be updated on their later deals and promos. Please take note that promos are seasonal so they might change from time to time.
Conclusion
Best place to go if you are craving something delicious especially fried chicken and chicken sandwiches which they are most popular with. Popeyes menu has a lot of choices to try and the great thing about this is they serve big portions of meals while offering affordable prices. The place is okay, a lot of customers are dining in but there's always a table for someone, never experienced waiting for a table with them plus their service personnel are accommodating, polite, and serve fast. This place is one of the best fast food restaurants existing in the market these days. I highly recommend them for you guys to try and see the difference.